With an extensive range of styles to choose from, the sheer variety of Louboutin shoes can sometimes feel overwhelming. However, there's no doubt that investing in a pair of Louboutins is a decision you won't regret.
Louboutin shoes effortlessly elevate any outfit, making them a versatile and timeless addition to your shoe collection. They hold the power to transform an ordinary look into an extraordinary one. Whether dressing up for a special occasion or aiming for a chic everyday ensemble, Louboutins will leave a lasting impression.
To help you navigate the vast array of options, we've curated a list of the most popular Christian Louboutin shoes. This guide will assist you in selecting the perfect pair to fulfill your designer shoe desires. Whether you prefer classic styles or crave the latest trends, we have you covered, ensuring your designer wish list is carefully catered to.
The Pigalle shoes are amongst the most popular Louboutin styles. If you're looking to buy your first pair of Louboutins, these are the style you want to consider.
The Pigalle by Christian Louboutin distinguishes itself with the shortest toe box among its pump collection, accentuating its sleek and elegant design
These shoes are named after the Pigalle district of Paris. It has a timeless silhouette, adding a touch of effortless chic to any outfit. The shoes have a pointed toe that complements the slim stiletto heel to give you a sophisticated silhouette.
The Pigalle shoes have a royal seal of approval, being a favorite of Meghan Markle's while she was still an actress. Her Louboutin Pigalle shoes feature gunmetal suede and crystals for a dramatic look.
One thing to consider when looking at the Pigalle shoes is that they have the shortest toe box of the classic Louboutin shoes. While they are available in several heel heights, the most popular is the 120mm heel.

The Pigalle offers a range of heel heights, varying from 85mm to 120mm, allowing for customizable options while maintaining its iconic design
These heels encapsulate everything that Louboutin is known for. If you're looking to start your Louboutin collection, this style is one you don't want to overlook.
The Pigalle heels are available in 85mm, 100mm, and 120mm heel heights.
2. Kate and So Kate, $695 – $795 on Mytheresa
Named for Kate Moss, these supermodel-worthy heels are one of the most popular statement shoes by Christian Louboutin. Their classic silhouette made them an instant best-seller for the brand.
If you want a more dramatic alternative to the brand's understated shoes, check out the 'So Kate' heels with their distinctive arch and pointed toe. They add a twist of effortless chic to any outfit.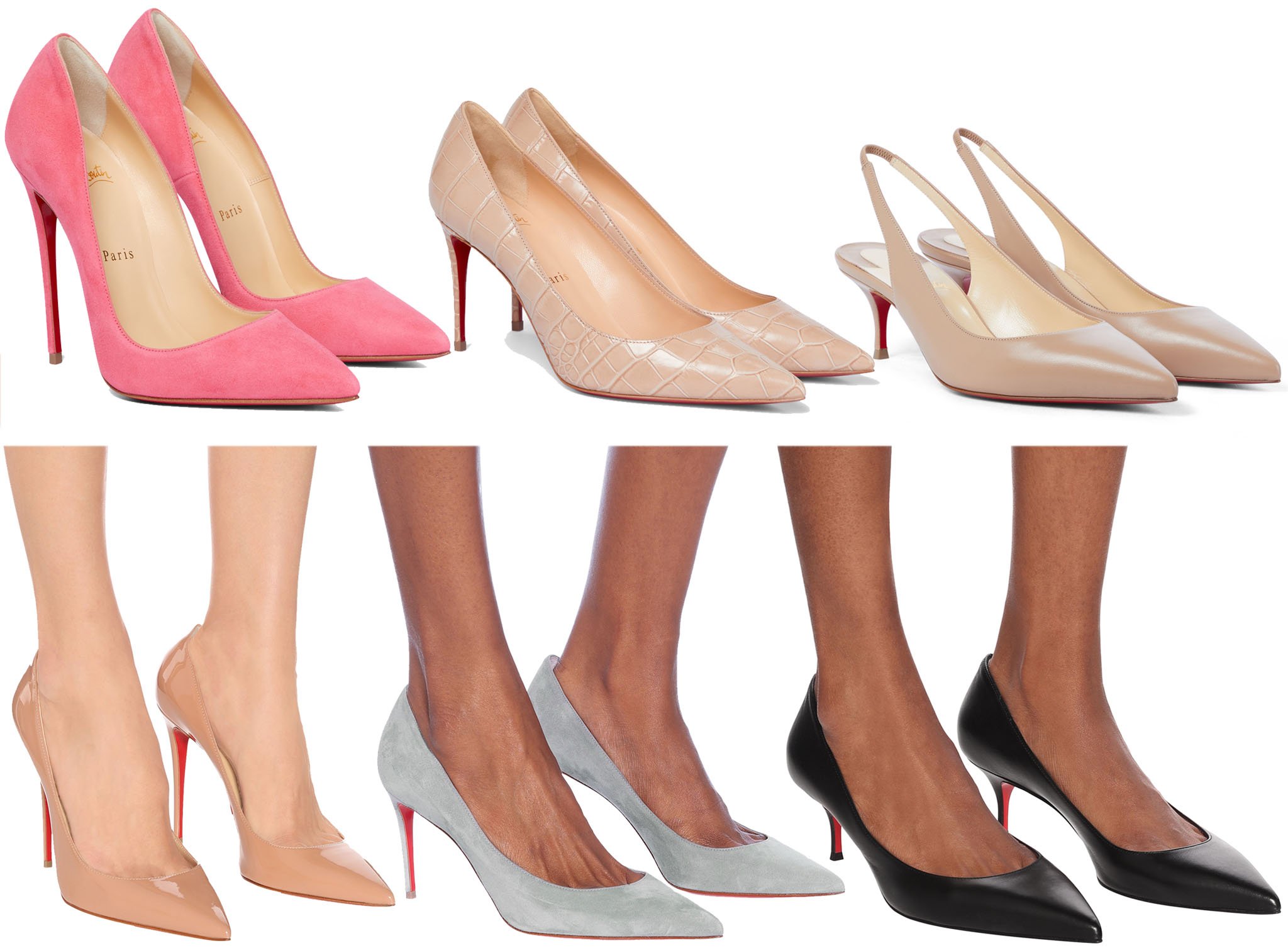 To cater to individual preferences and ensure maximum comfort, Christian Louboutin offers the Kate pump in a selection of different heel heights
These shoes are a go-to for celebrities like Kim Kardashian, with the style available in a myriad of colors and prints to fit seamlessly into your closet. The 'So Kate' shoes are the ultimate Carrie Bradshaw shoe.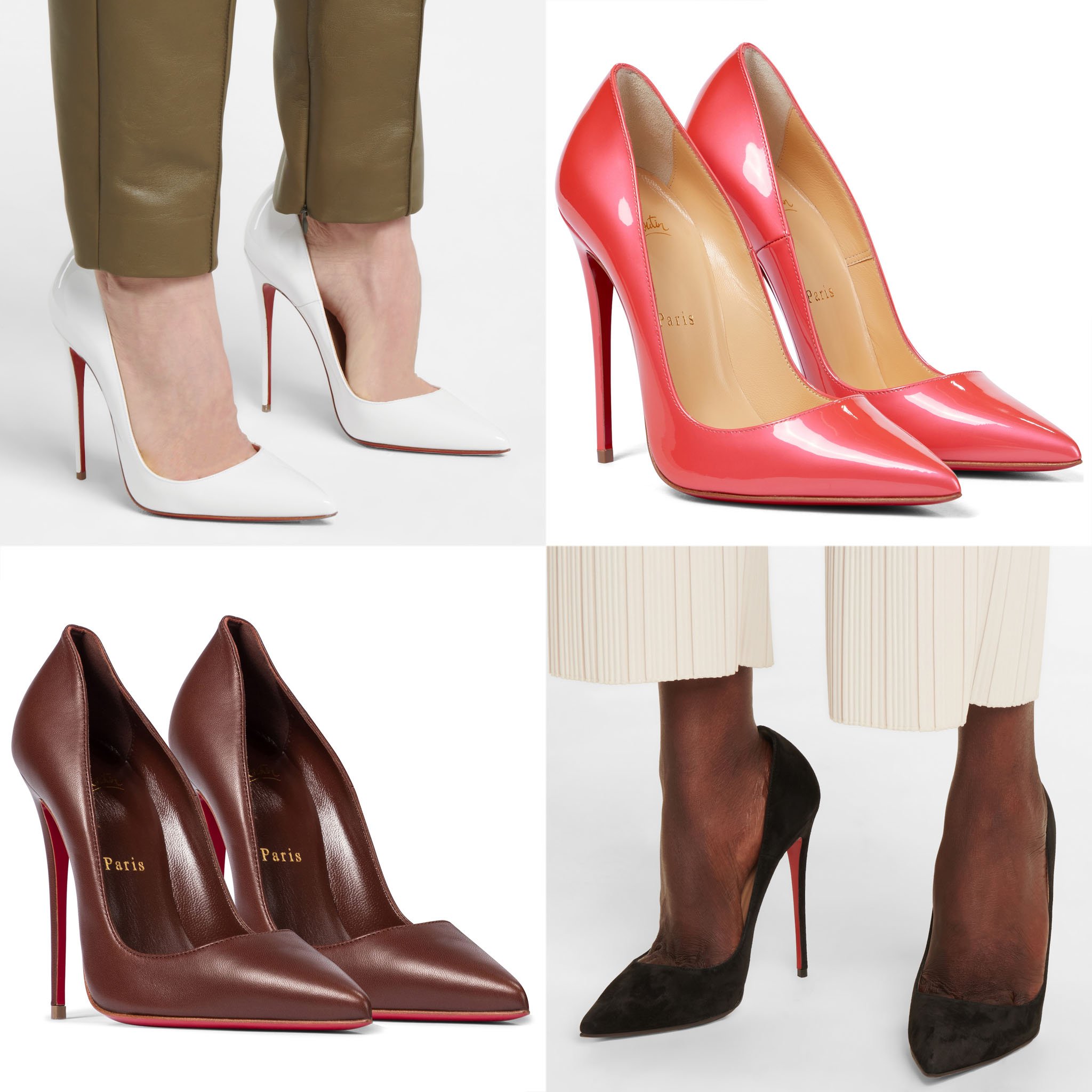 Designed for those who exude confidence and are comfortable strutting in towering heels, the So Kate by Christian Louboutin showcases its 120mm heel height, making it a perfect choice for those seeking sky-high elegance
The 'So Kate' shoes have one of the most infamous pitches of any Louboutin style. Their angular silhouette gives them a sultry look, making them one of the sexist designer heels.
You'll need to be confident in your ability to walk in heels, as the 'So Kate' shoes come with a 120mm heel.
The Pigalle collection also includes the Pigalle Follies, inspired by women synonymous with Paris' Pigalle district. These pointy-toe heels became an instantly timeless style for the brand.
The Pigalle Follies strikes a balance between the Pigalle and the So Kate, featuring a toe box that is slightly longer than the Pigalle but shorter than the So Kate, offering a stylish option for those seeking a moderate heel height
These shoes blend the best of the Pigalle and So Kate styles. They have a shorter toe box than the So Kate while being longer than that of the Pigalle's.
They have a narrow-tapered heel, similar to the So Kate. The cushioned insole makes them a popular style for all-day wear. If you want a style that is sexy without having an impossible pitch, check out the Pigalle Follies.
The Pigalle Follies from Louboutin stand out for their remarkable height versatility, offering an extensive range of heel options. They cater to diverse preferences and needs with choices ranging from 55mm, 100mm, and 120mm heels to a comfortable flat style.
Another timeless shoe by Christian Louboutin is the Clare heel. The 80mm heel makes them one of the most wearable styles within the brand's collection.
The Clare pump, available in both a classic pump silhouette and a stylish slingback design, showcases a low-cut topline and comfortable 80mm heels, making it a versatile and effortless choice for any occasion
Crafted with a luxurious nappa leather finish, the Pigalle Follies epitomize durability and wearability within Louboutin's collection.
Their design features a pointed toe, a stiletto heel, and a low-cut topline, resulting in a versatile style suitable for everyday wear. Notably, these heels provide more support than other Louboutin designs due to their lower heel height.
If you want a versatile heel that can take you from day to night, look no further than the Eloise heel. These elegant heels come in both classic patent leather and velour options.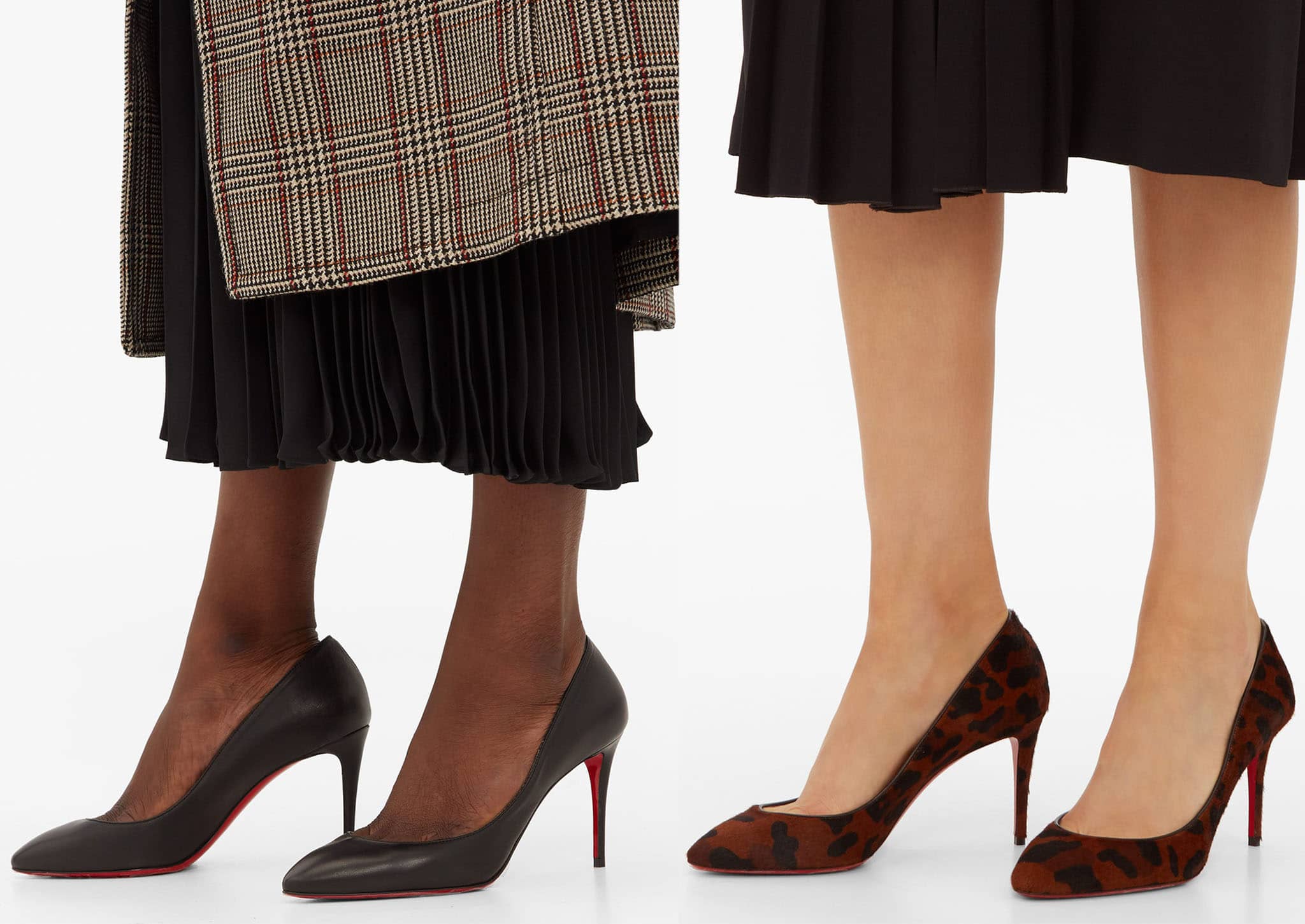 Experience a seamless transition from day to night with the Eloise pumps, as they combine a classy aesthetic with the comfort of 85mm mid heels, ensuring you look and feel effortlessly elegant throughout the day
One of the most popular versions of the Eloise features a suede finish for added elegance. The 85mm heel makes them perfect for wearing with everything from jeans to pencil skirts and midi dresses.
The Elosie heels are one style you need in every Louboutin collection, with a less severe pointed-toe than styles like the So Kate.
Christian Louboutin's Eloise boot has gained significant popularity, rivaling the timeless appeal of the classic pump silhouette, and both styles feature the same comfortable 85mm heels, offering a stylish choice for any outfit or occasion
Christian Louboutin's Iriza heels are among the most iconic and instantly recognizable designs.
Setting themselves apart from other classic Louboutin styles, these heels boast a distinctive silhouette with open sides and a low-cut upper, creating a unique and eye-catching appeal. The Iriza heels truly capture attention and leave a lasting impression.
You can find the Iriza heels in a wearable 70mm heel or a skyscraper 100mm heel height.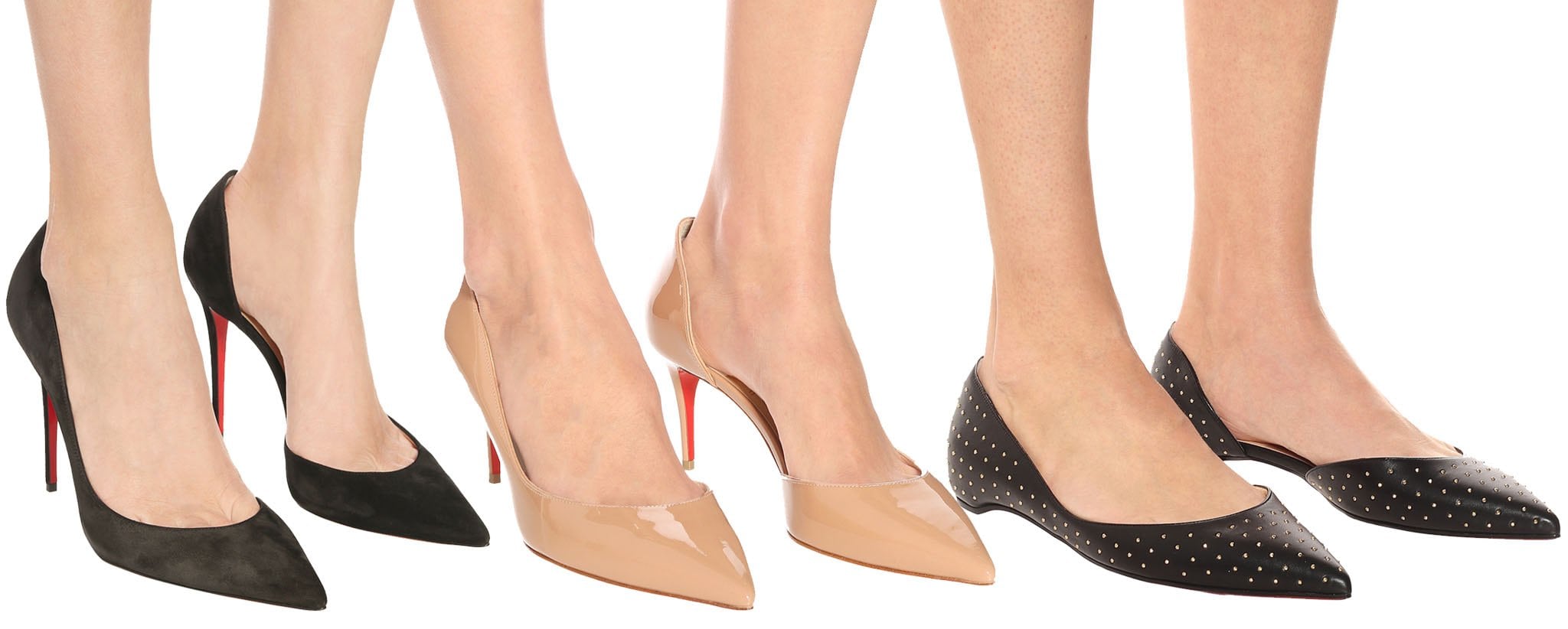 Boasting a seductive d'Orsay silhouette, the Iriza is a captivating choice that offers versatility in heel heights, with options ranging from 100mm for a bold statement, 70mm for a comfortable yet elegant look, to ballet flats for a graceful and chic option
The Iriza shoes are a timeless classic with a cutout vamp and pointy-toe silhouette.
The shoes are made to complement the natural arch of your foot for extra comfort and wearability. This style is one of the most distinctive from Louboutin.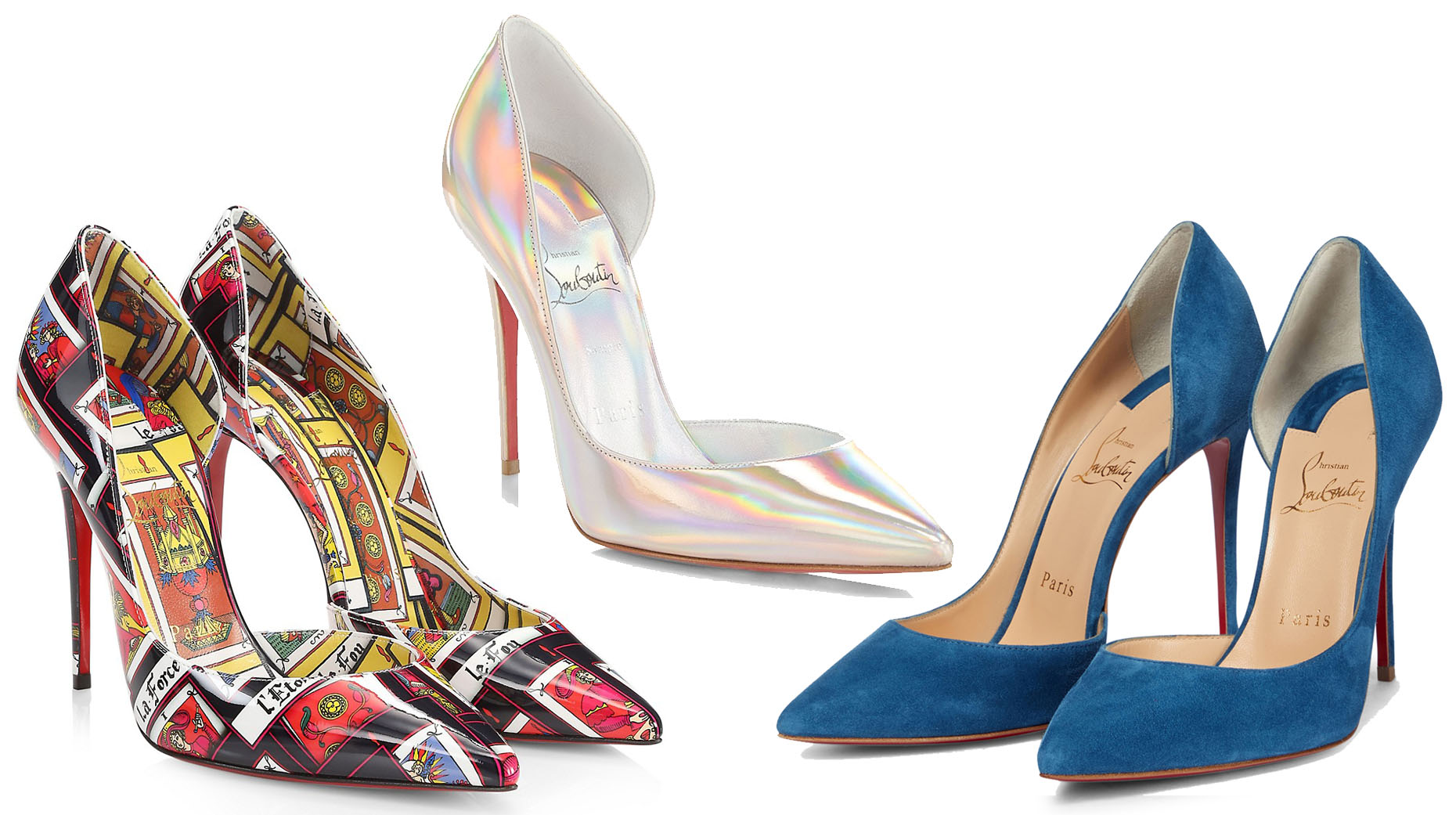 In addition to the timeless classics, the Iriza pumps showcase a vast array of options with a variety of colors, captivating designs, and diverse materials, allowing you to find the perfect pair that matches your personal style and preferences
7. Follies Strass, $995 – $1,195
While Christian Louboutin is synonymous with statement stiletto heels, the brand also carries flat shoes with the signature red sole.
Their most popular flat shoes are the Follies Strass, which feature an elevated crystal design that makes them extra versatile.

The Follies Strass takes its name from a Parisian cabaret and has iridescent strass crystals on the light silk mesh upper
If you're looking for Louboutins for a special occasion or a night on the town, you need the Follies Strass heels.
Exhibiting the signature Louboutin silhouette, these heels exude a sultry and sensual allure, crafted with a transparent strass body that imparts a playful and flirty touch to any ensemble, making them a captivating and glamorous choice for those seeking to make a statement with their footwear.

Make a glamorous statement for special occasions with the heeled Follies Strass, featuring dazzling embellishments and a range of heel heights to suit your personal style
Renowned as a beloved choice for bridal occasions, whether your wedding day or engagement celebration, the Follies Strass stands out as one of the most popular Christian Louboutin options, combining elegance and sophistication to complement your special moments.
As a shoe brand that jumped into the mainstream in the 90s, the Jonatina heels are classic transparent PVC heels that add a sultry feel to any look.
The Christian Louboutin Jonatina captivates with its transparent PVC heel strap, seamlessly blending modernity and elegance into a mesmerizing design
These sandals are classic going-out shoes with a thick ankle strap and an open-toe silhouette. It blends a feminine design with transparent illusions for a signature style.
The Jonatina shoes give you a statement style you'll want to wear for your next night on the town.
Christian Louboutin has expanded its range of shoes to include sneakers, jumping on one of the biggest trends in designer fashion right now.
Christian Louboutin's Red Runner represents the brand's interpretation of the current sneaker trend, blending contemporary style with their signature touch of luxury and red sole, offering a unique and fashionable choice for sneaker enthusiasts
The 'Red Runner' comes in various colors and textures. These shoes are perfect for any red bottom fan who wants a unique style of designer sneakers.
10. Follies Spikes, $1,100 – $1,295
When it comes to iconic Christian Louboutin heels, few are as famous as the Follies Spikes. They take on the signature silhouette of Louboutin heels, with the classic arch but with a spike twist.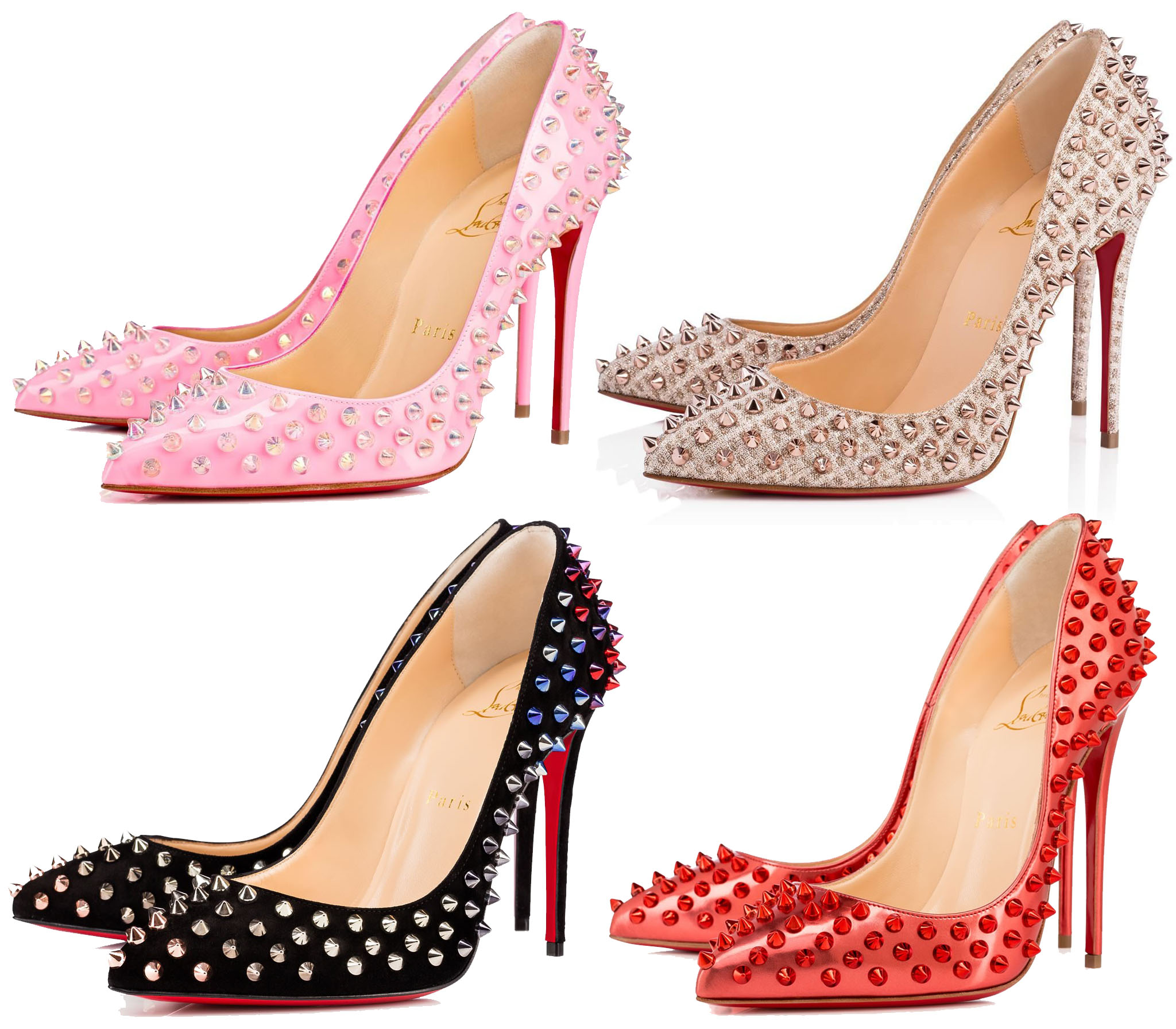 With its iconic sky-high silhouette, the Follies Spikes pump from Christian Louboutin combines timeless elegance with an edgy twist, incorporating daring spike studs that add a touch of rebellious sophistication to any ensemble
These daring shoes feature the distinctive pointy toe, giving you Parisian chic meet punk-rock girl power.
The Follies Spikes have been released in almost every color of the rainbow, along with ombre styles and monochrome options. The collection also includes a flat version for those who want a modern Parisian look with extra wearability.
11. Bianca, $875
Another classic patent leather heel by Christian Louboutin is the Bianca shoes. These heels are an essential style for any modern woman, giving you a round-toe alternative to shoes like the So Kate.
They come with a visible 1.5-inch platform that makes them easy to wear for added versatility.
Defined by their distinctive round toes and platform design, the Christian Louboutin Bianca pumps offer a classic yet bold aesthetic, providing both comfort and a statement-making style that elevates any outfit
Who could say no to a pair of Christian Louboutins? We hope this guide has given you an idea of the best Christian Louboutin shoes to buy to add to your collection.
In the realm of designer shoes, Christian Louboutin holds an exceptional allure, known for its iconic status. Despite being a luxury brand, Louboutin manages to offer signature shoes that are relatively more accessible within the realm of designer footwear, making them highly coveted and attainable for fashion enthusiasts.
Once you've slipped into your first pair of Louboutins, there's no going back! Trust us. Your shoe collection will thank you.
Which of these Christian Louboutin styles are your favorites? Which one do you want to add to your collection?