We live in a material world. While it may sound like a cliché, it's true. The things you own are an investment in your lifestyle – none more so than your closet.
The clothes you wear have the power to change how you look, alter how you act, and even give you a more positive outlook on life. Luxury clothing brands sit in a league of their own.
These expensive fashion brands create works of living art. Their designs dictate the trends for seasons to come – each aiming to create a distinctly unique aesthetic.
Luxury clothing brands Hermes, Dior, Salvatore Ferragamo, and Chanel all have stores in Tsim Sha Tsui, Kowloon, Hong Kong (Credit: Sorbis / Shutterstock)
You'll see these brands worn by everyone, from royalty to celebrities and influencers. If you want an idea of future trends, look no further than the recent collections of these high-end brands.
Whether you want to splurge or invest in your closet, these luxurious brands have high-ticket items guaranteed to make a statement.
We're rounding up 15 of the world's most luxurious clothing brands, giving you an insight into who they are beyond their brand name. If you want to curate a designer closet, these are the brands to start with.
1. Hermes: Timeless Elegance and Luxurious Craftsmanship
When you hear 'Hermes,' clothes may not be the first thing to pop into your head. While the legendary French fashion house is mainly associated with Birkin and Kelly bags, they also have a range of womenswear and menswear.
Almost every product by Hermes is made at their French ateliers, including their clothing. The luxury craftsmanship and attention to detail give Hermes its eye-watering price tag.
Straight dress in cotton jersey and poncho long vest in light double-sided cashmere from French luxury design house Hermès
While their clothing is slightly more attainable than their leather goods, you can expect to pay a pretty penny. Be prepared to spend several thousand dollars for one item of clothing.
Their poncho long vest will currently set you back $7,995, while their straight embroidered pocket dress is $670.
2. Chanel: Iconic Fashion and Timeless Style
Although Chanel is famous for its classic flap bag and interlocking CC logo, it's perhaps best known for making us all fall in love with tweed.
One of the most recognizable articles of clothing is a Chanel two-piece suit or tweed blazer. No designer closet is complete without one of these timeless garments.
Printed black dress and turquoise tweed jacket from French luxury fashion house Chanel
Like Hermes, Chanel manufactures their ready-to-wear clothing primarily at their Paris ateliers. Production is mainly kept in France to maintain the brand's luxury status and its heritage as a French brand.
Chanel clothing is always appreciating in value – with vintage Chanel fetching a pretty price tag.
A cotton dress from their 2022 Cruise collection will set you back $3,000 – while a turquoise tweed jacket costs $7,650.
3. Louis Vuitton: Classic Style and Innovative Design
Another French fashion house on the list of most luxurious clothing brands is Louis Vuitton. We've all lusted after at least one of this brand's iconic monogram bags, but their clothing is just as irresistible.
Their clothing often incorporates the effortless Parisian chic that the brand is famous for, along with their monogram print.
Sporty zip-up jacket with rubber LV Vuitton patch and an allover Mahina Monogram one-piece swimsuit from the French fashion house and luxury goods company Louis Vuitton
While Louis Vuitton's leather goods are produced in France, Spain, and the United States, their ready-to-wear is made in France and Italy. Their ready-to-wear is one of the most extensive on this list, including everything from knitwear to swimwear.
You can expect to pay $2,490 for Louis Vuitton's racer stripes zip-up jacket or $760 for their Mahina Monogram one-piece swimsuit.
4. Tom Ford: Bold and Sensual Designs with a Modern Edge
Tom Ford has deserved everyone from Hollywood stars to political royalty. Although an American designer, his clothing is primarily produced in Italy.
In 2022, Estée Lauder acquired complete control of the Tom Ford company in a deal that valued the total enterprise at $2.8 billion.
American fashion designer and filmmaker Thomas Carlyle Ford founded his eponymous luxury brand in 2005 (Credit: MEGA / WENN)
The Tom Ford brand encapsulates glamour, elegance, and modern sophistication. Its status and exclusivity come with a hefty price tag.
The fashion house has a reputation for being one of the most expensive clothing brands in the world. A Tom Ford heavy twill blazer will set you back $2,380, while a velvet dress typically comes with a $5,350 price tag.
5. Marc Jacobs: Quirky, Playful, and Fashion-Forward Designs
Although Marc Jacobs is an American designer, his eponymous fashion label is owned by the powerhouse that is LVMH. The designer was once at the head of Louis Vuitton, so it's no surprise that his clothing fetches almost as high of a price tag as his one-time fashion house.
Marc Jacob has described the brand's 'it' girl muse as "young and sweet and innocent and beautiful. The epitome of the girl I fantasize about". The brand's clothing is feminine, quirky, and forward-thinking.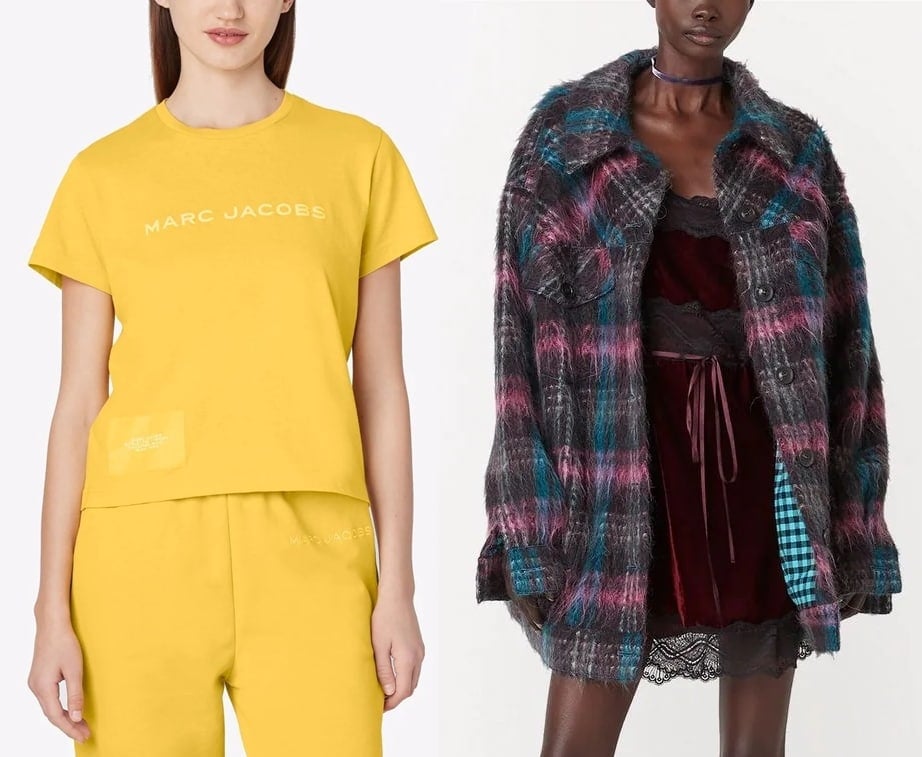 Lemon yellow t-shirt cotton top and purple/pink/green oversized plaid jacket from American fashion designer Marc Jacobs
While still a luxury brand, Marc Jacobs' clothing won't set you just as much as the other brands above. A graphic Marc Jacobs branded t-shirt will cost $120, while an oversized plaid jacket will set you back $1,660.
6. Oscar de la Renta: Timeless Elegance and Feminine Sophistication
If you're looking for a fairytale gown, look no further than Oscar de la Renta. The iconic fashion house is amongst the most expensive fashion brands in the world but has a distinctively whimsical and feminine style.
Some of the most recognizable dresses in the world have been created by Oscar de la Renta, who has dressed everyone from Hollywood A-listers to every American First Lady since Jackie Kennedy.
Black silk strapless embroidered ballgown and pink tweed off-shoulder mini dress from Oscar de la Renta
While an off-shoulder tweed mini dress will cost you $3,035 – you can expect to pay almost $20,000 for a silk strapless embroidered ballgown.
7. Gucci: Bold, Eccentric, and Innovative Designs
Our list of the world's most luxurious clothing brands sees us traveling back to Europe with Gucci. The Italian fashion house is just as famous for its clothing as leather goods and sneakers.
The only Gucci products not made in Italy are watches, meaning that part of its high-end price tag comes from its Italian craftsmanship.
GG canvas coat with crystals and 'Blueberry Gucci' cotton T-shirt from the Italian luxury fashion house Gucci
Gucci's ready-to-wear clothing offers a range of more accessible pieces to extravagant suits that will set you back thousands of pounds.
A 'Blueberry Gucci' cotton t-shirt comes with a $490 price tag, while a 'GG canvas coat with crystals' is currently the most expensive piece of ready-to-wear from Gucci with a $12,095 price tag.
8. Giorgio Armani: Understated Elegance and Timeless Italian Style
Our next luxurious clothing brand is another Italian fashion house. Armani was founded in 1975 and offers some of the most expensive clothing for women.
The confusion with Armani's clothing and whether it's worth its price tag often relates to its diffusion lines.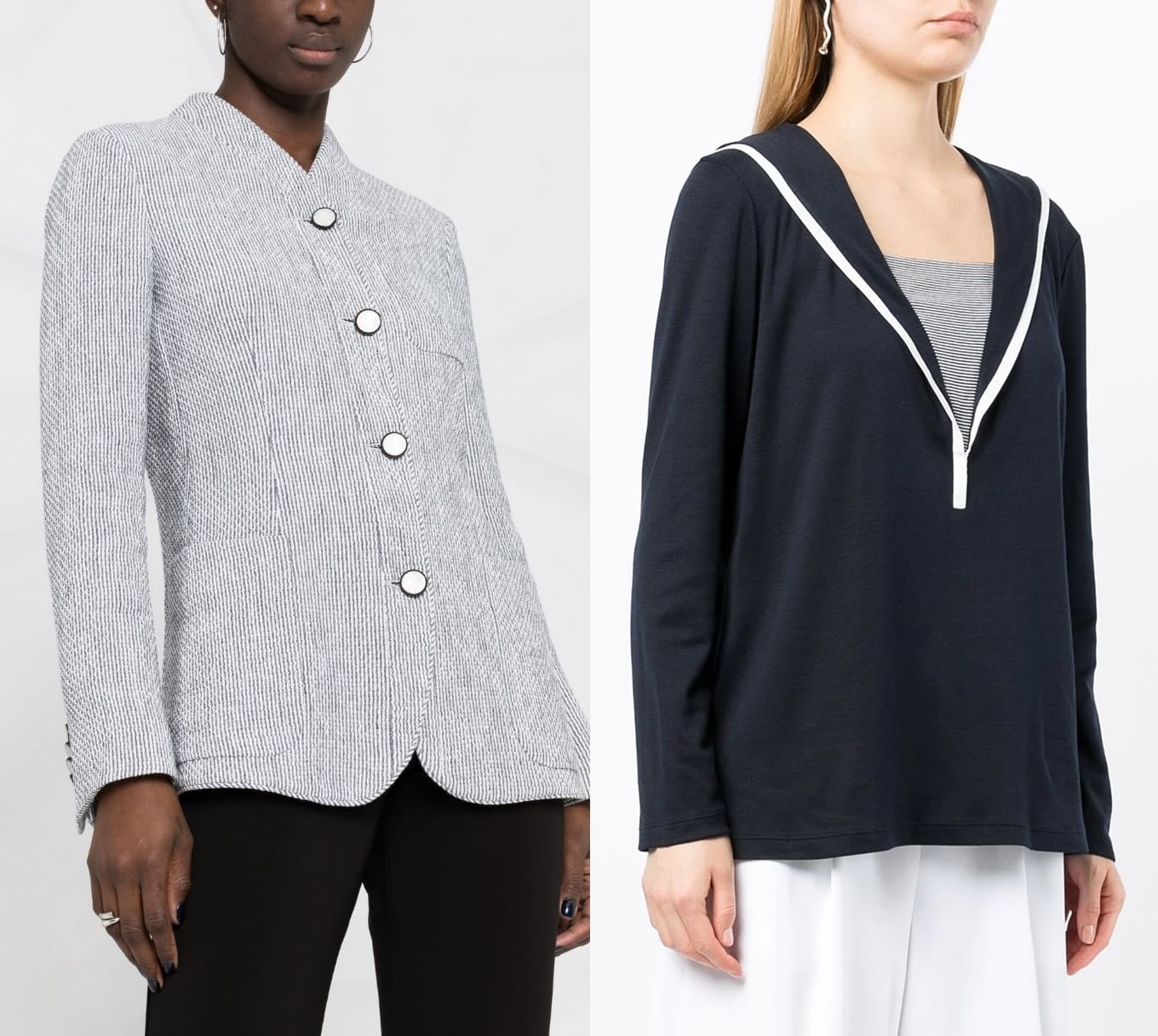 Woven-stripe single-breasted jacket and contrast-trimmed layered jumper from Italian luxury fashion house Giorgio Armani
The high-end 'Giorgio Armani' brand is manufactured in Italy, increasing the price of its luxury garments. A new season Giorgio Armani layered jumper will cost you $1,295 – while a single-breasted jacket is an eye-watering $3,360.
9. Versace: Bold and Glamorous Italian Fashion
Versace is one of the fashion brands that encapsulates the Italian lifestyle and the 'la dolce vita' approach to life.
Unsurprisingly, this Italian fashion house is amongst the most expensive clothing brands in the world. While we're also fans of its leather goods and shoes, Versace is the most famous brand for its clothing.
As an Italian fashion house, over 80% of its products are manufactured domestically, with 7% produced elsewhere in Europe. A small percentage of around 2% is made in Asia.
One-piece black swimsuit printed with Versace's signature Medusa head motif and Greca belt detail and a safety Pin silk maxi dress
While a Versace printed swimsuit will set you back an attainable $266, their 'safety pin silk maxi dress' comes with a $4,500 price tag.
Versace is unique as one luxury brand that offers clothing options that fall at various price points, from a few hundred pounds to several thousand.
10. Ralph Lauren: Classic American Style with a Touch of Luxury
No clothing brand encapsulates the American 'preppy' fashion style more than Ralph Lauren. Like Marc Jacobs, this iconic fashion house is known for its extensive diffusion lines.
There's a range for almost every budget – whether you're shopping Polo Ralph Lauren or Ralph Lauren Purple Label.
Ralph Lauren's high-end clothing is produced exclusively in Italy, while mid-tier items are typically manufactured between Spain, Portugal, and the USA.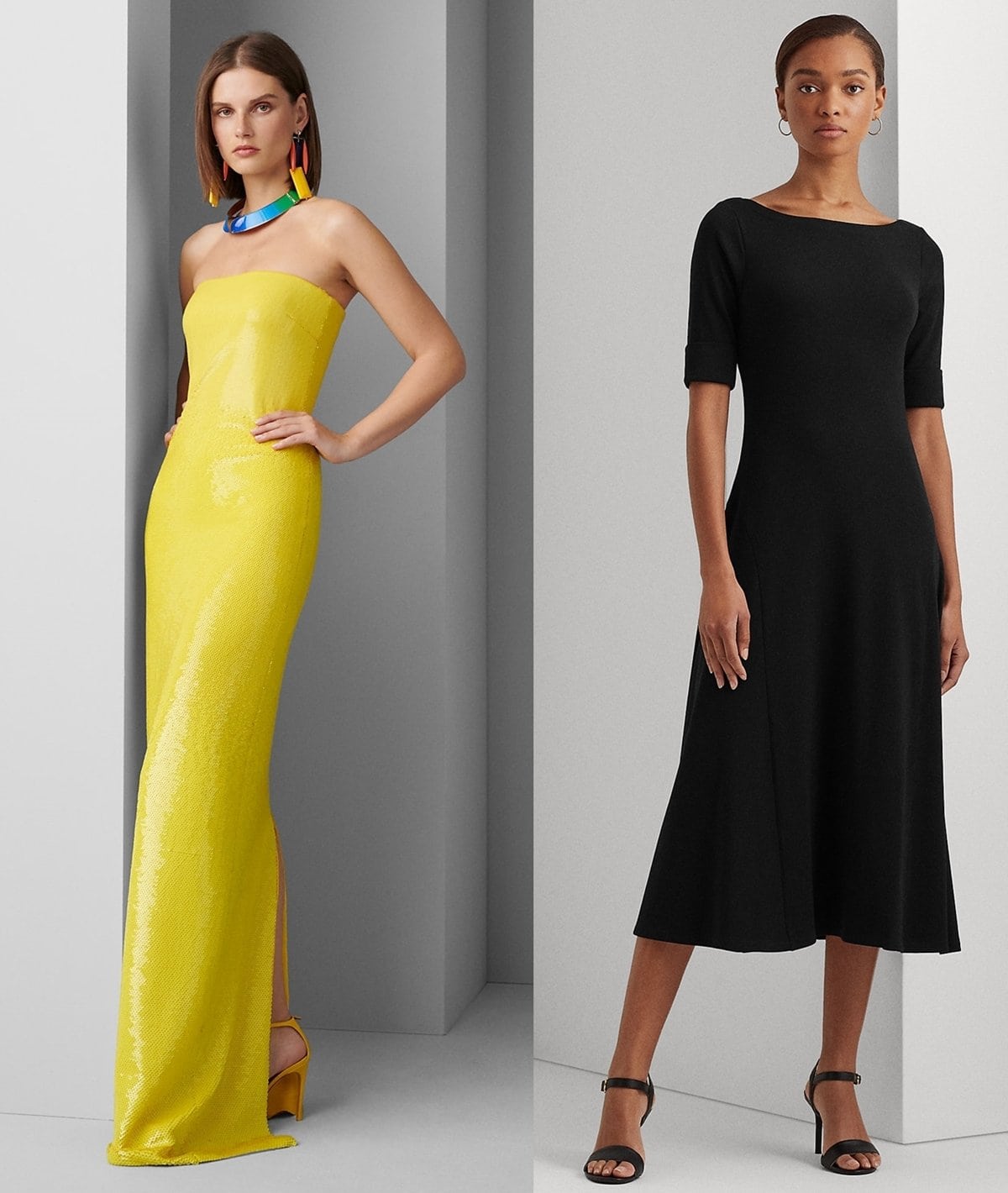 Sequined sunshine yellow strapless gown and fit-and-flare midi dress from the American publicly-traded fashion company Ralph Lauren Corporation
One of the most expensive Ralph Lauren pieces is their Landis sequined evening gown from the Ralph Lauren Collection range with a price tag of $8,000.
By comparison, the most affordable new season dress within the Ralph Lauren family of brands is their stretch cotton midi dress from the Lauren Ralph Lauren range that is sold at a more humble $120 price tag at Zappos.
11. Prada: Bold and Innovative Italian Fashion
We're back in Italy with the 11th fashion brand on this list – Prada. Although a Milan-based company, Prada differs from the likes of Gucci and Versace regarding production.
While Prada is known for sticking to its classic Italian roots, that's not where you'll find most of its production.
With its sleek and minimalistic designs with a feminine but timeless feel, Prada manufactures most of their products outside of Italy.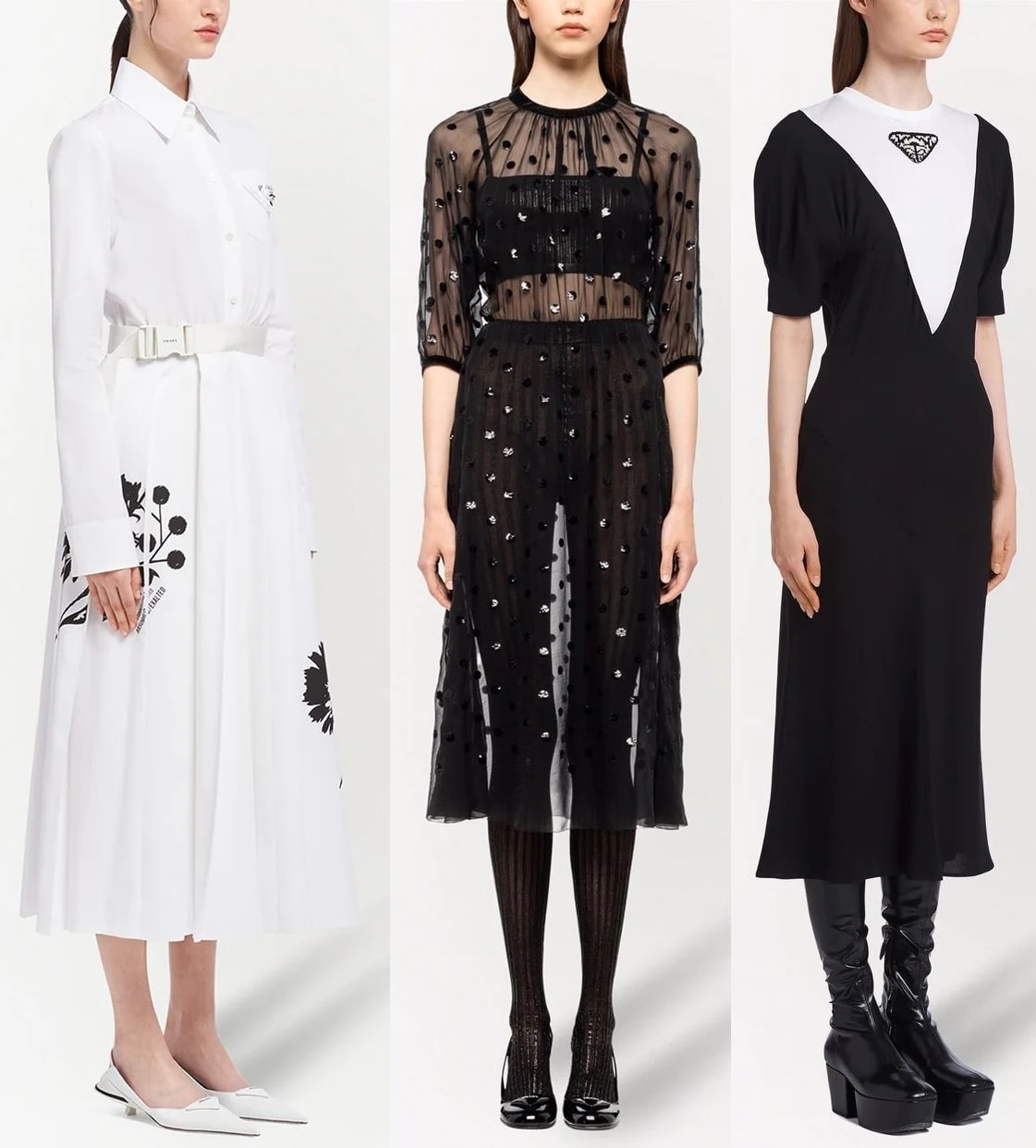 Floral print poplin shirtdress, polka-dot sequin-embellished chiffon dress, and contrasting-panel short-sleeve dress from the Italian luxury fashion house Prada
While some clothing is made in Italy, it's hard to estimate exactly how much. Some clothing is also manufactured in China, Indonesia, Hungary, and Vietnam.
That doesn't lower the price tag you can expect when buying Prada ready-to-wear clothing.
The most expensive dress on the Prada website is their sequined dress with jacquard details at $11,500. You can expect to pay at least $1,500 for the cheapest cotton dress Prada offers.
12. Dolce & Gabbana: Romantic Italian Fashion with a Glamorous Twist
Dolce & Gabbana is an Italian fashion house that embodies all the best of Mediterranean living. While the brand is trying to rebuild its reputation, it's been working closely with influencers and celebrities to promote its ready-to-wear range.
Known for using feminine detailing and Sicily-inspired prints, Dolce & Gabbana manufactures clothing in France and Italy. The brand produces everything from elegant ballgowns to barely-there lace bralettes.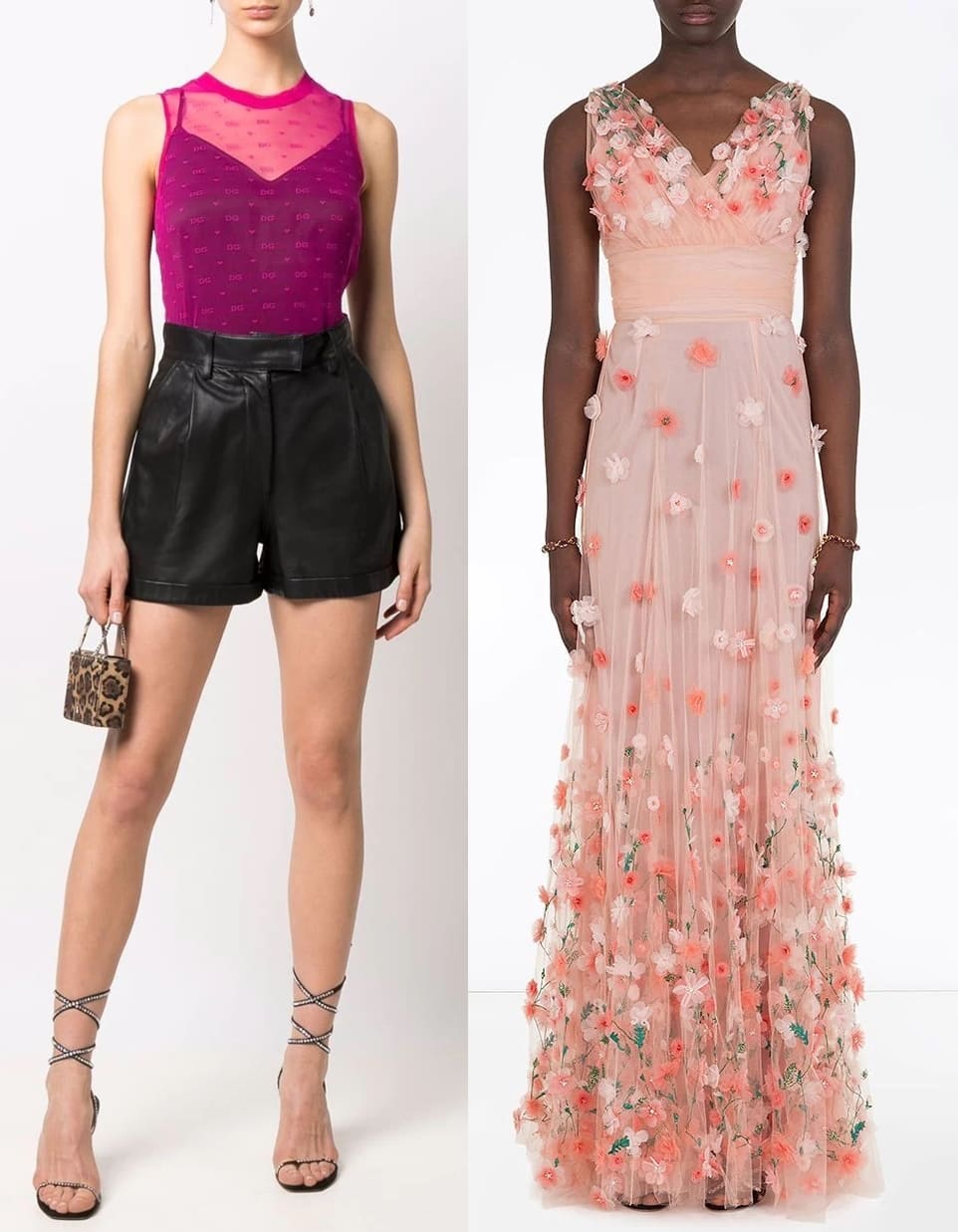 Dark pink logo-motif sheer top and pink flower-embroidered tulle long dress from the Italian luxury fashion house Dolce & Gabbana
One of the most expensive ready-to-wear pieces from Dolce & Gabbana is their flower-embroidered tulle long dress at $26,500 at Farfetch. Meanwhile, a logo-motif sheer top will only set you back a more modest $245.
13. Burberry: British Heritage and Timeless Style
We're heading across Europe to the United Kingdom for our next luxury clothing brand. While Burberry is forever associated with its classic plaid print and cashmere scarves, you don't want to overlook their ready-to-wear collections.
Burberry is in a league of its own when it comes to intricate craftsmanship. Most of the brand's clothing is produced in Europe between Italy and the UK using the highest quality fabrics and the impeccable craftsmanship that Burberry is famous for.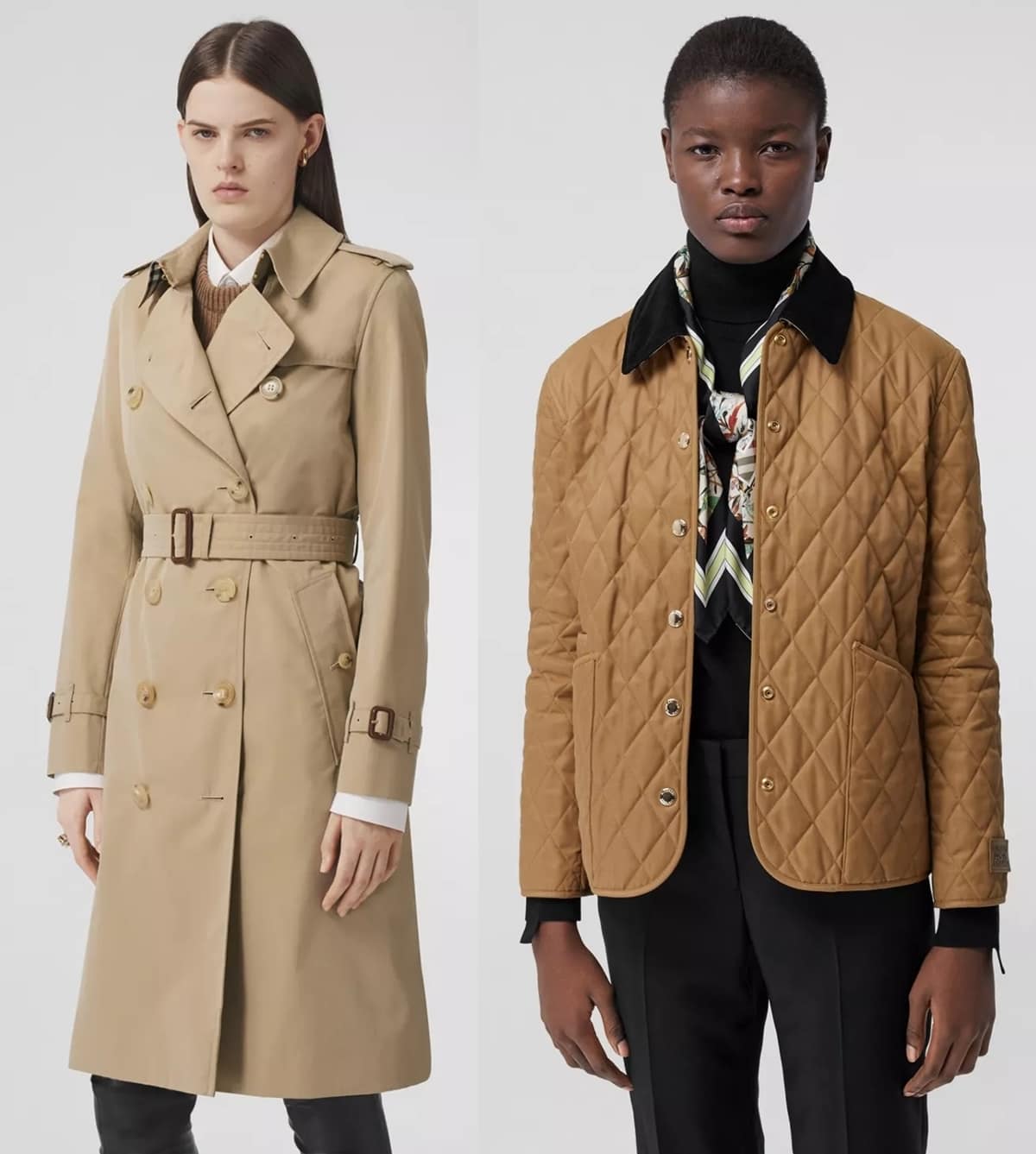 Classic-fit trench coat and diamond-quilted jacket woven with a recycled polyester yarn from British luxury fashion house Burberry
One of Burberry's most recognizable garments is their trench coats and jackets. While a diamond quilted recycled polyester jacket costs $950, the classic long Kensington Heritage trench coat costs $2,250.
14. Salvatore Ferragamo: Italian Luxury and Timeless Elegance
One Italian fashion brand that is often overlooked on these lists is Salvatore Ferragamo. No brand encapsulates the classic vintage-inspired look of Italian fashion more than Salvatore Ferragamo.
The brand is famous for its connection to stars like Audrey Hepburn, and their clothing continues to be as timeless as ever.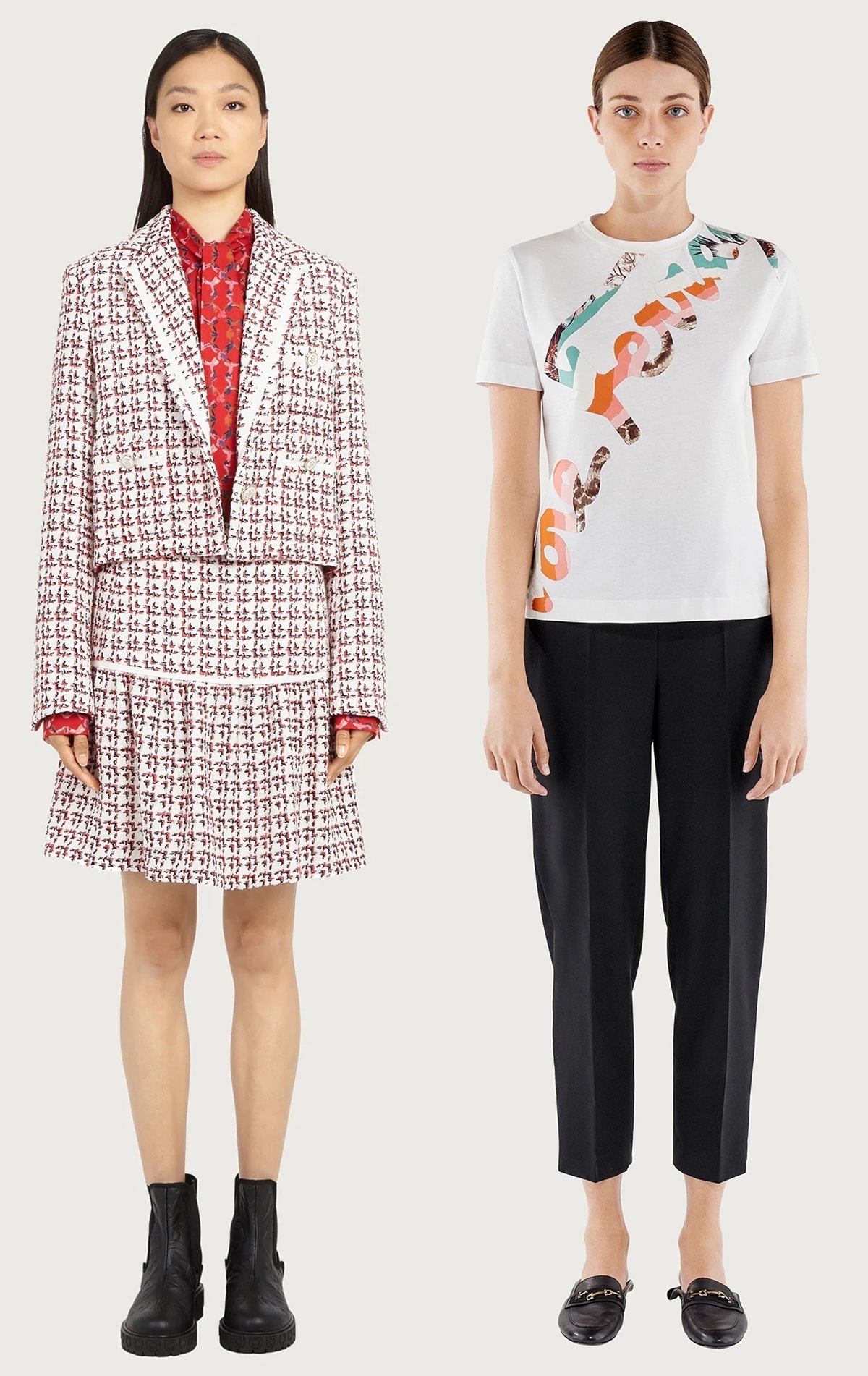 Classic boxy jacket with modern black and red contrast stitching and cropped pants from Salvatore Ferragamo
Ferragamo continues to manufacture its clothing in Italy, and their style is the perfect choice for the classic 'uptown girl'.
You can expect to pay under $700 for cropped trousers, while a boxy blazer has a $2,100 price tag.
15. Dior: Classic French Fashion and Iconic Elegance
This list of the most luxurious clothing brands in the world wouldn't be complete without mentioning Dior. It's one of the most famous French fashion houses and changed how we look at fashion for generations to come.
Most of Dior's products come from its Scandicci, Italy factory, but haute couture pieces are created at their French atelier.
Even today, Dior continues to remain true to its principles of the "new look" with clothing that helps us channel our inner Audrey Hepburn while offering more contemporary looks as well.
Beige multicolor Mizza motif mid-length dress, cornflower blue Dior Marinière motif sweater, and blue and ecru Dior Oblique motif hooded anorak from Dior
Dior's ready-to-wear collection artistically reflects the heritage of Dior in every garment, from its athleisure to evening wear. There's no denying that Dior is one of – if not the most – expensive clothing brands on this list.
A simple cashmere and silk knit sweater will cost you $1,300, while a hooded anorak with the Dior oblique motif will set you back $4,100.
One of the most expensive ready-to-wear pieces in Dior's current season is a beige multicolor Miza silk taffeta mid-length dress for $7,200.
Which of these 15 luxurious clothing brands would you be willing to purchase from?