As any of the fashion majors you knew in college will tell you, there's no money in fashion design. That is, unless your name is on the stuff being sold in the department stores.
This is exactly the case for the majority of the world's richest fashion designers. Although they may have started small, with only a sewing machine and a dream (and perhaps a solid trust fund, depending on the designer), they turned their art into a lucrative business. Both fashion designers and savvy businesspeople, they have capitalized on their names to create empires.
You may be surprised to know that many of the richest fashion designers in the world are no longer considered "high fashion." Instead of aiming for Milan Fashion Week, they're creating lines for Kohl's or Marshalls and laughing all the way to the bank.
From both the runway to the discount bin, these are 17 of the richest fashion designers in the world.
17. Jean Paul Gaultier – Net Worth: $300 million
Perhaps the Frenchiest Frenchman of all, 70-year-old Jean Paul Gaultier is known for stirring up a ruckus in the fashion world.
Unlike many fashion designers, Gaultier scored his first gig with absolutely zero formal fashion training.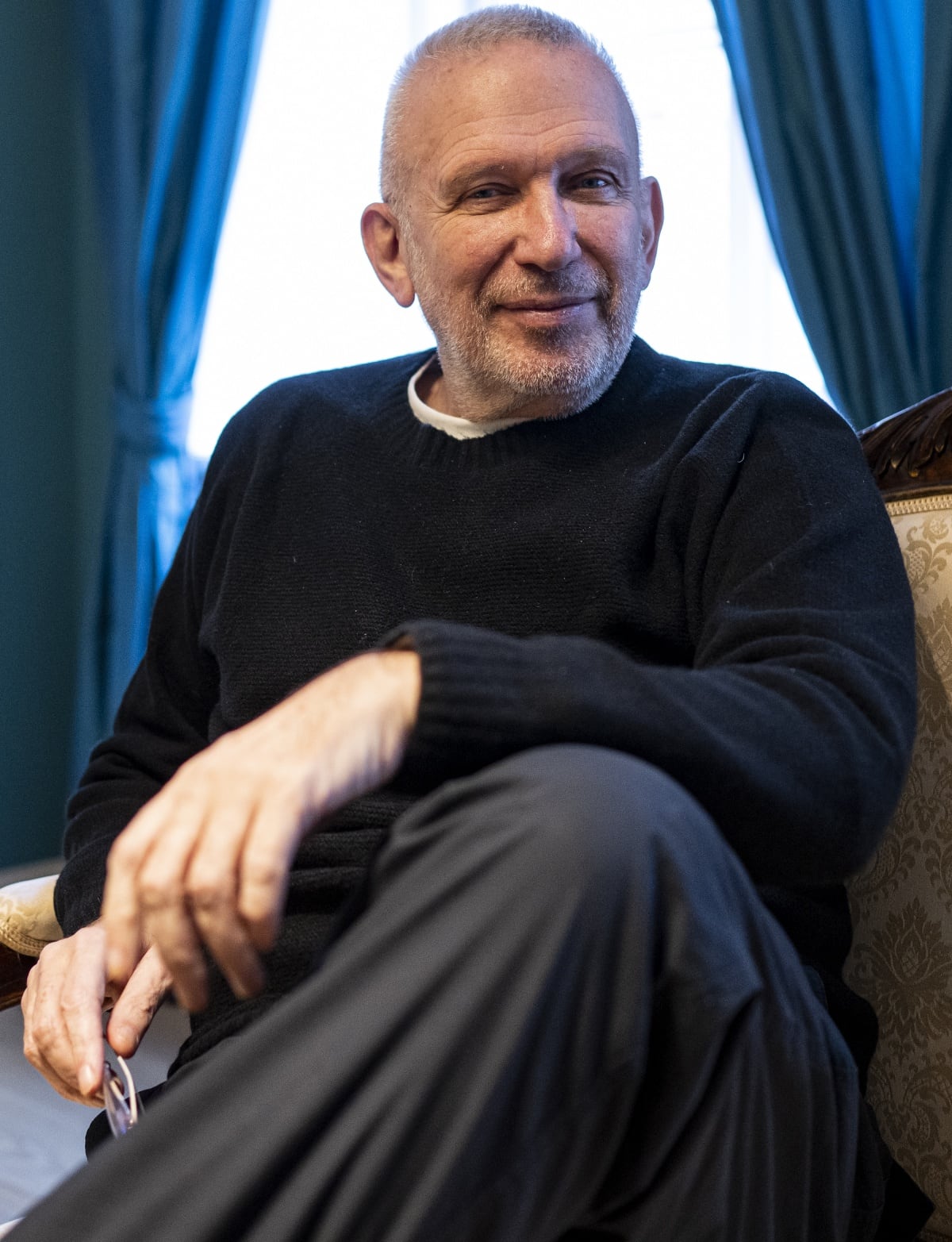 Jean Paul Gaultier photographed after an interview in Bavaria in Munich, Germany on December 12, 2022 (Credit: Lennart Preiss / DPA / Cover Images)
As a young man, he sent sketches of his designs to fashion houses and designers. By chance, his designs caught the eye of the legendary designer Pierre Cardin, who was astounded by Gaultier's talent and hired him as an assistant.
Since then, Jean Paul Gaultier has worked his way up and made a name for himself as an avant-garde designer with his own label, and his designs are a particular favorite of the Kardashians. His success has earned him a spot on this list and a net worth of $300 million as of 2023.
16. Donatella Versace – Net Worth: $400 million
Although she may be known best for her expensive cosmetic surgery hobby, Donatella Versace is, first and foremost, a fashion designer.
Donatella Versace arriving at The Clooney Foundation Inaugural Albie Awards held at the New York Public Library on September 28, 2022 (Credit: Janet Mayer / Startraksphoto / Cover Images)
As the sister of the legendary Gianni Versace, Donatella inherited a large portion of the brand and is credited for Versace's extensive success in recent years.
The 67-year-old can frequently be seen at nearly every large fashion event, and her immaculate style is a testament to her design skills.
15. Roberto Cavalli – Net Worth: $500 million
There is no shortage of Italians in the high fashion industry, and 82-year-old Roberto Cavalli is no different.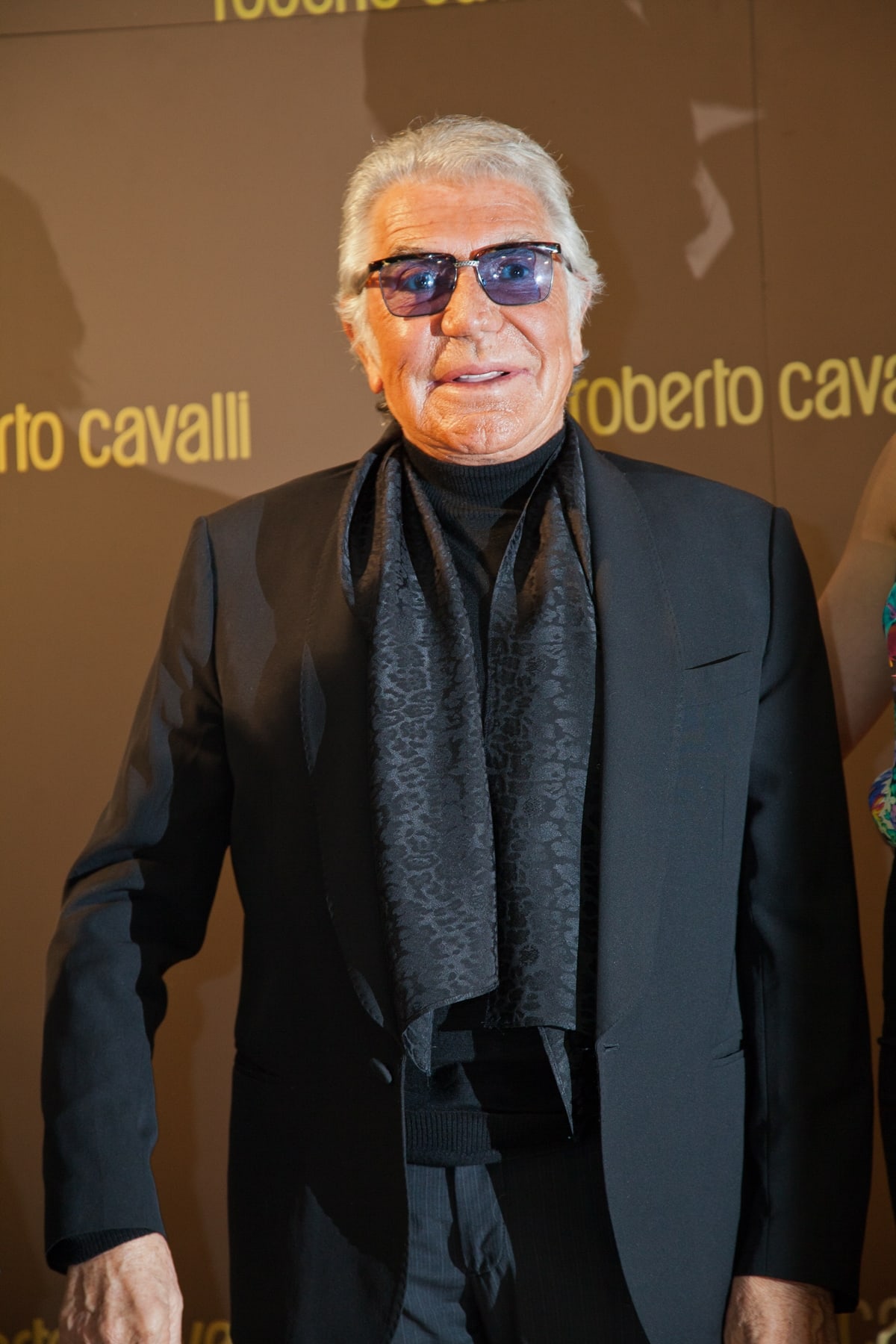 Roberto Cavalli is an Italian fashion designer and founder of the Roberto Cavalli brand, known for its bold and colorful prints, luxurious designs, and attention to detail (Credit: Razvan Iosif / Shutterstock)
The grandson of artist Giuseppe Rossi, Cavalli had an artistic streak from an early age. By 1972, he had opened his first boutique. Roberto Cavalli is credited for popularizing the sand-blasted jean look that still persists in fashion today, along with his many labels.
14. Anna Sui – Net Worth: $600 million
58-year-old Anna Sui knew she wanted to be a fashion designer at the tender age of four. After attending the Parsons School of Design in New York City, she went to design pieces and style clothing for a number of smaller labels.
Anna Sui attending the 8th Annual New York City Ballet Fall Fashion Gala held at the David H Koch Theater on September 26, 2019 (Credit: JOHN EDDY / INSTARimages)
However, after bringing a small collection of her work to a trade show, she caught the eye of representatives from Macy's and Bloomingdales, and the rest is history.
Since then, Anna Sui's work has been a staple on the runway and on the rack, earning her an estimated net worth of $600 million as of 2023.
13. Donna Karan – Net Worth: $600 million
Is it "Karen" or "Kar-ahn?" The age-old question about the pronunciation of Donna Karan's name has yet to cease, considering her years of success (as it turns out, it's pronounced like "Karen"). After working as Anne Klein's head designer, Donna Karan launched her own label, this time under her own name.
Donna Karan attending the Iris Apfel 100th Birthday Celebration in New York City on September 9, 2021 (Credit: Janet Mayer / Startraksphoto)
Since then, you can spot Donna Karan's DK and DKNY labels on clothes, shoes, and bags all over the country, resulting in her estimated net worth clocking in at $600 million.
12. Michael Kors – Net Worth: $600 million
Few designers dominate the TJ Maxx and Marshall's markets quite like Michael Kors. The 63-year-old launched his label at Bergdorf Goodman in 1981, working as the first ready-to-wear designer for Celine along the way.
Michael Kors at the end of his Spring/Summer 2023 runway presentation during New York Fashion Week on September 14, 2022 (Credit: Ik Aldama / DPA / Cover Images)
Since then, Michael Kors led his label to success and learned how to be an astute businessman along the way.
Currently, his own label, as well as Jimmy Choo and Versace are under Kors' fashion holding company, Capri Holdings Limited, which earns the designer a pretty penny.
11. Vera Wang – Net Worth: $650 million
73-year-old Vera Wang is the prime example of a woman who began her career to instant success.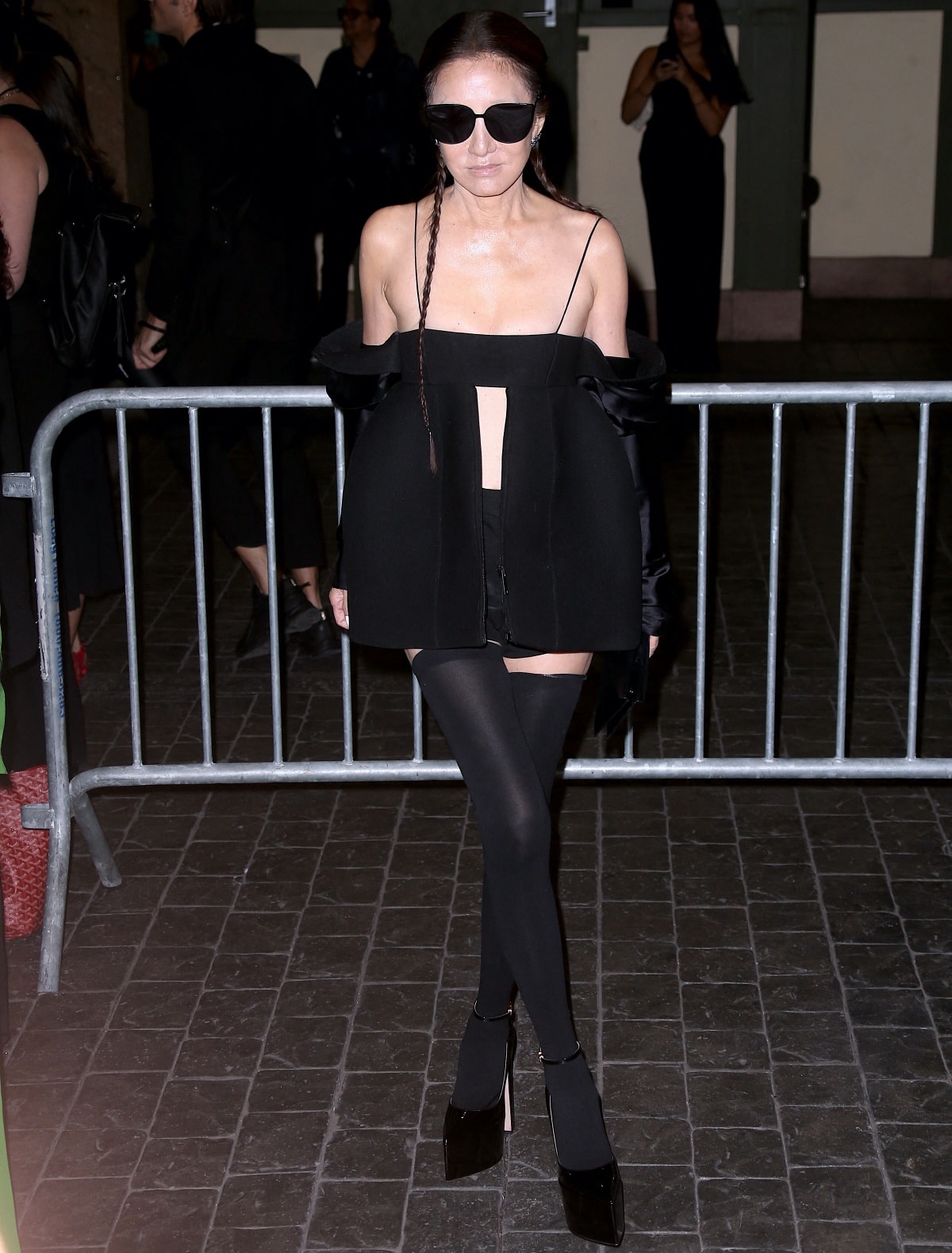 Vera Wang arriving at the 2022 CFDA Fashion Awards in New York City on November 8, 2022 (Credit: Charles Guerin / ABACA / INSTARimages / Cover Images)
Shortly after graduating with an art history degree from Sarah Lawrence College, Wang was hired at Vogue as an editor, making her one of the youngest editors at the publication of all time.
At 40 years old, Wang went her own way to be a bridal designer, where she earned her clout dressing nearly every major celebrity bride in recent years.
Wang's ready-to-wear labels can also be spotted in nearly every major department store, earning the designer a $650 million estimated net worth.
10. Calvin Klein – Net Worth: $700 million
Although Calvin Klein is a prolific designer, inevitably, he is also the biggest name in underwear.
Calvin Klein with Donna Karan at the PUNK: Chaos to Couture Costume Institute Gala at the Metropolitan Museum of Art in New York City on May 6, 2013 (Credit: Bill Davila / Startraksphoto)
The 80-year-old New Yorker dabbled at a number of art and fashion schools before taking on an apprenticeship at Dan Millstein. Eventually, he was taken under the wing of the French-born socialite Baron de Gunzburg, who helped Klein make the connections he needed to be successful.
As one of the most recognizable names in fashion, Calvin Klein has an estimated net worth of $700 million as of 2023.
9. Tory Burch – Net Worth: $850 million
56-year-old Tory Burch didn't start out as a designer but as a marketer! She worked at Harper's Bazaar before taking jobs as a public relations and advertising executive for other big-name fashion houses like Loewe, Polo Ralph Lauren, and Vera Wang.
Tory Burch attending the Wall Street Journal Magazine 2022 Innovator Awards held at the Museum of Modern Art in New York City on November 2, 2022 (Credit: ROGER WONG / INSTARimages / Cover Images)
In 2004, Burch decided she no longer wanted to be behind the scenes and launched her eponymous label. Now, more than 3,000 department stores carry her collections, earning the designer her $850 million estimated net worth.
8. Domenico Dolce & Stefano Gabbana – Combined Net Worth: $2.2 billion
The founders of Dolce & Gabbana first met in 1980 and launched their label just five years later. Together, 64-year-old Domenico Dolce and 60-year-old Stefano Gabbana took the fashion world by storm, even earning the honor of designing every costume for Madonna's 1993 The Girlie Show world tour.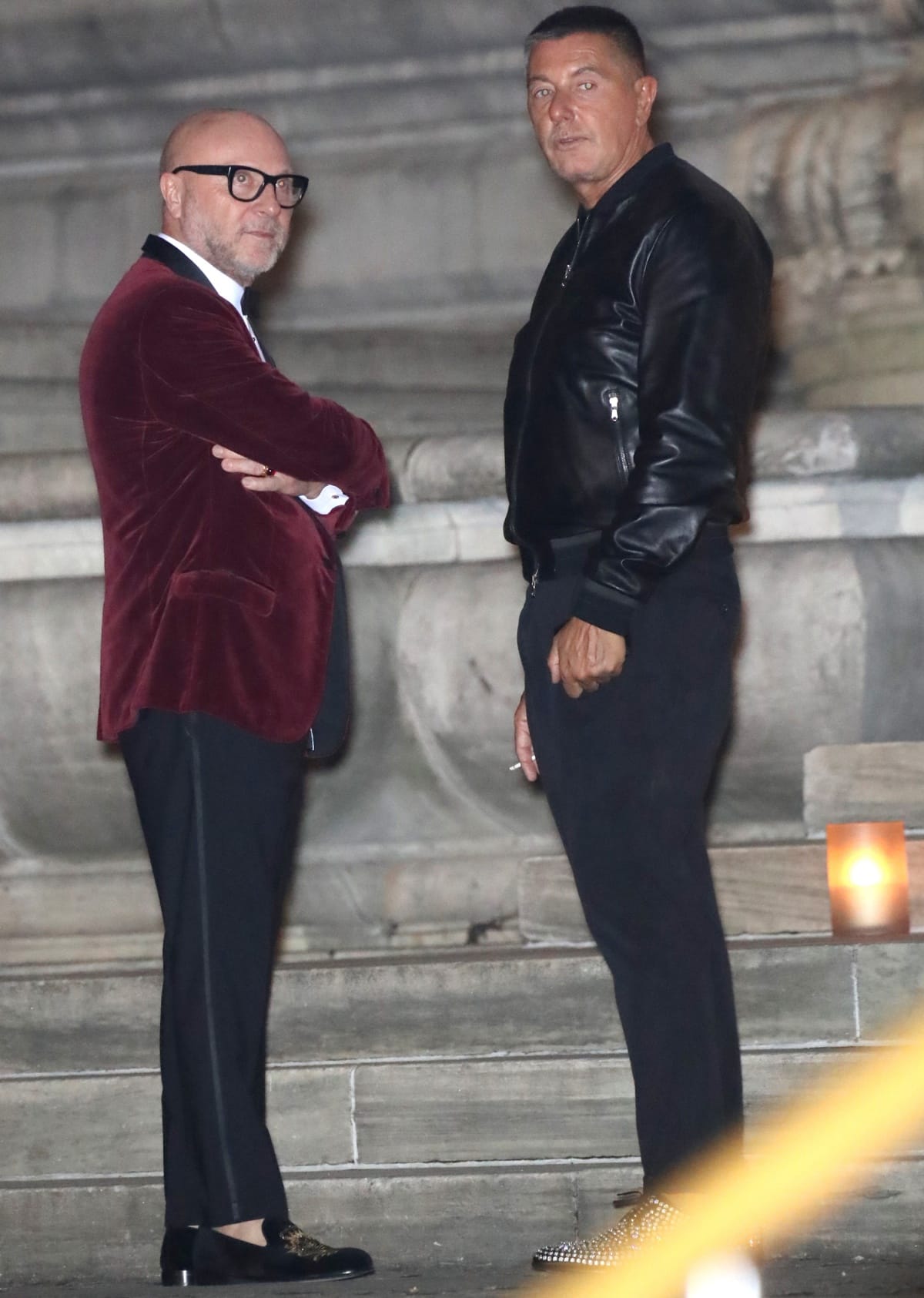 Domenico Dolce and Stefano Gabbana at the Dolce & Gabbana Alta Gioielleria Presentation at the New York Public Library on April 6, 2018 (Credit: JOHN NACION / Startraksphoto)
Unfortunately, both designers and their label have come under fire for their repeated demonstrations of racism. Despite being canceled seemingly every year, Domenico Dolce and Stefano Gabbana still have a combined estimated net worth of $2.2 billion.
7. Diane von Fürstenberg – Net Worth: $1.2 billion
Since there's no money in fashion, Diane von Fürstenberg managed to get rich before launching her own label.
Diane von Fürstenberg arriving at the 2022 CFDA Fashion Awards in New York City on November 8, 2022 (Credit: Darla Khazei / INSTARimages / Cover Images)
After marrying Prince Egon von Fürstenberg in 1969, she decided to launch her own label, telling The New York Times, "The minute I knew I was about to be Egon's wife, I decided to have a career. I wanted to be someone of my own, and not just a plain little girl who got married beyond her deserts."
With the success of her fashion line – which has been worn by the likes of Michelle Obama, Whitney Houston, and Princess Kate – no one can call Diane von Fürstenberg or her $1.2 billion estimated net worth "plain."
6. Valentino Garavani – Net Worth: $1.5 billion
After his fashion debut in Florence, Jackie Kennedy saw a woman wearing a Valentino Garavani ensemble and immediately contacted the designer to have him create pieces for her. This unlikely friendship proved to be a boon for Valentino, as his label shot to international success.
Valentino Garavani attending the New York premiere of Rocketman on May 29, 2019 (Credit: Jason Mendez / Startraksphoto)
Nowadays, 90-year-old Valentino Garavani's name can be seen on everything from wedding gowns to ready-to-wear pieces and perfumes.
One of the most heralded names in fashion, Valentino Garavani's wealth shows no signs of slowing down, with an estimated net worth of $1.5 billion as of 2023.
5. Tom Ford – Net Worth: $2 billion
Not just a name to be dropped in Drake's "Tuscan Leather," Tom Ford is one of the most high-profile designers in fashion today. After serving as creative director for two notable fashion houses, Gucci and Yves Saint Laurent, he launched his own luxury brand under his name in 2005.
Tom Ford attending the 2022 Met Gala celebrating In America: An Anthology of Fashion in New York City on May 2, 2022 (Credit: Jennifer Graylock / INSTARimages / Cover Images)
Not content with his success in fashion, Tom Ford has also written and directed two films: A Single Man and Nocturnal Animals.
Before 2022, Tom Ford's net worth was a bit lower. However, the 61-year-old designer recently made a deal to sell his eponymous label to Estee Lauder, officially cementing Ford as a billionaire with an estimated net worth of $2 billion.
4. Renzo Rosso – Net Worth: $2.7 billion
67-year-old Renzo Rosso designed his first garment – a pair of jeans – at the tender age of 15. This set the stage for the rest of his career, as Rosso went on to found Diesel in 2007.
Renzo Rosso attending the 2019 ANDAM Fashion Awards Ceremony at the Ministry of Culture in Paris, France on June 26, 2019 (Credit: Ampilhac Mireille / ABACA / INSTARimages)
Although Diesel's popularity may not be what it once was, Renzo Rosso now earns the majority of his impressive $2.7 billion net worth from serving as the president of the OTB group, which is the parent company for huge brands like Viktor & Rolf and Maison Margiela.
3. Miuccia Prada – Net Worth: $5.4 billion
The granddaughter of Prada founder Mario Prada, Miuccia Prada was not simply content with handling business deals. Strangely enough, Prada studied to become a mime and even performed for five years before joining the family business.
Miuccia Prada at The Killing of a Sacred Deer premiere during the 2017 Cannes Film Festival in Cannes, France on May 22, 2017 (Credit: Simone Comi / IPA / INSTARimages)
With the help of her equally rich husband, Patrizio Bertelli, Miuccia Prada is head designer for Prada and founder of Miu Miu, taking both labels to financial and fashionable success.
Not counting her husband's extraordinary wealth, 73-year-old Miuccia Prada is worth an estimated $5.4 billion.
2. Giorgio Armani – Net Worth: $6.6 billion
Considered to be the "pioneer of red carpet fashion," 88-year-old Giorgio Armani is a name well-known even outside of the fashion world.
After serving as a medic in the army for two years, Armani entered the fashion industry and began designing menswear in the 1960s. In 1974, he launched his first menswear line and launched his womenswear line just one year later.
Giorgio Armani with Cate Blanchett at the CNMI Sustainable Fashion Awards during Milan Fashion Week on September 25, 2022 (Credit: Laura Villani / IPA / INSTARimages / Cover Images)
Now, Giorgio Armani has a number of labels under his umbrella – Armani, Emporio Armani, Armani Exchange, and Giorgio Armani Prive – earning this fashion mogul an estimated net worth of $6.6 billion in 2023.
1. Ralph Lauren – Net Worth: $6.8 billion
Taking the top spot on our list is none other than 83-year-old Ralph Lauren, who is just as much of a businessman as he is a fashion designer.
Born under the name Ralph Lifshitz, Lauren was entranced by the upper-class "country club" lifestyle, which greatly influenced his work. After serving in the army, Ralph Lauren followed his heart, working at Brooks Brothers, Rivetz, and Beau Brummell. He launched his first line in 1967, consisting entirely of men's neck ties, under the Ralph Lauren Corporation.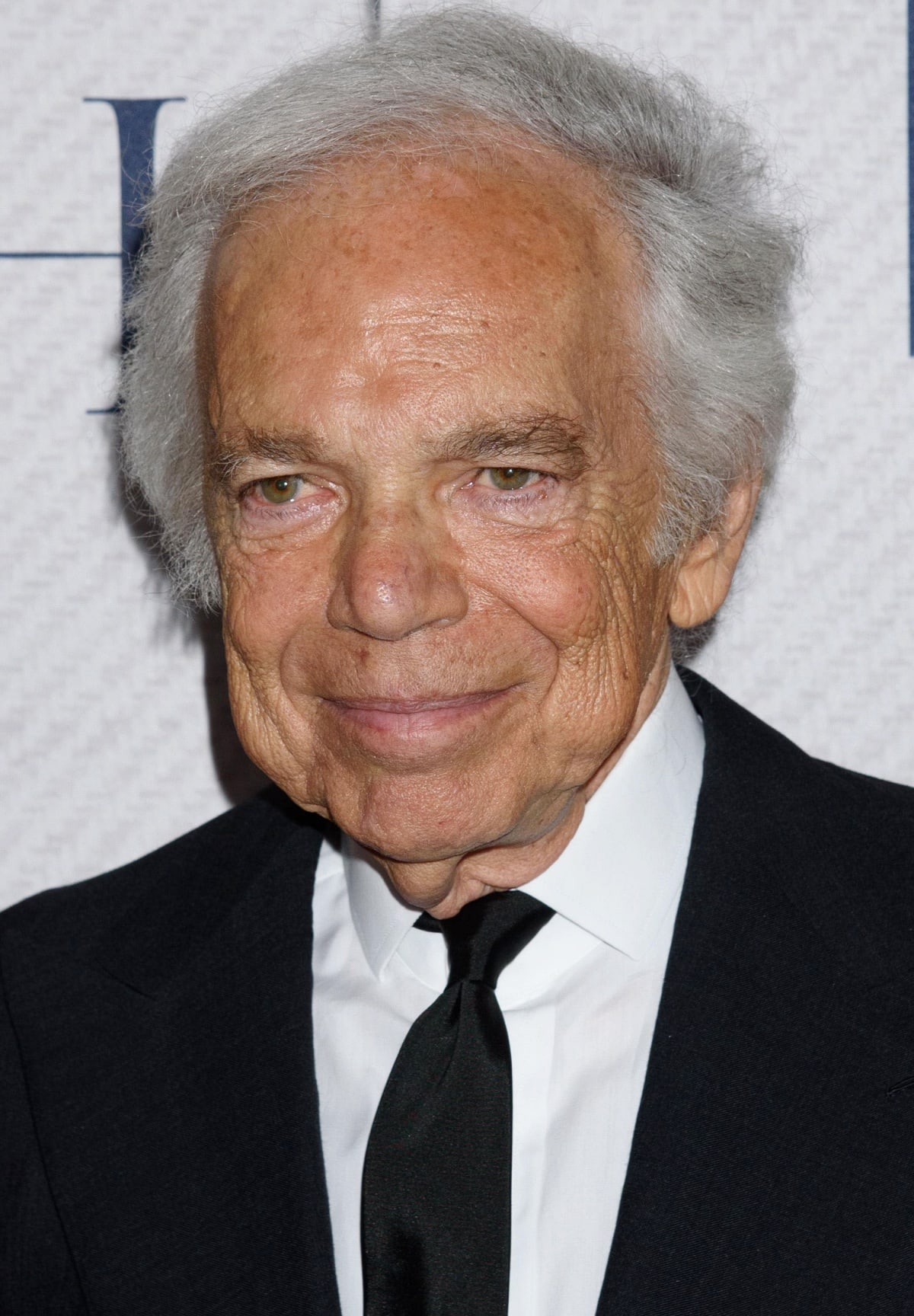 Ralph Lauren attending HBO's Very Ralph world premiere in New York City on October 24, 2019 (Credit: Janet Mayer / Startraksphoto)
In 1968, Ralph Lauren launched Polo – a testament to the preppy, upper-crust lifestyle he was inspired by – and the collection caught on like wildfire. His work was featured in films such as The Great Gatsby and Annie Hall.
Since then, Ralph Lauren has lent his name to fragrance lines, women's wear, sportswear – you name it. Although he no longer serves as the CEO for the Ralph Lauren Corporation, the designer's wise business deals have netted him an estimated $6.8 billion as of 2023.