Something major just went down in fashion history, and we refuse to miss out on this monumental moment.
Donatella Versace did the unthinkable and reunited five of the most legendary models of all time: Naomi Campbell, Claudia Schiffer, Cindy Crawford, Carla Bruni and Helena Christensen.
Not only that, but they met the rookie models that — ideally — will become legends in due time. We're talking Gigi Hadid, Bella Hadid, Vittoria Ceretti and Kaia Gerber.
The monumental gathering was held in remembrance of Gianni Versace, founder of Versace, who was shot dead at age 50 back in 1997.
A picture paints a thousand words. Need we say anything more?
Here are some of the models — past and present — that we spotted at the Versace after party in Milan, Italy.
1. Gigi Hadid and Bella Hadid
Gigi Hadid leaves the Versace after party in Milan.
Sisters Gigi and Bella Hadid were expectedly present at the runway show and after party, with Bella opening the finale walk and Gigi closing the show.
Their BFF Kendall Jenner was still a no-show, though she did upload a photo of the Versace legendary five.
The model closed the show alongside Binx Walton.
Bella Hadid remained within her older sister's peripheral throughout the night.
The two were, of course, clad in Versace dresses. Bella wore an embellished black dress with a crotch-high slit. Gigi took to the more conservative side with a structured off-the-shoulder dress.
Gigi wore a pair of Sergio Rossi ankle strap sandals.
The Hadid sisters take a selfie at the after party.
2. Naomi Campbell
The legendary Naomi Campbell puts paparazzi into chaos as she arrived at the after party.
Well-loved diva of the modeling industry Naomi Campbell was front and center at the final Versace walk.
It naturally follows that she would throw the paparazzi into a frenzy at the Versace after party.
Naomi didn't bother to change out of her golden Versace dress. Luckily, it was so gorgeous that we didn't mind the slightest bit.
3. Cindy Crawford and Kaia Gerber
Cindy Crawford turns her arrival into a photoshoot.
Nothing screams '90s quite like Cindy Crawford. From her iconic mole to her wispy brunette layers, it's easy to see why Cindy found a permanent place as a legend in fashion history.
Cindy joined the legendary five that walked the Versace runway, and even gave us a treat by bringing daughter Kaia Gerber along to walk the same show.
The two arrived at the party in their beautiful Versace dresses, with Cindy keeping her catwalk dress and Kaia changing into a macramé-like piece.
The 51-year-old still looked svelte in her gold Versace dress.
Cindy brought her mini me and aspiring model, Kaia Gerber, to the party.
Kaia, who also walked for the show that evening, poses with her supermodel mother.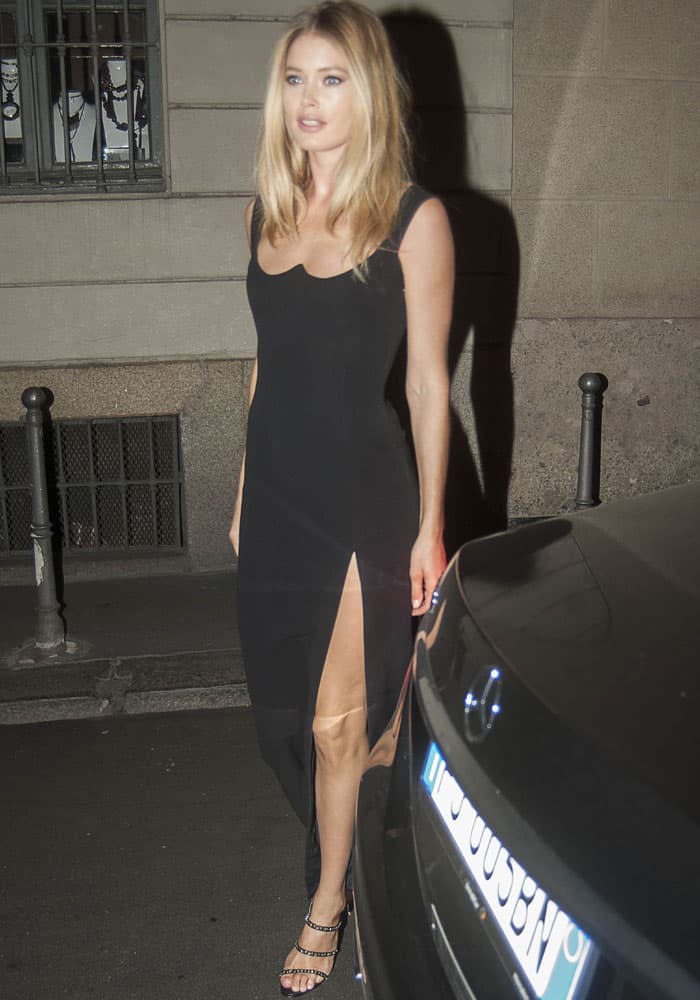 Doutzen leaves the Versace show in her iconic backless dress.
We're not sure if Versace was trying to market a Doutzen dress, but if they were, it's working. The model wore a black backless dress that seemed painted on to her skin. You would think the fabric would bunch and gape, but nope! Not a crease in sight.
How Donatella created this amazing dress, we will never know.
Versace loved the dress so much that they decided to make a short feature clip of Doutzen in it — and it was nothing short of amazing.
5. Vittoria Ceretti
Vittoria Ceretti trails behind her good friend Gigi Hadid as she exits the party.
Vittoria Ceretti, who is quickly becoming one of our favorite faces on the runway, played a vital part in the show by opening the Versace runway alongside Bella Hadid.
The model is snatching the attention of fashion houses everywhere, making her a new favorite among the modeling circles and designers alike.
Vittoria wore a plunging sequin fabric gown which she paired with Saint Laurent sandals.
6. Claudia Schiffer
Claudia Schiffer celebrates 30 years in the modeling industry.
Last but certainly not the least, the beautiful Claudia Schiffer. Coincidentally, Claudia is celebrating her 30 years in the fashion industry with the hashtag #CLAUDIA30YEARS. What better way to celebrate than to walk with an iconic designer alongside legendary models.
The model was clearly ecstatic to be reunited with her good friends, and was even caught on camera shedding tears backstage.
The 47-year-old showed off her amazing figure in a custom Versace gown.
The supermodel still looks impeccable in her gold Versace gown.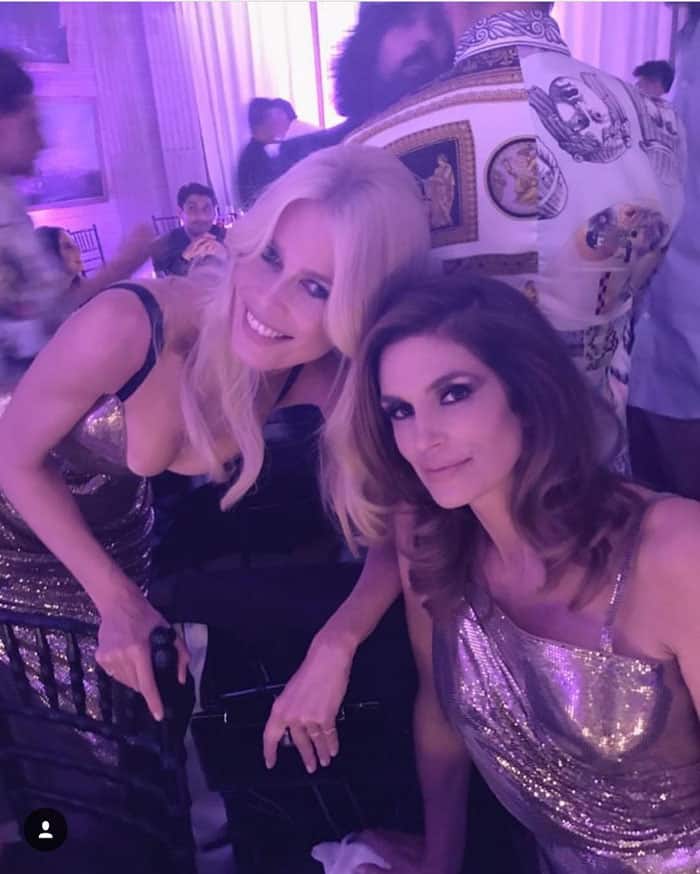 Claudia poses with her longtime friend Cindy Crawford.
Credit: Bella Hadid's Instagram / Kaia Gerber's Instagram / Claudia Schiffer's Instagram / WENN