When it comes to avant-garde dressing, no one does it like Versace. The iconic Italian luxury fashion brand is synonymous with its bright color palette and extravagant prints. No other fashion house captures the spirit of 'la dolce vita' the way Versace can.
While Versace experienced its heyday in the '90s, the brand is re-emerging as a favorite amongst supermodels, influencers, and A-listers alike. Versace shoes are all over our Instagram, including the best-selling Chain Reaction shoes.
Celebrities Nicky Hilton, Vanessa Hudgens, Addison Rae, and Gigi Hadid wearing Versace shoes (Credit: Simona Chioccia / IPA / PAPIX / INSTARimages / Cover Images / Janet Mayer / Startraksphoto)
You might have a pair of Versace shoes on your wish list or could be saving up to splurge on genuine Versace shoes. The luxury price point of Versace shoes makes them a common choice for counterfeiters.
If you're planning on making the splurge, you want to know how to spot fake Versace shoes. We're sharing how to authenticate Versace shoes and everything you need to know before buying your first pair of these luxury shoes.
Where Are Versace Shoes Made?
Italy is an integral part of the Versace DNA. Almost all of Versace's products are made in Italy through every step of the production process. However, some products are made elsewhere in Europe, such as denim. Versace watches are made in Switzerland.
The majority of Versace's production is still located in Italy, with some products made in other European countries (Credit: Creative Lab / Shutterstock)
If you see Versace shoes marked with 'made in China,' it's an instant red flag. Although some designers are now exporting their manufacturing to Asia, Versace is committed to maintaining its Italian and European craftsmanship.
How Much Do Versace Shoes Cost?
The cost of Versace shoes will depend on the style and material used. The 'Greca Sandals' are the cheapest Versace shoes at $375.
By comparison, the most expensive Versace shoes are the 'Aevitas Lace-Up Platform Boots' from the runway collection at $2,625.
Versace shoes are usually priced between $375 and $2,625
You can expect to pay between $650 and $1,800 for the most popular Versace shoes. Platform pumps and ankle boots are the most expensive styles, while sneakers and sandals sit at the most attainable price point.
It's not unusual to find seasonal Versace shoes on sale. E-commerce boutiques like Farfetch occasionally discount less popular styles. However, you can still expect to pay several hundred dollars for Versace shoes, even on sale.
The Most Popular Versace Shoes
Footwear is amongst Versace's best-selling categories for both men and women. While the Italian fashion house is famous for its platform heels, its most sought-after shoes are primarily sneakers, slides, and statement sneakers.
We're rounding up the most popular Versace shoes that deserve a spot on your wish list.
1. Palazzo Slides, $344 – $450 at Nordstrom and Mytheresa
Are you buying your first Versace shoes? The most affordable Versace shoes are the Palazzo slides.
These poolside shoes are made with rubber but still have the same attention to detail you would expect from Versace shoes at a higher price point.
The Palazzo is a rubber pool slide embellished with a 3D Medusa gold-tone plaque surrounded by a carved Greca accent
The slides feature a three-dimensional Medusa plaque, the brand's signature, with Greca accents. You can choose between classic black or experimenting with pastels.
2. Medusa Chain Leather Sandals, $1,071 – $1,450 at Mytheresa, Farfetch, and Versace
When we think of Versace, our mind instantly goes to glamorous Italian models strutting down the runway.
The Medusa Chain leather sandals ooze seduction with a Goddess-inspired feel. These shoes capture Italian elegance with a distinctive Versace DNA.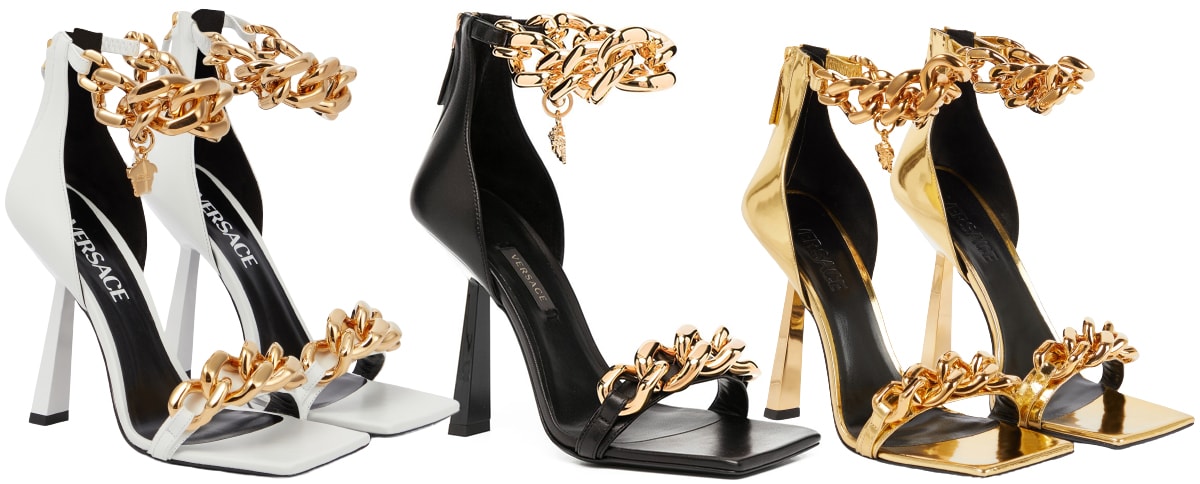 The Versace Medusa Chain sandals are instantly recognizable, thanks to the chunky gold chain straps, suspended pendants, and high angled heels
You can wear these Versace heels as eveningwear with their supple nappa leather and statement gold ankle chain. These shoes are guaranteed to turn heads. You can choose between metallic gold or silver when buying these square-toe heels.
3. Trigreca Sneakers, $675 – $2,244 at Farfetch and Versace
One of Versace's most popular sneakers of all time is the Trigreca.
These sneakers tell the story of Versace's evolving aesthetic, incorporating the three-dimensional Greca into a contemporary platform sole that features Versace's 'Greca Cushioning System.'

Available in an array of versions, the Trigeca sneakers feature a low-top chunky silhouette and a Greca-patterned sole
The shoes are a love letter to Versace's Italian DNA. It's a subtle nod to Versace's home city, with Milan's coordinates discretely mixed into the print of the sneaker's uppers.
Keep it casual with the lightweight, futuristic Odissea sneakers. These slip-on sneakers have a rubberized La Medusa with a three-dimensional effect.

The Odissea lightweight slip-on sneakers boast a futuristic design with a rubberized wing-like La Medusa detail
The Odissea sneakers are under $1,000 and available in an array of neutral shades, making them a transitional style you can wear for seasons on end.
La Medusa is everywhere you look with Versace. She has a starring role in these elegant smooth satin slingbacks. The pointed-toe silhouette is topped with a fully crystal-encrusted Medusa plaque.
Crafted from smooth satin, the Crystal La Medusa slingbacks have a sleek pointed-toe silhouette adorned with a crystal-encrusted Medusa plaque
They're an understated Versace heel that is available in classic black alongside baby pink, fuchsia, and scarlet red.
6. Chain Reaction Sneakers, $995 – $1,175
The most popular Versace shoes of the moment are the Chain Reaction sneakers. They incorporate the strongest elements of the Versace identity with eclectic details and a chain-linked rubber sole that is inspired by Versace's chain jewelry.
The Chain Reaction sneakers are defined by the chunky bubble soles and the La Greca-patterned toes
Give your streetwear a Versace update by splurging on the Chain Reaction sneakers in white or black.
4 Ways to Tell Real vs. Fake Versace Shoes
The best way to avoid buying fake Versace shoes is to purchase directly from the brand or an authorized stockist.
Not everyone wants to pay full price for Versace shoes. Shopping on the pre-loved market can help you save money and find older styles no longer available.
If you're buying pre-loved, you need to know how to spot real vs. fake Versace shoes. While it's harder to authenticate Versace shoes from an online listing, there are a few things to look out for.
1. Sneakers Size Tag
Fake Versace shoes lack the quality and attention to detail you would expect from a luxury brand. The size tag on Versace sneakers is an easy way to authenticate them.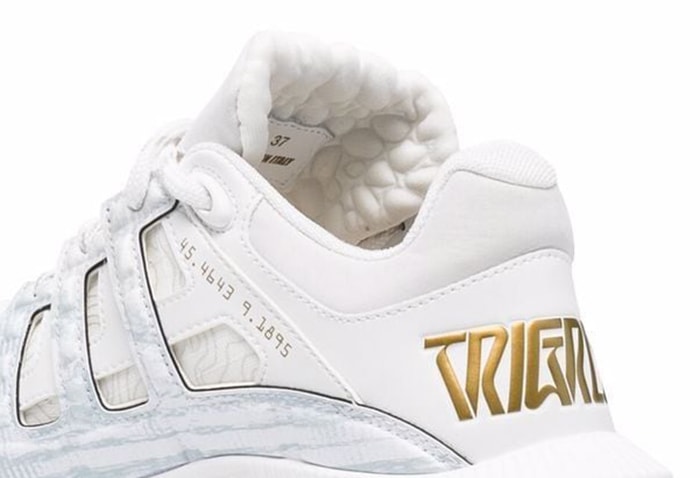 The font on the size tag should be flawless, thin, and consistent across the shoes
The font should be flawless, with no creasing in the leather. Versace typically uses a thin font for its 'made in Italy' tag and sizes. This font should be consistent across your shoes.
2. Compare the Greca Pattern
Versace incorporates the Greca pattern into most of its shoes. It's an intricate pattern that counterfeiters often get wrong. Compare the photos of your shoes with the pictures on the official website listing.
Inspect the Greca pattern and compare the photos of your shoes with the pictures on the official website
The patterns should match up perfectly. Counterfeiters will often go too far and make their Greca patterns too textured.
3. Versace NFC Tag
Luxury fashion brands are fighting back against counterfeits. Versace is incorporating NFC tags into their newest collections for an online authentication system.
You'll be able to tap the NFC tag with your phone to authenticate the item. However, only a small number of Versace items have this technology.
Versace has incorporated NFC tags into their latest collections for an online authentication system (Credit: Versace)
4. Quality of the Packaging
No stone should be left unturned when looking out for fake Versace shoes. Take some time to examine the quality of the packaging.
Designer brands typically provide one dust bag for each shoe with their logo on the bag. The details on the size tag of your shoes should also match the box. If the packaging feels cheap, it's an instant red flag.
The packaging should not feel cheap, and the details on the size tag of the shoe should match the box (Credit: Sozon / Shutterstock)
Versace shoes deserve a spot in your closet. Use these tips to identify real vs. fake Versace shoes to grow your designer collection and find your next shoes.
Versace is an Italian luxury fashion company founded by Gianni Versace, who was one of the world's leading fashion designers (Credit: Ceri Breeze / WENN)
Versace Facts
| What is Versace? | It is an Italian luxury designer brand best known for daring fashions and glamorous lifestyle. |
| --- | --- |
| Who killed Gianni Versace? | He was killed on July 15, 1997, by Andrew Phillip Cunanan, an American serial killer known to have murdered five people. |
| How did Gianni Versace die? | He was killed on the steps of his Miami Beach mansion by the same gun that killer Andrew Cunanan used to commit suicide on a houseboat eight days later. |
| How to pronounce Versace: | It is pronounced Versach-EH, not Versach-EE. |
| How old is Donatella Versace? | She was born on May 2, 1955, in Reggio Calabria, Italy. In 2019, Donatella turned 64. |
| Who owns Versace? | On September 25, 2018, Michael Kors Holdings purchased Versace for $2.12 billion. Going forward, the parent company will be called Capri Holdings. |
| What does Versace on the Floor mean? | The song by American singer Bruno Mars is inspired by Versace and designer Donatella Versace. He says that wearing Versace makes him feel "fancy" and wanting to "have some silky Versace sex". |
| How old is Jay Versace? | The American YouTuber, who is not related to Gianni Versace, turned 21 in 2019. He was born on January 24, 1998, in New Jersey. |
| What does Versace mean? | The fashion brand is named after its founder, Giovanni Maria Versace. |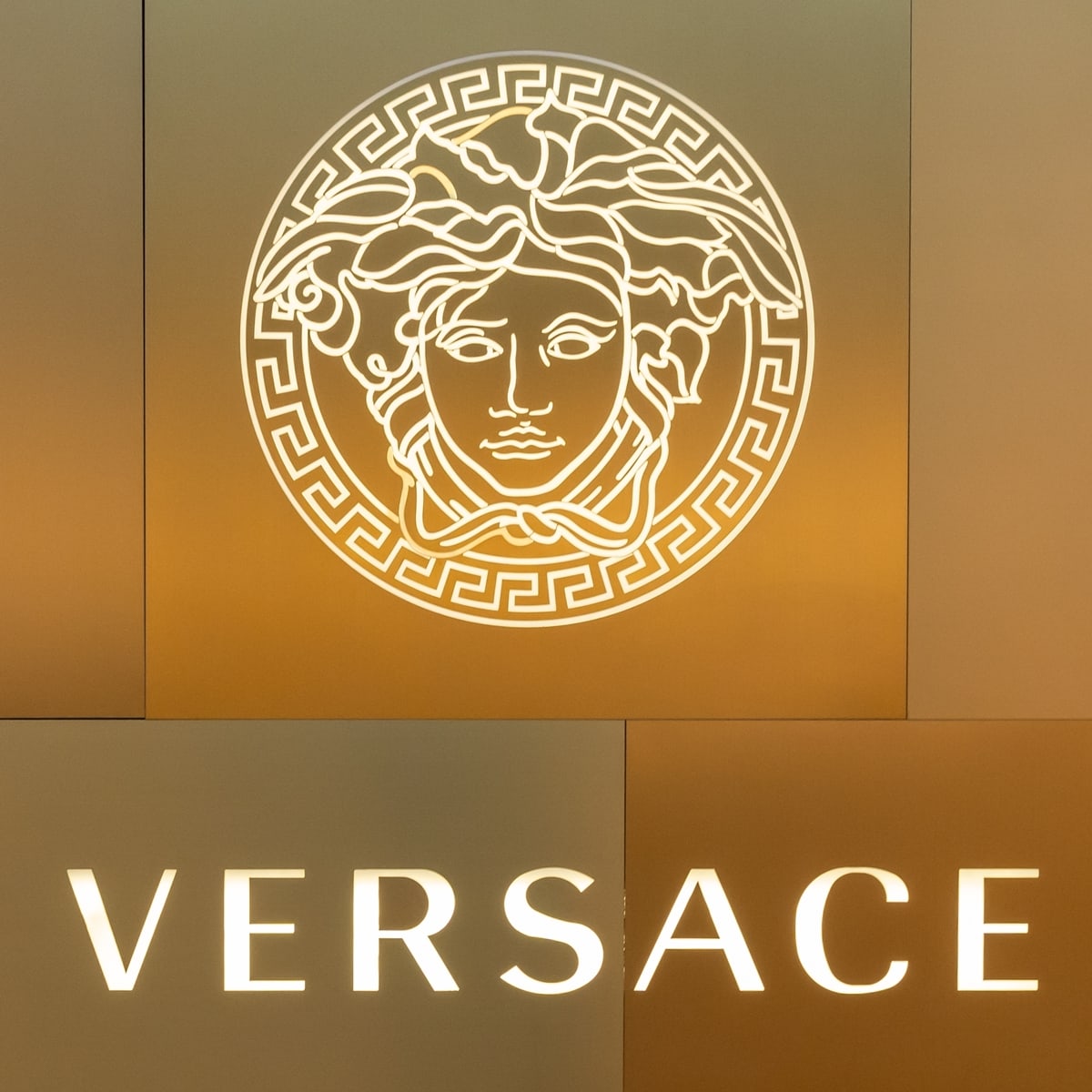 The Versace logo is the head of the Greek mythological figure Medusa (Credit: JHVEPhoto / Shutterstock)