Goodbye, stilettos. Sneakers are reigning supreme. With fashion trends being driven by comfort, self-care, and athleisure, our obsession with sneakers shows no sign of slowing down.
These shoes are no longer just for running errands or hitting the gym. Designer sneakers can take you from a day at the office to a night out with friends.
When it comes to investing in designer shoes, your sneakers may be a better choice than high heels. You don't have to be a gym-goer to appreciate sneakers. They're the shoes you can also rely on to have your back – whether you're hitting up a theatre show or going shopping.
Designer sneakers like these Louis Vuitton sneakers can take you anywhere, from a day at the office to an afternoon of errands to a night out with friends (Credit: Anders Photo / Shutterstock)
We're rounding up the must-have trendy women's sneakers that everyone will be buying. This list contains luxury sneakers that are an investment into your closet, along with more accessible and popular designer brands that allow you to experiment with trends.
Grab your credit card. We're rounding up 20 of the must-have sneakers worth buying right now. These styles are best-sellers and will be right at home in your closet.
1. Gucci Ace GG Supreme Sneakers, $690 at Farfetch
When it comes to designer sneakers, Gucci is in a league of its own. The legendary fashion house is instantly recognizable for its GG Supreme monogram, featured in many of Gucci's iconic designs.
Gucci is largely hailed as one of the first designer brands to make us fall back in love with sneakers.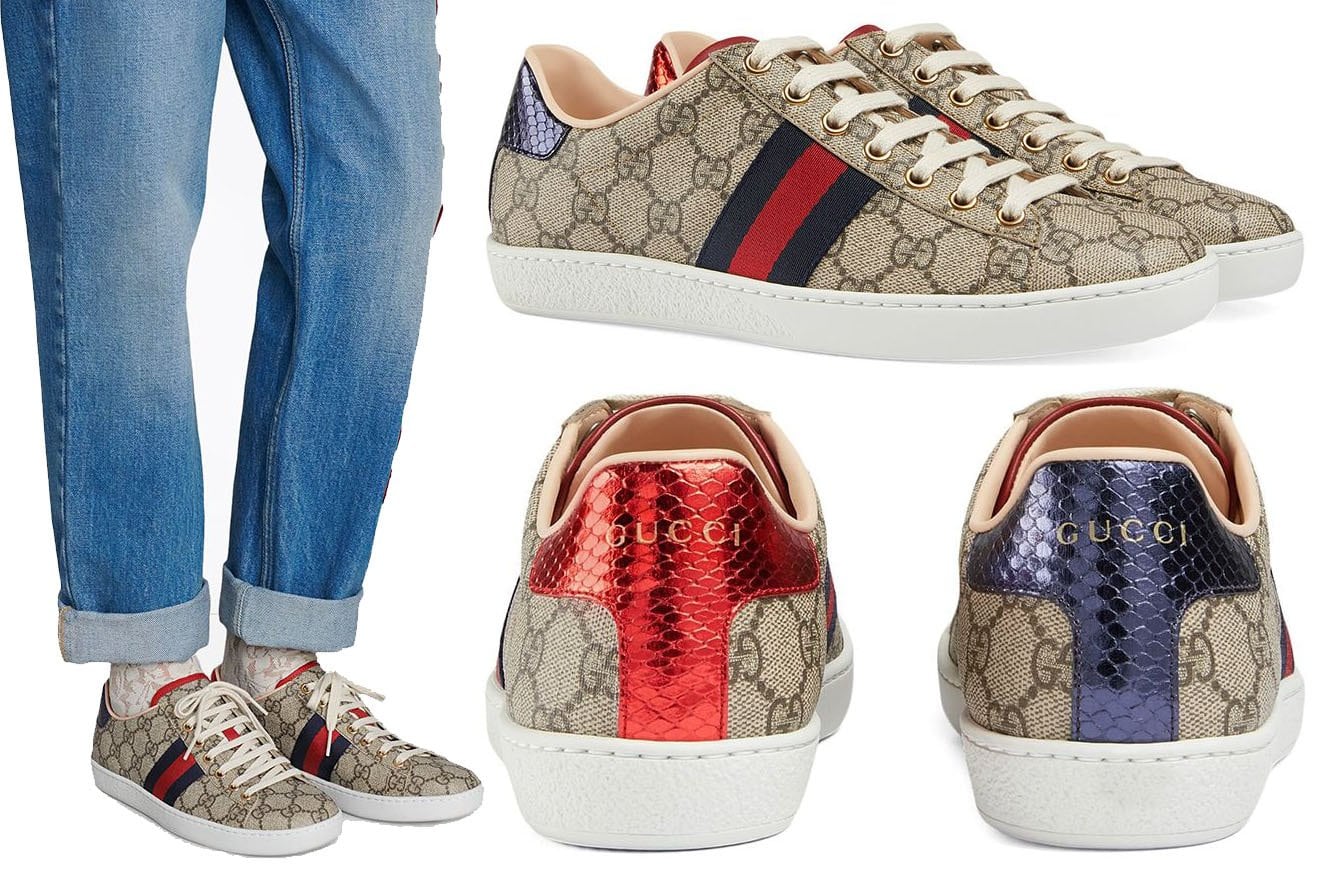 Gucci's classic Ace sneakers are updated with contrasting red and blue snake-effect heels for a trendy athleisure look
The "Ace" sneakers have been given an update for the latest trends with their contrasting red and blue snake-effect paneling that gives them an athleisure-inspired look.
The red and blue branded heel counter makes sure that everyone knows you're wearing a pair of Gucci sneakers.
2. Balenciaga Triple S Faux-Leather Sneakers, $1,090 at Farfetch
One fashion brand that is leading the way with sneaker trends is Balenciaga. Their best-selling style is the "Triple S" in faux leather.
It's available in a rainbow of colors and is the ultimate streetwear look. These sneakers feature Balenciaga's iconic hallmark that is subtle while still being noticeable.
Featuring a triple-stacked sole, hence the name, Balenciaga's iconic Triple S has been updated with a soft-beige colorway and faux leather composition
What makes the "Triple S" stand out is the triple-stacked rubber sole that lifts and elevates your look. These neutral sneakers will fit seamlessly into your capsule closet as an everyday essential. This style features a soft-beige colorway and faux leather for those looking for a more sustainable solution for their sneakers.
3. Scarosso Cecilia Sneakers, $295 at Farfetch
If you're building a collection of sneakers, you need a pair of all-white sneakers—the "Cecilia" sneakers by Scarosso. These leather sneakers are subtle and understated, ideal for any sneaker fan.
They're the style you'll reach for when you're unsure what to wear. At under $300, these sneakers are at an attainable price point that works for almost everyone.
Hand-crafted in Italy from high-quality white calfskin leather, the understated and versatile Cecilia sneakers have calf leather lining, making them comfortable to wear
You can style these sneakers with classic jeans and a t-shirt or even with a little black dress. They're amongst the most versatile sneakers on this list. Not sure where to start with your sneakers collection? Buy these!
4. Air Jordan 1 Mid SE Sneakers, $221 at Farfetch
When it comes to sneakers, Air Jordans are the original cult favorite. These sneakers are the ones that originally made collecting sneakers a hobby.
If you're a sneakers fan, your collection isn't complete without at least one pair of Air Jordan shoes. At $221, these sneakers are a steal.
This red, black, and white Air Jordan Mid SE features a subtle grid pattern, finished with the iconic Air Jordan Wings logo and signature Swoosh logo detail
The Air Jordan 1 Mid SE sneakers feature the iconic swoosh and wings logo with light orewood brown leather. Tuck these sneakers into your skinny jeans or style with tights and a mini skirt.
The white, black, and red color scheme makes these amongst the most wearable in the Air Jordan range. You'll want to grab these quickly before they go out of stock.
5. Chloe Nama Low-Top Sneakers, $725 at Mytheresa
Your sneakers don't have to be a monochrome look. Chloe shows us that sneakers can be just as colorful as our personalities.
The "Nama" sneakers are made using low-impact materials in a 'Happy Yellow' colorway that incorporates whipstitch detailing. With a chunky rubber sole, these sneakers blend a contemporary silhouette with a feminine color scheme.
A pair of eco-friendly shoes, the Chloe Nama Happy Yellow sneakers are crafted from partially recycled mesh with whipstitching, set atop lightweight booster soles
The "Nama" sneakers are on our shopping list for spring and summer. They're the perfect choice for the woman who isn't finished playing dress-up.
6. Valentino Garavani Mesh Lace Runner Sneakers, $890 at Farfetch
Another trendy sneaker to check out is the 'Lace Runner' by Valentino. It incorporates the brand's signature 'V' logo and is a statement style. These sneakers are the ones you'll wear when you want to be the center of attention.

Valentino Garavani's Mesh Lace Runner sneakers feature a casual sportswear silhouette with delicate and romantic floral pink lace design, finished with the brand's signature Rockstud detailing
This casual sportswear style has a romantic aesthetic that will leave you tickled pink. It incorporates a mesh floral lace design and the brand's signature Rockstud detailing across the heel counter.
These sneakers incorporate all the signature aspects of Valentino and show that sneakers don't have to look like something you'd wear to the gym.
7. Off-White Odsy 1000 Sneakers, $850 at Nordstrom
Sneakers are a mainstay in the world of streetwear. Their "Odsy 1000" sneakers are a new release for spring/summer and incorporate everything we love about the brand.
It's their staple silhouette within the brand's sneaker collection and has a chunky design with a contemporary ridged sole.
An Off-White staple silhouette, the Odsy 1000 features an industrial-inspired aesthetic with a trendy chunky sole and signature Zip Tie tag
What makes these sneakers stand out is their signature Zip Tie that makes them indisputably streetwear.
The "Odsy 1000" sneakers incorporate the signature Arrows motif and a blend of light blue, grey, and white hues that make the sneakers an everyday essential.
8. Alexander McQueen Oversized Low-Top Sneakers, $580 at Farfetch
Another brand famous for its sneakers is Alexander McQueen. These oversized low-top sneakers are a classic choice that adds a pop of color with the contrasting heel counter.
The brand has launched a new pink contrasting heel counter that is guaranteed to work for every season.
Alexander McQueen added a pink branded contrasting heel counter to their iconic Oversized Low-Top sneaker silhouette
These Alexander McQueen shoes are amongst the most popular oversized designer sneakers. They're guaranteed to fit into your closet and sit at an attainable price point of under $600.
9. Balmain B-Bold Knitted Slip-on Sneakers, $995 at Farfetch
One of the most exciting brands in fashion right now is Balmain. If you want sneakers that are anything but traditional, check out this style by Balmain. The "B-Bold" knitted slip-on sneakers are trainers with a sock-like silhouette.
Balmain's futuristic sneakers, the B-Bold monogram knitted slip-on sneakers have sculpted platforms in a black and gold iteration
These futuristic sneakers have a sculpted platform sole that is guaranteed to make a statement with its monogram pattern and metallic threading.
If you're hunting for black and gold-tone sneakers that will help you stand out from the crowd, look no further than these Balmain sneakers.
10. Golden Goose Panelled Textured Sneakers, $575 at Farfetch
When we think of sneakers that have a cult following, Golden Goose is top of our list. The brand is famous for its deliberately distressed-looking sneakers that are effortlessly chic.
These are the sneakers that Blair Waldorf would wear if Gossip Girl was still on the air.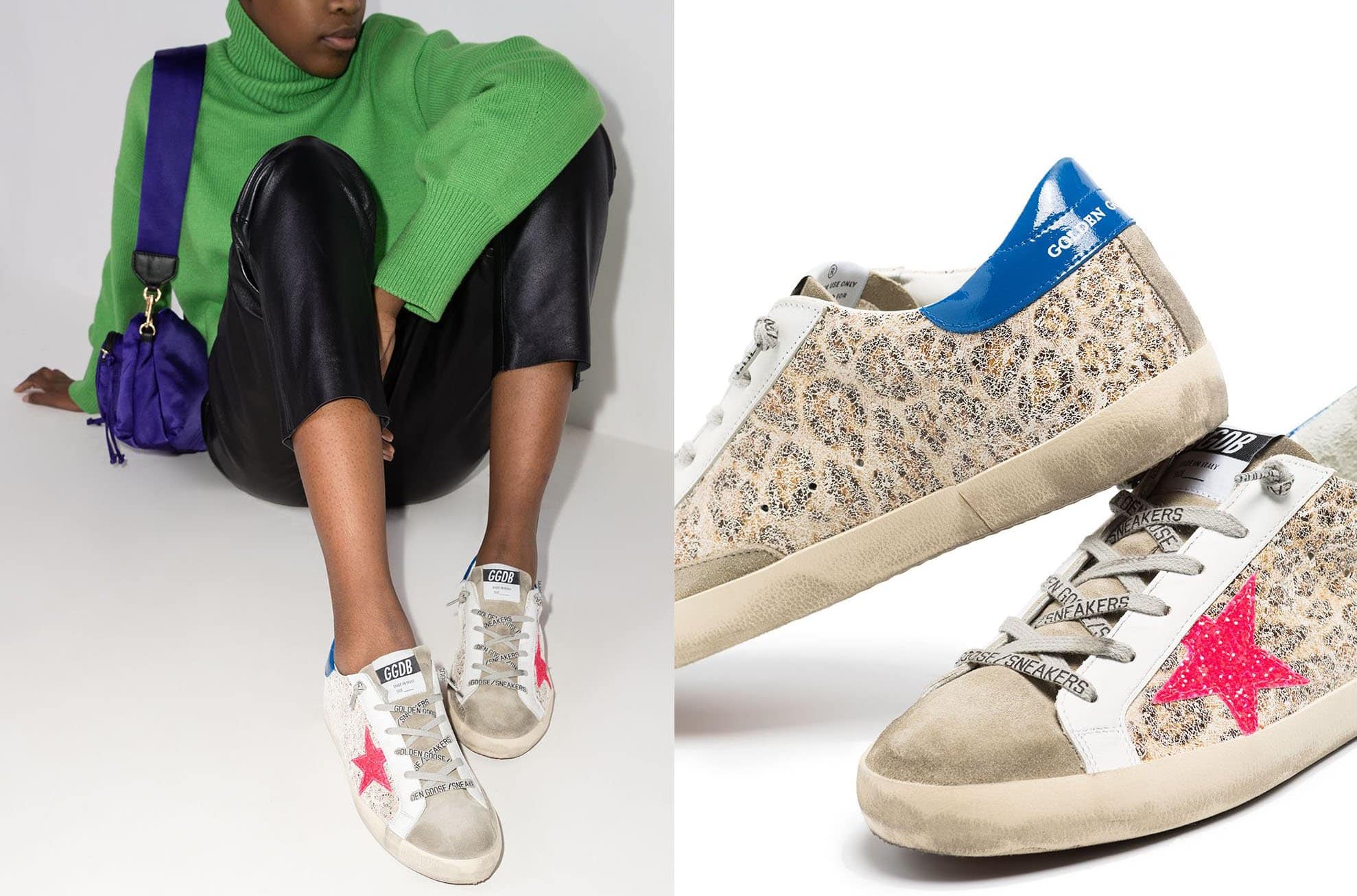 These Golden Goose sneakers feature textured leopard-print panels and the brand's iconic distressed finish and star patches
This paneled textured style includes the brand's iconic 'perfect imperfections' that come from their handmade nature. Golden Goose's iconic star patch appears in a bright neon pink that contrasts with the blue branded heel counter.
11. Versace Trigreca Low-Top Chunky Sneakers, $895 at Farfetch
Athleisure and activewear are still reigning supreme. If you want to give your sneakers a gym-worthy feel, look out for this style by Versace.
The "Trigreca" low-top chunky sneakers are unmistakably Versace, featuring the iconic Medusa head motif.
The Versace Trigeca chunky sneakers are easily recognizable with a logo patch at the tongue, an embossed rear logo, printed coordinates of Milan, and a Greca pattern embossed sole
These sneakers feature a logo printed tongue, Greca pattern embossed sole, and a chunky silhouette. No other brand's sneakers encapsulate Italian heritage more than the Versace Trigreca.
12. Balenciaga Track Faux Fur Sneakers, $1,150 at Farfetch
You shouldn't be surprised that Balenciaga appears on this list of the trendiest sneakers more than once.
The "Track" sneakers have been given an update worthy of Elle Woods with its monochrome pink color scheme and faux fur finish.
This monochrome baby pink version of Balenciaga's Track sneakers are made from rubber and mesh and are updated with faux-fur collar and lining
If you're shopping for designer sneakers that will make you feel like you're walking on air, look no further than these Balenciaga sneakers. Not a fan of pink? You can check out these sneakers in a classic all-white look.
13. Stella McCartney Loop Low-Top Sneakers, $595 at Mytheresa
Stella McCartney is one designer who is no stranger to the world of athleisure. Her latest collection includes these trendy "Loop" sneakers that feature a paneled design and chunky sole.
The peach color offers a contrasting black and white heel counter for an elevated look.
Stella McCartney's Loop sneakers are crafted in Italy from recycled materials and are designed using an innovative technique that doesn't require glue
14. Balmain x Barbie B-Court Hi-Top Sneakers, $750 at Farfetch
If you're a sneaker collector, you'll know that brand collaborations often produce the trendiest and most sought-after sneakers of the year. Balmain's collaboration with Barbie has us all lusting after these "B-Court" hi-top sneakers.
Barbie's pink signature color is incorporated on these monogrammed Balmain B-Court hi-tops, complete with a Balmain Paris logo patch on the outer side
The pink and white color palette makes the Balmain monogram pattern stand out, while the logo patch adds a vintage-inspired twist.
These sneakers are the grown-up version of the classic All-Star Converses and a must-have for fans of Balmain. If Elle Woods could have any sneakers, we bet she would be buying these.
15. Fendi Low-Top Lace-Up Trainers, $930 at Farfetch
Sneakers are a staple for capsule closets. When we're on the hunt for a neutral staple, Fendi usually has the answer. These black and off-white sneakers offer a two-tone design with a flat rubber sole.
You'll reach for these sneakers every day as your tried-and-tested. They're a staple for fans of the logomania trend.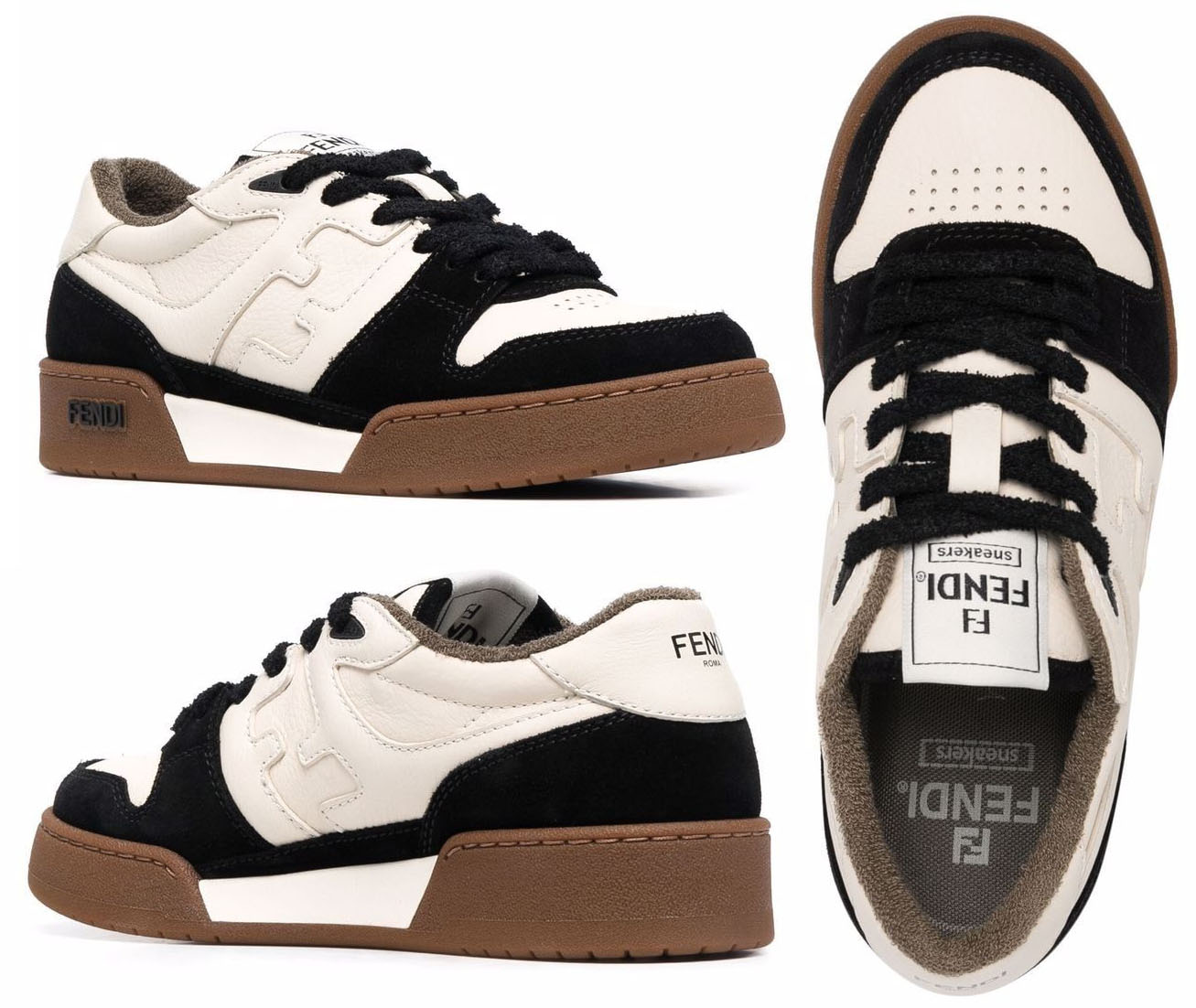 A versatile pair of sneakers, these Fendi low-top shoes feature leather uppers with logos on the sides, heel, and tongue
These Fendi sneakers are guaranteed to give you the best cost per wear of almost any designer sneakers on this list. They're effortlessly chic and will work for any season.
16. Burberry Vintage Check-pattern Touch-strap Sneakers, $790 at Farfetch
Do you prefer a twist of English sensibility to your closet? If your fashion is more understated and better suited to an English country estate, check out these sneakers by Burberry.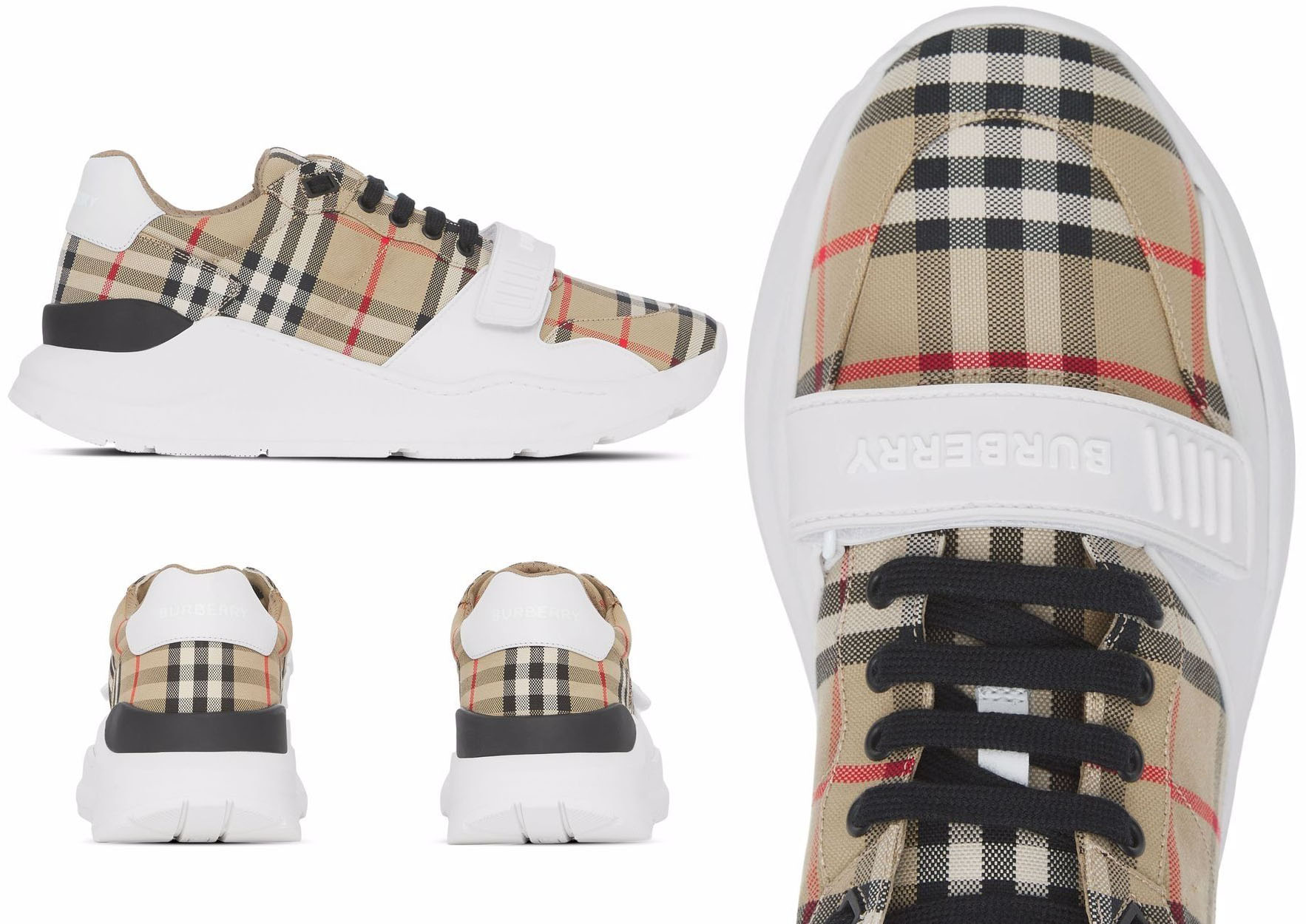 These Burberry sneakers feature the brand's signature check pattern, rubber soles, and a branded touch-strap fastening across the front foot
These sneakers incorporate the brand's vintage check pattern that contrasts with the contemporary chunky sole.
The touch-strap fastening makes these sneakers fuss-free and easy to throw on before rushing out the door. You'll find the 'Burberry' name across the touch strap in a subtle white that matches the sole and heel tab.
17. Saint Laurent SL/24 Logo High-Top Sneakers, $745 at Farfetch
No sneaker collection is complete without a pair of high-top sneakers. This option by Saint Laurent is a more understated alternative to the Balmain x Barbie and Air Jordan sneakers on this list.
The color-blocking paneled design is made using grained and perforated leather that features the gold-toned logo on the side and heel counter.
A vintage-inspired sneaker from Saint Laurent, the SL/24 Logo high-tops boast a color-blocked paneled design crafted in grained and perforated leather with gold-toned logo prints
The emerald-grained texture leather gives these sneakers a sophisticated feel. These sneakers will be a staple in your weekend wardrobe.
18. Valentino Garavani Rockrunner Camouflage Sneakers, $890 at Farfetch
What we love about sneakers is that you never know what to expect. Valentino's "Rockrunner" sneakers give us an unexpected camouflage print that blends a masculine print with a feminine color palette.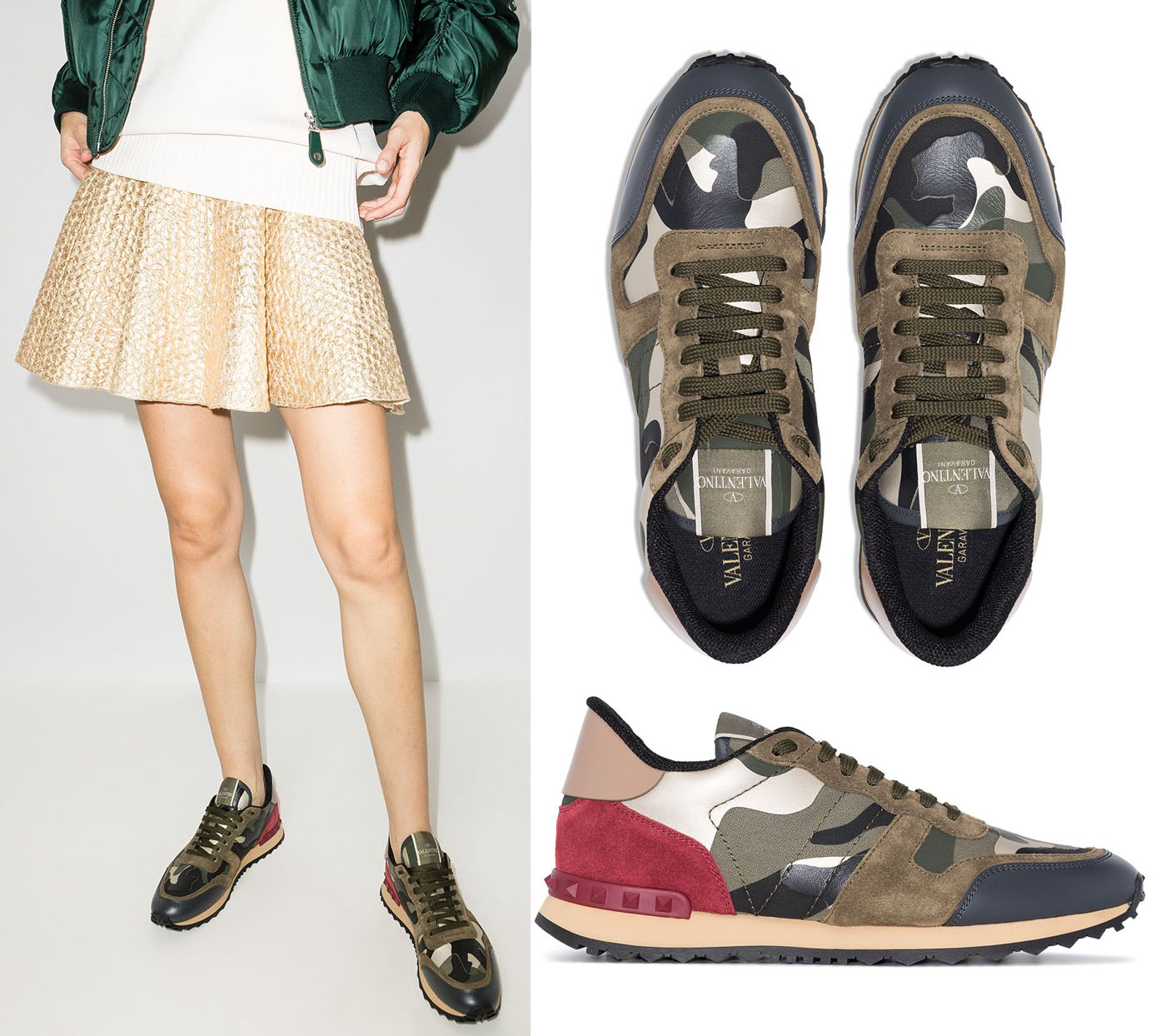 First seen in 2010, Valentino Garavani's Rockstud sneakers are updated with contrasting panels and a camouflage print finished with tonal Rockstuds
These sneakers first made their debut in 2010 and have been flying off the shelves ever since, continuing to be one of the brand's best-sellers. They feature all the signature motifs of Valentino, from the tonal Rockstud embellishments to the branded tongue.
19. Palm Angels New Teddy Low-Top Sneakers, $505 at Farfetch
Sneakers give you a blanket canvas to get creative with. Palm Angels' "New Teddy" sneakers add a quirky twist to an otherwise minimalistic white sneaker. It features the brand's signature teddy motif that is crafted from soft leather for a contrasting texture finish.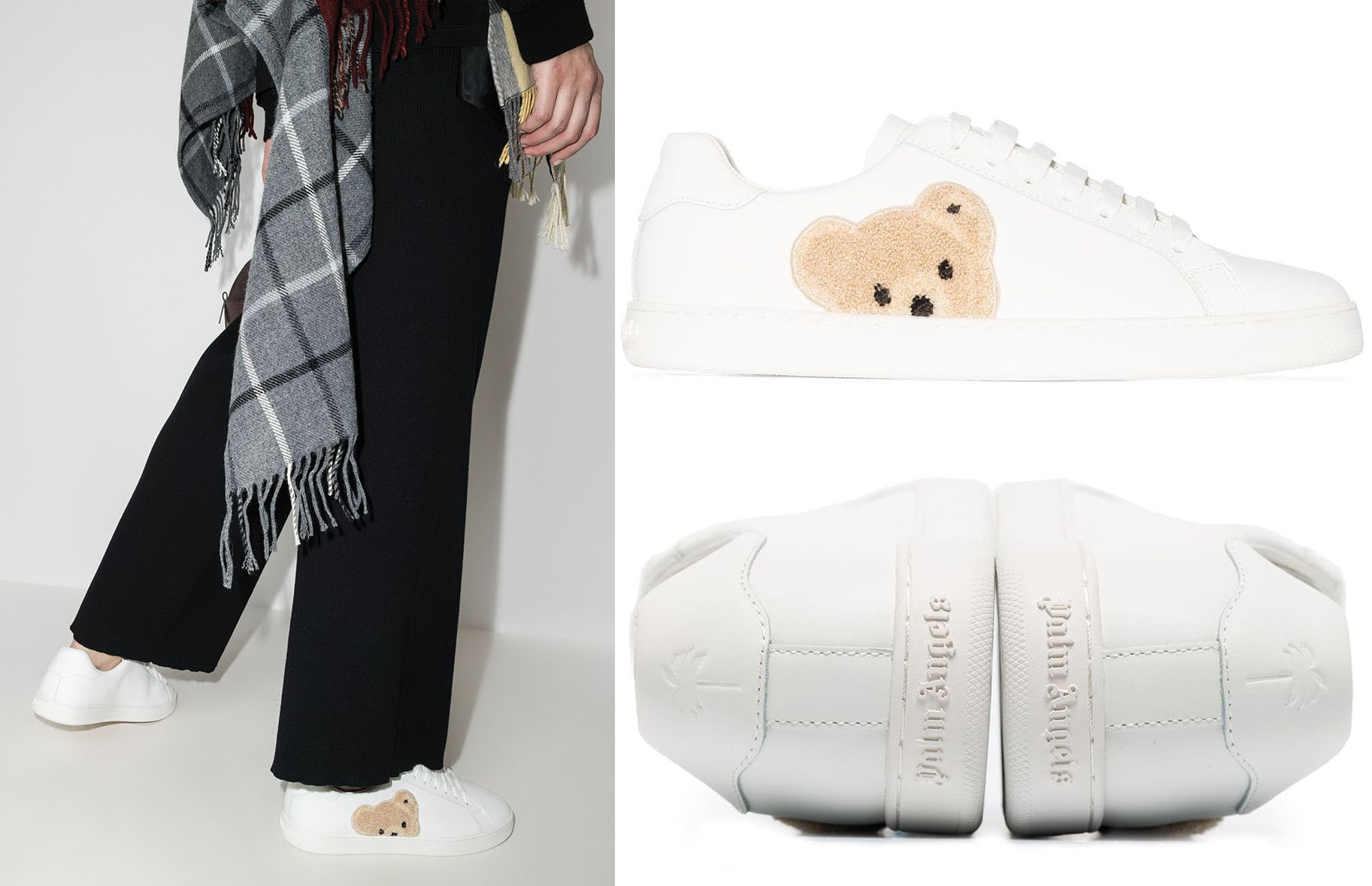 Palm Angels' New Teddy low-top sneakers boast the luxury fashion label's signature teddy motif, adding a quirky element to the classic all-white sneaker look
These sneakers are the perfect choice for the fan of classic fashion who appreciates a unique twist to timeless looks.
20. Golden Goose Super-Star Glitter-Embellished Sneakers, $655 at Farfetch
We couldn't finish off this list of the trendiest must-have sneakers without including a glitter-embellished option. If you're someone who loves a touch of glamour, these Golden Goose sneakers are for you.
Golden Goose offers a glittery iteration of their iconic Super-Star silhouette, complete with the signature star patches and distressed finish
They're the latest addition to the Super-Star collection and are embellished in a multi-color glitter that catches the light beautifully.
It still features all the signature elements synonymous with Golden Goose, from its star patch to the branded heel counter. If you're looking to add to your Golden Goose collection – or buy your first pair – these sneakers should be top of your list.
Which of these sneakers will you be adding to your closet?