Long live the animal print trend. Embrace your wild side and choose a signature print. Animal prints aren't just for scarves or handbags. They can make a serious statement on your feet as well.
You have virtually the entire animal kingdom to choose from – with cheetah, zebra, cow print, and tiger, to name but a few.
Various animal prints, including cheetah, giraffe, tiger, zebra, leopard, dalmatian, cattle, and jaguar (Credit: LenaSunagatova / Shutterstock)
It's easy to be overwhelmed by the different types of animal print available. There's something for everyone, whether you want the chicness of Dalmatian or the quirkiness of butterflies.
We're sharing the must-have animal print shoes that everyone needs to have in their closet, from the classics to the alternatives.
1. Cheetah print
One of the most popular animal prints of all time is cheetah. This print is often confused with leopard print, which we'll touch on next. What makes cheetah different is that it's a more subtle animal print and is cooler in tone than a leopard.
A Cheetah print also has black spots instead of the brown and black ones that you'll see on leopard print. If you're looking for a minimalistic animal print for your shoes, check out these "Martin" loafers by Aquazzura.
Aquazzura 'Martin' Flat Loafers, $895 at Farfetch
Cheetah prints have solid black spots as seen in Aquazzura's Martin flat loafers
2. Leopard print
By comparison, leopard print is a more common choice within the fashion industry. This print has a warmer undertone and features black spots with a brown in-fill.
What we love about leopard print is its versatility. You can easily dress this print up or down, depending on the occasion.
Nine West 'Trendz' Pointed-Toe Pump, $89 at Nordstrom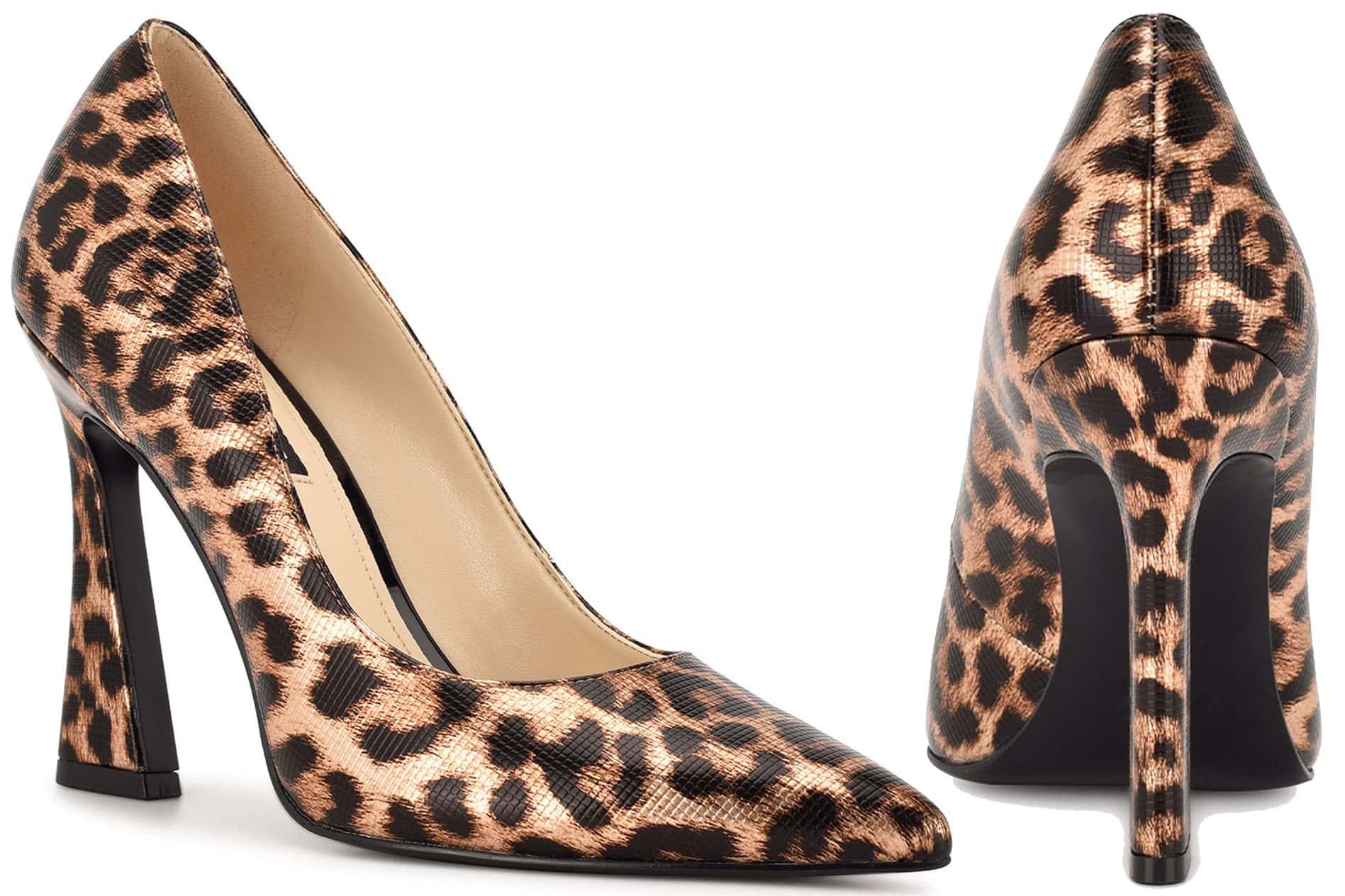 Featuring irregular, clustered rosettes, you can easily pair these leopard-print shoes with dresses or jeans
You need at least one pair of leopard print heels in your closet. The "Trendz" pointed-toe pump by Nine West gives you the classic leopard print with the functionality of a block heel.
3. Zebra print
Zebra print is a neutral-wearing girl's best friend. It's a subtle animal print that makes a statement in black and white. Just like leopard, this animal print is a timeless choice that comes back in the latest trends every season.
Zebra Block-Heeled Mules, $59 at Nasty Gal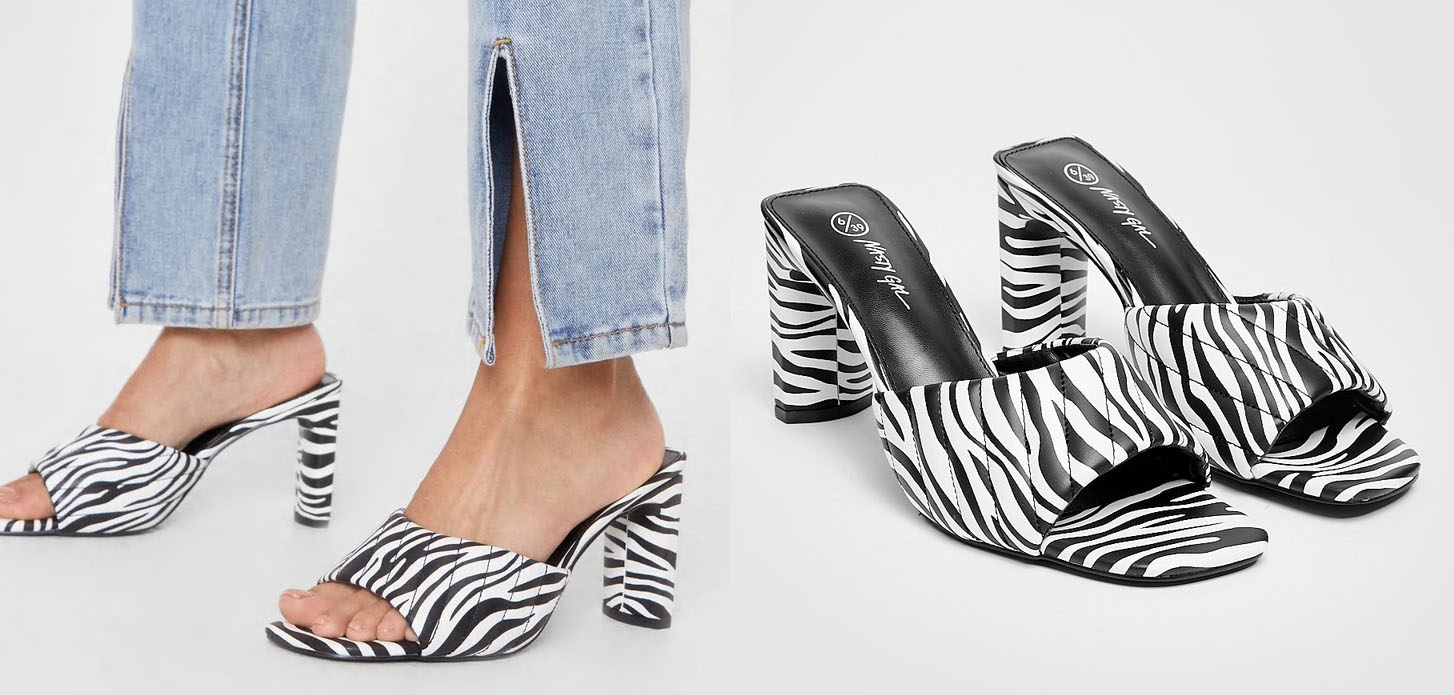 Minimalist yet striking, Nasty Gal's zebra-print mules come in faux leather and feature about 3.5-inch block heels
If you're not ready to commit to head-to-toe animal print, experiment with zebra print shoes. Nasty Gal's Zebra block-heeled mules are on top of our wishlist for spring and summer.
4. Cow print
Are you a fan of zebra print but want to try something bolder? Cow print is the one for you. You can channel your inner cowgirl and embrace the bohemian chicness of the print. It's easy to think of cow print as being a micro trend, but it's a quirkier take on the classic leopard and zebra prints.
Vans 'Vault OG' Cow-Print Sneakers, $119 at Farfetch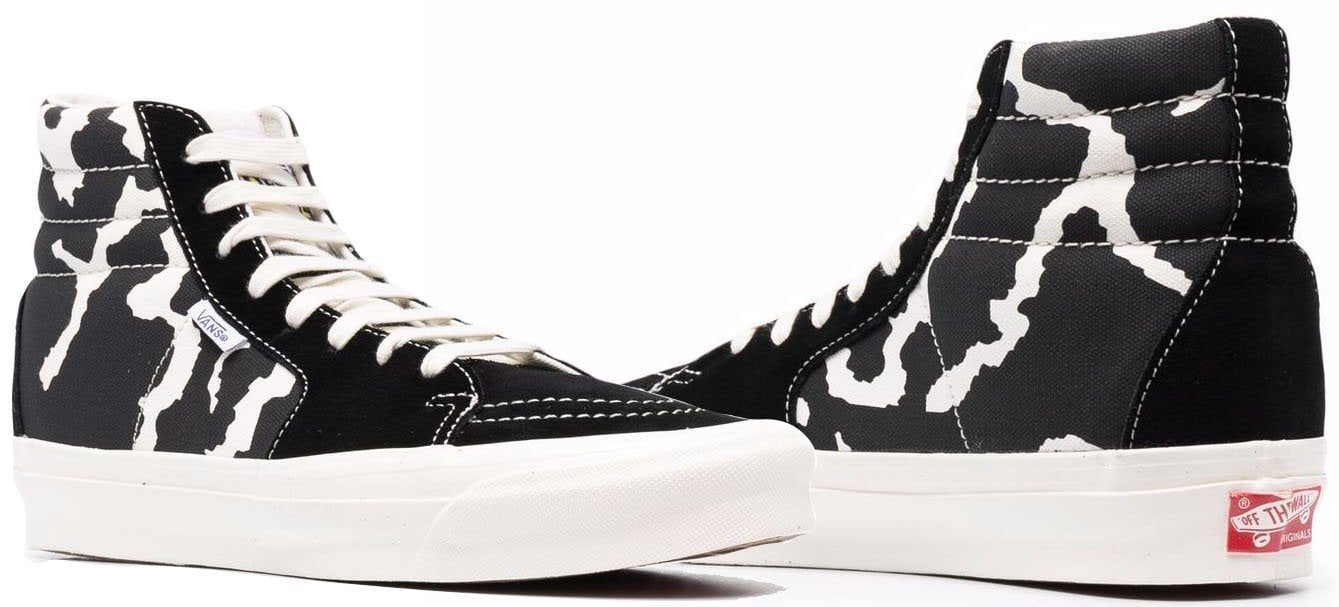 For a touch of quirk, add these bold cow-printed sneakers to your laid-back outfit
Cow print was a major trend for fall 2021 and we're excited to see where it goes this year. Ready to add it to your closet? Check out these throwback cow-print sneakers by Vans.
5. Crocodile print
It's easy to think that animal prints are bold – but they don't have to be. If you prefer a more understated and elevated look, experiment with crocodile print.
This animal print trend is one that you'll see everywhere this year. What makes this print different is that it's as much about the texture as it is the look.
Michael Michael Kors 'Scarlett' Crocodile-effect Ballerina Shoes, $204 at Farfetch
Understated but chic, these Michael Kors Scarlett ballet flats come in chestnut brown crocodile print that can elevate any look
You can find crocodile print in every color of the rainbow, whether your heart bleeds pastels or if you're a neutral lover. The "Scarlett" crocodile-print ballerina by Michael Kors is a classic style that you'll reach for every day.
6. Snake print
While snake print isn't getting the same attention as cow's print, it still deserves a space in your closet. Snakeskin is one animal print that will never go out of style. It's just as timeless as crocodile print but offers an edgier feel.
Christian Louboutin 'Kate' Snakeskin Pump, $775 on Mytheresa
An iconic Louboutin silhouette, these Kate pumps are timeless in pristine white snake-embossed leather
What we love about snakeskin shoes is that they can instantly transform your look and take it to the next level. Louboutin's white "Kate" snakeskin pumps are the perfect splurge purchase for your closet.
7. Lizard print
Lizard print is a go-to choice for those who love both crocodile and snakeskin prints. It gives you the best of both worlds with the texture of crocodile but the look of snakeskin.
Kurt Geiger 'Maddox 2' Chain-Detail Vegan-Leather Loafers, $114 at Selfridges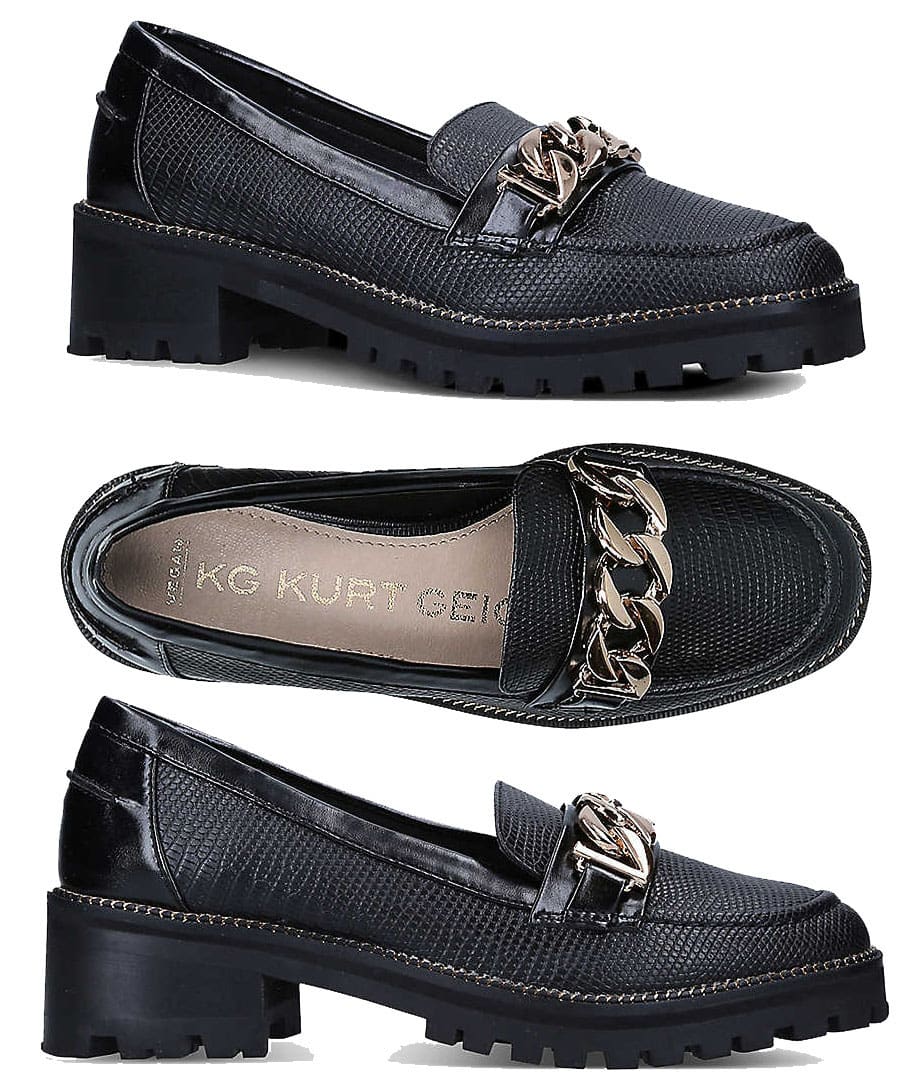 Chunky chains and heels give these classic lizard loafer silhouette a contemporary upgrade
If you want subtle detailing that effortlessly elevates your look, you want to invest in lizard print shoes. Kurt Geiger's "Maddox 2" loafers use vegan leather with a lizard print texture for everyday wear.
8. Reptile print
How is reptile print different than snakeskin, you might ask? While snakeskin is a type of reptile, what we consider 'reptile print' within the fashion industry typically has more scales and a rougher texture.
Superga Reptile-Print Light Brown Sneakers, $87
Featuring an all-over reptile print, these Superga sneakers will offer a playful yet fierce addition to your wardrobe
You don't have to be a high-heel wearer to appreciate reptile print. Superga's reptile print sneakers prove that it is possible to wear animal print every day.
9. Butterfly print
Perhaps the most unique animal print of them all is the butterfly. Thanks to brands like Sophia Webster, butterflies aren't just a print for children's fashion.
This whimsical print is perfect for those who prefer a more feminine aesthetic while still wanting to be outspoken with their fashion choices.
Downtown Dive Butterfly-Print Booties, $55 on Dolls Kill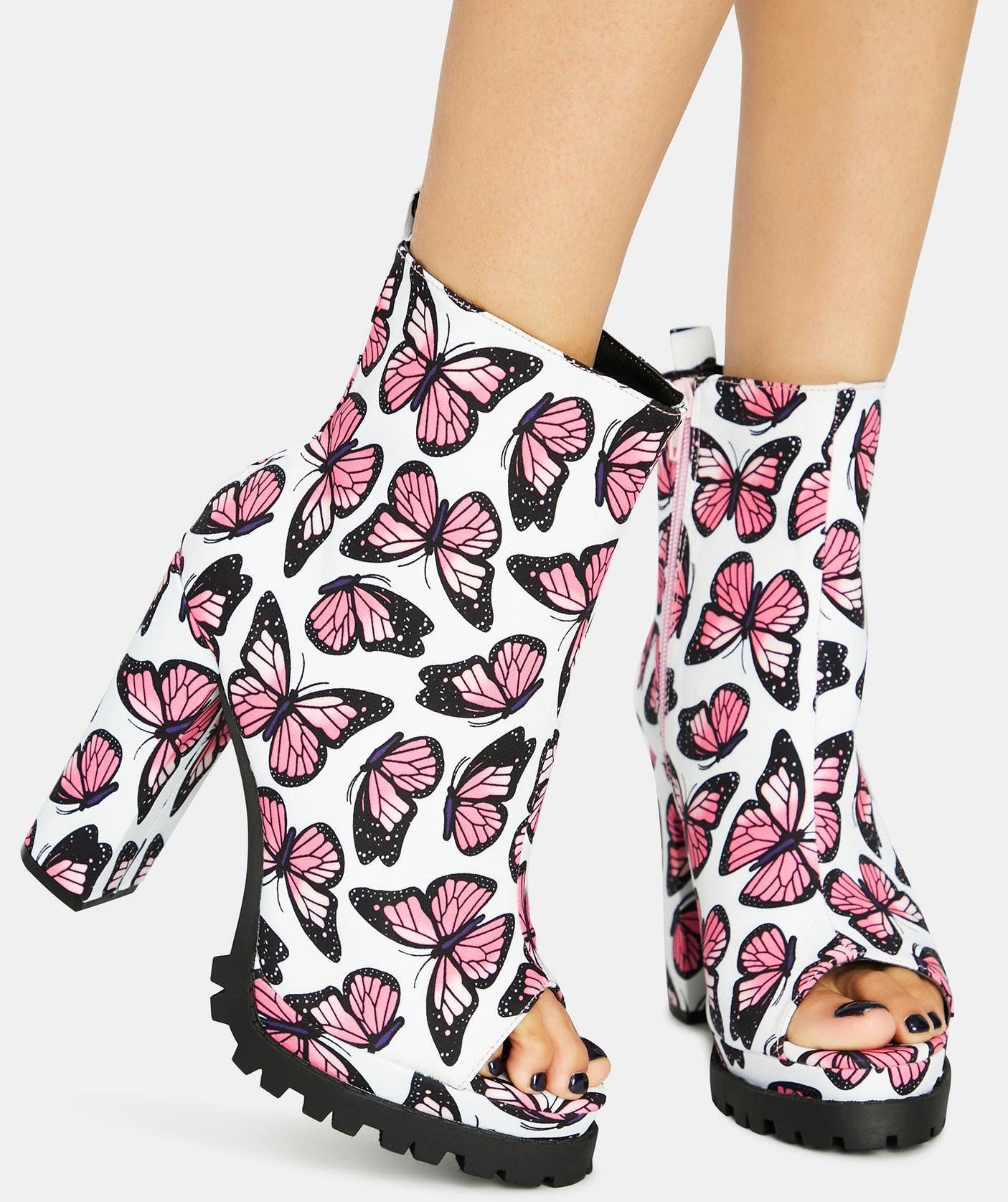 Whimsical butterfly prints add feminine flair to these chunky peep-toe booties
Dolls Kill's "Downton Dive" heels blend masculinity and femininity with a peep-toe ankle boot complete with butterfly prints.
10. Dalmatian print
Channel your inner Cruella with a hundred and one spots. Dalmatian is the more elevated sister of cow's print, making it an ideal choice for those who want a more refined look.
Sticking to the classic white with black dots look of dalmatian can help you create a transitional closet that works for every season – and occasion.
Amina Muaddi 'Marni' Dalmatian-Print Mules, $1,125 at Nordstrom and Farfetch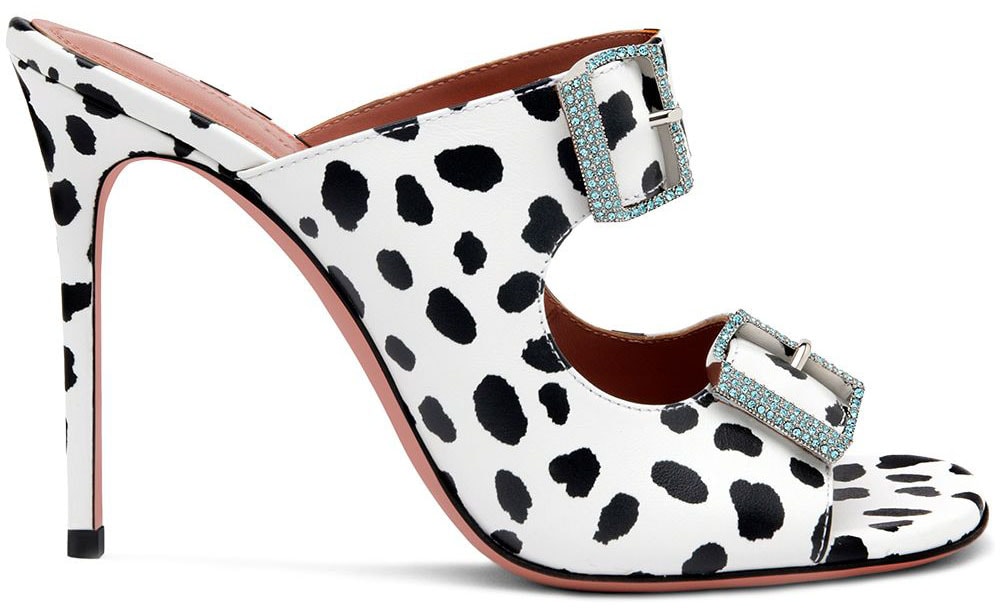 Cute and quirky, these Amina Muaddi Marni mules feature Dalmatian prints and crystal buckle fastenings
Dalmatian print is amongst the most wearable on this list and is a perfect entryway into wearing animal prints. Amina Muaddi, the darling of luxury footwear, even added dalmatian print mules to her latest collection.
If you're looking for the ultimate pair of dalmatian print shoes, these are them. Its minimalism means that dalmatian print is effortlessly chic and wearable every day.
There's an animal print for everyone. It's all about finding the one that works with your personal style and making it your signature. These 10 animal prints are ones that everyone needs in their closet.
Which of these animal prints will you be adding to your shoe closet?