Pierre Balmain is a French designer who deserves to have his name alongside Coco Chanel, Louis Vuitton, and Christian Dior.
His eponymous brand, 'Balmain,' was synonymous with exquisite elegance and glamour.
Balmain became known around the world as the "king of French fashion" and became a go-to designer in Hollywood, dressing stars like Brigitte Bardot and Ava Gardner.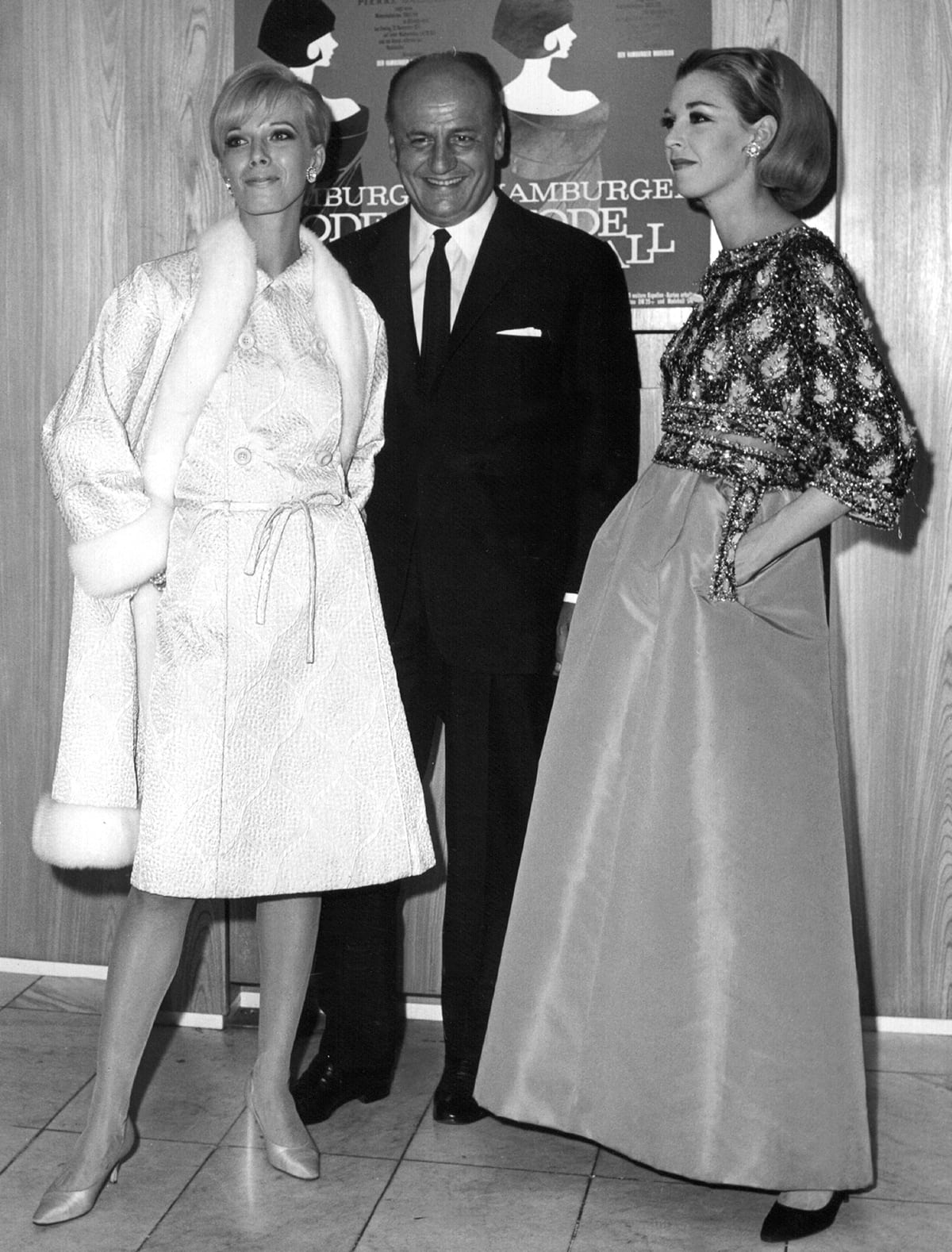 French fashion designer Pierre Balmain with two models at the fashion ball in Hamburg, Germany in 1965 (Credit: dpa / picture-alliance / Cover Images)
While the brand once represented sophistication and glamour, its undergone an aesthetic change in recent years, adapting to meet the contemporary idea of luxury.
It's one of the most popular brands with celebrities like the Kardashians and luxury influencers. The iconic Balmain blazer is one of the most recognizable pieces in luxury fashion.
We're deep diving into the world of Balmain, exploring why the brand is so popular and what you should know before making a purchase from Balmain.
Meet Balmain
Pierre Balmain was born into a fashion family, with his father operating a drapery business and his mother and sister owning a fashion boutique he worked in following his father's death.
While Balmain originally studied architecture, he began designing dresses before working in the French airforce.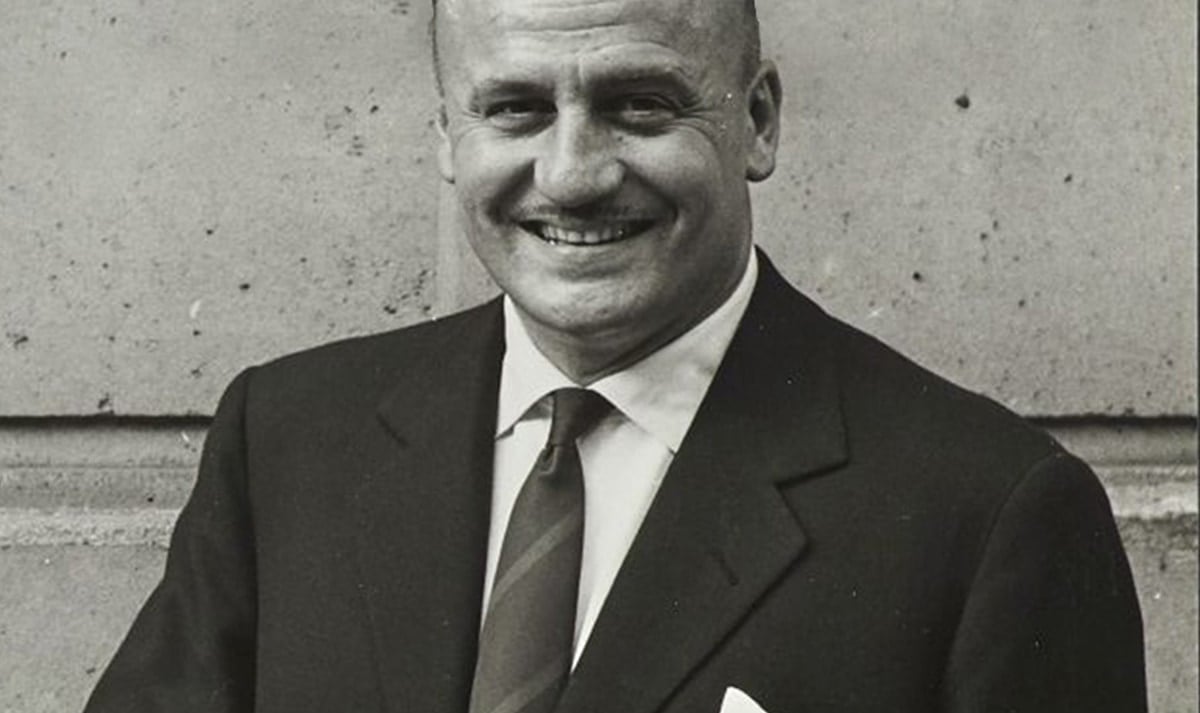 Pierre Balmain, a.k.a the king of French fashion, studied architecture before becoming an apprentice to British fashion designer Edward Molyneux and working with Christian Dior (Credit: Balmain)
After the war, he opened Balmain as a fashion house at 44 rue Francois 1er in Paris. Balmain's first collection was released in October 1945. The fashion house was one of the first to venture into the world of fragrances, releasing 'Jolie Madame' in 1949.
Balmain became a nurturing ground for some of the industry's brightest talent. Oscar de la Renta led the company from 1993 to 2002, curating its focus on classic silhouettes, prioritizing modest and simplistic designs over flashy and ornamental styles.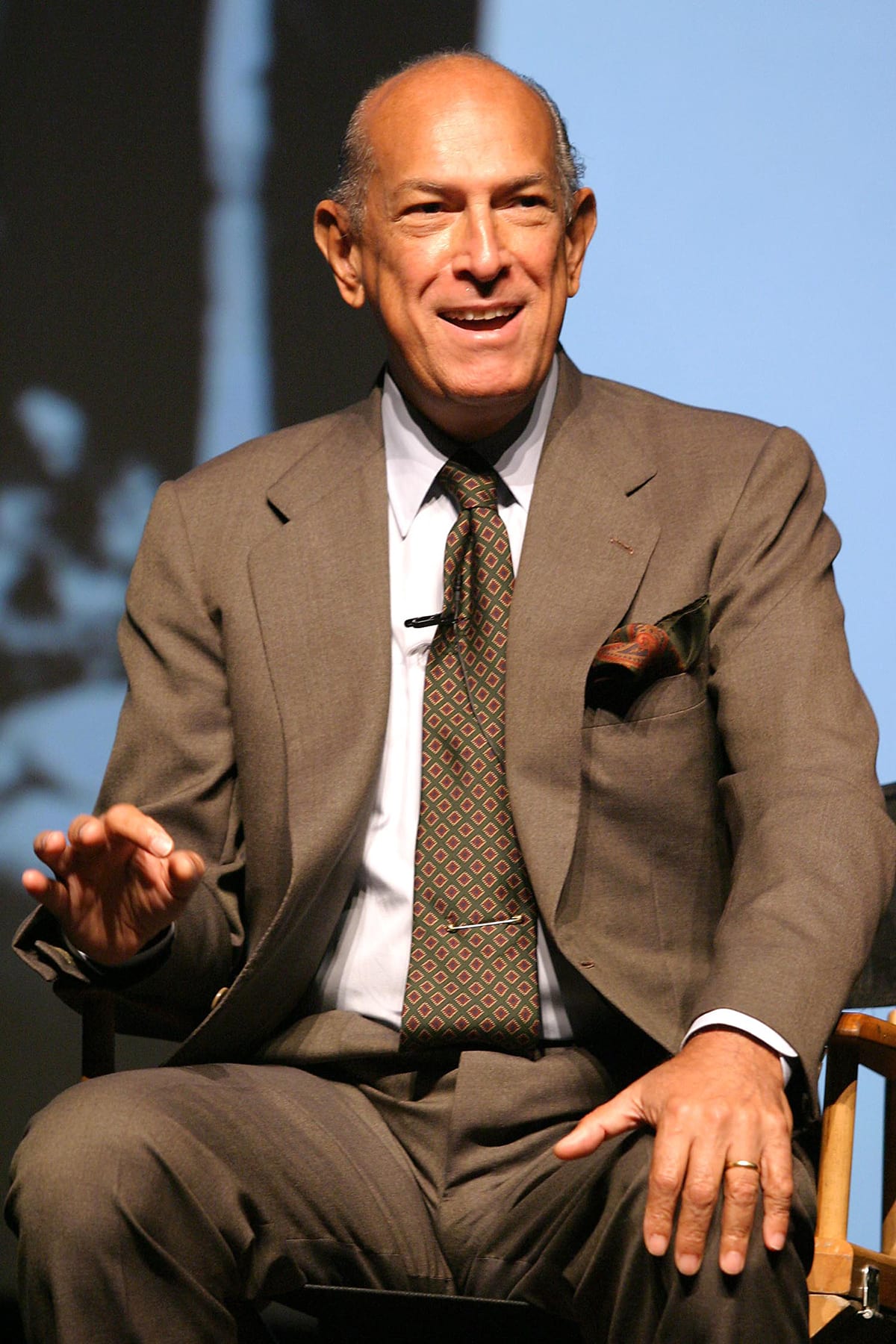 Oscar de la Renta designed the haute couture collection for the house of Balmain from 1993 to 2002, making him the first Dominican to design for a French couture house (Credit: Alex Oliveira / startraksphoto)
It was Christopher Decarnin who gave Balmain an update for the 21st century. He moved away from the brand's classic designs and embraced the flashy pieces that Pierre Balmain and Oscar de la Renta had once rejected.
Oliver Rousteing joined Balmain in 2009 and became Creative Director in 2011, choosing to shift the company's focus towards incorporating more French couture into the brand's identity.
Although a relatively unknown designer when he replaced Decarnin, Rousteing injected an Asian influence into the brand.
He described his plans to develop Balmain's "joy-filled signature mix of fashion and music" by continuing to focus on the house's rich mastery of traditional couture techniques.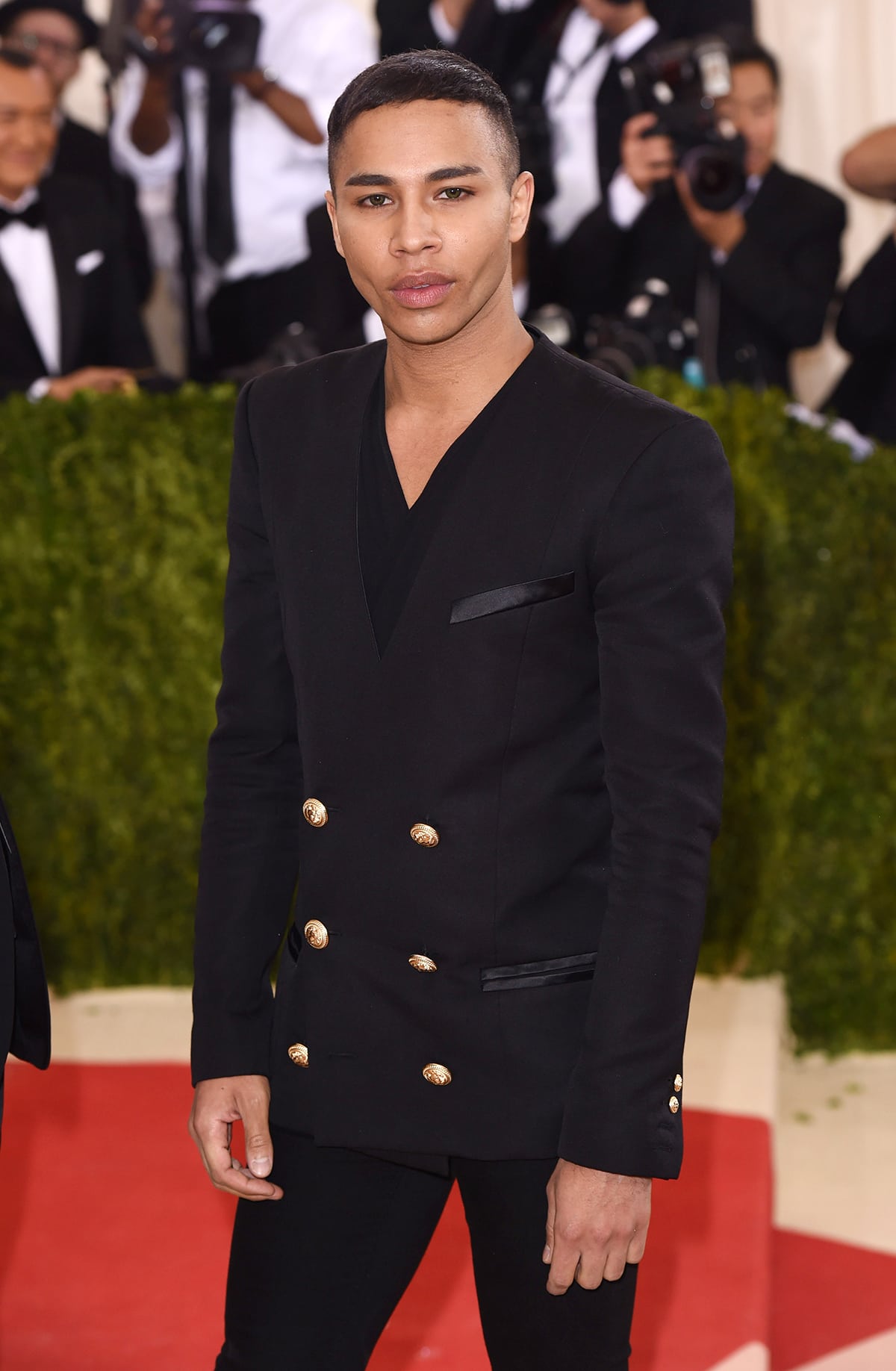 Oliver Rousteing has been the creative director of Balmain since 2011 (Credit: Richard Young / Startraksphoto)
Balmain has evolved with time to become a French fashion house that represents 21st-century culture by embracing inclusive diversity with a contemporary outlook on luxury. Rousteing unveiled the new sleek and modern 'Balmain' logo in 2018.
Is Balmain considered a luxury?
Balmain is a luxury French fashion house. While Balmain was originally most associated with haute couture, the brand's image has evolved in recent years to take more of a streetwear approach.
It's adopted a more youthful approach focusing on a contemporary idea of opulence.
Balmain is a luxury French fashion house with ready-to-wear pieces priced between $2,000 and $3,000
The brand sits at a comparable price point to Balenciaga, Prada, and Gucci. Most of its ready-to-wear pieces retail from $2,000 to $3,000, with entry-level accessories sitting above the $1,000 price point.
Is Balmain owned by LVMH?
While LVMH has been purchasing luxury brands across various categories, it does not own Balmain.
However, LVMH was interested in purchasing the fashion house when it went on sale in 2016 through its investment firm, L Capital. Balmain was sold to Mayhoola for Investments in 2016, an investment group linked to Qatar's royal family.
Mayhoola is positioning itself as a competitor to LVMH after acquiring Valentino in 2012. The group also has a hold in Anya Hindmarch and Pal Zileri.
Why is Balmain popular?
Balmain is popular with millennials and younger consumers as it's a French fashion house with a rich history that has evolved with time and society's view of luxury.
Olivier Rousteing has brought the brand into the 21st century, creating one that embraces modesty and eye-catching designs.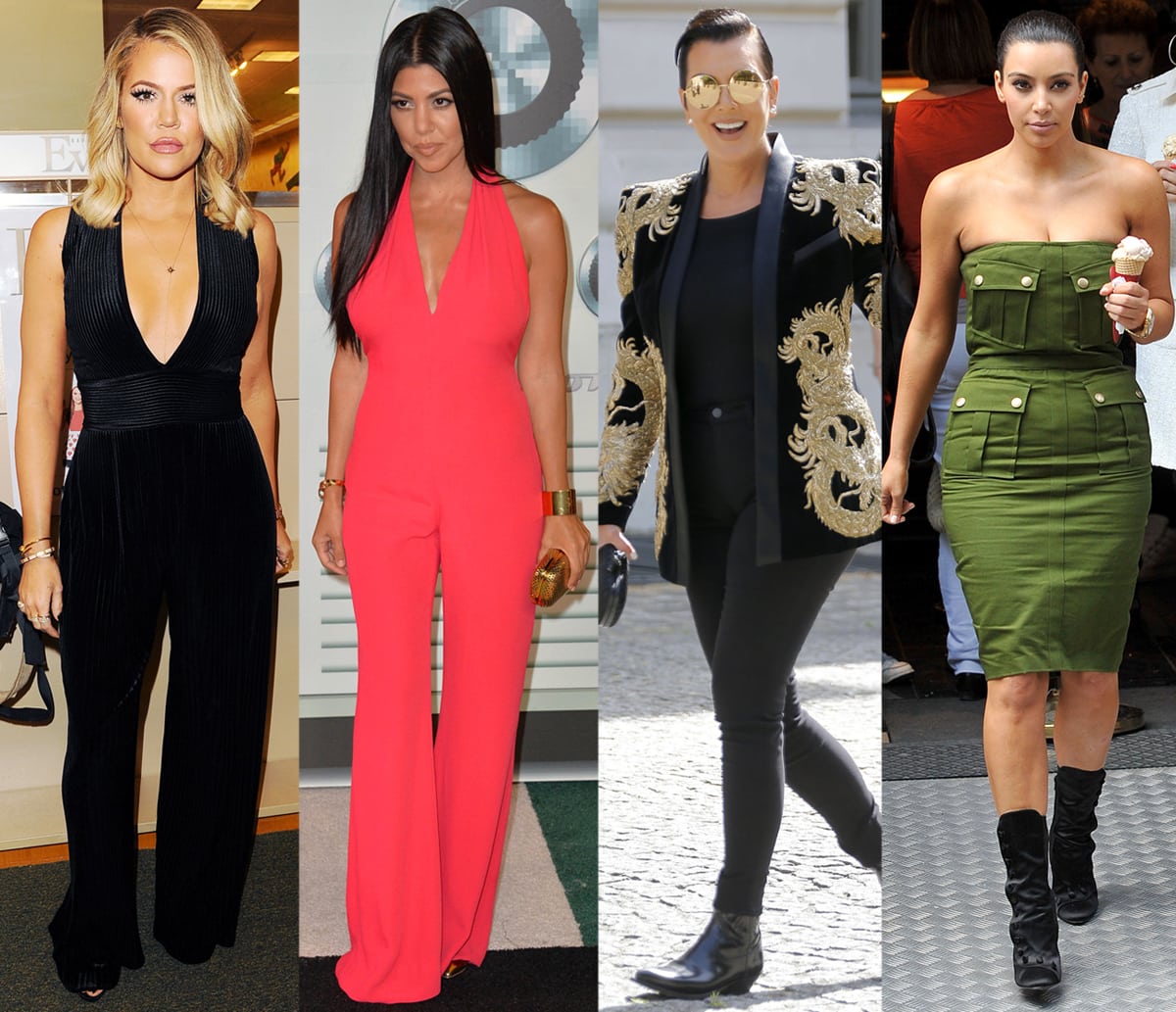 Khloe Kardashian, Kourtney Kardashian, Kris Jenner, and Kim Kardashian wearing Balmain (Credit: Vince Flores / Paul Smith / startraksphoto / INFphoto)
The brand's embracing of logo-printed streetwear, alongside its ready-to-wear, allows it to attract celebrity clientele and everyday consumers.
Every member of the Kardashian family has links to the Balmain brand.
Other celebrities, including Mel B, Gigi Hadid, and Jennifer Lopez, have been photographed wearing the brand's clothes.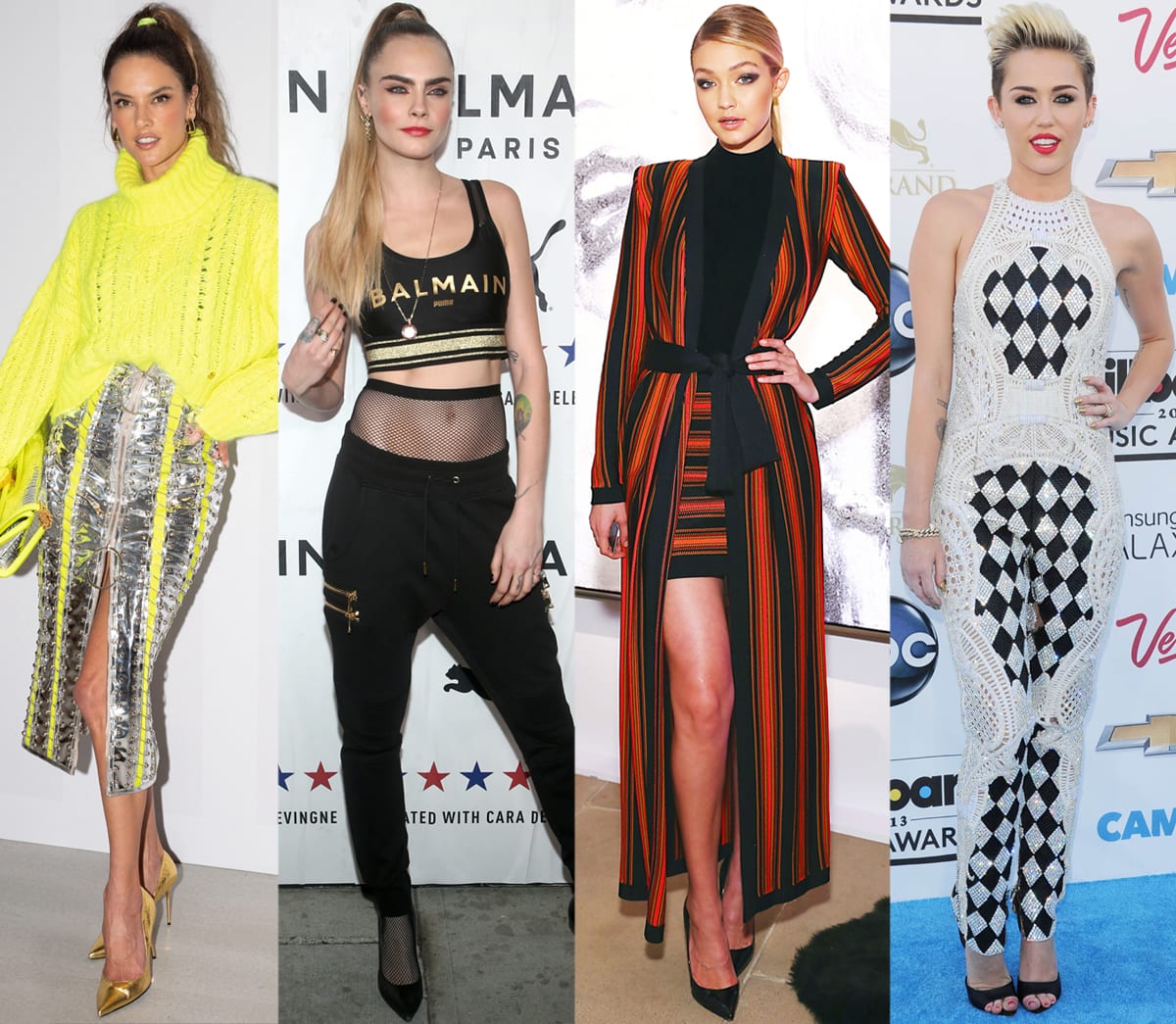 Alessandra Ambrosio, Cara Delevingne, Gigi Hadid, and Miley Cyrus in Balmain outfits (Credit: Abaca / INSTARimages / Cover Images / Famous / Scoop / ACE / Sara Jaye Weiss / StartraksPhoto / Stewart Cook)
Balmain collaborations
Balmain is not just a fashion house. The brand has been raising its profile and developing its persona as a modern company targeting a younger demographic by collaborating with brands at a more attainable price point.
Victoria's Secret models at the VS x BALMAIN press call at Victoria's Secret, Fifth Ave in November 2017 (Credit: John Palmer / Media Punch / INSTARimages)
It released a capsule collection in partnership with Victoria's Secret in 2017 and a lipstick range with L'Oreal.
The brand also launched a limited-edition capsule collection inspired by Jay-Z's Netflix show, 'The Harder They Fall.'
Balmain has designed a limited-edition capsule collection for the modern day cowboy or girl, inspired by the Western Film, The Harder They Fall
Answering Your Questions about Balmain
Have you got a question about Balmain? You're not the only one! We've gathered up all the questions from our community about Balmain and are answering them below.
Where is Balmain manufactured?
Balmain is following the trend of many luxury fashion houses by increasingly working towards exporting its manufacturing.
While the brand's ready-to-wear is made in Europe, most of its footwear is produced in China, with leather styles being made in Italy.
France, China, Italy, Japan, Poland, Bulgaria, and Portugal are all countries where Balmain is currently manufacturing products.
Are Balmain shoes true to size?
Sneakers are one of Balmain's best-selling products Most Balmain shoes run true to size. We recommend sizing up for the best fit if you're typically between sizes.
How do you pronounce Balmain?
Balmain is a French fashion brand pronounced as "bal-MAH-n" with stress on the second syllable.
Who owns Balmain?
Balmain was purchased by Mayhoola Investments in 2016 for almost $550 million. It had previously been in the majority control of the heirs of Alain Hivelin's estate. Oliver Rousteing is Balmain's current Creative Director.
How expensive is Balmain?
Balmain is a luxury fashion house with an expensive price tag. Bags range in price from $895 to over $6,000 for specialist styles. Balmain's iconic double-breasted blazer retails for just under $3,000 on Nordstrom and Farfetch.
Balmain is a luxury French fashion house that you can incorporate into your everyday wardrobe – from its logomania streetwear to its classic silhouettes and celebrity-approved handbags. Discover more about Balmain by visiting the brand's official website.
Interesting Facts About Balmain
What is Balmain?
Balmain is a French luxury fashion house known for elegance and sophistication that was founded by Pierre Balmain in 1945.
How to pronounce Balmain
The correct pronunciation is bahl-mahhhhn or bal-MAH-n. Don't place too much emphasis on the 'n' sound. The 'n' should be pronounced softly in French names like Balmain and Lanvin.
How much do Balmain jeans cost?
Balmain jeans can range in price depending on the style, material, and collection. On average, a pair of Balmain jeans can cost anywhere from $500 to $2,000 or more. However, some limited edition or highly embellished styles can cost even more than that.
Who owns Balmain?
Mayhoola Investments, the Qatari royal family's investment fund, acquired Balmain in 2016 for a figure reported as close to €500 million.

The Arab country has been accused of allowing terror financiers to operate within its borders.
Why are Balmain jeans so expensive?
It all comes down to brand positioning and what customers are willing to pay for jeans. Many consumers seem happy to pay a premium for the aura of exclusivity that Balmain provides.

While the haute couture house may use more expensive materials than cheaper brands, this alone does not explain why their jeans are so expensive.
What does Balmain mean?
The brand is named after its founder, Pierre Alexandre Claudius Balmain, who died in 1982.
Where to buy Balmain
You can shop Balmain products at Farfetch, SSENSE, and Mytheresa.
Who is the face of Balmain?
In November 2022, Balmain chose Cher to be the face of its new Blaze collection of leather bags. In the campaign, Cher modeled the bags in a variety of silhouettes, wearing body-hugging leather outfits paired with her signature long hair. Balmain's creative director, Olivier Rousteing, explained that the bag was designed to bring together Baroque details with the brand's values of inclusion. The Blaze bags were designed to make an entrance and evoke the impressive shields carried by the fearless superheroes of Rousteing's youth.
What has Olivier Rousteing done to his face?
Fashion designer Olivier Rousteing's face has become thinner and more chiseled in recent years.

Rousteing has not confirmed or denied going under the knife, but in a 2019 interview with GQ, he expressed his support for plastic surgery and said that no one should feel shame about wanting to improve their appearance. He added that being an outsider is a matter of choice in today's changing world.
What ethnicity is Olivier Rousteing?
Olivier Rousteing discovered, in his 30s, that the myths he told himself about his mixed-race background were wrong. He learned that his biological parents were Somalian and Ethiopian, which means he is "African-African" and black.
Why is the Balmain T shirt famous?
The Balmain T-shirt became famous for its unique and stylish design incorporating bold graphic prints, intricate detailing, and high-quality materials.

Often worn by celebrities, Balmain's T-shirts are often made with premium fabrics such as soft cotton and feature unique embellishments like metal studs, sequins, and embroidery.

They are known for their perfect fit and flattering cut, which makes them a popular choice among celebrities and fashion enthusiasts.