An Italian luxury brand, Fendi has been around since 1925. Adele and Edoardo Fendi launched the brand as a fur and leather shop in Via del Plebiscito, Rome.
Fendi is best known for its Baguette, Peekaboo, Pequin, and 2Jours handbags.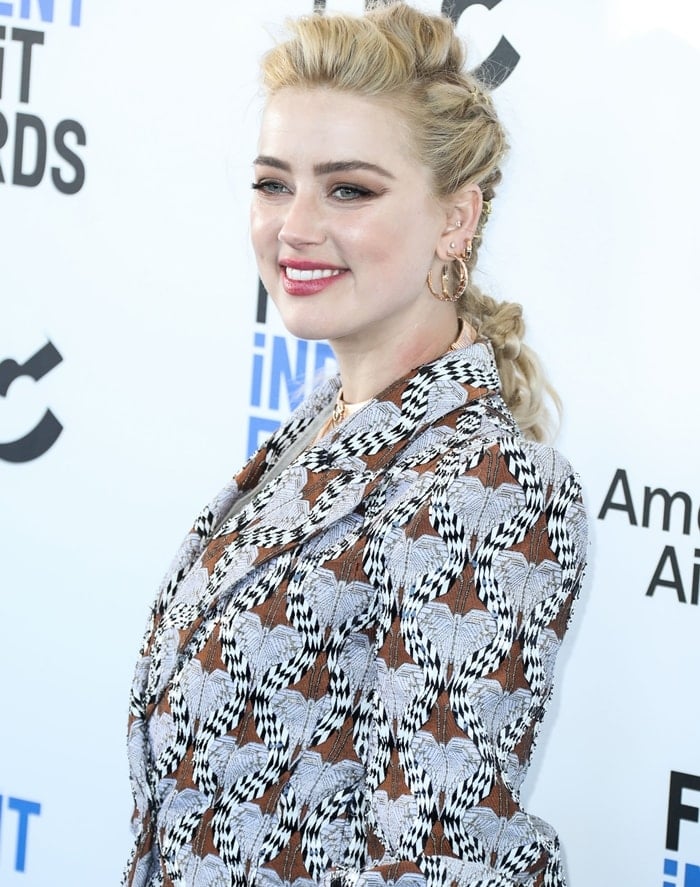 Actress Amber Heard wearing a Fendi suit at the 2020 Film Independent Spirit Awards at the pier in Santa Monica, California, on February 8, 2020 (Credit: Avalon / WENN)
The luxury house is currently owned by LVMH Moët Hennessy Louis Vuitton but has a distinct style that separates Fendi from other designer brands.
The allure of designer goods is based on their high quality, craftsmanship, and enduring appeal, but the rise of counterfeit products is a growing concern in the fashion industry.
Counterfeit items are becoming increasingly popular, with Gen-Zers and affluent individuals seeking good fakes as an affordable alternative. Counterfeit goods are a lucrative business, estimated at nearly $464 billion in 2019.
Fendi bags, belts, and shoes are all targets of imitation manufacturers worldwide, and it can be difficult to tell whether or not the Fendi item you're looking at is genuine. Luckily, we're here to help you distinguish between authentic Fendi and fake products.
Where to buy Fendi products
Fendi products are best bought at Fendi's physical outlets and stores. Since the brand is selling them, you can be sure that they're 100% genuine and that you can expect the best possible quality from their bags, shoes, and belts.
Fendi x Fila collaboration launch party at Fendi Paris in 2018 (Credit: WENN)
However, this is easier said than done since their stores aren't present in most cities. There's a good chance that you won't find a branch near you. That doesn't mean that you're out of options, however.
There are plenty of websites and platforms online that specialize in selling and reselling both new and used authentic designer brand products.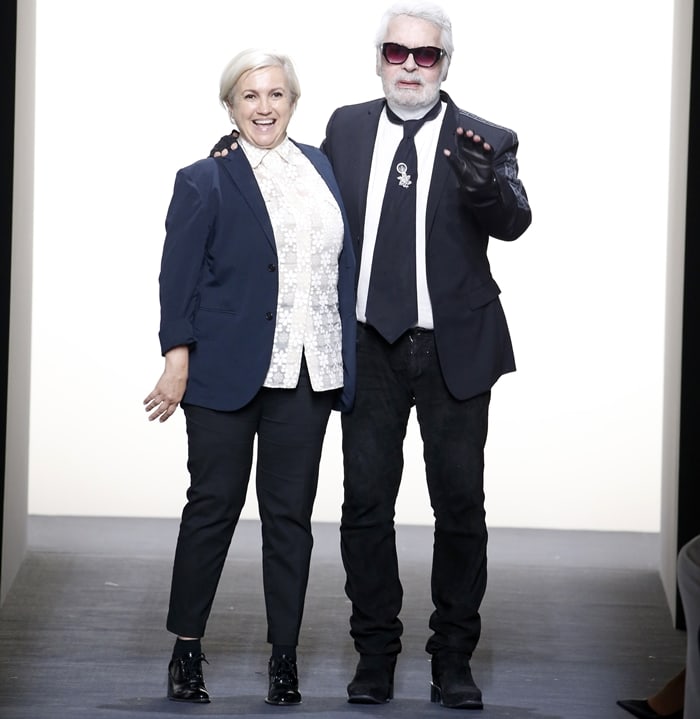 Italian designer Silvia Venturini Fendi and German fashion designer Karl Lagerfeld acknowledge the applause of the audience at the Fendi show during Milan Fashion Week Spring/Summer 2019 on September 20, 2018, in Milan, Italy (Credit: WENN / News Pictures)
Retailers such as Farfetch, Nordstrom, and Saks Fifth Avenue guarantee the authenticity of their designer products.
The last option to look for Fendi products is through second-hand stores and flea markets. This is probably the worst option among the three, as there's a very good chance that you won't even find a Fendi bag there, and even if you do, it's probably a fake.
It is possible to find an authentic, second-hand Fendi product, but the chances of that occurring are few and far between.
If you're still willing to look around for Fendi products or want to learn how to spot authentic Fendi's, though, then read on to find out how to tell the difference between an authentic Fendi and a cheap imitation.
Please remember that counterfeiters often adapt to new authentication methods, so you need to stay updated on the latest authentication techniques. Fendi offers its customers a way to verify the authenticity of their products through its official website or customer service.
Telling authentic Fendi bags
1. Look for the hologram or RFID tag
One of the easiest ways to tell whether or not a Fendi bag is legitimate is by looking for the hologram or RFID tag that comes with the bag.
The biggest misconception about spotting fake Fendi bags is that all authentic Fendi bags have holograms, and if the bag doesn't have one, it's probably fake.
Fendi Peekaboo bag made with interwoven strips of lamb leather and calfskin
While this is true for bags made between 2004 and 2010, bags made from 2010 onwards use RFID tags to authenticate the product instead of holograms.
To find the hologram or RFID tag in a Fendi bag, simply look inside the bag for a small piece of cloth. It's hard to miss, especially the hologram, with its shiny colors.
2. Find the serial number
Fendi bags have a serial number that's 16 or 17 symbols long. These symbols are a combination of digital and capital letters and are separated by dashes.
Note that the number is always embossed onto either a narrow tag or behind a Fendi logo, and it's never made out of fabric material.
Identifying fake Fendi belts
1. Pay attention to the quality of the belt
A telltale sign of the authenticity of designer brands is their quality. You can expect nothing but the best for designer belts, including Fendi.
That's why you should thoroughly examine the craftsmanship of the Fendi belt. Take a look at how perfect the stitching is. If it's uneven, sloppy, or crooked, you can bet that the belt is a fake.
Multi-accessorized Fendi belt with key ring and clip
If you're getting a pre-loved or pre-owned belt, double-check the belt's condition. Authentic belts are very unlikely to break over time, and signs of wear and tear should be minimal.
2. Look for the serial number on the buckle
Like Fendi bags, Fendi belts come with a serial number that indicates the authenticity of the belt. The location of the serial number is behind the belt buckle and nowhere else.
If you find the serial number located at any other spot, such as the other edge of the belt, then it's a fake. Also, be sure to check if the serial number matches the color of the Fendi belt.
Spotting fake Fendi shoes
1. Look for signs of glue
Genuine designer products are stitched together, including shoes and boots. Replicas and cheap imitations, however, use glue instead.
This is one of the best ways to spot fake Fendi shoes – if you find a pair of Fendi shoes, look for signs of glue around it.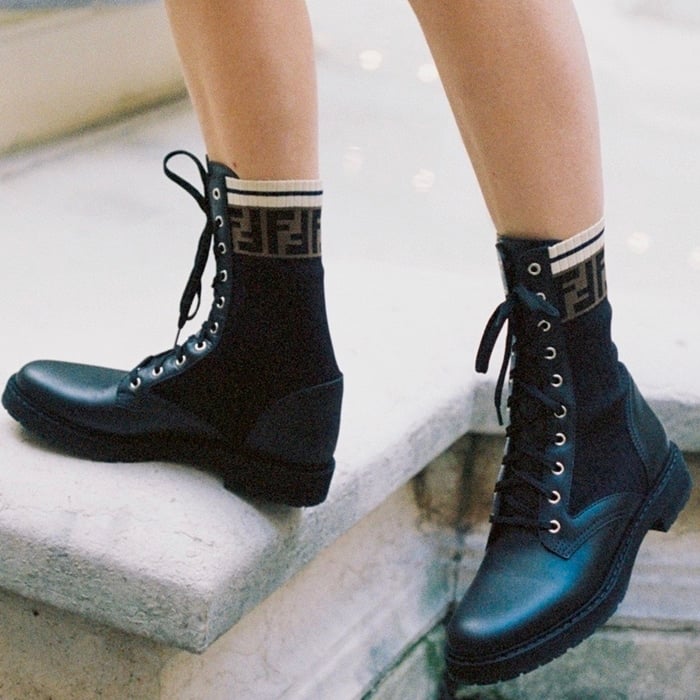 Fendi Rockoko combat boots with stretch fabric inserts
No designer brand would use glue to craft their products, so if there are signs of the substance, then it's either a fake or a broken authentic Fendi that was repaired by someone else.
2. Study the hardware
Designer brand hardware is consistently high-quality. They feel genuine, heavy, and don't rust or lose color when scratched.
On the other hand, replica shoes are likely to have lighter, more cheap-looking hardware.
The buckles and buttons used in Fendi shoes should match the description of designer-level hardware. If not, you're probably looking at a fake pair of Fendi shoes.
What is Fendi?
Fendi is an Italian designer brand founded in 1925. While their leather goods are popular, such as their Baguette and 2jours, they're also renowned for their fur and fur-related accessories.
Lindsay Lohan at the Fendi Flagship Store Opening in New York City on November 3, 2005 (Credit: WENN / Darla Khazei)
They also featured a line of fragrances, which ended up being discontinued in 2015. They're currently owned by the LVMH group, home to other notable fashion brands such as Givenchy, Marc Jacobs, and Louis Vuitton.
How much do Fendi products typically cost?
Fendi products are expensive, even for designer brands' standards. Their bags can range in the thousands, with their Peekaboo bags costing as much as $7,200.
Their shoes are relatively cheaper, hovering around $600-$900, depending on the shoe type and design. Belts can be as cheap as $590 to as much as $1,690.
Where are Fendi bags, belts, and shoes made?
Authentic Fendi bags, belts, jackets, shoes, scarves, jewelry, and all other products are made in Italy.
Fendi does not manufacture anything in China.
Fendi products have been a favorite among celebrities, and many have been spotted wearing Fendi bags, clothing, belts, and shoes over the years. Celebrity fans of Fendi include Cardi B, Heather Dubrow, Heidi Klum, Katie Holmes, and Zoe Saldana.