Buying preloved or secondhand clothes, shoes, and bags from other people can be a great, cheaper alternative to getting them directly from the store.
You only need to do a bit of looking to find something that's not too far from brand-new while still saving yourself some cash. Sometimes, though, it's difficult to find the right brands or items, especially when you're looking for those elusive designer items.
The most popular online consignment stores include Poshmark, Mercari, Offerup, The RealReal, Vestiaire, Tradesy, Rebag, Depop, and thredUP (Credit: Tada Images / Shutterstock)
That's where consignment stores come in. These shops exist to help bridge the gap between the original sellers of preloved goods and potential customers for a small fee.
In fact, there are consignment stores and websites that specifically help with the sale of designer brands, which you may not be able to find as easily on other online marketplaces.
So without further ado, here are some of the best consignment stores we've found that sell the bags, shoes, and clothes that you've been dying to get your hands on.
Among consignment stores, The RealReal is the real deal. They're one of the most popular consignment stores online, and for good reason: they're home to some pretty famous brands. Here, you can find Louis Vuitton, Chanel, Gucci, Hermes, Burberry, and a whole lot more.
Other than their wide array of designer brands, The RealReal also has a few extra perks that separate them from the competition. For one, their site is, for the most part, very hassle-free.
Even beginners to the site won't find it difficult to navigate their way from browsing the collections to making a purchase. Another feature is their flash-sale items that can land you a really good deal every now and then.
Headquartered in San Fransisco with millions of members worldwide, The RealReal has opened many stores locations throughout the U.S. (Credit: Rblfmr / Shutterstock)
To start shopping in The RealReal, you must register an account to enjoy some designer sales.
If you've got $12 to spare, you can also avail of their First Look Membership, which lets members browse sales a whole day ahead of the rest. It's a great option if you're looking for popular luxury bags or clothes.
Finally, The RealReal is one of the few consignment stores that allows you to request prepaid postage, so you can save yourself some shipping fees if it's agreed upon. Overall, The RealReal should be your go-to if you want to browse an extensive collection of luxury items simultaneously.
If you've been familiar with consignment stores for a while now, you may have heard about Rebag, although with a slightly different name.
Until 2015, Rebag was known as Rebagg, and after their rebrand, they've become a consignment store for authentic luxury bags that is very seller-friendly. You can find bags from designer brands such as Louis Vuitton, Chanel, Celine, Hermes, and more.
Rebag is such a great place for sellers to sell their bags due to the convenience of the whole process. First, Rebag immediately gives cash upfront to sellers based on their bag's brand, original price, and condition.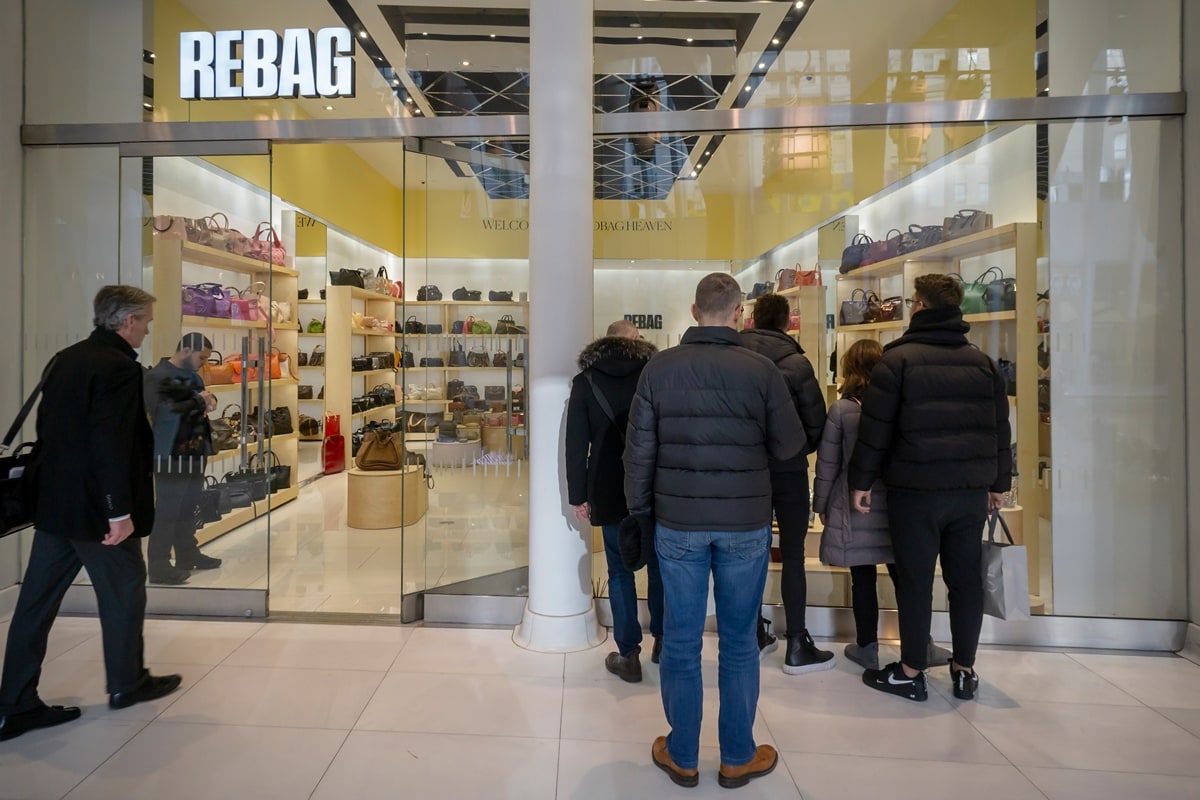 Rebag sells and buys authentic second-hand bags from the most sought-after designer handbag brands (Credit: Rblfmr / Shutterstock)
And you don't need to wait for your bag to find a buyer – with a binding offer, Rebag lets you ship your bag to them for free, and you get paid in just a couple of days.
And the perks don't stop there, either. Buyers can expect discounts of up to 70% on items from their original retail price, with most of their bags in good condition.
And if you're more of a physical shopper yourself, Rebag also has a few concept stores for customers to buy their items in real life instead. If you're looking for a great selling and buying experience for luxury bags, Rebag's your best bet.
Not really into designer brands, but still looking for great secondhand discounts? Look no further than thredUP. They have a vast collection that focuses more on the average Jane.
These brands include the usual brands that you can find in your local malls, such as Forever 21, Old Navy, J. Crew, and Nike. Of course, luxury brands such as Coach and Marc by Marc Jacobs are also available for those with heavier purses.
If you've got a few items from these kinds of brands that you plan on selling, you can contact thredUP for them to deliver a clean-out kit to your doorstep, with shipping free of charge.
Using a special algorithm, thredUP checks the items' brand, season, and relevance in style and compares them with items currently in stock.
thredUP is the world's largest secondhand marketplace and helps give clothes a second life (Credit: T. Schneider / Shutterstock)
If you'd rather get paid immediately, you can request cash upfront, but you can also get them consigned at a percentage, from 5% for cheap items to as much as 80% for goods that cost more than $300.
If they're luxury items, expect a 90% payout instead. You can use thredUP's payout estimator to find out how much your items would sell for if you want, too.
For those who want to give back to the community, thredUP even has the option to donate their payouts to a charity of their choice. So whether you're a seller who wants to clean out their closet or a buyer that wants your average clothing for cheap, thredUP's got you covered.
4. Vestiaire Collective
If thredUP's focus is on the average consumer with lower-end brands, Vestiaire Collective focuses solely on the highest-end luxury goods. They sell to customers worldwide with plenty of items from Celine, Hermes, Louis Vuitton, and more.
Sellers have a lot more freedom when selling their products on Vestiaire Collective. They can choose how much they'd like to price their products. Don't worry if you have questions about pricing – they also provide tips on correctly pricing your items.
Vestiaire Collective is the most popular global marketplace for pre-owned luxury and designer fashion (Credit: T. Schneider / Shutterstock)

Commissions from sales can range from 12 to 15% (including a payment processing fee of 3%), depending on the item.
And if you're selling an item for less than $100, Vestiaire Collective asks for a flat $12 fee. For sellers who want to set the terms of their items themselves, Vestiaire Collective has what you want.
Conclusion
From consignment stores that offer just about anything to stores that focus on specific markets, there are plenty of platforms for sellers and buyers to get the best deals. It all boils down to personal preference and the platforms' own perks in the end.