Finding quality clothes for a good price is the ultimate goal when shopping online. However, that's often easier said than done!
Finding cute clothes for a good price can be challenging. For example, you may find a great deal on a top, but then the shipping prices are astronomical, or the website seems shady, and you can't trust it.
For a successful online shopping experience, you need to stick to reputable online retailers that sell quality clothes that will last you more than one wear. Stay far away from scam websites like Shein, Romwe, Rose Gal, and Zaful.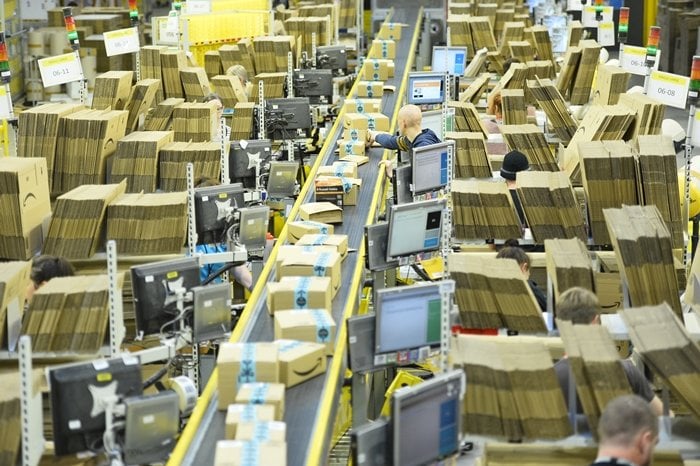 Amazon's Dunfermline warehouse on Black Friday, which is one of the busiest times of the year for the online retailer (Credit: WENN)
A trustworthy cheap online clothing store will have a transparent return and refund policy, positive reviews, and contact information clearly posted on their website.
When you are shopping online, you want to be able to return the item if it's not exactly what you were looking for or if it doesn't fit.
If you are looking for the best cheap online clothing stores for women, I've got you covered. The stores listed here will make your shopping experience stress-free, and you will get stylish clothes for a great price.
1. Asos – Global Fashion Destination
The British retailer carries a lot of different brands as well as its in-house fashion line. The prices vary, and not everything is super cheap, but the sale prices on Asos are unbelievable! To get the best deal, search the sale category.
You will find dresses, coats, shoes, pants, and more up to 65% off!! You know when you walk into a brick-and-mortar store, and the sale rack is usually some pitiful selection at the back of the store?
ASOS is a British online fashion and cosmetic retailer primarily aimed at young adults
This is NOT like that at all. The Asos sale selection is massive, and they usually have a large variety of sizes in their sale items. They offer free shipping for orders over $50 and usually have additional sales and discounts going on.
2. TJ Maxx – American Department Store Chain
In my opinion, TJ Maxx doesn't get the credit it deserves, and I'm always surprised at how many people don't know about "The Runway" section.
When you shop on the brand's website, click on the "The Runway" tab, and you can shop well-known designer brands like Diesel, Givenchy, M Missoni, True Religion, and more for about 50% off!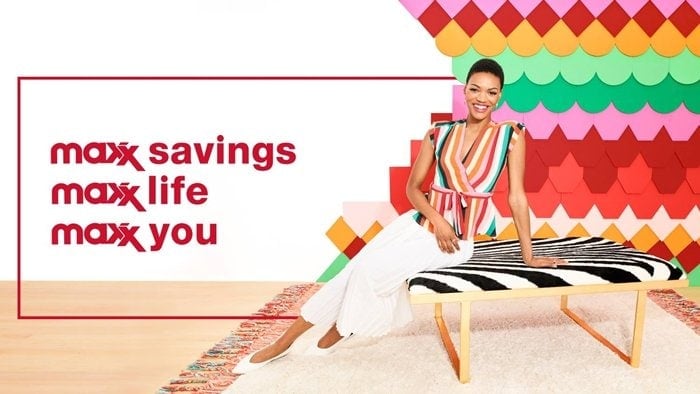 TJ Maxx is an American department store chain selling brand-name clothing, shoes, home decor, and accessories at prices lower than other major similar stores
You don't need to search through racks of clothing; you can filter your search down by brand and style to find exactly what you are looking for. This is just one of the many reasons why I prefer to shop online!
Shipping is free when you spend over $89, and you can return items online or at one of their many locations.
3. Express – American Fashion Retailer
You may have previously seen Express stores located at malls around the country. Although they still have physical stores across the US, the brand closed up many locations and started focusing on its online shop.
By shopping Express online, you can save a lot of money as they often have online-only sales of up to 50% off already low prices. The store is great for clothes that will take you from the office to after-work drinks.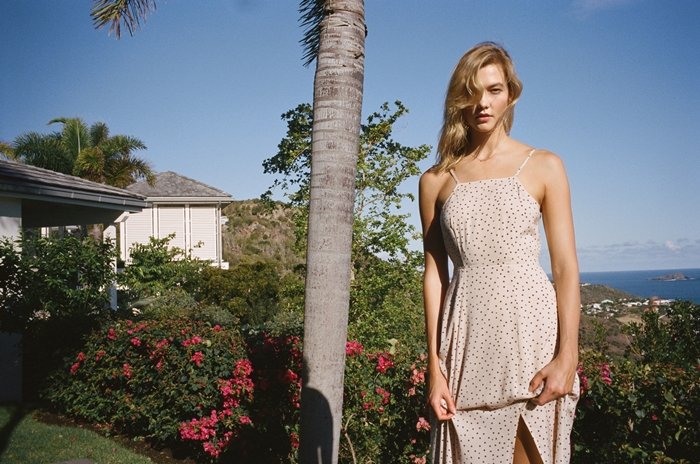 Karlie Kloss promoting her affordable fashion collection with Express
With stunning jackets, party dresses, and stylish jeans, you can get an entire outfit for under $50. If you're a student, you can also score an extra 15% off!
4. H&M – Swedish Clothing-Retail Company
The tried and true retailer for cheap women's clothing! H&M is a staple for many, with a great collection of tanks, tops, pants, jackets, and accessories.
The brand is known for collaborating with many of the world's top designers to create designer collections at affordable prices. H&M also has a large variety of sizes from 3XS to 4XL, although not every style will carry these sizes.
An exterior view of the H&M store on Regents Street in London, England
If you frequently shop at H&M, you should consider becoming a member – you'll earn additional discounts and rewards.
5. Nordstrom Rack – American Discount Department Store Chain
If you love the designer brands and styles carried by Nordstrom but don't have the budget for them, then Nordstrom Rack is for you. You can get many of the same designers for a fraction of the price. Check the website often or sign up for their emails.
They often have flash sales that last just a day with incredibly deep discounts. Women can shop for everything, including shoes, handbags, jewelry, and of course, clothing.
The clearance section at Nordstrom Rack offers incredible deals on clothing
For the best bargain finds, go to the clearance section, then women's clothing, and select the designer brands. This will filter it down to show you the top designer deals. Here, you will find deals of up to 90% off sticker price!
6. Target – American Retail Corporation
Yes – you can get cute, stylish clothes at the same place you get household products. Target is not new to cheap clothing; they've been doing it well for decades. Women can shop for everything from sleepwear to office attire to workout gear.
You can dress yourself head-to-toe at target, including shoes and a handbag, for under $75. You can also shop by brand or category.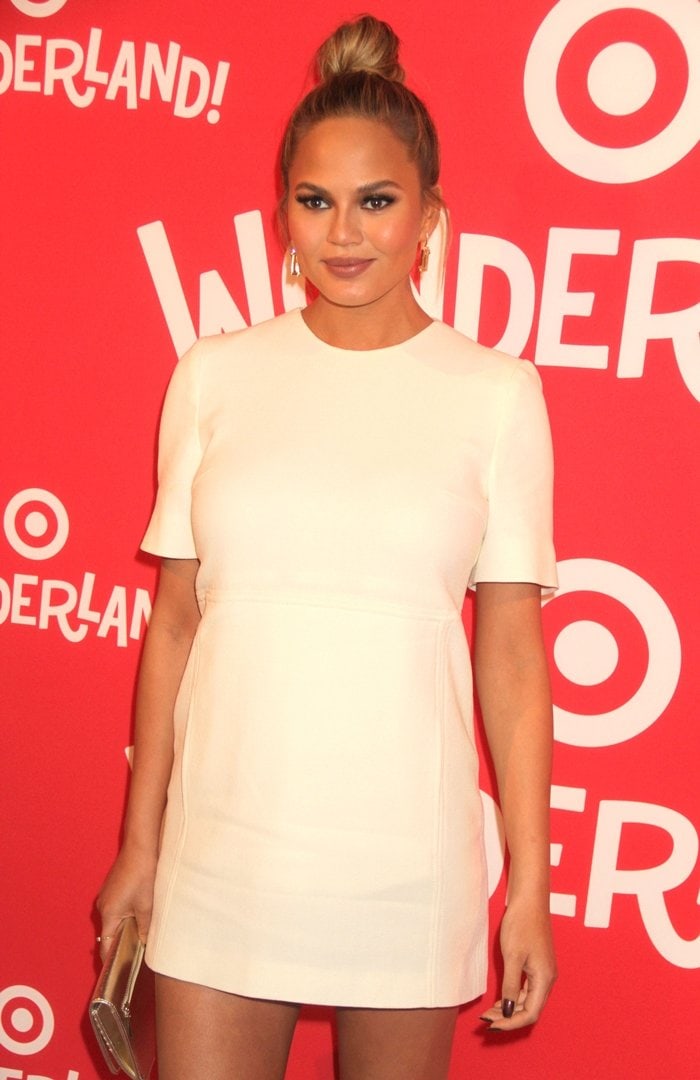 Model Chrissy Teigen attends the Target Wonderland VIP Event Kick-Off at Target Wonderland on December 7, 2015, in New York City (Credit: WENN)
For the biggest savings, check out the "Deal" section. Then, filter the price from low to high, and you will find super cute tops for only $5! At prices this low, these items don't last long, so check the site frequently.
7. Old Navy – Latest Fashion at Great Prices
Old Navy has a variety of casual offerings, and their line of athletic clothing is said to be better than most popular athletic brands, but for a fraction of the cost!
The brand carries plus sizes and has a big selection of denim, cardigans, and plain tees.
Old Navy is an affordable American clothing and accessories retailing company owned by Gap
When you shop their clearance section, you will find stylish pieces for under $10, and if you aren't a member of their email list, you can sign up and save yourself an additional 20% off.
Shipping is free when you spend over $50, and they offer free returns.
8. Saks Off 5th – Discount Department Store Chain
The more affordable little sister to Saks Fifth Avenue, you can find the pieces that were once at that Saks for more than 75% off. Saks Off 5th always has an incredible selection of women's clothing.
However, even with a discount, many items can still run hundreds of dollars. To find the more affordable designer pieces, go to the clearance section and filter by price. You can find 100% cashmere sweaters for $40 and a winter coat for $90.
Saks Fifth Avenue's subsidiary, Saks Off 5th, is an American off-price department store chain founded in 1990
They also have end-of-season clear-out offerings with items they are trying to move, and I have found pieces that are very much still in season!
9. Forever 21 – American Fast Fashion Retailer
Forever 21 will always be my go-to for super trendy, seasonal pieces and the classics. It's so affordable, and when washed properly, many of these pieces have lasted me years!
They have a good variety of sizes, including a plus-sized collection. I don't find their handbags and shoes to be of great quality, but I've always loved their clothes.
Forever 21 is an American fast fashion retailer known for trendy offerings and low pricing
Particularly popular among teens, this is one of the cheapest online stores on this list, so if you are looking to spend less than $20, you will find a ton of options at Forever 21!
10. Urban Outfitters – Lifestyle Retail Corporation
Although some of the styles are catered to younger Gen Z girls, there are some great pieces you can find that will add a lot of style without breaking the bank.
Their 80s and 90s band graphic tees are super soft and look great paired with an oversized blazer and will cost less than $40.
The 'Mean Girls' cast and creative team celebrate the original cast album vinyl release with a signing at Urban Outfitters (Credit: WENN)
The blouses and dresses are boho-chic and cost about $50. Urban Outfitters carries other designer brands as well as their in-house label. Shipping is free when you spend over $49, and online returns are always free.
11. American Eagle – Iconic American Fashion Retailer
This is the best place to get cheap jeans for women. The jeans are really great quality and come in various styles, including mom, curvy, 90s boyfriend, skinny, high-waisted, flare jeans, and more.
Sizes run from 0 to 24 in petite, regular, and tall inseam, making it much easier to find the perfect size. The online reviews from people who have purchased the jeans also make it super easy to pick the right size.
Actress Shay Mitchell attends the American Eagle Outfitters "Live Your Life" campaign launch at the American Eagle Times Square Store on July 24, 2012, in New York City (Credit: WENN)
You can determine if they run true to size or on the small side and if it's better to size up. American Eagle makes shopping for jeans online easy.
If you want to make an exchange, you will have to visit one of their locations; otherwise, you can return the jeans, get a refund, and purchase another size or style.
12. Zara – Spanish Apparel Retailer
Zara is always on top of the latest trends in fashion. If you are looking for next season's colors, cuts, and fabrics – check out what Zara has just released.
Even their newest collection is affordable, with many pieces made from luxurious fabrics like silk, satin, leather, and soft cotton blends. The European retailer ships directly from the US, so you will get your order quickly.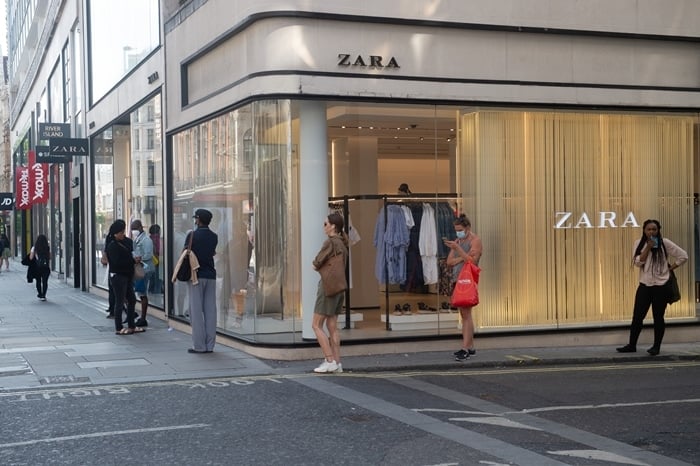 Zara's store on the world-famous Oxford Street in London, England (Credit: WENN)
Zara is my go-to for cheap jackets and coats that have a lot of style.
They also offer great office or "going out" clothing, including dresses, knitwear, and blouses. They offer free shipping as well as returns for a seamless online shopping experience.