Nordstrom Rack has been a discount luxury clothing store since the mid-1970s. A subsidiary of the American luxury department store chain Nordstrom, Nordstrom Rack offers discounted clothing, shoes, bags, and accessories for affordable prices, appealing to all different kinds of consumers.
You may be familiar with the high-end Nordstrom department store, which features luxury brand-name homewares, clothing, shoes, and accessories.
A sister brand to the luxury department store chain Nordstrom, Nordstrom Rack is an American off-price department store chain founded in 1973 (Credit: Hendrickson Photography / Shutterstock)
In-store restaurants and highly attentive customer service make Nordstrom a shopper's dream that comes with a high price tag. With sleek decor and an elevated ambiance, Nordstrom is truly a luxury experience.
So how does off-price retailer Nordstrom Rack manage to carry brand-name clothing and shoe styles for such discounted prices? Here are seven things you need to know about this bargain luxury clothing store.
1. Discounted Items from Nordstrom
Nordstrom Rack is known for having luxury brands at lower prices. Many of the clothing pieces you can find on the shelves at Nordstrom Rack were initially available at Nordstrom but have been discounted by up to 70% for sale at Nordstrom Rack.
These items can end up at Nordstrom Rack for several reasons, like a change of season or simply because there is an excess that did not sell.
For bargain hunters with patience, waiting for discounted items from Nordstrom to end up at Nordstrom Rack can mean scoring luxury items for huge discounts.
Nordstrom Rack sells overstock inventory from Nordstrom and cheaper brands not offered at the luxury department store chain (Credit: Steve Skjold / Shutterstock)
While many styles end up at Nordstrom Rack from Nordstrom, there are still specific brands that are bought just for sale at Nordstrom Rack.
Buyers for the Rack stock the store with brands like Calvin Klein, Lucky, and True Religion, making it a great place to find high-end clothing that consistently has a lower price.
2. Clear The Rack Sale
Nordstrom Rack has a "Clear the Rack" sale about once a month throughout the year that lasts five days. Always with lots of seasonal finds, the sales offer customers around 25% to 75% off of already low prices.
Because Nordstrom Rack has frequent sales on their items, they have a high turnover of products, making their sale items somewhat current and desirable to bargain-hunting shoppers.
You can find shoes on Nordstrom Rack that have been discounted up to 90%
In addition to Clear the Rack sales, Nordstrom Rack has a fantastic Black Friday sale every year that brings hoards of shoppers to their many stores.
3. Competitor Price Matching
Like its parent store, Nordstrom, Nordstrom Rack will match other budget competitors' pricing. An employee can adjust the item's price if a customer finds it elsewhere for less money.
However, in contrast to Nordstrom, a discount can't be applied retroactively, so customers shouldn't expect to get money back after an item has already been purchased.
4. Nordstrom Rack vs. TJ Maxx
Nordstrom Rack and TJ Maxx sell designer clothing, shoes, jewelry, and accessories at lower prices than upscale stores. There is heavy competition between the two stores with similar layouts and merchandise found throughout.
Nordstrom Rack tends to have more luxury brands in stock, with higher price tags on items like bags and designer jeans. Unlike TJ Maxx, Nordstrom Rack carries brands purchased exclusively for sale at their stores and not just discounted sale items from other stores.
Nordstrom Rack is famous for its Black Friday sales and often has long checkout lines during the holiday season (Credit: Jeramey Lende / Shutterstock)
Overall, Nordstrom Rack will likely carry more exclusive and current fashionable shoes and clothing. This is due to the trickle-down of discounted items from the high-end Nordstrom stores.
While shoppers at TJ Maxx and Nordstrom Rack are on the hunt for a good bargain, they are likely to find slightly cheaper finds at TJ Maxx with fewer brand name labels than at Nordstrom Rack.
5. Refurbished Shoes and Clothes
Gently worn shoes and clothing from Nordstrom that have been returned are professionally cleaned, repaired, and re-tagged for sale at Nordstrom Rack.
These items can be expensive brands, then marked as "refurbished" and sold. Instead of disposing of these usable products, Nordstrom Rack adds to their inventory with these fantastic deals.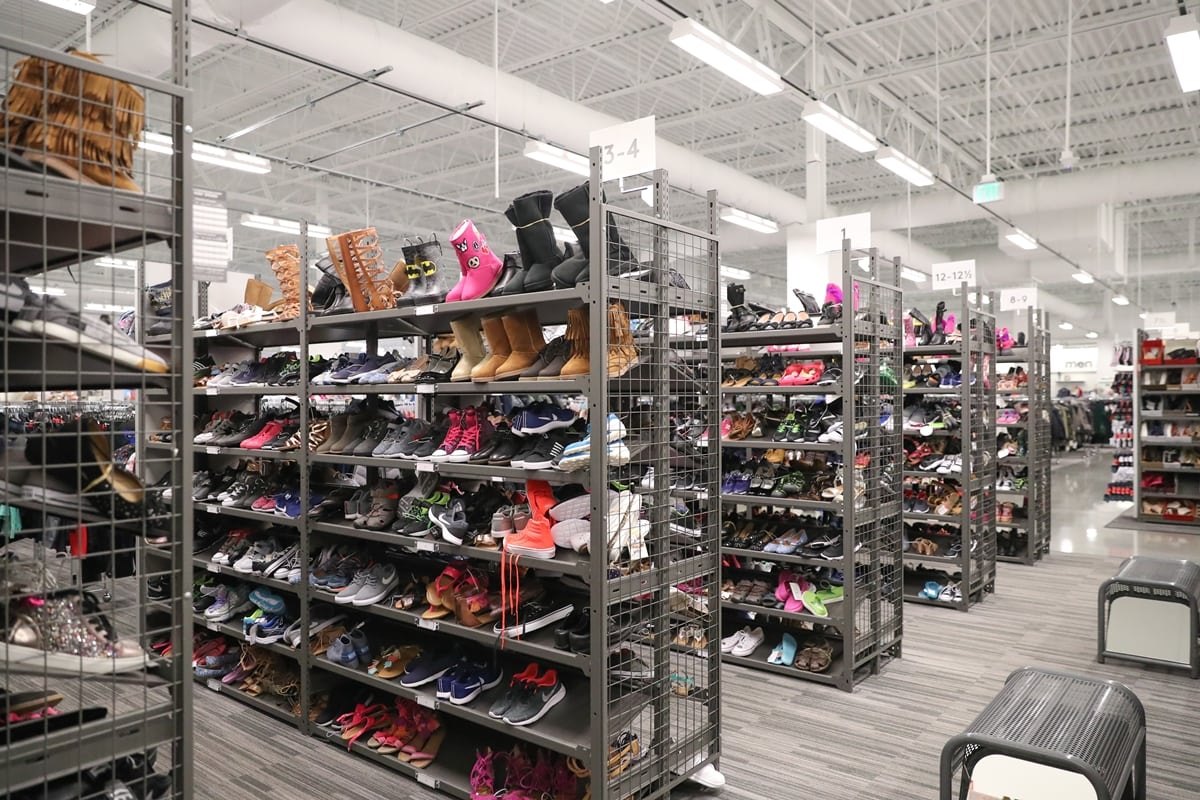 Refurbished shoes at Nordstrom Rack have been professionally cleaned, repaired, and refinished as needed to return to a near-pristine condition (Credit: Helen89 / Shutterstock)
Refurbished items, especially shoes, are a common find at Nordstrom Rack. If a pair of shoes have been tried on several times or even purchased and returned within the store's return policy window, they will qualify.
Buying a refurbished pair of shoes is an excellent way for customers to end up with a designer brand that the store may mark down to as much as 80-90% of the original price.
6. Discounted Online Makeup and Fragrance
Shopping for designer fragrances and makeup on Nordstrom Rack can lead to even more significant discounts than you can find in any other department store.
You're unlikely to find a good selection of these items in the actual store. However, online there is a wide variety of luxury makeup and fragrance brands to choose from.
Fragrances from brands such as Tommy Bahama, Nicole Miller, and Harajuku Lovers can be discounted over 70% at Nordstrom Rack
Makeup brands like Urban Decay, MAC, and Stila can all be found on Nordstrom Rack for up to 70% off, making the savings extremely significant. Luxury fragrances have similarly discounted prices that make shopping online a much better option than in-store.
7. Nordstrom Rack Credit Card, Nordy Club, and App
For significant additional savings, Nordstrom offers perks that come along with signing up for a credit card, joining the "Nordy Club," or using the Nordstrom Rack app.
By signing up for a credit card, customers can receive 3% back on every purchase at Nordstrom and Nordstrom Rack.
Customers can look forward to earning $20 when they get 2,000 points on their credit card. In addition, credit card holders get three personal "double point" days, meaning they receive double the number of points on those days they use their card, leading to a more significant cash-back bonus to spend in-store.
Nordy Club members earn points that can be redeemed toward purchases of qualifying items in stores or online at Nordstrom, Nordstrom Rack, and Nordstrom Local (Credit: Helen89 / Shutterstock)
The Nordy Club is a free loyalty program that customers can sign up for the receive massive perks when they shop at Nordstrom stores.
A standard 1% back on every purchase is the primary advantage of joining the loyalty club, but the more you spend, the better the perks become.
Customers who spend $1000 earn $10 of in-store cash to spend. In addition to these cash-back bonuses, Nordy Club members are first to know about Clear the Rack sales and can earn three personal "double point" days once they spend $500 in one year.
Customers can use the Nordstrom Rack app to find out about sales, find additional sizes online, and becomes notified when items are available in-store. The app also gives customers style suggestions based on past purchases they have made in the store, giving the consumer a customized experience.
Conclusion
While you may not have all the stylish decor and high-end services offered at Nordstrom stores, Nordstrom Rack offers a more significant benefit to many bargain shoppers who love brand names.
With loads of luxury merchandise marked down 30-70% from original prices, Nordstrom Rack has steadily risen past its full-price subsidiary in popularity over the past couple of years.
Nordstrom Rack's main competitors include Saks Off 5th, Bloomingdale's Outlet, Neiman Marcus Last Call, TJMaxx, and Ross Dress For Less (Credit: Helen89 / Shutterstock)
Frequent monthly sales, online shopping, and perks with credit cards and loyalty programs have helped Nordstrom Rack become a popular off-price store since its inception.
Bargain hunters can easily find high-end luxury brands not as available at competitors like TJ Maxx. Not only does Nordstrom Rack offer discounted prices on items from Nordstrom's luxury brands, but also consistent high-end labels that are bought specifically for the Nordstrom Rack stores.