Choosing workout shoes is complicated. It's not like buying Oxford shoes or a pair of heels.
You can't walk in and pick a pair off a shelf. Buying athletic shoes requires a little more thought and consideration.
You need to think about their purpose and what support your feet need. Choosing the wrong pair of workout shoes can cause you trouble in the long run.
Our guide covers everything you need to know about athletic shoes and the styles you should be looking out for.
What Are Athletic Shoes?
No two athletic shoes are made the same. Unlike other shoes, these have a specific purpose in mind. As the name would suggest, athletic shoes are made with physical activity in mind.
Some are for running, other styles are for cardio workouts, and others are made for hiking. Navigating the world of workout shoes can be confusing, even more so if you suffer from common ailments.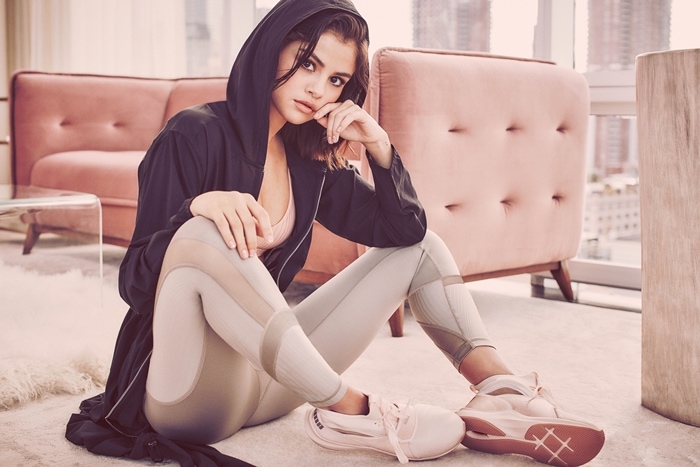 Selena Gomez wears athletic Puma shoes inspired by ballet flats (Credit: Puma)
The purpose of athletic shoes is to improve your performance during physical activities and to protect you from injury. Think of the impact running has on your body and how your feet have to accommodate that.
Athletic shoes have comfort at their core, often prioritizing this over aesthetic. While a pair of shoes may look nice, they might not be best suited for your sport. The wrong pair of shoes can lead to an injury that could knock you off your feet for weeks.
Sneakers can be fashionable and are widely used for everyday casual wear, while athletic shoes offer sports-specific levels of cushioning, flexibility, stability, traction, and durability (Credit: ARVD73 / Shutterstock)
Athletic shoes are an investment. While you can find cheaper alternatives from mainstream clothing brands, they won't have the performance technology and support that you can get from activewear brands.
You can expect to pay a handsome price for a pair of workout shoes, but the right pair will see you through months of training.
When you are starting your search for a pair of athletic shoes, consider your needs. Begin by considering the sports you take part in and the impact that has on your feet.
Jennie Garth and her daughter Fiona Eve Facinelli test out athletic Adidas shoes with a personal trainer (Credit: WENN)
You will want to shop around for a pair of workout shoes, and don't settle for the first pair that you find. If you're able to look in person, then it's worth visiting specialist stores.
A running shop will often be able to help you determine which shoes will work best for your movements and feet. When shopping online, you want to find out as much about your chosen style of shoes as possible.
The 4 Main Types of Athletic Shoes
There are a pair of athletic shoes for virtually every sport. If you're an active person who takes part in different sports, you may need to settle for a more generic pair.
Most of us typically have one dominating sport that will determine the type of athletic shoes we should buy.
1. Walking Athletic Shoes
The most basic style of athletic shoes is those designed for walking. Unlike your everyday shoes, this style is made to support your feet to walk several miles at a time.
Walking athletic shoes are made to be comfortable and to protect you from injuries (Credit: ARVD73 / Shutterstock)
If you suffer from arthritis or leg pain, you might find that these shoes are ideal for daily use. Walking shoes prioritize comfort by giving you stability at the arch of your foot with a stable sole. As these shoes are fairly basic, they are the most budget-friendly.
2. Running Athletic Shoes
Running shoes are the most popular style of athletic shoes. If you have ever stepped into a sporting goods store, they are probably the first things that you saw.
3. Cross-Training Athletic Shoes
If running isn't your thing, and you're someone who does a little of everything, then you should look at cross-training shoes. As the name would suggest, these are the most versatile style of athletic shoes.
Cross-training athletic shoes are versatile and allow a wide range of movement (Credit: Miron85plesu / Shutterstock)
These shoes are lighter and typically have a mesh lining on the exterior. You can still run in these shoes, but it wouldn't be recommended for long-term training or distances over 5 miles.
4. Basketball and Tennis Shoes
One thing to keep in mind is the surface that you are working on. If you play basketball or tennis, then you need a different type of sole. You want as much stability as possible in your shoes.
You'll find that athletic shoes for basketball have a higher ankle shaft to support your feet while jumping.
Athletic Shoes vs. Sneakers
You might wonder what the difference is between athletic shoes and sneakers. Aren't they both comfortable shoes for walking? In reality, they are as different as an apple and an orange.
Sneakers prioritize aesthetics over performance and tend to use leather materials. Think of the type of shoes that you might wear at the weekend when wearing a pair of jeans.
Popular brands include Vans, Converse, and Superga. Sneakers traditionally sit below your ankle, although you can have high-top sneakers.
Vans sneakers are comfortable but are not considered athletic shoes (Credit: Wirestock Creators / Shutterstock)
While these shoes are comfortable for a day of walking around shops and cafes, they aren't designed for running. You would be better off running in your bare feet.
If you want shoes that are purely for wearing on casual days, pick up a pair of sneakers. Athletic shoes can be worn every day, but their performance ability will decrease over time.
If you are someone who prefers casual shoes, opt for sneakers during the day, and change out to athletic shoes when training and working out.
4 Best Athletic Shoes for Walking
Now that you know what to look for, we have a few recommendations to get you started. If you are starting to work out and intend to do lighter exercise, then walking shoes will be the perfect first pair for you.
For lots of people, walking is the first step in their exercise journey. Walking shoes are the most versatile if you want a pair to wear every day. Here are some of our top recommendations:
1. Reebok Walk Ultra DMX Max Shoes on Amazon
These shoes are designed to make you feel like you are walking on air. It focuses on cushioning your feet while giving you as much support as possible. If you have supinated feet, these Reebok athletic shoes would be an ideal investment.
The memory foam gives you the perfect fit, while the rubber sole helps improve your stability.
2. Brooks Addiction Walker at Zappos
If you like to take things slower, then these Brooks shoes are the shoes for you. They give you maximum support and are made for people who enjoy a leisurely stroll.
These shoes include Brooks' 'Extended Progressive Diagonal Rollbar' which supports your arch to keep your body moving. The slip-resistant soles will keep you walking even when the rain starts.
3. Nike Air Zoom Pegasus at Nike
The Pegasus shoes are perfect if you are looking for something a little more fashion-forward. Nike describes these shoes as being 'like a caffeine boost for your legs.'
If you are considering going up a step and experimenting with jogging and running during your walks, then these shoes will support you along the way. The Pegasus 37 model has been specifically designed to meet the needs of female walkers and runners.
4. Adidas Terrex AX3 Hiking Shoes at Backcountry
Are your walks a little more adventurous? Do you go up through the mountains and the countryside? You might want to look for specific hiking shoes.
These Adidas athletic shoes are also good if you intend to walk further distances, even on more even pathways.
They are lightweight, with a durable rubber sole to keep you going even through wet surfaces.
3 Best Athletic Shoes for Standing
You might look at this section and think – why would I need shoes for standing? Working out takes many different shapes and forms, but they all require the right footwear.
Think of all the exercising that you can do while standing up. You can lift weights or work on strength training. You might be someone who is on their feet all day with work. You want a pair of shoes that are durable and lightweight to see you through the day.
1. Allbirds Wool Runners at Allbirds
Whether you're lifting weights or working on a hospital ward, you need these shoes for standing all day. They come in a myriad of colors and are machine washable.
Soft and made with merino wool, these ethical shoes will keep your feet comfortable, whatever your workout throws at them.
2. New Balance 990v5 Running Shoes at New Balance
If you're trying to meet a personal record for weightlifting, then you want your feet to give you as much support as possible. These NewBalance shoes are ideal for the guy who lives at the gym and is always in the weights section.
The 990v5 shoes prioritize comfort and cushioning, giving you the support that you need to smash your workout goals.
3. Brooks Ghost Cushioned Daily Trainer Shoes at Brooks Running
Although these shoes are made for running, they are all-around performance shoes that every athlete needs.
These shoes include Brooks' 'BioMoGo DNA' and 'DNA LOFT' cushioning, which keeps your feet comfortable without compromising the durability of the soles. With these shoes, you can take on anything that your workout throws at you.
2 Best Athletic Shoes for Plantar Fasciitis
Plantar fasciitis is one of the most common conditions that athletes suffer from. This condition is caused when the arch of your foot is inflamed, which leads to pain around the heel area.
If you strain your foot with excessive exercise or by landing on your feet the wrong way, you can easily suffer from plantar fasciitis.
If you deal with this condition, you'll want to pay extra attention when choosing your athletic shoes.
1. Brooks Glycerin Road Running Shoes on Amazon
When you have to deal with plantar fasciitis, you want a pair of shoes that will make running feel as seamless as possible.
These shoes include Brook's OrthoLite sock liner, which gives you added comfort.
The 3D Fit Print technology gives you added breathability, with the shoes expanding as you exercise to accommodate your feet.
2. New Balance Fresh Foam Cushioning Shoes at New Balance
Shock absorption should be top of your list of requirements when choosing athletic shoes. The Fresh Foam midsole in these shoes gives you extra softness and makes it easier for your feet to rebound between each stride.
They promise 360 degrees of comfort with an Ultra Heel that will protect your heel from the shock of hitting the ground while running or exercising.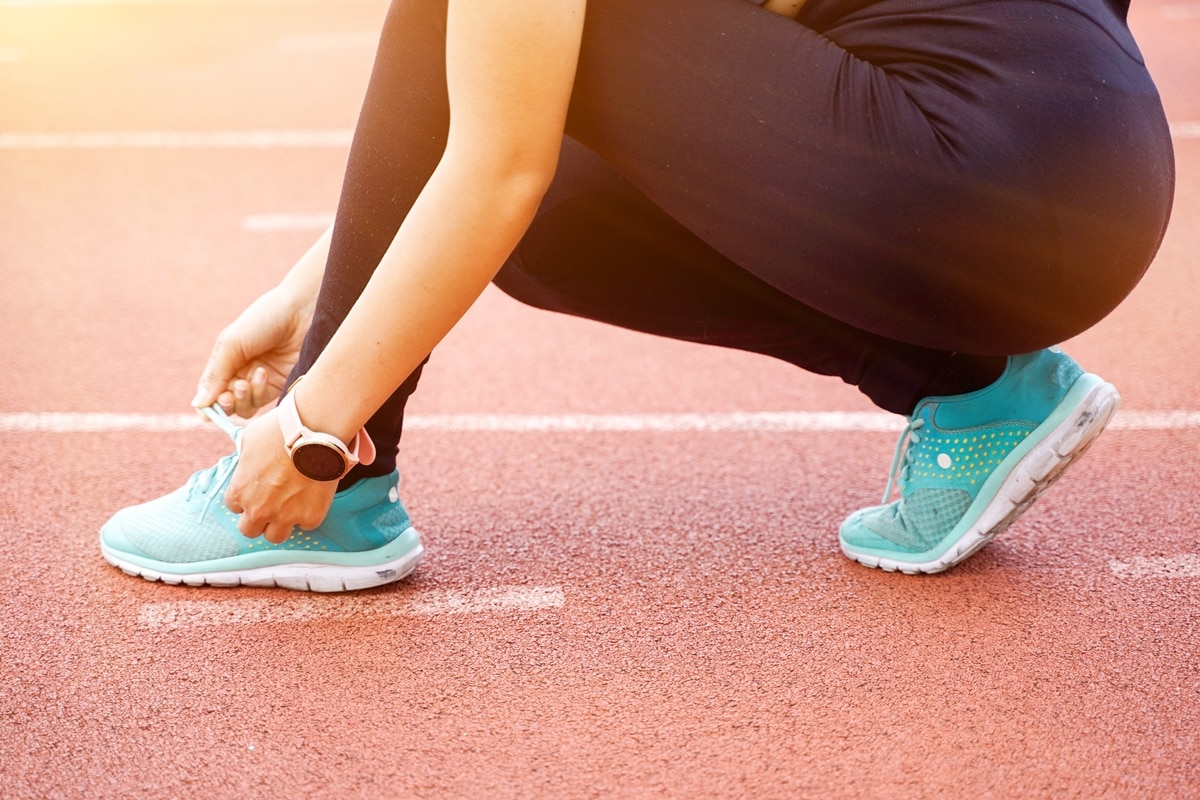 All activities and sports require care in choosing specific athletic shoes (Credit: Atiwat Witthayanurut / Shutterstock)
We hope this guide makes it easier for you to find the perfect pair of workout shoes. There's no denying that it's a more complicated process than buying casual everyday shoes.
You should think of them as an investment in your exercise routine and to boost your performance.
The key to finding the right pair of athletic shoes is to understand your foot type and the pressure that your sport puts on your feet.
Once you understand this, it'll be easier to find the right pair for you. Start small, and don't be afraid to try a few pairs until you come across the perfect fit!