Rihanna was seen heading to the 'Good Morning America' studios yesterday looking like she had no time to get dressed. Not because she looked sloppy or anything; quite the opposite, actually, because she was wearing a full-length fur coat over her sweatpants and sneakers!
The Barbadian singer, songwriter, and actress probably didn't have time to change out of her loungewear and, not wanting to be caught in them, just threw a fur coat over herself. Talk about insta-swag. Check out Rihanna's extremely low-end and extremely high-end mixed ensemble:
Rihanna arriving for her appearance on Good Morning America at the ABC Studios in New York City on January 29, 2014
This is how much Rihanna has influenced street style: instead of her New Balance sneakers pulling down her otherwise luxe look, she has elevated the sneakers' status and cred among the fashion set. Her being seen in the retro-style NBs has exponentially increased the demand for them, to the point that they have become one of this season's "it" shoes.
The exact shoes are these New Balance "574" sneakers:
New Balance "574" Sneakers, $69.95
The singer's gray version is the most in-demand colorway that they even have their own product page at Nordstrom. More colorways are on sale at 6pm.
Rihanna did later on change out of her sweats and into this vintage Chanel suit and Manolo Blahnik "BB" gray patent ankle-strap pumps: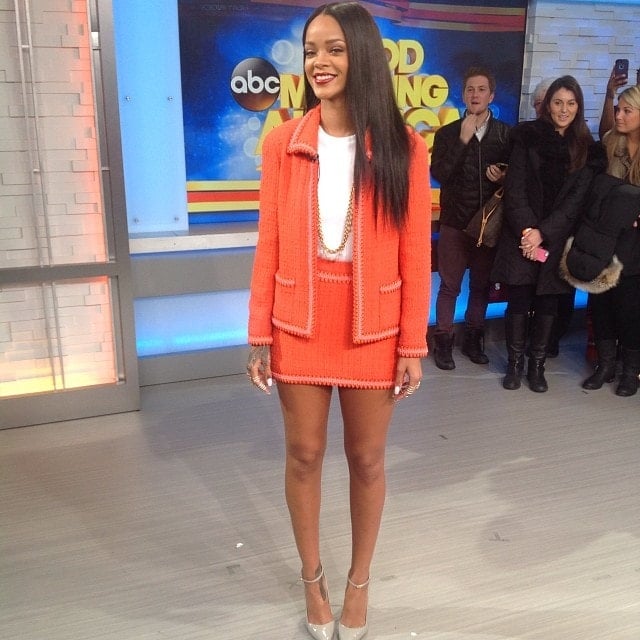 Good Morning America's Instagram snap of Rihanna at their studios in New York City on January 29, 2014
Apparently finally having some time to kill, she photobombed the 'Full House' cast and even managed to do the very rare double bunny ears in this picture posted by 'Good Morning America' on Twitter: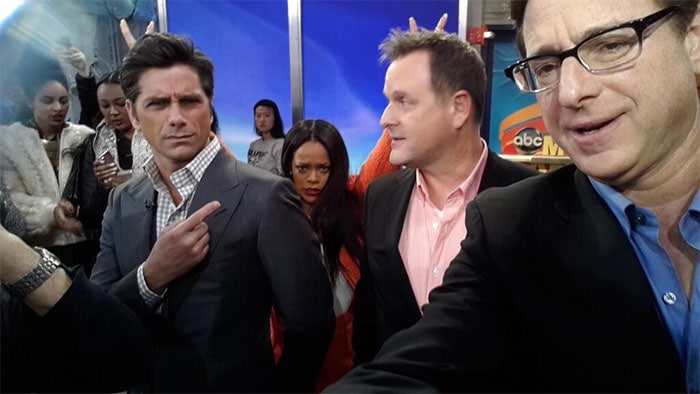 Oh, the photobomb wars are really on. We knew Jennifer Lawrence had set it in motion when she photobombed Taylor Swift at the Golden Globes.
What's the most ridiculous outfit you've worn with sneakers?
Credit: Tyrone Lebon for Urban Outfitters, Good Morning America's Instagram and Twitter