Have you ever found yourself looking at other people's shoes? It might be on your morning work commute or a night out with friends. Wherever you are, you're likely to lock eyes on one pair of shoes—the 'Old Skool' shoes by Vans.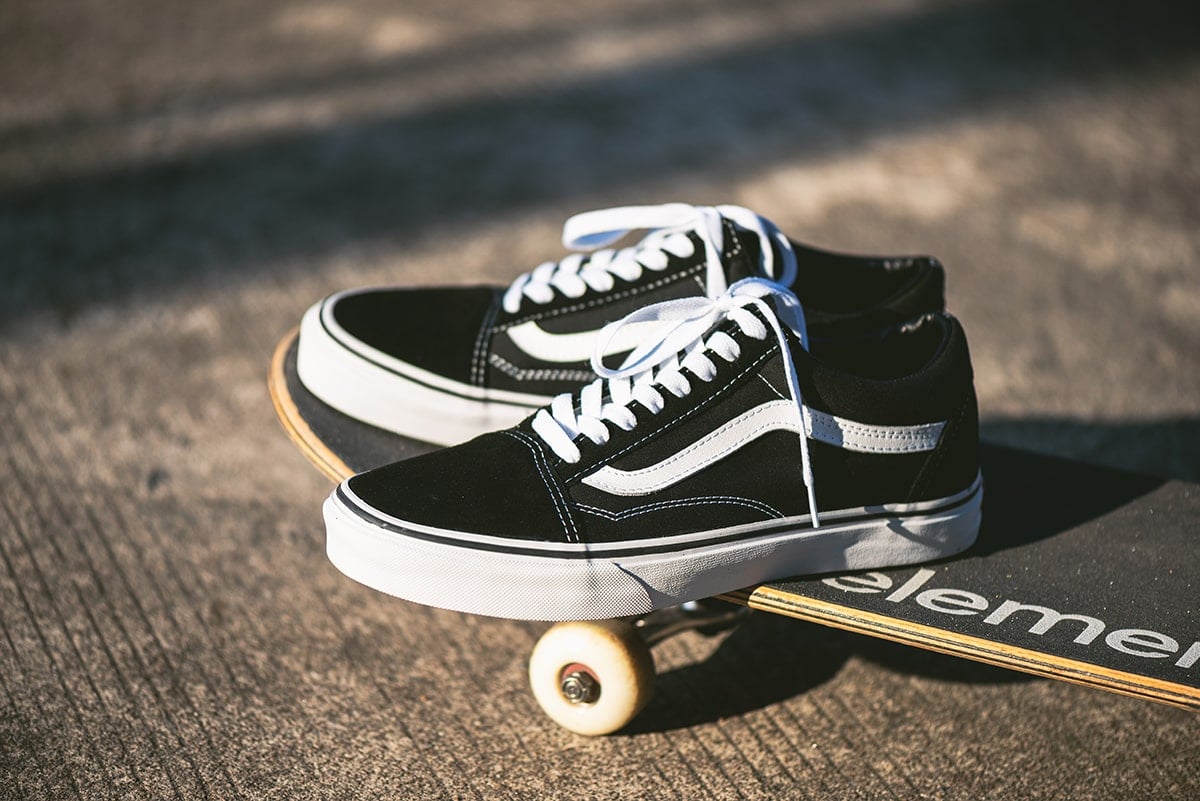 Vans Old Skool can be styled with just about anything in your closet (Credit: Nor Gal / Shutterstock)
They're a style of shoe you might even have in your closet. Their versatility means you can style the Vans Old Skool shoes with anything from dresses to jeans and a t-shirt. It's not uncommon to find these unisex shoes appearing at weddings! These are the shoes that will take you anywhere.
We're looking at how the Vans Old Skool shoes have become so popular and why they deserve a spot in your closet.
Meet the Vans Old Skool Shoes
The Vans Old Skool shoes were released in 1977 under the name 'Vans #36'. What made this model different from the brand's previous styles was the "jazz stripe" – a random doodle drawn by the brand's founder, Pal Van Doren.
The defining feature of the Vans Old Skool is the distinctive jazz stripe adorning the sides of the shoe
The shoes have evolved to become Vans' most recognizable style and a hallmark of the brand. They're made using durable suede with canvas uppers for extra comfort. It features the classic Vans low-top and lace-up silhouette with a reinforced toe cap and the brand's signature rubber waffle outsoles.
You can find the Vans Old Skool Shoes in an array of neutral color options, including all-white and all-black options.
The Different Types of Vans Old Skools
It's no surprise that Vans has expanded its Old Skools collection. While the original style dates back to the '70s, it remains one of the brand's best-selling shoes.
It's not uncommon for the Old Skool shoes to be the choice for collaborations between Vans and celebrities. Outside of collaborations with Sailor Moon, Bianca Chandon, and Anderson Paak, the classic Old Skool shoes are available in several variants.
The current styles in the extended Old Skool range include:
1. Skate Old Skool Shoes, $80 at Vans
Vans has taken the classic Old Skool shoes and updated them for skateboarders.
These shoes have been completely redesigned for maximum progression with new uppers, two-part foxing tape, and reinforced underlays to keep the shoes going strong through daily skateboarding.
The Skate Old Skool is redesigned for modern skateboarding with DURACAP reinforced underlays, two-part foxing tape, SICKSTICK rubber compound, and POPCUSH energy return sockliner
The shoes also incorporate Vans' "Popcush" cushioning for impact protection to lessen leg fatigue during skating sessions. It also features the brand's stickiest rubber soles ever to keep your feet firmly on your skateboard.
2. Platform Old Skool Shoes, $75 – $85 at Zappos
Do you love the Old Skool shoes but wish they had a little more height? We've got the shoes for you. They're the same recognizable Old Skool style with an upgraded 25.4mm platform that features the brand's signature rubber waffling.
The Old Skool shoes are updated with an inch of platform for those who want more height
You can choose this Old Skool style in the checkerboard print for a '70s-inspired look.
3. Old Skool Overt Plus CC Shoes, $115 at Vans
If you're a long-term fan of Old Skool shoes, you might want to shake up your shoe collection. Meet the Lux Old Skool Overt Plus CC shoe. They blend a modern aesthetic with a comfortable platform for an elevated look.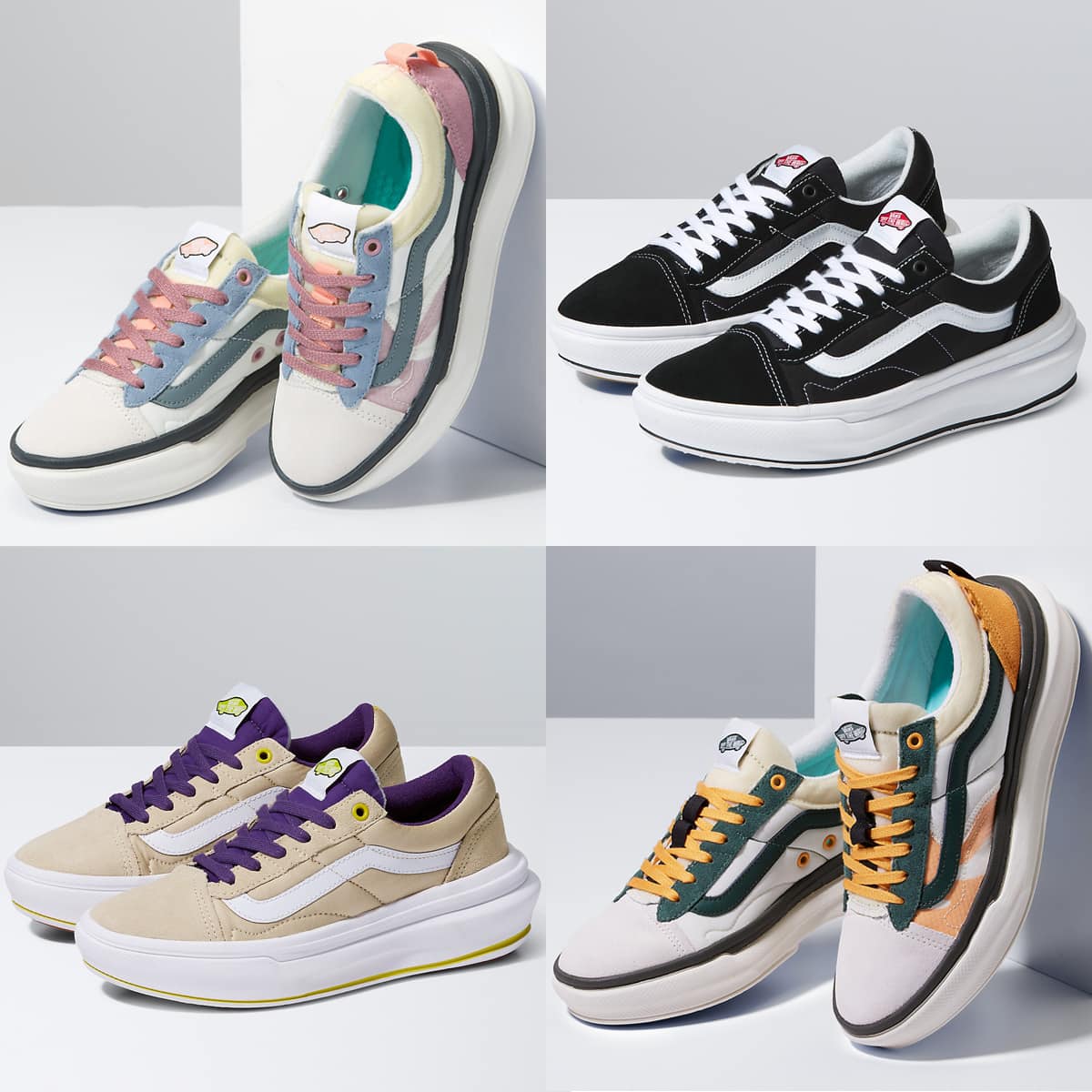 The Old Skool Overt Plus CC is incorporated with the 360-degree ComfyCush foam midsole and ComfyCush rubber waffle outsole for extra cushioning and traction
These shoes take the classic Old Skool silhouette, adding a 360-degree ComfyCush foam midsole and deluxe materials for extra breathability and support. The low-top silhouette with increased foam makes these shoes a perfect alternative to athleisure sneakers or trainers.
4. Old Skool MTE-1 Shoes, $105 – $130 at Vans
The Old Skool shoes work for any lifestyle. Don't believe us? Check out the Old Skool MTE-1 shoes. These sneakers are designed for a lifetime spent outdoors. You can continue exploring no matter what the weather brings – come rain, snow, mud, or sleet.
These purpose-built shoes feature the heritage side stripe with enhanced thermoregulation properties, including a HydroGuard Wrap and all-conditions rubber. The shoes maintain the canvas uppers with weather-treated suede to keep your feet dry, no matter the weather.
Vans' outdoor shoe, the Old Skool MTE-1 is packed with a water-resistant upper, Primaloft insulation for warmth, UltraCush molded EVA footbed, and lugged outsole for traction
These four 'Old Skool' variants have your closet covered for any weather, event, or occasion. They show the versatility of this classic silhouette.
Why Vans Old Skools Are a Global Favorite
Vans is one of the most popular footwear brands in the world. What makes the Old Skool shoes their best-selling style? While Vans sells other accessories, the brand's footwear includes hundreds of styles to choose from.
The Old Skool shoes are popular because of their accessible price point, a classic style that's been going strong since the 1970s.
When we think of 'investment shoes,' the Old Skools are on our list. You'll find everyone from celebrities to influencers and your hometown friends rocking these shoes. Celebrity fans include Kourtney Kardashian, Kristen Stewart, and Emily Ratajkowski.
Justin Bieber, Kendall Jenner, and Kylie Jenner are just some of the many celebrities who wear the Vans Old Skool shoes (Credit: BauerGriffin / INSTARimages / FREDDIE BAEZ / Startraksphoto)
These shoes are clean and simple, making them easy to style for any occasion. Men often style the Old Skool shoes with a two-piece suit, and women sometimes opt for them over heels when wearing a cocktail dress.
These high-quality shoes are guaranteed to give you one of the best 'cost per wear' of any shoes on the market.
Comfort and Style: The Vans Old Skool Experience
The Old Skool shoes by Vans were designed with comfort in mind. Whether you are a skateboarder or a stay-at-home mom, these shoes will support every aspect of your lifestyle.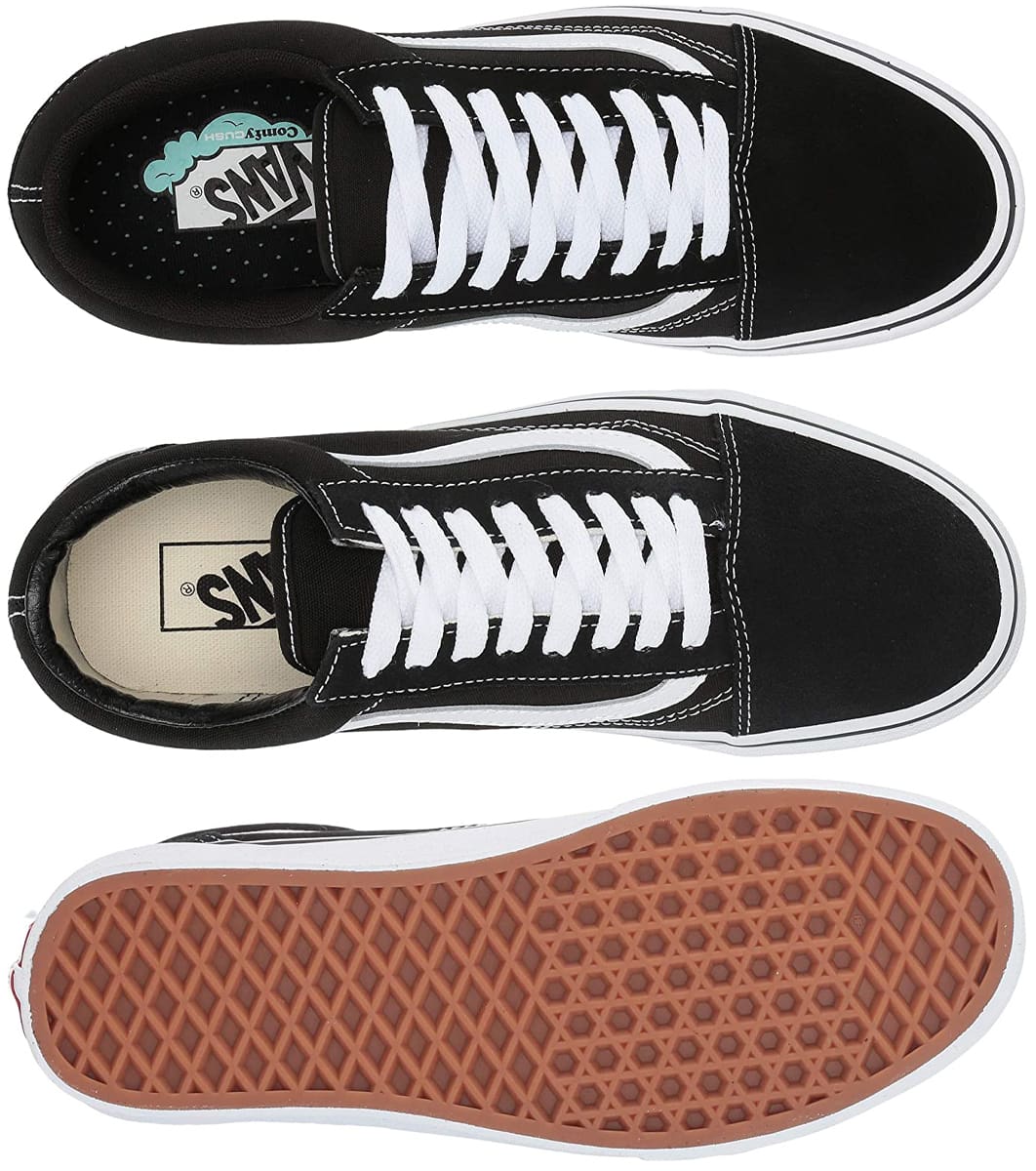 Vans Old Skool was designed with comfort in mind, but for extra cushion and support, the brand offers the Plus CC version
The expanded Old Skool range offers something for everyone. If you need extra support, check out the 'Plus CC' style. Fans of outdoor living can have an even more comfortable experience with the MTE-1 shoes.
What Sets Vans Old Skools Apart
It's easy to think that the Old Skools look like every other pair of Vans on the market. However, they have a subtle difference. That iconic side stripe is what makes the Old Skools shoes so recognizable.
The other difference between the Vans Old Skools vs. Slip On shoes is the material. The best-selling slip-on style is made using durable canvas for all the uppers. Old Skool shoes are different as they use canvas but also incorporate suede around the toe, heel, and eyelets.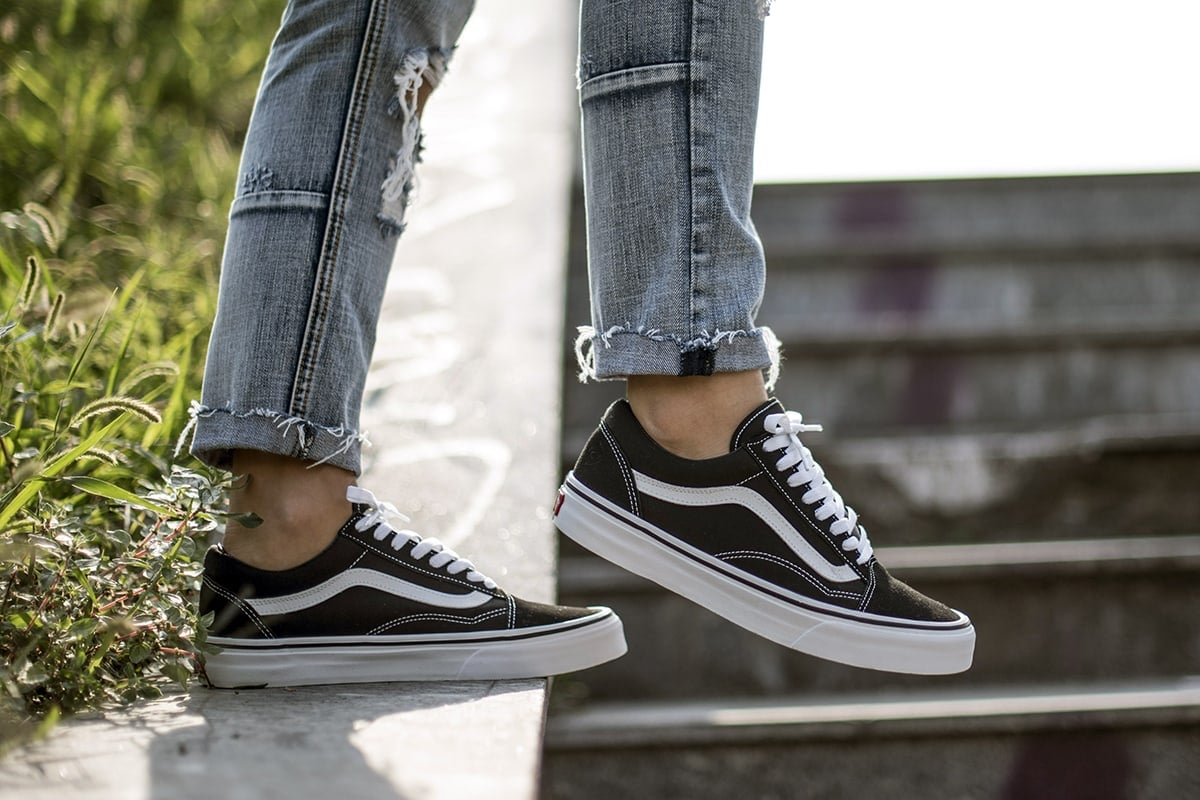 Vans Old Skool shoes feature the jazz stripes and a canvas and suede upper (Credit: Albo / Shutterstock)
If you want to invest in shoes you can wear anywhere, look no further than the Vans Old Skools. They're shoes you're guaranteed to see daily, whether working in the city or exploring the countryside.
The Old Skools sneakers deserve a spot in every closet. Also, don't miss our guide showing when Vans are fake.
Vans Facts: Insights into the Brand
Do Vans shoes run big or small?
Vans shoes claim to run "true to size" and are sized according to the US standard which is determined on a Brannock device (the standard foot measuring tool for the world's footwear industry).
Does Vans have an app?
Yes, the Vans Family app is a loyalty program where you earn points and unlock access to personalized content, exclusive products and member-only experiences.
How do you clean Vans?
See our Vans cleaning guide for details.
What does Vans stand for?
The company was founded on March 16, 1966, as The Van Doren Rubber Company, which was later shortened to Vans.
Who is the owner of Vans?
Vans was acquired in 2004 by VF Corporation, an American worldwide apparel and footwear company founded in 1899 and headquartered in Greensboro, North Carolina.

VF Corporation also owns a number of popular brands, including The North Face, Timberland, and Wrangler and Lee jeans.
Where is Vans located?
The headquarters for skateboarding brand and shoe manufacturer Vans is located in Costa Mesa, California.
Where is the original Vans store?
The first store was opened on March 16, 1966, at 704 East Broadway in Anaheim, California. Shoe prices reportedly started from $2.49.