Ocean scenery, adventure, tiger sharks, drug cartels, and bikinis – what more could anyone want in a storyline?
The 2005 film Into the Blue featured 24-year-old Jessica Alba on the brink of her next big break. She was already becoming a household name due to her work in the TV series Dark Angel.
Jessica Alba as Samantha "Sam" Nicholson in the 2005 American action-thriller film Into the Blue (Credit: Sony Pictures Releasing)
Alba worked alongside Paul Walker, Scott Caan, and Josh Brolin – some other well-known names in the industry.
The film was everything except sunny skies for Alba, who has since mentioned that she hated every minute of filming in a bikini.
Her character, who was meant to be a marine biologist (and clever enough to wear a wetsuit when diving), was rewritten to constantly wear skimpy bikinis.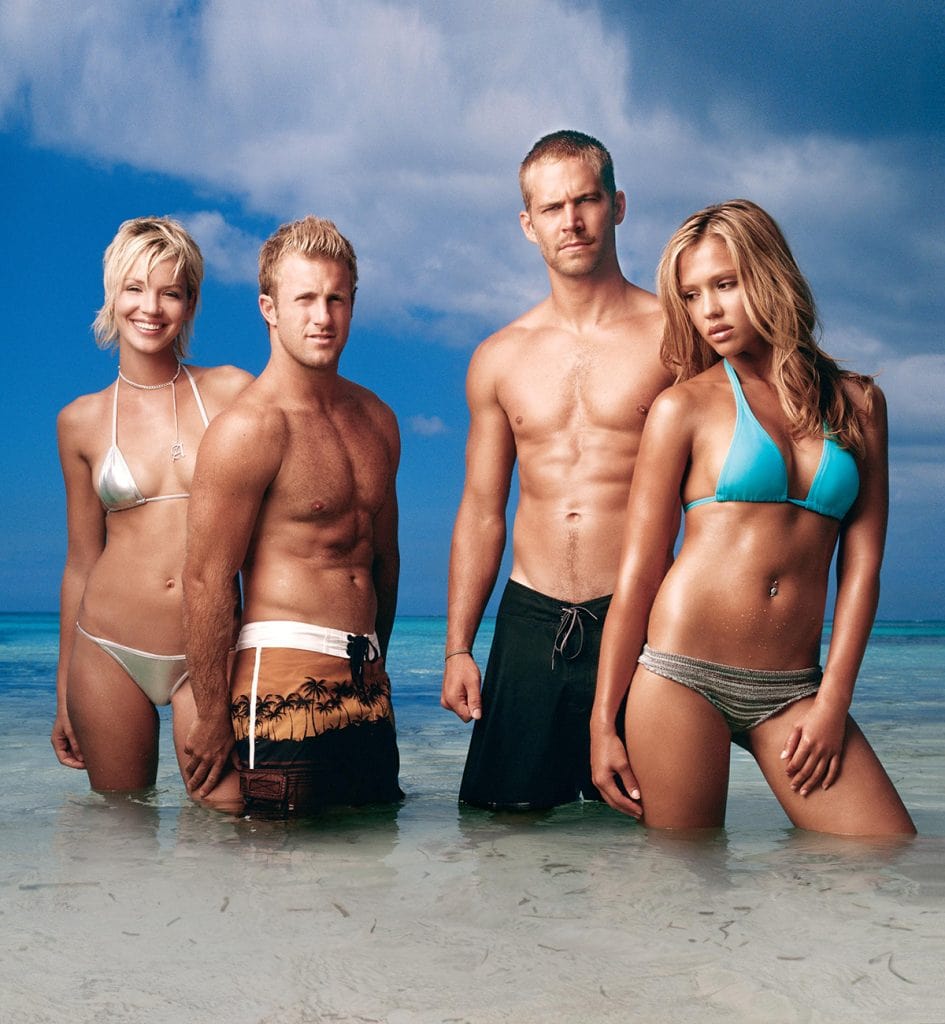 Ashley Scott, Scott Caan, Paul Walker, and Jessica Alba in Into the Blue (Credit: Cover Images)
Scenes were also shot with her stunt double before the actress arrived on set, which meant that she would have to continue the style or fear being labeled a diva.
"Every time the camera shut off, I was covering up in a towel and hating my life and calling my mom, and being like, 'I can't do this! I hate this movie!'" Alba told People about filming in The Bahamas.
"The shark's mouth was open and it was coming at me, and nobody was warning me – the camera operator was just filming it," she said about swimming with tiger sharks
"And I saw in my peripheral vision, because of my mask, that a shark's mouth was coming toward me, so I just hit it away. After that happened I was really paranoid about sharks getting too close to me."
How long can Jessica Alba hold her breath?
"I've been swimming since before I knew how to walk, 'cause my mom was a lifeguard in Mississippi when I was a baby. She taught me how to swim because she was always nervous that I would fall in the pool. So I've always been really comfortable in the water, and at the end of the day, I just had to think, girls that aren't the skinniest things in the world are going to feel comfortable seeing me as the main character, so hopefully, I would help young girls with their body image," Alba added about her swimming skills.
"Free driving is like an extreme sports version of snorkeling," Alba told The Early Show co-anchor Hannah Storm in an interview.
"That's about 50 feet deep. And basically what you do is you hold your breath and you wear a weight belt and go down as fast as possible and hold your breath for minutes at a time. I think I had the longest breath-hold. It was like one minute 20 seconds," she revealed about her ability to hold her breath for a long time.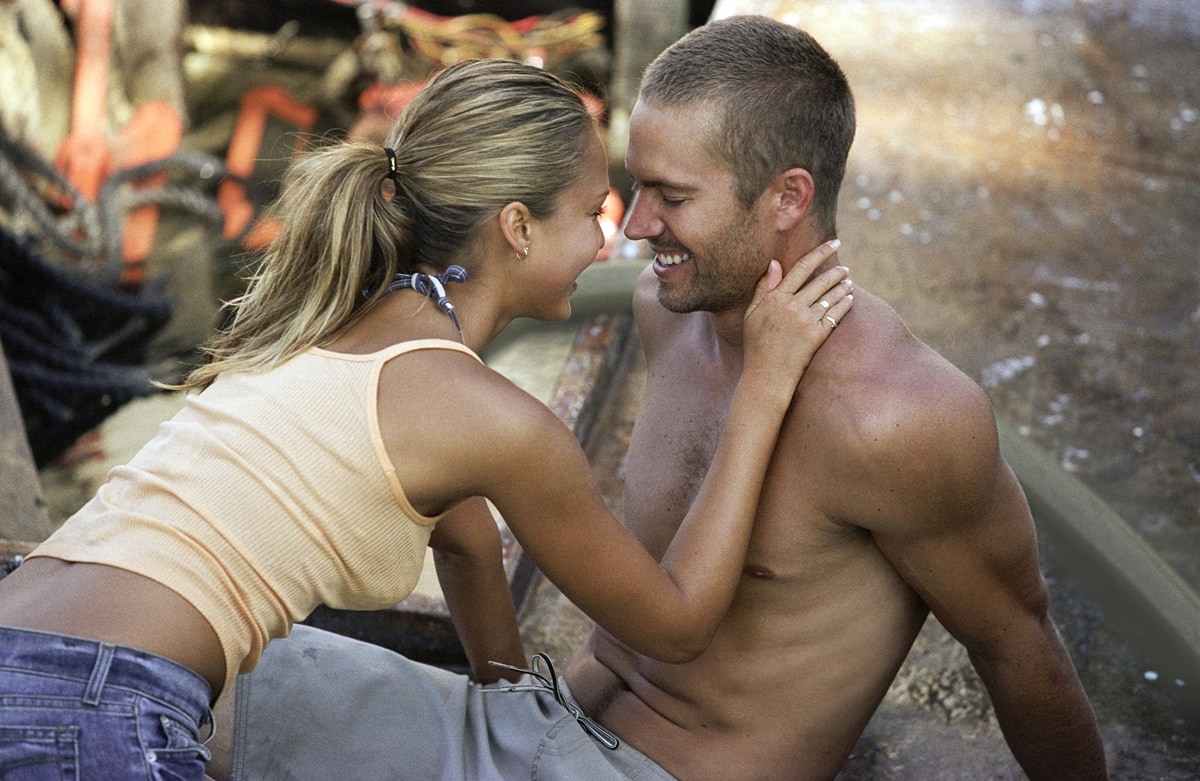 Paul Walker and Jessica Alba play a passionate couple living in The Bahamas in the popular movie Into the Blue (Credit: Sony Pictures Releasing)
Filming started in January 2004 when Jessica Alba was 22 years old. She celebrated her 23rd birthday on April 28, 2004, and was 24 years old when the film was released on September 30, 2005.
Alba has since taken great strides in her career, including founding Honest Company – a natural baby and beauty company.
On the second last day of June 2016, the actress jetted back into Los Angeles following a busy week in New York City promoting her company's new hair care product line.
The then-35-year-old actress attempted to keep a low profile as she landed at LAX.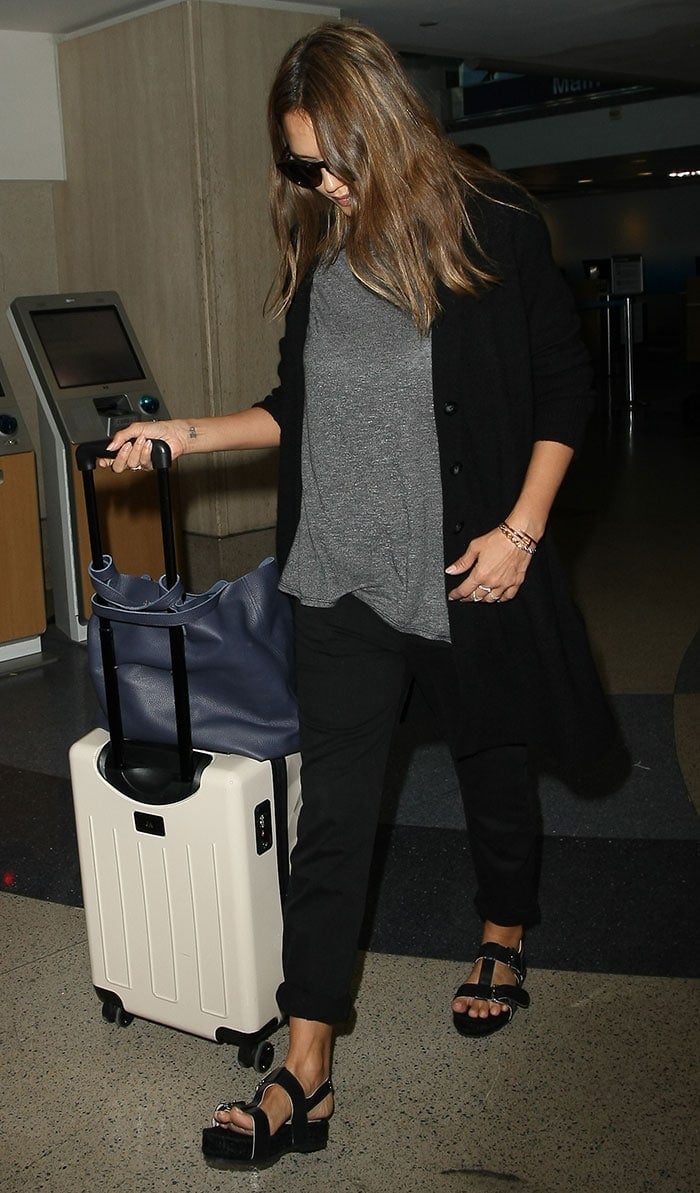 Jessica Alba wears her dark hair down as she arrives at Los Angeles International Airport on June 17, 2016 (Credit: WENN)
She opted for comfort over style, teaming up a loose-fitting Michael Stars gray tee with a pair of black rolled-up pants.
Jessica Alba wears a Michael Stars t-shirt with black pants and a cardigan as she arrives at LAX (Credit: WENN)
The Fantastic Four: Rise of the Silver Surfer actress added a black woven cardigan to the look and hid her eyes behind a pair of Etro sunglasses.
Jessica casually wore her hair down and sported just a hint of lipgloss, keeping the look low-key.
She finished off her ensemble by showing off her feet in espadrille sandals by German fashion brand Etienne Aigner.
Jessica Alba's feet in Etienne Aigner espadrille sandals (Credit: WENN)
She picked the "Warren" sandals, which featured sturdy Vachetta leather straps with large buckle fastenings, open toes, and flatform espadrilles.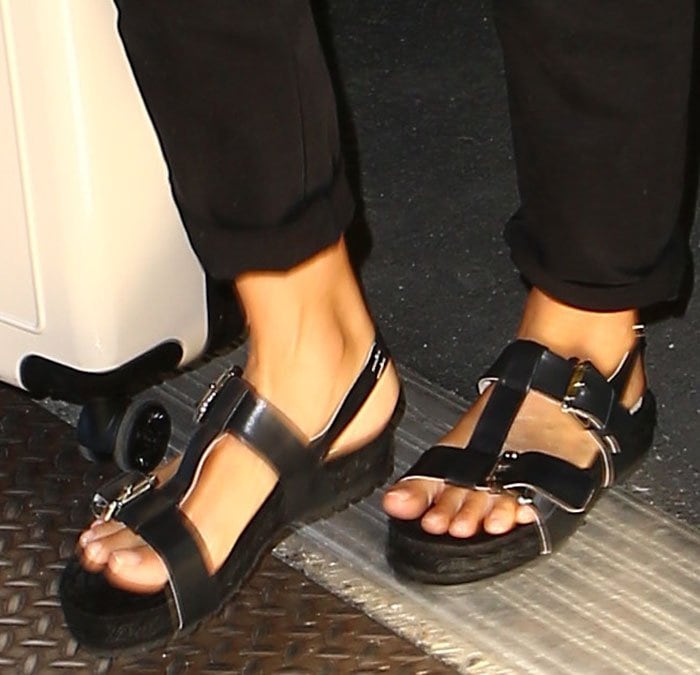 Jessica Alba's feet in black flatform "Warren" sandals (Credit: WENN)
These summer-ready sandals are no longer available online.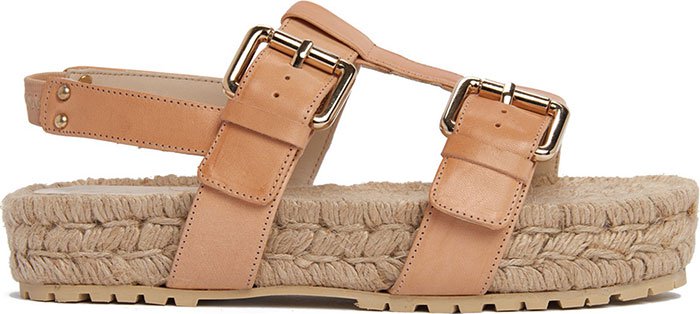 Etienne Aigner "Warren" Open Toe Espadrilles, $245