Dark Angel actress Jessica Alba led the style pack at the Who What Wear x Target launch party held at ArtBeam in New York City.
The actress-turned-entrepreneur appeared alongside Kate Bosworth and Jaime King as they were given the first look at the collection that features street-style inspired clothing and accessories, all priced under $50.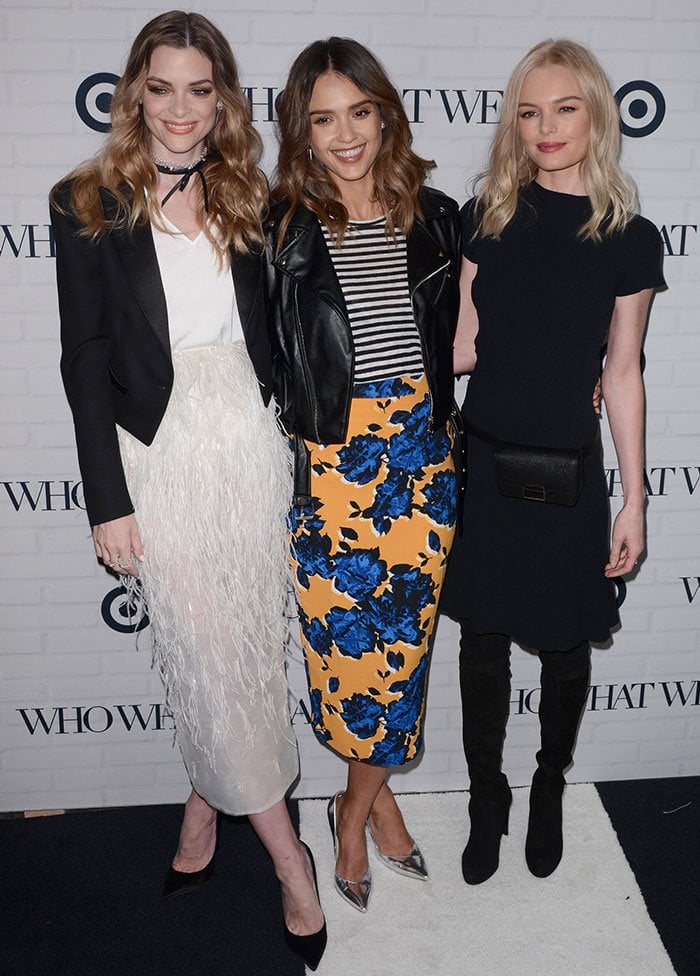 Jaime King, Jessica Alba, and Kate Bosworth all wear matching hairstyles at the Who What Wear x Target Launch Party held on January 27, 2016, in New York City
16 years earlier, she rose to prominence as the protagonist, Maxine "Max" Guevara (X5-452), of the cyberpunk science fiction television program Dark Angel.
How old was Jessica Alba when she did Dark Angel?
Selected for the role by director James Cameron from a pool of over one thousand candidates, Alba's performance earned her a Golden Globe nomination, the Teen Choice Award for Choice Actress, and Saturn Award for Best Actress.
Jessica Alba rose to prominence at 19 as the lead actress of the television series Dark Angel
"She had her head down, she was reading out of the script … she didn't present herself all that well. But there was something about the way she read the script that copped an attitude that I liked," the show's creator James Cameron said about her audition tape.
While his first impression of the actress wasn't good, it's not surprising that the exotic beauty and her sexy figure caught his attention. She ended up being hired before the script was even written.
"Every day for a year, I went to martial arts, then to gymnastics, then to motorcycle riding, then to a hard cardio workout and stretching," Alba said about preparing for the role by doing martial arts and gymnastics and riding motorcycles.
"We had the benefit of being able to write a script kind of backwards," co-creator Charles H. Eglee said about the early casting of Alba. "We were writing for this actress, with her cadences and her rhythms and her sensibilities and her attitude and her slang."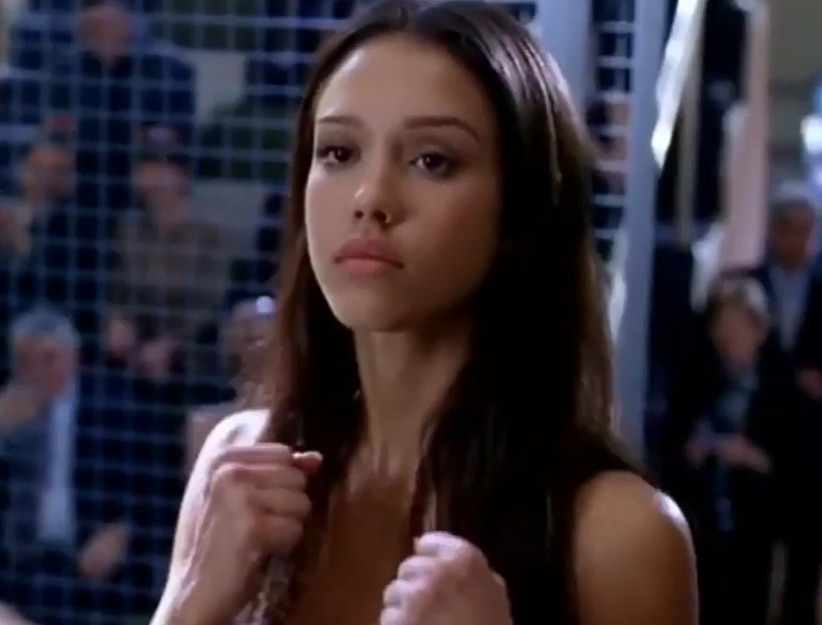 Jessica Alba plays a runaway genetically enhanced super-soldier in Dark Angel
Filmed in Vancouver, British Columbia, at Lions Gate Studios, the first season of Dark Angel premiered in the United States on October 3, 2000, when Alba was 19 years old.
Born on April 28, 1981, in Pomona, California, she turned 20 on April 28, 2001.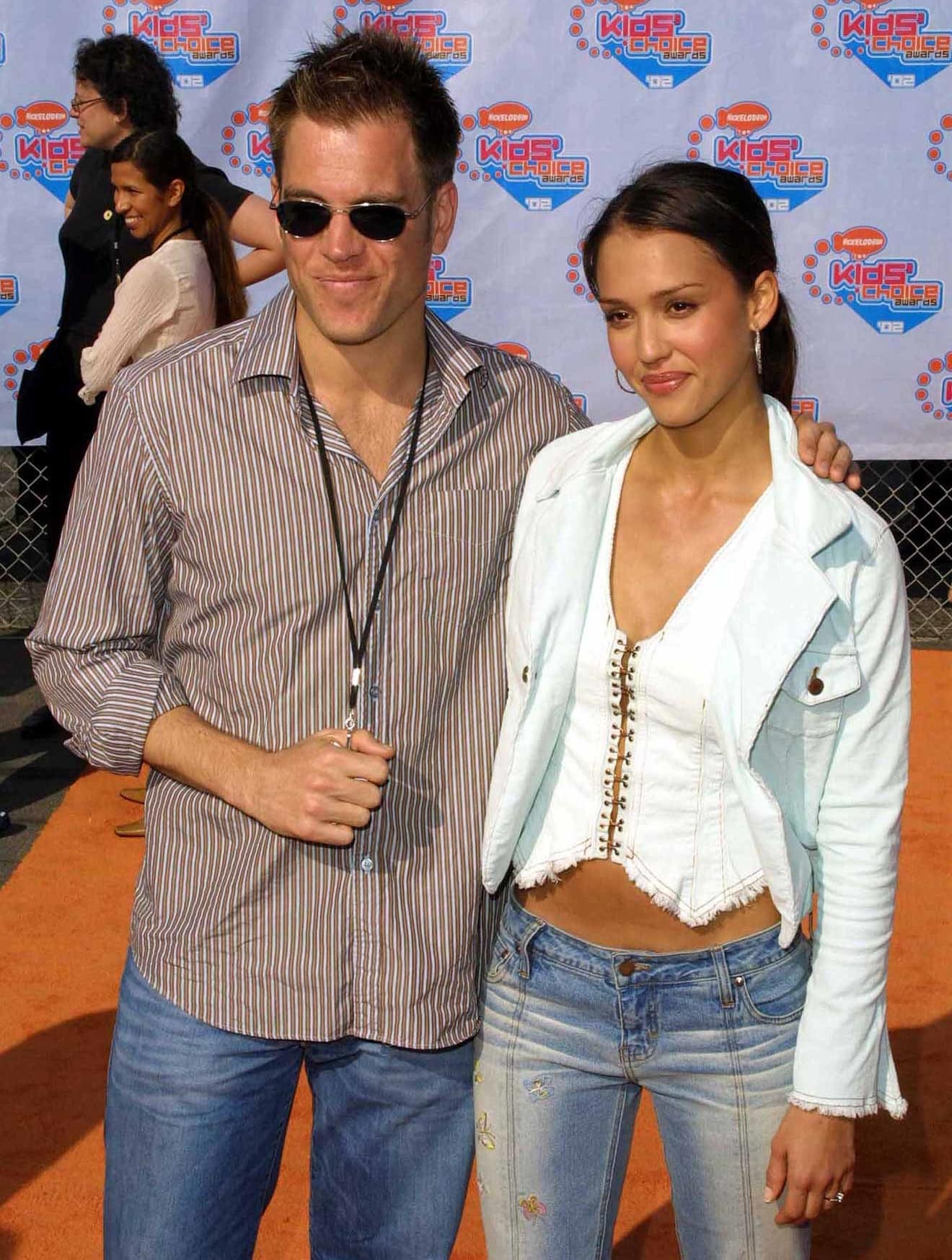 Joined by her boyfriend Michael Weatherly, Jessica Alba was nominated for favorite female butt kicker at the 2002 kids' choice awards
At the launch party, the then 34-year-old actress donned a $19.99 black-and-white striped tee, a $44.99 black moto jacket, and a $27.99 vintage-looking floral pencil skirt in yellow and blue — all pieces from the collection.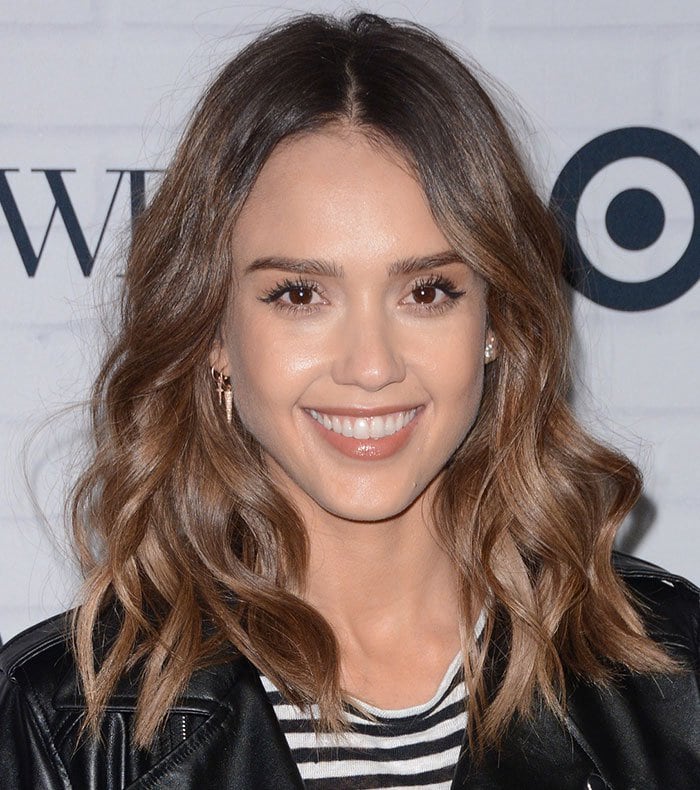 Jessica Alba wears loose waves and dramatic eye makeup at the Who What Wear x Target launch party
The Never Been Kissed actress amped up the glamorous edge of the look by accessorizing with spiked earrings, a couple of rings, a bangle, and a pair of silver pumps.
Jessica Alba wears a colorful skirt from the Who What Wear x Target collection
She applied neutral-toned makeup with dramatic mascara and wore her brunette tresses down in tousled waves.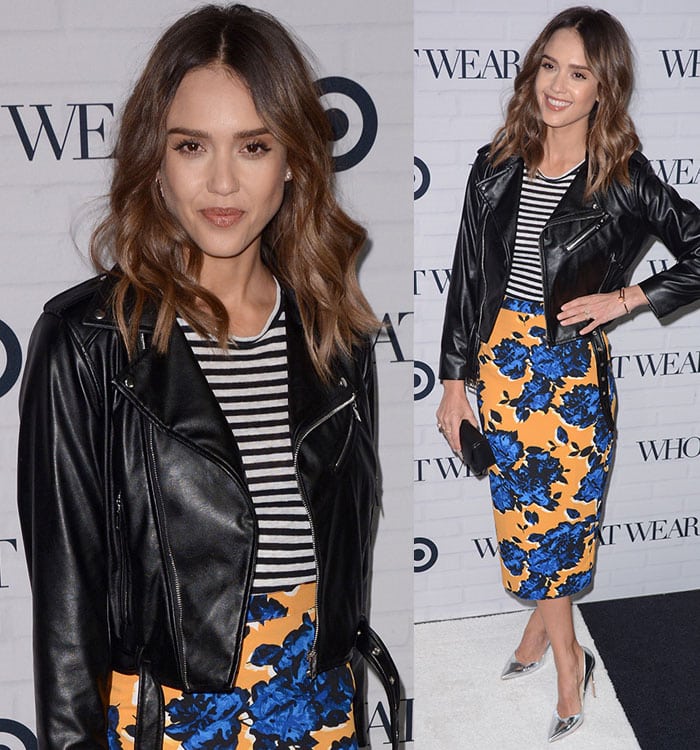 Jessica Alba styles a leather jacket over her black-and-white striped shirt from the Who What Wear x Target collection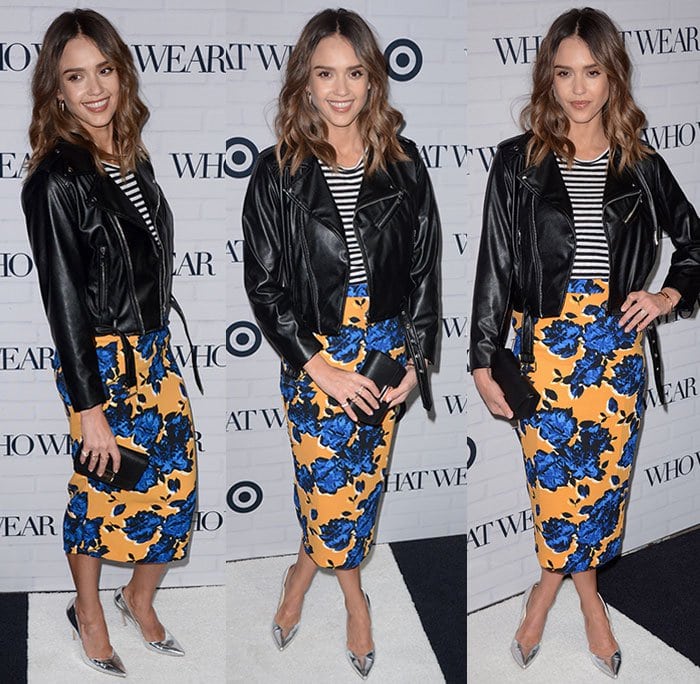 Jessica Alba wears several pieces from the Who What Wear x Target collection at its launch
Jessica chose a pair of Brian Atwood "Marella" pumps for her feet.
Jessica Alba's feet in mirrored silver leather Brian Atwood pumps
These mirrored silver leather pumps are from the designer's fall 2014 collection and feature pointed toes and sleek 4.7-inch heels.
Jessica Alba's feet in shiny silver "Marella" pumps
A red suede version of these Brian Atwood pumps can be purchased at Amazon.
Red Brian Atwood "Marella" Pumps, $484
Credit: Ivan Nikolov / WENN