Pregnancy seems to have made Jessica Alba get back in touch with her feminine side.
The expectant actress usually clad in black and grey outfits was seen wearing something sweeter and more girly while running errands out in Hollywood last Thursday: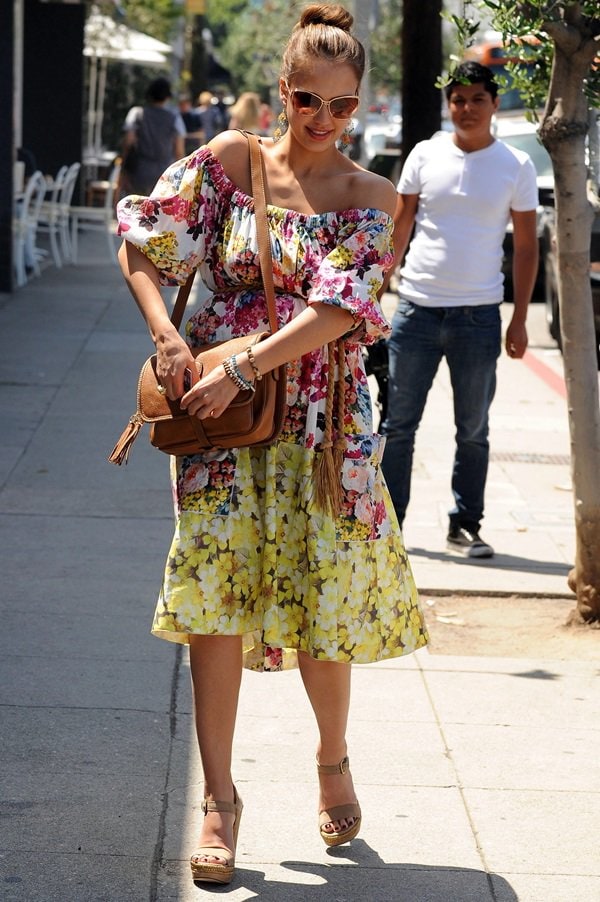 Jessica Alba flaunts her legs while arriving at a chiropractic office in Beverly Hills on May 5, 2011
I think I've gotten so used to seeing Jessica Alba in menswear-inspired outfits because this D&G Spring 2011 floral off-the-shoulder dress on her surprised me. This is probably the girliest "street" / non-red carpet outfit we've seen her in quite some time.
Jessica Alba wearing a D&G Spring 2011 floral off-the-shoulder dress
If this is Jessica Alba's maternity style, I'm going to enjoy every paparazzi photo of her for the next few months because I find that this feminine look really suits her. There's also something about a floral, summery, off-the-shoulder dress that strongly reminds me of Jessica Alba's Latina roots.
A summery frock requires summery shoes and Jessica Alba wisely chose these Stuart Weitzman Strutting platform sandals to finish off her look: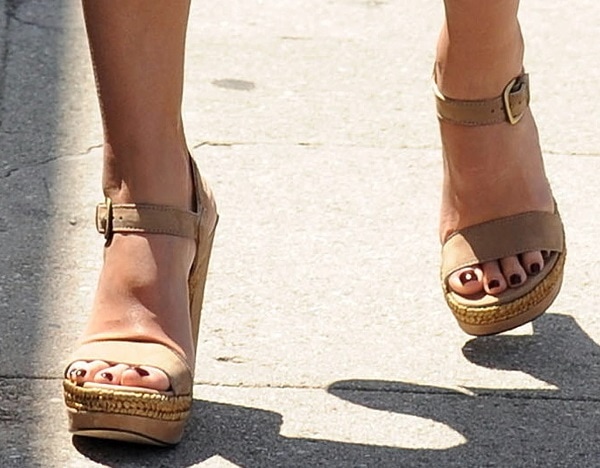 Jessica Alba shows off her feet in Stuart Weitzman Strutting platform sandals
Strutting Platform Sandals in Tan Nubuck, $375.00 at Amazon
They also come in this black rice nubuck color which uses a more traditional material for the espadrille part of the platform sole:
Strutting Platform Sandals in Black Rice Nubuck, $375.00 at Amazon
Another version of the 'Strutting' sandal is this stiletto-heeled one which uses trendier leopard and crocodile prints for its upper:
Strutting Platform Sandals in Miel Leopard Twill, $370.00
Strutting Platform Sandals in Fuchsia Summer Croco, $398.00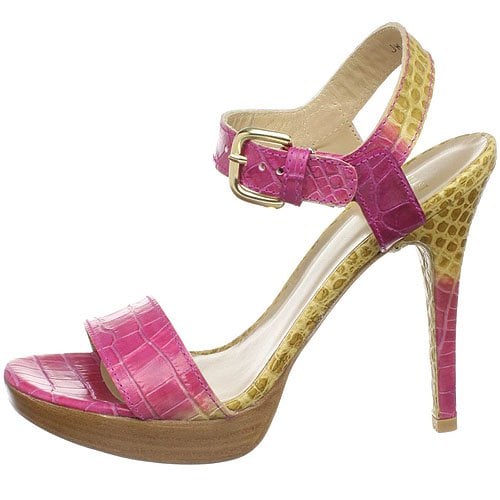 Credit: WENN