Spring/Summer 2023 is proof that trends will always come back. It's the perfect time to invest in a signature shoe style – whether it's feminine ballet flats, casual soccer shoes, or clear PVC heels.
While fashion trends often repeat themselves, it's fascinating to see how shoe trends evolve over time. As we gear up for the spring/summer 2023 season, you may find yourself experiencing a sense of déjà vu as some of the hottest shoe trends from the past make a comeback.
There's something for everyone with Spring/summer 2023 shoe trends, whether you're still living in athleisure or want to elevate your closet with classic Mary Jane shoes.
We're excited to share the 10 hottest shoe trends that we can't wait to shop for this upcoming spring/summer 2023 season. It's the perfect time to indulge in footwear that will elevate your wardrobe and stay in style for years to come.
1. Ballet flats
Channel your inner ballerina with the nearest thing most of us will ever wear to pointe shoes. These feminine shoes are the perfect option for any occasion.
They're a must-have for traveling or working in the city. Simply fold them up and keep them in your bag to stay looking chic on the go.
Steve Madden Eydie Ballet Flats, $89.95 at Nordstrom; Chloe Lauren Ballet Flats, $550 at Mytheresa
Not all ballet flats are simple silhouettes. Some styles take a more contemporary approach, adding everything from PVC buckles to sneaker soles and satin fabrics.
The Chloe 'Lauren' ballerina flats are a long-term classic with a distinctive scallop edge silhouette. Pick up the 'Eydie' ballet flats by Steve Madden for a timeless style under $100.
2. Clear PVC
Have your own glass slipper moment with this spring/summer 2023 shoe trend. Clear PVC shoes are a seductive and surprisingly functional shoe style that works everywhere, from a summer wedding to a trip to the city.
Clear PVC isn't exclusive to just stilettos; the trend is popping up in flats, boots, and mules.
Amina Muaddi Rosie Crystal-Embellished PVC Pumps, $1,012 at Matches Fashion; Tony Bianco Laos Heels in Clear Vinylite, $190 at Revolve
One thing to consider about clear PVC shoes is to avoid wearing them if it's humid to prevent condensation.
Splurge on the metallic 'Rosie' crystal-embellished shoes from Amina Muaddi, or get the look for less with the 'Laos' heel by Tony Bianco.
3. Metallic Hues
Spring/summer 2023 trends are all about being seen. Metallic hues are everywhere you look, from accessories to footwear and evening attire.
This trend adds a little fun to a closet full of neutral shoes and casual sneakers. Choose a metallic hue that compliments your skin tone for a statement-making moment.

Mango Metallic Heel Pumps, $79.99 at Mango; Sam Edelman Ethyl Low-Top Sneakers, $70 at Nordstrom
We love these pointed-toe metallic heels from Mango, ticking off two trends in one. Elevate your weekend wardrobe with the 'Ethyl' low-top sneakers from Sam Edelman.
4. Net Shoes
Underwear as an outerwear trend isn't going anywhere anytime soon. Lingerie and boudoir attire has made their way into footwear, with net shoes being one of the biggest spring/summer 2023 shoe trends.
Fishnet pumps are one of Chanel's stand-out pieces for the season, with Stella McCartney, Nenski Dojaka, and Bally following suit.
Saint Laurent Luz 95 Embellished Mules, $1,195 at Mytheresa; Jimmy Choo Amita 45mm Fishnet Pumps, $775 at Farfetch
Jump into the trend with Saint Laurent's Luz embellished mules. Roll the fishnet and slingback trend into one with the 'Amita 45mm' pumps by Jimmy Choo.
5. Mary Jane
While the classic Mary Jane might make you think of your old school uniform, you're about to meet this timeless silhouette in a new form.
Spring/summer 2023 is giving the Mary Jane a contemporary update with everything from curved toes to chunky heels and stacked straps.

Kate Spade New York Maya Mary Jane Flats, $218 at Zappos; Free People Stella Mary Jane Platform Pumps,$158 at Nordstrom
It's easy to write Mary Jane shoes off as just a feminine style, but they're more versatile than you might think. Explore the 'coastal grandmother' aesthetic with Kate Spade's 'Maya' flats or go retro-chic with Free People's 'Stella' platform pump.
6. Bold Pastels and Neon Hues
Brighten your closet's color palette with high-saturated pastels and neon hues to bring a fresh look to your spring/summer 2023 closet.
These color palettes are popping up across every 2023 footwear trend, from mules to pumps and Mary Janes.
Nike Air Force 1 Shadow Sneaker, $130 – $140 at Nordstrom; Gia Borghini Rosie 16 Linen and Leather Sandals, $336 (from $480) at Mytheresa
The Nike Air Force 1 Shadow has gotten a bold pastel update for the season, the perfect option for those who want a playful twist to their athleisure. Add a splash of color to your warm-weather clothing with the Gia Borghini 'Rosie' sandals.
7. Slingbacks Are Back
Slingbacks are a show that we all just seem to reach for in spring. Chic, feminine, and understated elegance. Perfect for brunch with your girlfriends or a spring wedding.
Keep it classic with peep-toe slingbacks, or shop around for a modern take on the timeless shoe with multi straps or a higher heel.

Lisa Vicky Zee Pointed-Toe Slingback Pumps, $99.95 at Nordstrom; Sam Edelman Bianka Slingback Pumps, $140 at Nordstrom
The 'Zee' slingbacks by Lisa Vicky are under $100 and available in various prints and colors. Update your workwear with the 'Bianka' slingback bumps from Sam Edelman.
8. Lace Gladiator Heels
Knee-high lace gladiator heels are back for a glamorous beach resort look. These shoes were all over the runway for Spring/Summer 2023, taking the humble sandal and giving it a seductive upgrade with lace straps and platforms.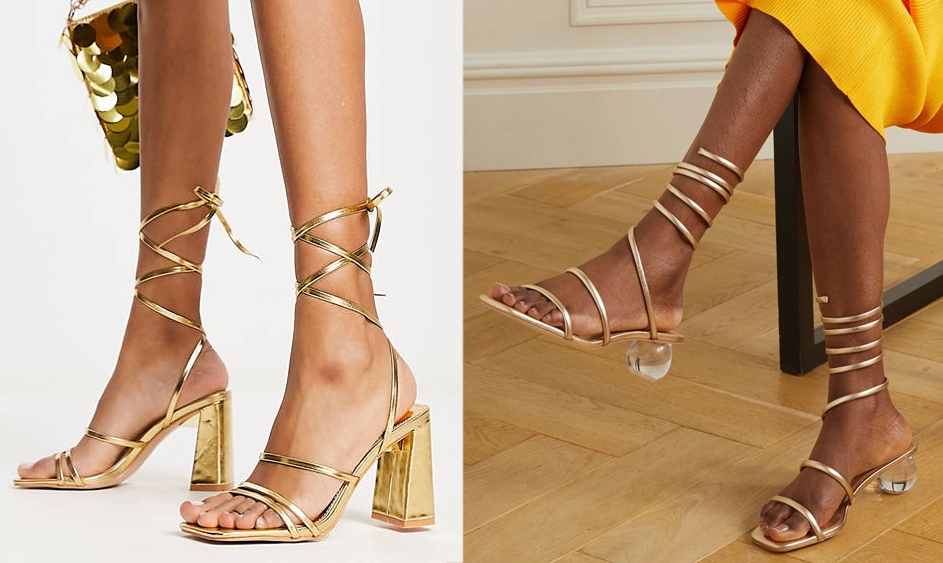 Natty Gold Lace-Up Square-Toe Mid-Block Heels, $44.99 at Public Desire; Cult Gaia Freya Metallic Leather Sandals, $470 at Net-a-Porter
The 'Natty' lace-up square heels are top of our shopping list for summer. These shoes will be all over your Instagram feed.
Are you shopping for statement shoes for spring and summer? The 'Freya' gladiator sandals by Cult Gaia will guarantee you a spot on the best-dressed list.
9. Slouchy Boots
We blinked, and suddenly slouchy boots were back in style. These shoes are universally flattering and the perfect alternative to skin-tight boots, as they create the illusion of a slimmer silhouette.
Wear them with denim shorts, midi dresses, or a sparkly skirt to get festival ready.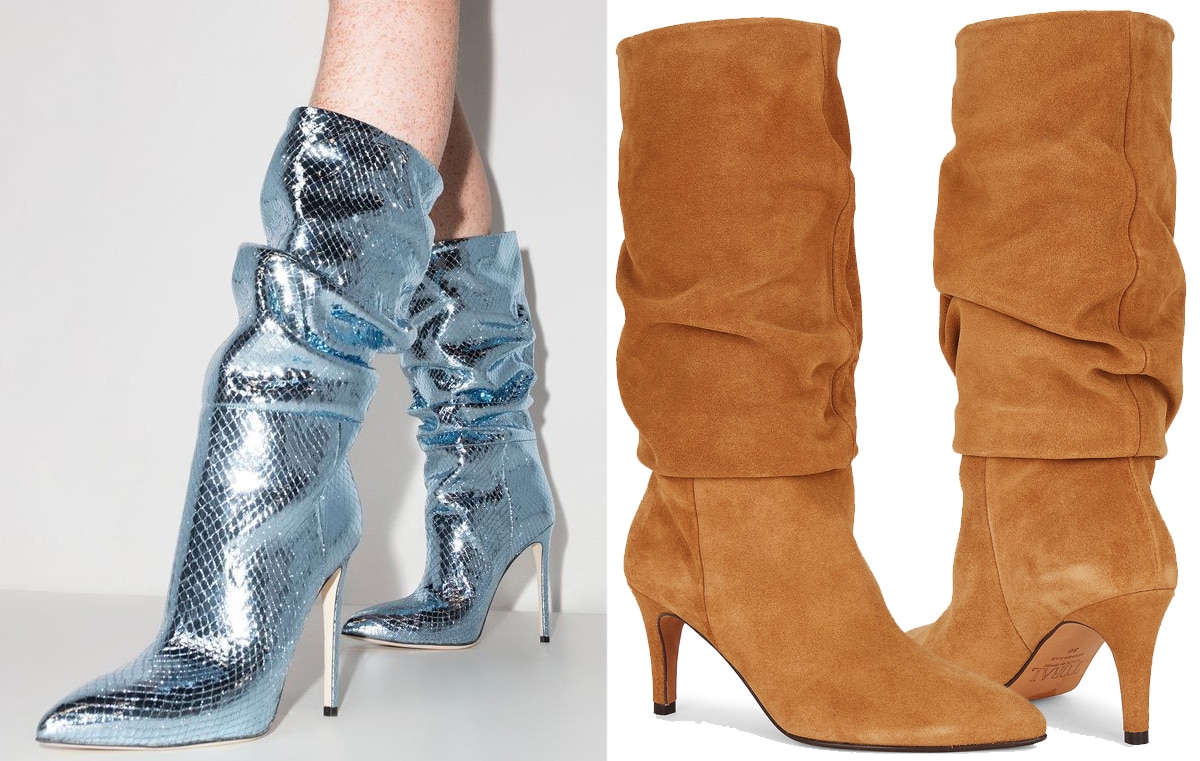 Paris Texas 105mm Slouch Stiletto Boots, $998 at Farfetch; Toral Slouchy Boot in Hazelnut, $476 at Revolve
Paris Texas is a brand making slouchy metallic boots one of the biggest spring/summer 2023 shoe trends. Toral's slouchy boots are a perfect transitional option to take you into autumn and winter.
10. Soccer Shoes
The athleisure trend is still going strong, especially with the weather heating up. Soccer shoes are the new go-to athleisure footwear choice, with Harry Styles and Bella Hadid leading the way. If you want an alternative to Superga sneakers or Air Force 1s, check out Adidas' Samba OG shoes.
These laidback shoes are the 'white sneaker.' Style them with jeans and a t-shirt for a casual outfit, or incorporate them into your streetwear closet as a minimalistic basic.
Adidas Samba OG Sneakers, $120 at Farfetch
These 10 shoe trends aren't just for spring/summer 2023. Each of these is a comeback trend that shows footwear remains one of the best investments you can make in your closet.