Accessories are a girl's best friend. Whether you've been saving up for your dream bag or need to give your closet an update, it's time to plan your 2023 handbag shopping.
You can choose between practical investments that will become heirloom pieces or upgrade your closet with trending handbags for a contemporary look. Affordable handbags are the perfect way to incorporate the latest trends into your closet without breaking the bank.
2023 handbag trends have something for everyone. Classic handbags are making a comeback, like the Lady Dior, while handbag trends are taking inspiration from the biggest footwear trends for 2023 by focusing on silver metallics.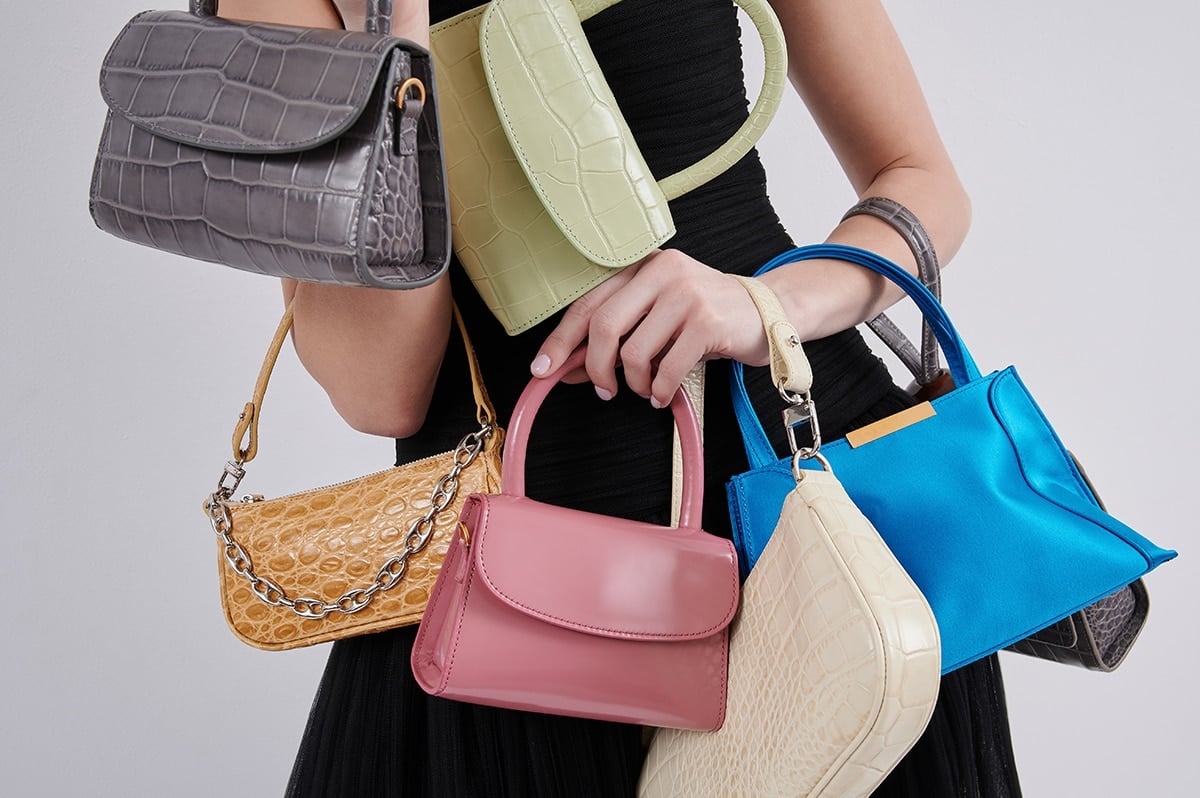 Update your handbag collection for 2023 with classic handbags or trending handbags for a contemporary look (Credit: apazuhanich / Shutterstock)
Designer handbags have become one of the best investments you can make. The rising cost of handbags from brands like Dior, Chanel, and Hermès has led Forbes to name them a better investment than art.
After all, we think handbags are living art. Understated luxury is back at the forefront of fashion trends with a focus on sustainability. Many of these 2023 handbag trends can be found in the pre-loved market, with most bags focusing on functionality over quirkiness.
Whether you're a luxury handbag lover or have a bag for every occasion, this guide to the 2023 handbag trends will help you plan your next purchase.
1. Work Bags
Work bags have taken a backseat in recent years. Most of us are embracing hybrid working – or even working entirely from home. Work bags are making a comeback as brands like Miu Miu return to the classic briefcase silhouette.
1. Modern Picnic The Large Luncher Vegan Leather Lunchbox, $189 on Amazon; 2. Saint Laurent Manhattan Shoulder Bag, $2,800 at Matches Fashion; 3. Steve Madden Dignify Croc-Embossed Crossbody Bag, $75 at Nordstrom; 4. Dolce & Gabbana Small Sicily Bag, $2,545 at Farfetch; 5. Christian Louboutin Paloma Medium Leather Tote Bag, $2,790 at Mytheresa
Whether working from a corner office or your local coffee shop, these work bags are the chicest way to carry all your tech essentials.
The workwear handbag trend is focusing on boxy and structured bags. Several brands are re-issuing their most iconic workwear bags, including Prada's 1995 workwear bag made famous by Carolyn Bessette Kennedy.
2. Oversized Tote Bags
XXL totes have been a handbag trend for several seasons – with no signs of slowing down. This cult-favorite handbag has been given a more wearable update. It's a minimalistic staple that every woman needs, whether you're commuting to work or catching a red-eye flight.
1. Madewell The Piazza Oversize Tote, $198 at Nordstrom; 2. R13 Leopard-Print Oversize Tote Bag, $574 at Farfetch; 3. Rag & Bone Logan Leather Tote, $574 at Saks Fifth Avenue; 4. Nanushka Oversized Tote Bag, $1,425 at Farfetch
It's a fashion-forward trend that blends practicality with contemporary style. Get the most out of this trend by investing in an oversized tote in your signature color or an everyday neutral.
Everyone from Zoe Kravitz to Hailey Bieber is jumping on this trend. Shop for an oversized tote bag that suits your lifestyle and daily activities. This handbag trend is one of the most practical of 2023.
3. Double Bags
Why have one handbag when you can have two? The double bag trend is back several years after the triple bag became one of Celine's best-selling styles.
This playful handbag trend is quirkiness meets practicality. The double bag trend is done best by brands who commit to a twinning moment.
1. Kate Spade Morgan Saffiano Double Up Crossbody Bag, $298 on Amazon; 2. Saint Laurent Quilted Metallic Leather Double Flap Crossbody Bag, $1,650 at Nordstrom; 3. Tory Burch Lee Radziwill Petite Leather Double Bag, $598 on Amazon; 4. Michael Kors Large Double Pouch Crossbody Bag, $349 at Farfetch
European fashion houses are at the front of this trend, including Fendi and Salvatore Ferragamo. Fendi gave its reissued baguette bag the double treatment by creating versions of the brand's it-bag with a second bag attached.
Have you always wanted a Fendi baguette but need extra space? The double bag trend is the solution to all your problems. Treat the second bag as an accessory or use it to carry your daily essentials. Look for double bags that include a detachable option for even more versatility.
4. Silver Bags
Sometimes handbag and shoe trends coordinate perfectly. 2023 is one of those occasions.
While metallic shoes are one of 2023's biggest footwear trends, silver bags are having a moment of their own. It's a perfect choice for those who love a matching moment, from makeup to jewelry.
1. Topshop Sindy Diamante Shoulder Bag, $49 at Nordstrom; 2. Demellier The London Metallic-Leather Crossbody Bag, $330 at Matches Fashion; 3. By Far Baby Cush Mini Bag, $474 at Farfetch; 4. Paco Rabanne Sac Porte Epaul Mesh Shoulder Bag, $1,290 at Saks Fifth Avenue
Silver is a luxurious hue that works for any occasion, whether you're styling it with a black cocktail dress or a pink pantsuit. It's ideal for those who suit a cooler color palette. Silver gives you a refined look with a subtle touch of glamour without losing its versatility.
You'll find silver bags at every price point, from your favorite contemporary fashion brands to luxury fashion houses. Shop for silver bags with rhinestones for an elevated look for special occasions.
5. Buckle Bags
Buckles probably aren't the first thing you think about when shopping for handbags. While they're mainly functional pieces, buckles can add a statement to any bag shape.
1. Boyy Leather Buckle Pouchette, $660 at Net-a-Porter; 2. Roger Vivier Flower Strass Crystal Buckle Clutch Bag, $1,695 at Matches Fashion; 3. Mulberry Postman Small Postman Lock Messenger Bag, $1,350 at Nordstrom; 4. Fendi Pre-Owned Mini Baguette Handbag, $1,756 at Farfetch; 5. Furla Square-Buckle Tote Bag, $476 at Farfetch
You'll find buckles popping up on classic silhouettes like oversized totes and vintage styles, including the Fendi baguette.
The buckle bag trend is a must-have for fans of vintage fashion, including Y2K and '90s trends.
6. Feminine Bags
Feminine aesthetics are everywhere you look – from #balletcore to the 'old money' trend on TikTok. It's no surprise that feminine bags are once again making a comeback. Romantic fashion is re-emerging as athleisure slowly starts to take a backseat.
1. Valentino Medium Rockstud Leather Shoulder Bag, $1,850 at Nordstrom; 2. Saiid Kobeisy Floral-Print Mini Bag, $710 at Farfetch; 3. Molly Goddard Ruffle Tote Bag, $568 at Farfetch; 4. Chloe Kamilla Floral Cutout Linen Tote Bag, $1,290 at Matches Fashion
Look out for handbags that incorporate feminine elements, including floral motifs and ruffles. It doesn't have to be pink to be classified as a feminine bag.
7. Soft Bags
Most women carry their handbags for hours every day. It's your partner in crime and holds almost your entire life in it. Not every bag needs to be made of structured leather. Soft bags are one of the biggest handbag trends for 2023.
1. Dries Van Noten Furry Shearling Crossbody Bag, $1,240 at Saks Fifth Avenue; 2. Acne Studios Agora Furry Fleece Sling Backpack, $470 at Nordstrom; 3. Alberta Ferretti Dory Furry Effect Bag, $1,130 at Farfetch; 4. Saint Laurent Furry Bag in Shearling, $4,300 at Saks Fifth Avenue
You'll find everything from fuzzy bags to tasseled totes. These trending bags are soft to the touch and even double as an emergency pillow. Soft bags are also part of the feminine bag trend and add a quirky touch to your weekend wardrobe.
8. Ladylike Top Handle Bags
A quick scroll through TikTok will show you that the 'old money' aesthetic is still going strong. Top-handle handbags like the Hermes Birkin and Lady Dior are amongst the best investments you can make, with their value skyrocketing every year.
1. Kate Spade Gramercy Floral Top-Handle Bag, $498 at Saks Fifth Avenue; 2. Gucci Horsebit 1955 Leather Tote, $3,300 at Mytheresa; 3. Jil Sander Mini Bamboo-Handle Elaphe Bag, $2,720 at Matches Fashion; 4. Tory Burch Mini Lee Radziwill Bag, $498 at Nordstrom; 5. Balenciaga XS Hourglass Top-Handle Bag, $2,100 at Farfetch
This bag is the perfect investment to kickstart your luxury handbag collection or to add a more versatile style to your wardrobe. Shop for a ladylike bag with a detachable strap for extra versatility.
Give your closet the upgrade it deserves by investing in one of these 2023 handbag trends.