You've worked hard, you've saved your pennies and it's finally time to purchase your first designer bag. Now what? If you've ever looked at the Nordstrom website, you probably feel a little overwhelmed.
Between all the styles and brands, it can be a little daunting to purchase a designer handbag. We've created a short guide to help walk you through the buying process.
What makes a designer bag popular?
What exactly is it that makes designers like Hermes and Chloé so popular? As it turns out, a lot of things. One such thing is the brand itself and the image it has worked so hard to cultivate.
Longstanding brands with rich histories have had a long amount of time to slowly grow a loyal fanbase.
Additionally, the impeccable craftsmanship of many luxury fashion labels — thanks to in-house couturiers — has guaranteed a quality product time and time again.
A PETA supporter, painted to look like a crocodile lying in a pool of blood, lays outside the London Hermes store at The Royal Exchange in protest to the luxury brand's cruelty to reptiles (Credit: WENN)
In addition to popular designers, another thing to keep in mind when thinking about luxury handbags is the overall design. Many famous designers avoid trendy styles and aim for classics.
Coco Chanel once said, "fashion changes, but style endures." Many luxury handbag designers have truly taken those words to heart by creating timeless and classic pieces that will last season after season.
If you're looking to pick up your own classic, timeless handbag, here's a list of reliable designs you can turn to. All are known for their quality and brand reputation.
1. Hermes Kelly
Hermes is the crème de la crème of luxury brands. The story behind the name of one of the label's most popular bags — the "Kelly" — is fascinating.
In 1956, actress Grace Kelly, freshly engaged to the prince of Monaco while already pregnant, used this bag to hide her baby bump when assaulted by paparazzi.
The picture went viral, and Hermes made the genius marketing move of naming the now-iconic handbag, Kelly.
Kris Jenner proudly shows off her Hermes Kelly and Birkin handbags as she steps out of her chauffeur-driven car in Mayfair, London, on April 24, 2013 (Credit: Will Alexander / WENN)
The Hermes Kelly is crafted from beginning to end by a single person and takes roughly 25 hours to make. The handbag is sewn backward and then turned inside out. This process gives the bag a timeless look. It is made with 36 pieces of leather and other hardware.
Can you walk into Hermes and buy a Kelly?
The Kelly is so in demand, that it's actually almost impossible to snag your own. You can't just walk into a store and swipe an AmEx. You actually need to know the owner of a bag and sign up for a waitlist in order to get access.
Oddly enough, this process is the same for everyone. Regardless of whether you're a celebrity, royalty, or a regular (rich) person, you will not get your hands on a bag without dealing with the waitlist.
Hermès Pre-Owned Kelly Picnic Bag, $83,207 at Farfetch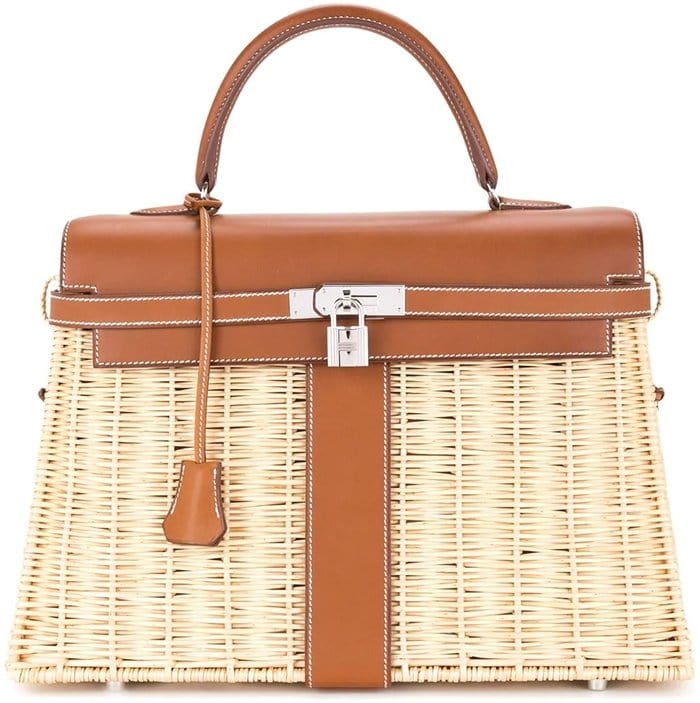 The Kelly picnic tote is crafted in France from beige and brown straw and leather and features leather trim, top handles, a front flap closure, a padlock fastening detail, a hanging key fob, and purse feet
The Kelly bag is the best investment piece you can own. It sells for a great price on the authorized reseller market. It is also one of the only bags that gains value over time. So if you manage to get one, keep it!
The price can range from $9,000 to $40,000. Be ready to drop some serious cash if you want to make that Kelly yours.
2. Hermes Birkin
Our second most popular design is another Hermes: The Birkin. This timeless handbag was created in 1984 for English-French actress Jane Birkin.
As the story goes, Jane stumbled upon then-Hermes director Jean-Louis Robert Frédéric Dumas on a plane and complained that she couldn't fit all her stuff in her bag. Lo and behold, he was inspired by her story and created a bag after her name.
Just like Kelly, the Birkin bag is incredibly exclusive. In fact, it's so exclusive that there's no data as to how many of these bags are produced or sold in a year. Just like Kelly, if you want a Birkin? You need to have the connections.
"Your average woman can't just walk into Hermes and buy one," auction house expert Max Brownawell told Daily Mail in April 2016. "You'd have to have a long-standing relationship with one of their sales associates."
Hermès 2010 Pre-Owned Birkin Limited Edition Tote, $77,307 at Farfetch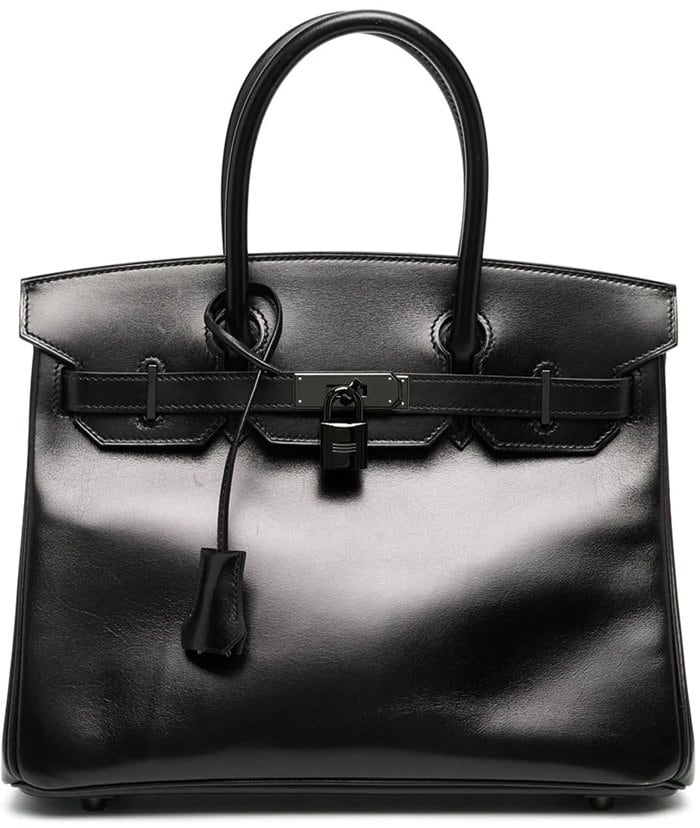 Constructed from so black leather, this Birkin tote bag from Hermès will steal your spotlight fairly easily – don't worry, you'll still be happy to carry everything you want inside it
This is like the chicken and the egg story. It is kind of a mystery how you get your first ever Birkin. Our best guess is that you probably need to know someone who owns one, and they can then help you get one for yourself.
Oddly enough, the Birkin does even better than the Kelly on the second-hand market. The value grows as time goes by, and prices can range from $9,000 to a staggering $400,000.
Fun fact: Victoria Beckham owns more than 100 Birkin bags. We suggest you become friends with Victoria to get your hands on a Birkin!
3. Chanel 2.55
Chanel's "2.55" bag was designed by Gabrielle Bonheur "Coco" Chanel in February 1955. Hence, the name- 2.55. When it came out, it was quite the head-turner.
At the time, bags were designed for elegant and chic ladies who held bags clutch-style in their hands — thus the name handbags.
Then came the 2.55, which was meant to be carried on the shoulder. Its practicality made it popular among women.
Chanel Pre-Owned 1991-1994 2.55 Foldover Shoulder Bag, $3,035 at Farfetch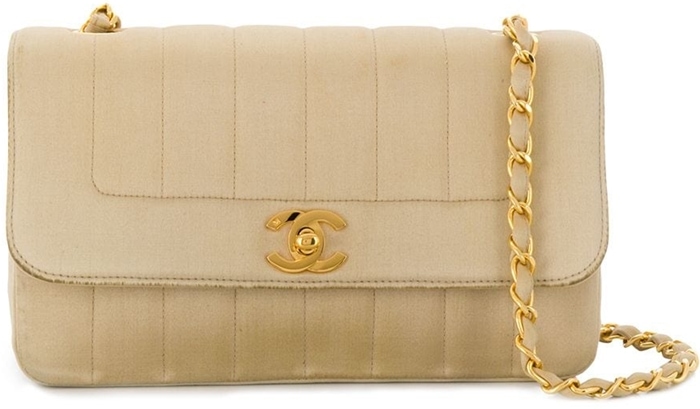 This beige satin ribbon 2.55 foldover shoulder bag features a shoulder strap, gold-tone hardware, a twist-lock fastening, and a main internal compartment
The iconic bag has a quilted surface (now a Chanel symbol) with a double flap. The famous "double C" logo of Chanel was added by Karl Lagerfelt in the '80s. The strap was made of metal only, but newer iterations have metal as well as leather.
The 2.55 originally cost a cool $220 when it first launched, but due to inflation and an increase in Chanel's brand value, this bag now retails for between $4,000 and $6,500.
The cost of this bag is only going to increase in the future thanks to the aforementioned inflation and brand value, so make sure you snag one today!
4. Louis Vuitton Speedy
Louis Vuitton originally made travel bags and suitcases until Audrey Hepburn came along in 1956 and requested a smaller, more practical version of the designer's Keepall travel bag.
So, Louis Vuitton crafted the "Speedy" bag of coated canvas. Even though that could have been hard on a handbag, Vuitton found a way to make a more supple coating.
Louis Vuitton Pre-Owned Speedy Holdall, $2,996 at Farfetch
The original Speedy was 30 cm long, and the design is now available in 25 cm, 35 cm, and 40 cm iterations as well.
Louis Vuitton used its Damier pattern on the original bag. However, it was imitated so often that the monogram pattern was created in an effort to deter counterfeits.
Of course, that didn't stop anyone, and Louis Vuitton is now the most counterfeited brand in the world.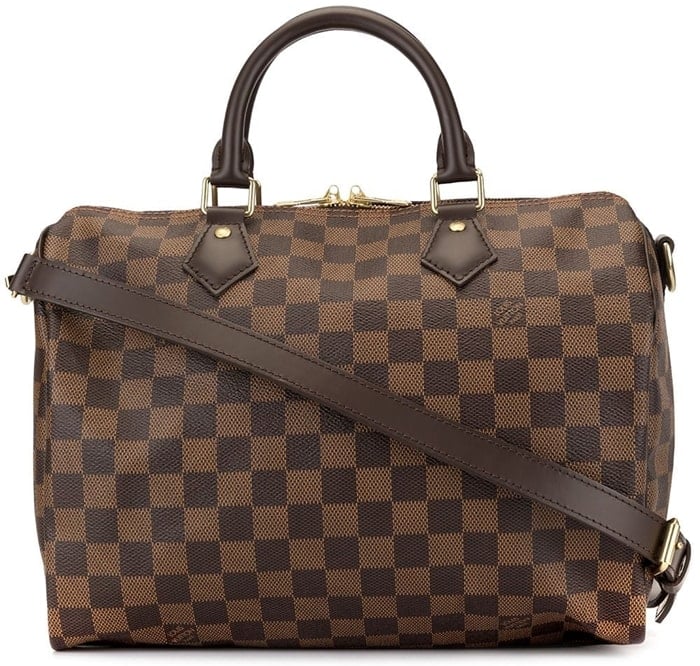 This brown leather Speedy holdall from Louis Vuitton features round top handles, a top zip closure, a detachable shoulder strap, a grid pattern, a printed logo, and an internal zipped pocket
One of LV's most popular bags, the starting price of a new 25 cm Speedy is $1,600, but you can get a second-hand Speedy for around $800 to $1,000.
Because the Speedy is made of canvas instead of leather, it's a lot more affordable than many of the other bags on our list.
5. Dior's Lady Dior
Another iconic bag on our list comes via Dior. This handbag was originally made for Princess Diana and gifted to her by the wife of president Jacques Chirac when she visited France in 1995.
"Lady Dior" was named after Princess Di as she was addressed as "Lady D" in France. After the bag made its debut, Princess Diana was often pictured carrying variations of the same bag.
Christian Dior Pre-Owned Lady Dior Cannage Handbag, $4,052 at Farfetch
Unsurprisingly, the Lady Dior bag became closely related to Princess Di's image and popularity. The classic version of this bag — and several of the limited editions that were created — will only increase in value over time.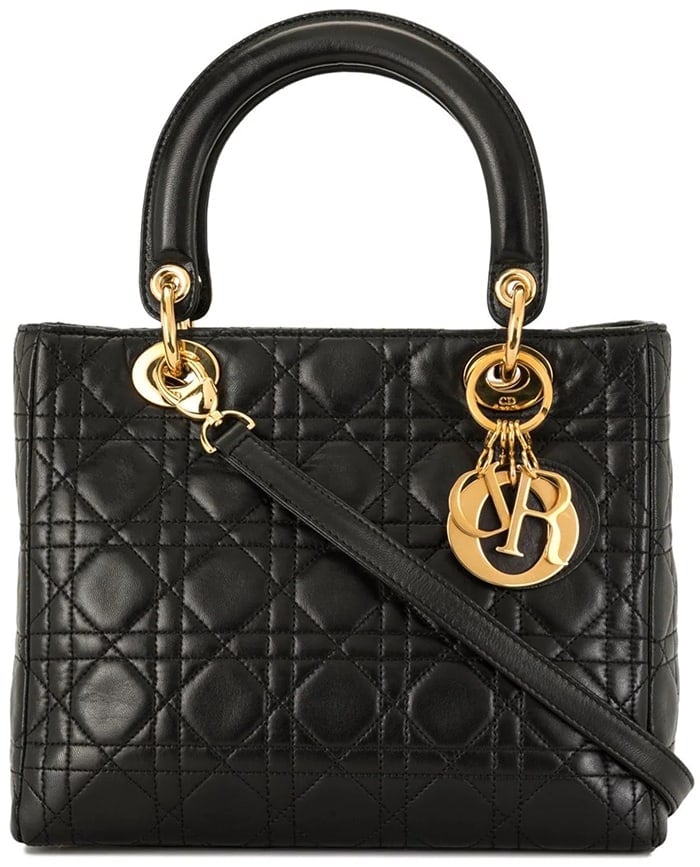 The Lady Dior bag — created by Dior to commemorate Diana, Princess of Wales — brings '90s design to the forefront with its unique quilted design
Prices start at $4,500.
6. Celine Luggage Tote
When Phoebe Philo was at the helm of Celine, she created the "Luggage" tote. Compared to the other bags on this list, the Luggage is relatively new given that it was made in 2010.
Consider it as an inspiration for Phoebe Philo. She took that and elevated it into the Luggage tote it is today.
Céline Pre-Owned Nano Luggage Tote Bag, $2,2706 at Farfetch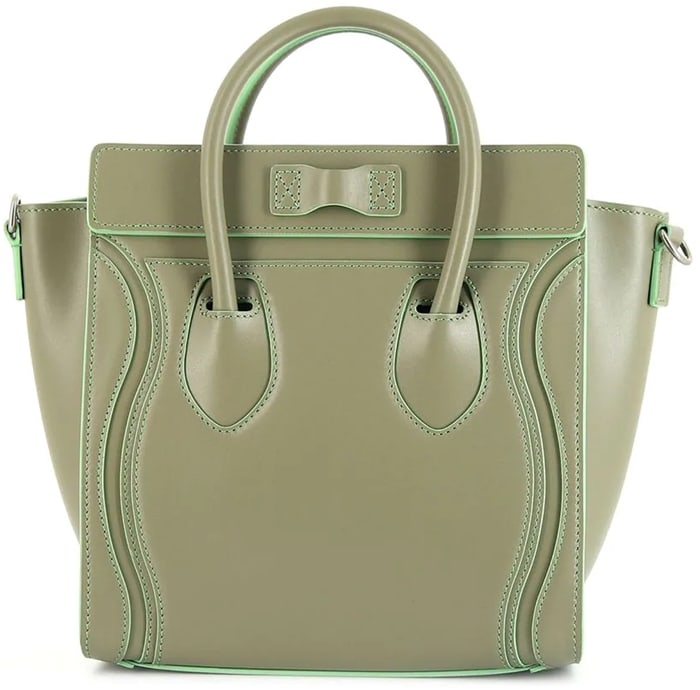 The green leather Celine luggage tote features two rounded top handles and a front stamped logo
Celine's Luggage tote has a masculine silhouette that exudes a luxurious business appeal. The spacious laptop-friendly interior makes this bag perfect for your city lifestyle, and the tote comes in five different sizes.
The handle and the zipper on the bag make it look like a face that gives a humorous and quirky appeal to the Luggage tote.
When Phoebe Philo announced that she would be leaving Celine, the demand for products she designed for the label increased to the point where the second-hand market ran out. However, new Celine Luggage totes range from $2,000 to #3,500.
7. Prada Backpack
This military backpack-inspired piece was designed by Miuccia Prada herself in 1984. This bag might be the one exception to the "timeless" remark we made earlier. When the Prada backpack first launched, it was considered trendy. But now? It's known as a classic.
The Prada backpack perfectly encompasses all of the label's ideologies into one design. It combines utility, practicality, nomadism, and an idea of elegance. New colors and materials keep the bag relevant, but the same shape and design keep it classic.
Prada backpacks start at $1,200, depending on the size. However, we think the price is well worth it. This bag is so versatile that it goes with '80s punk rock vibes, '90s grunge fashion, and current minimalist trends.
Other labels have created similar designs, but this Prada backpack was — and still is — the original benchmark.
Prada Medium Nylon Backpack, $1,200 at Nordstrom
The iconic Prada backpack is timeless thanks to its enduring charm, wear-with-everything aesthetic, and chic durability
If you are planning to add a bag to your designer handbag collection anytime soon, keep this list in your back pocket. We hope it helped you narrow down your choices.
Make sure that you select a handbag that goes with your wardrobe, can stand the test of time, and, most importantly, has a great resale value should you ever decide to sell it second-hand.