Italy is the home of some of the most iconic luxury brands, including Prada and its younger sister company, Miu Miu.
While Prada is one of the most recognizable brands in the fashion industry, Miu Miu has a distinctive style for a younger audience.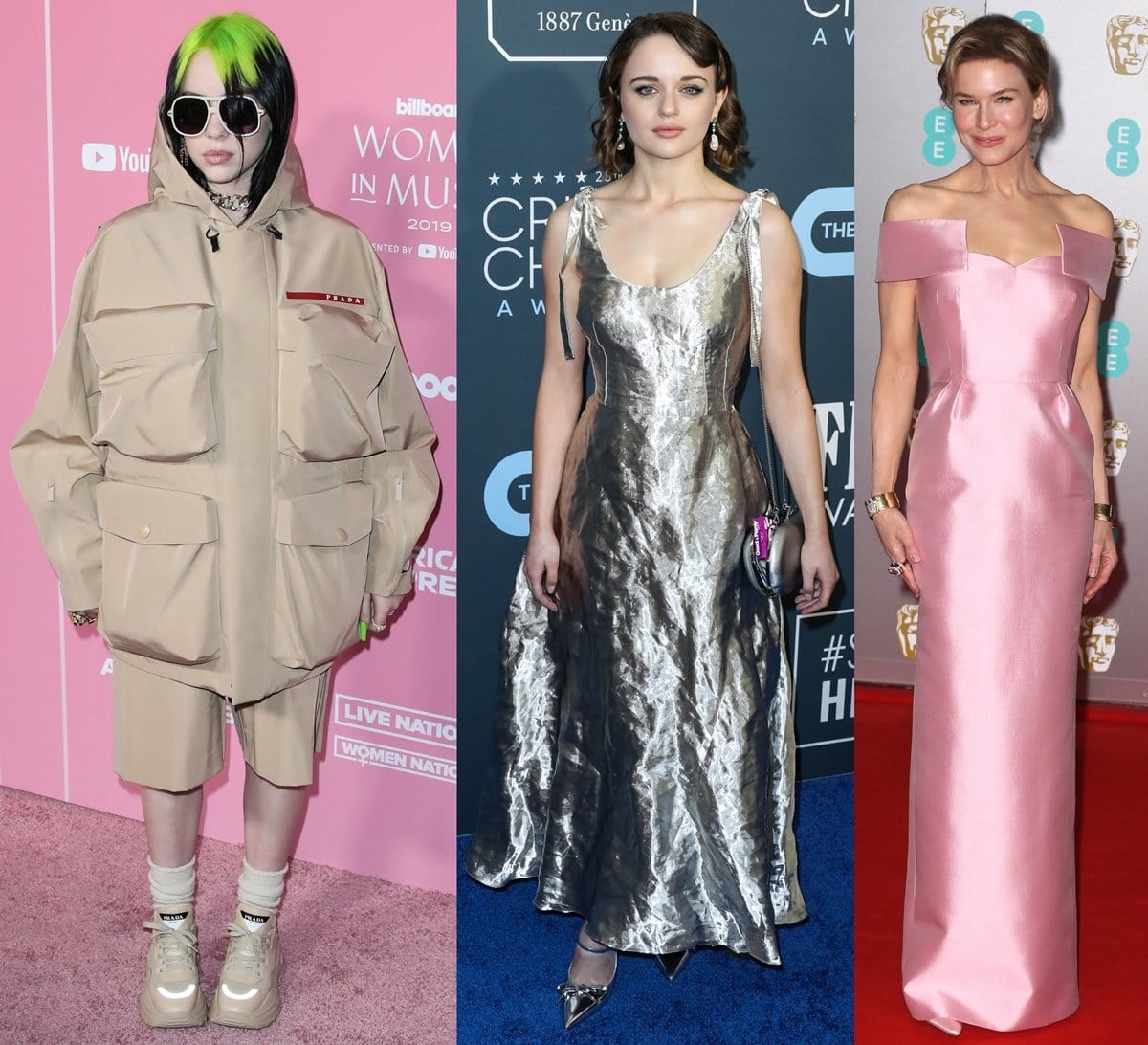 Billie Eilish, Joey King, and Renée Zellweger wearing Prada outfits (Credit: Mario Mitsis / WENN / Avalon)
Both brands have produced 'it' bags that have sold out, dominated trends, and become classic styles. We're looking at the best Prada purses, Miu Miu bags, and what makes the two brands unique.
Are Prada and Miu Miu the same?
One of the most common misconceptions in the world of luxury fashion is that Prada and Miu Miu are the same company.
While they share the same family heritage, these two brands have distinctive aesthetics that juxtapose each other.
Prada's most popular and classic bags include Cleo, Bowling, Nylon, and Re-Edition (Credit: Report / Shutterstock)
Prada is a luxury fashion house launched in 1913 by Mario Prada. It's known around the world for its high-quality leather handbags and accessories, along with ready-to-wear and perfumes.
The brand began as a leather goods shop, a trend that remains at the heart of Prada's product range.
The Prada brand was handed down from Mario to his daughter Luisa and her daughter Miuccia in the late 1970s, turning the brand into what we know today.
Miuccia Bianchi Prada, the head designer of Prada and the founder of its subsidiary Miu Miu, is the youngest granddaughter of Prada's founder Mario Prada (Credit: WENN)
In 1979, Prada released its first line of nylon bags – the rest is history. The material is distinctive to Prada, particularly in its backpack form.
Unlike other brands like Louis Vuitton, Prada's logos and monogram are minimal. The metal-plated triangle logo typically appears only once on the exterior of their bags.
Its more understated look has earned Prada three generations of loyal fans.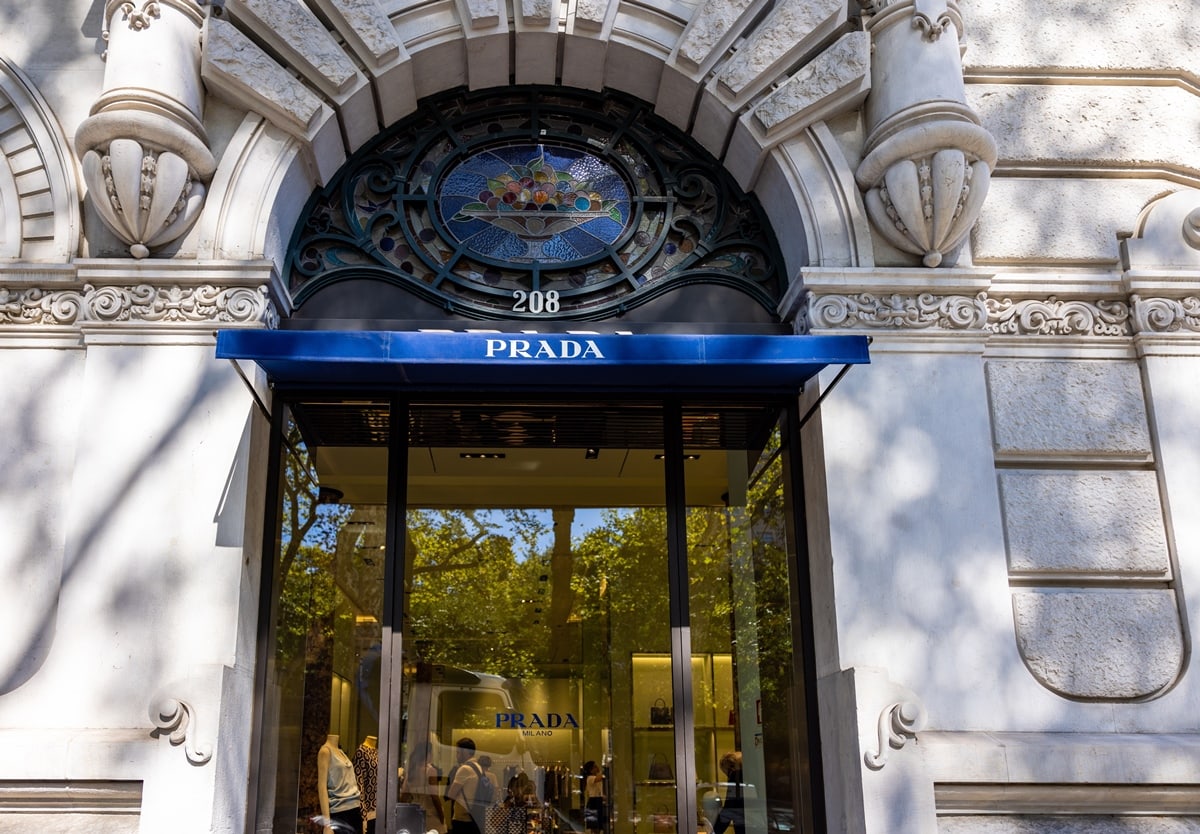 Prada has more than 600 stores worldwide and can also be found in more luxury department stores (Credit: ArDanMe / Shutterstock)
Its originality made it one of the biggest brands of the 1990s and early 2000s, with the company now experiencing a resurgence thanks to its return to previous best-selling designs.
Although the Prada Group owns Prada and Miu Miu and has Miuccia Prada as their figurehead, they are two distinctive brands in their own right.
Prada is the luxury brand of choice for the minimalistic who likes to keep their logos to a minimum and appears premium quality leather goods.
Miu Miu is for the younger woman who wants to invest in luxury pieces and add a little sparkle to every outfit. Between Prada and Miu Miu, you're guaranteed to find a bag that calls your name.
Where To Buy Prada and Miu Miu
The best way to purchase Prada or Miu Miu is always directly from the brands themselves. They each have their own e-commerce stores where you can buy bags, clothing, and shoes from the comfort of your home.
Prada has hundreds of boutiques and pop-ups across the world, with a growing number of Miu Miu stores now appearing.
You'll typically find both brands in high-end department stores like Saks Fifth Avenue and Nordstrom. Prada and Miu Miu are more accessible than their French counterparts, Chanel and Louis Vuitton.
Both brands are available from online luxury retailers like Farfetch and Mytheresa. Prada and Miu Miu often appear in sales and are valid for discounts and promotional codes.
Traditionally, neither of these brands holds their value (or gains value!) the same way as Chanel, Louis Vuitton, or Hermes.
If you're on a budget, you'll likely find the bag considerably cheaper on the pre-loved market.
You'll want to make sure you know how to identify a fake Prada or Miu Miu item before embarking on your hunt for a pre-loved piece.
Prada is an Italian luxury fashion house known for bright and playful shoes (Credit: Creative Lab / Shutterstock)
You can check out websites like Vestiaire Collective to search for second-hand and vintage Prada handbags, including the ones featured on this list.
If you want to invest in a distinctive Italian brand, you can't go wrong with Prada or Miu Miu. These two sister companies have their style and aesthetic but play well off each other.
While Miu Miu targets a younger demographic, its maturity grows as the brand expands.
Prada has become the go-to brand for women who prefer a more understated look with minimal logos and prints.
No woman's closet is complete without at least one purchase from Prada and Miu Miu.