Our list of the best Prada bags comprises some of the brand's most iconic and best-selling styles.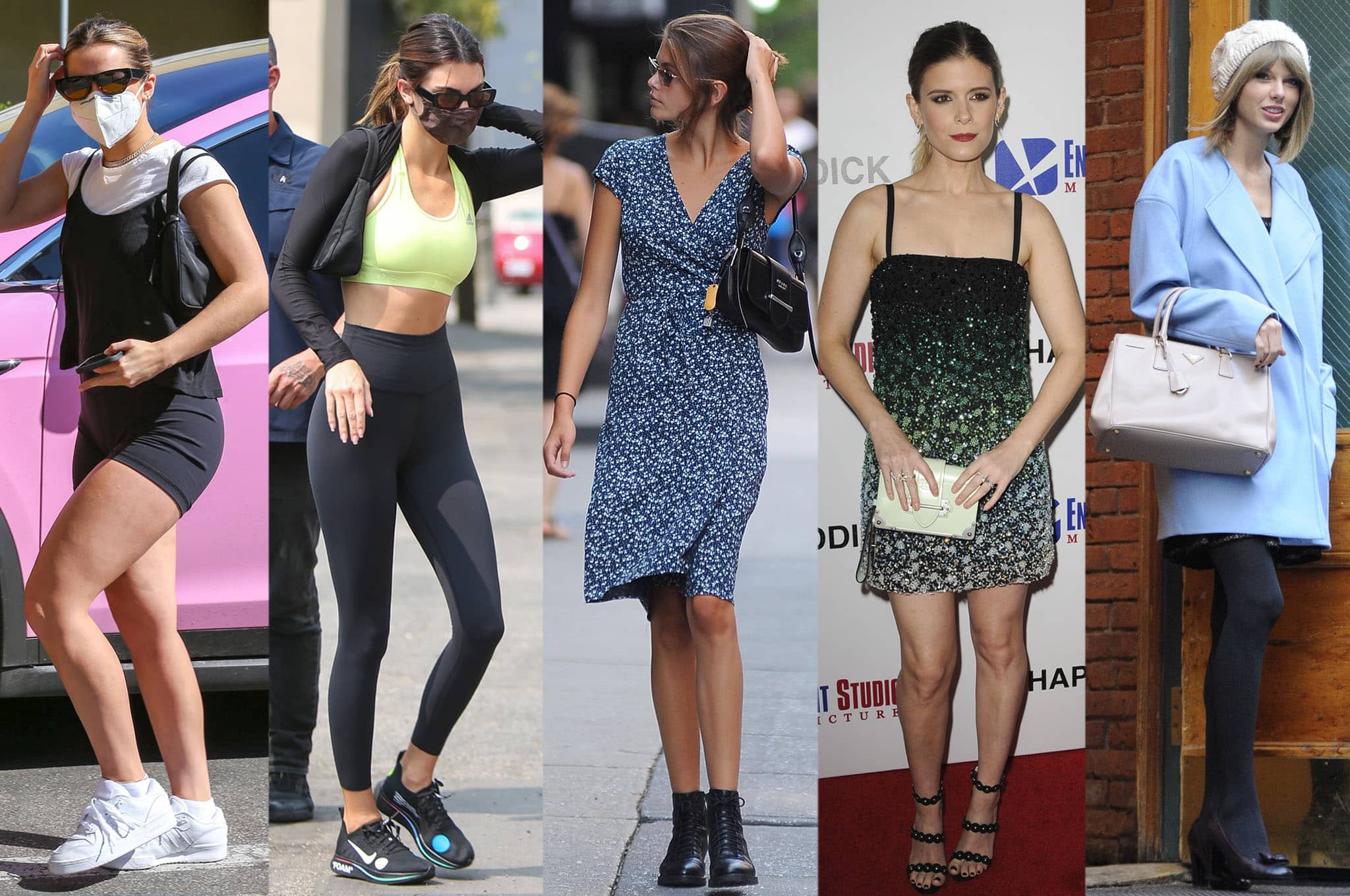 Addison Rae, Kendall Jenner, Kaia Gerber, Kate Mara, and Taylor Swift carrying Prada bags (Credit: Apega / TNYF / Instar / WENN)
Some of the most counterfeited bags online, these bags are all ones that are legends in their own right. While they might ebb and flow in popularity, they're timeless staples that will never go out of style.
1. Cahier Shoulder Bag, $3,150 at Farfetch
The word 'cahier' means 'notebook' in French and inspired the shape of this Prada bag. The silhouette takes its concept from the ancient books used in Greek and Roman societies.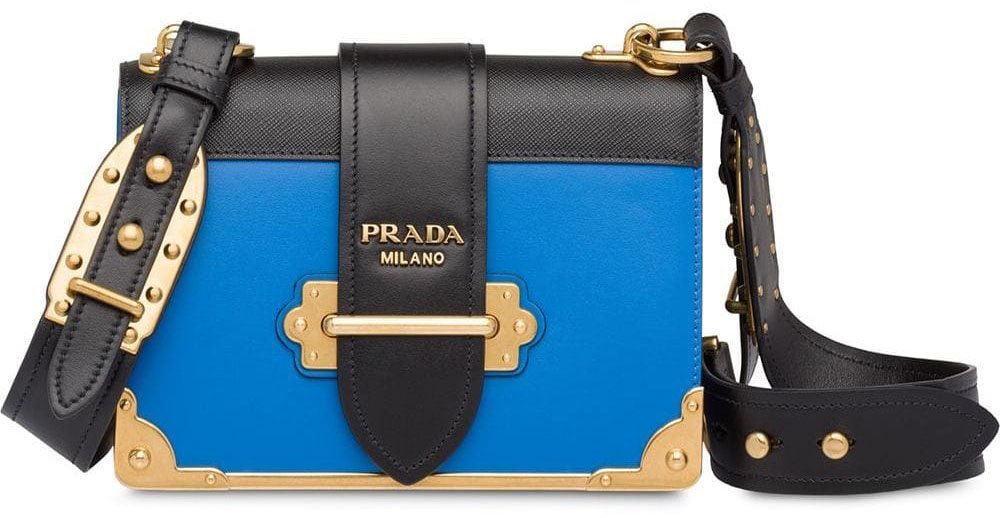 The Cahier takes its silhouette from the ancient books during the Archaic period
It has a distinctive rectangular shape with a buckled-strap closure and gold hardware. This masculine bag has a feminine twist with metal and leather detailing, making it one can take almost anywhere.
Available in several colors, the Cahier bag is easily identifiable by the gold-tone metal corners
The removable shoulder strap means you can wear this bag as a crossbody or a clutch, depending on the occasion.
Instead of carrying the triangle logo, the Cahier bag features the 'Prada Milano' name across the front strap of the bag.
2. Galleria Saffiano Leather Bag, $2,300 – $3,300 at Farfetch
One of the most recognizable designs by Prada is their Galleria bag. This streamlined tote has a clean design and is available in Saffiano leather.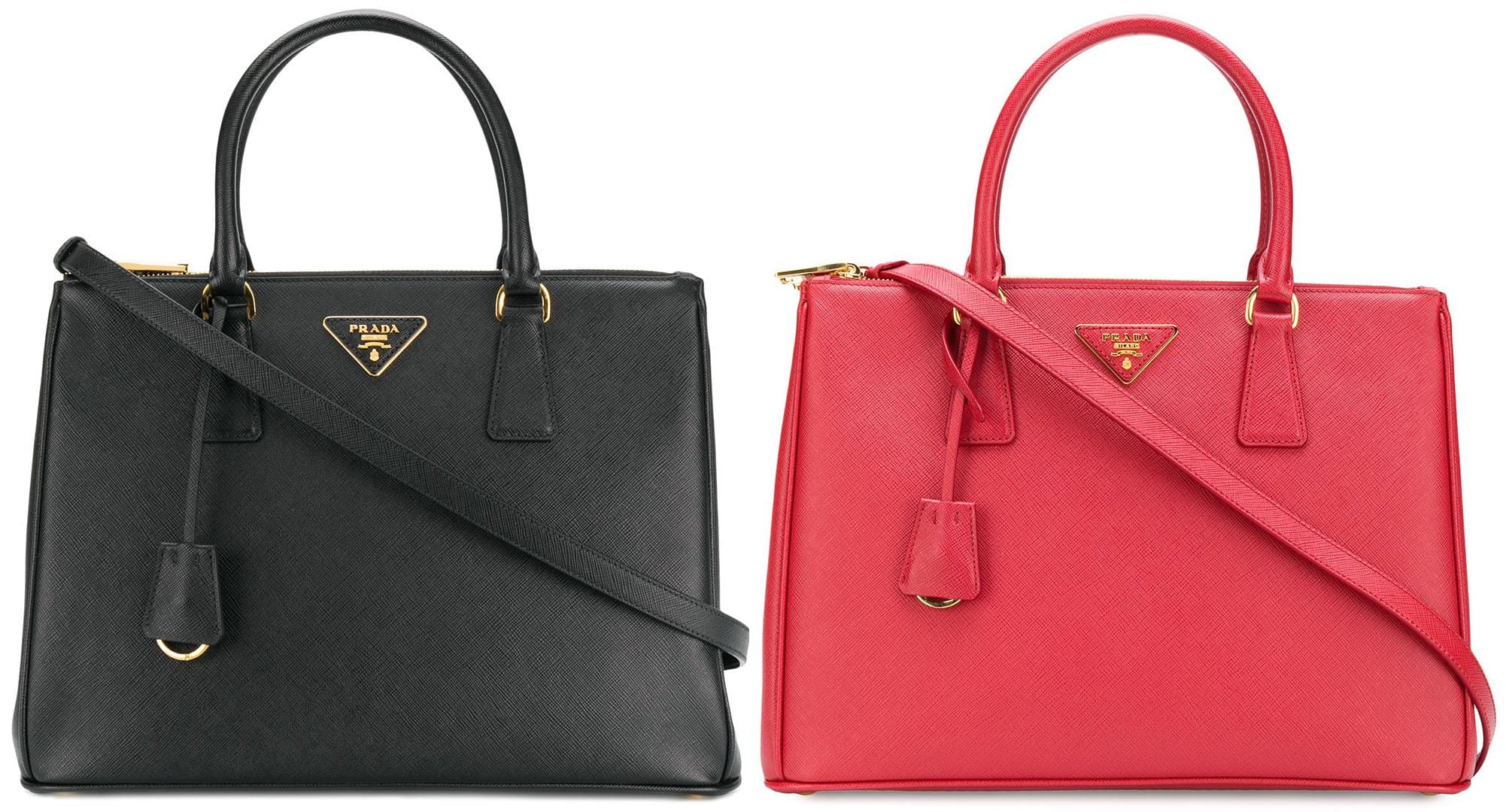 A cult-favorite Prada bag, the Galleria is a timeless bag that features a classic shape and the fashion house's neat branding
It's the ultimate work bag with two top handles and interior pockets. This bag is a staple in the Prada handbag line-up and is reimagined every season with new color options.
You'll often see the bag named 'Saffiano lux' because of its classic shape and leather choice.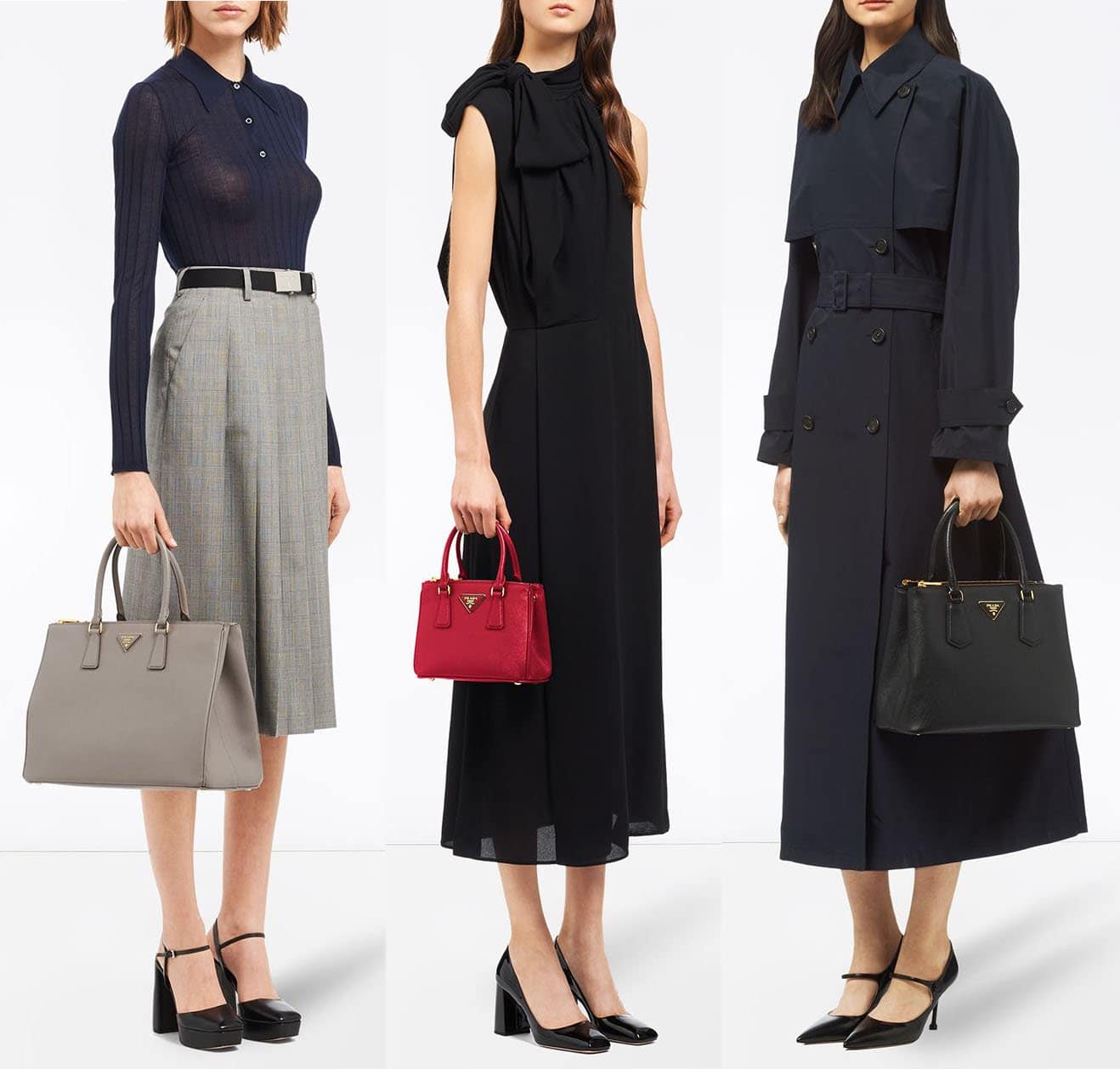 You can find this iconic Prada bag in different colors and sizes
3. Re-Edition Nylon Bags, $795 – $1,390 at Prada
The bags that have everyone talking right now are the Prada reissued nylon bags.
These silhouettes were all the rage in the early 2000s, jumping back into style in recent months thanks to the growing nostalgia for the era.
Prada re-released some of its most popular and iconic bags from 2000, 2005, and 2006
The Re-Edition nylon bags are all over social media. Each bag takes its name from the year of its original release – 2000, 2005, and 2006.
These vintage bags have made a return thanks to their low maintenance design and athleisure feel.
(Left to right) The Prada Re-Edition Nylon Mini from 2000, the Prada Re-Edition Nylon bag from 2005, and the Prada Re-Edition Nylon bag from 2006
The nylon fabric makes these bags some of the most affordable from Prada. If these bags catch your eye, they're an instant 'add to cart' – blink, and they're gone!
4. Cleo Shoulder Bag, $2,250 at Prada
On the early 2000's trend, the Cleo bag has a familiar shape inspired by the era.
Although this bag only made its debut in the brand's Spring/Summer 2021 collection, it's already become a must-have 'it' bag for both celebrities and influencers alike.
The Prada's Spring 2021 Cleo mixes contemporary look with vintage hobo silhouette
Prada describes the bag as the "synthesis of classicism and futurism" – feeling contemporary while having something vintage about the feel and silhouette.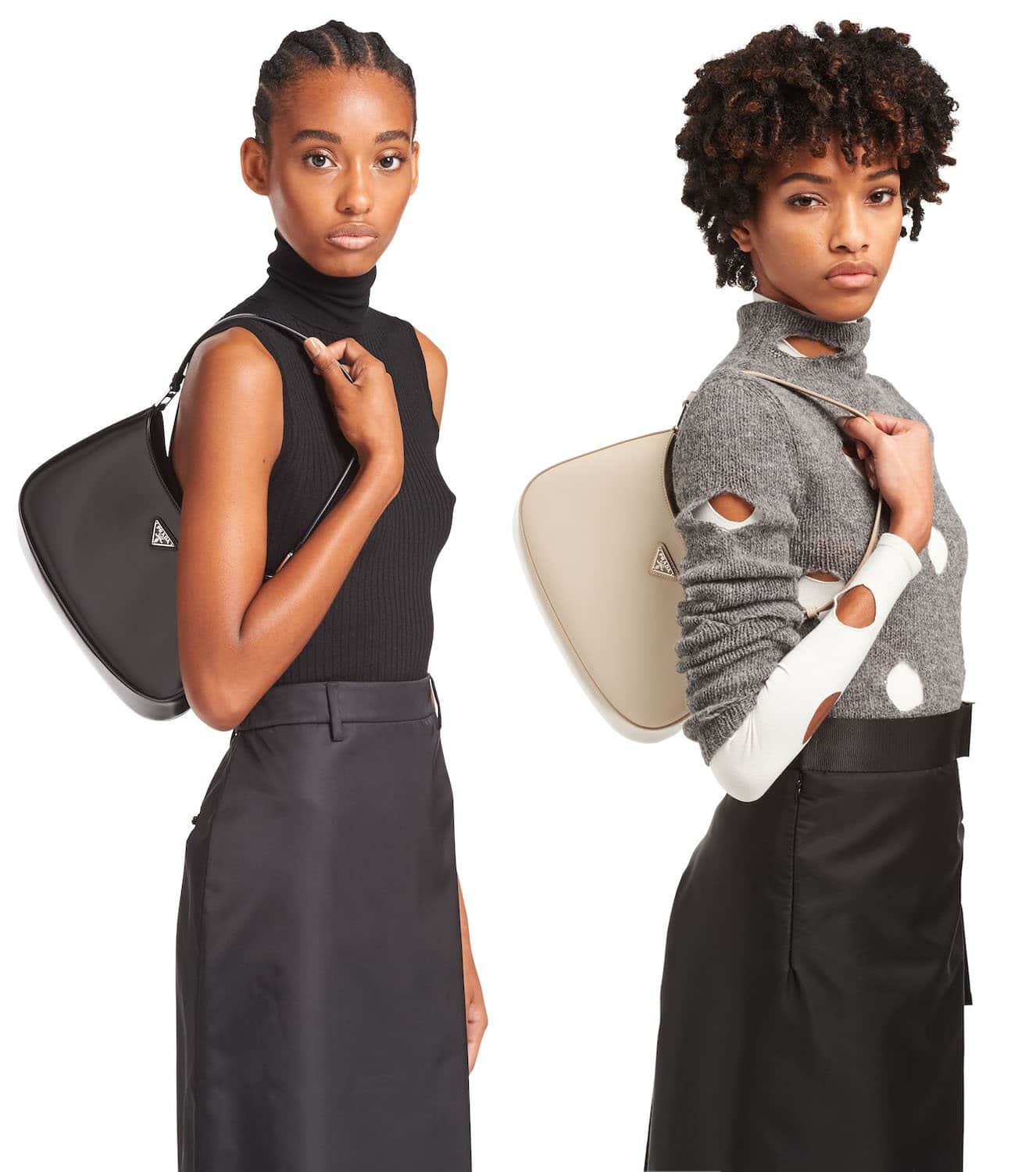 The Prada Cleo features sleek curved lines made from modern and versatile brushed leather material
This bag became an instant classic and is available in classic colors like black and white.
5. Bucket Bag, $1,290 – $2,550 at Farfetch
If you're a fan of the 1990's aesthetic that is everywhere in fashion right now, Prada's bucket bags will be right up your street.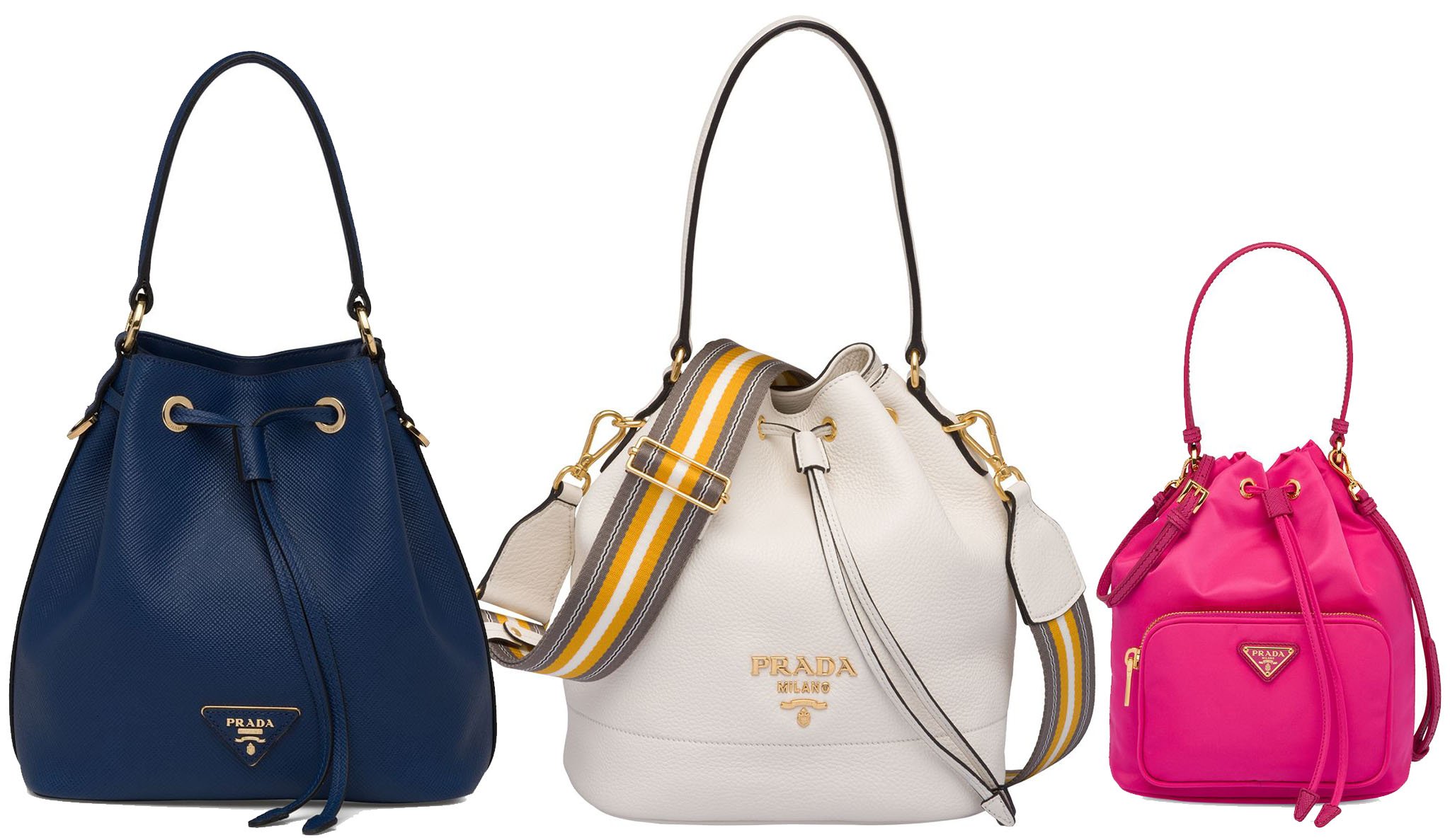 Prada Bucket bags in blue saffiano, white calf leather, and pink technical nylon
The brand has produced them in everything from their classic nylon to wicker and leather, offering a style at every price point.
The various fabric options change these bags, taking them from laid-back sporty pieces to night-time appropriate bags.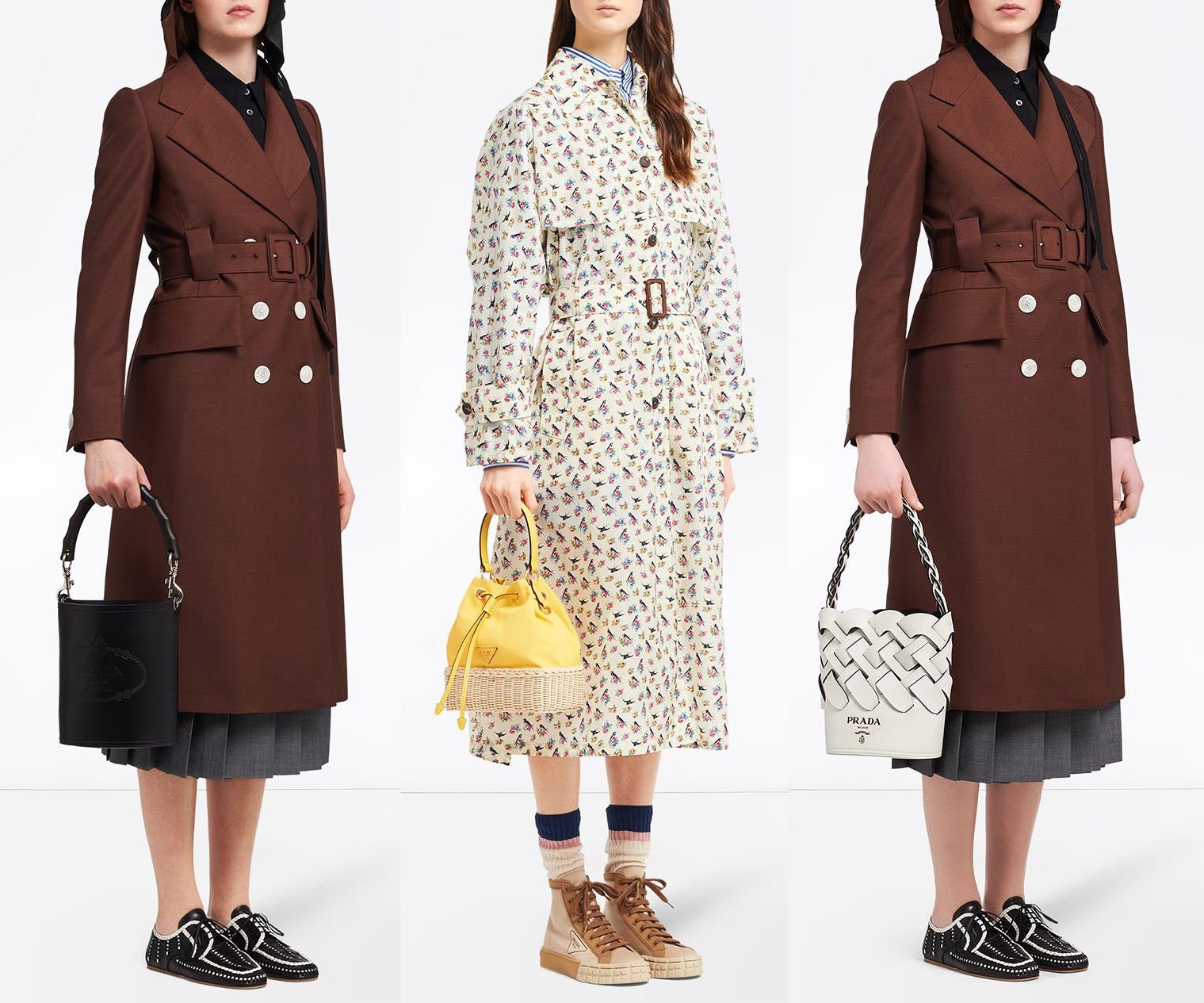 Prada also offers bucket bags in different styles, including one with a structured wooden handle, another with a wicker base, and a woven bucket bag
6. Sidonie Shoulder Bag, $3,200 at Farfetch
Another recent addition to the Prada family tree is the Sidonie bag. It made its debut at the Resort 2019 collection, becoming an instant hit amongst fashion editors and influencers.
A sinuous line defines the saddle silhouette of the Prada Sidonie leather bag
You can think of it as Prada's answer to both the Chanel 2.55 and the Dior Saddle bag.
Depending on the size, this bag comes with a removable top handle and an adjustable shoulder strap, giving you ultimate versatility.
Available in two-tone colors, the Sidonie is a chic arm candy that comes with a detachable shoulder strap for versatility
This bag is available in several colors, from classic camel to signature magic.
7. Backpacks, $1,390 – $2,150 at Farfetch
One Prada item that made its way into pop culture legend was their backpacks. In the film "10 Things I Hate About You," the character Bianca Stratford says the phrase "I like my Skechers, but I love my Prada backpack."
Two decades since the film's release and the Prada backpacks are still going strong.
Prada's nylon backpacks are not only chic but also durable and water-resistant
They're amongst some of the chicest backpacks on the luxury market and are an understated alternative to the logo-mania backpacks we see from Gucci and Louis Vuitton.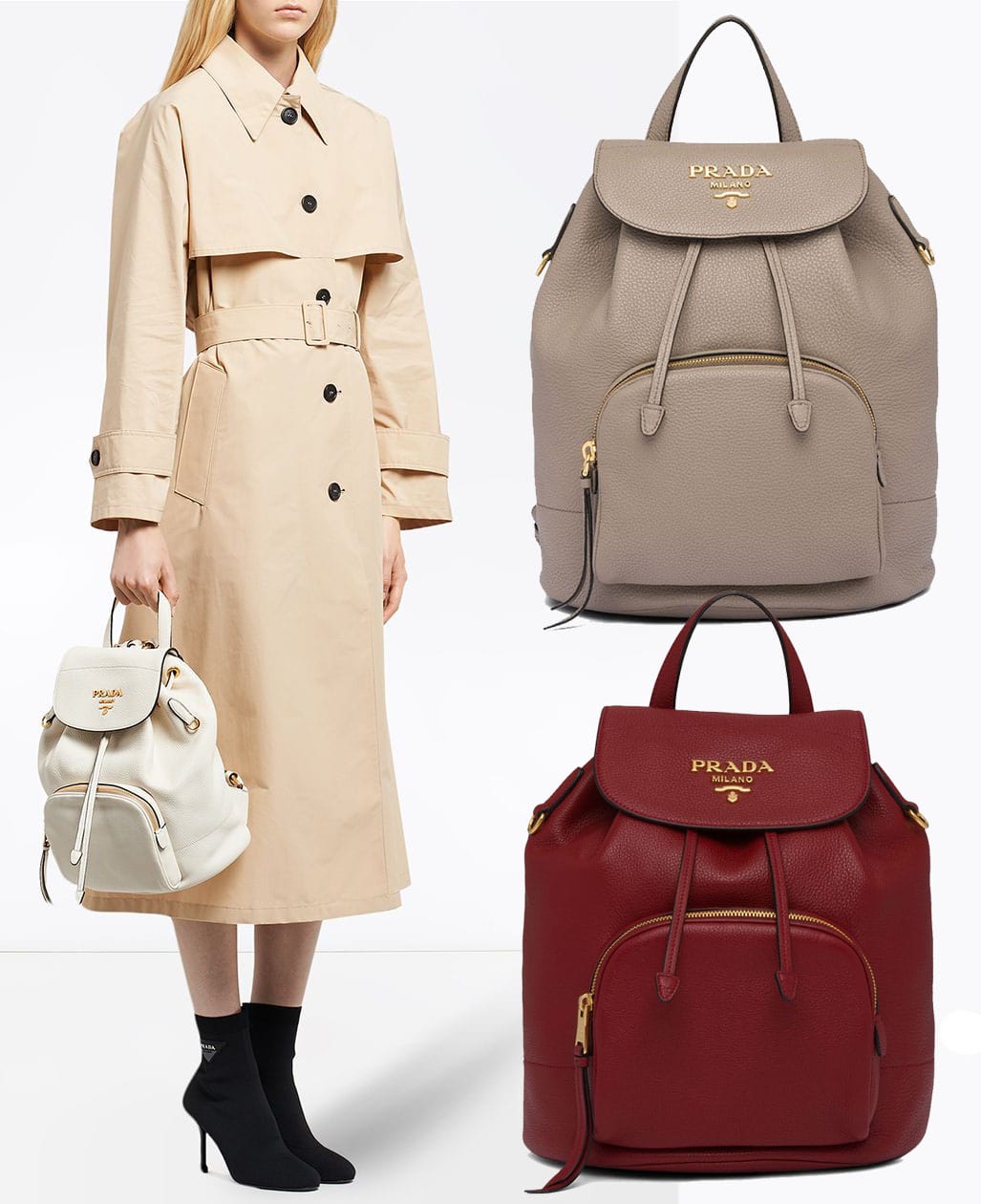 Prada also offers minimalist and timeless leather backpacks
These backpacks are available in both pebbled leather and nylon, providing more attainable price points for the Prada backpacks.