She is getting ready to launch her very own beauty and skincare brand Rhode.
In February, Hailey Bieber registered her middle name as a trademark for her upcoming beauty, skincare and wellness products.
She initially filed for Bieber Beauty trademark in April 2019 but was rejected by the US Patent and Trademark officials due to similarities with her husband's own trademark, Justin Bieber, which covers bath and body products.
She also reportedly tried to trademark HB Beauty, HRBeauty, Dew Beauty, and Dewy Beauty, but to no avail.
On Tuesday, the 24-year-old model was spotted redefining office style while leaving a business meeting in Los Angeles.
Hailey Bieber leaving a business meeting in Los Angeles on April 20, 2021(Credit: WENN/Instar)
Hailey opted for an '80s-inspired boss lady look, wearing a tailored plaid blazer from one of her favorite go-to designers Magda Butrym.
Perfectly highlighting her model curves, the Pre-Fall 2021 cinched blazer features heavily padded shoulders that were one of the defining features of fashion in the 1980s.
She wore nothing underneath her low-cut blazer save for a Jacquemus "Le Bandeau Valensole" knit bralette, which you can buy for $134 at Mytheresa.
Hailey Bieber redefines office look in a Magda Butrym padded shoulder plaid blazer and a Jacquemus bralette (Credit: WENN/Instar)
Giving her retro look a streamlined finish, Hailey teamed her blazer with a pair of $193-Musier Paris "Sixtine" brown trousers.
These leg-hugging poly-viscose pants allowed her to show off her footwear through the discreet bottom slits.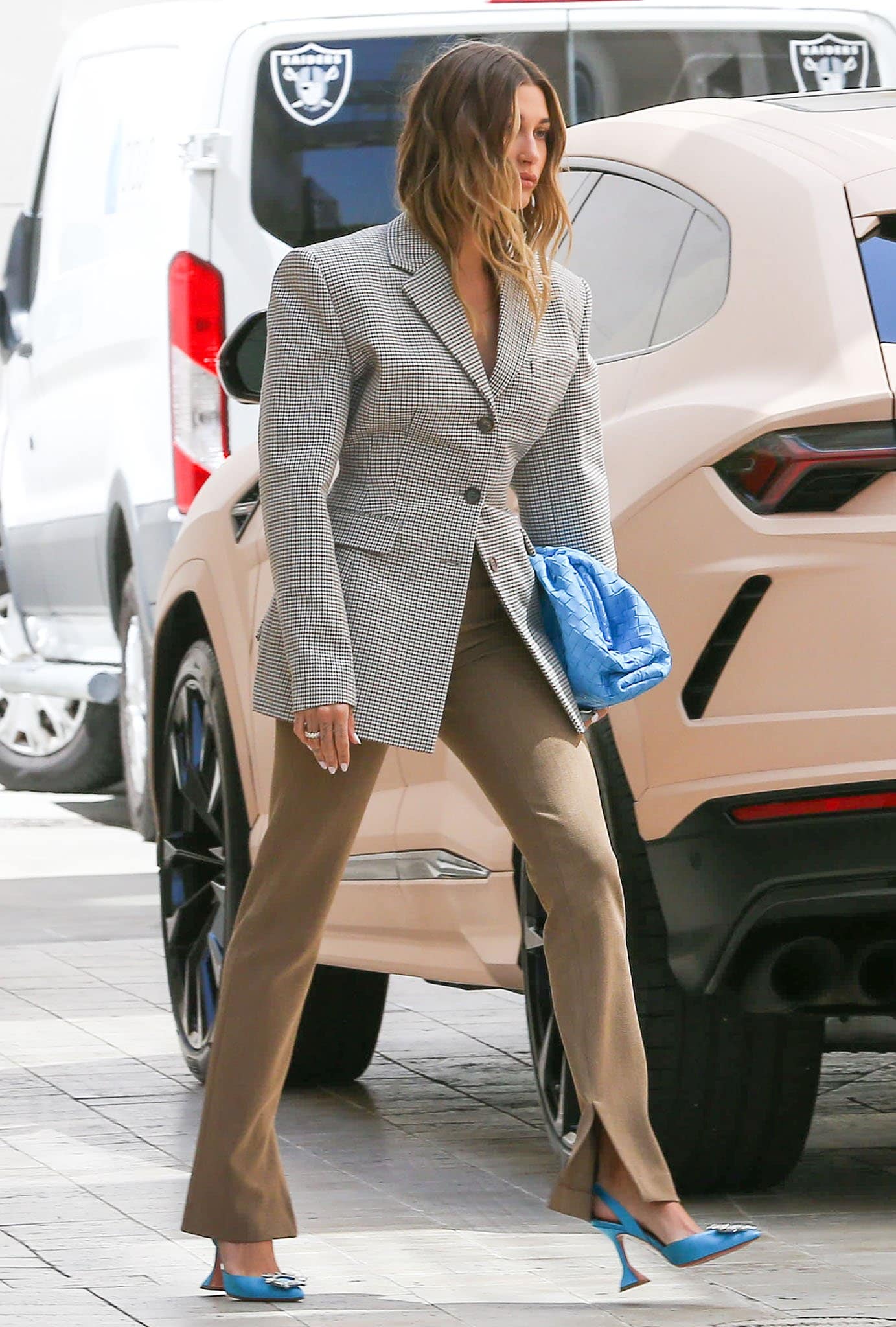 Hailey Bieber highlights her legs in Musier Paris brown pants with bottom slits (Credit: WENN/Instar)
Justin Bieber's wife added some color to her look with the "Begum" slingback pumps in satin blue from cult-favorite footwear label Amina Muaddi.
Launched in 2018, Amina Muaddi quickly gained a cult following for her elegant and timeless designs as well as her signature flared heels.
She has built a celebrity fan base and went on to win Designer of the Year in 2019. Hailey's best friend Kendall Jenner is also a fan of the brand.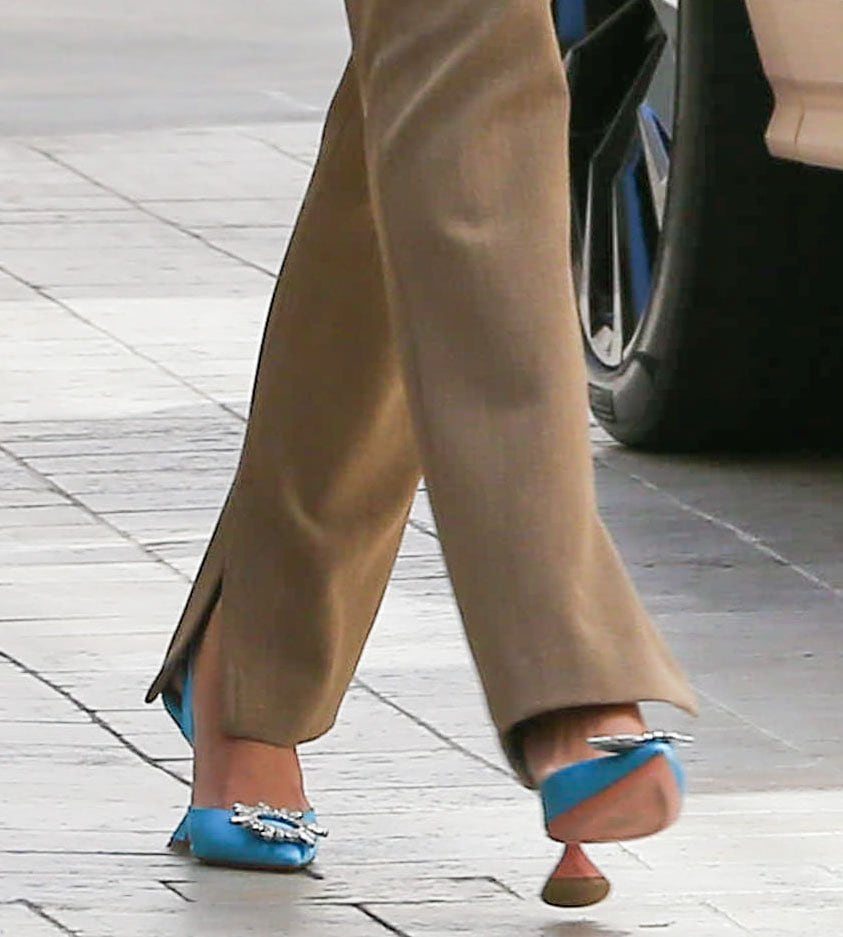 Hailey Bieber adds color to her retro look with Amina Muaddi Begum blue slingback pumps(Credit: WENN/Instar)
Available at Matches Fashion, Saks Fifth Avenue, and Nordstrom, the "Begum" features a crystal brooch, a slingback strap, and the designer's martini glass-shaped heels with pink leather lining and sole.
Amina Muaddi 'Begum' Crystal-Embellished White Leather Slingback Pumps, $775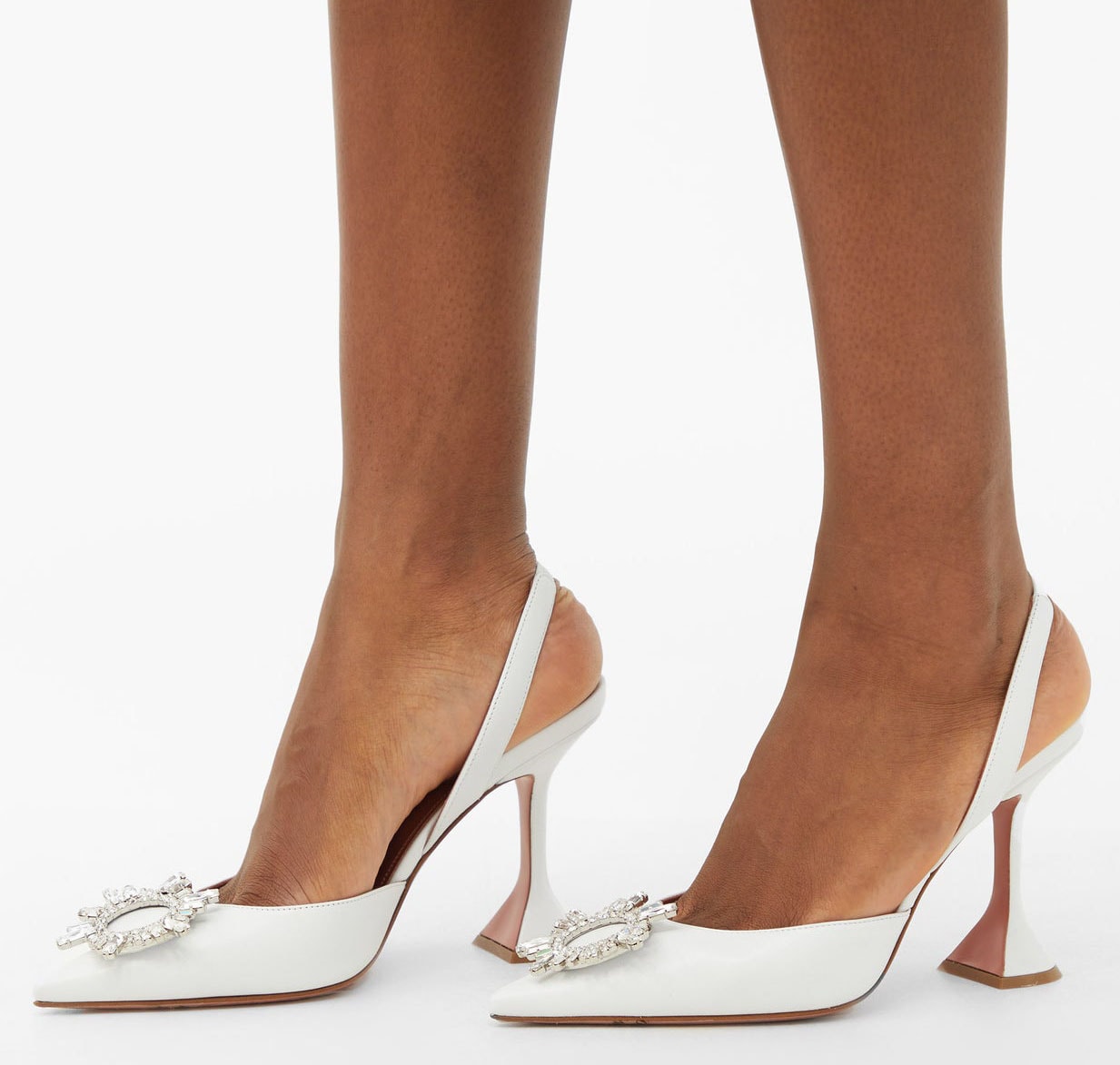 The Begum pumps from Amina Muaddi features a crystal brooch and her signature Martini glass heels
Amina Muaddi 'Begum' Crystal-Embellished Satin Slingback Pumps, $800
The classic Amina Muaddi Begum is rendered in vibrant degrade satin
For her beauty look, the trained ballet dancer styled her blonde locks in loose waves, framing her gorgeously made-up face.
She skipped the jewelry and instead carried an oversized "The Pouch" clutch from Bottega Veneta. She selected the swimming pool/silver colorway, available for $3,200 at Forward, to match her shoes.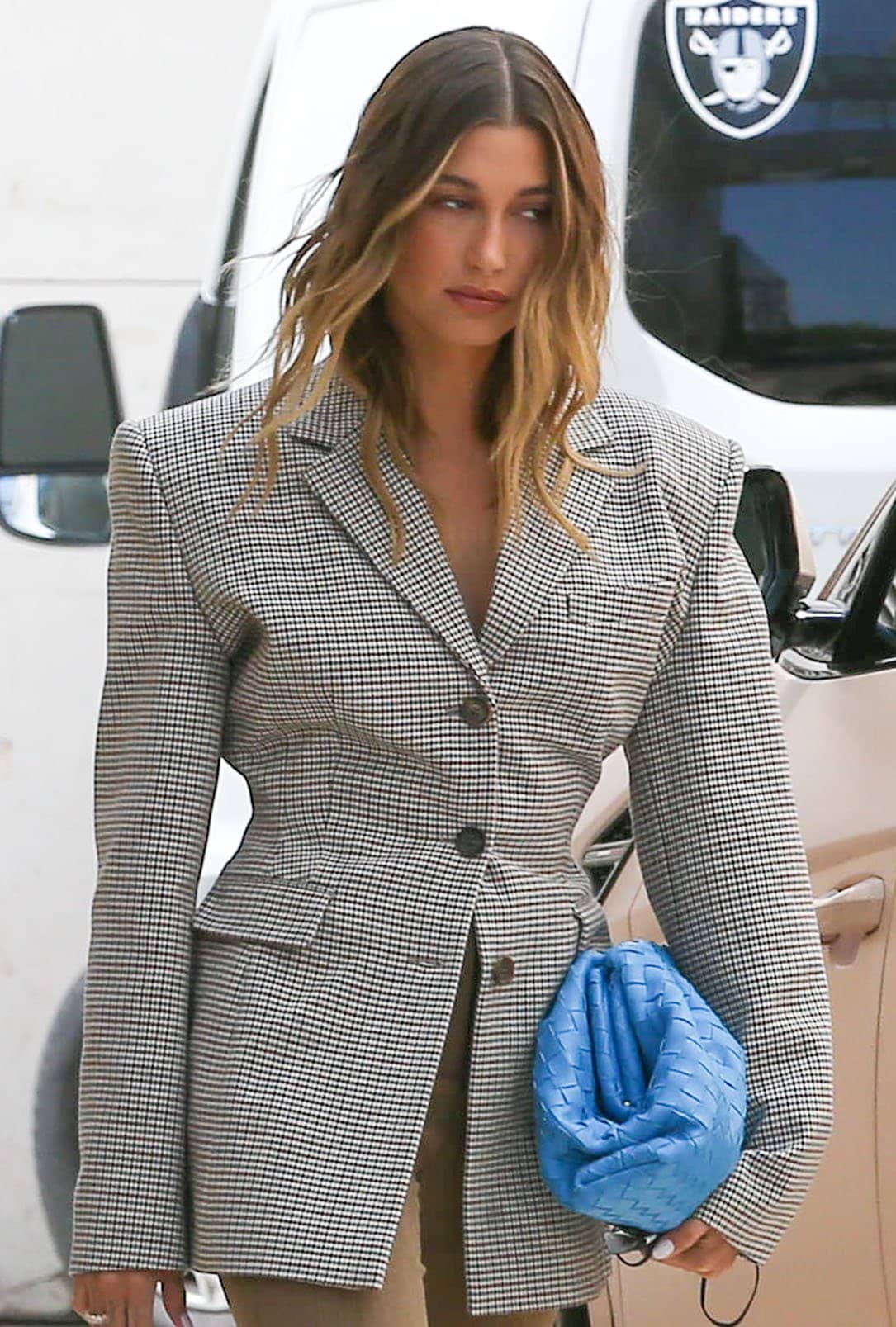 Hailey Bieber carries a blue Bottega Venetta The Pouch clutch (Credit: WENN/Instar)