It was the start of a new year, but in early 2017, many celebrities were still sticking with their old habits. Case in point: trained ballet dancer Hailey Baldwin's tangerine obsession.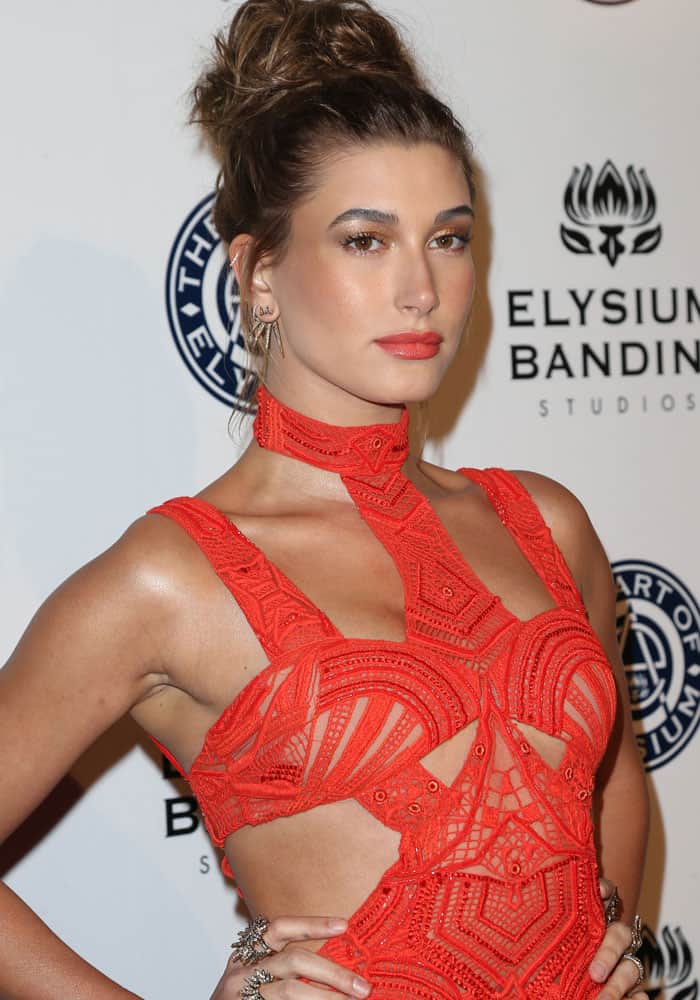 Hailey Baldwin wears a tangerine dress at The Art of Elysium presents Stevie Wonder's HEAVEN – Celebrating the 10th Anniversary at Red Studios on January 7, 2017, in Los Angeles, California
A trained ballet dancer, at the age of 12 she played the lead role of Clara in a production of the classic holiday ballet, 'The Nutcracker.'
View this post on Instagram
'If u didn't know how cute my wife was already you will know after watching her tiny self in the nutcracker,' her husband Justin Bieber said on Instagram, adding: 'My heart can't take it!'
View this post on Instagram
Attending New York City's prestigious American Ballet Theatre during the summers until her late teens, a foot injury made it impossible for her to continue practicing ballet. She discussed her decision to quit ballet in an interview with Vogue Australia in 2019.
Hailey Baldwin's childhood dream was to become a professional ballet dancer (Credit: Hailey Baldwin Instagram)
"When I was about to turn 17, I was in Miami doing the summer program at the Miami City Ballet and I had to decide if I was going to stay there and train for the rest of high school or if I was going to go back to New York and try to make it as a model instead," she said.
"As a dancer, I got hurt a lot, and I didn't know if I was going to be good enough to make it into the company when I was done. I finally said to myself: 'You know what? I don't feel like you're a prodigy at this.' Yes, I loved it and I did it well, but I knew I wasn't going to be a professional dancer. I wasn't devastated, because I was realistic about it."
Hailey Rhode Baldwin Bieber trained as a ballet dancer (Credit: Hailey Baldwin Instagram)
Two months earlier, Hailey Baldwin rocked this gorgeous tangerine look and she kicked off the year with yet another blindingly bright look.
Hailey welcomed the year with a citrus bang at the Art of Elysium's 10th anniversary gala of "Stevie Wonder's Heaven."
Hailey Baldwin shows off her feet in trend-setting Tamara Mellon "Frontline" sandals
Hailey turned heads in a bright Jonathan Simkhai creation, which featured cutouts at the bodice and a feathered full skirt that was not-so-rudely interrupted by a sexy thigh-high slit.
The model finished her look with an orange rectangular "Jean" clutch by Edie Parker, and the 2016 favorite Tamara Mellon "Frontline" PVC sandals.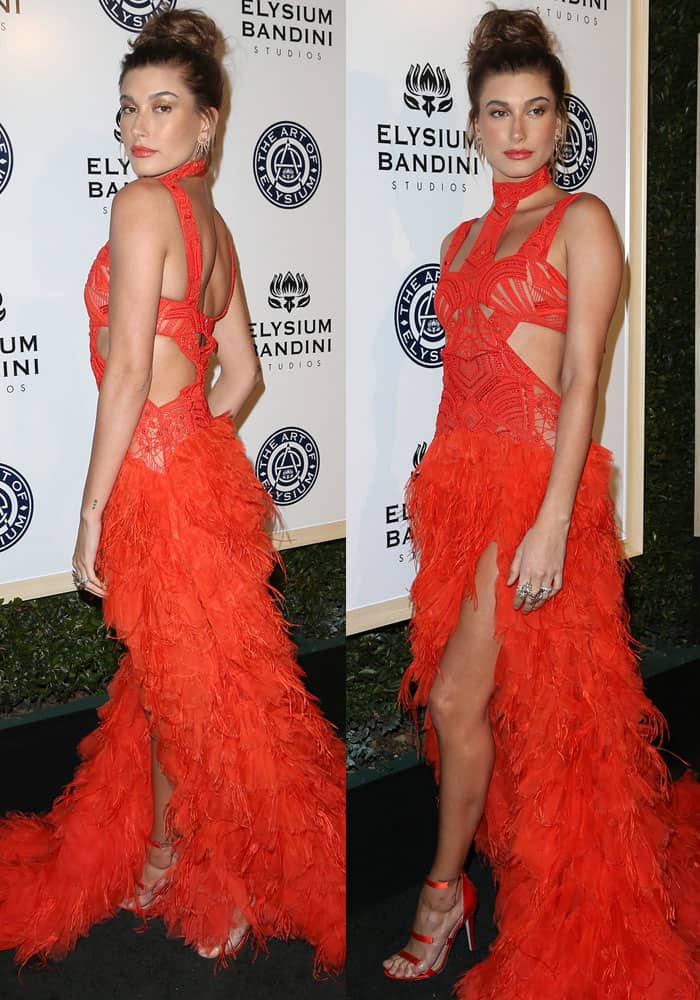 Hailey Baldwin turned heads in a bright cutout gown by Jonathan Simkhai
This tangerine look was definitely more dramatic than her last one. The bodice reminds us of something we dream of wearing to the beach, should the talented Jonathan Simkhai start designing haute couture swimsuits.
Hailey's tangerine glam evolved from a sweet peachy one to a burnt orange for this look. We loved the sweetness of the first, but this looks more mature and apt for the event.
How do you like Hailey's popular Tamara Mellon "Frontline" sandals?
Tamara Mellon Frontline Sandals, $395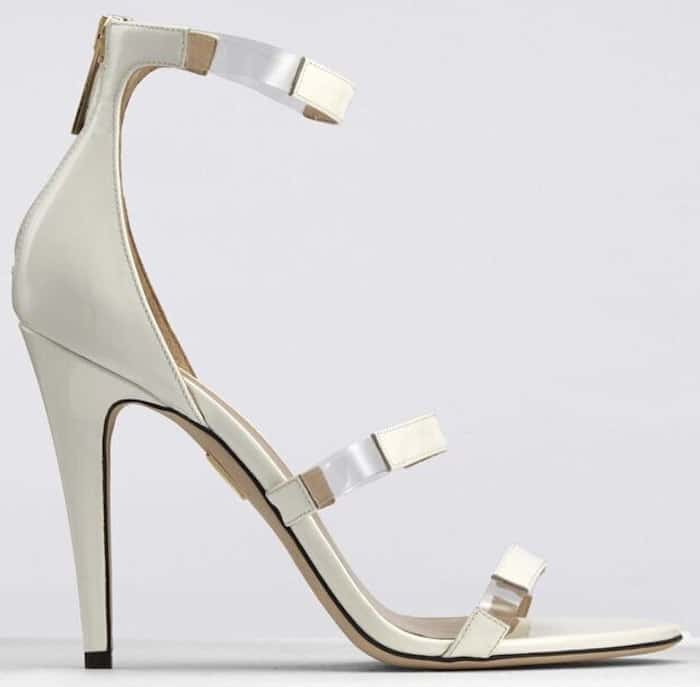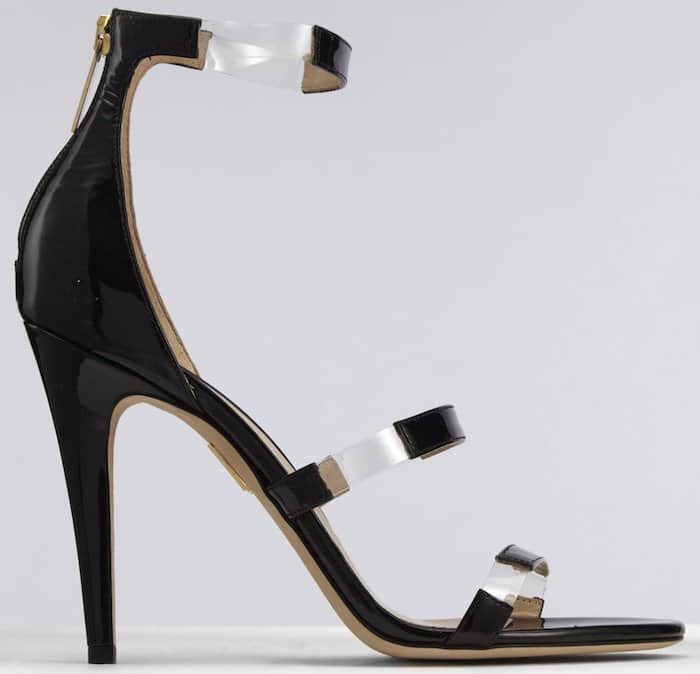 Credit: FayesVision / WENN