Hailey Baldwin, the American celebrity and model, is 5 feet 6 ¼ inches (168.3 cm), making her slightly shorter than her husband, Justin Bieber.
She once playfully compared her height to that of her cousin, Ireland Baldwin, who is 6ft 0 (182.9 cm) tall, jokingly referring to her as her "basketball boyfriend" while she is Ireland's "shawty."
Hailey Bieber's shoe size is 8 US, roughly translating to about 38.5-39 in European sizing, 5.5-6 in the United Kingdom, and 24-24.5 in Japan.
Hailey has also mentioned being "5'7" when measured and approximately "5'10" when wearing shoes. Compared to the average height of American women, which is around 5 feet 4 inches (162.6 cm), Hailey is slightly above average in size.
Looking comfy in a blue hooded sweater, white pants, and Balenciaga track sneakers, Hailey Bieber heads to a Pilates class in Los Angeles, California, on October 11, 2022 (Credit: BauerGriffin / INSTARimages / Cover Images)
In the fall of 2022, Hailey Bieber was all over social media after her controversial interview on the Call Her Daddy podcast, where she spoke about her husband, Justin Bieber, and his ex-girlfriend, Selena Gomez, among other things.
Just who is Hailey Bieber? How did she become famous, earn her net worth, and what is her issue with Selena Gomez?
Hailey Baldwin's Childhood
Before she was Mrs. Bieber, she was Hailey Rhode Baldwin, born on November 22, 1996. Her father is Stephen Baldwin, an actor, producer, and director; her mother is Kennya Deodato Baldwin, a graphic designer.
Thanks to her parents, Hailey Bieber grew up among many famous people, and her transition to the spotlight was easy.
Born in Tucson, Arizona, Hailey attended the American Ballet Theatre throughout her teenage years and was homeschooled.
Model Hailey Bieber was a trained ballet dancer who played the lead role of Clara in a production of The Nutcracker at 12 years old (Credit: Hailey Bieber's Instagram)
Hailey Bieber's Career
Hailey Baldwin dreamed of becoming a classical ballerina, but due to a foot injury, she had to retire and become a model instead.
She was first signed with Ford Models and began her modeling career heavily in 2014, with her first commercial and runway debut.
Hailey Bieber was on the cover of Vogue France in May 2022 in a black turtleneck sweater and green miniskirt from Prada's Spring 2022 collection (Credit: Hailey Bieber's Instagram)
The former ballet dancer has modeled for Vogue, Teen Vogue, Wonderland Magazine, Ralph Lauren, and UGG. She has also walked for fashion weeks in Milan and Paris.
In 2018, Hailey Bieber trademarked her name to be used for her branding purposes. She went on to launch her very own clothing brand and makeup collection.
Hailey Baldwin and Justin Bieber's Relationship
Hailey met her now husband, Justin Bieber, when she was only 12 years old, at a meet-and-greet backstage at the Today show. Her father, Stephen Baldwin, was friends with Justin's mother, Pattie Mallette.
A few years later, Hailey was tweeting support for Justin's relationship with singer and actress Selena Gomez. She stated, "I'm for sure 100% team #Jelena."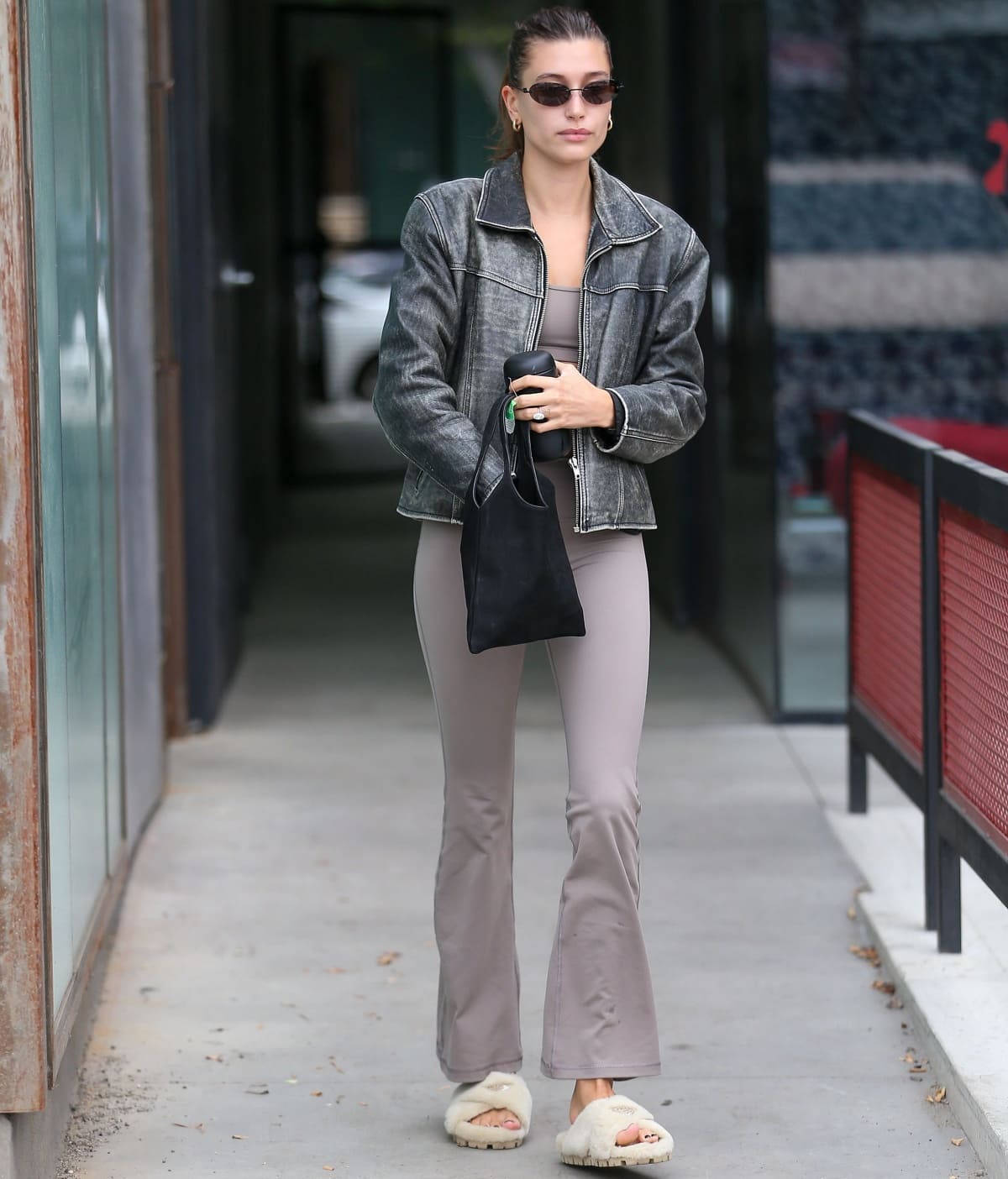 Hailey Bieber wearing a Worn vintage leather jacket over a TnAction taupe bra top and high-rise leggings with Prada shearling sandals, The Row handbag, and Balenciaga shades while out and about in Los Angeles, California, on October 10, 2022 (Credit: BauerGriffin / INSTARimages / Cover Images)
In 2014, Hailey and Justin Bieber became closer friends since their age difference was no longer so stark. They were seen at church together, celebrating New Year's Eve and denying dating rumors.
By 2015, they were kissing on New Year's Eve; by 2016, they were officially dating. They had an extremely dramatic breakup and did not talk for years before rekindling in 2018 and getting back together in June. Just one month later, they were engaged. By September, they were married!
Drama Between Hailey Bieber and Selena Gomez
In September 2022, Hailey Bieber appeared on Call Her Daddy, a podcast by Alex Cooper, to discuss her drama with Selena Gomez.
Hailey Bieber with Alex Cooper in New York City on a video uploaded by Hailey on her channel on November 3, 2021 (Credit: YouTube)
Selena and Justin dated for years, and many fans were shocked by Justin's marriage to Hailey, as they thought of the former couple as "endgame."
There are rumors that Hailey and Justin were fooling around while he was dating Selena, to which Hailey remarked, "I can say, period, point blank, that I was never with him when he was in a relationship with anybody – and that's the end of it."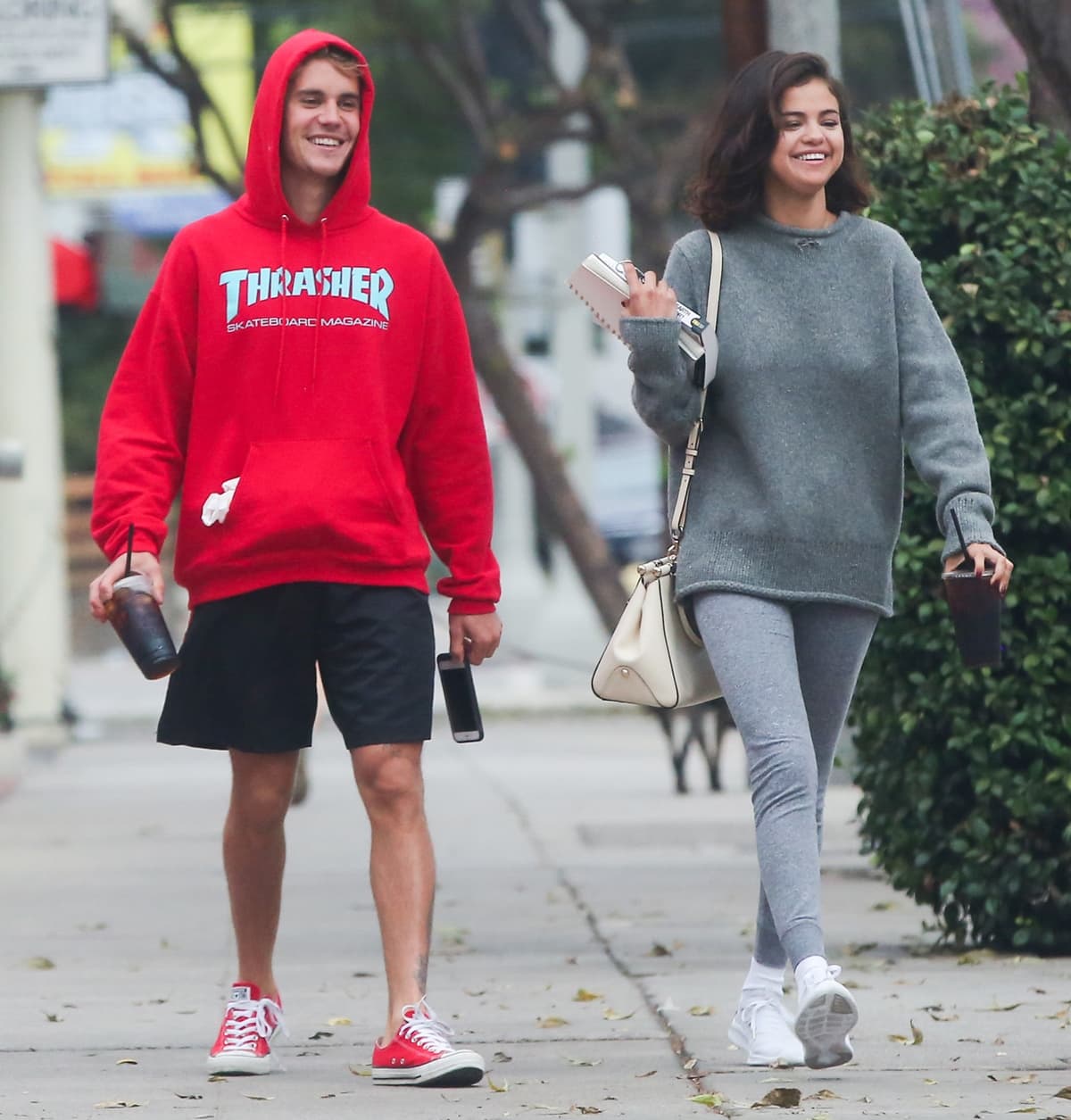 Justin Bieber and Selena Gomez were an on-and-off couple from 2010 to 2018 (Credit: INSTARimages)
Hailey talked about Selena Gomez and stated, "I respect her; there's no drama, personally." She alluded to speaking to Selena but did not give any further details.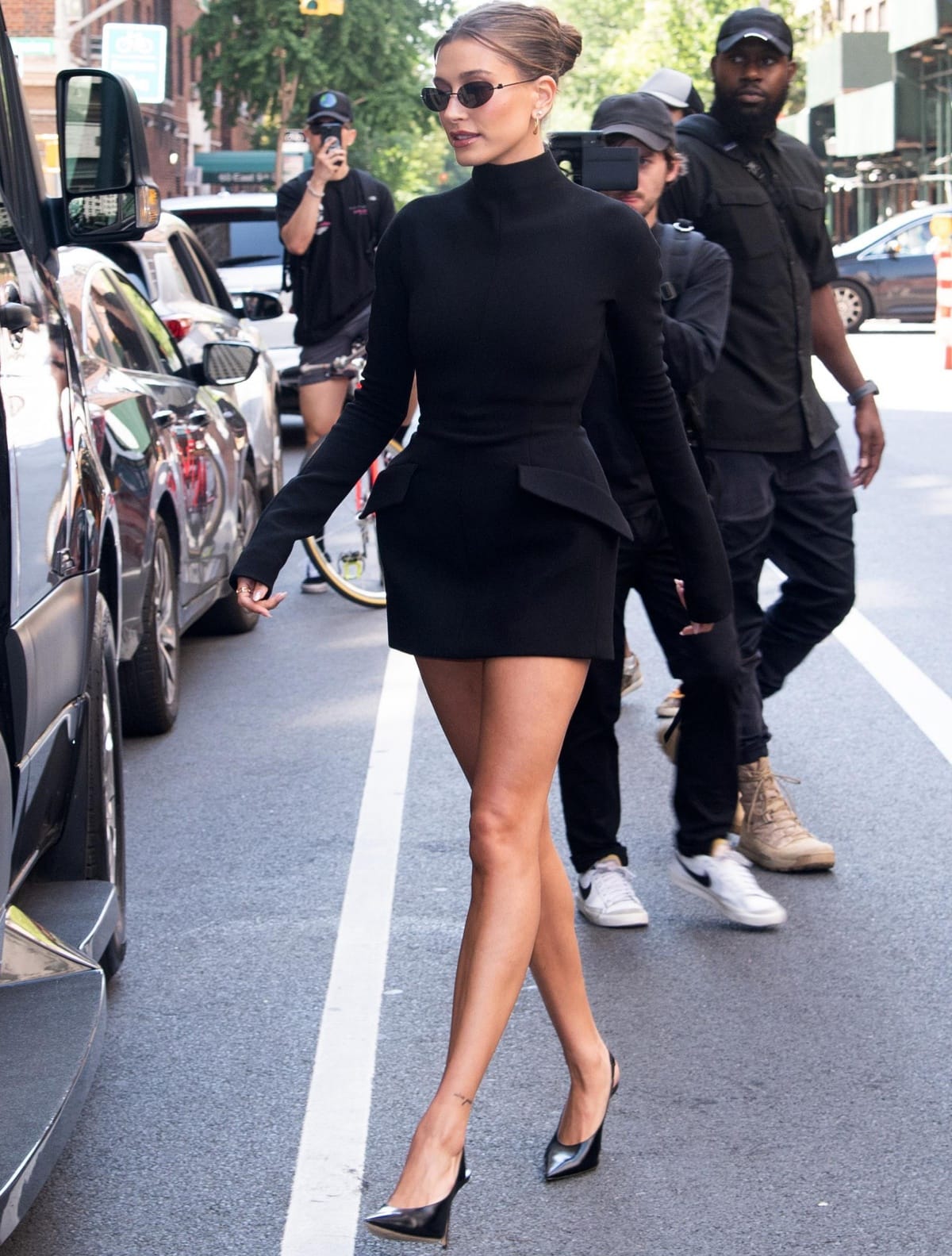 Hailey Bieber spotted in Greenwich Village in New York City wearing a Sportmax Fall 2022 black mini dress with Jimmy Choo Erin slingback pumps and Balenciaga sunglasses (Credit: Janet Mayer / Startraksphoto)
Hailey Bieber: Separating the Facts from the Fiction
Who is richer, Hailey Bieber or Selena Gomez?
Selena Gomez is much richer.

Hailey Baldwin Bieber is a successful American model and actress, who has a net worth of $20 million as of 2023.
Full Name:
Hailey Rhode Bieber
When and where was Hailey Baldwin born?
Hailey Baldwin, born as Hailey Rhode Baldwin on November 22, 1996, hails from Tucson, Arizona, in the United States.
Dating:
Hailey Bieber and Justin Bieber tied the knot in October 2018.

Before their marriage, Hailey was in relationships with Shawn Mendes from 2017 to 2018, Jordan Clarkson in 2017, Cameron Dallas from 2016 to 2017, and briefly with Drake in 2016.

She also dated Fai Khadra from 2015 to 2016. Additionally, there were rumors of a hookup with Luke Hemmings in 2015.
Kids:
Hailey Bieber and her husband, Justin Bieber, do not have any children yet.
Weight:
Hailey Bieber maintains a well-toned physique, weighing approximately 52 kg or 114 pounds.
What size shoes does Hailey Bieber wear?
Hailey Bieber wears a US shoe size of 8, which is approximately equivalent to 38.5-39 in Europe, 5.5-6 in the UK, and 24-24.5 in Japan.
Is Hailey Baldwin tall or short?
Hailey Baldwin's height of 5 feet 6 ¼ inches (168.3 cm) is generally considered slightly above average height for women, but it's not exceptionally tall.
Nationality:
Hailey Bieber is a citizen of the United States.
Source of Wealth:
Hailey Baldwin Bieber has earned her net worth through her successful modeling career, as well as her acting roles and business ventures.
Ethnicity/Race:
Hailey Baldwin's diverse ethnic background includes English, Irish, Scottish, with a trace of French-Canadian and German heritage from her father's side, and Brazilian ancestry, encompassing Portuguese, Spanish, and Italian/Sicilian roots from her mother's side.
Does Hailey Bieber speak Portuguese?
Hailey's mom, Kennya Baldwin, is from Brazil and taught Hailey some Portuguese. However, Hailey doesn't speak Portuguese fluently and can only say a few phrases.
Hailey Bieber's Quotes on Love, Life, and Success
"If I get in a dark spot, I'll listen to some Adele and cry about it." – Hailey Baldwin
"My style kind of differs – sometimes I want to be a little dressed down, a little tomboy, sometimes I want to be dressed up and very chic and look proper. But I don't ever believe in overdoing it for day-to-day style." – Hailey Baldwin
"The thing is, I live a very public life, and I have to keep things personal, or else I have no personal life. It's very difficult." – Hailey Baldwin
"I think that God kind of put me in the place in my life to not be quiet about it, not be quiet about Him, but to reach people and to inspire people." – Hailey Baldwin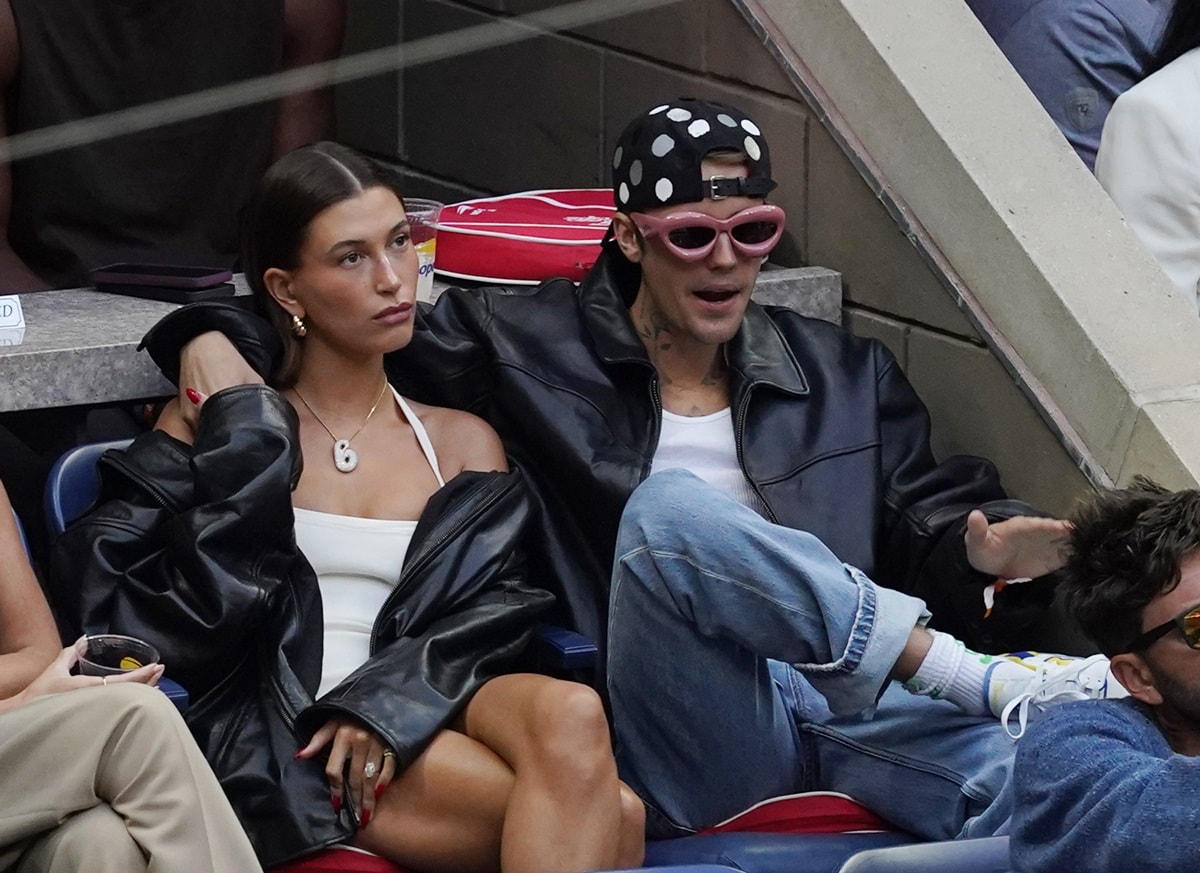 Justin and Hailey Bieber are joined by Frances Tiafoe to watch Coco Gauff of the United States play against Elise Mertens of Belgium in the third round of the US Open at the USTA Billie Jean King National Tennis Center on September 1, 2023 in New York City (Credit: Robert Bell / INSTARimages)
"I'm lucky that I have my family, I'm lucky that my parents are still together. Those are the things that I cherish." – Hailey Baldwin
"I think if I was going to be someone for a day, I would want to be a performer, someone big, like Rihanna. I'd want to feel the energy of being on stage. I've always found that very interesting." – Hailey Baldwin
"I don't like to run. You will not see me running on a treadmill ever. Ever! I like boxing, though, so if I can go to the gym and box for 30 minutes, I will." – Hailey Baldwin
"I think trying to maintain a classic pretty style is the way I like to go, like Margot Robbie's style." – Hailey Baldwin
"The older supermodels sometimes don't agree with the fact there is a new generation of models. We're not saying we're supermodels. I'd rather people look at us as businesspeople, and, yes, modeling is our business right now, but we're not trying to take anybody's spot, and we're not trying to discredit the past." – Hailey Baldwin
Justin Bieber is approximately 1.25 inches (3.2 cm) taller than Hailey Baldwin, with a height of 5 feet 7.5 inches (171.5 cm) compared to her 5 feet 6.25 inches (168.3 cm) (Credit: Roger Wong / INSTARimages)
"Sometimes I Google myself just to see what people are saying. But we all do that. If someone tells you that they don't, then they are lying." – Hailey Baldwin
"I don't do facials – I don't really enjoy people picking at my skin. I'd rather a dermatologist who's a doctor for that do that." – Hailey Baldwin
"I definitely would not do a reality show." – Hailey Baldwin
"I feel like if you flip through my Instagram, you'll kind of see the same angles and poses every time. That's the trick to having people love your Instagram selfies. It's all about your angles." – Hailey Baldwin
"For me, I like to be a little bit tomboy but still look like a lady. Pretty tough. Or really, really, really pretty." – Hailey Baldwin
"I love New York. It's hard to explain, but it's the energy of the city. It's not like L.A. where everything is spread out." – Hailey Baldwin
"I wasn't bullied by the mean girls in high school. I'm just bullied by adults and teenagers all over the world." – Hailey Baldwin
"I know a lot of people struggle with the idea of Jesus and their idea of God. I think, if you don't even know what you're praying to or who you're praying to, based on what I know to be true, regardless, God's always listening." – Hailey Baldwin
"I don't see myself as famous; I see myself as a normal person with a job that is not very normal. My work life is very out there and very public. But I do my best to maintain my privacy." – Hailey Baldwin
"I genuinely do think that skin does have a lot to do with genetics. I was blessed. You should see my mom and grandma – it's unfair!" – Hailey Baldwin
"I would never pose topless." – Hailey Baldwin
"All my tattoos except my first were not planned. I would just go into the shop late at night with friends and ask for something on the spot. My first is my parents' wedding date. I thought it would soften the blow of getting a tattoo." – Hailey Baldwin
"You can blame my mom for some of my worst fashion moments. She used to dress me and my sister in a lot of patterns. Like, she would put me in striped stockings with a floral dress. Like, why are you doing that to me?" – Hailey Baldwin
"I am obsessed with John Mayer. I love him. I just think he's so talented. I have his documentary in my iTunes. I watch it all the time." – Hailey Baldwin
"I know all the books of the Bible." – Hailey Baldwin
"For a long time, I said I didn't want to model. I was a dancer." – Hailey Baldwin
"A cheat day for me, the first thing that I crave, I'll eat. That's my rule. So if I wake up and I want pancakes, I'm gonna eat pancakes. If I want a cheeseburger for lunch or for dinner, I'm gonna eat it. If I want fries, I'm gonna eat the fries." – Hailey Baldwin
"I love Rihanna. I think her style just pushes a lot of boundaries. My tomboy side takes inspiration from her." – Hailey Baldwin
"Everybody literally thinks I've had plastic surgery. My mom's family call her, and they're like, 'Did Hailey do her lips? Did she do her nose?' Do people want me to go to a doctor and have them examine my face so they can tell people I haven't? My face has just matured. I grew into my looks." – Hailey Baldwin
"I always try to keep one very feminine quality to my style." – Hailey Baldwin
"I never want to put my name on something that I don't love or wouldn't wear myself." – Hailey Baldwin
"I was raised in church. I was brought up in that life, and I think that it's very important for everybody to be in touch with their spirituality and to have a relationship with God." – Hailey Baldwin
"My biggest goal in life will be achieved when I have a family, when I have my own kids that I can raise myself and bring up based on what I know. I always think it's the wildest idea – raising a whole, entire human is insane to me, and I've always wanted kids." – Hailey Baldwin
"I think a lot about when times were simpler, when I was still dancing and living with my parents. I really miss living at home sometimes. I get really sad." – Hailey Baldwin
"I wouldn't ever pose naked… I'm fine to do bikinis and certainly lingerie if I feel it's done tastefully… cute like Victoria's Secret, but nothing like raunchy or overly sexual." – Hailey Baldwin
"I think the most expensive thing I've bought thus far is my Rolex." – Hailey Baldwin
"I put castor oil in my eyebrows. And I also tint my eyebrows when I get them cleaned up. That way, I don't have to be constantly filling them in, because I'm lazy." – Hailey Baldwin
"I love making shorts out of jeans, or customizing denim. Basically, I like to rip and distress things… I love that look." – Hailey Baldwin
"Acting is in my family. My cousins, my sister, and I always say it's a legacy that should be kept alive. In the future, it's something I really want." – Hailey Baldwin
Hailey Baldwin Opens Up About Feeling "Inferior" to Her Taller Model Friends
In August 2014, Hailey Baldwin held hands with her much taller best friend, Kendall Jenner. They flaunted their long legs while trying to hail a cab in SoHo.
Kendall Jenner and her shorter friend Hailey Baldwin trying to hail a cab in SoHo, New York City, on August 29, 2014 (Credit: WENN / Alberto Reyes)
In her October 2019 cover interview for Vogue Australia, Hailey said she feels "inferior" to her fellow model friends. She is a few inches shorter than models like Kendall Jenner and the Hadid sisters.
"My burn in the modeling industry has been slow and I've had to learn to be okay with that. I'm shorter than most of the girls. Even though I'm five-foot-eight, I'm not a runway girl and I totally used to feel inferior to some of my friends," she said.
When not wearing high heels, Hailey Bieber is about two inches shorter than her husband, Justin Bieber (Credit: WENN / Avalon)
"Look at Kendall [Jenner] and Bells [Bella Hadid] and Gigi [Hadid] … they're all tall and doing every runway. For a while, there was a part of me that didn't know if I could have the career I wanted if I couldn't do runway. I don't think that anymore."
"You can make it work and not have to do runway, and I've done a good job with that," Hailey added. "I'm proud of myself for building a more commercial career that worked for me and being confident about it."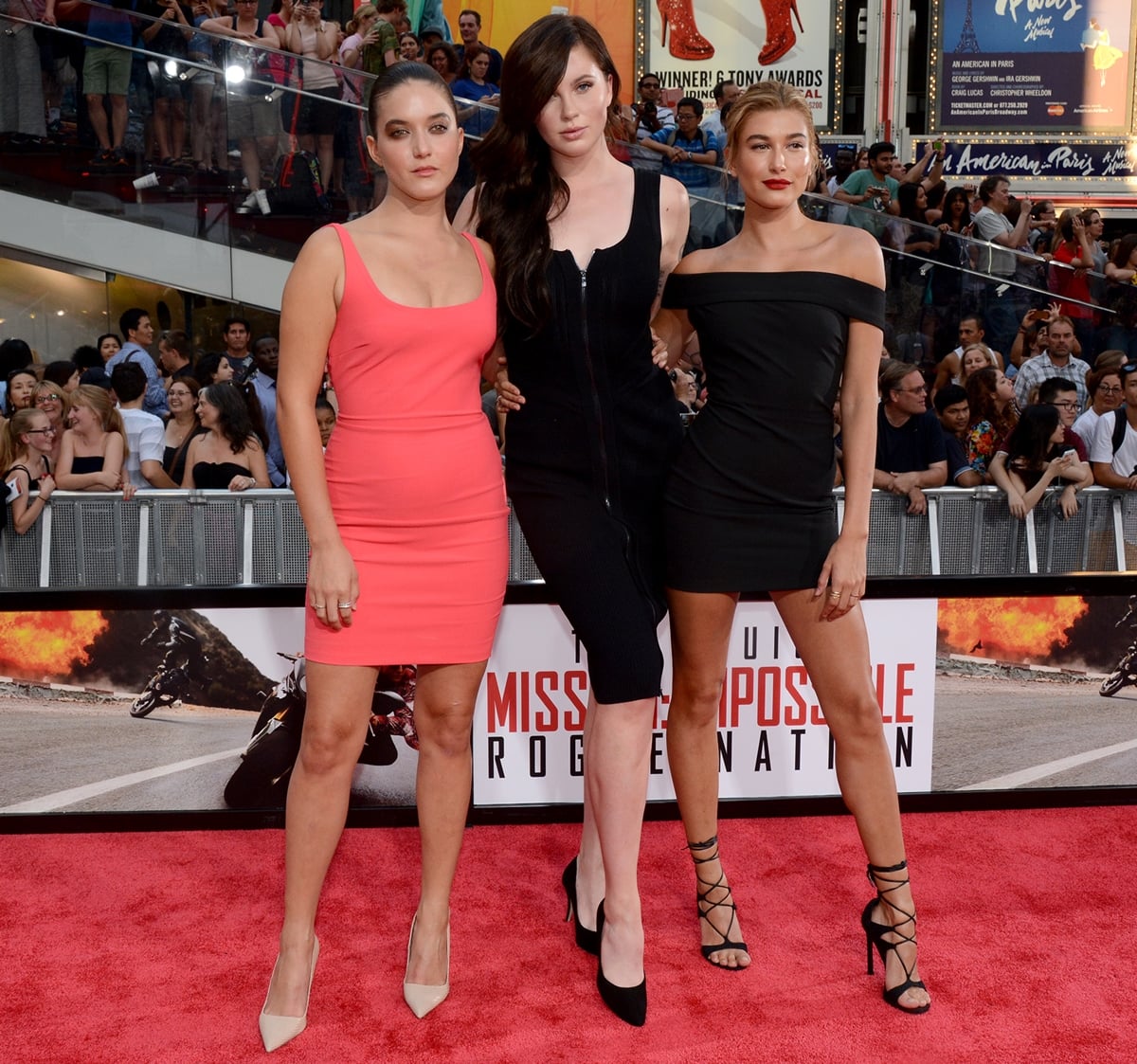 Hailey Bieber is shorter than her tall cousin Ireland and her sister Alaia Baldwin (Credit: Ivan Nikolov / WENN)
Her husband, Justin Bieber, measures around 5'9 and is about 2 inches taller than his wife. That's, of course, only when she's not wearing high heels.
Hailey's famous female relatives are also taller than her. "Ireland [Baldwin] is 6'2 and I'm 5'8. She's like my basketball boyfriend and I'm her shawty," Justin Bieber's wife tweeted about her first cousin, Ireland Eliesse Baldwin.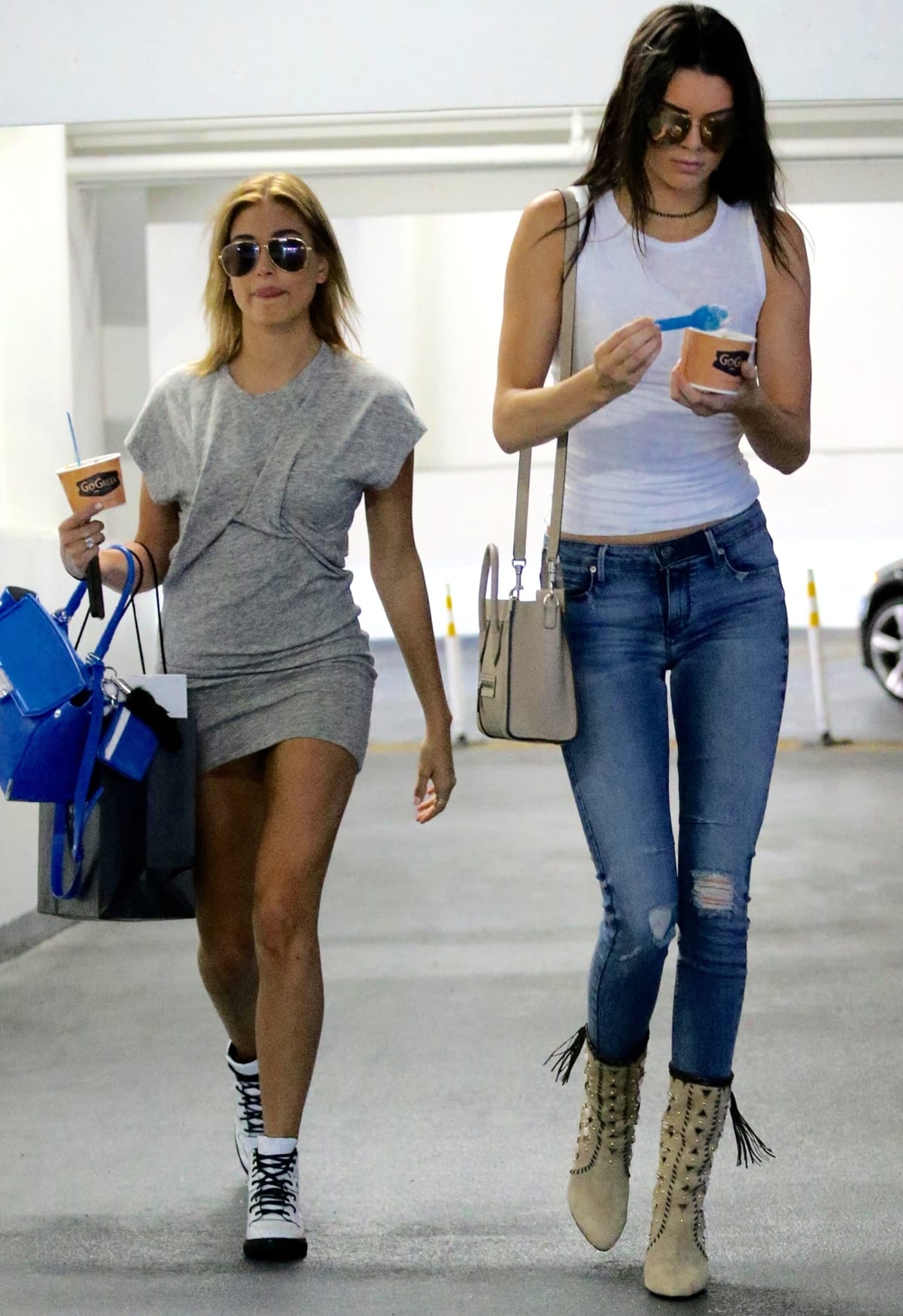 Hailey Bieber doesn't have the same supermodel height as her friend Kendall Jenner (Credit: WENN)
Unlike her older diva half-sister Kim Kardashian, Kendall is a lot more grounded. She even tries out public transportation once in a while.
Kendall Jenner and Hailey Baldwin know how to rock street style (Credit: WENN / Alberto Reyes)
The reality-star-turned-model wore casual clothes sans makeup but still looked pretty and stylish in her comfy streetwear ensemble.
While Kendall was all about comfort, Hailey Baldwin, the daughter of actor Stephen Baldwin, opted for a fiercer casual look. Her simple tee-and-shorts combo was styled with a cool moto jacket, amping up the edginess of the outfit.
These cool kids definitely know how to rock street style. We love their shoe choices, too!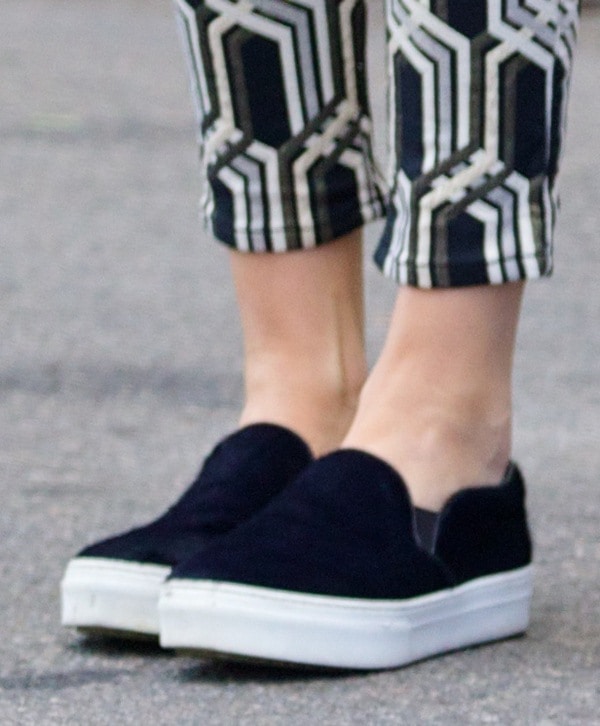 Kendall Jenner's slip-on sneakers by Kenneth Cole (Credit: WENN / Alberto Reyes)
Kendall wore a comfortable pair of slip-on sneakers by Kenneth Cole. They feature smooth calf-hair uppers and come in several style variations.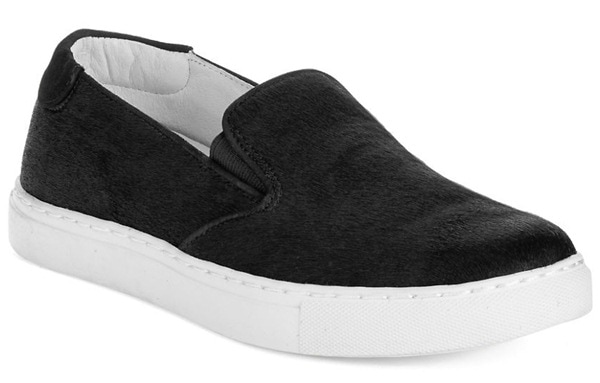 Kenneth Cole New York "King" Sneakers in Black, 89.50
Kenneth Cole New York "King" Studded Sneakers, 95.98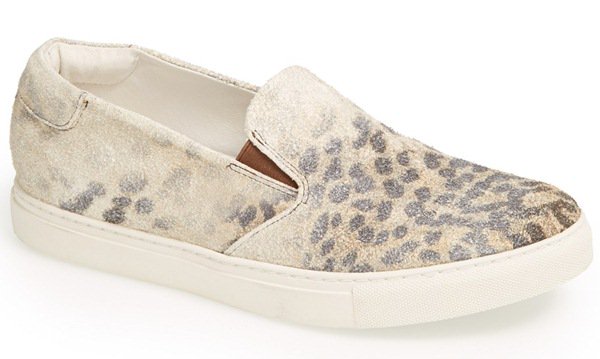 Kenneth Cole New York "King" Sneakers in Cheetah, $139.95
We have not identified Hailey's booties yet, but they are effortlessly cool and edgy with their chunky buckles and trendy cutout details.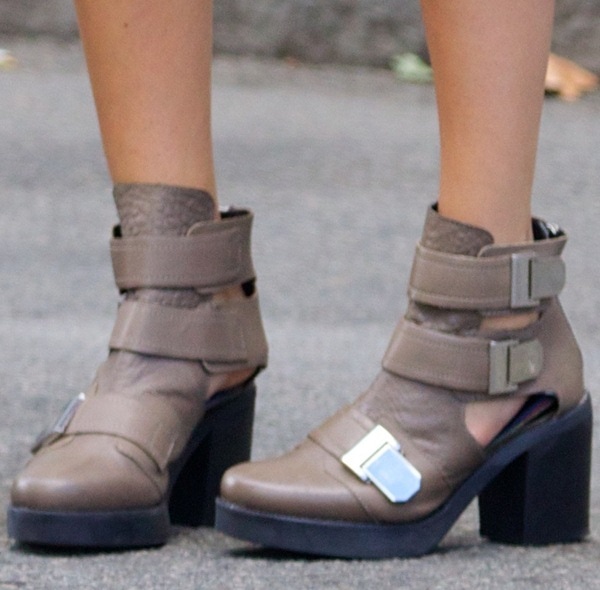 Hailey Baldwin's cutout booties
Choose from the equally fierce steals below.
NYLA Suede Ankle Boots in Gray, $99.99
Jeffrey Campbell "Cobrun" Ankle Boots, $218
Report Signature "Ashtin" Boots, $120.95