Justin Bieber made a name for himself when he was only 13 and has grown up in the public eye. But for someone who has been in the spotlight for most of his life, there is some ambiguity about how tall the Baby singer really is.
How Tall Is Justin Bieber?
When Bieber (28) was arrested in 2014, the police report recorded the star's height at 5ft 9in. In reality, he measures more accurately 5ft 7 ½ (171.5 cm).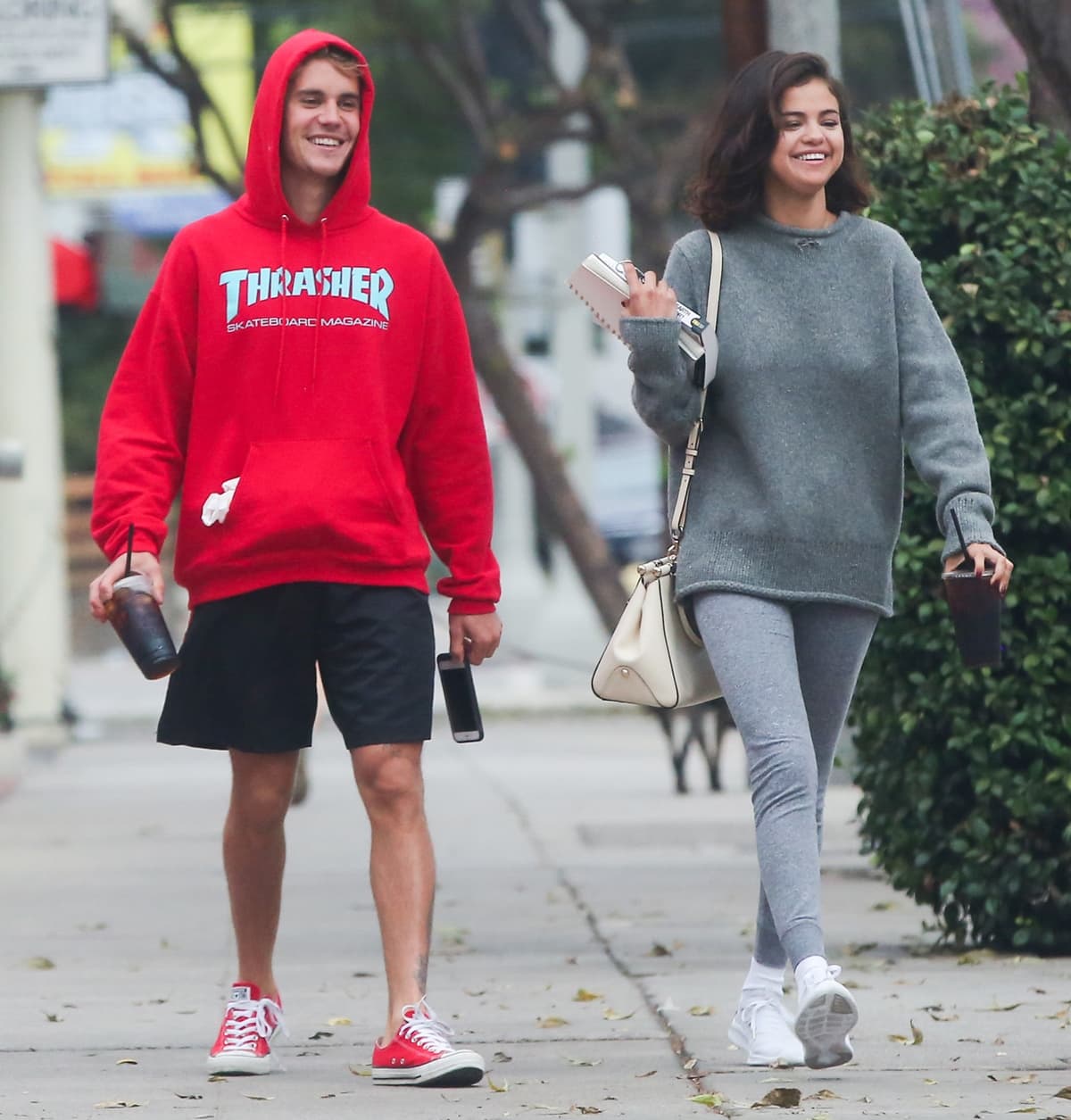 When she's not wearing high heels, Justin Bieber looks about the same height as Selena Gomez (Credit: INSTARimages)
The star does have a penchant for wearing high-end sneakers, which can add a few centimeters to his height, making him appear taller both on stage and in real life.
When he was asked about his height in 2015, he wasn't entirely sure about the metric, saying, "Five Nine, Five Ten." However, the fact that he's unsure about his height is not strange, as Canada, where the star is from, uses the metric system.
Hailey Bieber's Height
Justin Bieber married his now-wife, Hailey Bieber (25), in 2018. She hails from Hollywood royalty, as her father is Stephen Baldwin.
Despite her very famous father and uncles, the star has made a name for herself as a supermodel, social media star, and fashion icon. The star also released a skincare brand in 2022 called Rhode Skin.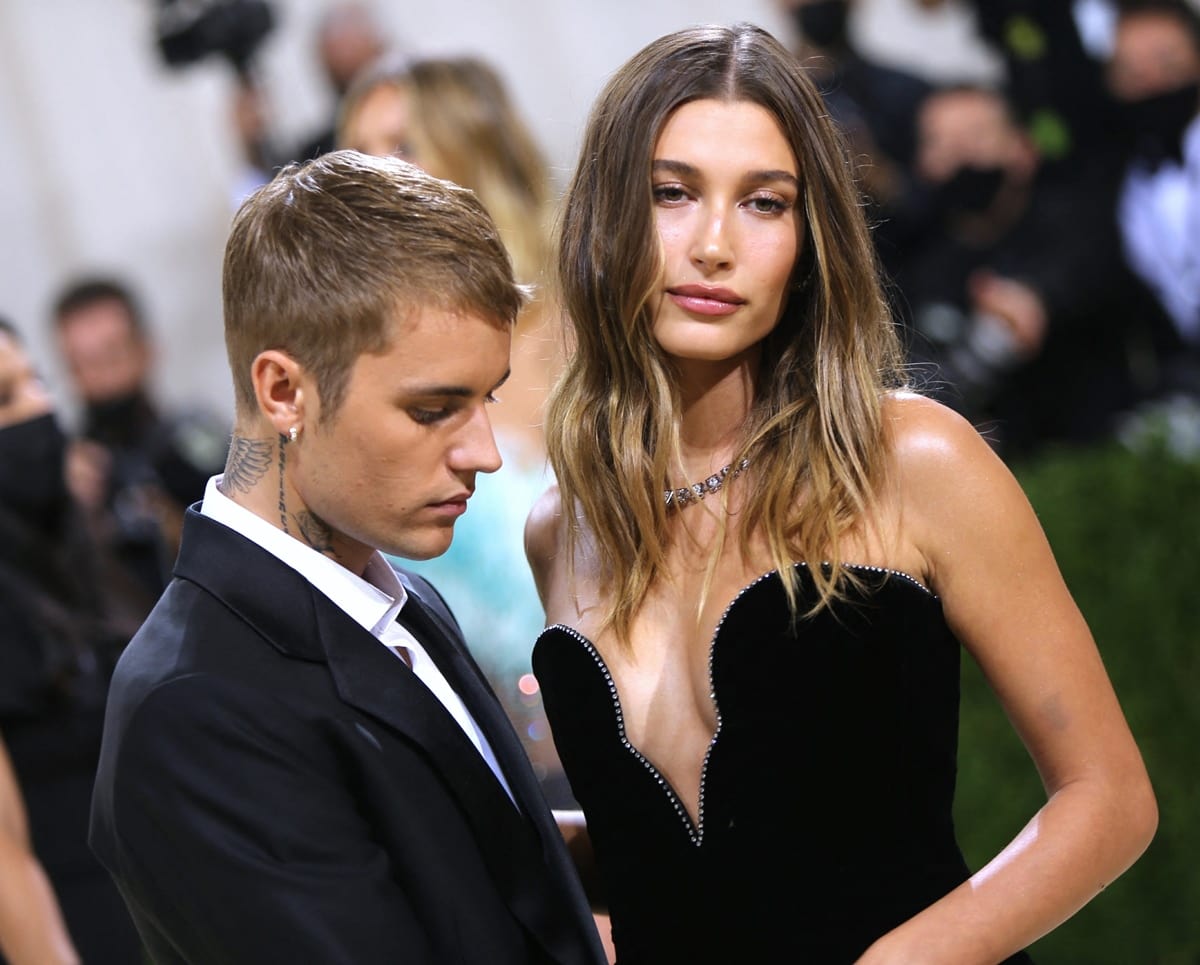 Justin Bieber ends up looking shorter than his wife Hailey Bieber when she's wearing heels (Credit: ABACA USA / INSTARimages)
The couple first met when Hailey was 13 at a fan event in 2009. They were friends from 2011 onwards and started dating in 2016.
However, the couple later broke up, and Hailey went on to date another Canadian singer, Shawn Mendes, between 2017 to early 2018. Hailey and Justin rekindled their relationship in June 2018 and married five months later in a courthouse ceremony.
Even though Bieber is hailed as a fashion icon and works as a model, she is definitely on the shorter side of the modeling industry.
Justin Bieber is taller than his wife Hailey Rhode Bieber (née Baldwin) (Credit: ABACA USA / INSTARimages)
She measures 5ft 6 ¼ (168.3 cm), making her about an inch and a half shorter than her famous husband. The star wrote about her height on her Twitter page, comparing herself to her famous cousin.
"Ireland [Baldwin] is 6'2 and I'm 5'8 she's like my basketball boyfriend and I'm her shawty." The supermodel is "about 5'10 in shoes."
How Tall is Selena Gomez?
Before there was Hailey Bieber, there was Selena and Justin. Selena Gomez (30) is a singer, actress, and social media personality.
She was dubbed the "Queen of Instagram" in 2016 after being one of the first celebrities to reach over 100 million followers on the platform.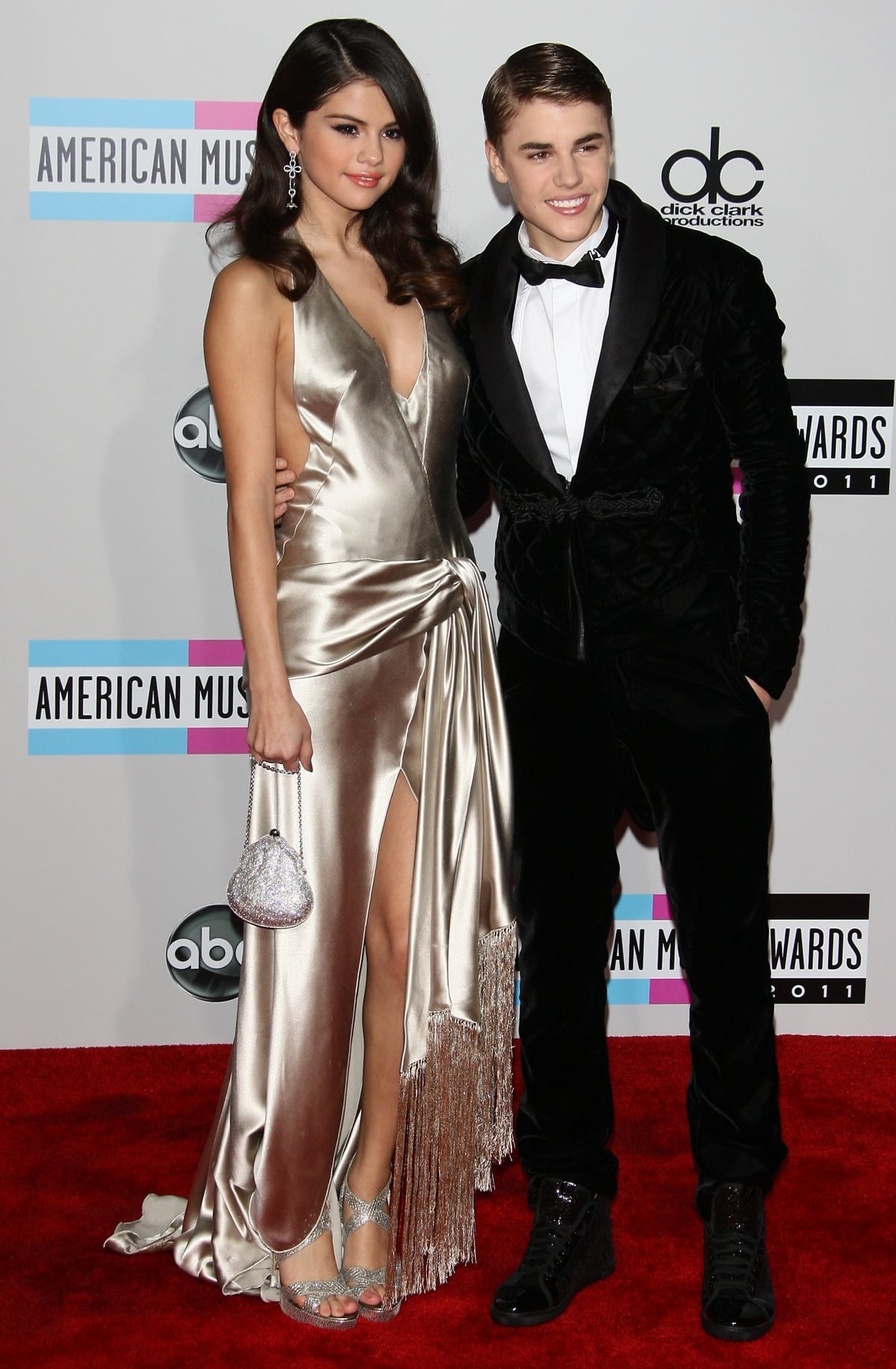 Singer Justin Bieber looked shorter than his girlfriend Selena Gomez at the 2011 American Music Awards held at Nokia Theatre L.A. Live on November 20, 2011, in Los Angeles, California (Credit: INFevents)
Bieber and Gomez famously dated between 2010 and 2013 and later rekindled their romance for a brief time in 2017. They broke up again in March 2018. Bieber married Hailey Baldwin at the end of 2018.
The Biebers held a second ceremony in October 2019 in South Carolina. Following the wedding, Gomez released some very poignant music, including the song Lose You To Love Me, which was essentially a goodbye letter to Justin.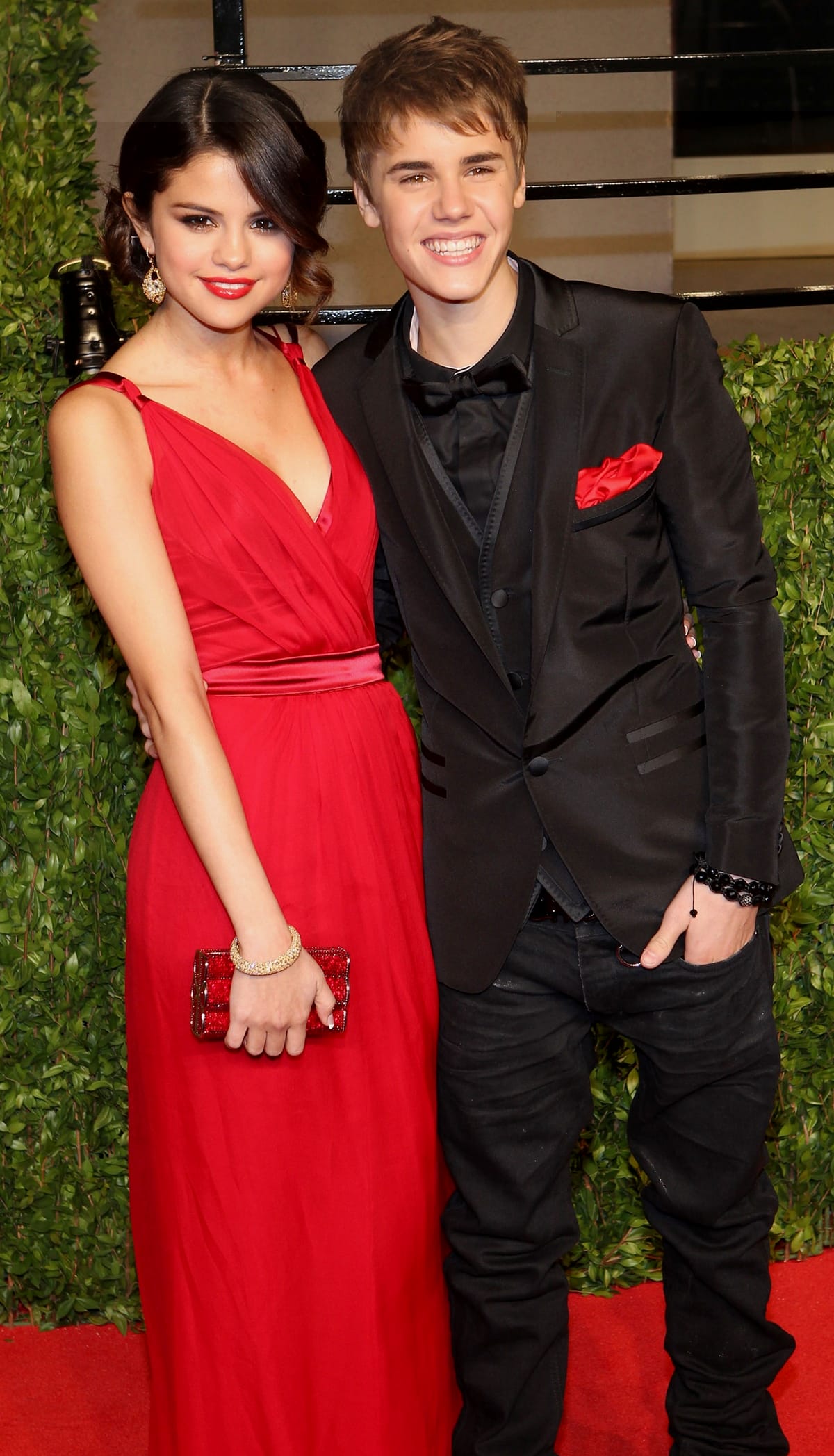 Selena Gomez and Justin Bieber looked almost the same height at the 2011 Vanity Fair Oscar Party Hosted by Graydon Carter at the Sunset Tower Hotel on February 27, 2011, in West Hollywood, California (Credit: INFevents)
When Gomez was asked about her height, she stated, "I'm 5'5″. That's average, right?" The "Lose You To Love Me" singer is 5ft 4 ¾ (164.5 cm).
Gomez is an inch and a half shorter than Hailey Bieber and close to three inches shorter than her old flame, Justin Bieber.
Justin Bieber and Selena Gomez first met in 2009 when they were introduced by their managers and started dating the following year on and off for around eight years (Credit: INSTARimages)
January 2014 had started fine for Selena Gomez's love life, but it didn't last long. Early in the month, she was spotted riding Segways with Justin Bieber in Calabasas.
But just after a few weeks, their relationship was shattered (again) when Biebs was arrested for DUI and drag racing with his rumored new girlfriend, Chantel Jeffries. Although Bieber claimed Chantel was just a friend, Selena didn't buy it.
Ashley Benson and Selena Gomez at the Beats music official launch party in Los Angeles on January 27, 2014 (Credit: SIPA / Cousart / JFXimages / WENN)
A source told Hollywood Life that Selena was seen "crying over Justin and him being with Chantel." Adding fuel to the fire, Chantel and Bieber were also spotted on a vacation in Panama just after his DUI arrest.
Aside from her issue with Bieber, a stalker was seen creeping outside her house. Police arrived and found a 19-year-old man, who allegedly admitted he wanted to see Selena in person. He was then arrested and booked for trespassing.
Despite all the troubles, Selena still managed to pick herself up.
Selena was also spotted leaving a tanning salon in Encino. Who doesn't want to look a lot better after a heartbreak, right?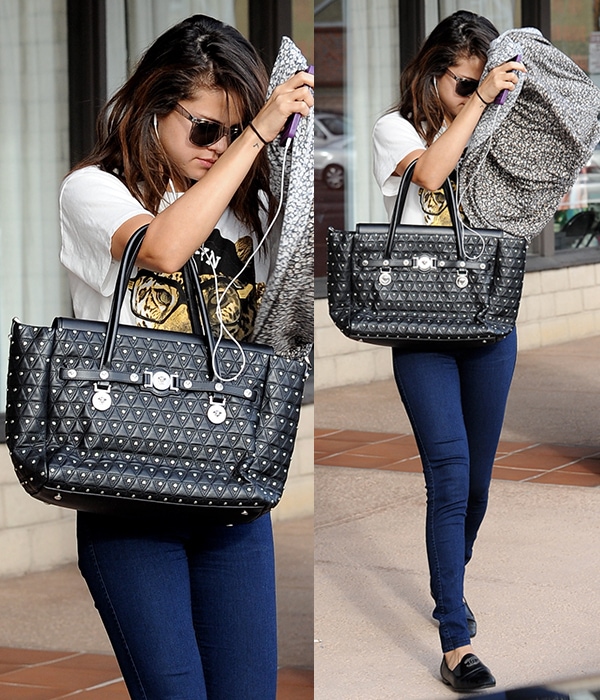 Selena Gomez in American Apparel jeans leaving a tanning salon in Encino, Los Angeles, on January 28, 2014 (Credit: SIPA / Cousart / JFXimages / WENN)
Selena was just casual, but she was very chic in her Forever 21 "Rawr" tee paired with American Apparel jeans.
Selena Gomez rocks black Chanel CC leather loafers (Credit: WENN)
Adding some luxe to her relaxed getup were her Versace bag and Chanel loafers.
Selena Gomez styled her jeans with Chanel loafers (Credit: WENN)
Check out some designer loafers from Nordstrom and Zappos that might be of interest to you: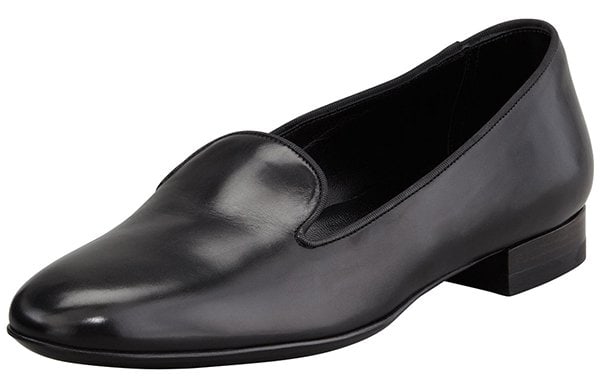 Saint Laurent Silky Leather Smoking Slippers, $695
Cole Haan 'Sabrina' Slippers, $198
Alexander McQueen Embroidered Skull Smoking Slippers, $580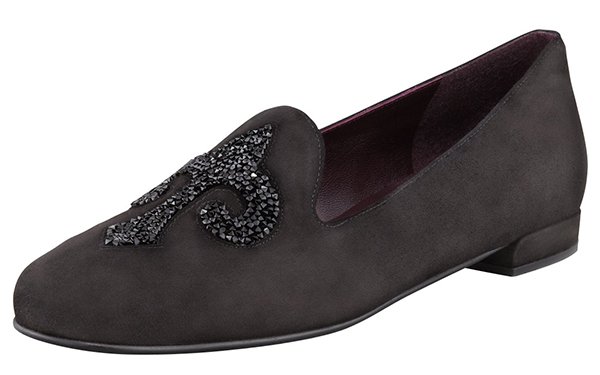 Stuart Weitzman "Lys" Crystal-Rocks Smoking Slippers, 390