Shawn has dated Hailey and Hailey is married to Justin, but somehow the three of them are all still friends? What is the deal here?
Justin Bieber and Hailey Baldwin have been best friends since they were young teenagers. We all know that their history after this is pretty complicated.
Justin Bieber, Sir Lucian Grainge, Tori Kelly, Sam Smith, Beck, Shawn Mendes, Hailee Steinfeld, Lionel Richie at the induction ceremony for Star on the Hollywood Walk of Fame for Sir Lucian Grainge, Hollywood Boulevard in Los Angeles on January 23, 2020 (Credit: Avalon / WENN)
Dating rumors flew around about them for a while, but they weren't ever public about their feelings for one another until 2016 when Justin posted a video of them kissing on his Instagram.
Shortly after this though, they came out to let everyone know that they weren't exclusive at all. Then, about six months later, they unfollowed each other on Instagram.
They started dating other people and cut off communication. The young stars didn't talk after that for about two years, until May of 2018.
In the exact same month, Hailey attended the Met Gala red carpet with Shawn Mendes. There were rumors floating around that they were dating at the time and fans were buzzing about the potential couple.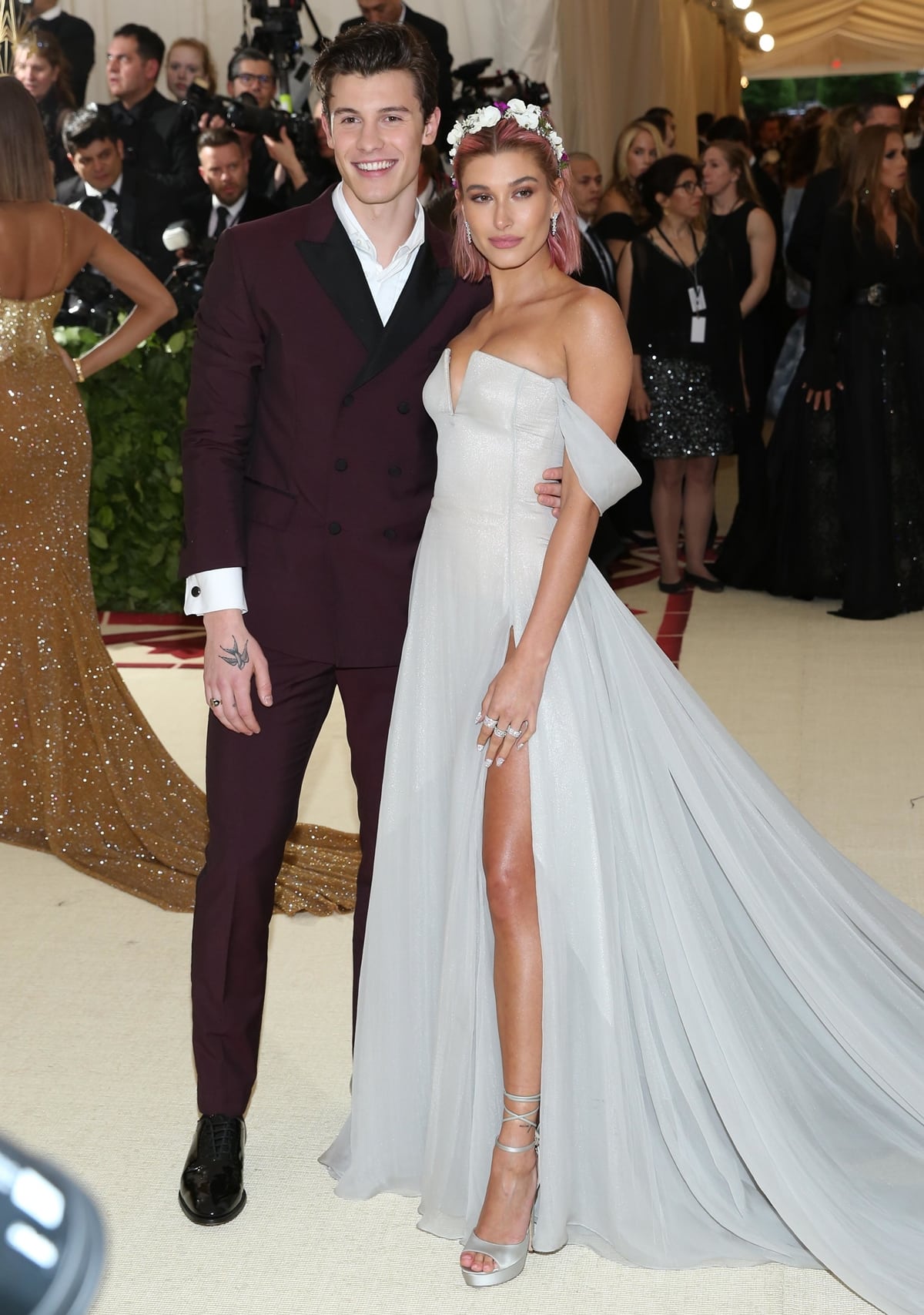 Hailey Baldwin and her boyfriend Shawn Mendes at the 2018 Met Gala held at the Metropolitan Museum of Art in New York City on March 7, 2018 (Credit: Andres Otero / WENN)
After reconnecting with Justin though, Hailey deleted every picture she had of her and Shawn from her Instagram. Sketchy?
By July of 2018, Justin and Hailey were engaged and by September it was rumored that they'd eloped. They confirmed their marriage in November of 2018 and Hailey changed her last name to Bieber on all of her socials.
They got married notoriously fast but have stated in multiple interviews that they wanted to live together and neither of them felt right about it until they were married, hence the rush. To each their own, I suppose.
So, how is Shawn still friends with them after Hailey deleted every trace of him and married Justin just months after ending things with him? Here's where it gets tricky.
Shawn and Hailey never actually confirmed their relationship. Shawn told Rolling Stone, "In the back of my heart, I feel like I need to go be seen with someone—like a girl—in public, to prove to people that I'm not gay," he said.
Hailey Baldwin in a green denim jacket and her boyfriend Justin Bieber head to a doctor's appointment on August 30, 2018, n Beverly Hills, California (Credit: JCR / WENN)
"Even though in my heart I know that it's not a bad thing. There's still a piece of me that thinks that. And I hate that side of me." So maybe they were always just friends after all.
Shawn and Justin have been friends for a long time and when asked about Justin and Hailey's relationship, Shawn said that he was happy for them and would sing at their wedding if they wanted him to.
"I get it, you know," he added about Justin and his ex. "I texted Hailey, 'Congratulations,' and I really am happy for them. She's still one of the fucking coolest people ever — she's not just a beautiful person visually, but she's one of the most beautiful hearts I've ever met."
In 2020, Justin and Shawn came out and released a song, "Monster", and performed it on the American Music Awards stage together. With all of the one-on-one time it takes to plan and record a song, it seems like they don't mind each other too much.
Hailey Baldwin wears her hair back at the 2016 Elton John AIDS Foundation's Oscar Viewing Party held on February 28, 2016, at The City of West Hollywood Park in West Hollywood (Credit: WENN / FayesVision)
When you put all of the pieces together, it seems like everyone is friends here. Shawn and Justin have been friends for a while and Hailey and Shawn were never serious if they ever even really had anything going on romantically.
Everyone is happy and there are no feelings hurt in this big, dysfunctional friendship. In July 2019, Shawn started dating Cuban-American singer-songwriter Camila Cabello.
In February 2016, Hailey Baldwin flirted with the British Formula One racing driver Lewis Hamilton at the 2016 Elton John AIDS Foundation's Oscar Viewing Party held at The City of West Hollywood Park.
Hailey Baldwin wears a show-stopping red Gabriela Cadena dress with matching lipstick (Credit: WENN / FayesVision)
The then 18-year-old model was on fire in a red custom-made cut-out gown from Gabriela Cadena and matching red lipstick.
She completed her statement-making ensemble with a show-stopping pair of sandals from Nicholas Kirkwood's Resort 2016 collection.
Hailey Baldwin and Lewis Hamilton pose for photos at the 2016 Elton John AIDS Foundation's Oscar Viewing Party (Credit: WENN / FayesVision)
Hailey's bow-embellished leather sandals were made in Italy and feature a single front strap and thin adjustable ankle strap.
They also feature origami-inspired crystal-embellished bow detailing at the heels.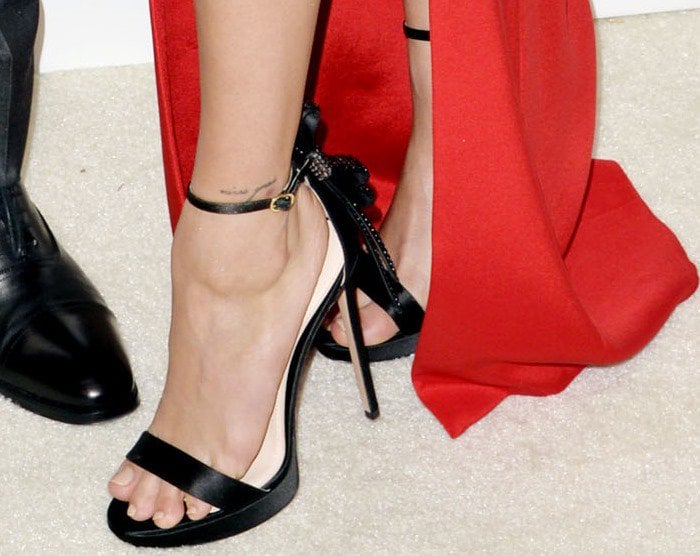 Hailey Baldwin's feet and foot tattoo in embellished black Nicholas Kirkwood sandals (Credit: WENN / FayesVision)
You can find them in black, metallic silver, and nude silk at Saks Fifth Avenue and Farfetch.
Nicholas Kirkwood Bow Embellished Faye Leather Sandals, $818 – $1,897