Shawn Mendes and Camila Cabello first sparked breakup rumors after walking the red carpet separately at the 62nd Annual Grammy Awards in 2020.
Although they put the rumors to rest by kissing at the after-party, they announced their split in November 2021.
The announcement was a matching post on their respective Instagram accounts saying: "Hey guys, we've decided to end our romantic relationship but our love for one another as humans is stronger than ever. We started our relationship as best friends, we all so appreciate your support from the beginning and moving forward."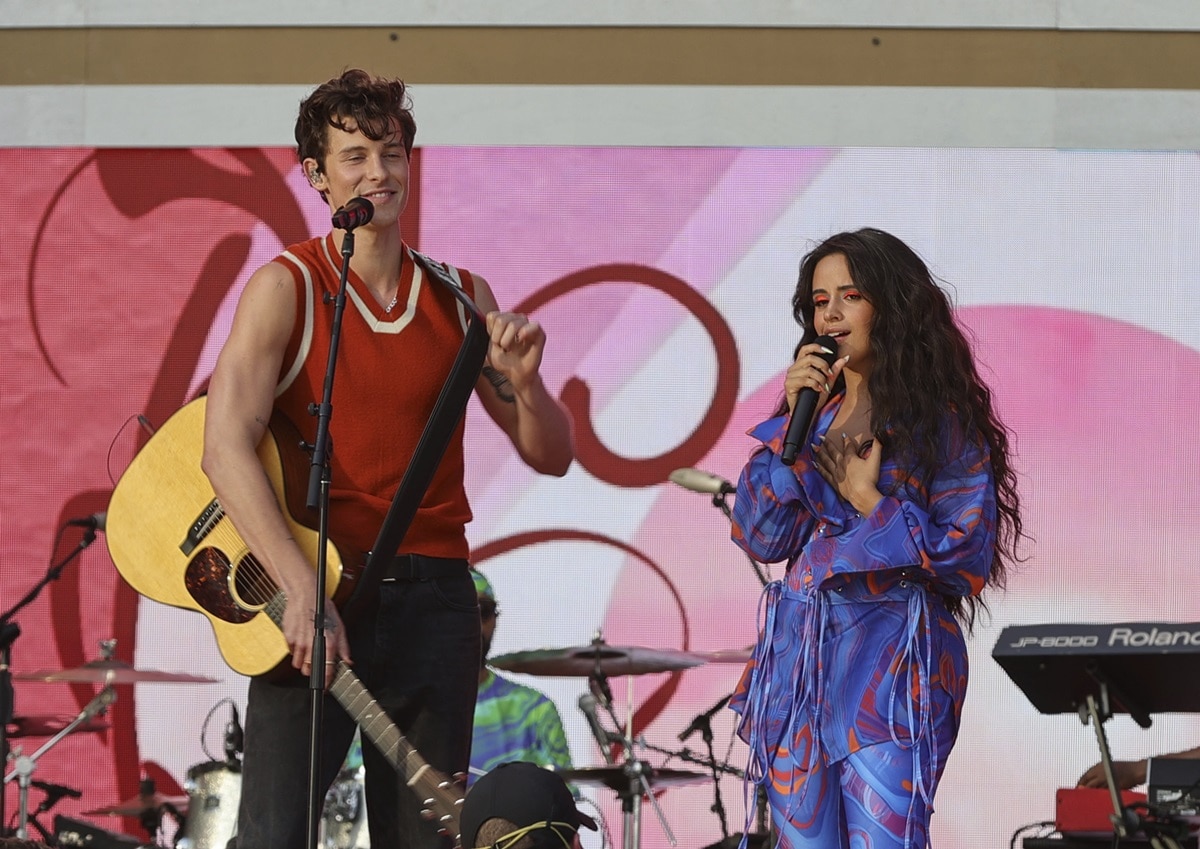 Camila Cabello and Shawn Mendes started dating in the summer of 2019 and announced their split in November 2021 (Credit: Luiz Rampelotto / EuropaNewswire / DPA / Cover Images)
The youngest entertainer on the Forbes Celebrity 100 list, Shawn Mendes reportedly made $38 million in pretax income from the period between June 2018 to June 2019.
His then-girlfriend Camila Cabello made much less and did not make the list. Mendes currently has an estimated net worth of $40 million, while his ex has less than half – $18 million.
At the 2020 Grammy Awards, Shawn and Camila were nominated for Best Pop Duo/Group Performance for their hit song Señorita. Prior to the telecast, the award was given to Lil Nas and Billy Ray Cyrus for their hit song, Old Town Road.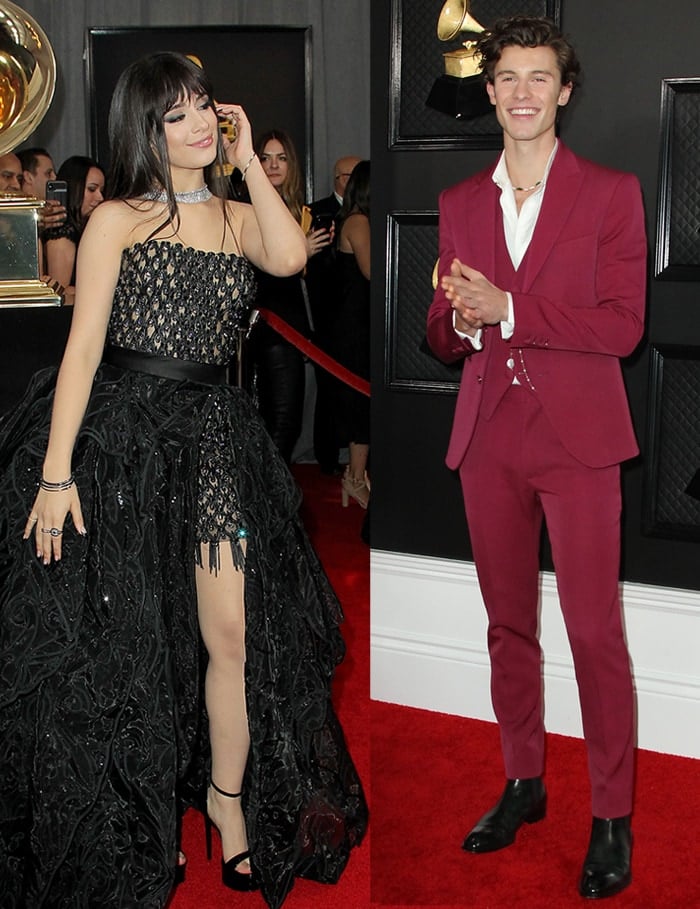 Camila Cabello and Shawn Mendes walk the 2020 Grammy Awards red carpet separately on January 26, 2020 (Credit: Adriana M. Barraza / WENN)
Shawn looked handsome in a magenta-colored three-piece suit from Louis Vuitton. He had his white shirt slightly unbuttoned to show a glimpse of his chest as well as his diamond and emerald necklace.
Shawn Mendes' Net Worth: $40 Million
His 2015 debut album Handwritten debuted at No. 1 on the Billboard 200 with first-week sales of 119,000 album-equivalent units.
Reportedly making $700,000 per stop of his sold-out Shawn Mendes The Tour, he ended the tour in Mexico City at the Palacio de los Deportes on December 21, 2019.
Shawn Mendes looks handsome in a Louis Vuitton magenta suit (Credit: Adriana M. Barraza / WENN)
The Canadian singer's estimated net worth was around $25 million dollars in 2020. He, therefore, increased his net worth in the last two years by just over 60%.
Camila Cabello's Net Worth: $18 Million
After getting her start with the American girl group Fifth Harmony, the Cuban-born singer/songwriter exploded onto the scene with the chart-topping single "Havana."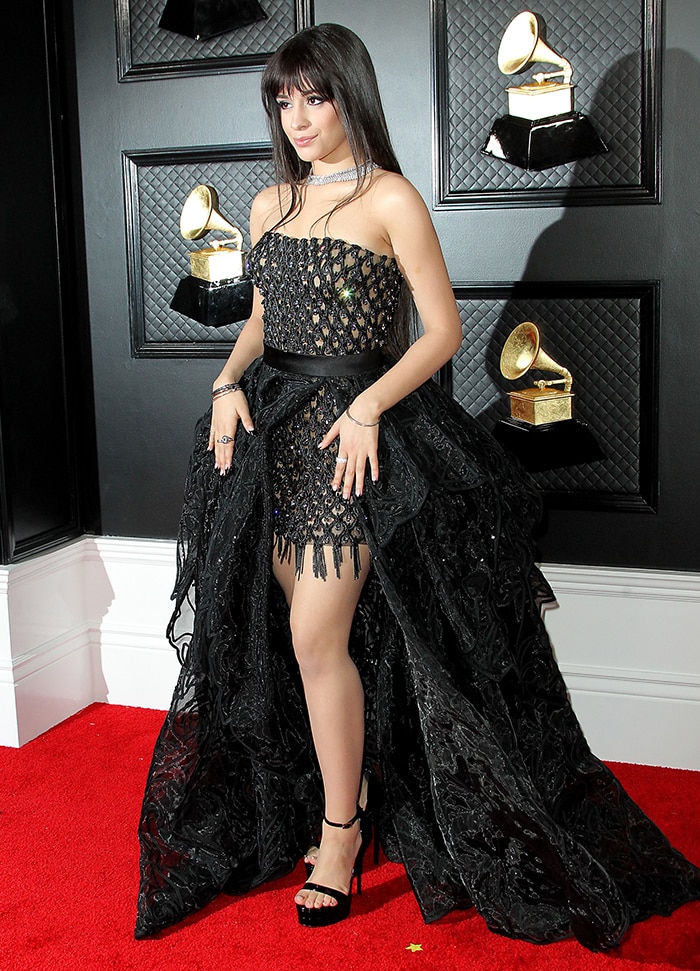 Camila Cabello shows off her legs in an Atelier Versace Swarovski-embellished dress (Credit: Adriana M. Barraza / WENN)
In June 2018, it became Spotify's most-streamed song ever by a solo female artist. Her estimated net worth was $12 million in 2020, meaning she increased it in the last two years by 66%.
Camila Cabello's Outfit at the 2020 Grammy Awards
Camila strutted her stuff in a black jewel-encrusted hybrid dress from Atelier Versace Fall 2019 collection. Using soutache (also known as Russia braid) technique, the strapless mesh mini dress is crafted by leather weaving, enriched with large black Swarovski crystals.
Camila put on a leggy display in her edgy outfit, which also includes a tiered sheer overskirt with a hand-embroidered Barocco motif.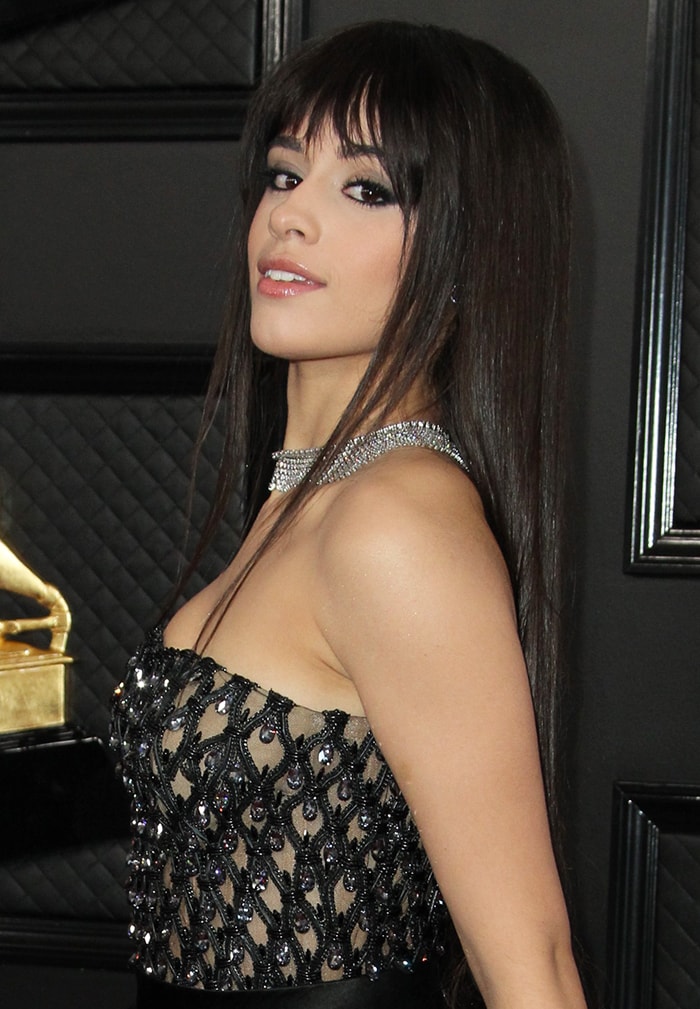 Camila Cabello wears sleek straightened locks with fringe and smoky eye-makeup (Credit: Adriana M. Barraza / WENN)
Rocking a modern and edgy look, Camila wore her tresses sleek straight with newly chopped bangs, courtesy of hairstylist Dimitri Giannetos.
Vietnamese makeup artist Patrick Ta used L'oreal cosmetics on Camila's face. He accentuated her eyes with waterproof black eyeliner, smoky eyeshadow, and mascara, and applied rosy blush on her cheeks and a swipe of natural-colored nude lip gloss.
She also had her nails done in black and pink polish, using Essie care of manicurist Kim Truong.
Camila Cabello accessorizes with Le Vian jewelry, including a $2-million choker necklace (Credit: Adriana M. Barraza / WENN)
Stylist Rob Zangardi added extra sparkle to Camila's look with Le Vian diamond jewelry. It included a $2 million Le Vian collar necklace, an $80,000 diamond tennis necklace, bangles, stud earrings, and a couple of rings.
To complete the look, Camila teetered on a pair of black patent leather platform sandals, also by Versace, boosting her 5'2" height by a few inches.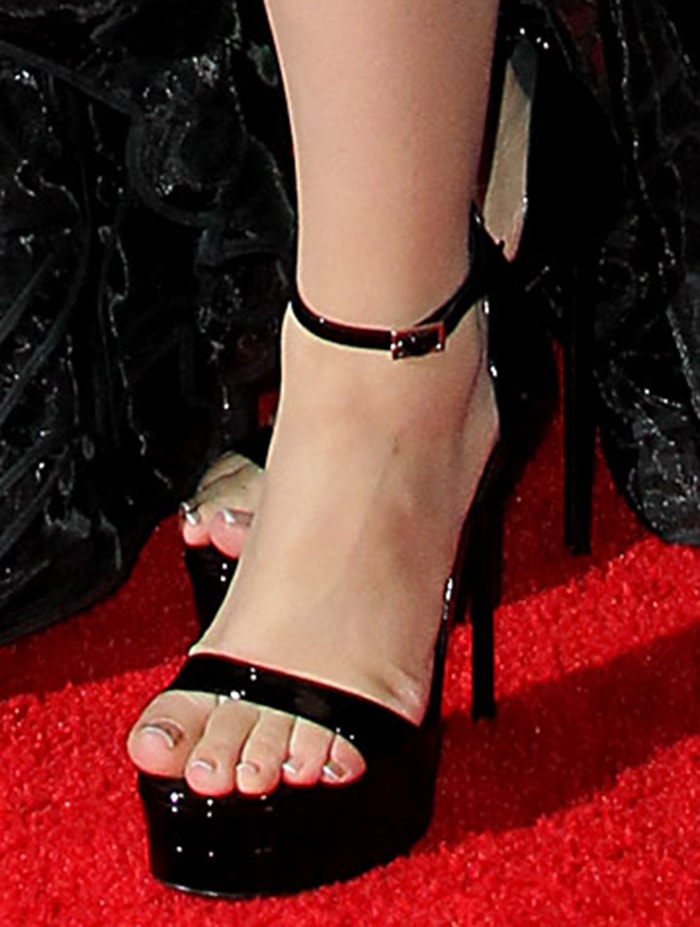 Camila Cabello shows off her feet in Versace platform sandals to boost her petite height (Credit: Adriana M. Barraza / WENN)
The then-22-year-old singer was one of the performers during the ceremony. Trading her edgy black dress for a girly pink custom Versace frock, she took to the stage to sing First Man, off her second studio album Romance.
While singing the song, videos from her childhood were shown in the background. She also went off the stage and sang the song to her father, Alejandro, who was emotional during her performance.
She paired her pink dress with matching Sam Edelman 'Yaro' sandals and Le Vian Peach Morganite earrings.
Sam Edelman 'Yaro' Sandals, $100 at Amazon and Nordstrom