Reality star Kourtney Kardashian joins the sustainability conversation with her partnership with Boohoo, which was suspended by Amazon in 2020 after accusations of slave labor.
According to a statement obtained by CNN, the company takes "extremely seriously all allegations of malpractice, poor working conditions, and underpayment of workers."
Kourtney Kardashian at the Boohoo x Kourtney Kardashian Barker Spring/Summer 2023 show during New York Fashion Week on September 13, 2022 (Credit: Jordan Hinton / ABACA / INSTARimages / Cover Images)
The same year, Boohoo denied using products made with the forced labor of Uighur Muslims in China.
In 2021, BBC reported that Boohoo faced the possibility of a U.S. import ban due to allegations about the use of slave labor in supplier factories.
Kourtney is now the sustainability ambassador for the online retailer, and what better way to announce said partnership than with a Matrix-Esque photoshoot?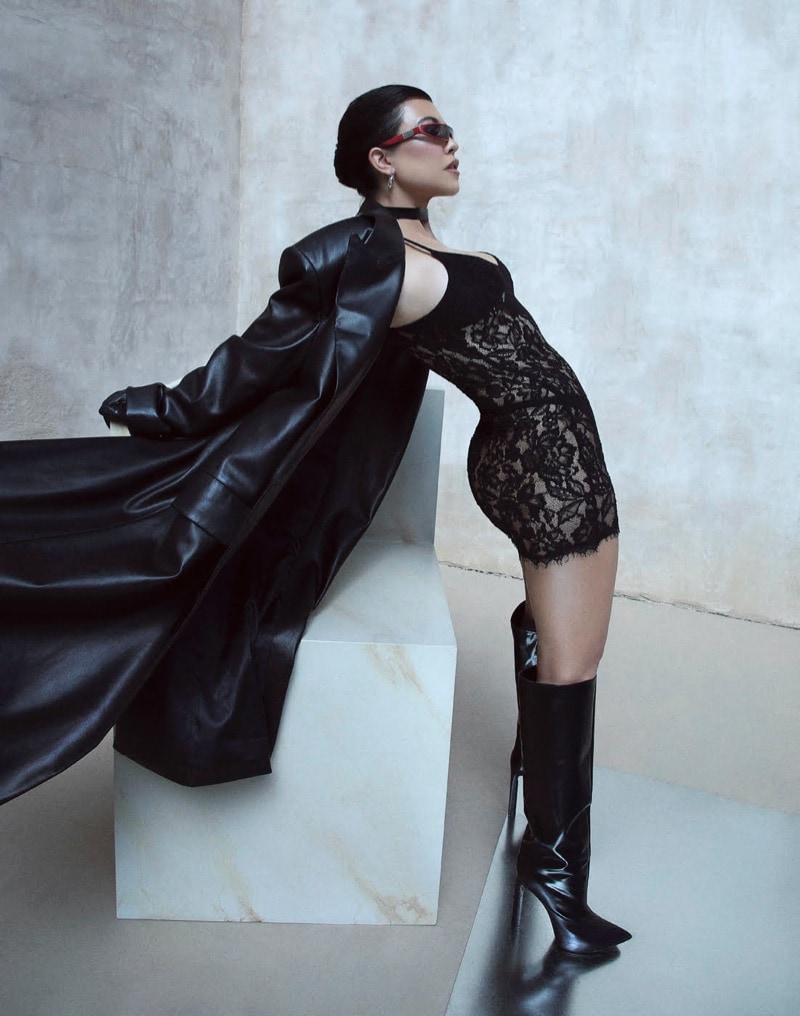 Kourtney Kardashian wearing a black coat, a black lace dress, and black boots (Credit: Daniella Midenge for Boohoo)
The 43-year-old brunette starred in the advertising campaign photographed by Daniella Midenge. She showed off some of the pieces from her collection, including a faux leather coat, a pinstripe suit, and a lace dress.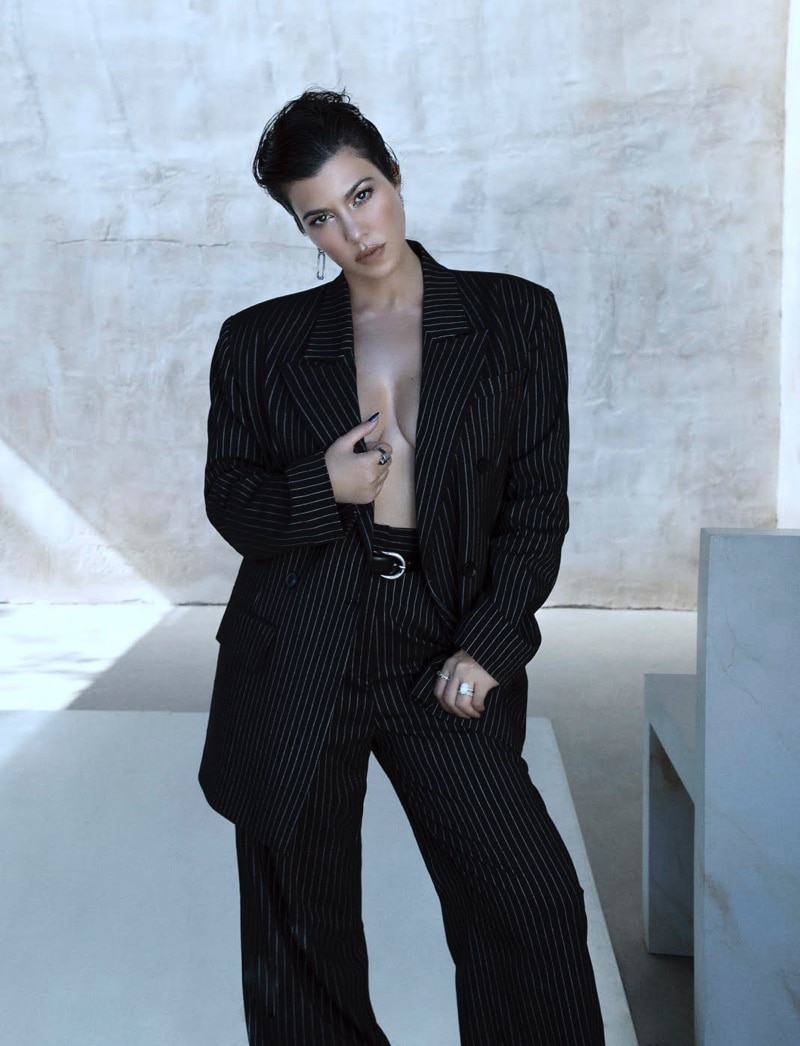 Kourtney Kardashian in a pinstripe suit sans bra (Credit: Daniella Midenge for Boohoo)
In the campaign, Kourtney wears all-black ensembles reminiscent of the popular sci-fi film franchise. She worked on two capsule collections with the retailer, and the first one consists of 45 different pieces with prices that range from $6 to $100.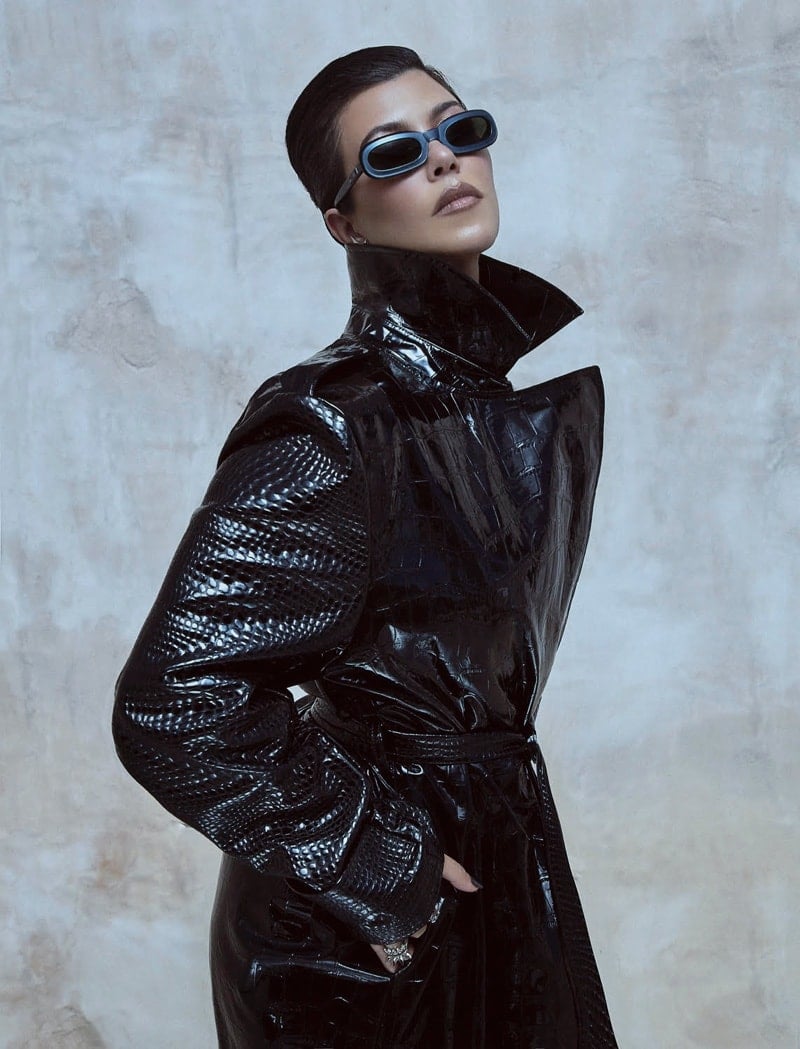 Kourtney Kardashian shows off her blue-framed shades and faux leather coat (Credit: Daniella Midenge for Boohoo)
Her interest in the partnership with Boohoo was backed by her claims of wanting to try her hand at sustainability practices.
For instance, 41 of the 45 items in her collection use recycled fibers, and the pieces can be worn and styled in a myriad of ways.
Kourtney Kardashian modeling her faux leather coat with pointy-toe boots (Credit: Daniella Midenge for Boohoo)
The capsule collection was unveiled during New York Fashion Week with Kourtney's husband Travis Barker in attendance to show his support.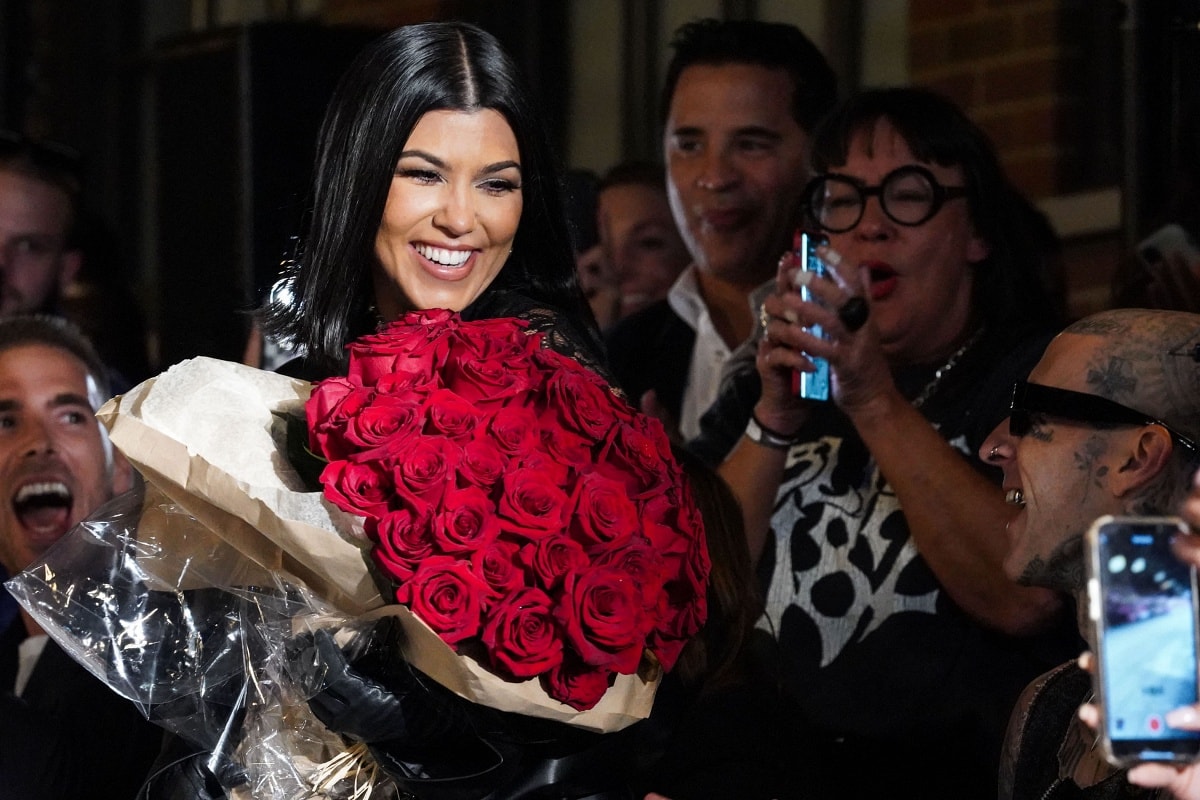 Kourtney Kardashian with husband Travis Barker and a bouquet of roses at New York Fashion Week (Credit: Jordan Hinton / ABACA / INSTARimages / Cover Images)
Available exclusively on Boohoo, the collaboration is a first for the retailer in terms of sourcing vintage. They worked with John Hickling of Glass Onion, a wholesale vintage company, to do so.
According to Carol Kane, co-founder and executive director of the Boohoo Group, "Together, we've produced an amazing collection that reflects both Kourtney's unique style and her passion to improve the sustainability of the fashion sector."
View this post on Instagram
She added that they're aware that their consumers "are keen to improve their knowledge in order to help them make more informed buying decisions."
As is the case with every member of the Kardashian-Jenner clan, there's always some controversy.
Kourtney's partnership with Boohoo was criticized for speaking about sustainability while working alongside a fast-fashion company.
In a statement, Kourtney said that she was "concerned about the effects of the fast-fashion industry on our planet" when she was first approached by Boohoo for a collaboration.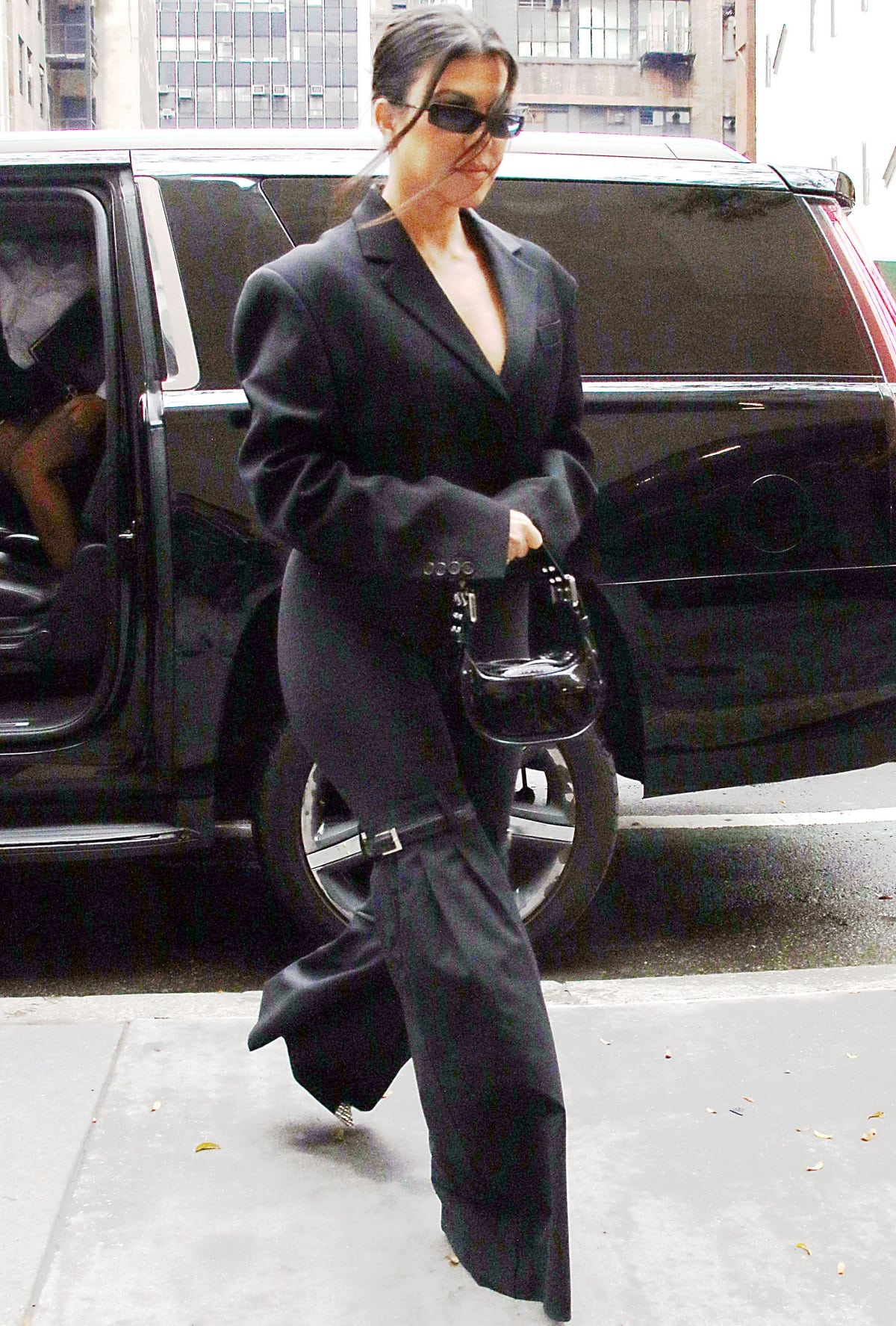 Kourtney Kardashian wearing an oversized blazer with Coperni hybrid flared trousers and a By Far shoulder bag outside the Today Show studios in New York City (Credit: Roger Wong / INSTARimages / Cover Images)
"Boohoo responded with excitement and a desire to incorporate sustainable practices into our line. It's been an enlightening experience speaking directly with industry experts," she continued.
"I'm grateful for the opportunity to use my platform to drive conversations that lead to ongoing change and use my voice to share actionable tips with consumers on how we can play our own part."
Kourtney added that there are "lots of work to be done and improvements to be made, but I truly believe that any progress we can make when it comes to sustainability is a step in the right direction and will open up the conversation for future advancements."
View this post on Instagram