The shortest of the Kardashian sisters and measuring just 5ft 0 (152.4 cm), Kourtney Kardashian often wears high heels to look taller.
Kourtney Kardashian looks tiny next to her much taller mother, Kris Jenner, and her sisters, Khloé Alexandra Kardashian, Kylie Jenner, Kim Kardashian, and Kendall Jenner (Credit: INFevents)
In interviews, Kourtney Kardashian normally claims to be 5′ 1″ (155 cm). "So… @khloekardashian measured me and I'm actually 5'1″ guys, I grew an inch. Update Wikipedia," she tweeted in 2016.
Kourtney Kardashian claims on Twitter that her real height is 5′ 1″ (155 cm) (Credit: Twitter)
In 2009, Kourtney Kardashian discussed her short height in an interview with Female First.
You know, one time I made Khloe stand at my height and it looked so weird. I'm like 5'0″ tall and one thing that annoys me is people calling Khloe a 'giant' because she's like 5'9″, but that's just normal – most women would die to be her height!

So anyway, when she's there stood at my height just looking all around her, she's like "it's so… weird." She looked so weird – I was like, "you could never be this height, it just doesn't go with you!"
Khloe Kardashian, Kourtney Kardashian, Kim Kardashian, Kris Jenner, and Kylie Jenner arrive at the Cosmopolitan Magazine's 50th Birthday Celebration at Ysabel on October 12, 2015, in West Hollywood, California (Credit: Kathy Hutchins / Shutterstock)
In an episode of The Kardashians that aired in October 2022, Kourtney Kardashian revealed she used to be "stuck on the number" on the scale, but is now "so into" her fuller figure.
"So obviously my body's changed. But it was all of the hormones that the doctors put me on," the 43-year-old reality star said on the show.
"Eight months of IVF treatment has definitely taken a toll on my body mentally and physically. I think it's taken me a lot to get me to the place of feeling really comfortable and happy with the changes."
"Every day, Travis is like, 'You're perfect,'" she said of her husband's support. "If I make one complaint, he's like, 'You're perfect. You're so fine… You've never been better.'"
Kourtney Kardashian looks petite standing next to Cher and Kim Kardashian at the premiere of The Promise on April 12, 2017, in Hollywood, California (Credit: Kathy Hutchins / Shutterstock)
"Having a partner who is so supportive of me and always complimenting me, no matter what, it's just helped me to really embrace the changes and actually to the point where I love the changes now," Kardashian added about Travis Barker, who measures 5ft 9 ½ (176.5 cm).
"I'm so into my thicker body," Kardashian claimed during the episode. "When I was super skinny, it's like a time when I was super anxious… Not about eating. Not about staying at a certain weight. But, like, just in toxic relationships. I used to always say this: When I'm super skinny, just know I'm not happy."
"I used to be, like, 95 lbs.," the Poosh founder added about her weight. "And then 105 became my new normal weight. I'm 115. I used to be stuck on the number," she added. "I also love being curvier. It's just channeling that queen energy and embracing the woman that I am."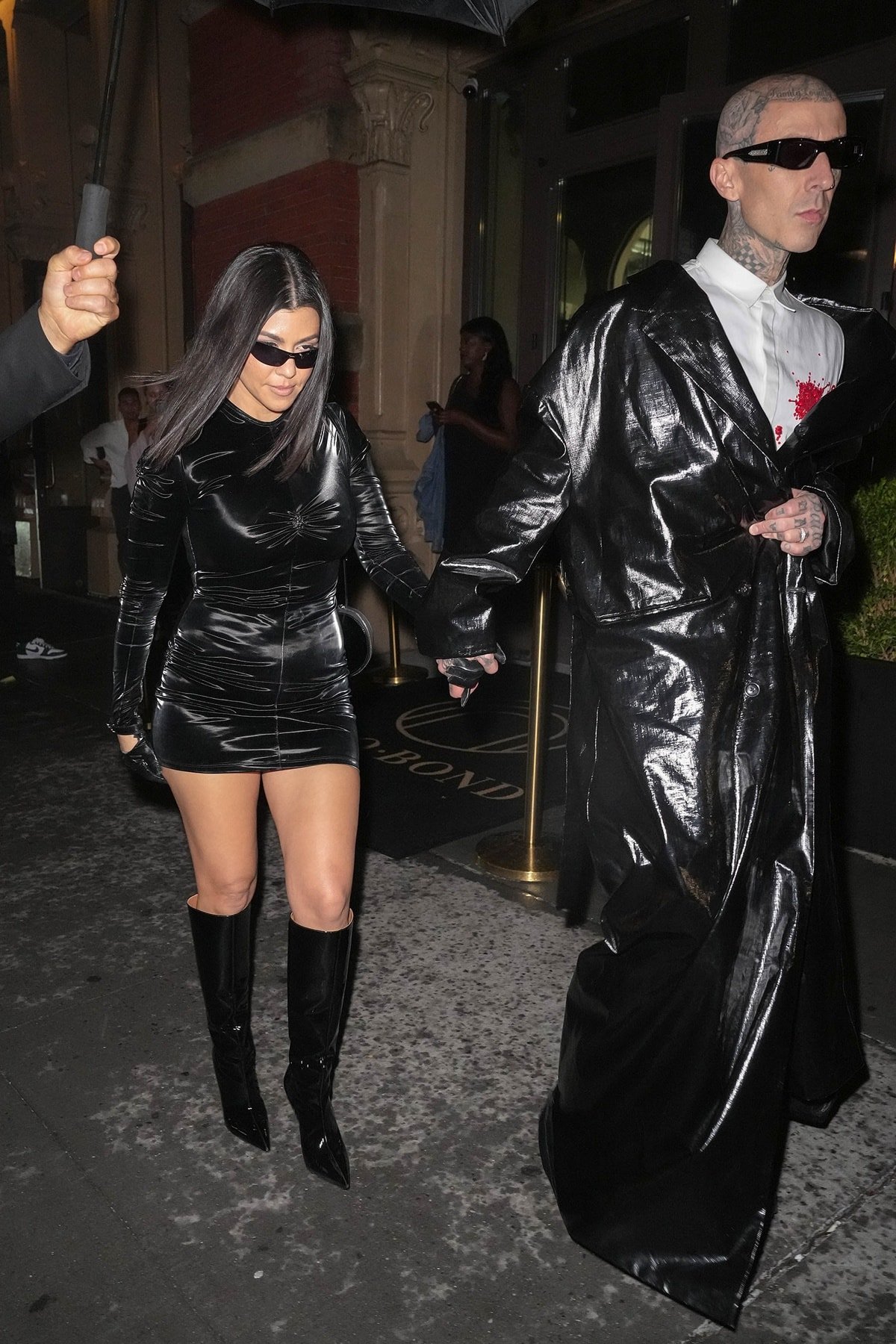 Kourtney Kardashian is much shorter than her husband, Travis Barker (Credit: Michael Simon / Startraksphoto / Cover Images)
In a 2011 interview with Elle, Kourtney revealed how she feels about being short and how it impacts the way she dresses.
"Kim looks good in dresses that go to her knee—she's a few inches taller than me and has more curves. Khloé is 5'9″ without heels and looks great in anything—especially short skirts or long pants that show off her legs. I'm five feet tall—I'm very petite—so for me, if I'm wearing a skirt or dress, it needs to be short or else it makes me look frumpy. I need to wear either something really short or a maxi dress; anything in between just looks weird."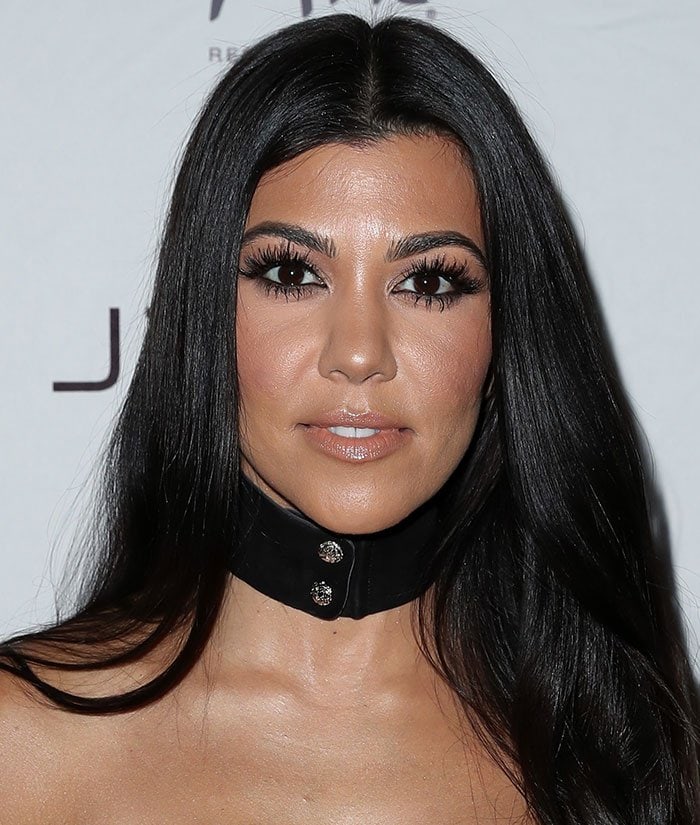 Kourtney Kardashian wears her dark hair down at the Jewel Nightclub at ARIA Resort & Casino Grand Opening Weekend held May 21, 2016, in Las Vegas (Credit: DJDM / Judy Eddy / WENN)
In May 2016, the then-37-year-old reality TV star showed ex-Scott Disick what he was missing when she stepped out to celebrate the grand opening weekend of Jewel Nightclub at Aria Resort & Casino in Las Vegas.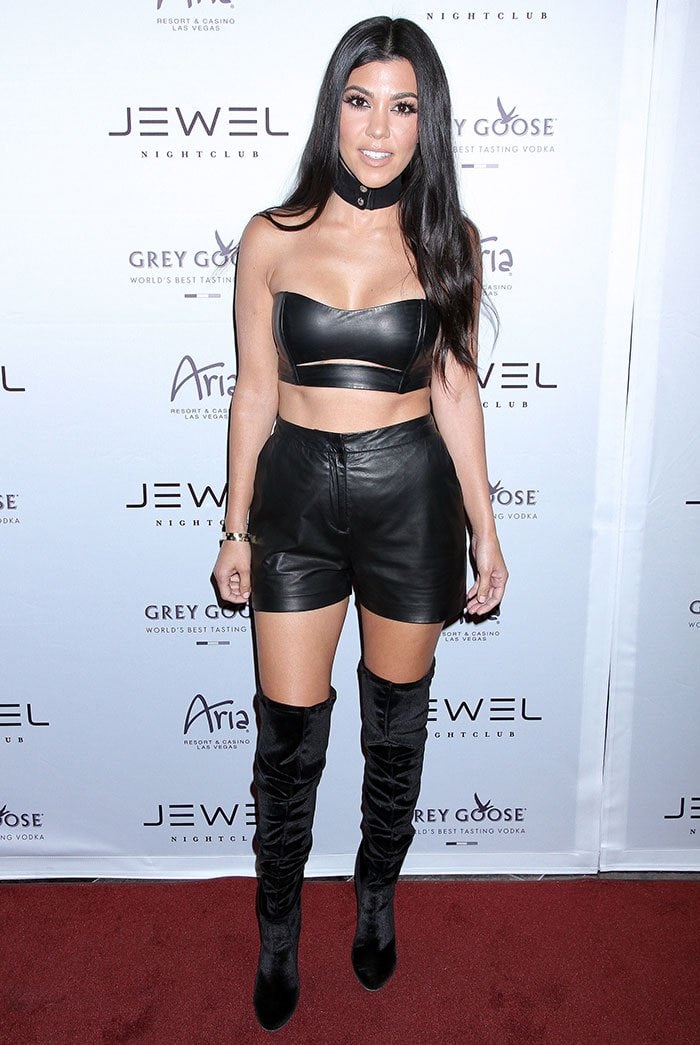 Kourtney Kardashian shows off her dominatrix-style black leather ensemble on the red carpet of a Las Vegas nightclub opening (Credit: DJDM / Judy Eddy / WENN)
It was no secret that the mom of three had been spending a lot of time in the gym. And for the night out, she flaunted the impressive results of her intense workout.
The eldest of the Kardashian siblings was oozing hotness in a dominatrix-style leather ensemble that put her abs and cleavage on display.
She wore a leather bandeau top from August Getty Atelier's Fall 2015 collection and a pair of leather shorts by Proenza Schouler.
Kourtney Kardashian pairs an August Getty Atelier leather bandeau with Proenza Schouler leather shorts (Credit: DJDM / Judy Eddy / WENN)
Kourtney played up the bondage vibe of the look by accessorizing with a leather choker and a pair of racy thigh-high boots.
She wore her long, dark tresses down in waves and kept her makeup looked equally fierce with smoky eyeshadow, dramatic lashes, and nude lipstick.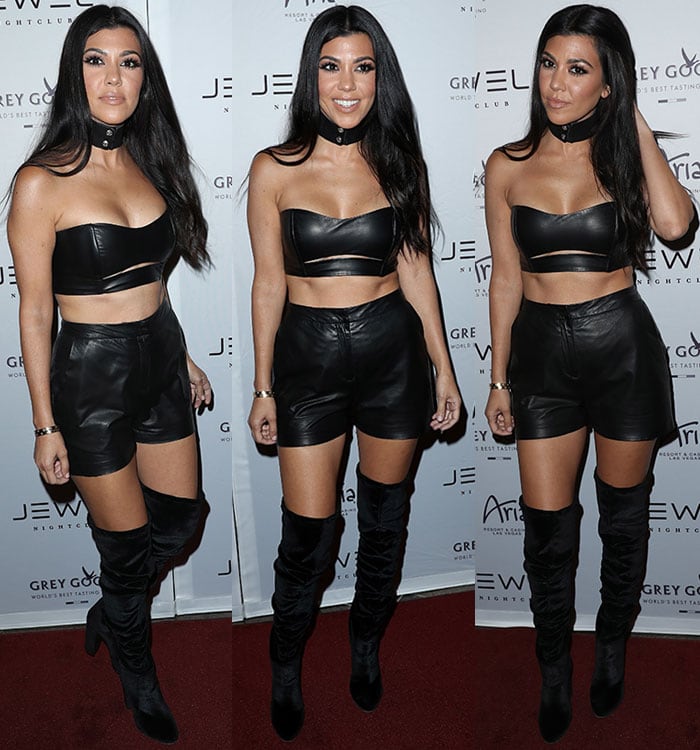 Kourtney Kardashian shows off her cleavage and abs in a bondage-style ensemble (Credit: DJDM / Judy Eddy / WENN)
Kourtney picked a pair of over-the-knee boots by Aquazzura to complete her look.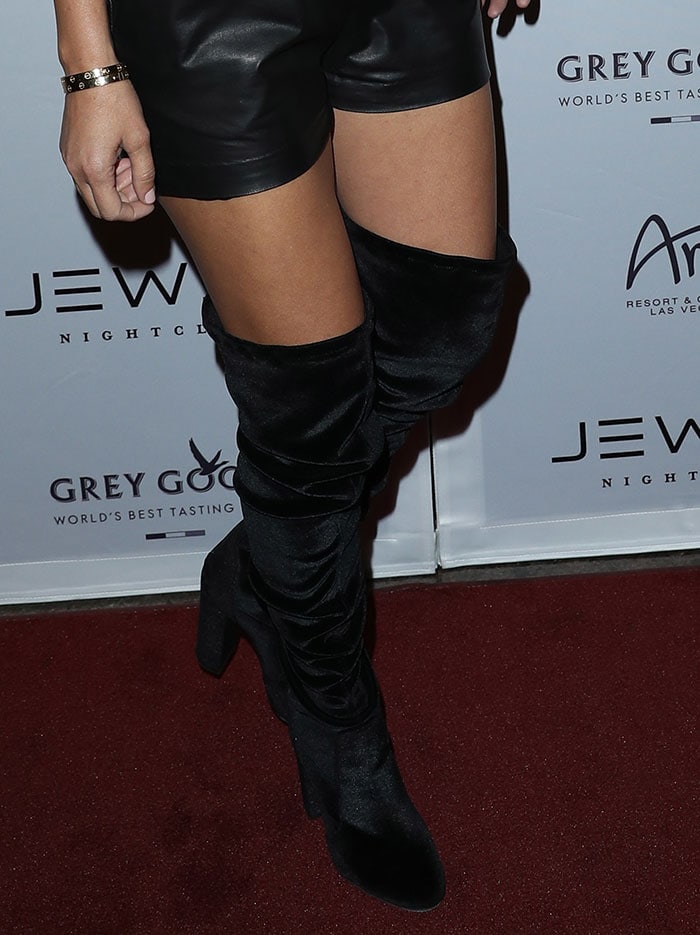 Kourtney Kardashian wears thigh-high velvet Aquazzura boots (Credit: DJDM / Judy Eddy / WENN)
They are made of velvet — a key fabric in the label's Fall 2015 collection — and feature zip fastenings along the back and four-inch block heels.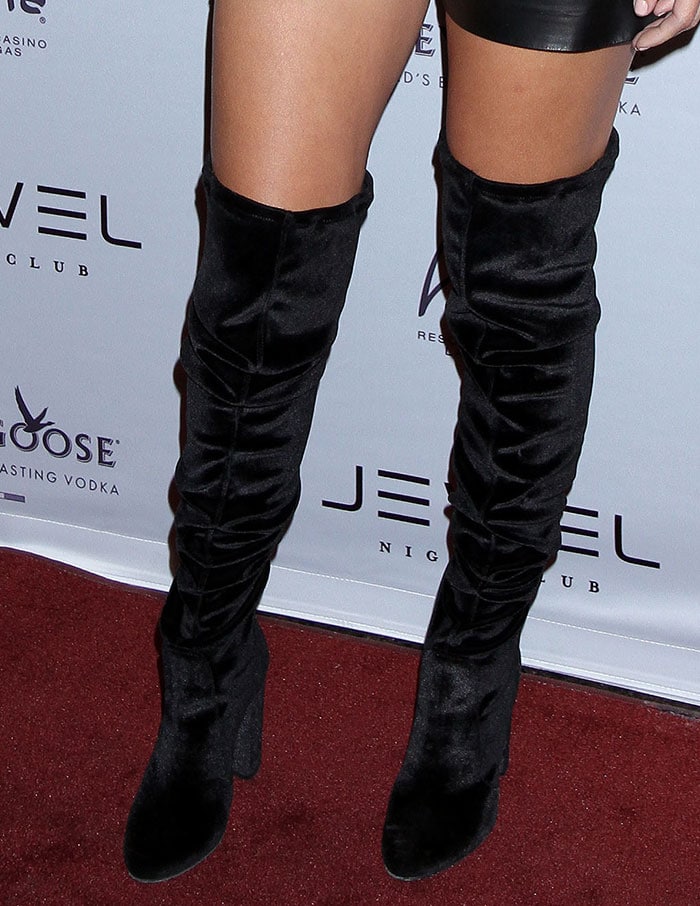 Kourtney Kardashian wears dominatrix-style Aquazzura thigh-high boots (Credit: DJDM / Judy Eddy / WENN)
Unfortunately, these boots are already sold out.
Aquazzura Velvet Over-the-Knee Boots, $398