Kourtney Kardashian, famous for her role in Keeping Up with the Kardashians, recently reposted photos of her vacation in Portofino, Italy.
This trip was a romantic escape with her boyfriend back in August 2021. The bodacious model's selfie features a unique crisscross cut-out black thong bikini that shows off all of her curves.
She also reshared some pictures of wine, boats, and a cute little stairway with potted flowers.
View this post on Instagram
Did she wear the same swimsuit already? Just one year after welcoming her eldest child into the world, the eldest Kardashian sister flaunted her physique with a happy smile.
Kourtney Kardashian appeared in a Vegas Magazine back in June 2010, wearing a very similar cut-out black swimsuit, showing off her rocking mom body with black high heels.
View this post on Instagram
At the time of the trip to Italy, the paparazzi were able to get a few photos of the couple enjoying their time together. Travis and Kourtney were seen enjoying the scenery and being intimate despite other people enjoying their vacations nearby.
There are pictures online showing Kardashian lying on top of her now-fiancé in her revealing swimwear. Kourtney stated that she has no shame in her public displays of affection.
She also said that her children need to see what a healthy, loving relationship looks like, and kissing and hugging are nothing to be ashamed of.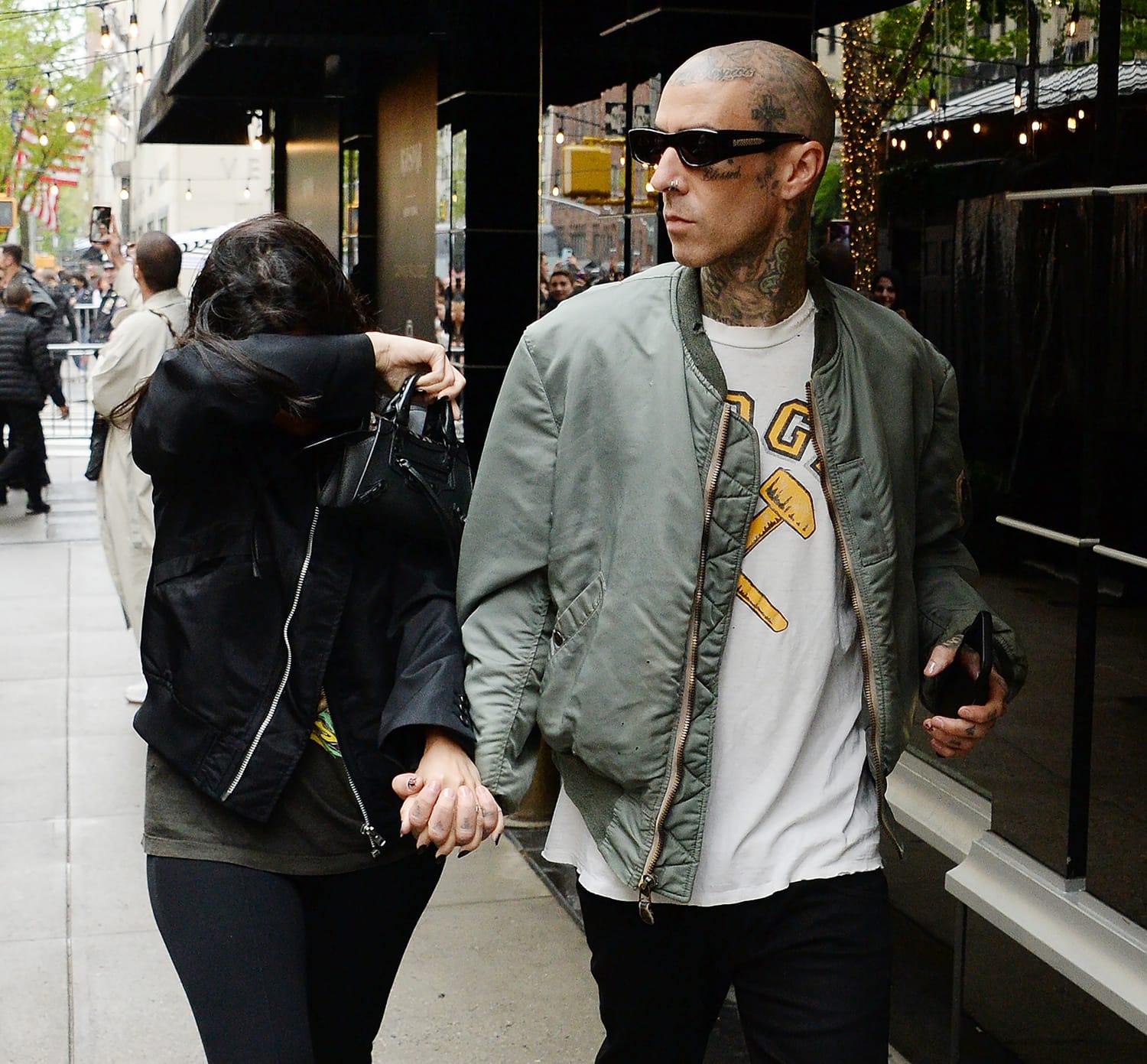 Kourtney Kardashian pretends to be shy on a date with Travis Barker in New York City on May 2, 2022 (Credit: MEGA / WENN)
A few months after their romantic getaway in Italy, Travis proposed to Kourtney in California.
He had prepared a heart-shaped rose display on the beach at the Rosewood Miramar hotel in Montecito, complete with candles. People close to the couple have shown public support, including Kim Kardashian, as she tweeted, "KRAVIS FOREVER."
Kourtney Kardashian and Travis Barker, the drummer for Blink-182, started dating publicly in early 2021. Since they've revealed their relationship, they confirmed that they'd been together since October 2020.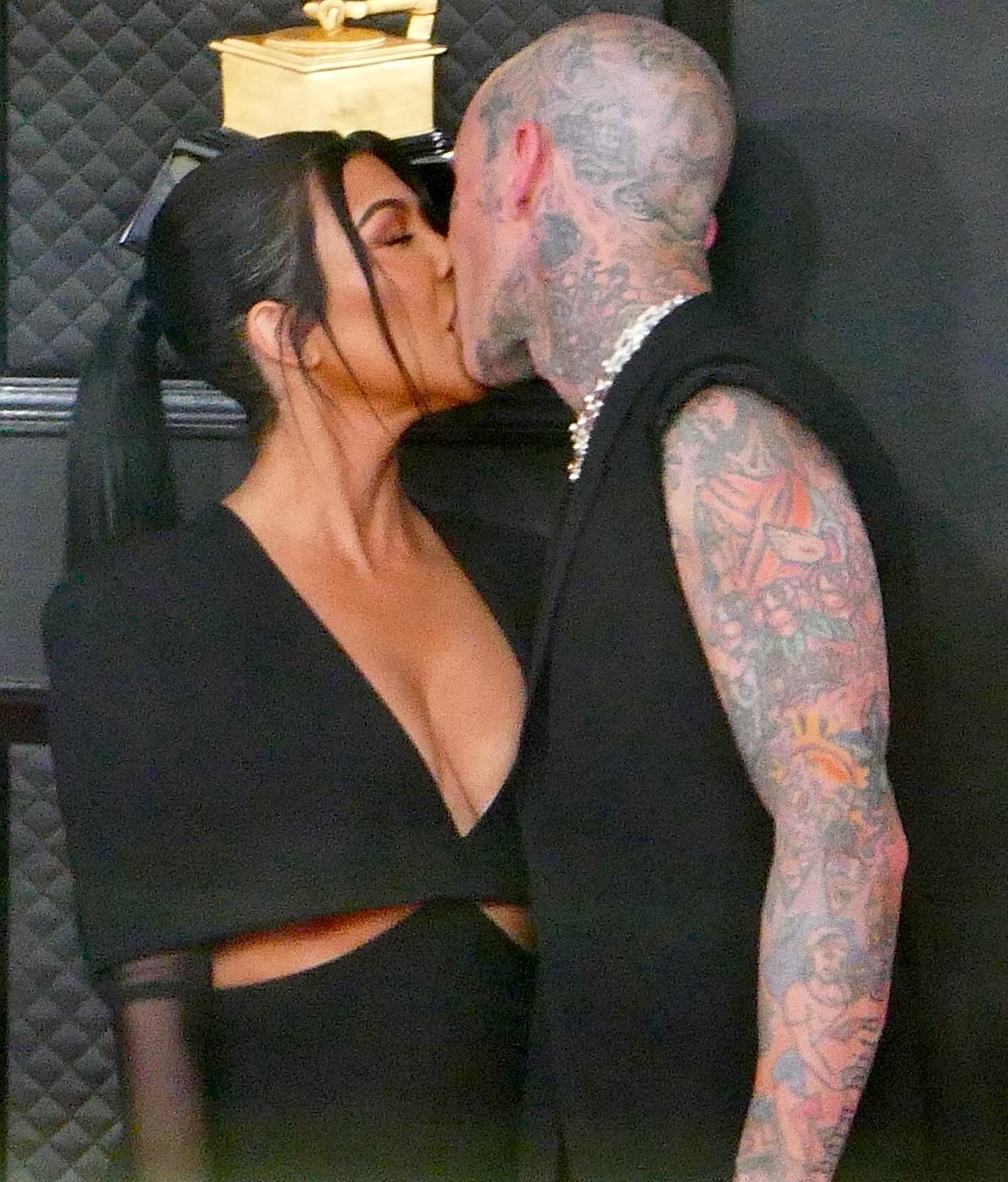 Kourtney Kardashian and Travis Barker kiss at the 64th Annual GRAMMY Awards at MGM Grand Garden Arena on April 3, 2022, in Las Vegas, Nevada (Credit: MEGA / WENN)
Kourtney met Travis in 2006, but they didn't spend much time together as friends until 2017. That's when Barker moved into the same neighborhood as the Kardashians. Kourtney had said that their children from previous relationships had gotten along since before they started dating.
Kourtney seems to be a big fan of the revealing cut-out style. For the premiere of their new Hulu series, the reality TV star showed up wearing a black dress that showed off her stomach.
Kourtney Kardashian in a Valentino Fall 2022 cutout dress and Travis Barker at the Los Angeles premiere of Hulu's new show "The Kardashians" at Goya Studios on April 7, 2022, in Los Angeles, California (Credit: MEGA / WENN)
Likewise, Travis Barker and their four children from previous relationships wore all black, presenting the new family with matching outfits.
Kourtney was invited to the Met Gala for the first time in 2022. Travis wore a unique black suit with a white waistcoat and bowtie.
Kourtney wore a matching outfit designed by American fashion designer Thom Browne that showed off her upper abs with a revealing crop-style top.
Kourtney Kardashian and Travis Barker leave the Ritz Carlton Hotel on their way to the Met Gala in New York City on May 2, 2022 (Credit: MEGA / WENN)
Kourtney stated that her outfit was supposed to look like a deconstructed version of her future husband's look.
They also had their nails decorated with each other's initials. Of course, the couple was seen displaying their affections for each other on the red carpet.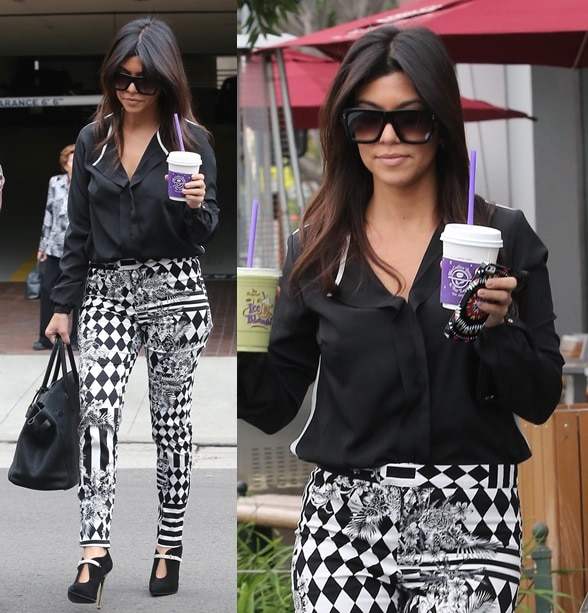 Kourtney Kardashian carries a Hermes Birkin bag to grab some coffee in West Hollywood on November 12, 2013 (Credit: WENN)
In November 2013, we saw Kourtney Kardashian dolled up in black and white. The reality TV star grabbed coffee with her man, Scott Disick in West Hollywood.
Kourtney's boldly printed Balmain pants were very hard to ignore. They stood out from a distance and shouted, 'look at me'.
But ever the fashion aficionado, the American television personality, socialite, businesswoman, and model styled her trousers with panache by pairing them with a classic black button-down Kardashian Kollection colorblock blouse and matching black booties.
Speaking of the booties, we could not stop staring at them. They were sleek, luxe, and one of a kind. Check out zoomed-up shots of Kourtney's heels below to understand why we were utterly fascinated.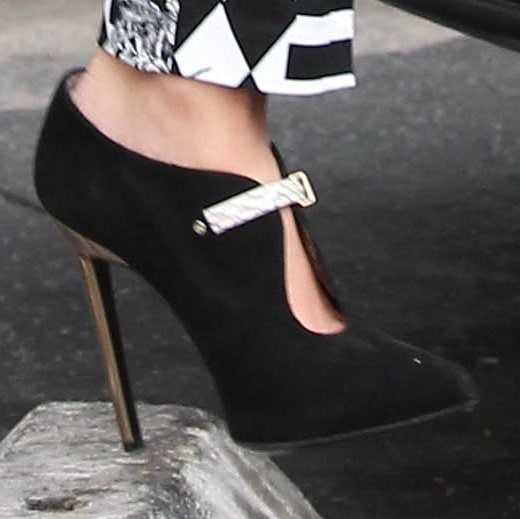 Kourtney Kardashian shows off her black high heels (Credit: WENN)
These heels are some seriously stunning footwear. Do you agree?
She also carried a black Hermes Birkin bag and sported Dita Creator oversized wayfarer sunglasses.
Kourtney Kardashian styled her skinny harlequin pants with Roberto Cavalli ankle booties (Credit: WENN)
We hear they're from Roberto Cavalli, though we cannot officially confirm that because we could not find the style online.
We did, however, find a pair of Casadei pumps at Farfetch with almost the same silhouette as Kourtney's shoes.
They're called the "BladeOne" and are made of textured leather. They also feature 4.5-inch tall flat blade-like heels (hence the name).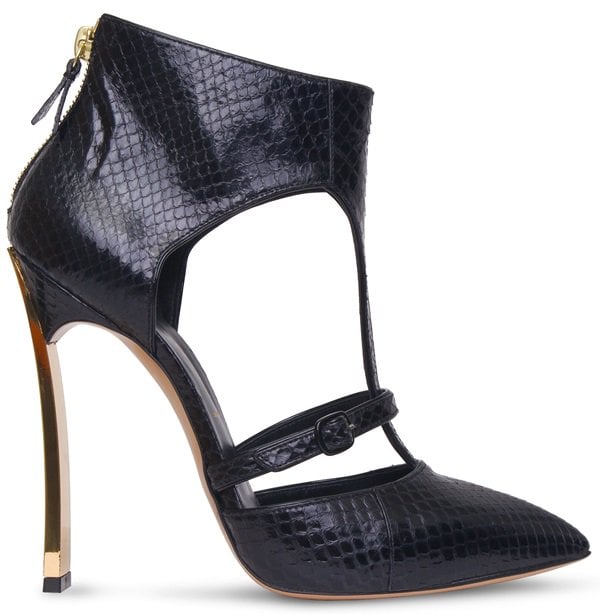 Black and Gold Casadei 'BladeOne' Pumps, $1,052
In any case, you really need not spend hundreds of dollars to steal Kourtney's look. Printed trousers are easy to find. And we're pretty sure you have a black blouse in your closet.
Put those two together and cap off the combo with any of these look-alikes from Zappos that are certainly a lot more affordable than a pair of Casadei booties: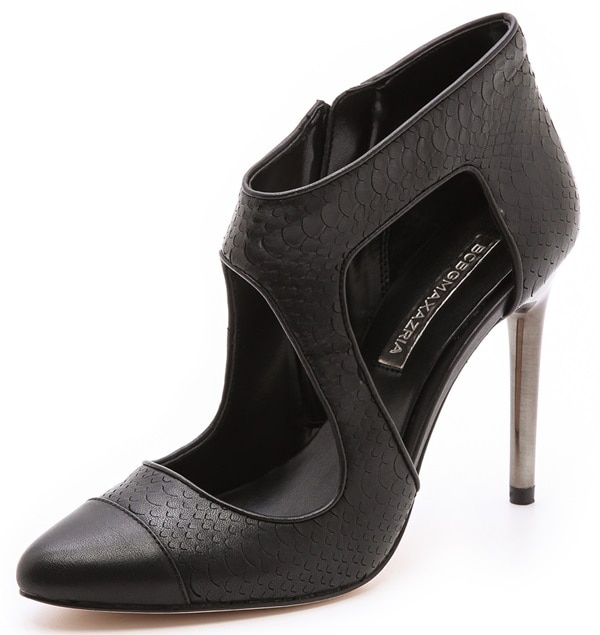 BCBGMaxAzria Trill Cap Toe Booties, $250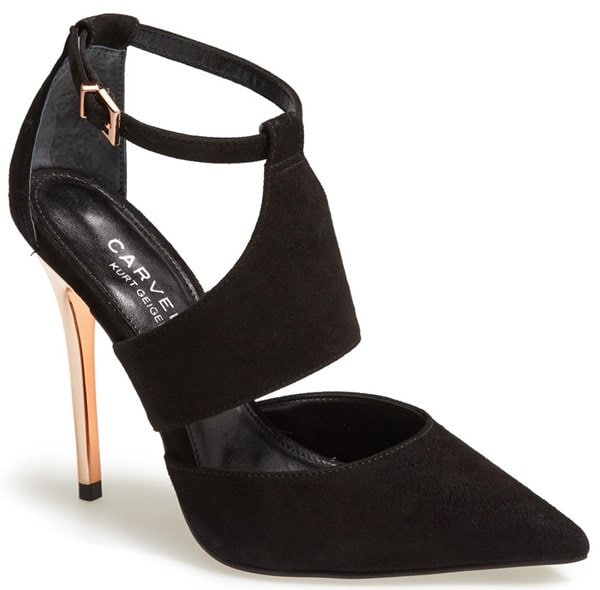 Carvela Kurt Geiger Gang Pumps, $200