Everyone's favorite celebrity couple this year is Kourtney Kardashian and Travis Barker.
The short reality television star and her rockstar fiancé took the world by storm in early 2021 when they announced they were dating with Kris Jenner's approval. By the end of the year, they were engaged.
View this post on Instagram
Their relationship has been full of steamy Instagram photos that have everyone blushing at their PDA. But the couple doesn't seem to care, only continuing to post photos boasting their intimate love affair.
Here are some of the most passionate moments Kourtney and Travis have posted online:
1. A Kiss in the Pool
View this post on Instagram

Kourtney and Travis shared a quick kiss, but not so quick that the camera couldn't capture it. While lounging in a pool, a shirtless Barker planted a kiss on Kardashian who was donning a fun purple swimsuit.
2. Taking Their Love Abroad
While on a boat in romantic Italy, Kardashian and Barker posed for the camera, hiding their faces in what seems to be another steamy kiss.
View this post on Instagram
If you look closely, you can see Barker's tattooed hand on his now-fiancé's rear while the two are sunbathing under the Mediterranean sun.
3. A Kiss in the Hall
All that's missing is some mistletoe! The lovely couple stopped under a door frame to squeeze in a kiss while holding each other's hands.
View this post on Instagram
Barker was sporting his signature look, shirtless with a hat, while his lady was dressed and her signature all black, looking gleeful as ever to be snuggled up against him.
4. Cuddling in Mexico
For Kourtney and Travis, there's no wrong place to snuggle, even on steps in the middle of Cabo San Lucas.
View this post on Instagram
While dressed up in a black and white striped dress and heels, Kardashian sat on the lap of her lover who affectionately nuzzled her neck for a cozy moment in Mexico.
5. Getting Hot at Halloween
The couple paid homage to the film True Romance by posing for a picture to show off their very own true romance.
View this post on Instagram
Kardashian looks positively smitten, even when in character.
6. Magic Mirrors
In many pictures that Kourtney and Travis post, it can be difficult to see exactly how they are touching one another.
View this post on Instagram
But thanks to this mirror in what appears to be a hotel hallway in Las Vegas, we get a glimpse of exactly what Barker is doing to the model.
7. Steamy in the Studio
Barker has been busy collaborating with his friends to make some new music.
View this post on Instagram
And from the looks of it, he got a visit from his girl. And in true Kardashian fashion, she didn't leave without marking her territory on the drummer.
8. Travis's New Tattoo
Although this isn't a traditional form of PDA, it is one of the sweetest. Barker is clearly a fan of tattoos, and he let his fiancé add to his collection by applying the tattoo herself.
View this post on Instagram
In her handwriting, she permanently penned "I love you" on the musician's body, serving as the most public display of affection, as she doesn't need to be there for everyone to see their devotion.
Travis and Kourtney's passionate relationship isn't for everyone, but it's clearly working for them.
Kourtney Kardashian wore a classic Balenciaga biker jacket (Credit: 3rd Eye / WENN)
In June 2015, Kourtney Kardashian was holding the fort down with three bouncing babies at her knee. It was not surprising to see fewer and fewer photos of her outside of the Kardashian-Disick mansion.
Kourtney Kardashian and Scott Disick finally broke up for good a few weeks earlier.
Kourtney was mostly seen making trips to ballet classes and semi-shopping with a baby stroller in tow, but on a Friday evening she finally showed up for a dinner date with a friend at Craig's restaurant sans baby wipes and diapers.
Kourtney Kardashian refused a party invitation from Scottie Pippen (Credit: 3rd Eye / WENN)
Interestingly, after exiting the restaurant and hopping into her awaiting car, Kourtney got a knock on her window by none other than the legendary Scottie Pippen, a retired American professional basketball player with a net worth of $20 million dollars.
The former NBA star asked where the two were going afterward, which the Kardashian shot down by saying, "We are literally going home." Boo.
Khloé would have gone. Misunderstandings aside, the two are actually friends since Kourtney is reportedly close to Scottie's then-wife, Larsa Pippen.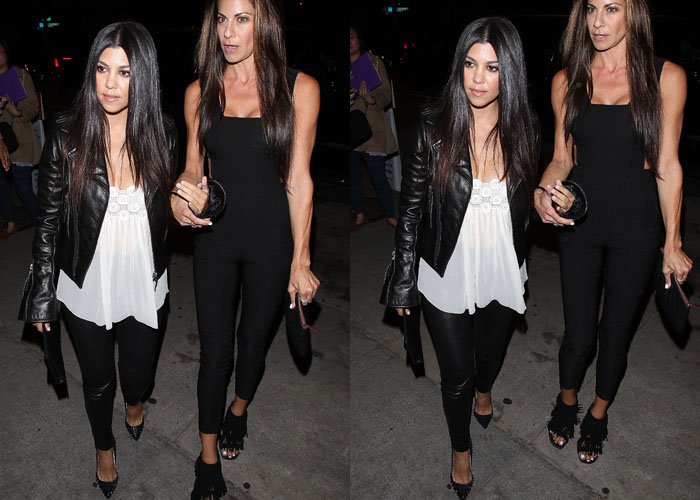 Kourtney Kardashian leaving Craig's restaurant with a female friend in West Hollywood on June 26, 2015 (Credit: 3rd Eye / WENN)
The mom-of-three was looking quite good in her slimmer, healthier post-baby body, proving that her frequent gym trips had been paying off.
Kourtney Kardashian styled a white flowy top with leather pants (Credit: 3rd Eye / WENN)
Kourtney wore a white flowy top under a leather jacket from Balenciaga, which she paired with leather pants.
Kourtney Kardashian wore her hair straight and parted in the middle (Credit: 3rd Eye / WENN)
Her masculine-feminine look was beautifully and casually held together by a gorgeous pair of spiked Louboutin "Follies" in black.
Kourtney Kardashian completed her look with spiked Louboutin "Follies" in black (Credit: 3rd Eye / WENN)
The eldest Kardashian wore her hair straight and parted in the middle and opted for smoky-eye makeup to complete her night look.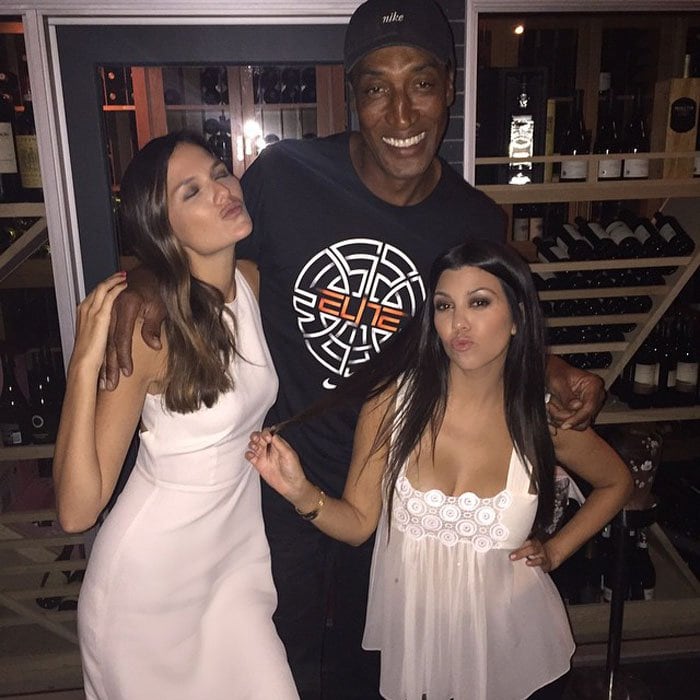 Kourtney Kardashian with friend Scottie Pippen at Craig's (Credit: Kourtney Kardashian's Instagram)
The matte leather version has sold out, but the patent ones from the same French shoe designer are just as gorgeous and still floating around at Nordstrom. Grab a pair while you still can.
Christian Louboutin Follies Patent Pumps, £795