No outfit is complete without the perfect pair of shoes. Finding a brand that works with your aesthetic and lifestyle is like finding your perfect match.
We all have a brand we gravitate towards when we need new shoes, whether a designer brand or a budget-friendly alternative. You might be looking to kickstart your shoe collection or for a new brand to incorporate into your closet.
Discovering new brands and up-and-coming designers helps you keep your collection fresh and exciting. We're sharing some of the most popular women's shoe brands you should consider when buying your next shoes.
We've searched high and low to write the ultimate guide for shoe brands you need in your closet. This guide includes lust-worthy luxury and affordable brands for every lifestyle and budget.
Make sure to bookmark this page to come back to the next time you're looking for new shoes to add to your collection.
1. Sophia Webster: Whimsical Shoes for the Modern Woman
British shoe designer Sophia Webster is famous for her fairytale-inspired, whimsical stilettoes. If butterflies are your thing, you'll find a kindred spirit in Sophia Webster.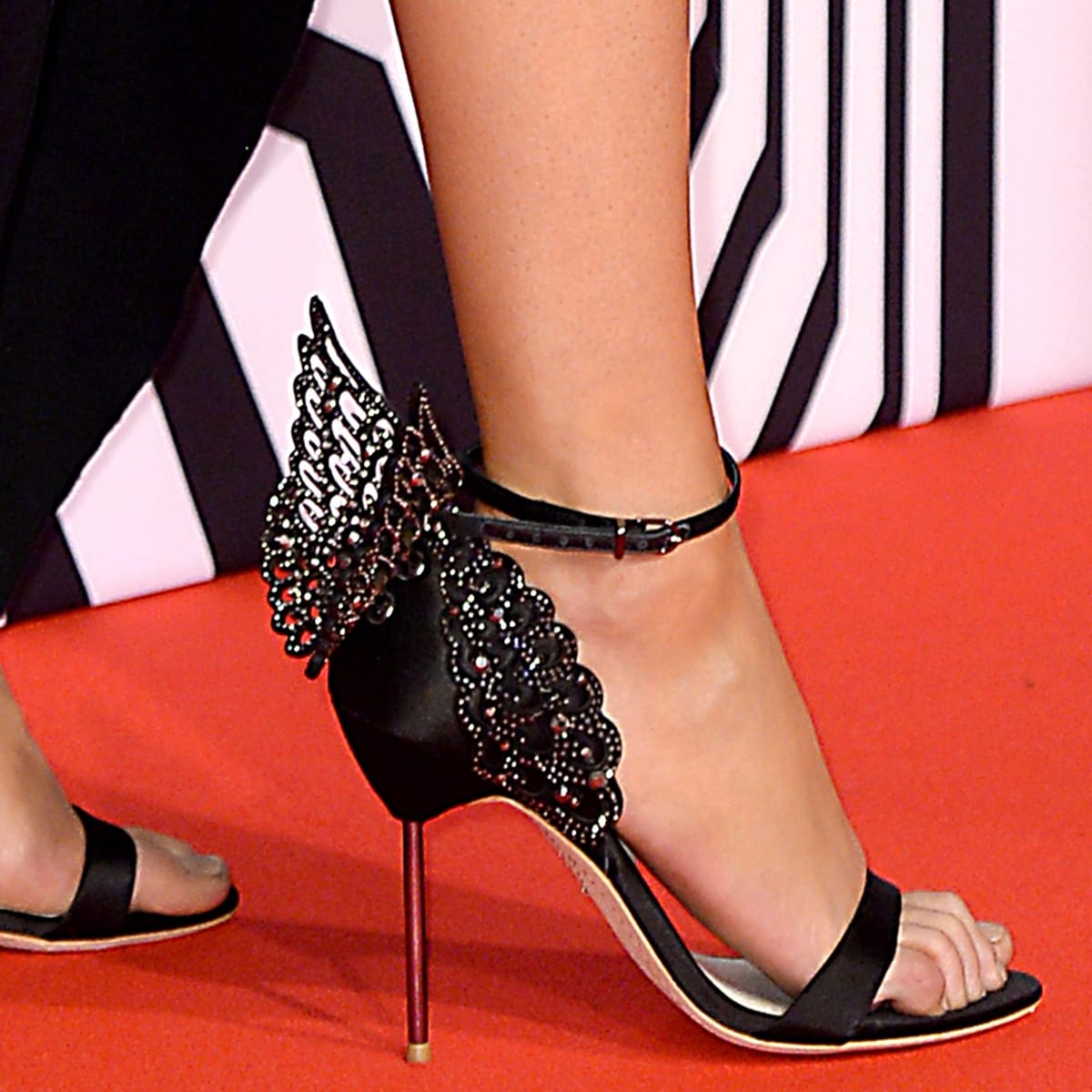 Ellie Goulding shows off her feet in Sophia Webster's "Evangeline" angel-wing sandals (Credit: Doug Peters / PA Images /Startraksphoto)
A distinguished Cordwainers College and The Royal College of Art graduate, she debuted her first collection for Spring/Summer 2013.
Sophia was awarded the Conde Nast Footwear Emerging Designer of the Year 2012, the British Fashion Award for Emerging Accessories Designer 2013, and the British Fashion Council's New Gen Award for her first three consecutive seasons.
She also won the BFC Vogue Fashion Fund in 2016, becoming the second shoe designer in history to receive this prestigious prize.
Immediately after graduating from the Royal College of Art, Sophia was appointed as Assistant Designer to Nicholas Kirkwood.
With a background in Fine Art, her designs are all hand-drawn and conceptualized within the company headquarters in East London.
She proves her commercial viability through the diverse selection of styles; heels are offered in various heights, and flats, espadrilles, and sneakers are available as an alternative for a more casual style.
Elizabeth Banks shows off her feet in red Sophia Webster sandals (Credit: Vince Flores / Startraksphoto)
Her collections have also expanded to include children, bridal, and handbag ranges, all of which have been successful and proved her signature aesthetic can be translated across multiple categories.
Launched in 2013, Sophia Webster quickly gained popularity for her whimsical and quirky shoe designs
Her heels are a favorite amongst supermodels, who love their classic silhouettes with a playful twist. The butterfly motif carries through most of the brand's shoes, incorporating feminine prints and patterns.
International supermodels like Adriana Lima and Candice Swanepoel are keen fans of the brand, along with celebrities like Blake Lively and Kendall Jenner.
Adriana Lima, Alesha Dixon, Blake Lively, Kendall Jenner, and Pixie Lott are among the many celebrity fans of Sophia Webster (Credit: Michael Carpenter / Lia Toby / WENN)
While the 'Chiara' winged heels are the most famous style, Sophia Webster offers more wearable silhouettes, including ballet flats and espadrilles.
One of their best-selling collections is their bridal range. The 'Wifey for Lifey' shoes appear on our Instagram feed every wedding season – along with the matching bag!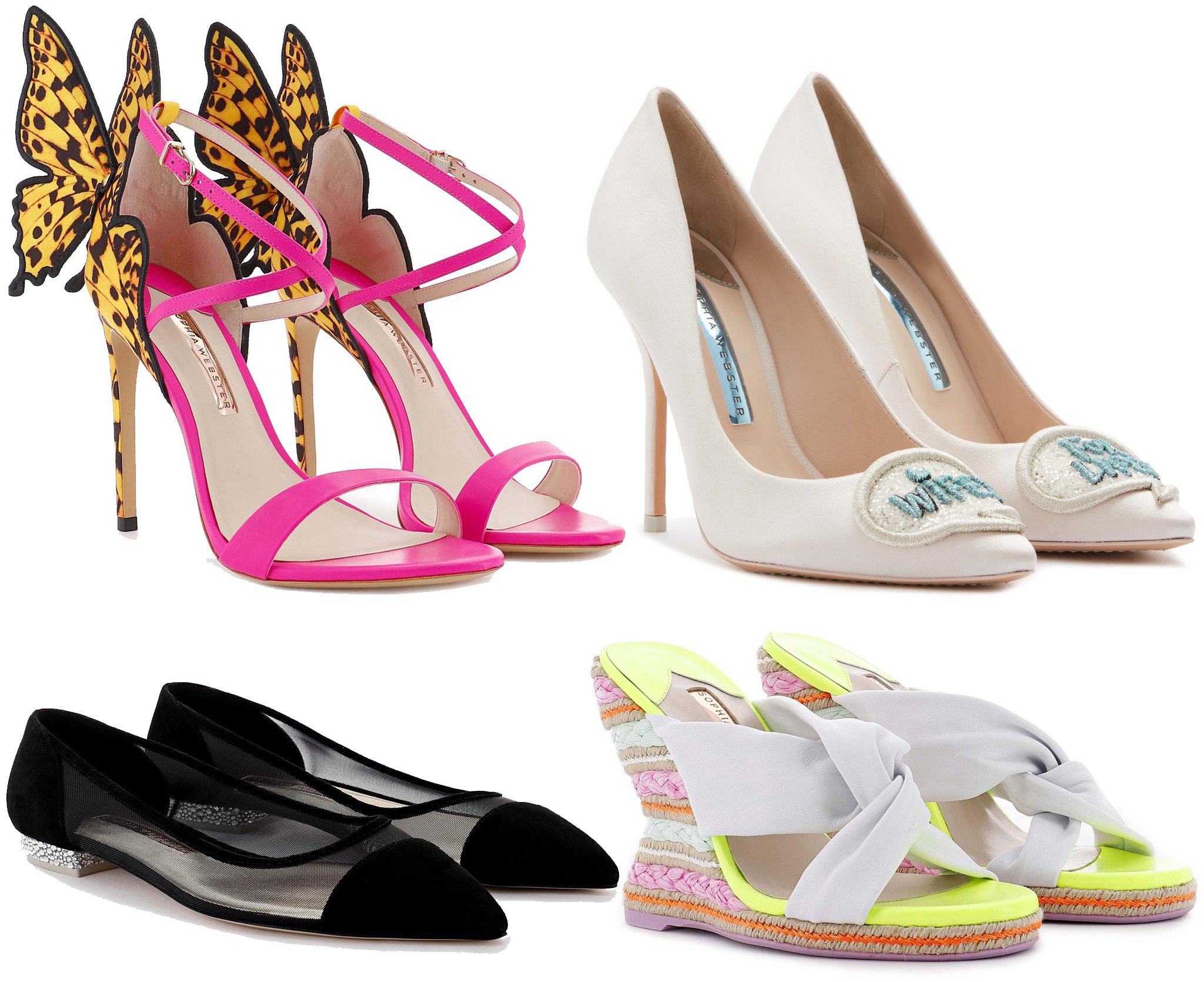 While Sophia Webster is famous for the Chiara winged design, the brand also has everything from espadrilles to flats
If you're looking to save a little on designer shoes, Sophia Webster is a brand that frequently holds sales and appears on discount websites like Saks OFF 5TH.
If you've got a mini-me, you'll want to check out the brand's 'Mini' range. It includes a collection of matching footwear for children to give you the ultimate 'mini-me' moment.
2 and 3. Sergio Rossi and Gianvito Rossi: Italian Luxury Footwear for Every Occasion
We're combining two brands into one for our next entry.
The eponymous Italian footwear company is known for its handmade designs created for sophisticated and effortlessly chic women
Thanks to influencers, Sergio Rossi is the classic Italian shoe brand making a major comeback.
Established in 1968, Sergio Rossi is a classic luxury shoe brand with an international reputation. It takes 14 hours to create one pair of shoes, making them the finest luxury shoes.
Sergio Rossi's famous Godiva style is available in a variety of silhouettes and materials
The most popular style of Sergio Rossi shoes is the Godiva pump with their synonymous signature silhouette.
These shoes are a favorite of celebrities like Halle Berry and Naomi Campbell, who wear them as their go-to style for red carpet appearances.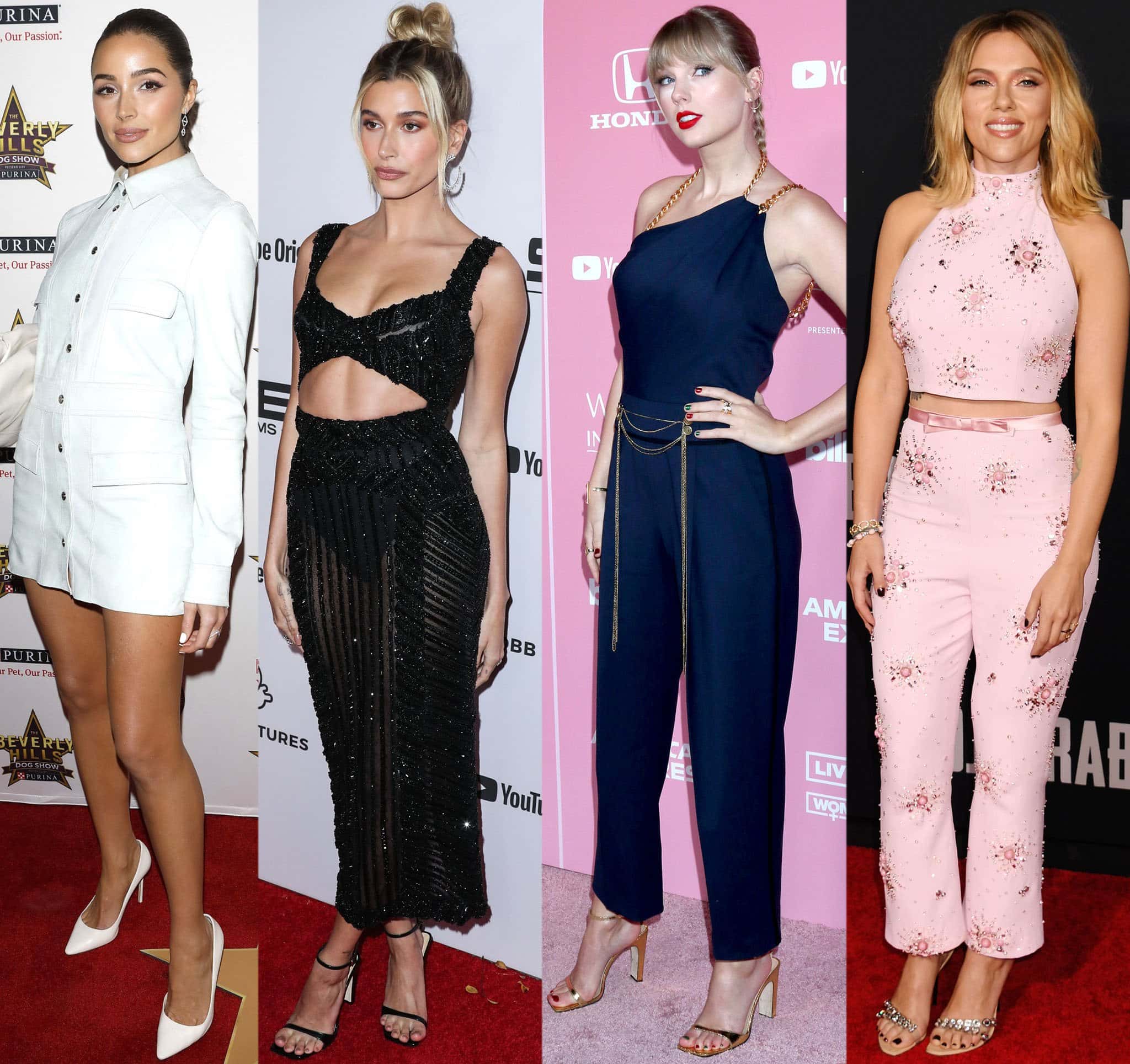 Hollywood stars Olivia Culpo, Hailey Bieber, Taylor Swift, and Scarlett Johansson in Sergio Rossi heels (Credit: Avalon / Nicky Nelson / WENN)
If you're looking for a more contemporary brand, check out Sergio's son, Gianvito Rossi.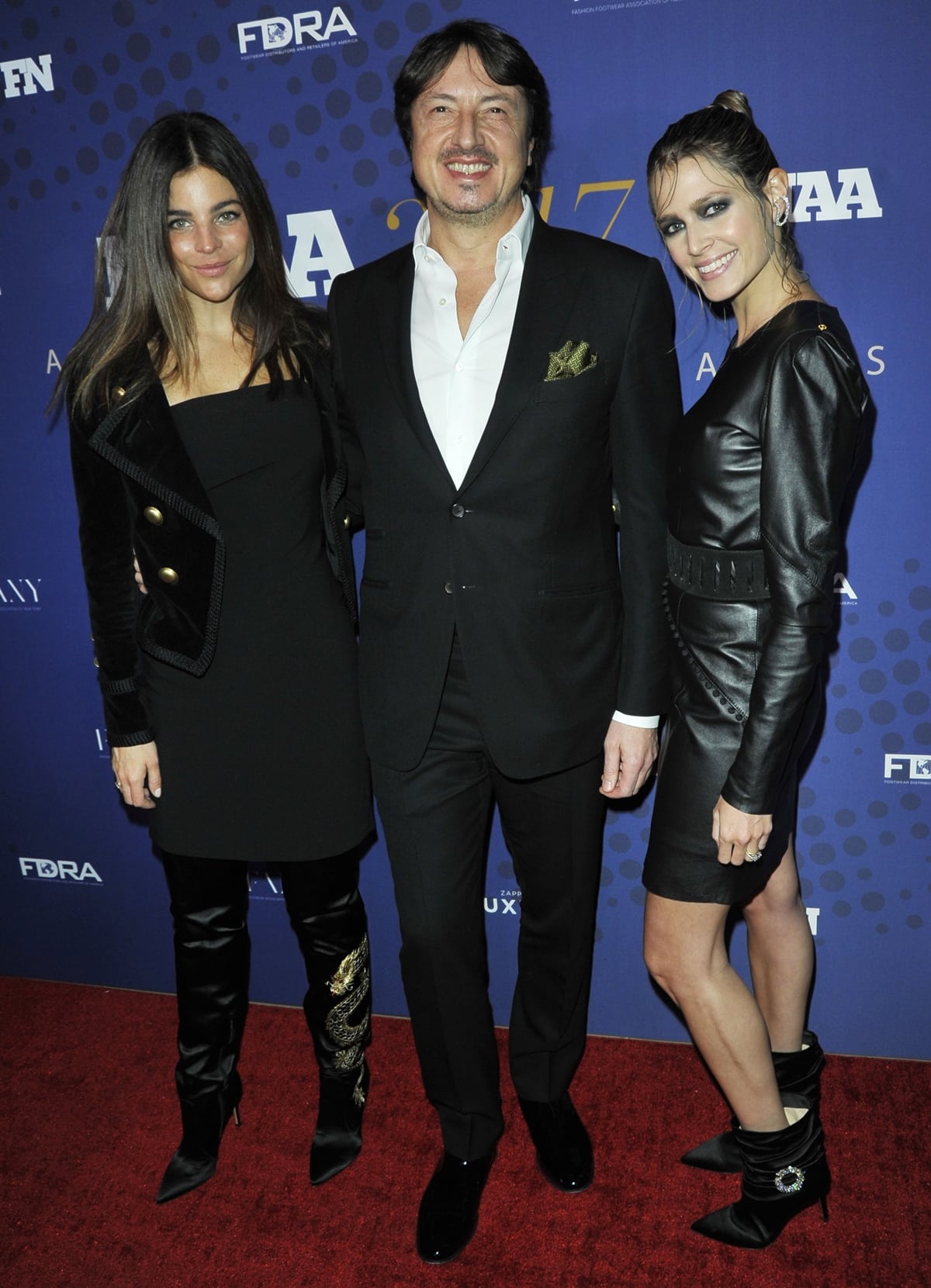 French creative director and designer Julia Restoin Roitfeld, footwear designer Gianvito Rossi, and a guest attend the 31st FN Achievement Awards at IAC Headquarters on November 28, 2017, in New York City (Credit: Patricia Schlein / WENN)
This footwear designer made a name for himself at Versace during the 1990s before launching his own brand in 2006. These shoes have an instant glamour appeal and will take any outfit to the next level.
4. Dr. Martens: Iconic Boots for the Edgy Fashionista
Not everyone dreams of a closet full of stilettoes. If you're a fan of combat boots, then Dr. Martens is your perfect match. These shoes give you a vintage aesthetic with a contemporary twist.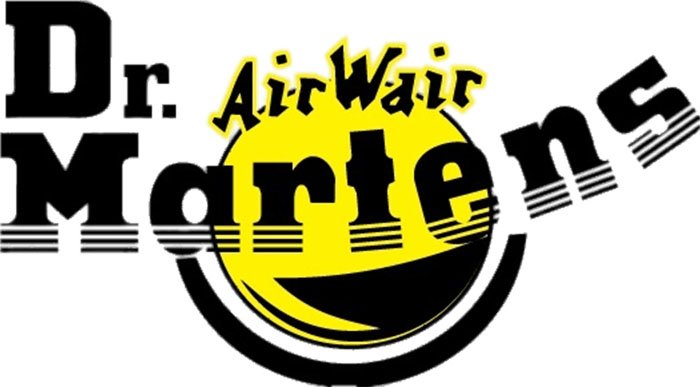 Founded in the 1940s as a durable workwear style, Dr. Martens rose to fame in the '60s along with the emergence of the punk subculture
The brand pitches itself as one that designs for people "who have their own individual style but share a united spirit".
Their shoes have a simplistic silhouette that allows you to put your own twist on the style. Dr. Martens are famous for their durable designs that give you style without compromising on comfort.
Irina Shayk, Daisy Lowe, Jessica Alba, and Gwen Stefani in Dr. Martens boots (Credit: Mega / WENN)
Dr. Martens shoes have evolved from being a work-wear staple to the ultimate symbol of self-expression during the 1970s. If you want to invest in budget-friendly boots that will stand the test of time, look no further than Dr. Martens.
The brand became synonymous with the punk-rock movement of the 1970s before more simplistic and feminine styles began to appear in the '80s. During the '90s, Dr. Martens became connected with the festival culture, breaking into the world of music.
For affordable yet durable footwear that will last for years, go with Dr. Martens' classic silhouettes
Dr. Martens carry the tagline that they're 'made like no other shoe on earth'. Whether you want loafers or combat boots, Dr. Martens are a style that has united style aesthetics across the fashion divide.
5. Jimmy Choo: Luxe Shoes for the Stylish and Confident Woman
When it comes to Cinderella-worthy shoes, Jimmy Choo is one brand that will always be on our list of the best shoe brands for women.
Jimmy Choo became famous for the quality and timeless style of his high-end handmade footwear
The brand originally surged in popularity after being worn by Princess Diana in the late 1990s. Jimmy Choo is now a go-to brand for Hollywood royalty and British royalty, including the Duchess of Cambridge.
Kate Middleton, Lady Gaga, Heidi Klum, and Emily Blunt wearing Jimmy Choos (Credit: Mega / BauerGriffin / INSTARimages / Avalon / WENN)
Jimmy Choo is the go-to luxury shoe brand for those who want a timeless silhouette that encapsulates the idea of understated elegance. Some of the most famous women in the world have stepped out in Jimmy Choo's shoes.
If you're looking to invest in designer shoes that will stand the test of time, Jimmy Choo is the brand for you. The brand is a popular choice for women looking to splurge on princess-inspired bridal shoes.
Some of Jimmy Choo's popular styles include the Vamp, Lance, Minny, and Anouk
Sarah Jessica Parker's character Carrie Bradshaw made the phrase, "I lost my choo" a pop culture moment. It's the perfect Instagram caption for showing off your new Jimmy Choo shoes on Instagram.
6. Aquazzura: Sexy and Feminine Shoes for the Modern Woman
Royal style watchers will recognize Aquazzura, the go-to brand of Meghan Markle, the Duchess of Sussex. This modern footwear brand has a natural elegance and allure, making it an instant hit.
A Florence-based luxury footwear brand popular among the British royals and A-list celebrities
The brand was created by Edgardo Osorio with a focus on innovative design, vibrant color palettes, and added embellishments.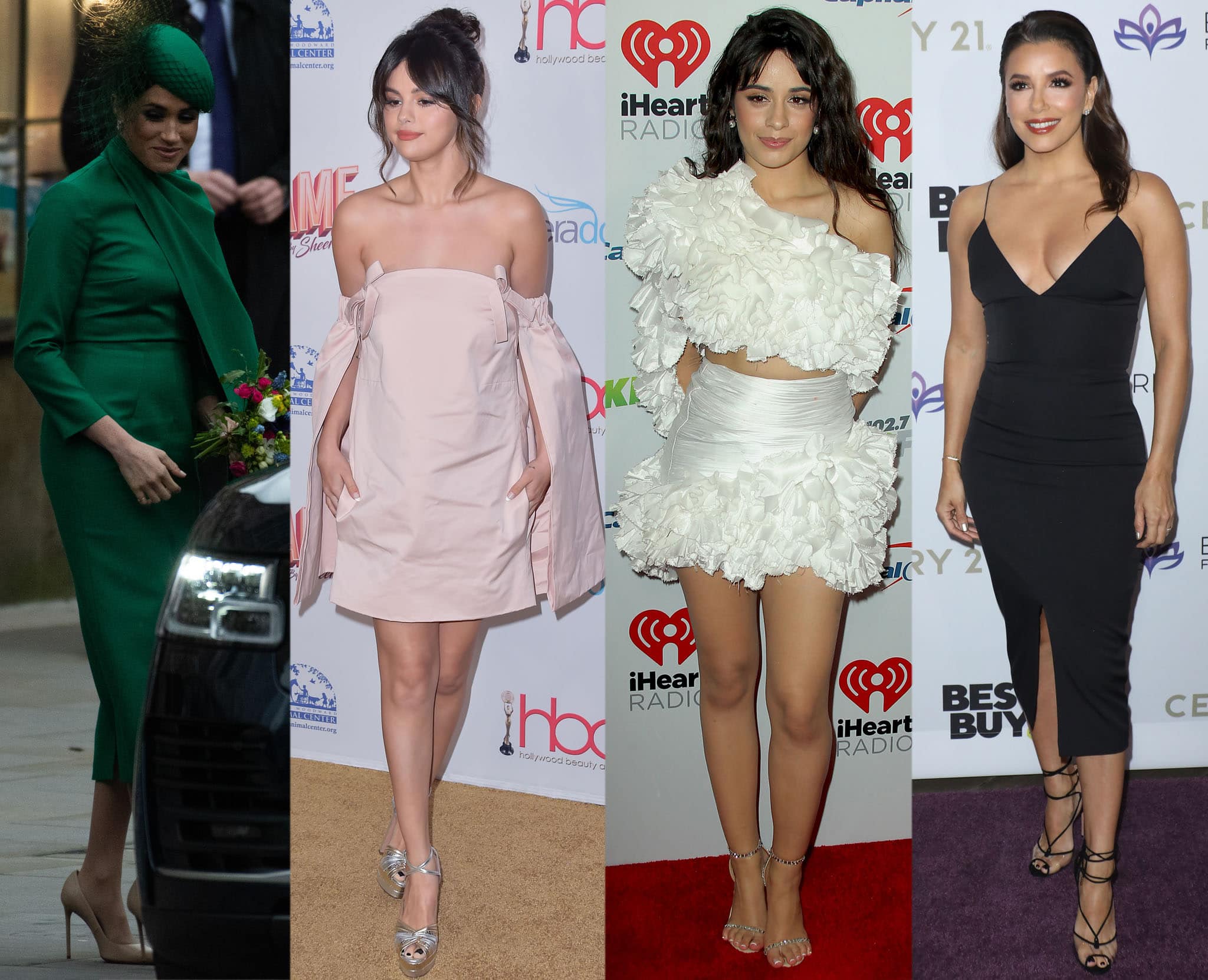 Meghan Markle, Selena Gomez, Camila Cabello, and Eva Longoria wearing their chic Aquazzura heels (Credit: Avalon / Adriana M. Barraza / WENN)
Everyone, from fashion influencers to European royalty and Hollywood stars, is a fan of the brand.
Aquazzura has collaborated with everyone from Claudia Schiffer to Olivia Palermo and Poppy Delevingne. They've also collaborated with Salvatore Ferragamo.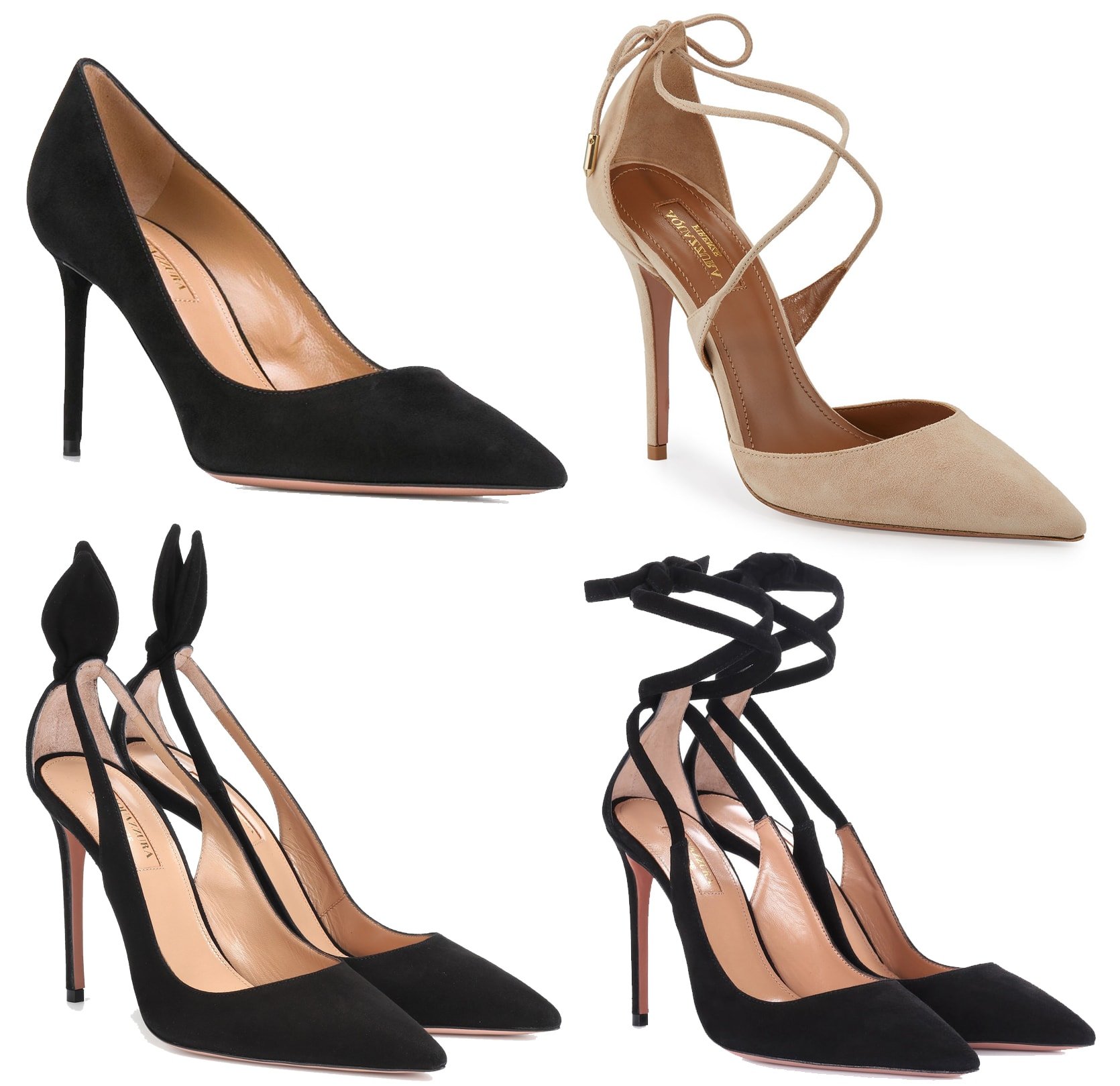 The Aquazzura Purist, Matilde, Deneuve, and Milano are just some of the styles seen on Meghan Markle, Duchess of Sussex
7. Salvatore Ferragamo: Timeless Luxury Shoes for the Discerning Woman
If you want to invest in classic Italian footwear, look no further than Salvatore Ferragamo.
Founded in Florence, Italy, luxury fashion brand Salvatore Ferragamo is known for its high-end shoes, clothing, and accessories for both men and women
This popular footwear brand is responsible for creating everything from Judy Garland's rainbow shoes to the original wedge heels. If you want classic shoes that will never go out of style, then you need Ferragamo shoes in your collection.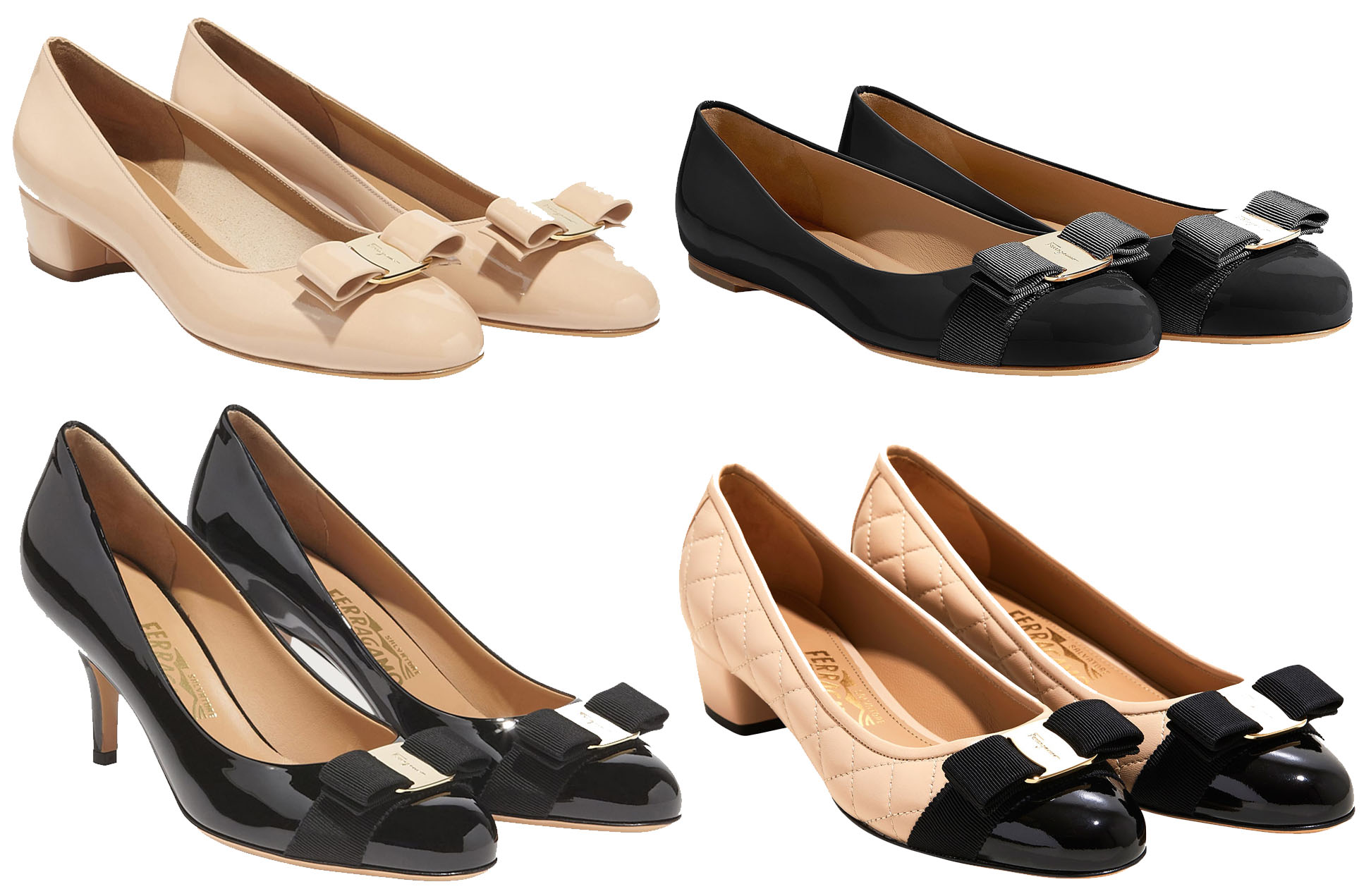 Salvatore Ferragamo's most iconic style is the Vara, which comes in different silhouettes and materials
The most classic style of Ferragamo shoes is the 'Vara' pumps, complete with the brand's signature Vara bow. They capture the idea of European elegance and add a touch of effortless chic to any outfit.
If you want a more understated look, Ferragamo is the perfect alternative to designer brands like Christian Louboutin. These feminine styles are synonymous with Hollywood icons like Audrey Hepburn.
This luxury Italian brand is at a more attainable price point than Gucci or Prada but is just as iconic.
Irina Shayk, Stella Maxwell, and Nicole Kidman sporting Salvatore Ferragamo heels on the red carpet (Credit: FayesVision / WENN)
8. Timberland: Durable and Stylish Boots for the Adventurous Spirit
For outdoor shoes, it has to be Timberland. This American footwear brand is famous for its boots, making them an alternative to the British brand Dr. Martens.
The OG shoes are the 'Timberland' waterproof boots with an innovative design. They're the shoes you'll wear for a hiking adventure or a day in the city during the winter.
Initially made for outdoors and blue-collar workers, Timberland boots have become one of the most popular casual footwear today
It's not just boots and winter shoes that you'll find from Timberland. Their collection also includes boat shoes and more casual silhouettes. What we love about Timberland are its eco-friendly designs and fabrics.
Khloe Kardashian, Kendall Jenner, and Megan Fox are just three of the many celebrity fans of Timberland boots
In 2007, the brand launched its 'Earthkeepers' boots using organic and recycled materials.
Between 2009 and 2023, the brand recycled 128 million plastic water bottles to create their footwear. By 2018, this number had hit 345 million.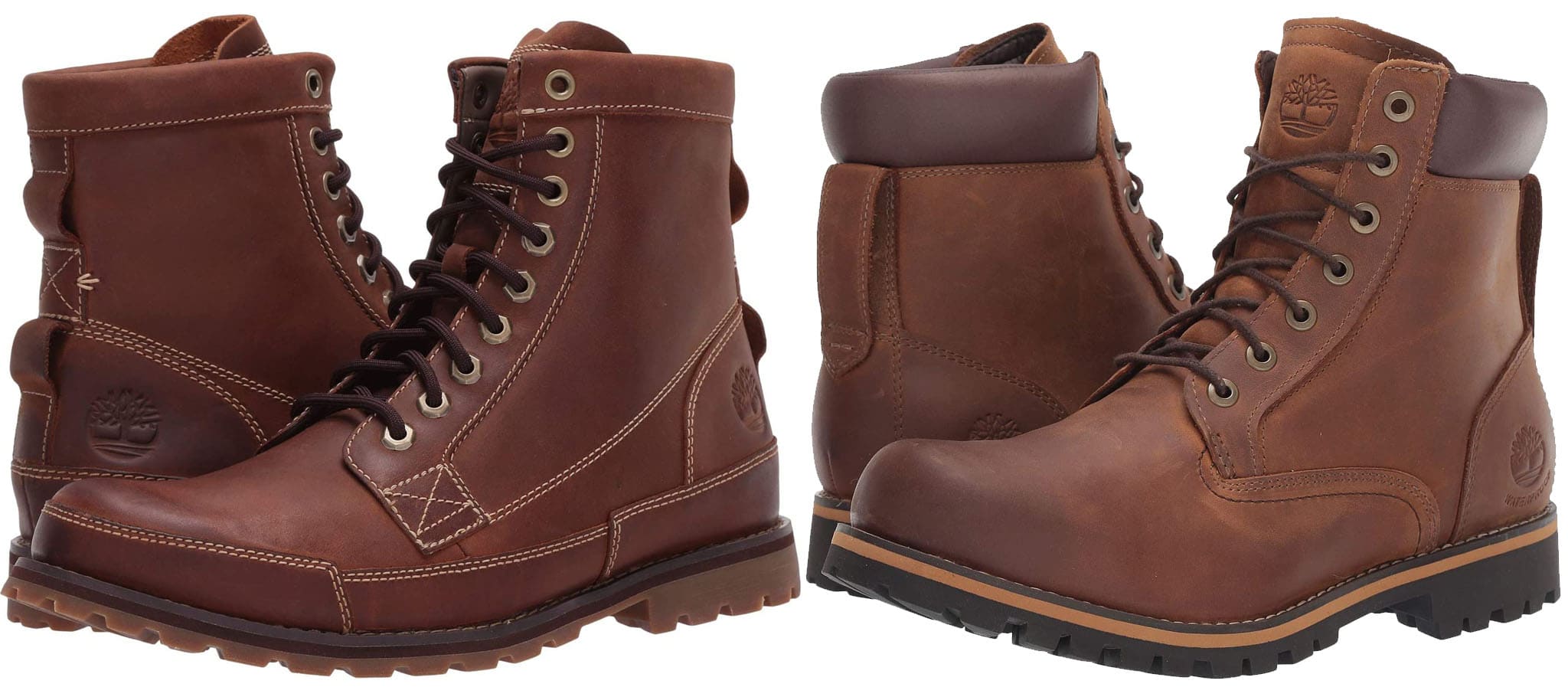 Aside from the iconic yellow boot, Timberland's Earthkeepers is also a popular style, thanks to its environmentally friendly features
When Christopher Raeburn joined the team as Global Creative Director in 2019, he brought a philosophy of 'remade, reduced, recycled' for product creation.
Timberland is one you want to check out if you're hunting for an eco-friendly brand with a sustainability mission.
9. Nike: Iconic Sportswear and Sneakers for Everyone
Sneakers are one of the most popular shoe styles right now. With activewear becoming the go-to fashion trend, it's no surprise that Nike features on this list.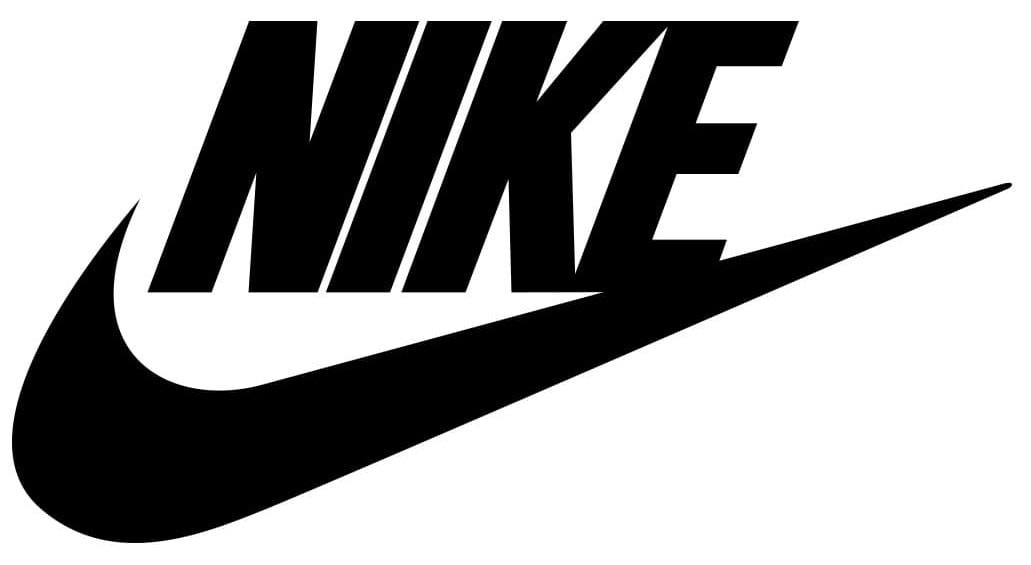 Today's athleisure trend has fueled the sales growth of sneaker and athletic shoe brands like sports apparel giant Nike
With Nike, you can stick to the athleisure sneakers or go all out with a pair of Nike Jordans.
Celebrities like Vanessa Hudgens, Olivia Culpo, and Hailey Bieber have embraced the athleisure trend with Nike shoes as their go-to footwear (Credit: Mega / WENN)
Air Jordans are the original must-have sneakers that started the collectible sneakers craze in the 1990s. You can style them with everything from a pantsuit to yoga bottoms or even a summer dress.
Everyone needs shoes they can throw into their backpack for commuting to work or when the weather changes unexpectedly. Nike is one brand that everyone has in their closet.
The next time you need a new pair of sneakers, consider going to an activewear brand like Nike for sneakers that offer comfort and style.
Some of the most popular Nike shoes of all time include the Air Max 97, Dunk Low SB, Air Max 90, and Air Force 1
10. Stuart Weitzman: Celebrity-Loved Shoes for Every Occasion
Stuart Weitzman is one of our favorite shoe brands, combining attainable luxury shoes and must-have designer styles. Whatever your aesthetic is, you're guaranteed to find a style of shoes for you.
An entry-level luxury footwear brand that offers classic and contemporary designs
Stuart Weitzman offers everything from leather to suede and Nappa shoes, with a mixture of classic and contemporary designs and eye-catching silhouettes.
You'll even find the occasional style with Swarovski crystals for a supermodel-worthy look.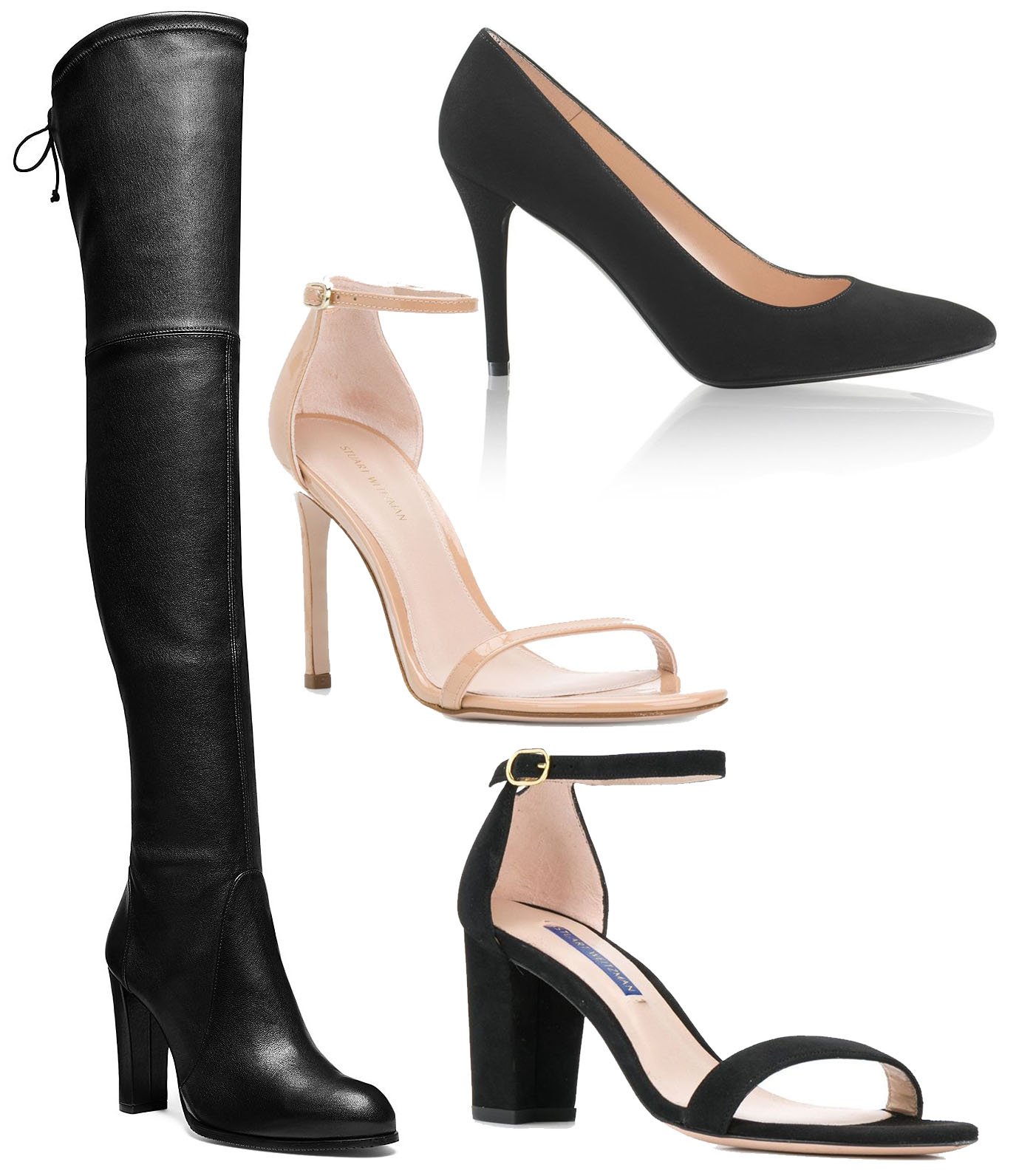 Some of Stuart Weitzman's most popular styles are the Highland boots, Power pumps, and Nudist sandals
This shoe brand isn't afraid to embrace femininity with bold and energetic designs that offer something for everyone. Whether you're looking for over-the-knee boots or delicate ballet flats, Stuart Weitzman is an all-encompassing footwear brand.
Whether you want to spend $200 or $2000, Stuart Weitzman caters to the largest variety of budgets and lifestyles from the brands on this list.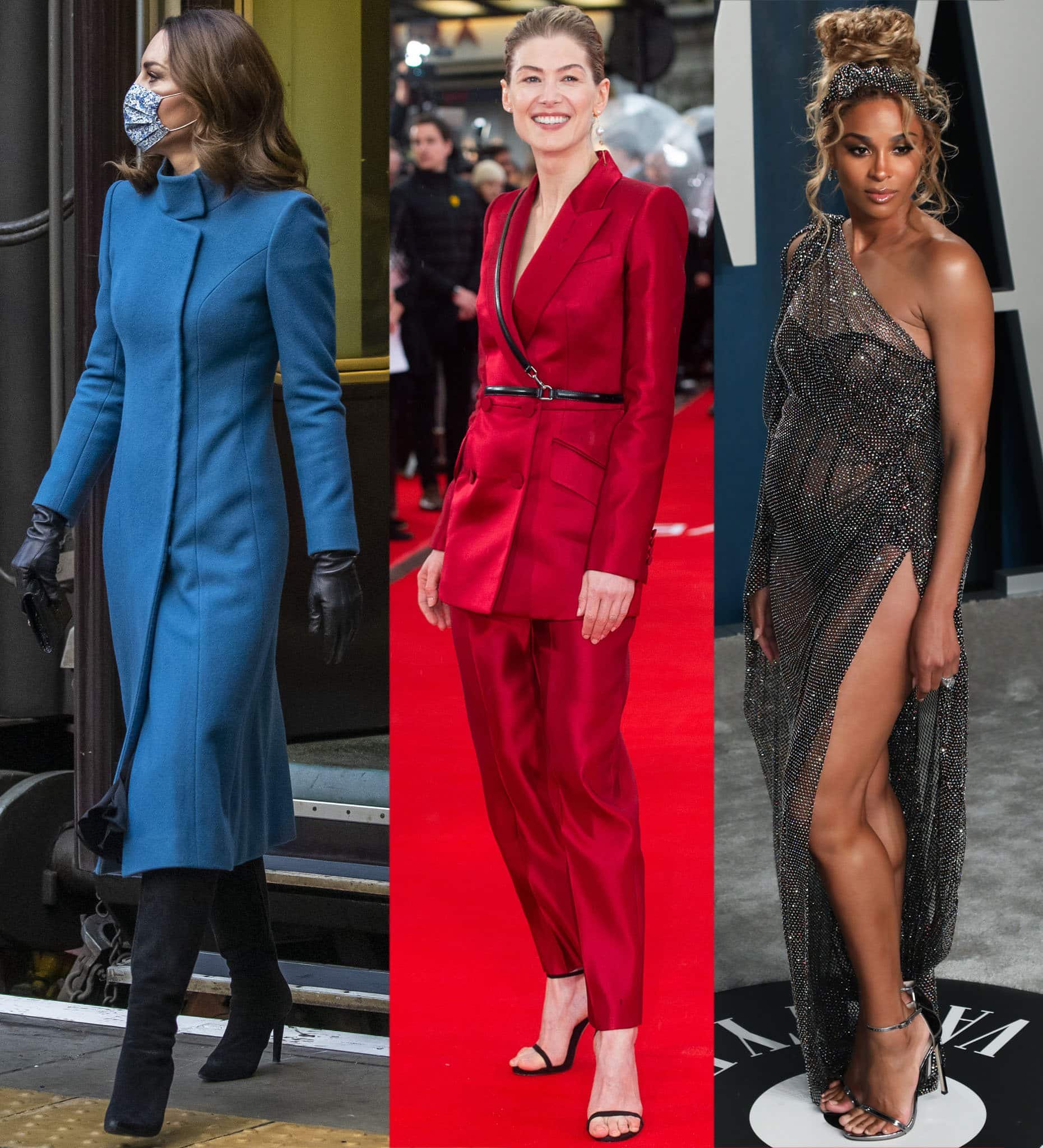 Kate Middleton, Rosamund Pike, and Ciara wearing Stuart Weitzman shoes (Credit: Avalon / Sheri Determan / WENN)
11. Christian Louboutin: Iconic Red-Bottomed Heels for the Glamorous Fashionista
Without mentioning Christian Louboutin, we couldn't write a guide on the most popular women's shoe brands.
The brand is synonymous with its red sole shoes that have a celebrity following. They're the shoes that every woman dreams of adding to her collection.
Christian Louboutin is one of the world's most popular high-end shoe brands, easily identifiable by the red soles
Whether you're a sneaker collector or prefer a classic silhouette, Christian Louboutin is a designer brand with something to offer everyone. No designer shoe collection is complete without at least one pair of red bottoms.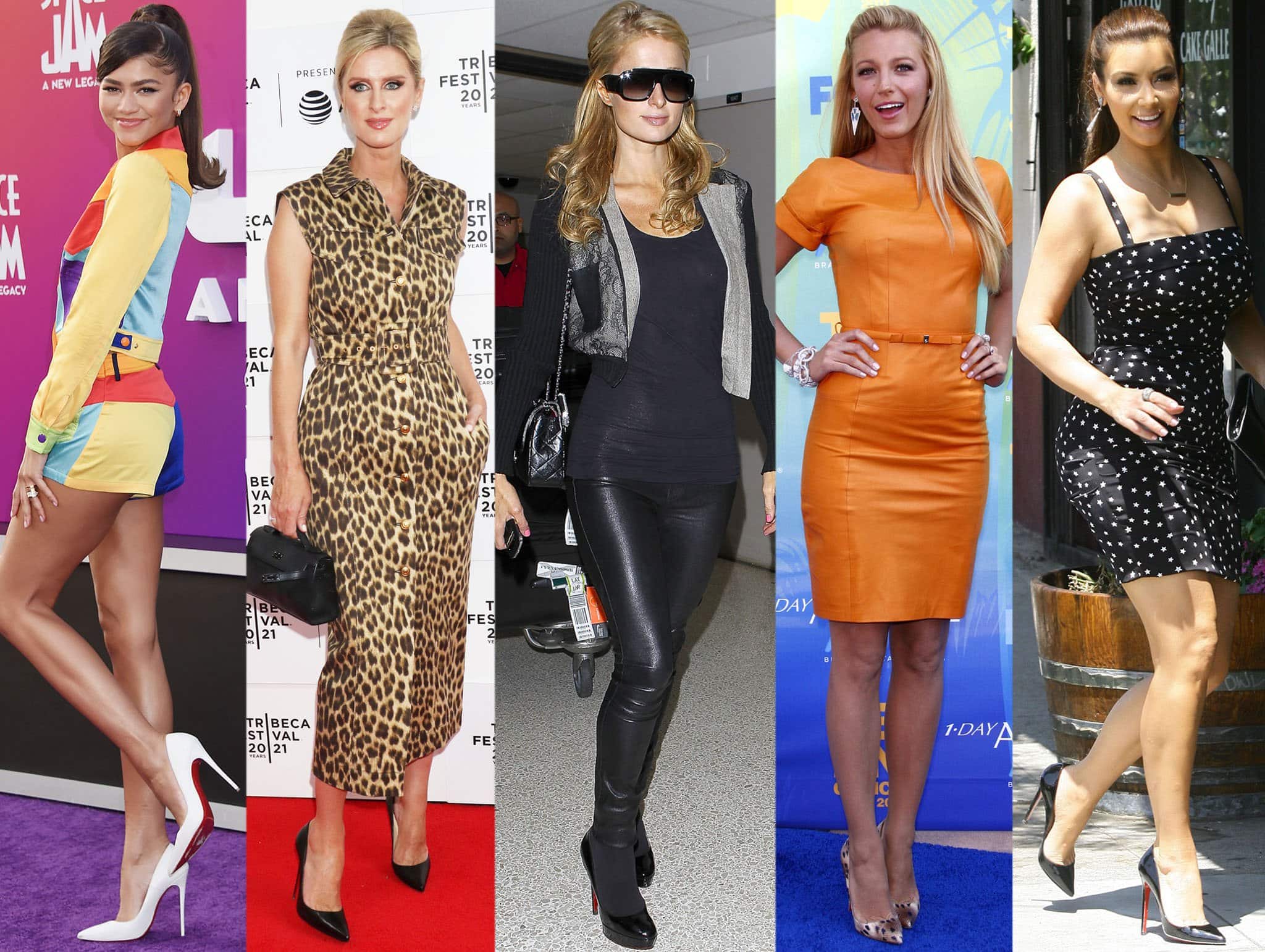 Zendaya, Nicky Hilton, Paris Hilton, Blake Lively, and Kim Kardashian are just a few of the many celebrities who love Christian Louboutin heels (Credit: Mega / WENN)
The brand has a cult following, counting celebrities like Kim Kardashian, Paris Hilton, and Blake Lively among its biggest fans.
Must-have Louboutin styles include the Pigalle, So Kate, and Follies Strass. While these shoes are infamous for being made with style and not comfort in mind, the various heel heights mean there's a style out there for everyone.
Christian Louboutin has recently expanded its collection to include more diverse styles, including sneakers and flat shoes for those not fans of skyscraper stilettoes.
The Follies Spikes, Pigalle Follies, Follies Strass, So Kate, Jonatina, and Pigalle are some of Christian Louboutin's most popular shoe styles
12. Manolo Blahnik: Timeless Elegance and Sophistication
If you're a fan of Sex and the City, you'll be familiar with the brand made famous by Sarah Jessica Parker's character, Carrie Bradshaw.
Manolo Blahnik is known for his signature high-end women's footwear
The famous 'Hangisi' shoe has become the brand's signature style after appearing in the film version of Sex and the City.
These elegant shoes encapsulate the idea of modern elegance while not being afraid to incorporate crystals and unique silhouettes.
Manolo Blahnik's Hangisi pumps, Chaos sandals, Estro, and BB pumps feature a timeless design
Manolo Blahnik is even rumored to be the go-to shoe brand of Vogue Editor-in-Chief Anna Wintour. Blahnik names his mother as his greatest style muse, leading him to create feminine designs that are light and elegant.
Manolo Blahnik is a favorite shoe brand of celebrities like Beyonce, Rihanna, and Michelle Obama.
Bella Hadid, Rihanna, Victoria Beckham, Nicky Hilton, and Emilia Clarke pair their dress with Manolo Blahnik shoes (Credit: Mega / Avalon / TNYF / IZZY / PNP / WENN)
13. VEJA: Sneakers for the Conscious Consumer
If you want budget-friendly designer sneakers, take a look at VEJA. What we love about Veja is that they're a sustainable sneaker brand we see everywhere on social media.
Veja is a French footwear brand known for its sustainable sneakers
The brand was founded in France in 2005 by Sebastien Kopp and Francois-Ghislain Morillion with a mission to create sneakers made with ecological materials and using ethical suppliers.
Veja uses recycled plastic bottles to create the waterproof mesh that appears on most of their sneakers while also working with rubber tappers in the Amazon. The plastic bottles they use as collected on the streets of Brazil, including Sao Paulo and Rio de Janerio.
Celebrities love Veja's Esplar, V-10, and Rick Owens V-knit collaboration
The brand is continuing to grow from strength to strength every year, coming in at an attainable luxury price tag. Their classic sneaker style takes its inspiration from vintage volleyball shoes.
You'll easily spot the Veja sneakers with their minimalistic 'V' logo that appears on the outer side of the sneakers.
Which of these shoe brands are you thinking of adding to your collection? What other designers do you think should be on our list of the most popular women's shoe brands?