Nicholas Kirkwood is a British footwear designer known for his innovative and architectural designs. He has been named Accessories Designer of the Year at the British Fashion Awards twice, in 2010 and 2013.
Kirkwood launched his eponymous label in 2005 after graduating from Cordwainers College in London. He quickly gained attention for his avant-garde and sculptural shoes, often featuring unusual materials and construction techniques. For example, Kirkwood has used shaved stingray, laser-cut mirrored leather, and rubberized suede in his designs.
Kirkwood's designs are known for their bold femininity and unique combination of materials and construction. He is a true innovator in the footwear industry, and his shoes are coveted by fashionistas worldwide. Celebrity fans of Nicholas Kirkwood include Sarah Paulson, Camilla Belle, Keira Knightley, Kate Bosworth, and Rita Ora.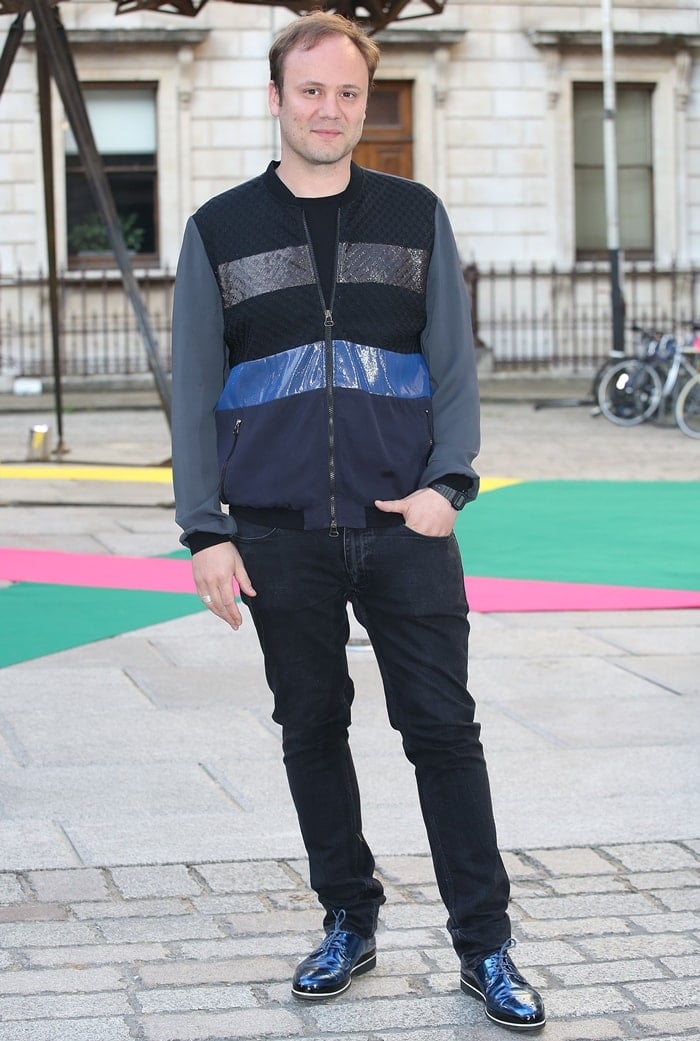 Shoe designer Nicholas Kirkwood attends the Summer Exhibition Preview Party at the Royal Academy of Arts on June 3, 2015, in London, England (Credit: Lia Toby / WENN)
Kirkwood's shoes are popular with celebrities and fashionistas alike. He has collaborated with several high-profile designers, including Erdem, Roksanda, and Peter Pilotto. His shoes have also been featured on the runways of major fashion houses such as Rodarte and Lanvin.
In addition to his work on his own label, Kirkwood has also designed shoes for other brands, including Jimmy Choo and Topshop. He has also won several awards for his work, including the prestigious Alta Roma/Vogue Italia accessories design award in 2007.
In February 2023, British luxury footwear designer Nicholas Kirkwood announced the closure of his eponymous label after 18 years. He cited the brand's completion of its journey and expressed his new focus on developing sustainable footwear manufacturing.
Nicholas Kirkwood: A Closer Look at the British Footwear Designer
Who owns Nicholas Kirkwood?
In 2013, LVMH Moët Hennessy – Louis Vuitton SE (LVMH) purchased a majority stake in Nicholas Kirkwood for an undisclosed amount.

In 2020, LVMH Moët Hennessy – Louis Vuitton SE (LVMH) sold its majority stake in Nicholas Kirkwood back to the brand's founder, Nicholas Kirkwood himself. This came after several years of financial losses for the brand.
Full Name:
Nicholas Matthew Schneidau Kirkwood
Born:
July 10, 1980, in Münster, Germany
Where are Nicholas Kirkwood shoes made?
Nicholas Kirkwood shoes are handcrafted in a small factory in Veneto, Italy
How do Nicholas Kirkwood shoes run?
All Nicholas Kirkwood shoes are in Italian sizing.
Where is Nicholas Kirkwood from?
The son of a British army colonel, he was born in Germany and traveled around a lot before settling in London.
What happened to Nicholas Kirkwood?
In February 2023, Nicholas Kirkwood announced the closure of his brand after 18 years. He stated that the brand had achieved its goals, and he would now concentrate on sustainable footwear manufacturing.
Nicholas Kirkwood Void Two-Tone PVC Ankle Boots: On-Trend Shoes with a Bold Cutout Block Heel
Nicholas Kirkwood opened his Spring '19 presentation with American actress and activist Rose McGowan holding up a version of these 'Void' ankle boots.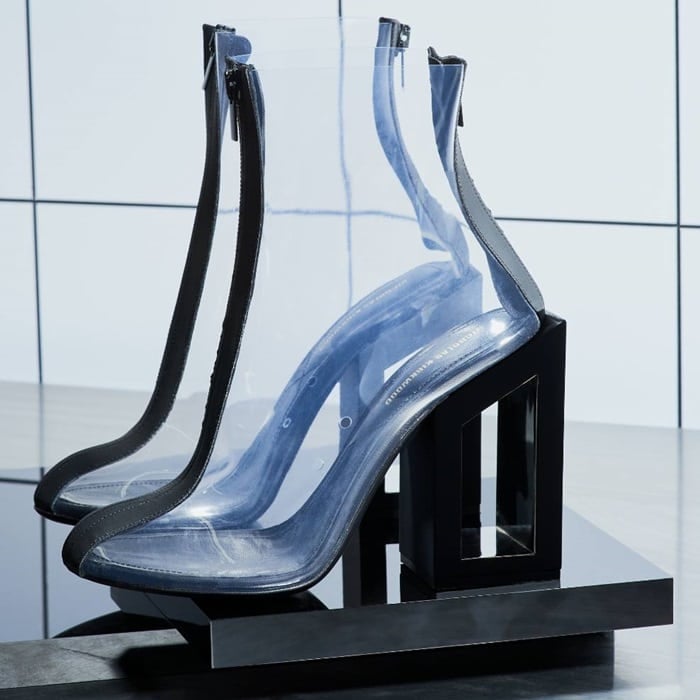 Black leather and vinyl 105 Void PVC ankle boots from Nicholas Kirkwood
Imbued with the designer's signature sense of modernity and architectural construction, they've been crafted in Italy from clear PVC. They are set on graphic geometric Perspex heels with mirrored interior cutouts.
Made from leather, these boots have a square block heel, a front zip fastening, and a transparent construction
The black stripes along the front and back create a sleek two-tone effect. They hit high on the calf and are silhouetted with rubberized zips at the front and back.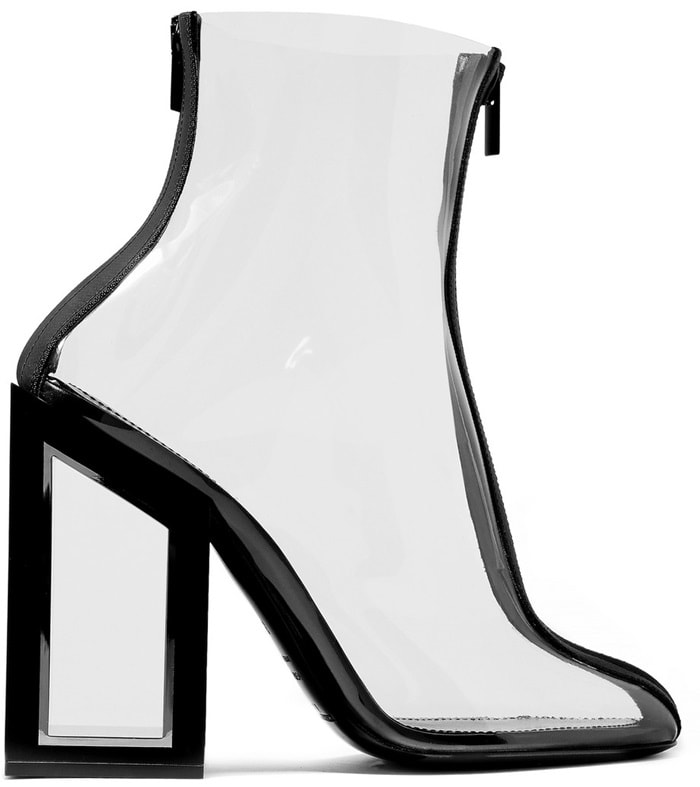 On-trend clear PVC ankle boots featuring a bold cutout block heel for an eye-catching look
Before wearing these on-trend clear PVC ankle boots, ensure you know how to prevent foot sweat!
Nicholas Kirkwood Void Two-Tone PVC Ankle Boots, $1,195