There are so many things to love about the clear shoe trend. Transparent boots and heels are super easy to mix and match. Also, there are no straps or buckles to deal with.
Best of all, they make legs look miles longer. However, there is one major problem; how to keep your feet from sweating.
This show-everything footwear item tends to fog up, and badly. A closer look at all those cute Instagram snaps of #clearboots, unfortunately, reveal unflattering sweaty, steamy, foggy feet.
Sure, human feet sweat. If you're willing to deal with the fog then props to you, but if not, try these five tricks to prevent sweaty feet and to keep your clear boots from fogging up when you wear them.
1. Put antiperspirant deodorant on your feet
Just like on your pits, deodorant on your feet will stop them from sweating. Make sure to get the antiperspirant variant, and, if you have extra-sweaty feet, the clinical strength kind. Do you want to see the best products for stinky feet?
The trick is to apply the antiperspirant the night — or, if you're pressed for time, a couple of hours — before you wear your clear boots. This gives the formula enough time to seal your pores and create a sweat-proof barrier on your feet.
Kylie Jenner not worrying about foot fog in her Outfit of the Day Instagram posts of her white long-sleeved cropped turtleneck, black Adidas track pants, and Yeezy clear booties ensemble — posted on Nov. 27, 2016.
2. Wipe your clear boots with WD-40
This invaluable shoe tip actually comes from reader Yess, who shared it as a comment on our Taylor Schilling has foot fog in her clear pumps post. Yess suggests wiping clear boots with WD-40, a water-displacing spray that you can buy on Amazon. You presumably need to wipe both the outsides and insides.
Though we have yet to try this trick ourselves, we're confident it'll work since WD-40 is widely used to waterproof winter footwear. Let us know if you try it!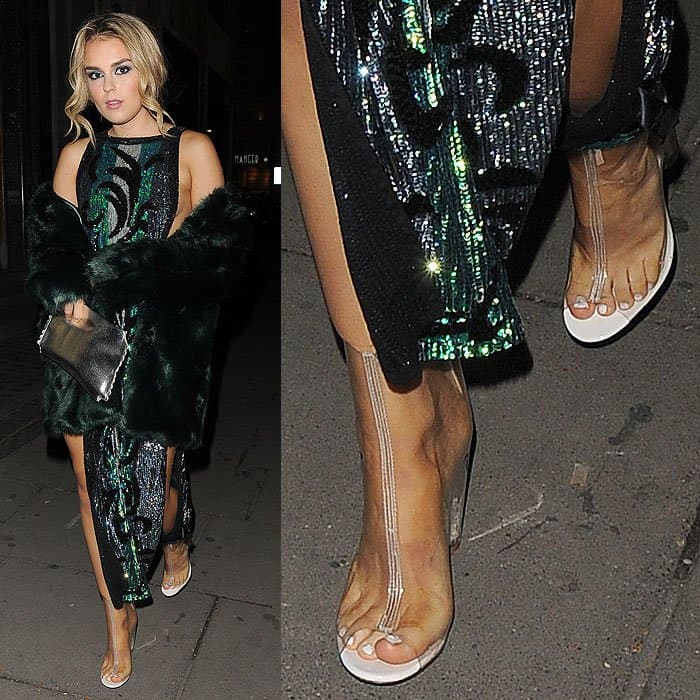 Scottish singer Tallia Storm heading to Tape nightclub in London in her sweat-free clear boots on October 13, 2016.
3. Wear socks with your clear boots
Yes, socks will defeat the whole purpose of wearing "bare-legged and barefoot" clear boots, but hear us out. Think of this as a way to show off cute socks and as an additional way to style clear boots.
Take a cue from Kendall Jenner, who wore sexy black fishnet stockings with her Yeezy boots.
Kendall Jenner keeping sweaty feet in clear boots at bay with black fishnet stockings at the Los Angeles Lakers game 2 at Staples Center Coliseum in Los Angeles, California, on January 3, 2017.
4. Punch holes in your clear boots
Increase the airflow and the ventilation to your feet by punching holes in your clear boots.
If you shudder at the thought of defacing your shoes with holes, you can shop specifically for pre-perforated styles like the ones sent down the airport-themed Chanel Spring 2016 RTW fashion show.
A foot-fog-free model wearing well-ventilated holey clear shoes at the Chanel spring 2016 ready-to-wear fashion show held during Paris Fashion Week Womenswear Spring/Summer 2017 in Paris, France, on October 6, 2015.
5. Get Botox injections for your feet
If all else fails, you can always pony up for a Botox treatment for your feet. This is a drastic and expensive hack, but if you suffer from hyperhidrosis (excessive sweating disorder), it could be very well worth every penny.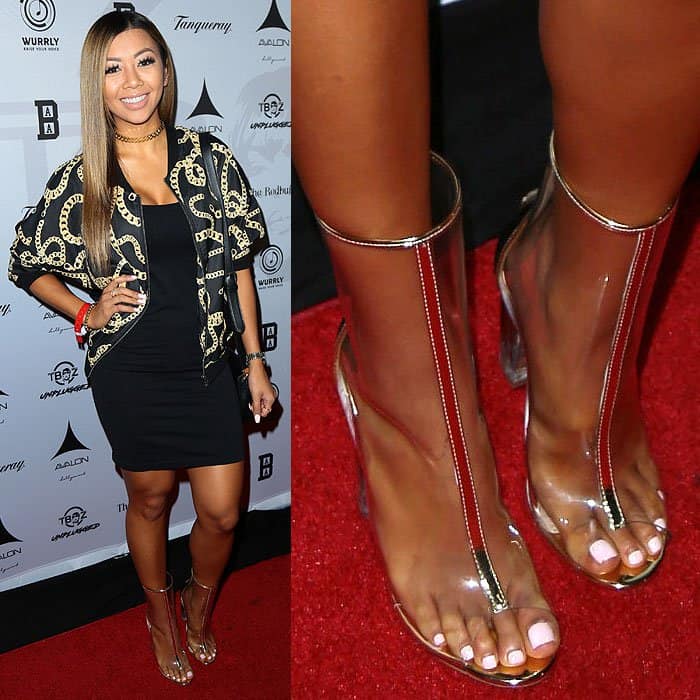 Fitness and social media star Liane V. in her amazingly condensation-free clear boots at the T-Boz Unplugged benefit concert for sickle cell disease at Avalon Nightclub in Hollywood, California, on January 15, 2017
If you are up for the challenge, check out these perspex ankle boots that you can purchase in nude and blue at Ego Shoes.
Selina Perspex Ankle Boots, $63.99
Credit: Guillermo Proano / GAT Images / Cover Images / WENN / Kylie Jenner's Instagram