We're just going to say it: Shoe upkeep is boring, but it's crucial. After you drop hundreds — or even thousands — of dollars on a pair of shoes, don't you want to keep your footwear looking fresh?
Shoes take a lot of wear-and-tear. Regardless of whether you're wearing running shoes for a few hours each day, or wearing heels daily for work, shoes are in constant contact with the ground.
They take a beating. They accumulate dirt, wear out, and — if you're not careful — can fall apart sooner than expected.
Ashley Roberts, Christina Hendricks, and Famke Janssen get their shoes wet in the rain
Fortunately, some shoe damage is preventable. Waterproof and protection sprays were invented to keep shoes clean and to prevent discoloration, stains, and water damage.
If you're willing to pay a hefty price for a good pair of shoes, why not spend a few extra dollars to extend the life of them?
Prevention is always better than cure. So before you step out in new shoes for the first time, don't forget to spray them with a waterproof spray. This one simple step can increase the lifespan of your favorite footwear.
We've compiled a list of some of the best protective footwear sprays around. Be careful, though: Before you buy, make sure the spray you purchase is compatible with your footwear material.
1. Kiwi Camp Dry Heavy Duty Water Repellent, $12.66 at Amazon
Kiwi is one of the most renowned brands when it comes to providing lasting protection for your shoes.
First launched and sold in Australia in 1906, the company has developed some of the best waterproof sprays for shoes. The Camp Dry heavy duty water repellent is particularly popular among hikers and nature enthusiasts.
Camp Dry isn't limited to footwear, either. It also offers protection to gear — including backpacks, tents, and even clothes.
The water-repellent barrier is strong enough to withstand heavy downpours, so this spray will definitely keep your shoes and gear completely dry.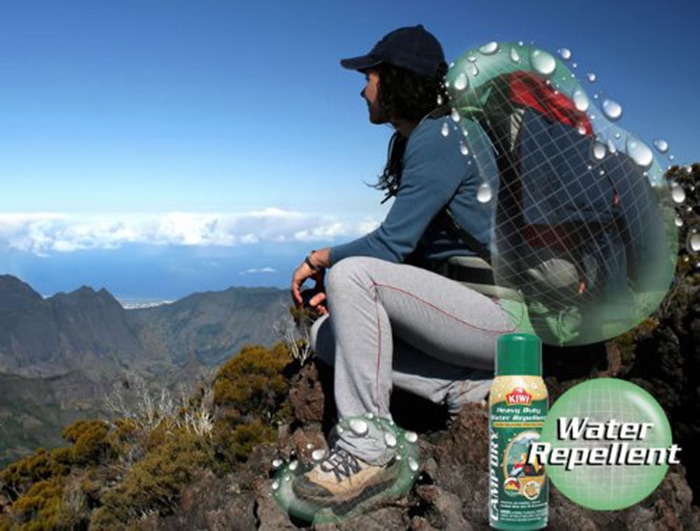 This spray is odor-free, easy to apply, and doesn't discolor the material. However, there's a slight chance it will stiffen and wrinkle fabrics a bit.
2. Scotchgard Suede and Nubuck Protector, $8.99 at Amazon
True to its name, this Scotchgard shoe protector works best on shoes made from suede and nubuck.
It repels water and oil that could ruin your shoes. In addition, this protector can keep your shoes resistant to salt stains, making this a must-have during winter.
You can also use this spray on coats, gloves, hats, and other accessories — as long as they're not made from smooth and finished leathers.
This shoe protector spray is easy to apply odorless once it dries. You can reapply this every six months, or when your shoes are no longer repelling water.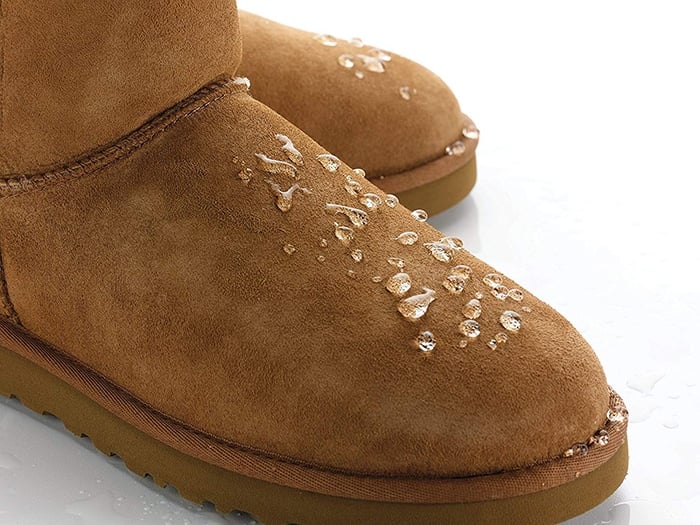 3. Bickmore Gard-More Water and Stain Repellent, $10.99 at Amazon
Made in the USA since 1882, Bickmore's waterproof treatment is suitable for different types of materials, including suede, fabric, nubuck, felt, smooth leather, and canvas.
This non-silicone water and stain repellent can protect your shoes against stains caused by water, perspiration, food, and dirt.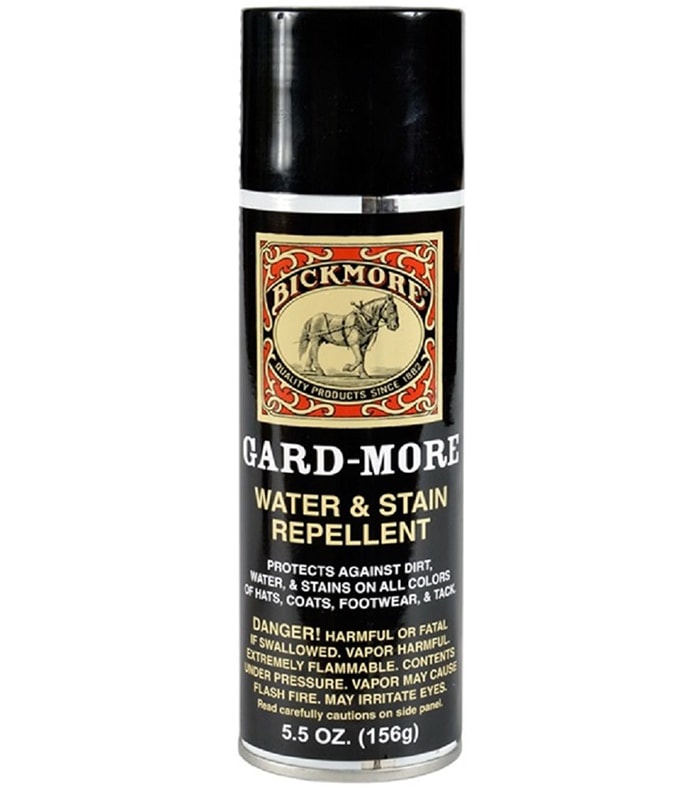 Aside from its water repellent properties, this spray also provides a strong invisible layer of protection to your shoes and other valued goods to prevent scuffing, while still allowing the material to breathe.
This can also work on bags, hats, coats, jackets, gloves. It can even be applied to furniture and car upholstery.
4. Nikwax TX.Direct Spray-On, $14.50 at Amazon
Unlike other waterproofing aerosol products that are solvent-based and flammable, the Nikwax TX.Direct Spray-On is water-based.
Therefore, it is non-flammable and does not contain harmful volatile organic compounds.
This spray focus on two things: Adding a second layer of protection to already-waterproof outerwear, and also adding water repellency to your synthetic garments.
You can use this spray on all waterproof gear, technical clothing, rain and ski jackets, and synthetic sleeping bags.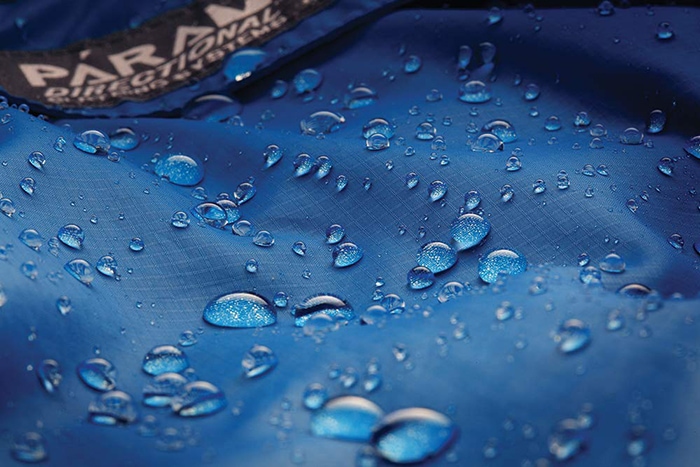 5. Crep Protect Ultimate Rain and Stain Spray, $14.95 at Amazon
Whether your shoes are made from leather, suede, or canvas, this Crep Protect spray guarantees protection against different weather conditions.
This spray creates two different barriers. The first uses Nanotechnology to create an invisible protective barrier that repels liquids and prevents stains.
The second is a layer of stain-fighting resin that acts as the second line of protection against rain, precipitation, and dust.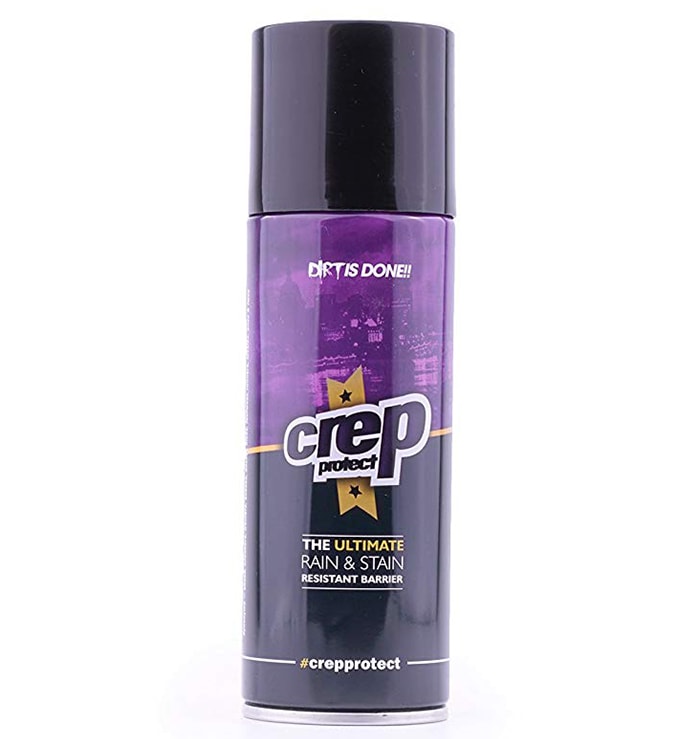 This high-end spray for shoes is easy to apply. You can also apply it to bags, heels, wallets, belts, and more.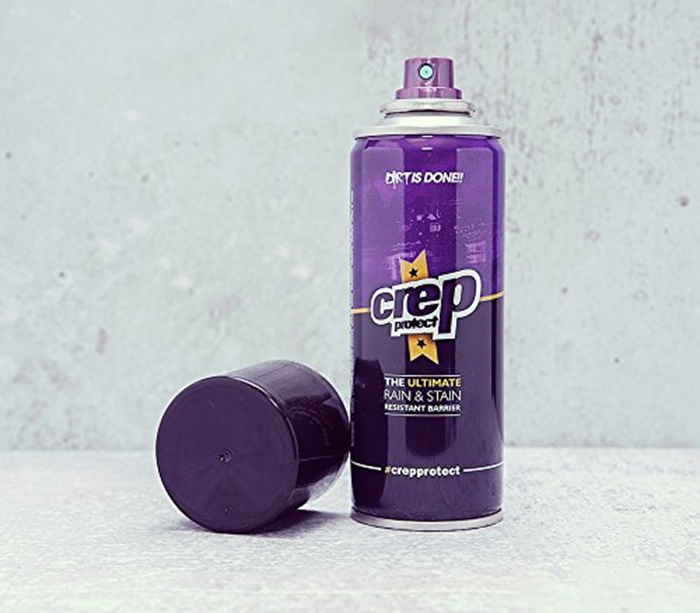 6. Rust-Oleum NeverWet Boot and Shoe Spray, $14.99 at Bed Bath & Beyond
Rust-Oleum is known for providing innovative coatings formulated to protect roof, floors, countertops, and just about any surface.
Now, the brand has also developed a protection spray for shoes and boots.
The NeverWet waterproofing spray is a revolutionary superhydrophobic coating that protects shoes and boots from damage caused by water and other liquids.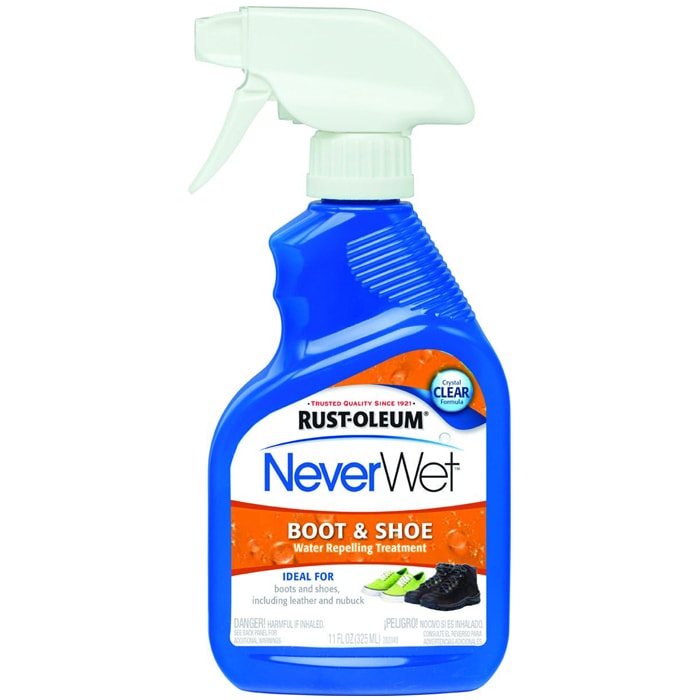 Its crystal clear silicone-free formula will not change the look and feel of your shoes. This high-quality spray can be used on a variety of materials, including leather, suede, and canvas.
7. Apple Brand Garde Rain & Stain Repellent, $16.97 at Amazon
Keep your shoes and other leather goods in excellent condition with the Apple Brand Garde.
This rain and stain repellent creates an invisible layer that protects your valued items from water spots, salt stains, oil, sweat, and other various liquids.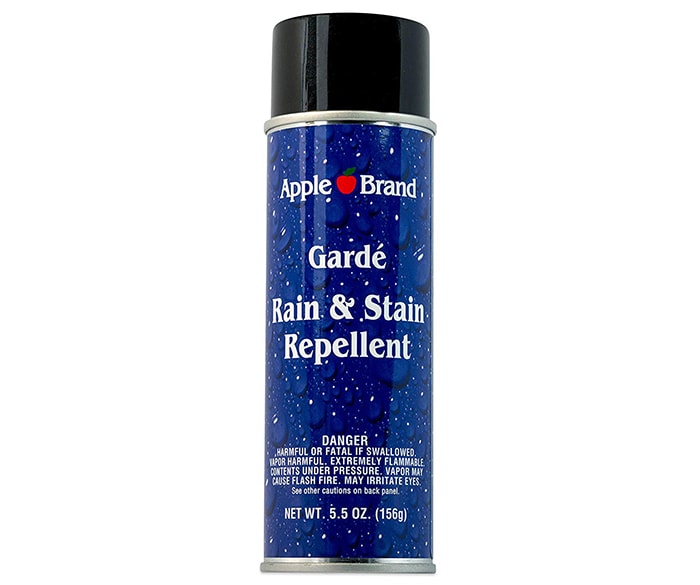 This will not leave any residue, nor will it alter the color of whatever you apply it to. You can spray it on your handbags, heels, belts, furniture, car interior, and other fabric and leather products.
8. Trinova Stain Guard Premium Fabric Protection, $19.97 at Amazon
Here's another premium fabric spray that's safe to use indoors. The Trinova Stain Guard is water-based, which means it's non-flammable, clear, and odorless.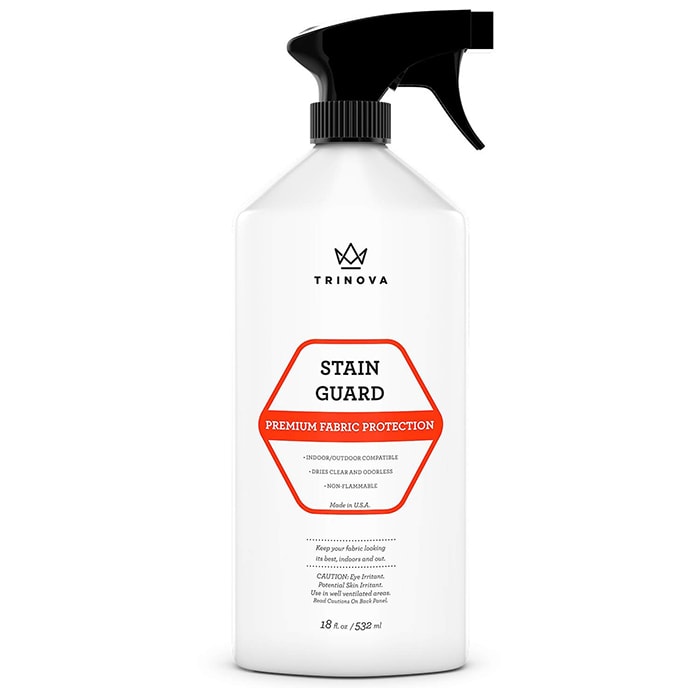 This spray covers your entire shoe with a protective barrier that beads liquids and prevents stains. And because it's clear, it doesn't leave any residue.
This one-step spray dries easily and can be used on other fabric surfaces as well.
9. Sof Sole Water Proofer, $11.39 at Amazon
The Sof Sole Water Proofer and protector spray is specifically designed for athletic and performance materials. It uses Nanotechnology to repel water and moisture — like sweat.
It also has a specialized ingredient that maintains the fabric's breathability, making it perfect for workouts.
This quick and effective spray provides an invisible protective coating that doesn't stain the fabric. It is also versatile and can be used on other products such as hats, jackets, and upholstery.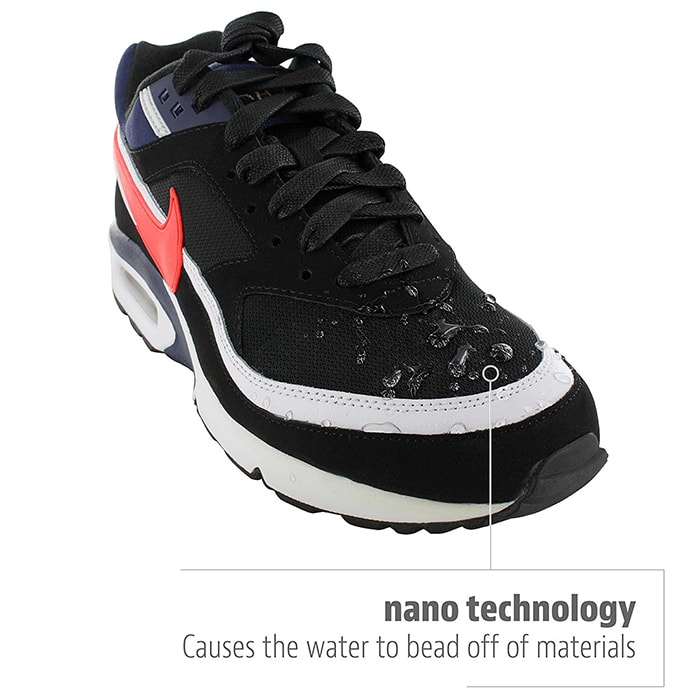 10. Tarrago High Tech Nano Protector Spray, $12.84 – $16.15 at Amazon
This Spanish company has been providing shoe and leather care solutions since 1940. Tarrago's High Tech Nano Protector spray is one of the brand's best-selling products.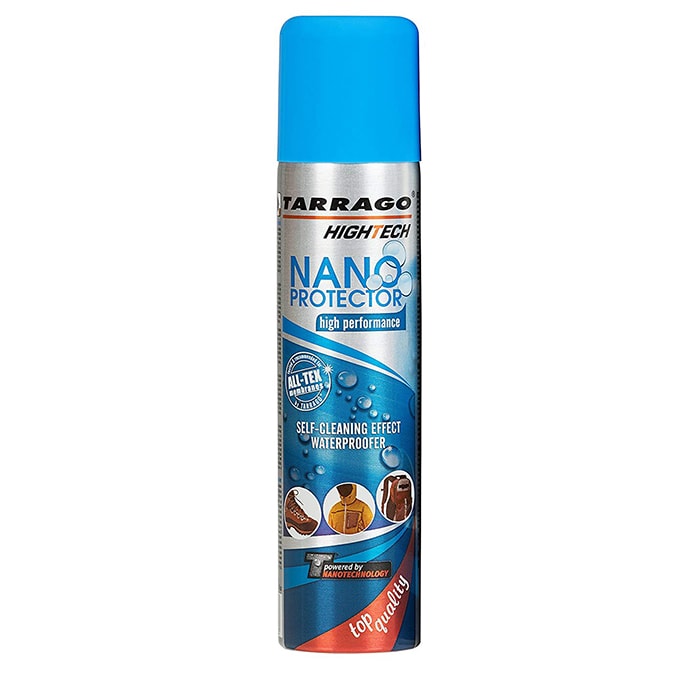 This spray uses Nanotechnology to make individual material fibers water-and-dirt repellent.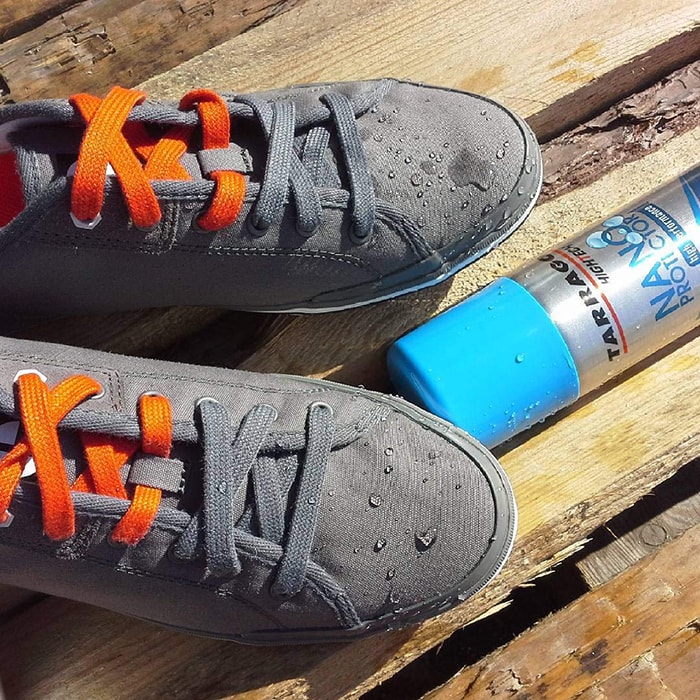 This can be used on all types of leather — including smooth, nubuck, suede, and patent.
Credit: Instar / Avalon / WENN