Originally used for women's gloves, suede has grown to become largely associated with the popular shoe variant, suede shoes.
And while it was popular even way back during Elvis Presley's time, suede shoes are still widely regarded as fashionable footwear that pairs well with many different outfit styles.
Popular Kiwi products used to protect suede and nubuck shoes
Owning a pair of neat suede shoes comes with a few caveats, though. The most obvious disadvantage of suede shoes becomes apparent the moment they get dirty, either due to a rainy day or an accidental step on some mud.
They're just not as easy to maintain as your regular leather shoes. Fortunately, with some proper tools and equipment, you can keep your suede shoes clean and neat in no time.
Before You Clean: Preparing the Tools and Equipment Needed
With suede shoes, you can't just brush, wax, and shine the dirt away until they're clean like your typical leather shoes. Instead, you'll need some special tools to help you out.
Here's a quick list of the things you'll need, as well as a short description of what they do:
1. Terry Cloth Rag
While it won't do the cleaning by itself, the terry cloth rag will be useful in applying the cleanser that'll help get rid of the dirt on your suede shoes. You can use other kinds of cloth too if you don't have terry cloth available.
2. Mild Sudsing Cleanser
You'll need a cleanser to tidy up your suede shoes. Be sure to get a mild cleanser, as stronger cleansers may damage the suede, and you wouldn't want that at all.
Use a cleaning brush or a damp cloth to lightly brush away dirt
3. Rubber Cleaning Stone
The cleanser will do a lot of work if you've got a particularly dirty pair of shoes, but oftentimes that won't be enough. That's where the cleaning stone comes in – it'll get rid of any remaining dirt for you.
4. Suede Brush
You'll also need a specialized suede brush if you really want to make your suede shoes look good as new.
5. Water-Repellent Spray
This isn't really required, but water-repellent sprays are great for keeping your suede shoes more resistant to damage from water, so you won't have to clean as often in the future.
If you're missing some or all of the things you'll need from the list above, you can either head to your local department store or buy them online via Amazon. Now that we know what to prepare, it's time to get cleaning.
Step 1: Apply Cleanser on the Rag
Place a good amount of cleanser on the rag. Not too much that it'll potentially cause damage to your shoe, but not too little that the cleanser won't be as effective in removing the dirt in your suede shoes.
Kiwi Suede and Nubuck Stain Eraser, $6.69 at Amazon
Don't worry about it too much the first time you clean, though – you'll find the perfect amount sooner or later.
For really tough stains like salt, food, or wine, you can try cleaning gently with a little white vinegar on a clean cloth. Let the vinegar dry before rubbing it with a suede brush.
Another household product you can try is baking soda. Just sprinkle it on the stained suede and rub it off with a soft brush when dry.
Step 2: Rub the Rag onto The Suede Shoes
Apply the cleanser onto your shoes using the rag. Again, practice moderation – don't linger too long on any given spot, but don't just run past the whole surface of the shoe in one fell swoop. Be sure to give every single inch of the suede a good rubbing.
Step 3: Rub the Stone on The Shoe
To really get rid of every speck of dirt on your suede shoes, you can use a cleaning stone to finish the job that the cleanser started. Just rub the stone on the shoe to get the dirt out. Just be sure to rub in one direction.
If you don't, you'll end up shuffling the dirt back and forth the shoe instead of actually getting rid of it. Think of the stone as a broom, and that you'll need to sweep in one direction to get the job done.
Step 4: Use the Suede Brush to Restore the Suede's Nap
With all that rubbing from the terry cloth rag and the cleaning stone, the nap of your suede will most likely end up looking uneven and messy.
To fix that, you'll need the specialized suede brush to get the fuzzy surface of the suede uniform in one direction.
Nordstrom shows how to brush to restore the nap to your suede
Make sure to follow the same direction throughout the entire shoe.
Step 5: Apply Some Water-repellent Spray onto Your Suede Shoes
Finally, a little bit of insurance. You're basically done cleaning your suede shoes at this point, but if you really want to go the extra mile (and save yourself the trouble of future cleaning in the process) you'll want to do this next step.
Get your can of water-repellent spray and simply spray away at your suede shoes, applying it in a uniform fashion.
Aquatalia's suede Vladimir leather ankle boots
Conclusion
Overall, the entire process shouldn't take too long, and it's easy enough for even beginners to pull off.
If you'd rather see a visual demonstration of the whole thing, Nordstrom's got a great minute-long video that you can watch below.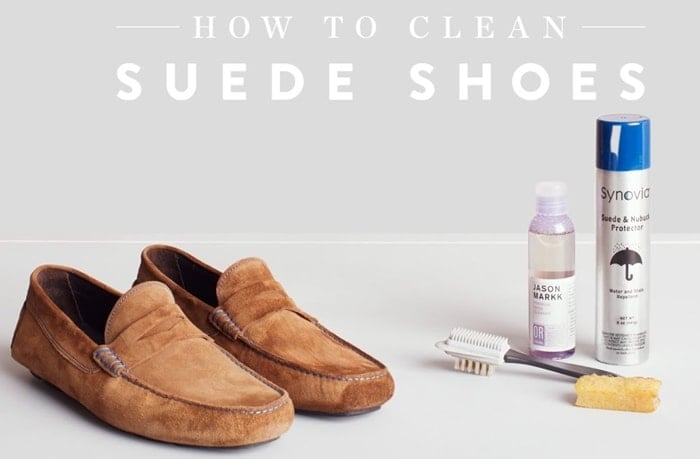 Nordstrom's shoeshine expert shows you how to make your suede shoes look like new
While maintaining suede shoes might be a challenge for a lot of people, by following simple steps and techniques it isn't difficult to keep your suede shoes in peak condition.
All you need is a small set of tools and a few minutes of your own time to keep your shoes good as new. Just be like Elvis and don't let people step on them.