Biologically, it is expected for children to resemble their parents. Some, however, just bear more than just a passing resemblance.
As the proverb says: Like mother, like daughter. But these celebrity mothers and their daughters are taking the classic phrase to a different level.
While some of them could easily pass for sisters, others are practically identical. Their gene game is so strong that they make us do a double take.
Not only are these children of stunning celebrities lucky enough to inherit their moms' good looks, but some of them are also blessed to inherit their talents.
Here are 26 beautiful celebrity moms and their lookalike offspring.
1. Reese Witherspoon and Ava Phillippe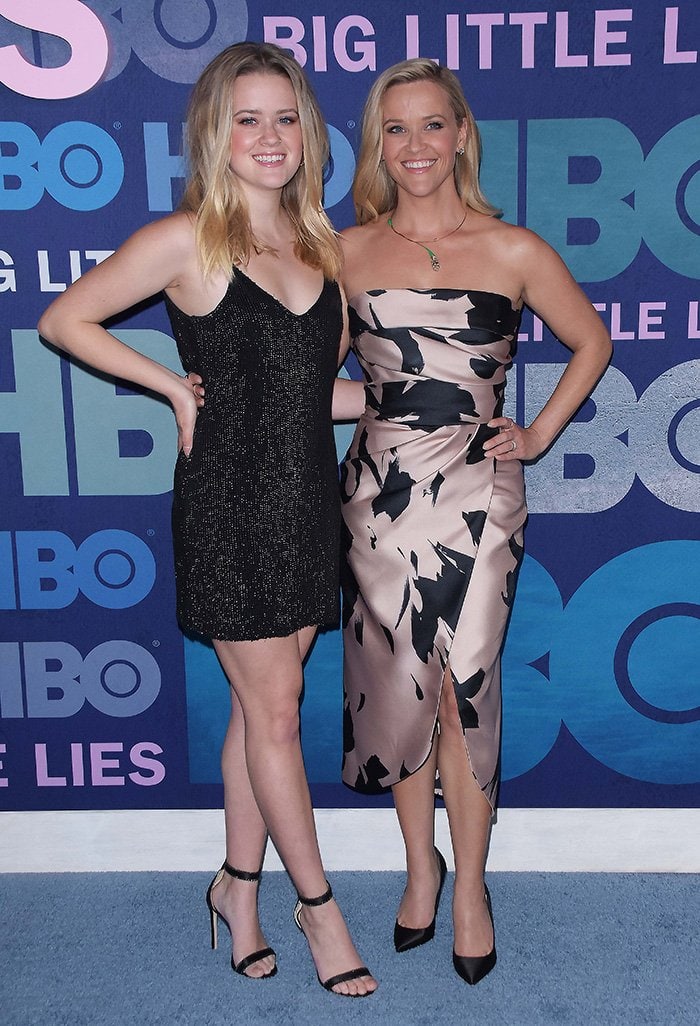 Ava Philippe look very much like her mother Reese Withespoon at the Big Little Lies Season 2 HBO premiere on May 30, 2019
The Legally Blonde actress might have found her doppelganger in her daughter, Ava Elizabeth, whom she shares with her ex-husband Ryan Phillippe.
While we have to admit that both her parents look really good, it's obvious that she's a spitting image of her actress mother.
2. Demi Moore and Rumer Willis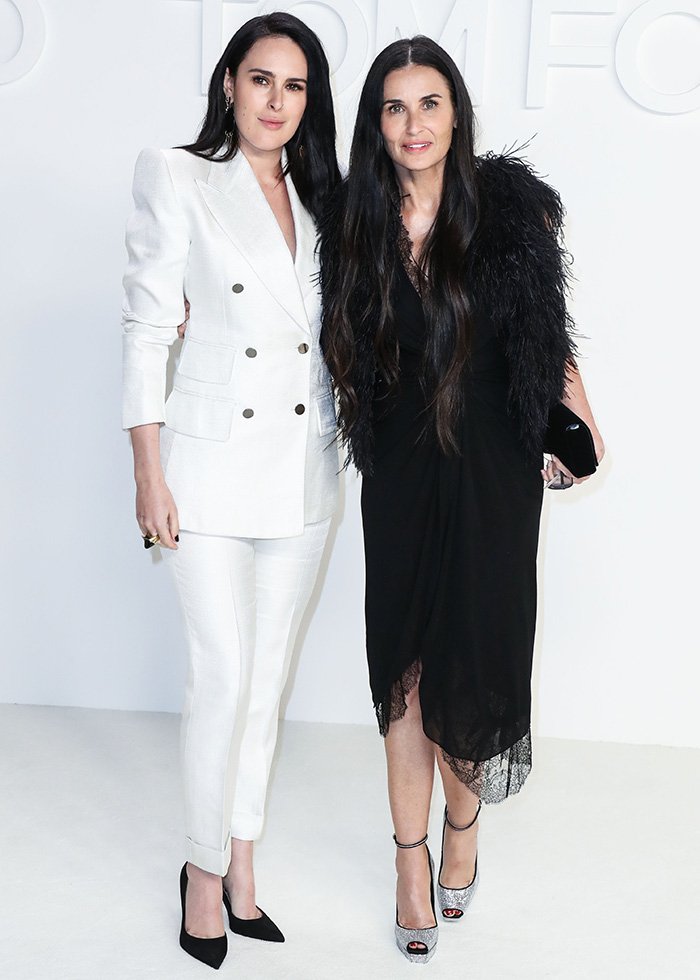 Rumer Willis and Demi Moore look like twins at the Tom Ford Autumn/Winter 2020 Fashion Show on February 7, 2020
Seeing double? That's Demi Moore and her eldest daughter, Rumer, with her second husband Bruce Willis.
Same face shape, same hair length, these two are nearly identical! Rumer, who's also an actress like Demi, admitted in 2015 that she's really becoming her mother.
View this post on Instagram
"That moment when you realize you actually are becoming your mother #twinning #imnotmad," she captioned a photo of her and her mom, side by side, wearing the same outfit, hair, and eyeglasses.
3. Cindy Crawford and Kaia Gerber
She followed in her mom's footsteps and entered the modeling world at the age of 13.
Cindy Crawford and her look-alike daughter Kaia Gerber at the British Fashion Awards on December 10, 2018
"From day one, people in the industry were often taken aback by my resemblance to my mom," she wrote in a personal essay for Vogue's November 2019 issue.
"As I get older, it happens even more, and it's not just a visual thing: It's everything from our mannerisms to our voices."
"The biggest compliment is when someone says I act like my mom," she explained.
"Beyond her beauty and obvious appeal, she has always been my hero and my role model because of the way she treats people and the lens that she sees the world through, and that's something for which I'm beyond grateful."
Kaia Gerber is practically her mom's younger copy. Not only did she get her 5'9" height, but she also got her incredibly slim figure and stunningly gorgeous face.
View this post on Instagram
Cindy Crawford doesn't look like she's aged a day. They could pass as sisters, if not twins, although Cindy is 35 years older.
4. Kris Jenner and Kim Kardashian
Kris Jenner and Kim Kardashian are practically identical at TAO Nightclub on February 27, 2010
She has pretty strong genes and it's evident in her children. Kris bears a striking resemblance to all her daughters, but it seems she has more similarities with Skims founder Kim Kardashian.
Aside from having the same lips and cheekbones, the two also share the same style.
On the other hand, many also noticed the uncanny resemblance between Kris and her daughter Kendall Jenner.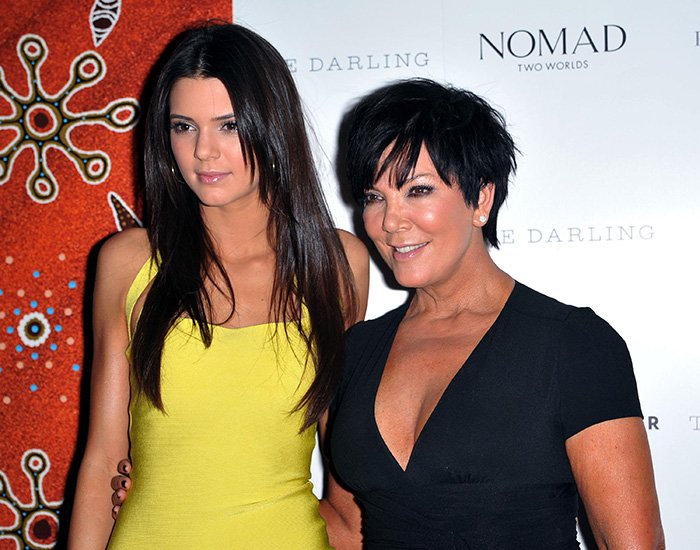 Pictured in 2012, Kendall Jenner shows a striking resemblance to her mom, Kris Jenner
In a 2018 Instagram birthday greeting for her mom, Kendall shared a throwback photo of Kris, and many were surprised to see that they also look alike.
View this post on Instagram
While Kendall is often said to look different compared to her other siblings, especially because she's slimmer than her curvier sisters, her resemblance to her mom is undeniable.
5. Katie Holmes and Suri Cruise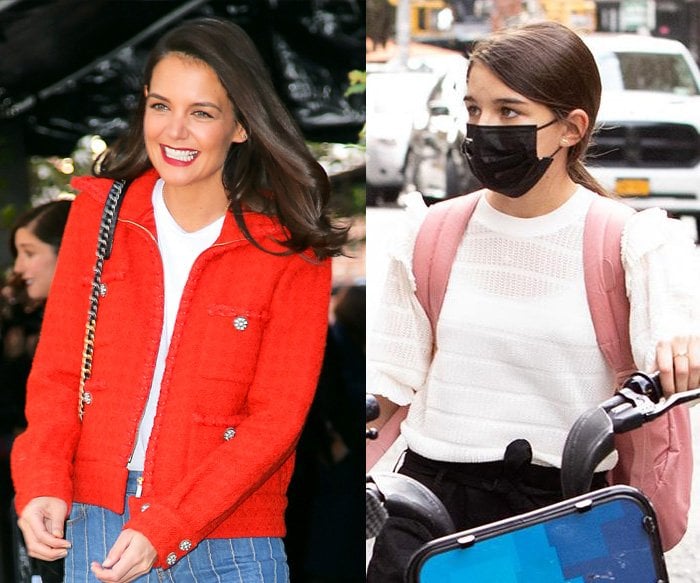 The resemblance between Katie Holmes and daughter Suri Cruise is remarkable
It feels like it was just yesterday when Katie introduced her daughter to the world. Now, Suri is growing up to look just like her mom.
It's a fact that both her parents, Tom Cruise and Katie Holmes, are gorgeous but Katie's genes seem more dominant.
From their eyes to the way they smile, Katie and Suri look very similar.
6. Jennifer Garner and Violet Affleck
Violet Affleck is Jennifer Garner's exact copy
They look practically identical, with or without their glasses.
Jennifer Garner's eldest daughter, Violet, whom she shares with Ben Affleck, is looking like her exact copy.
In October 2020, Jennifer shared with her followers a photo from her childhood that had her fans looking twice as she very much resembles her daughter.
View this post on Instagram
7. Catherine Zeta-Jones and Carys Zeta-Douglas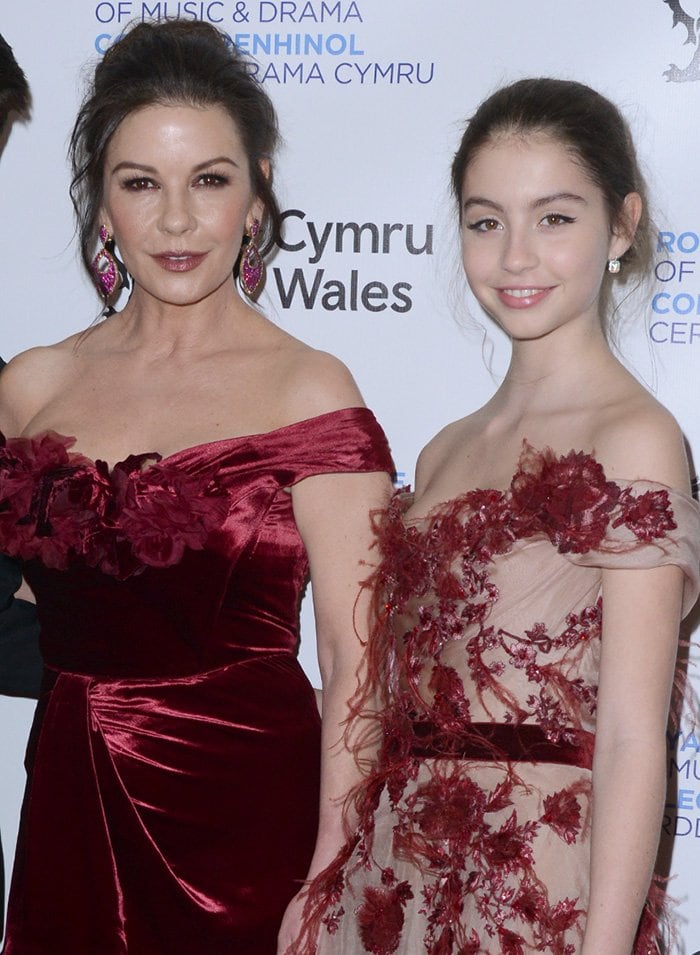 Catherine Zeta-Jones has passed down her stunning looks to her daughter Carys Douglas
She has one of the most beautiful faces in the world, and she has managed to pass down her good looks to her only daughter, Carys.
The "younger" Catherine clearly got her eyes, smile, and face shape from her momma.
8. Lisa Bonet and Zoe Kravitz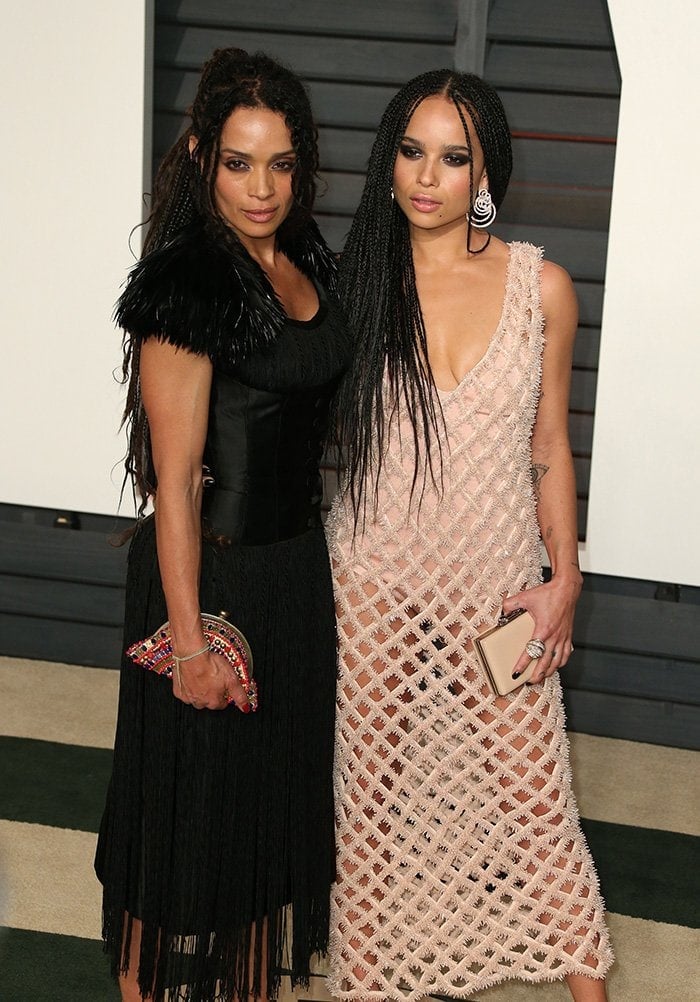 Lisa Bonet and daughter Zoe Kravitz could pass off as sisters at the 2015 Vanity Fair Oscar Party
Similar eyes, smile, and trademark long hair. No one can deny the uncanny resemblance between Lisa Bonet and her daughter Zoe Kravitz.
To top it off, their likeness goes far beyond their physical characteristics. Zoe has inherited not just Lisa's beauty but also her sultry bohemian sartorial style.
9. Tish Cyrus and Miley Cyrus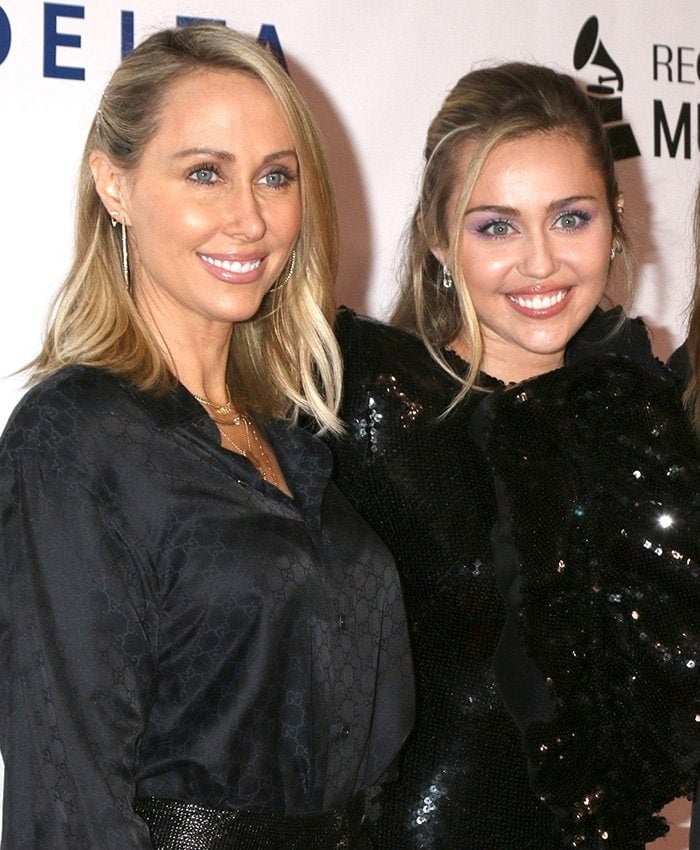 Tish Cyrus and look-alike Miley Cyrus have the same pouty lips, blue eyes, and blonde hair
Anyone can easily tell they are related. With their blonde hair, pouty lips, smile, and blue eyes, it wouldn't be surprising if people mistake them for sisters.
But there's more to Miley Cyrus and Tish Cyrus' physical resemblance. Their personalities seem alike as well.
In an interview with Rick Owens in 2020, Miley opened up about how she likes doing sculpture and "making art out of things that didn't mean anything to anyone else, things that were considered trash."
She explained: "I think that came from my mom. She was adopted and, in a sense, given away, and she didn't feel a lot of value. But I totally worship her."
10. Melanie Griffith and Dakota Johnson
Melanie Griffith's bone structure and facial features are similar to her daughter Dakota Johnson
They're both famous actresses with several acting nominations under their belts. But aside from having the same passion for acting, mother-and-daughter duo Melanie Griffith and Dakota Johnson also share striking physical features!
In July 2020, Melanie shared a throwback photo of her and Dakota from 1998. With their blonde tresses, bare faces, and bone structure, the younger Dakota looks nearly the same as her mother.
View this post on Instagram
11. Leslie Mann, Iris Apatow, and Maude Apatow
Leslie Mann attends a Chanel dinner with her look-alike daughters Iris and Maude Apatow on June 2, 2018
Her genes are so strong that both her daughters look just like her.
Although her husband, Judd Apatow, also has great genes, Leslie's genetics are more evident in Iris and Maude.
They're just like sisters every time they appear on the red carpet.
12. Meryl Streep and Mamie Gummer
Mamie Gummer bears an uncanny resemblance to her mother Meryl Streep
All three of Meryl Streep's daughters bear a striking resemblance to their award-winning actress mother. But her eldest daughter, Mamie, looks exactly just like her!
Mamie didn't just inherit her beauty from her mom, she also inherited her great acting chops. Together, they appeared in the 2007 drama Evening and the 2015 musical comedy-drama Ricki and the Flash.
13. Goldie Hawn and Kate Hudson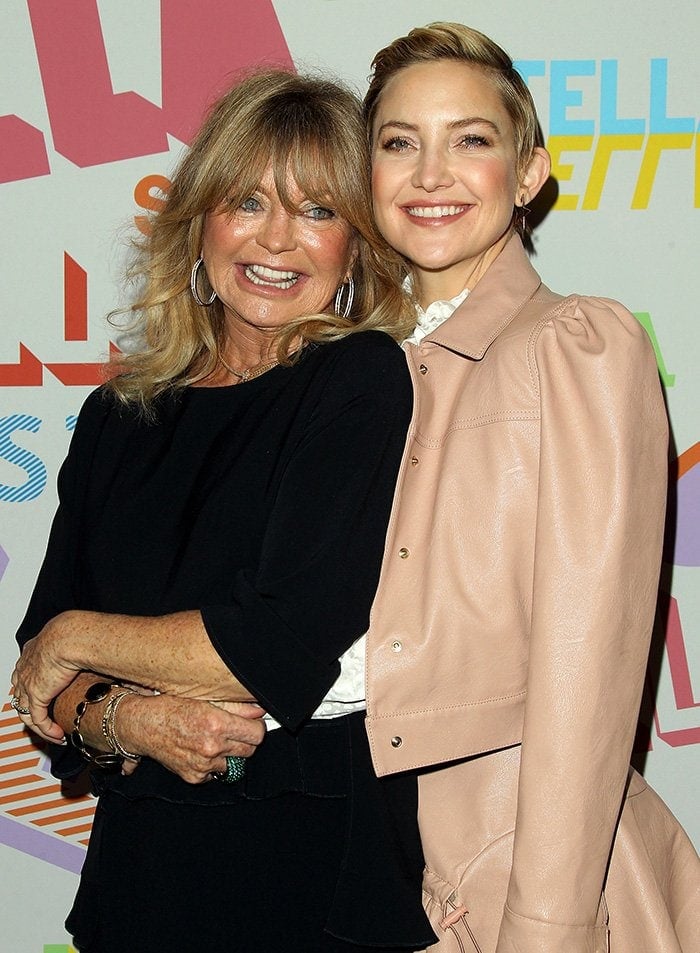 Goldie Hawn and her daughter Kate Hudson's resemblance is undeniable
Many people already know about the striking resemblance between Goldie Hawn and Kate Hudson. It's evident in their photos! Kate's eyes, nose, smile, and cheeks are exactly like her mom's.
While many have noticed their similarities, Kate once admitted that she didn't think they looked alike.
"I used to say 'Why do people say that? I look nothing like my mom' but I sometimes walk across a mirror and just get a glance and see it."
14. Thandie Newton and Nico Parker
Nico Parker is her mother Thandie Newton's younger version at the 2019 Variety's Power of Young Hollywood
Dumbo star Nico Parker is the replica of her famous mom, Thandie Newton. Not only do they share a stunning resemblance, but they also seem to have the same sense of style.
Many fans have noticed their similarities. They said they look like twins and some even joked about Thandie cloning herself.
15. Uma Thurman and Maya Hawke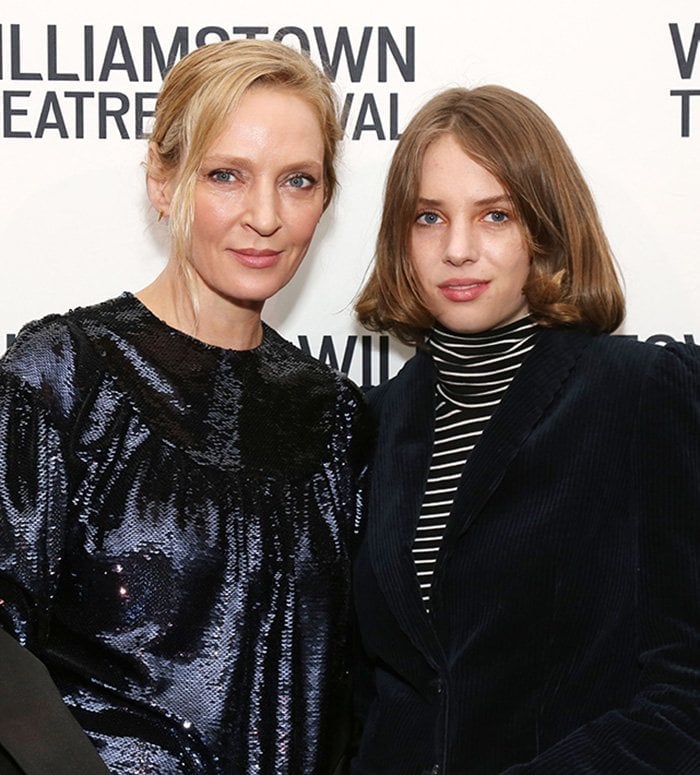 Uma Thurman's daughter Maya Hawke is a doppelganger of both her and Ethan Hawke
Aside from being the daughter of actress Uma Thurman and actor Ethan Hawke, Maya Hawke has become more famous for her role in the 2017 BBC adaptation of Little Women and for starring as Robin in the Netflix series Stranger Things.
She's a doppelganger of her parents, and watching her on screen might leave you wondering if she looks more like her mom or her dad.
One moment, she resembles Uma, but then later, she's giving off her father's vibes.
16. Julianna Moore and Liv Freundlich
Julianne Moore brings her carbon copy daughter Liv Freundlich at the Museum of Moving Image on January 21, 2015
She's an Academy Award-winning actress, and if she needs someone who will play a younger version of herself, her daughter would be the perfect person for the job.
Liv Freundlich is clearly a younger copy of Julianne Moore. Her wide smile and almond-shaped eyes are identical to her mom.
17. Lori Loughlin, Isabella Rose Giannulli, and Olivia Jade Giannulli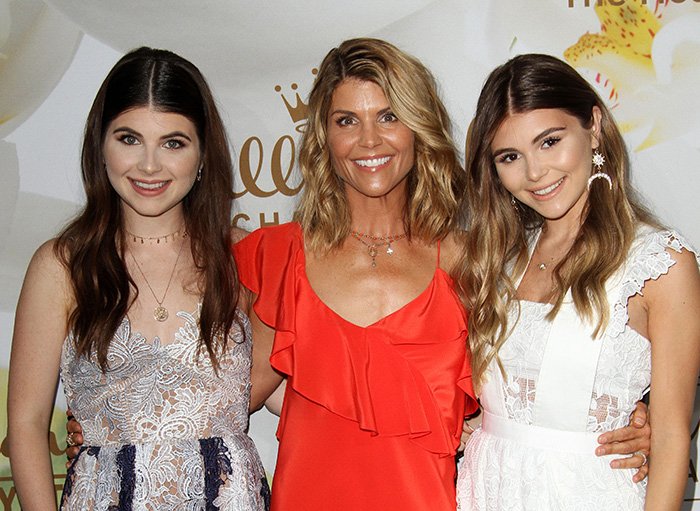 Lori Loughlin with equally stunning daughters Isabella Rose and Olivia Jade Giannulli at the Hallmark Summer 2017 TCA event
Isabella Rose and sister Olivia Jade hit the genetic jackpot as daughters of actress Lori Loughlin and fashion designer Mossimo Giannulli.
The siblings, though, resemble their mom more than their dad. They are like mirror images of each other!
18. Brooke Shields and Grier Henchy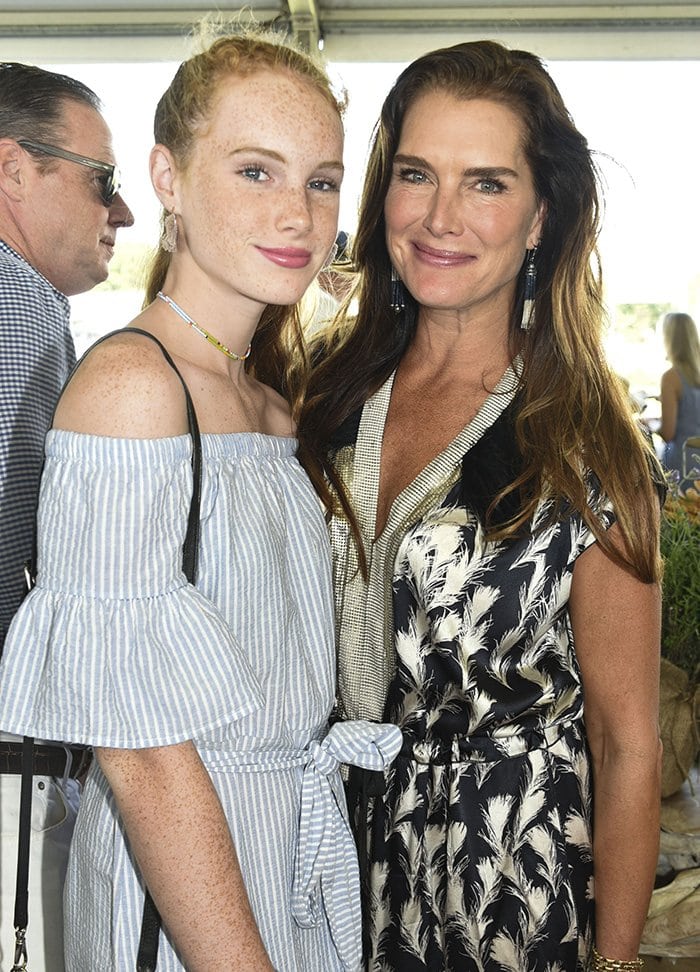 Grier Hammond Henchy looks like a younger version of her mom Brooke Shields at the Hampton Classic Horseshow on September 2, 2018
Brooke's youngest daughter, Grier Hammond Henchy, is looking like a younger version of her.
Aside from having her mom's eyes, smile, and face shape, Grier has also inherited her mother's height. Brooke stands 6-foot flat and Grier isn't far behind.
19. Lea Thompson and Zoey Deutch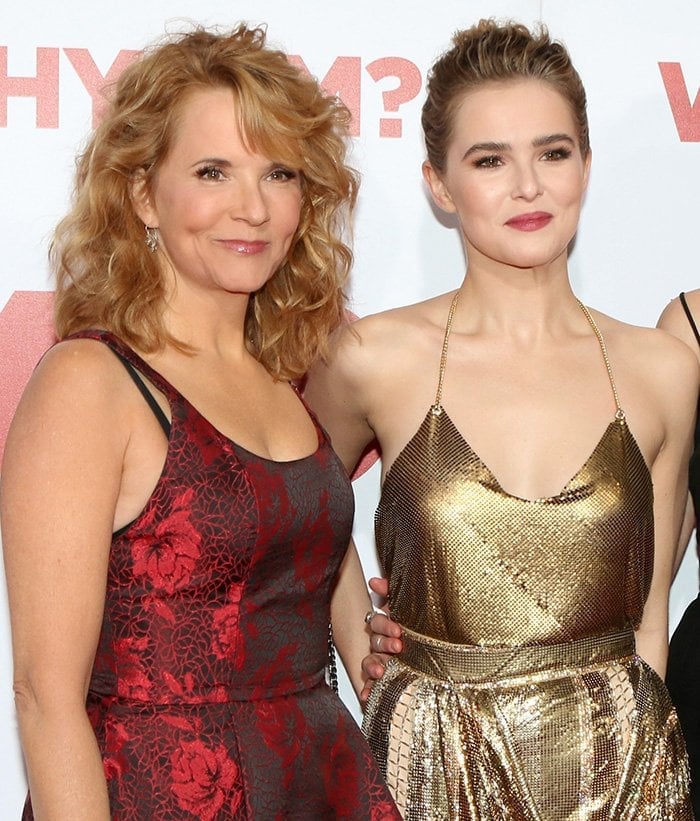 Lea Thompson and daughter Zoey Deutch bear a stunning resemblance to each other at the Why Him? premiere on December 24, 2016
She has made a name for herself as an actress. But if you think she looks familiar even before she became famous, it's because she's the daughter of Back to the Future actress Lea Thompson.
Zoey Deutch followed in her mother's footsteps and became a recognized actress. They have been appearing on the red carpet together, and no one can deny that they share an uncanny resemblance.
20. Vanessa Paradis and Lily-Rose Depp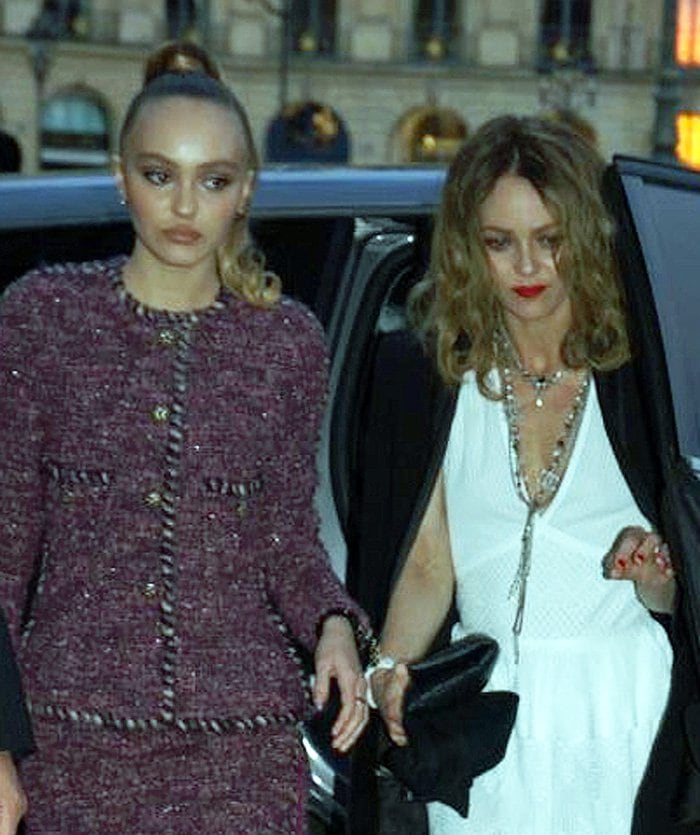 Lily-Rose Depp inherits her mom Vanessa Paradis' good looks
She's a model and an actress just like her mother, Vanessa. And as she's maturing, Lily-Rose is turning more and more into her famous mom.
Vanessa's gene game is so strong; we can hardly see Johnny Depp in Lily-Rose.
21. Christie Brinkley and Sailor Brinkley-Cook
Sailor Brinkley-Cook and mom Christie Brinkley look like sisters at the 2018 FN Achievement Awards
At first look, people might mistake them for sisters!
From their eyes and smile to their hair length, model Christie Brinkley and her daughter Sailor bear unmistakable similarities to each other.
22. Madonna and Lourdes Leon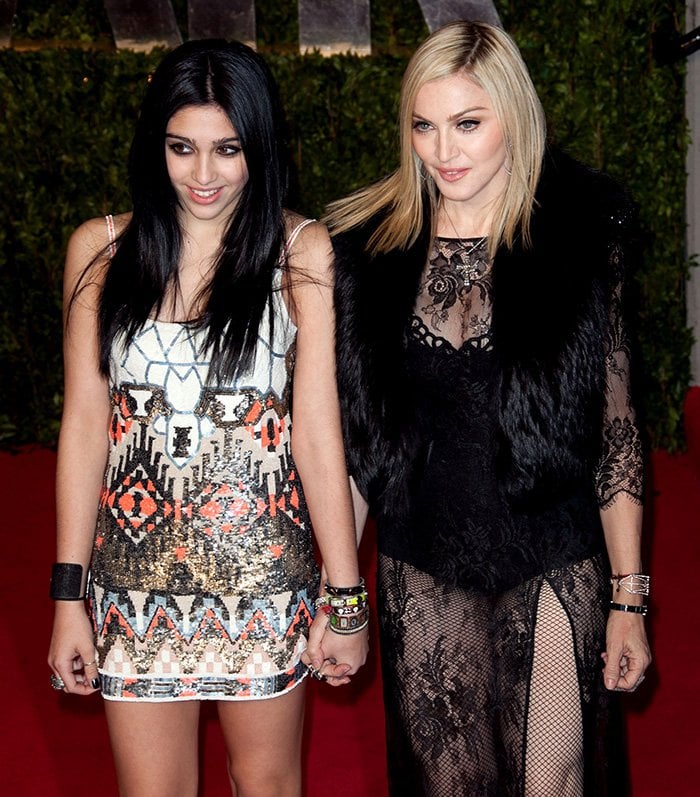 Lourdes Leon has the same striking eyes as her pop star mom Madonna at the 2011 Vanity Fair Oscar Party
As the daughter of the Queen of Pop, Lourdes Leon pretty much grew up in the spotlight.
She's often compared to her famous mother as the resemblance between them is remarkable. They have the same striking eyes and smile, and their fashion sense, too, is similar!
23. Jerry Hall and Georgia May Jagger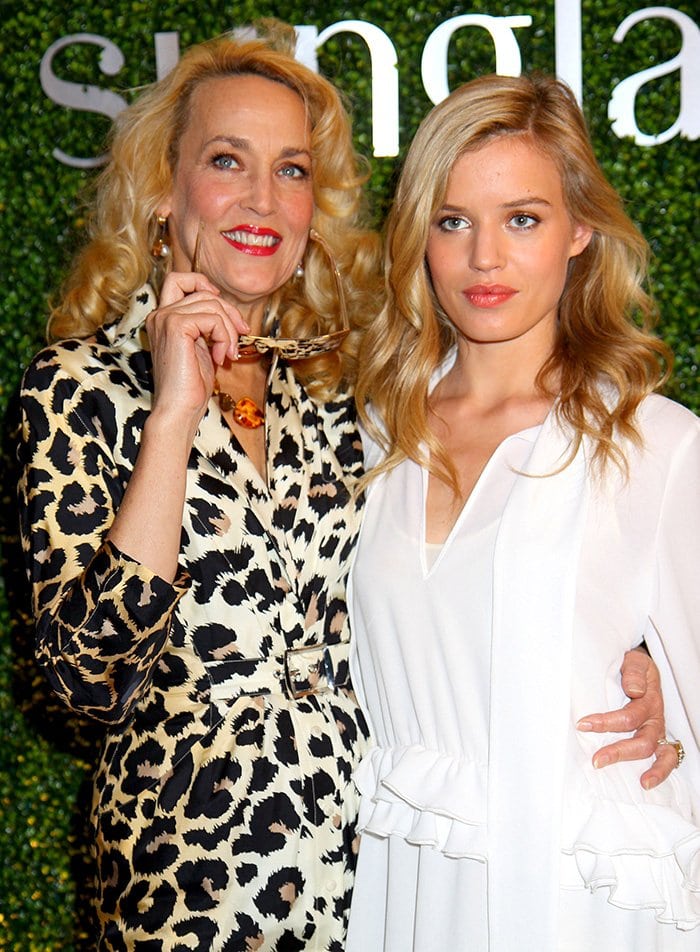 Model Jerry Hall with her younger copy Georgia May Jagger at Sunglass Hut's 2013 Mother's Day celebration
They look more like sisters than mom and daughter.
Georgia May Jagger is a fashion model like her mom, Jerry Hall. She may have her father Mick Jagger's last name, but she got her looks from her mother.
24. Susan Sarandon and Eva Amurri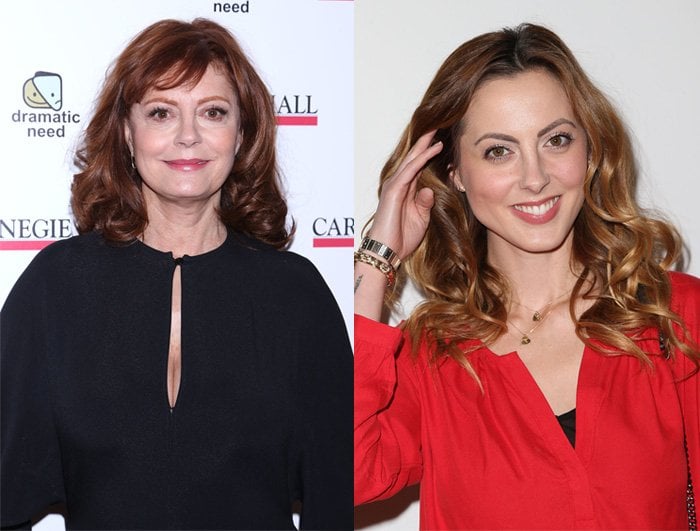 Susan Sarandon and daughter Eva Amurri look exactly alike
She's a carbon copy of her mom!
Eva Amurri didn't just get Susan Sarandon's beautiful smile and round eyes, but she also got her acting prowess from her.
They even played the younger and older versions of a character in the 2012 Adam Sandler movie That's My Boy.
25. Gillian Anderson and Piper Maru Klotz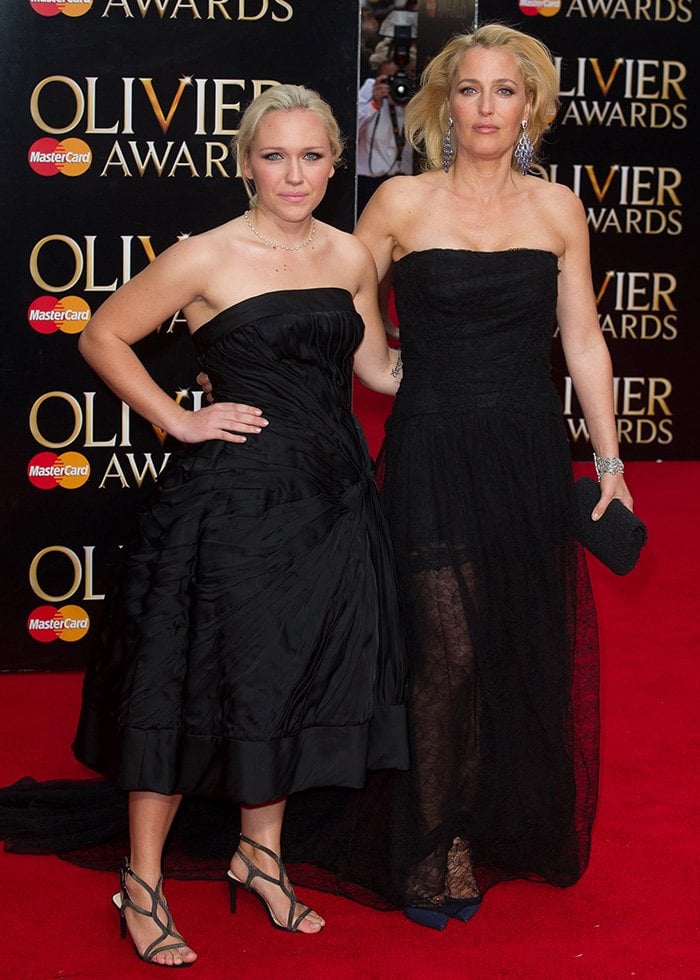 Piper Maru Klotz and mother Gillian Anderson are twinning at the Olivier Awards 2015
The X-Files actress Gillian Anderson and her eldest daughter, Piper, are practically twins!
Their eyes, lips, facial structure, body type, not to mention their red-carpet style, look very similar.
26. Bette Midler and Sophie von Haselberg
Bette Midler and her daughter Sophie von Haselberg could pass off as twins
It's hard not to notice the uncanny similarities between Bette Midler and her daughter Sophie von Haselberg.
They could definitely pass off as twins! Everything about them is pretty much identical—from their smiling eyes, lips, and nose to their hair, cheeks, and built!
Credit: Patricia Schlein / PNP / Mario Mitsis / Michael Carpenter / Lia Toby / Joseph Marzullo / 
Jeff Grossman / Joseph Marzullo / Adriana M. Barraza / Kathy Hutchins / FayesVision / Brian To / 
Ivan Nikolov / Nicky Nelson / Chris Connor / Avalon / Mega / Instar/ WENN