From Hollywood royalty to motherhood, Rumer Willis follows Demi Moore's footsteps by announcing her plans for unmedicated childbirth.
The 34-year-old actress and eldest daughter of Demi and Bruce Willis is expecting her first child with partner Derek Richard Thomas and has been sharing intimate details with her fans on social media.
In an interview with People published on April 5, Rumer revealed, "I think it was always my plan to do it unmedicated. That's how my mom did it, and I grew up knowing that. That was always just a part of what I wanted to create. But I think it's so individual."
View this post on Instagram
She added, "The biggest lesson I've learned so far, during this transition to motherhood, is about surrender, so ideally, I'm planning for a home birth, but if at any point someone was like, 'It's a little risky, or maybe not,' then I'd be like, 'cool, let's adapt and change.'"
Demi Moore has also been open about her preference for natural childbirth, describing her desire to "feel every sensation" in her 2019 memoir, "Inside Out," which you can buy on Amazon.
View this post on Instagram
The 60-year-old actress recalled the moment she gave birth to Rumer, writing, "I wanted the exact opposite experience to the one my mom had: I wanted to feel every sensation, to be completely present and conscious for every moment of the delivery, no matter how painful."
Demi gave birth to Rumer and her siblings Tallulah and Scout at home after changing doctors to find one who would support her birth plan and refrain from prescribing painkillers.
Rumer has been using a perineal massager to prepare for childbirth, which she demonstrated in a video she posted on Instagram on Tuesday.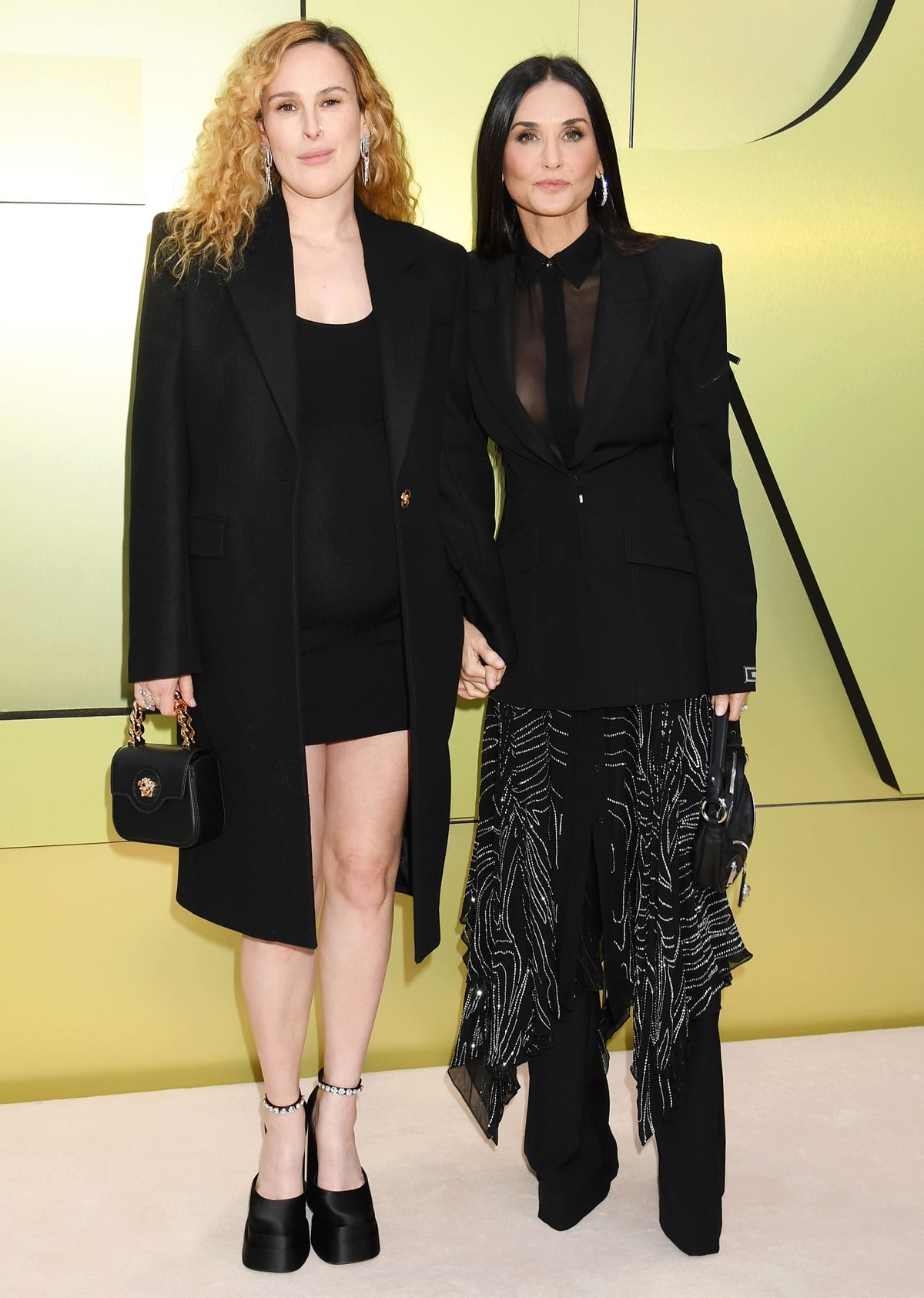 Demi Moore and her daughter, Rumer Willis, attended the Versace Fall 2023 runway show, where they showcased their impeccable style at Pacific Design Center on March 9, 2023, in West Hollywood, California (Credit: Jennifer Graylock / INSTARimages)
She donned a white robe and wore her hair pulled back as she explained that the device had been a game changer for her, helping her to feel more prepared for her unmedicated birth and to relax her pelvic floor muscles.
Rumer wrote in the caption, "Rumer Has It: Mama Rue Favorite @perimom.perineal.massager. GUYS This is a game changer. This is not a ad just straight up the most magical tool. I feel so much more prepared for my non medicated birth because of this thing. If you have any questions DM me. Happy to share and talk about it."
In her video update, Rumer revealed that she is approaching her third trimester and has been thinking a lot about pelvic floor work.
At the Fashion Trust US Awards on March 21, 2023, Demi Moore and her daughter, Scout LaRue Willis, made a bold fashion statement by coordinating their outfits in homage to the early 2000s (Credit: Abaca Press / INSTARimages)
Opening up about her concerns, Rumer admitted feeling "overwhelmed or intimidated" by the topic as she had not explored it much before.
However, she emphasized the importance of working and stretching the pelvic floor muscles, especially because she plans to have an unmedicated childbirth.
She said, "But I knew how important it was, especially because I am having an unmedicated birth, to really work and stretch. My midwife and doula were both telling me about how important it is to either do it yourself or have a partner help you with perineal massage."
Demi Moore attended the Versace fashion show in a sheer top styled with a long blazer, an embellished skirt, wide-leg trousers, and a biker-inspired Versace Repeat mini hobo bag featuring a bold Medusa charm and diagonal zippers (Credit: Abaca Press / INSTARimages)
Rumer shared that she found the device on Instagram that helped her body learn how to relax, saying, "I have to say this has been such a game changer and made me feel so much more confident about my ability to just be, I don't know, more surrendered, really relaxed, really find places in your pelvic floor where you're holding tension and learn how to let those places go and really just prepare myself so I can have an easier birth."
It's unclear exactly when Rumer and Derek began dating, but the couple started sharing social media posts around a year ago.
In December, the couple announced their pregnancy on Instagram with a slideshow of pictures with a seedling emoji. They have been sharing updates on their pregnancy journey on social media ever since.
Rumer Willis showcased her baby bump in a stunning black minidress, paired with a structured black blazer that added a touch of sophistication to her outfit (Credit: Jennifer Graylock / INSTARimages)
Rumer had her baby shower in Los Angeles last month, attended by Rumer's family and friends, including her stepmother Emma Heming Willis and sisters Tallulah Willis, Scout Willis, Evelyn, and Mabel.
The upcoming arrival will be the couple's first child and Bruce Willis and Demi Moore's first grandchild. However, the news of Rumer's pregnancy also came shortly after Bruce retired from acting due to his struggle with aphasia.
View this post on Instagram
Later, the Willis family confirmed that Bruce had been diagnosed with frontotemporal dementia (FTD), making the upcoming birth even more special for the family.