It looks like selfie shenanigans are pretty much universal. And if you don't believe us, maybe you'll believe Ashley Benson.
Since they share the same surname, many fans wonder if she's related to American actress Jodi Benson and Russian-born American Internet personality Violet Benson.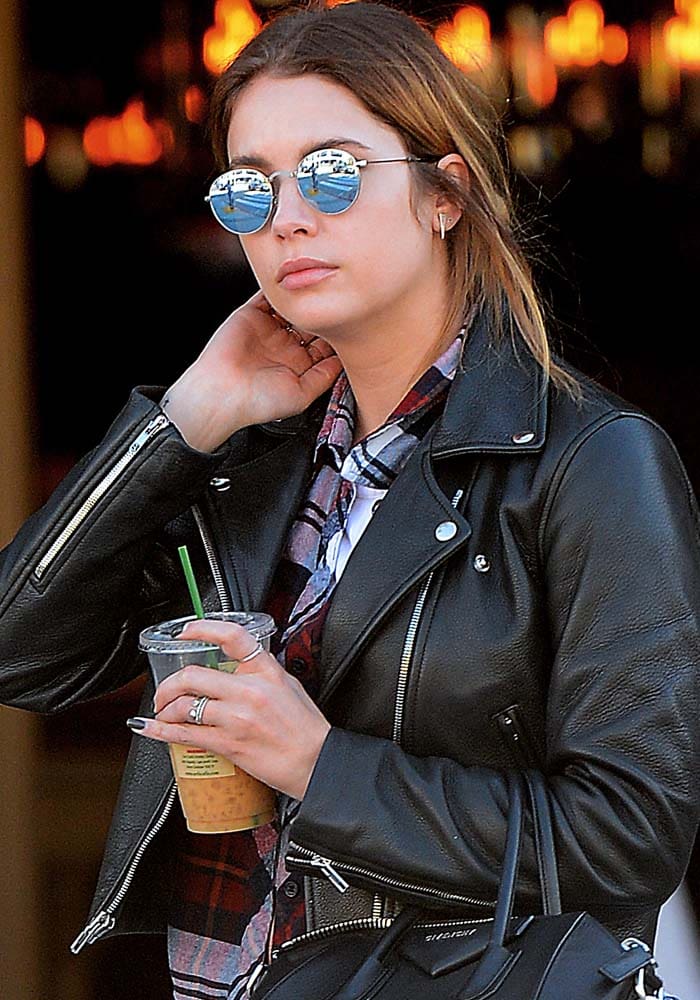 Ashley Benson wears her hair in a messy bun as she leaves Urth Cafe in Los Angeles on January 22, 2016
In January 2016, the Pretty Little Liars actress was spotted leaving a healthy coffee place, Urth Caffe, in Los Angeles shortly after making us all crack up with her "it's a picture not a video" prank.
A patronymic surname of English origin meaning "son of Ben," Benson is a very common last name in English speaking countries.
Other actors with Benson as surname include Doug Benson, Martin Benson, Ray Benson, Amber Benson, Annette Benson, Constance Benson, Wendy Benson, and Shaun Benson.
Best known for providing both the speaking and the singing voice of Princess Ariel in Disney's The Little Mermaid and its sequel, prequel, and television series spinoff, Jodi Marie Benson is an American actress, voice actress, and singer
Jodi Marie Benson, whose maiden name is Marzorati, changed her surname to Benson after marrying actor/singer Ray Benson in 1984. Not related to Ashley Benson, she has two children named McKinley and Delaney.
Violet Benson, content creator behind Instagram influencer account Daddy Issues, is not related to Jodi and Ashley Benson
Better known by her online alias and persona Daddy Issues, Violet Benson was born to Russian parents in Saint Petersburg, Russia. Emigrating to the United States at the age of 14 once her family won the green card lottery, she has no relation to Ashley and Jodi Benson.
Robby Benson, an American actor who starred in six episodes of the sitcom Friends, is also not related to Violet, Ashley, and Jodi Benson. Born Robin David Segal, he took his mother's maiden name as his stage name when he was 10.
Robby Benson (born Robin David Segal) rose to prominence as a teen idol in the late 1970s
For her visit to the European-style café, Ashley wore a plaid top underneath a leather jacket, which she paired with loose-fitting jeans.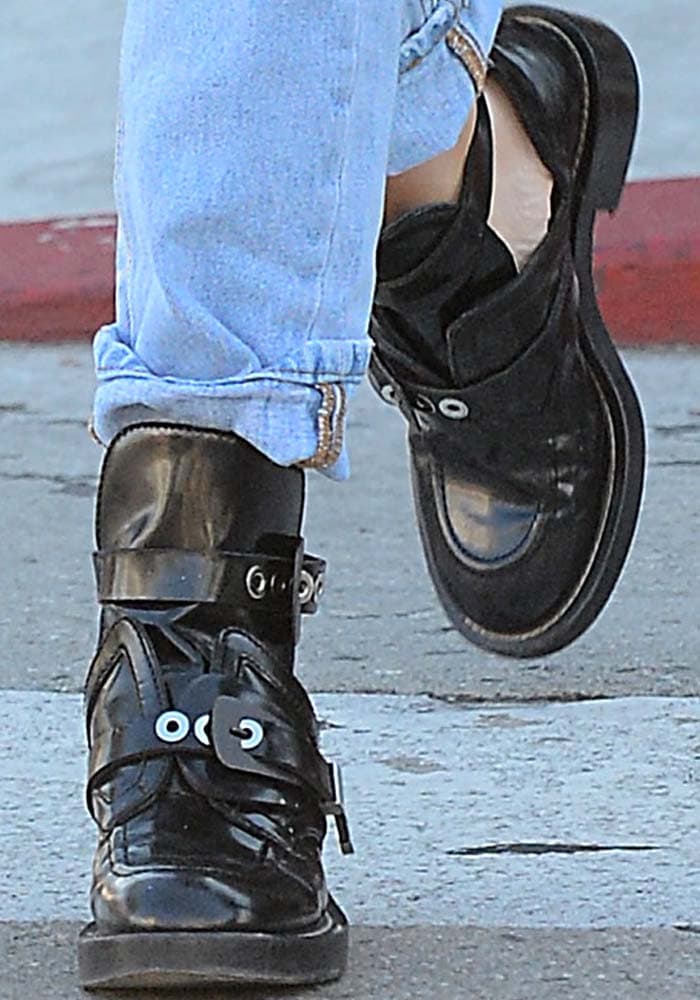 Ashley Benson wears a pair of buckled black boots from Balenciaga
The actress accessorized her casual coffee run look with round mirrored sunglasses, a Givenchy tote, and a pair of "Ceinture" cutout boots from Balenciaga.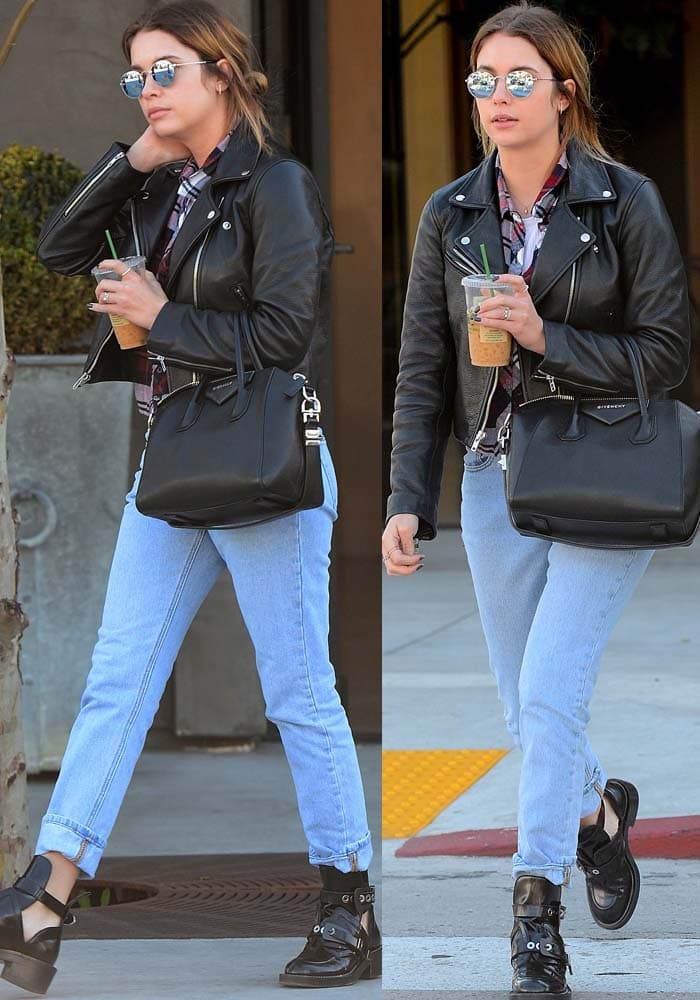 Ashley Benson wears a leather jacket and baggy jeans as she leaves a coffee shop
Ashley posted the hilarious "photo" video mishap, which included friends Rachel Zoe, Nicole Richie, and the surprise guest at the end, Jessica Alba.
The girls were together for producer Heather Parry's birthday. Not in the photo: Leonardo DiCaprio, P. Diddy, Adam Sandler, and Orlando Bloom among other celebrities. Whew.
Ashley's Balenciaga "Ceinture" boots are no longer available in the black buckle version, but you can hardly tell the difference between Ashley's boots and this silver-buckle version. You can order a pair at Farfetch and Nordstrom.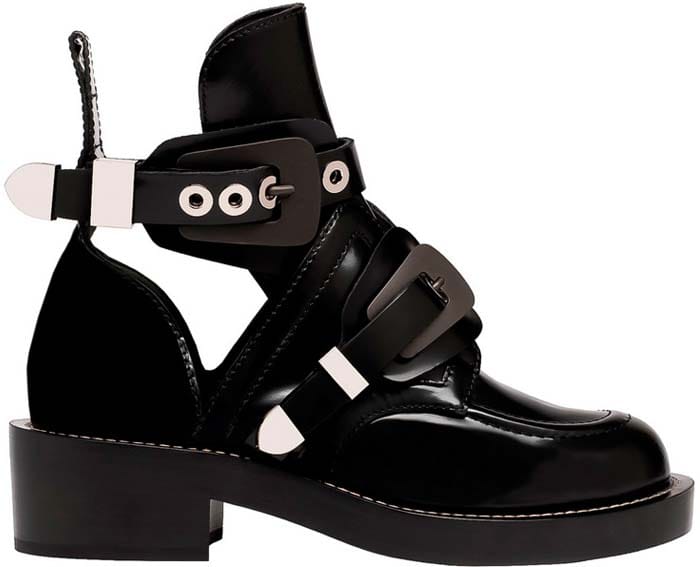 Balenciaga 'Ceinture' Ankle Boots in Black
Balenciaga 'Ceinture' Ankle Boots in Silver, $1,275
Credit: Ryan / WENN / FayesVision / Brian To / Joseph Marzullo