It shouldn't be a challenge to wear leather jackets without the stereotypical look of a biker chick. Not that there's anything wrong with looking like a biker girl. If your style leans more toward tough leather ensembles, go for it! Own it!
But this succinct how-to guide is for those who want to sample the leather jacket trend sans that kind of aesthetic. Below are some bloggers and celebrities who incorporated leather jackets into their more feminine ensembles.
1. Plaid shirt
One way to make a leather jacket look more modern is to inject current and trendy pieces. Jessica Alba wore hers with a plaid button-down shirt.
The then 32-year old actress kept things low-key and easy by teaming these pieces up with boyfriend-style jeans rolled up at the hems. She took the comfort level up a notch by wearing a pair of spotted flats and a beanie.
This look is so versatile that it is fitting for running errands, taking the kids out, hanging out with your friends, and many more!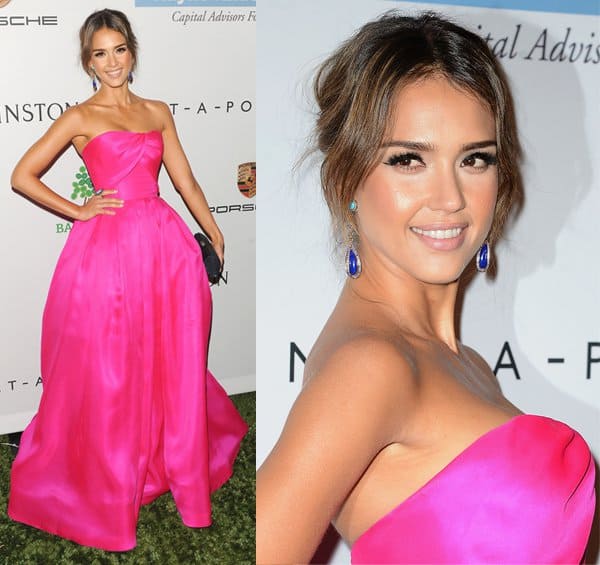 Jessica Alba wearing animal-print flat shoes and a black leather biker jacket while shopping at Macy's and Bloomingdale's in Beverly Hills, California, on December 12, 2013
2. Summery pieces
We're pretty sure you have rocked the popular denim dungarees last summer. Go ahead and transition them to winter just like what Fearne Cotton did!
The TV presenter wore her denim dungaree dress over a shirt with summer stripes print. It's amazing how she gave this outfit an appropriate winter vibe by donning a quilted leather jacket and a pair of tights.
Fearne Cotton rocks a quilted leather jacket while arriving at BBC Radio 1 studios in Central London on December 10, 2013
3. Classic approach with a lace cropped top and a pencil skirt
We really don't mind the cliché that is the lace and leather combo. The contrast really works! And although this has been done before, Jennifer Lawrence gave it a fresh look by wearing a cropped lace top with a peek-a-boo skirt.
There's an interesting combination of textures. Just like the Catching Fire actress, you, too, can add a semblance of toughness to an otherwise feminine look with your leather jacket.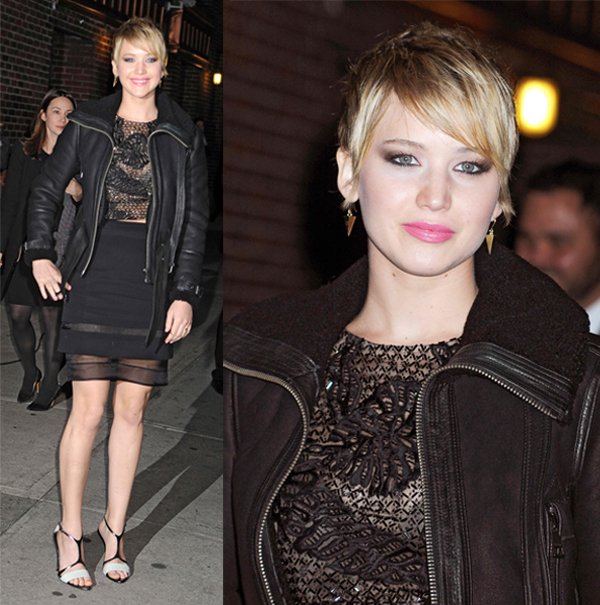 Actress Jennifer Lawrence enters the "Late Show With David Letterman" taping at the Ed Sullivan Theater on November 20, 2013, in New York City
4. Rugged vibe with tattered jeans
You can't go wrong with a leather jacket and ripped boyfriend jeans combo. It's just the epitome of no-fuss dressing without looking like you didn't put any thought to your outfit.
What's even better is that you can wear it with pretty much any top. You can opt for some dainty lace top, a cropped top, a band muscle tee, or just a plain shirt. Copy Julianne Hough's styling and wrap a tartan shirt around your hips for a touch of '90s glam.
Julianne Hough leaving Alfred Coffee in West Hollywood, Los Angeles, on November 15, 2013
5. Studded leather jacket with feminine pink dress
A biker jacket and a pink dress? It can work! SJP took her tulip-hemmed pink frock to the red carpet and gave it a semblance of toughness by covering her arms with a studded leather jacket.
To complete the look, follow what she did here by wearing sheer tights and a pair of pumps.
Sarah Jessica Parker making a fashion statement with a vegan bag at the premiere of City Ballet in New York City on November 5, 2013
6. Skinny jeans and a white shirt
The combination of jeans and a white shirt is like a blank canvas. You can take it to different routes depending on how you style it.
In the case of former Victoria's Secret Angel Miranda Kerr, she made the classic combo look 10 times more stylish by wearing a structured Balmain leather jacket and opting for animal-printed flats. How easy can this get?
Miranda Kerr leaving her hotel in Paris, France, on October 3, 2013
Aren't these looks inspiring? So, make sure your leather jacket is in high rotation in your wardrobe by adding these inspiring ensembles to your list of outfits to copy.
7. Leather jacket with a summer maxi dress
A striking bold-printed summer maxi dress offers a unique contrast to the toughness of leather pieces. Take it from Maggie's ensemble. Her excellent fashion blog, 'Clothes to Midnight', is unfortunately no longer available online.
Maggie shows how to look feminine in a leather jacket by pairing it with a bold-printed summer maxi dress
Colorful prints will help balance out the ruggedness of your leather jacket.
8. Leather jacket with a bright-colored dress
What's the easiest way to make leather pieces look more feminine? We say wear it with bright colors!
Nancie shows a girly way to wear a black leather jacket
Nancie's summery frock in neon yellow stands out against her black leather jacket. Her blog is unfortunately no longer available online.
9. Go monochrome with a leather jacket
Don't be afraid to wear leather paired with other black pieces. If you choose soft, billowy, and flattering pieces, you'll pull it off quite nicely and you'll look like a million bucks. Estefania did so in this outfit.
Estefania shows how to pair a black leather jacket with a matching dress
She wore her jacket with a slitted maxi skirt, a simple top, and black loafers. We also like how comfy this outfit looks. Her blog is unfortunately no longer available online.
10. Wear a leather jacket with lace
You can't go wrong with leather and lace. You just can't. The contrast between feminine and masculine is interesting.
Nancy's contrast of feminine and masculine is interesting
Try something like what Nancy wore. It has a bit of a bohemian vibe to it, don't you agree?
11. Got an origami skirt? Pair that with your jacket!
If you are a huge fan of the origami skirt, why don't you try matching it with your leather outerwear? This creates an edgy ensemble that will have heads turning your way.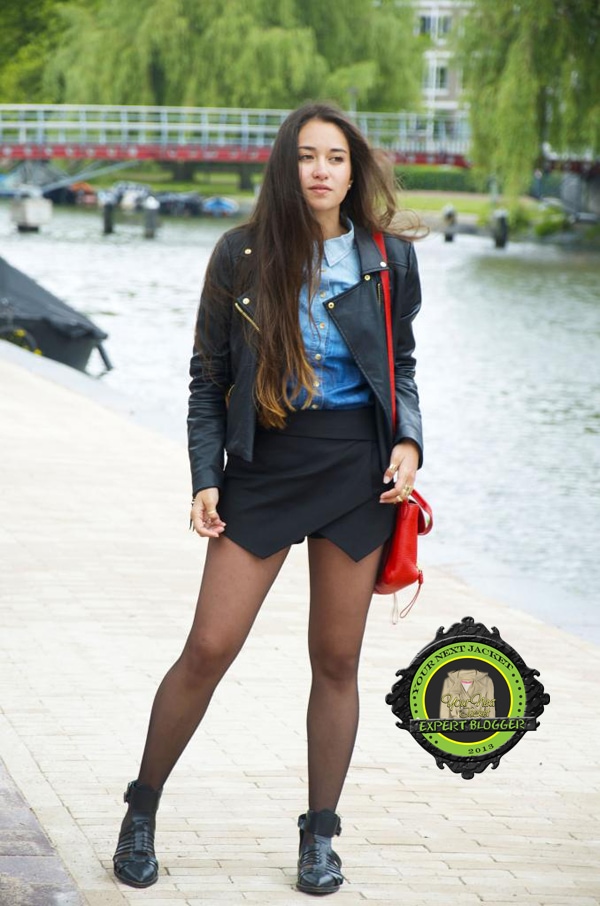 Romina wearing an origami skirt with a biker chick jacket
Romina's outfit is a nice inspiration. She even has on an ombre button-down top for extra spice.
12. Wear a leather jacket with vintage pieces
Loose-waisted dresses, '60s-inspired frocks, and even '40s-style tea dresses should work great with this kind of jacket. Check out this outfit by Style Peaches.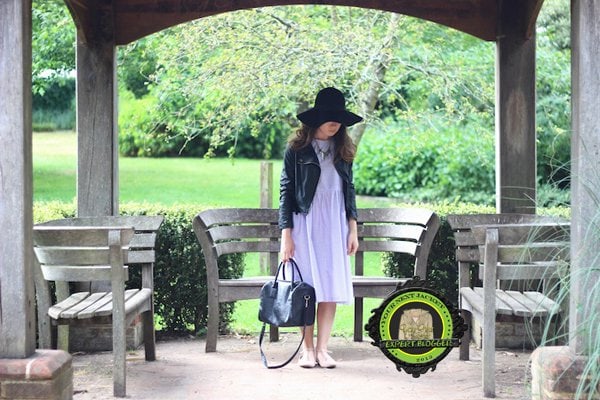 Peaches showing how you can wear a leather jacket with a lavender gingham dress
We love her lavender gingham dress worn with a leather jacket.
13. Floral dress
Even if the summer season is over, it's not yet the end for your floral dresses. Like the actress/business mogul, you can get more wear out of your floral frocks by pairing them with leather moto jackets. Finish off the look with a pair of leather booties for that edgy touch.
Jessica Alba wore a Saint Laurent cropped motorcycle jacket and Anine Bing's "Bianca" boots.
Jessica Alba wears a cropped motorcycle jacket in Santa Monica, California on October 16, 2015
14. Quilted leather jacket over a bralette and crochet skirt
This isn't really a cold weather-proof outfit but it definitely works for those slightly warmer days. We love the juxtaposition of the textures of her quilted leather jacket and her skirt.
Cara sported the Burberry Resort 2016 skirt and Burberry "The Rucksack" bag in technical nylon and leather.
Cara Delevingne wore a quilted leather jacket at the Love Magazine Party, held at Lou Lou's in London on September 22, 2015
15. Leather jacket over a maxi camisole dress
The pop singer looked impeccably edgy in this striking red camisole dress. The leather jacket added a nice touch to her look.
Jesse J wore a maxi dress with a leather jacket while leaving her hotel in Manhattan, New York on September 2, 2015
16. Play with separates
Here's an interesting outfit from the singer. She mixed a sheer white skirt with a black top and a below-the-waist leather jacket.
Carly Rae Jepsen pictured leaving the Radio 1 studios in a below-the-waist leather jacket after performing on the Live Lounge in London on September 17, 2015
17. Georgia May Foote kept it comfortable in jeans and a top
The then 24-year-old actress proved that form-fitting jeans work wonderfully with leather jackets. She mixed it up with a pair of platform boots.
Georgia May Foote arrives at Manchester Piccadilly station after rehearsals for 'Strictly Come Dancing' in London on September 12, 2015
18. Experiment with prints
Trust Queen Bey to pull off not one, not two but three prints in one outfit!
Beyonce styled her leather jacket with Alexander McQueen snakeskin striped pumps, a printed silk blouse, and a polka dot skirt
The geometric-printed blouse, the polka-dotted midi skirt, and the striped Alexander McQueen pointy pumps worked together because of one common ground: their black and white color scheme.
Beyonce visited the London Art Fair in London, England, on October 15, 2014, wearing a Saint Laurent classic leather motorcycle jacket
Pull off a similar ensemble using only black and white pieces and tie the look with a black moto jacket.
VEDA Lazer Classic Leather Jacket, $895.00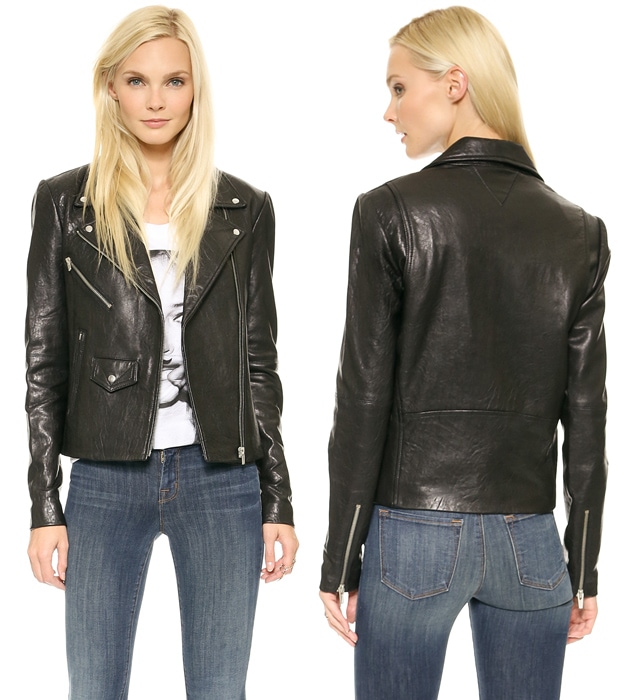 19. Add spice to a sweet midi dress outfit
As usual, the Queen of whimsical frocks is dressed in another covetable dress.
But the actress gave it more character by adding that quilted jacket and opting for a pair of green Jimmy Choo Mimi pumps.
Keira Knightley wears a quilted Balenciaga motorcycle jacket with a Michael Van Der Ham Spring 2015 tiered embellished dress while leaving The Mayfair Hotel on October 11, 2014, in London, England
In the same way, you can toughen up a sweet-looking dress with a similar jacket.
DKNY x Cara Delevingne Leather Moto Jacket, $735.00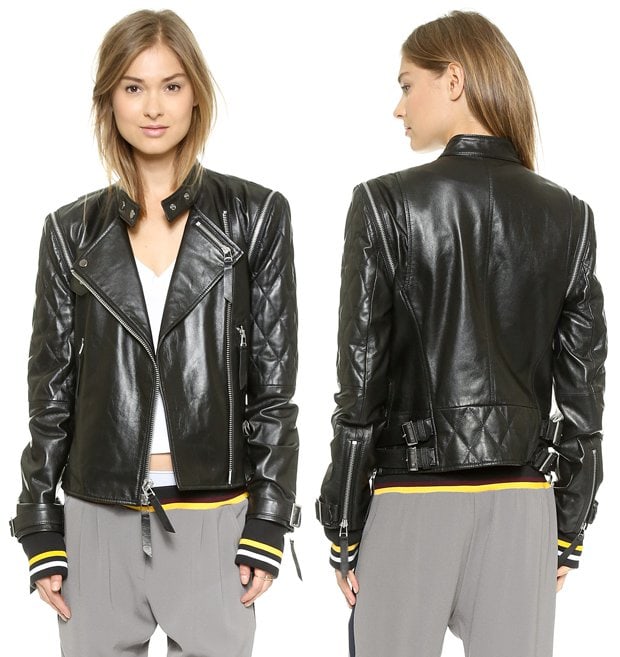 20. Experiment with androgynous fashion
The Twilight star looks so fiercely stylish on the red carpet but off it, you can almost always see her in androgynous style.
The androgynous actress Kristen Stewart in black pants styled with a leather moto jacket and dirty shoes
This time, she wore a simple white tank top with black pants and dirty black sneakers and capped it off with a leather moto jacket. Rocker chic?
Kristen Stewart arrives at Los Angeles International (LAX) airport in Los Angeles on October 11, 2014
J Brand Ready-to-Wear Ranya Leather Jacket, $1,295.00
21. Black dress with leather-detailed jacket
Jamie Chung shows how to wear a black leather jacket with a matching dress and shoes
Going for a monochromatic look? Why not do what Jamie Chung did and keep it interesting with the texture.
Jamie Chung at the US launch of William Rast at Lord & Taylor on the rooftop of Lord & Taylor's flagship Fifth Avenue store in New York City in New York on October 8, 2014
Mix your leather jacket up with suede or velvet. Or better yet, opt for a jacket with only leather accents.
Nina Ricci Black Leather Jacket, $1,395.00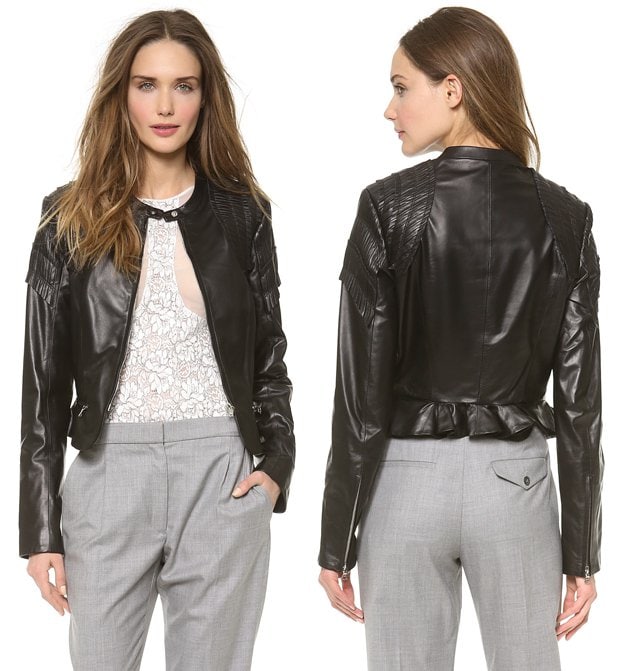 22. Casual jeans with a striking colored leather jacket
Jessica Alba styled a hot pink Ralph Lauren Hyacinth Glove Leather Davidson jacket with Vans Authentic Slim sneakers in washed leopard
Let your colored leather jacket be the star of the show and pair it up with understated pieces like black pants and a graphic-printed shirt.
Jessica Alba takes her two daughters, Honor Marie Warren and Haven Garner Warren, out for breakfast in West Hollywood in California on September 20, 2014
Giorgio Armani Leather Peplum Jacket, $2,644
23. Two-tone leather jacket with an all-white ensemble
Do you love the all-white trend? Why don't you make it more cold-weather appropriate by throwing on a cute jacket, preferably of the two-tone variety just like Suki Waterhouse's?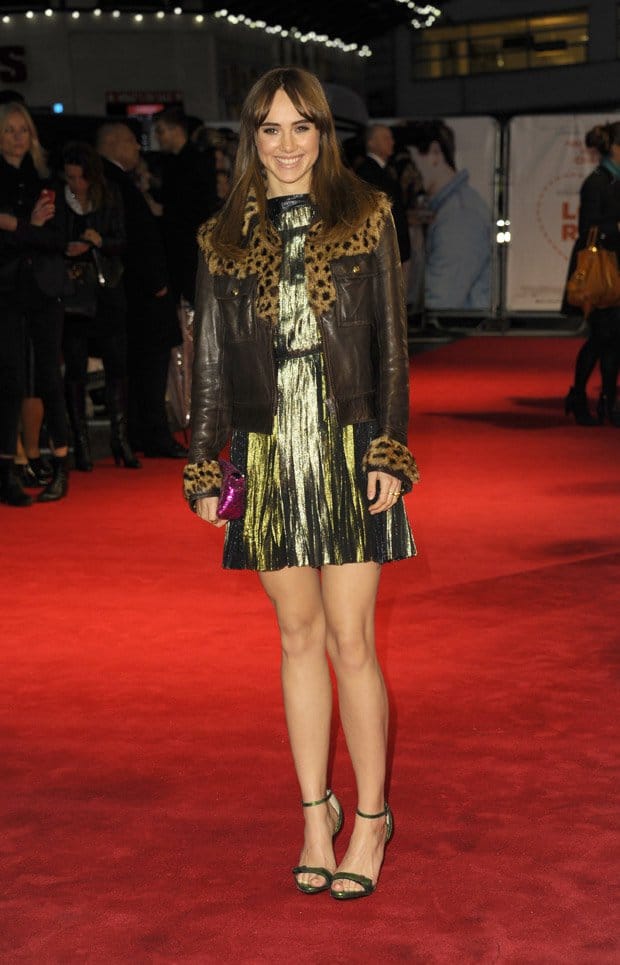 Suki Waterhouse shows how to wear a white dress with a black leather jacket in London on September 16, 2014
Again Bowie Moto Jacket, $990.00
24. Daytime look with a leather jacket
Floral and leather are a match made in heaven. Try breathing new life to your springtime floral frock and pair it up with a leather moto jacket. Punctuate the look with a pair of t-strap pumps.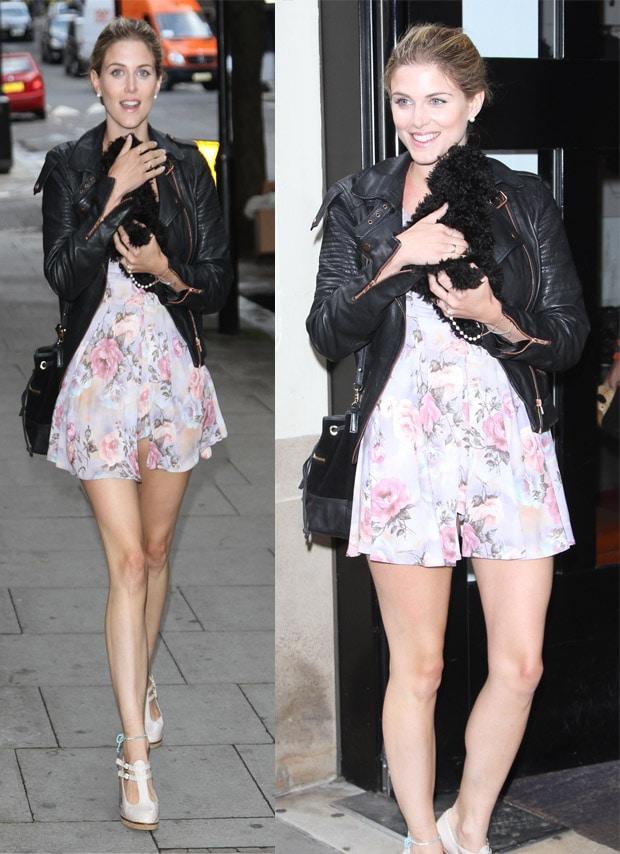 Ashley James flaunts her legs at a pre-fashion week gifting suite at The Hospital Club in London on September 2, 2014
DSQUARED2 Cropped Calf Leather Jacket, $1,760
How would you like to copy these stylish outfits? Try rummaging through your closet right now, and see what you can find. Wear your leather jackets even if you are a girly girl. Try these leather jackets from Farfetch and Shopbop:
1. BLK DNM Leather Jacket 1, $795
2. BLK DNM Motorcycle Jacket with Quilted Stripes, $895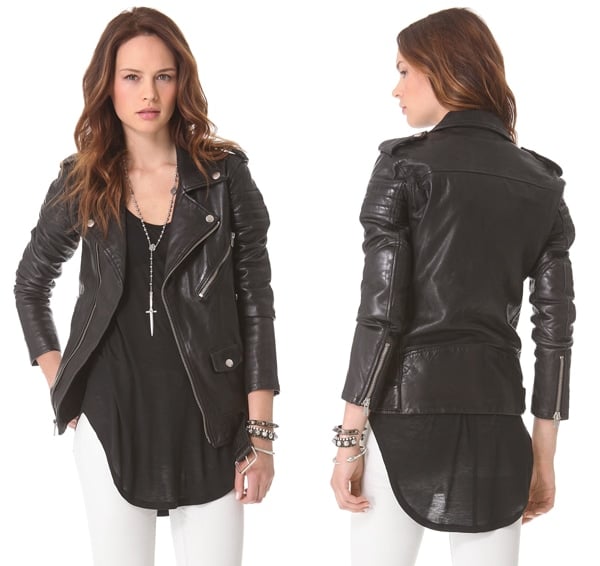 3. VEDA Max Classic Leather Jacket, $890
4. Lot78 Quilted Bomber Jacket, $836
5. Faith Connexion Studded Teddy Jacket, $1,235
Credit: WENN / Alberto Reyes / Will Alexander / Duval / Michael Wright / Michael Carpenter /
SIPA / Dennis Van Tine / Future Image