While it is nice to see celebrities rocking designer gowns on the red carpet, we are also curious to see what they usually wear. Some go the extra mile by injecting trendy designer pieces while others just go for basic outfits.
One thing that seems to be a staple in everyone's wardrobe is the trusty plaid button down shirt. As you probably know, the plaid trend has been all over the fashion industry as of late. You can see it in dresses, jackets, pants and even shoes.
We've checked out some of the celebs that have sported plaid button-down shirts in the past few months. See how they wore this trend.
1. Vanessa Hudgens With Plaid Shirt Tied Around Her Waist
The 'High School Musical' actress stepped into Los Angeles International Airport in her usual casual style – a shirt worn with denim shorts.
She tied a plaid button-down shirt around her waist, channeling the popular 90s look. A pair of leather boots capped off her look.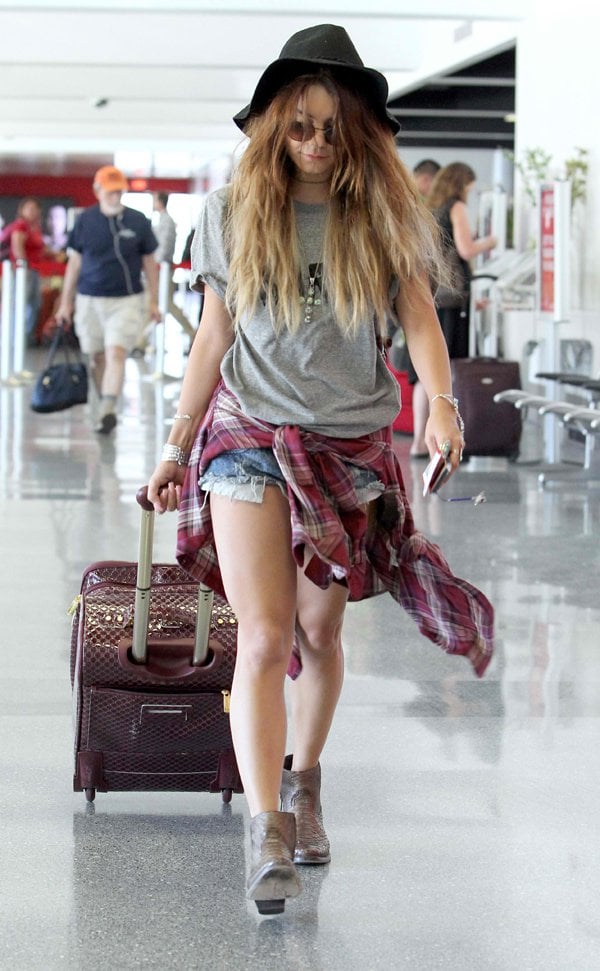 Wild-haired actress, Vanessa Hudgens, with a plaid button-down shirt around her waist at Los Angeles International Airport on August 28, 2013

2. Ashley Benson in Gingham Shirt
The American actress and model wore her gingham plaid top with ripped jeans. I would too if I'm just going out for lunch.
Ashley gave it an extra touch of glamor by accessorizing with a leather handbag, a pair of booties, and a hat.
Ashley Benson wearing a gingham plaid top with ripped jeans for lunch at John O'Groats Grille & Pub in Santa Monica on October 16, 2013

3. Lady Gaga in Plaid Shirt and Shorts
At first glance, it looks like Lady Gaga forgot her pants and just rolled out of bed in her plaid shirt.
But she was actually wearing shorts underneath. In true Lady Gaga style, she mixed this up with fierce-looking boots and socks.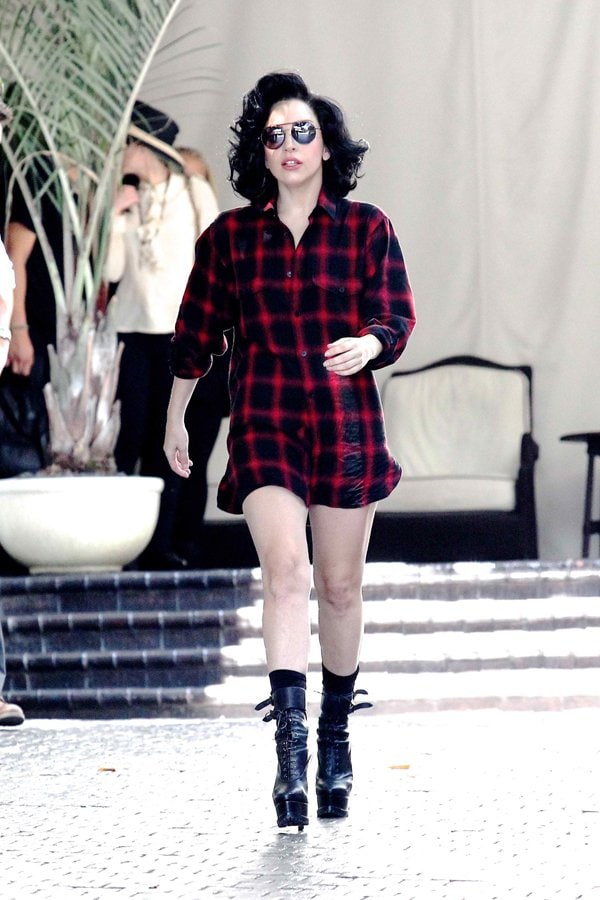 Lady Gaga wearing a plaid shirt while leaving her hotel in West Hollywood on August 18, 2013

4. Caroline D'Amore With Waist-Tied Plaid Shirt
Caroline D'Amore was dressed to the nines for pumpkin shopping. Just like Vanessa Hudgens, the DJ/actress wore her plaid shirt tied around her waist. She preferred to use it as an accent to her tough, biker girl ensemble.
Caroline D'Amore with a plaid shirt tied around her waist while choosing a pumpkin at Mr. Bones Pumpkin Patch in West Hollywood on October 16, 2013

5. Jennifer Garner in Plaid Top
Celebrity mom Jennifer Garner can't be bothered with dressy outfits when taking care of her kids. She wore her plaid top with faded jeans and high top sneakers.
Jennifer Garner takes her daughter Violet Affleck to Brentwood Public Library in Los Angeles on September 14, 2013

Plaid shirts are undoubtedly easy to wear and easy to style. If your closet isn't saturated with them yet, it is time to get some:
1. ONE by RAILS Kendra Button Down Shirt, $128.00
2. SUNDRY Checkered Button-Up Shirt, $112.00
3. Myne Long Sleeve Boyfriend Button Up, $132.00
4. Penfield Chatham Plaid Button Down in Grey, $80.00
5. Penfield Chatham Plaid Button Down in Blue, $80.00
6. MINKPINK Empire Records Shirt, $89.00
Credit: WENN / Michael Wright