We usually see plaid flannel shirts styled with grunge boots, cowboy boots, and wedge sneakers, but because this is Lady Gaga we're talking about, her way of styling is none of the above.
Try to think like Lady Gaga for a moment, and ask yourself what you would wear with a plaid flannel shirt. 1950s-style weave? Sure. Spandex biking shorts? Of course. Lace-up boots with over 6 inches of stiletto heels and 2 inches of lug-soled platforms? That's the Lady Gaga signature; naturally, that's what completed her look. Check it out:
Lady Gaga leaving her hotel in West Hollywood on August 18, 2013
Lady Gaga's sky-high lug-soled platform boots
This outfit is actually quite tame for Lady Gaga, wouldn't you agree? At least this time, she gave the painted clown face makeup a rest.
Lady Gaga dressed up her flannel shirt with these Alaia leather lace-up platform boots: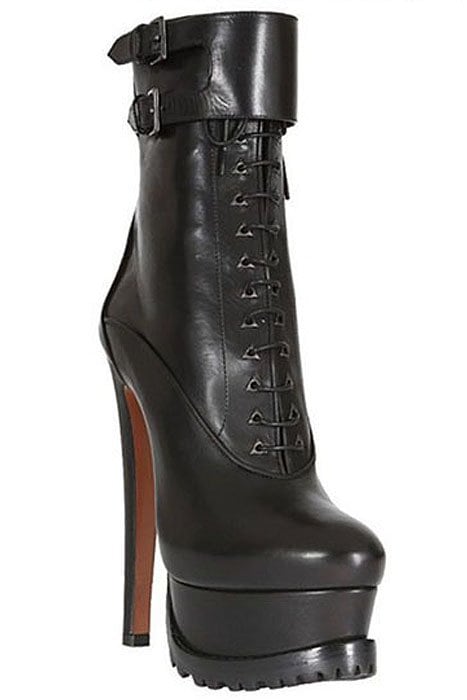 Azzedine Alaia Leather Lace-Up Platform Boots
If these boots seem familiar to you, that's because we've spotted Kendall Jenner driving in the gray chamois leather version.
Credit: Owen Beiny / WENN