Lady Gaga is known for her over-the-top fashion choices and weird shoes. We've featured her in several incredibly high-heeled attention-grabbing pairs from various designers over the past few years.
She goes for extreme cutouts, curved platforms, studs, spikes, and any type of eye-catching embellishment, and the shoes are often more toned down than the rest of her ensemble (which is hard to believe).
Here, we've put together a collection of our 10 favorite wild styles that Gaga has been spotted wearing. It was hard to choose only 10 as she has worn numerous crazy shoes in the past!
We're pretty sure that "little monsters" everywhere will go gaga (sorry, I had to) over these styles. Let us know what you think!
1. The Infamous Meat Shoes (Full Story)
Lady Gaga at the 2010 MTV Video Music Awards (MTV VMAs) held at the Nokia Theatre in Los Angeles on September 11, 2010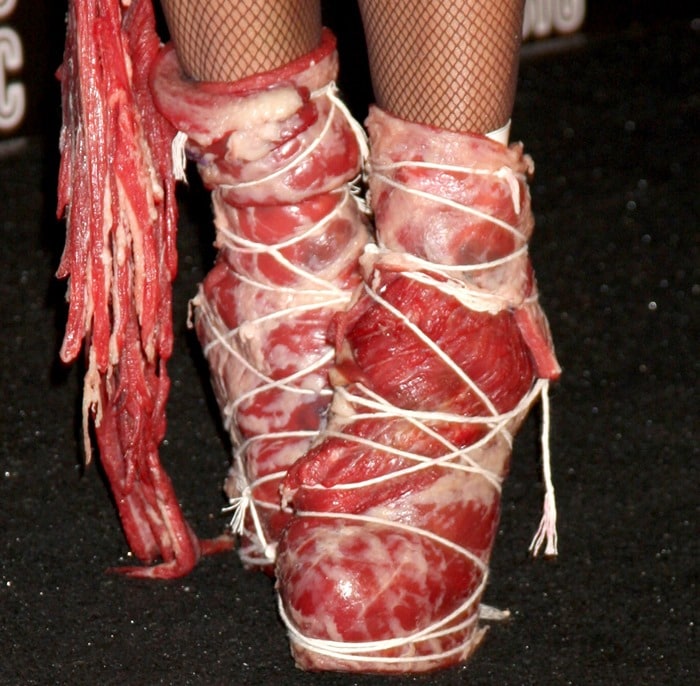 Lady Gaga wearing her infamous meat shoes
2. Extreme Red Curved-Heel Wedges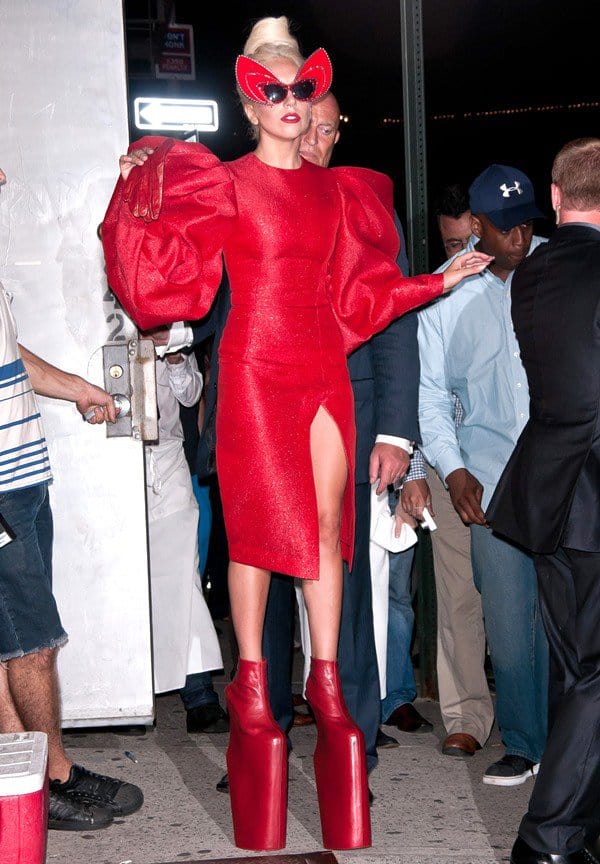 Lady Gaga appears on the set of photo shoot wearing an outlandish costume in the Meatpacking District in New York City on September 12, 2011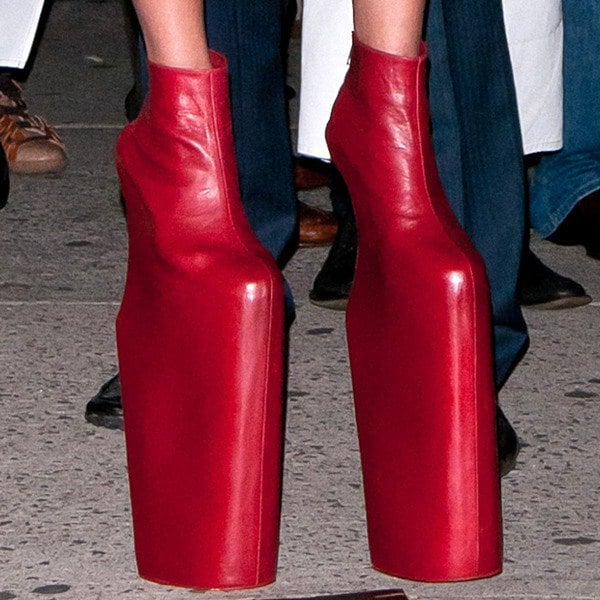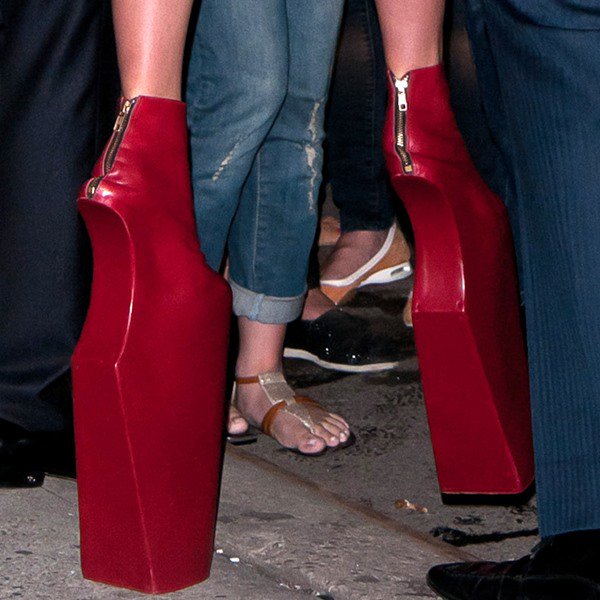 Lady Gaga wearing extreme red curved-heel wedges
3. Shockingly Simple Alexander McQueen Booties (Full Story)
Lady Gaga leaving her hotel wearing a green dress and a headpiece made of flowers on her way to the Philip Treacy catwalk show during London Fashion Week in London on September 16, 2012
Lady Gaga's headpiece made of flowers
4. Black Lace-Up Platforms That Would Make Gene Simmons Jealous
Lady Gaga arrives at Narita International airport to catch a flight on May 16, 2012
Lady Gaga wearing black lace-up platforms that would make Gene Simmons jealous
5. Not So Basic Nude Pumps
Lady Gaga arriving back at her hotel, following her performance at the Ziggo Arena. She briefly stopped for fans but was forced to run into the hotel, after an overzealous fan grabbed her, which frightened the singer. Amsterdam, September 18, 2012.

Lady Gaga leaves her hotel late at night and has pictures taken with her fans, who had waited for hours to see her, before getting on a tour bus to take her to Berlin. Lady Gaga also had an assistant handing out free samples of her new perfume, 'Fame' to the fans who had waited all day and night for the singer to emerge from her hotel in Amsterdam on September 19, 2012
Lady Gaga wearing crazy high nude pumps
6. Crazy Nina Ricci Heel-Less Wedges
The popular singer looked worse for wear in a leather fetish dress from British fashion designer Pam Hogg and heel-less wedges from Nina Ricci's Fall/Winter 2009 Collection.
Lady Gaga on a night out seen leaving Groucho club in Soho, looking worse for wear on December 6, 2016
Lady Gaga wearing heelless Nina Ricci wedges
7. Iconic Sky-High Red Heels (Full Story)
Lady Gaga arrives at the 2016 Grammys held at the Staples Center in Los Angeles on February 15, 2016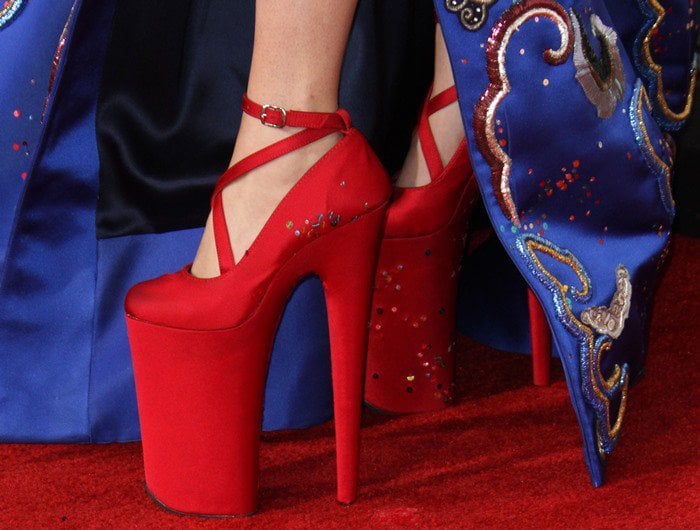 Lady Gaga rocking iconic sky-high red heels
8. Alexander McQueen Lace-Up Sandals (Full Story)
Lady Gaga wearing Pippy Longstocking plaits while leaving The Langham Hotel in London, England, on June 10, 2015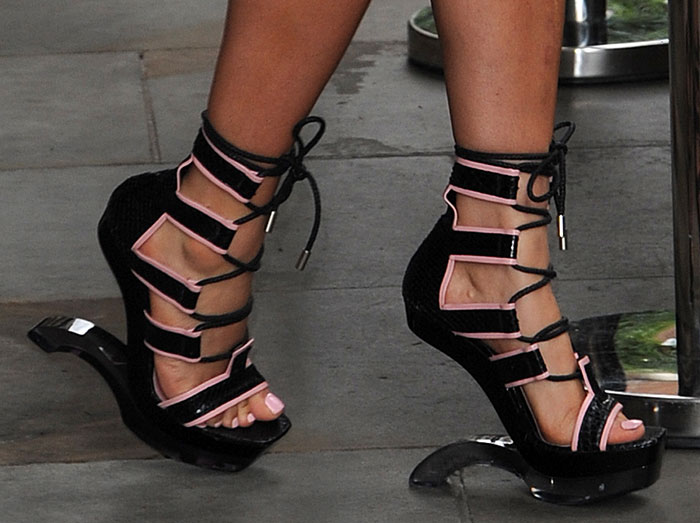 Lady Gaga rocking Alexander McQueen lace-up sandals
9. A-Morir by Kerin Rose Weinberg 10″ Pearl Shoes (Full Story)
Lady Gaga at the Glamour Magazine Women Of The Year Gala in New York City on November 11, 2013
Lady Gaga wearing pearl platform shoes
10. Custom United Nude Boots (Full Story)
Lady Gaga arrives at Macy's Herald Square for her '"Fame" fragrance launch in a horse-drawn carriage, designed to resemble the perfume's bottle in New York City on September 14, 2012
Lady Gaga rocks custom boots by United Nude
Credit: Louie Angelo / WENN / Three Kings / FayesVision / Nikki Nelson / Will Alexander / RV / Adriana M. Barraza