Who said you need clout like Lady Gaga's to rock some of the craziest high heels available? If you dig around the internet a little, you'll find that plenty of outlandish, outrageous, and original shoes are all within reach.
You don't need fame or tons of money — and in fact, you don't even need to search! We've done the work, and have gathered 33 of the strangest and bizarre heels you can actually buy right here.
Check out the following sculpted, twisted, and doll-head-filled shoes. Dare to wear any of these unusual and quirky shoes?
1. Hawaiian-Inspired Shoes With Hula Girl Heels, $190 – $220
Get ready to hula dance in these spectacular Hawaiian-themed dream character heels from Irregular Choice.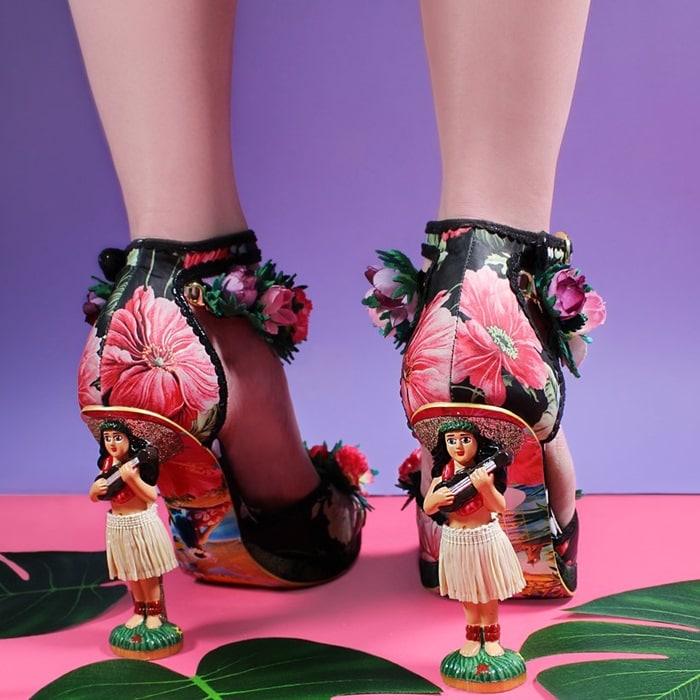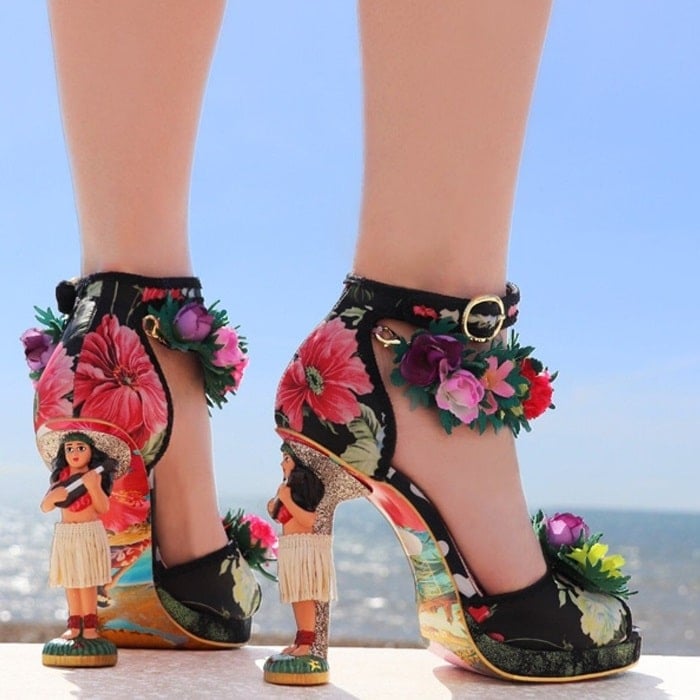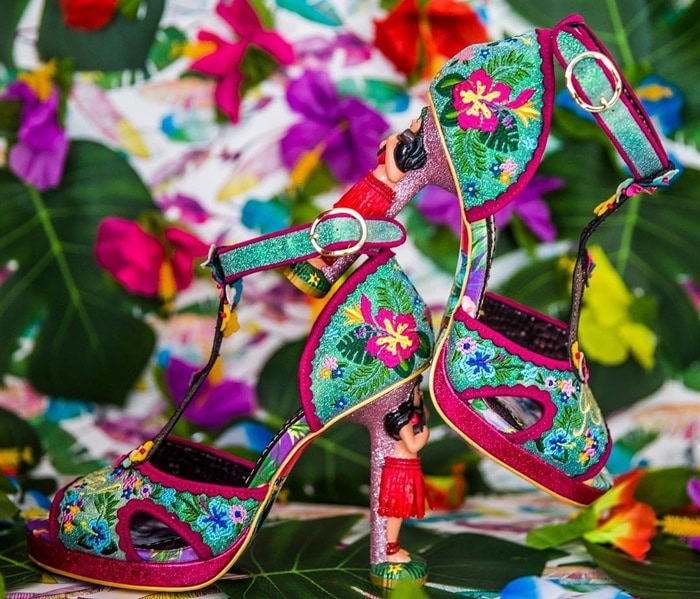 2. Quirky 'Garden Party' Wedges With Deer Scene, $249.95
Irregular Choice invites you to play in the quirky and clever "Garden Party" wedges.
3. Zaha Hadid x United Nude "Nova" Shoes, $1,999.95
Architect Zaha Hadid and the inimitable United Nude collaborated on this pair of high-tech and surprisingly light limited-edition shoes.
4. Quimera Species 'Lethe' Booties, $499.95
We like to think of these skull heels as the updated version of those popular bone heels from 2010.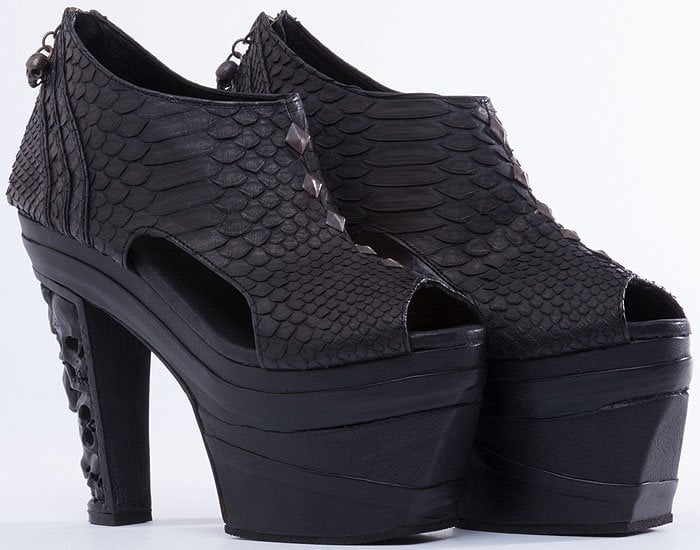 5. Chromat Orthogonal Platform Sandals, $414.95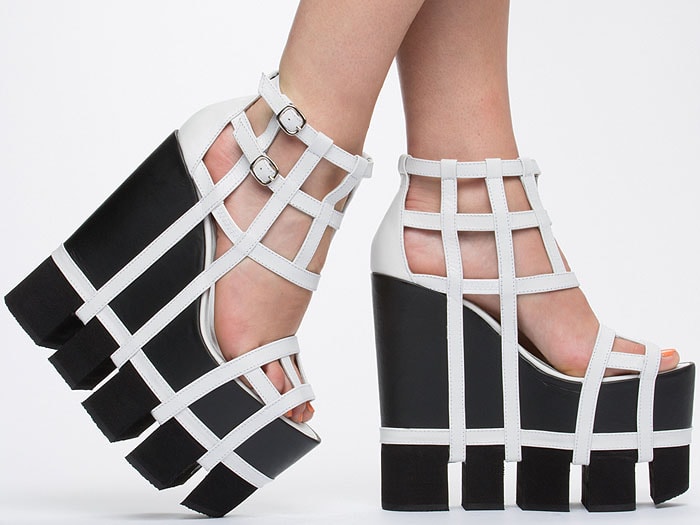 6. Hades Footwear Oxford Ankle Boots, $247.00
See more of Hades Footwear's awesome steampunk-themed shoes.
7. Martinez Lierah 'Dissolving' Shoes, $899.95
These remind us of the Simone Rocha plexiglass-heel oxfords that make you look like you're perpetually on your tippy-toes.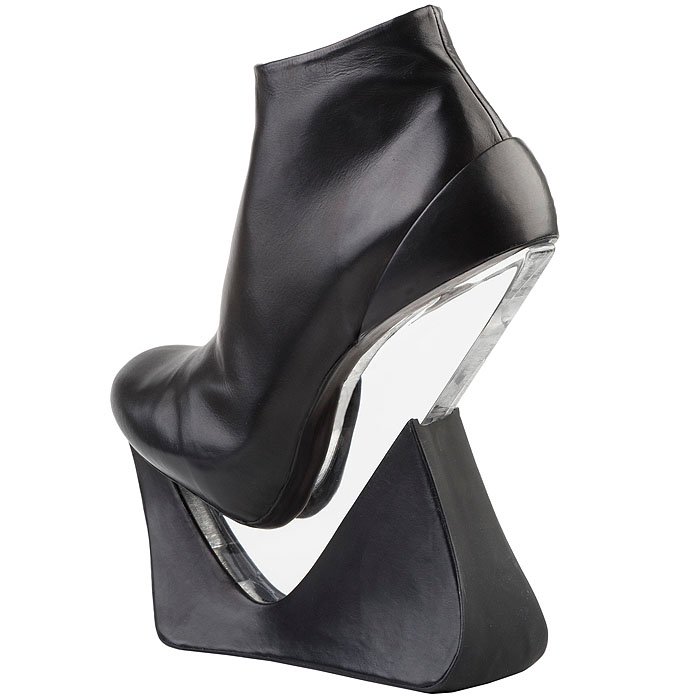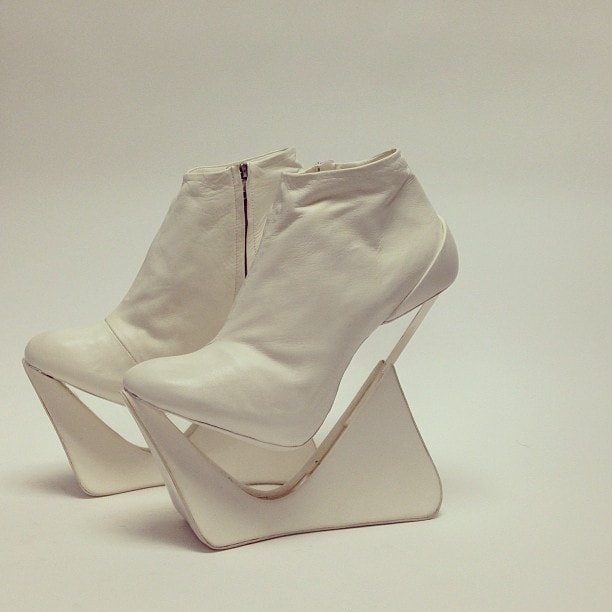 8. Jeffrey Campbell 'Overdome' Ball-Heel Pumps, $155
Jeffrey Campbell calls these heels "ball heels," but let's be real — they're eggs.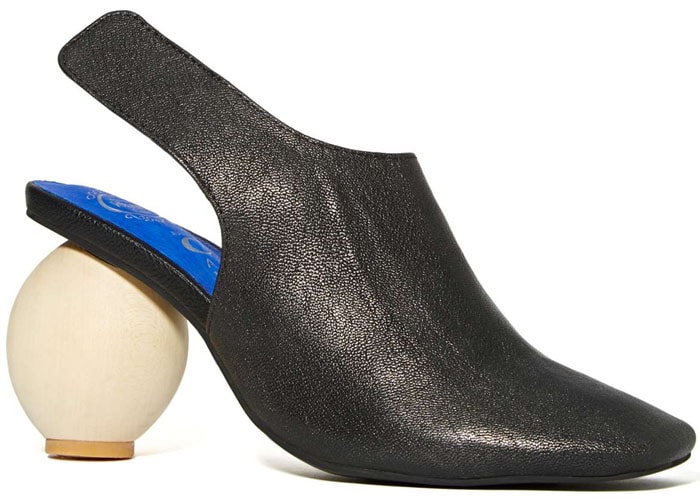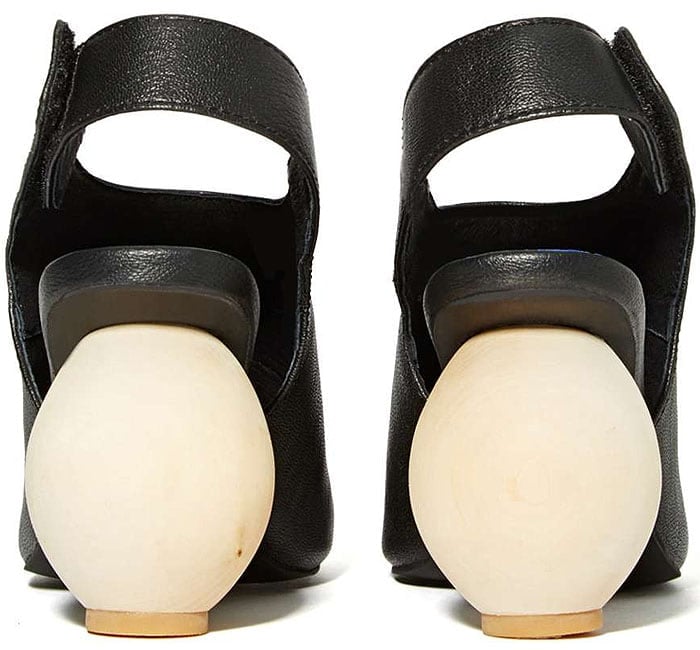 9. Abcense 'Apron' Sandals, $569.95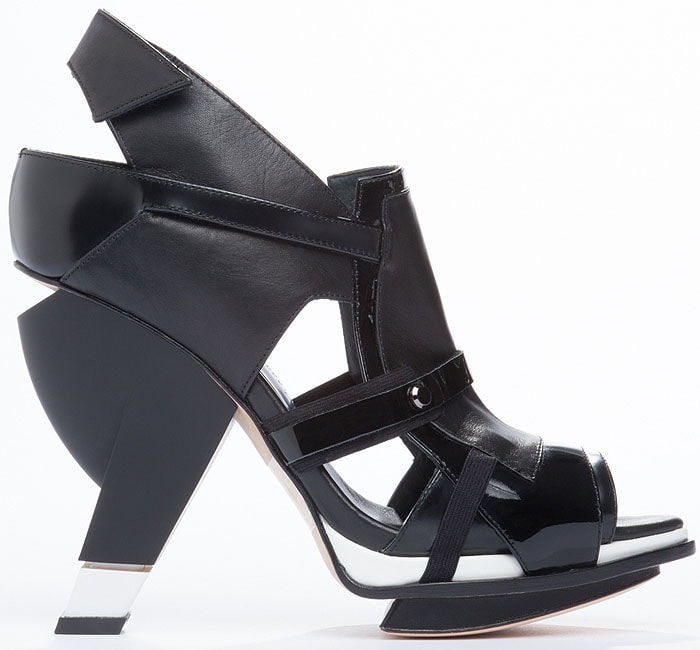 10. Jeffrey Campbell 'Lynked-Tie' Booties, $204.95
Jeffrey Campbell takes fashion's obsession with chains this season to another level.
11. Pink Crepe Dolce & Gabbana Sandals Decorated With Pineapples
These shoes are from Dolce & Gabbana's tropical Spring/Summer 2017 collection. Would you wear these pineapple-sculpted heels?
12. ACNE 'Gemini' Sandal Booties With Rusted Nail Heels
Don't miss this cool collection of shoes inspired by rusty nails.
13. Irregular Choice Mickey Mouse Pumps, $265
These unique Disney shoes are from the Mickey Mouse & Friends Shoe Collection.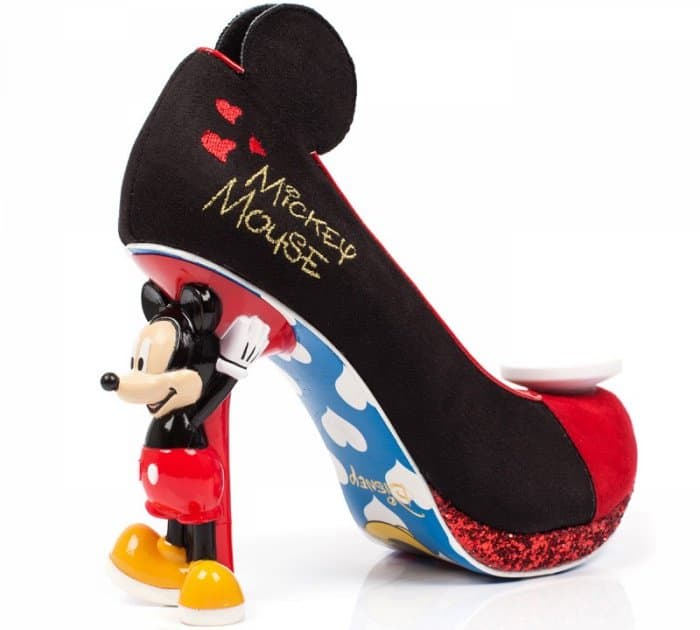 14. Gucci's 'Lesley' Zebra-Print Leather and Fur Pumps
How about these shoes striped with panels of black and white leather to resemble a zebra?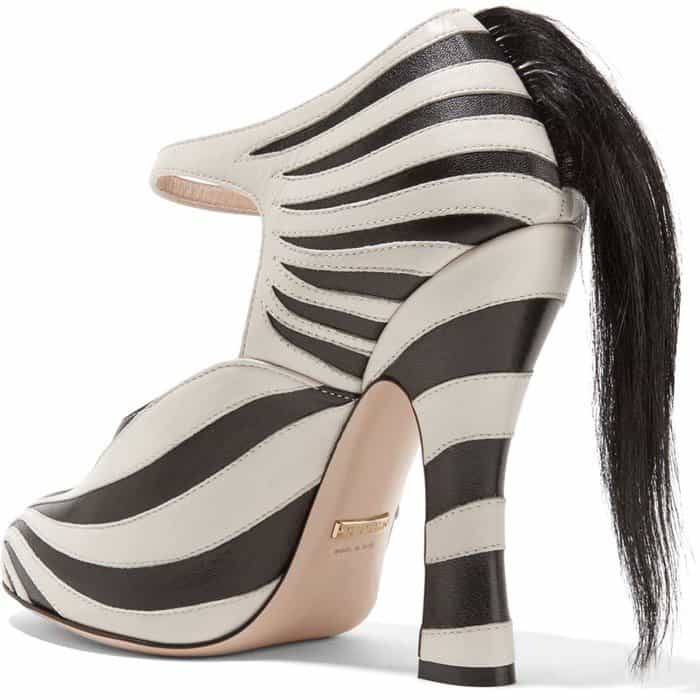 15. Charlotte Olympia 'Cherie' Poodle Heel Platform Sandals
Holly Madison should have had a pedicure before showing off her feet in these Charlotte Olympia sandals!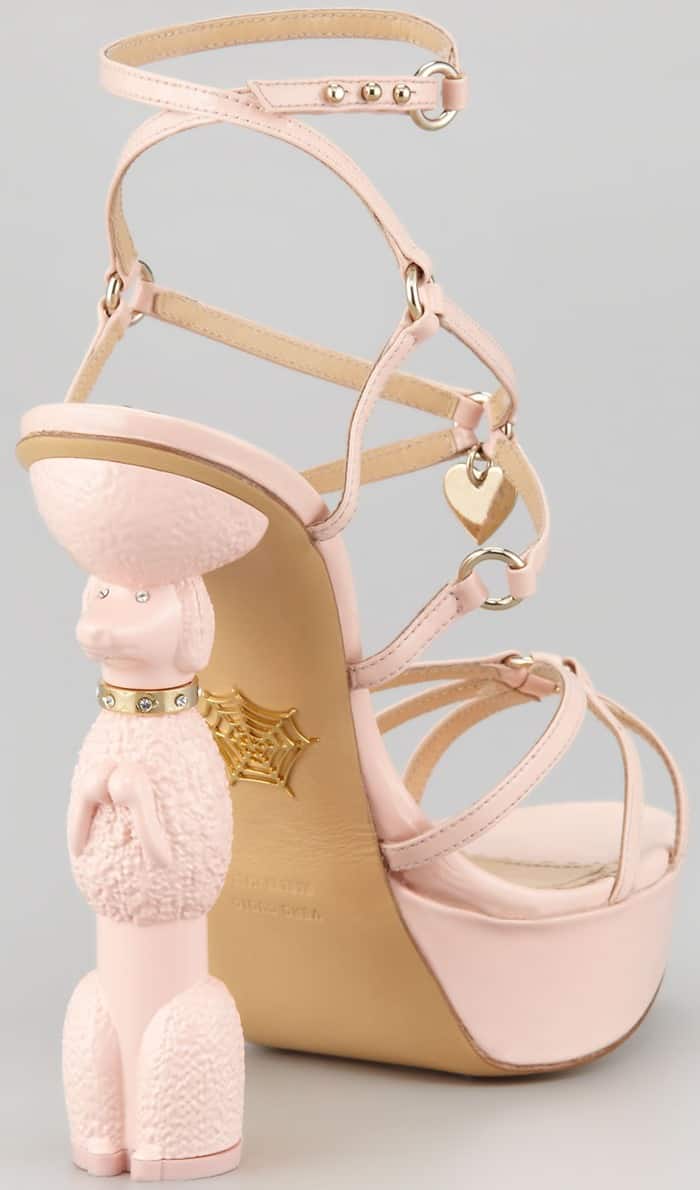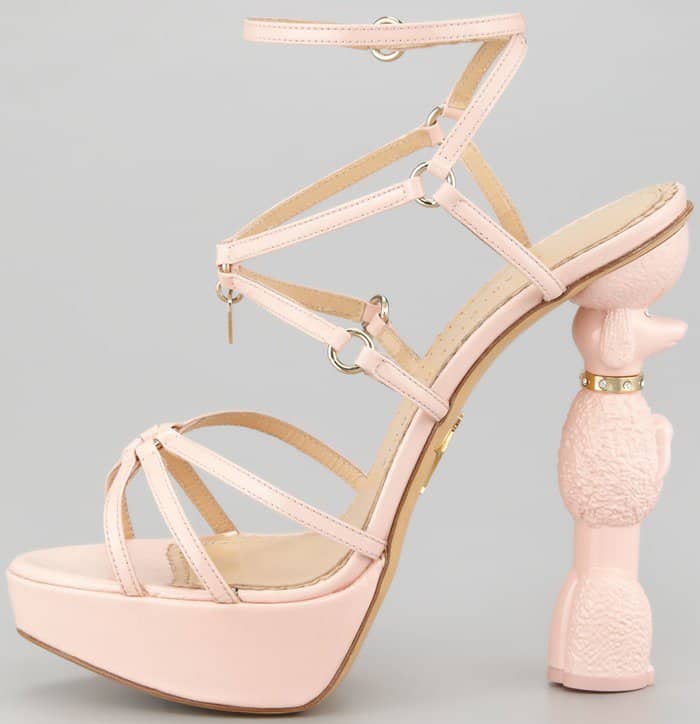 16. High Chair Shoes
Designed to look like a modern high-chair, we're not sure you're actually supposed to wear them.
In that sense they remind us of the scariest shoes of all time. These heels will lift your feet over 6 inches off the ground so they sit almost vertical!
17. Mr And Mrs Clause Molded Santa Heels, $205
The fabric covered uppers have built-in LED lights that flash when walking and the toes feature appliqued Santa and Mrs. Clause w/ bead details.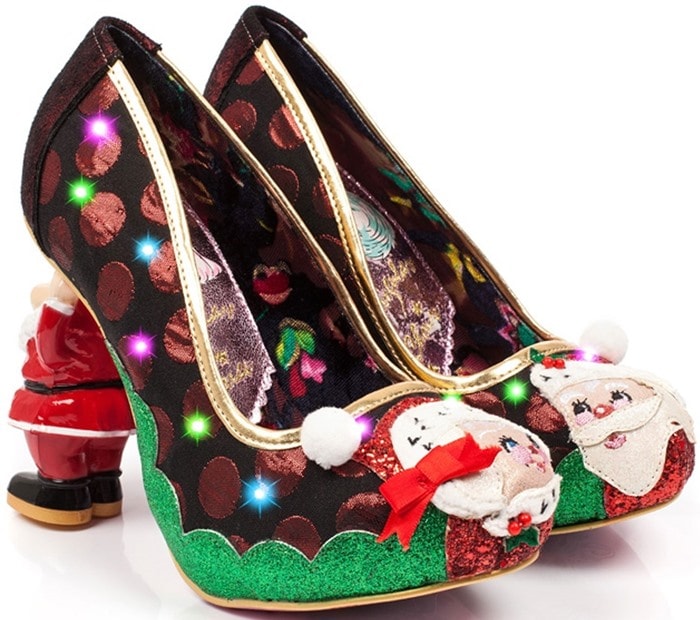 18. Scariest Shoes of All Time by Leanie van der Vyver
Are these heels crazy enough for you?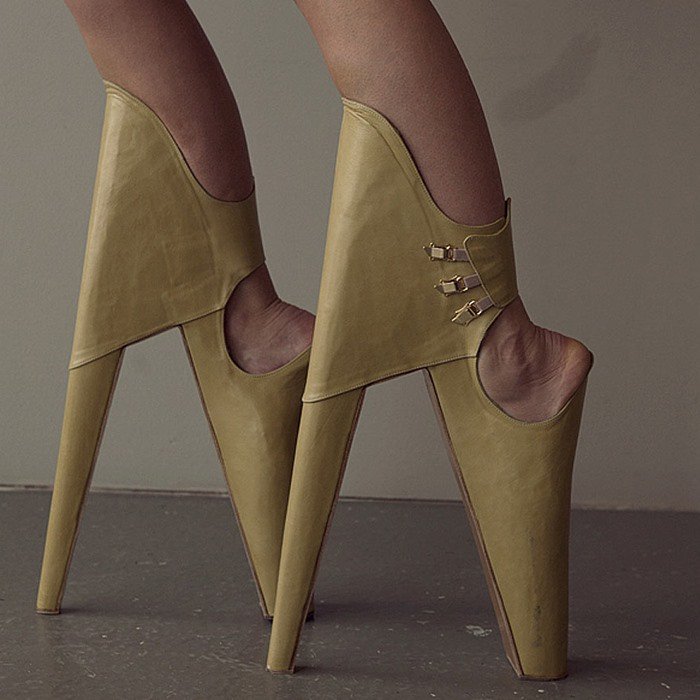 19. Gun-Inspired Killer Heels With Bullet Studs
Wearing these shoes through security at the airport is not a good idea.
20. Up The Ante Dice Heel Pumps, $169.95
Hey, high roller? You will not be taking a gamble on these jackpot concept high heels from Irregular Choice, so lay your cards on the table and place your bets whilst giving snake eyes at these confetti-glitter treats for your feet.
21. Camilla Elphick Mocha Pez Foxy Heels, $1,035
Camilla Elphick's "Pez" shoes gained widespread attention from fashion editors, prompting the British designer to launch her own label.
Feel part of the thrill with these mocha-colored peep-toe heels in glossy leather, featuring appliqué fox faces that rest on enamel Pez dispenser heels.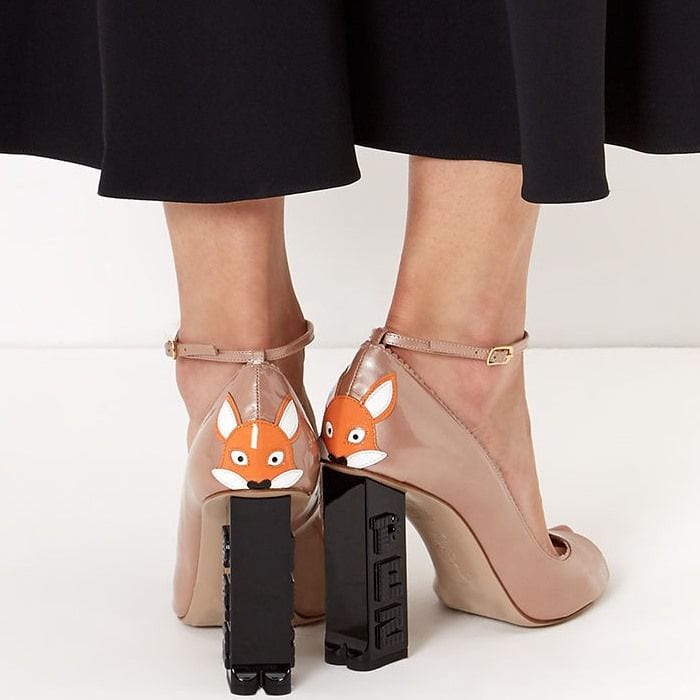 Camilla Elphick's 'Pez' shoes gained widespread attention from fashion editors
22. Jacquemus Mismatched Heels, $659
Oversized square and circle heels add a playful, bold aesthetic to these suede Jacquemus pumps featuring decorative buttons.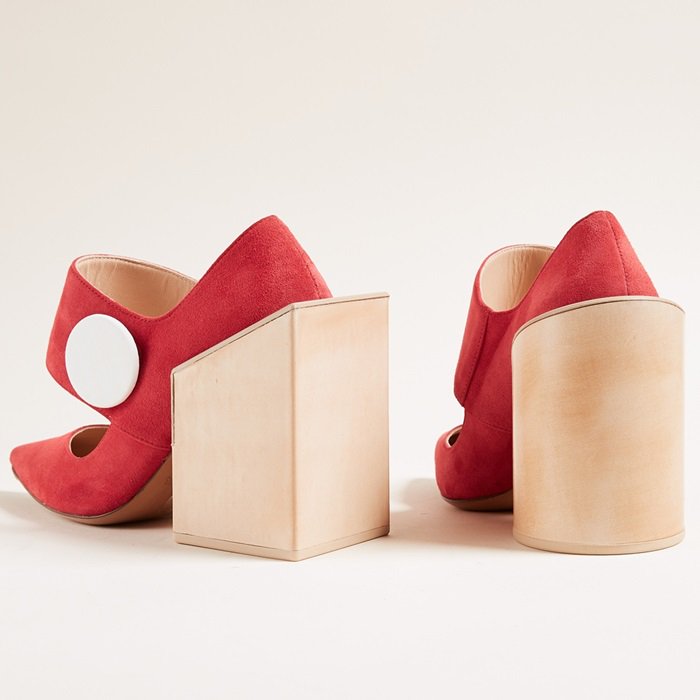 23. Kermit Tesoro "Polypodis" Tentacle Heels
Filipino designer Kermit Tesoro designed these unique heel-less tentacle shoes. He studied at UP Diliman College of Fine Arts and is a Nina Simone fan.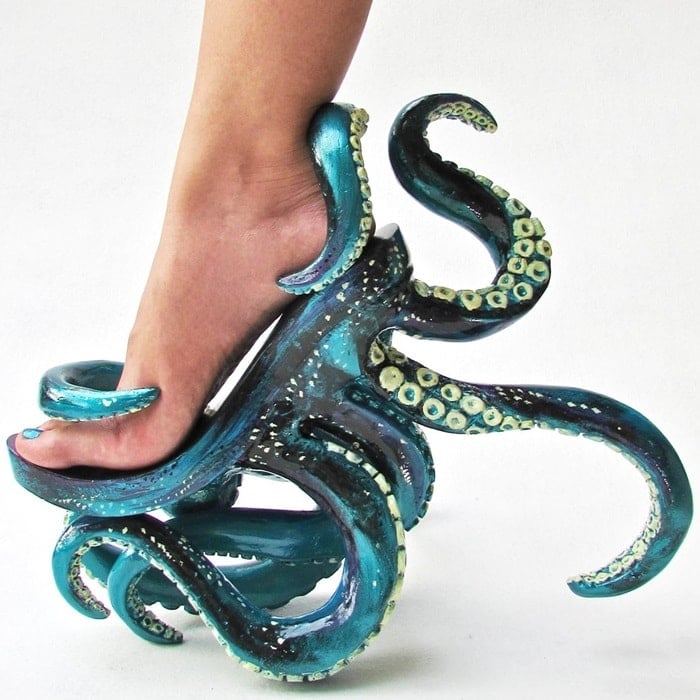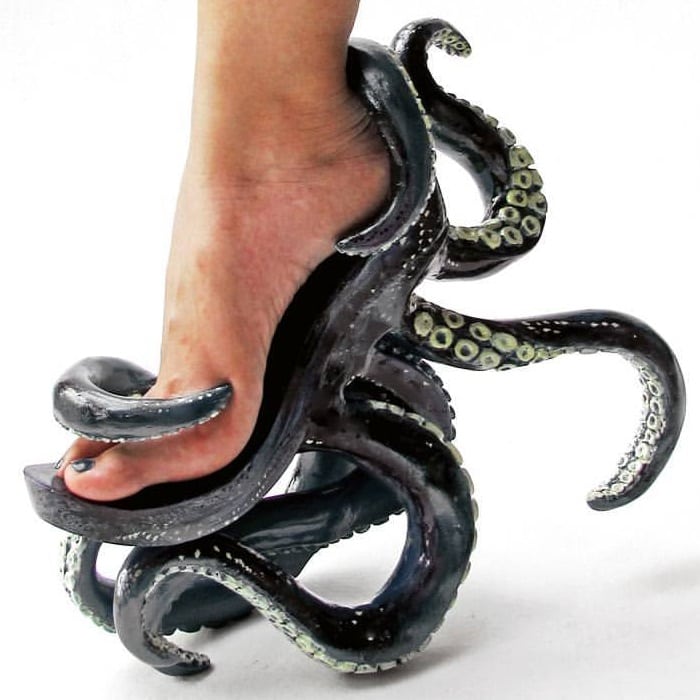 24. Gwen Murphy's Incredible Face Shoes
Holding an MFA in Sculpture from the Boston University College of Fine Arts, American artist Gwen Murphy has named her collection of shoe artworks "Foot Fetish" because she actually perceives shoes as fetishes.
Some of her creations are displayed at Harmon gallery in the idyllic Cape Cod town of Wellfleet, Massachusetts.
25. Julian Hakes "Mojito" Twisted Sandals, $390.00
A twisted lime peel was the inspiration for these foot-plate-less "Mojito" sandals.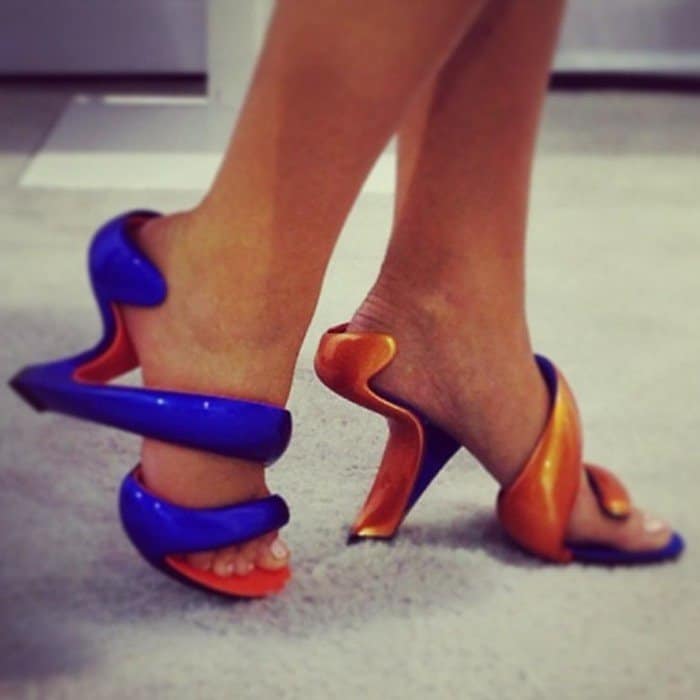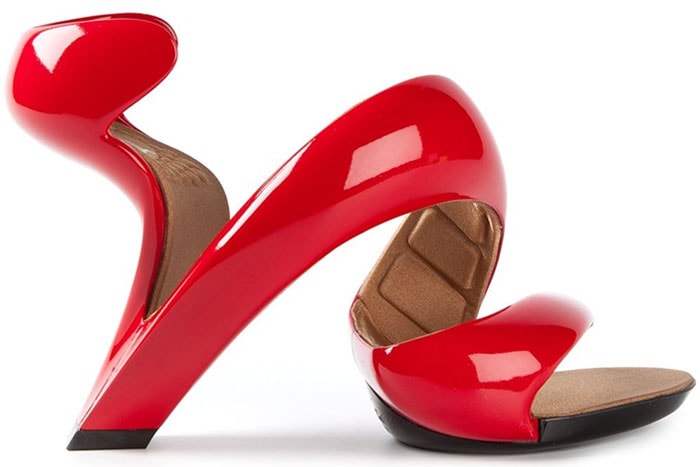 26. Jeffrey Campbell "Icy" Ken Doll Head Wedges, £210
The version with Barbie doll heads already freaked us out. This one with Ken doll heads takes it from weird to witchcraft.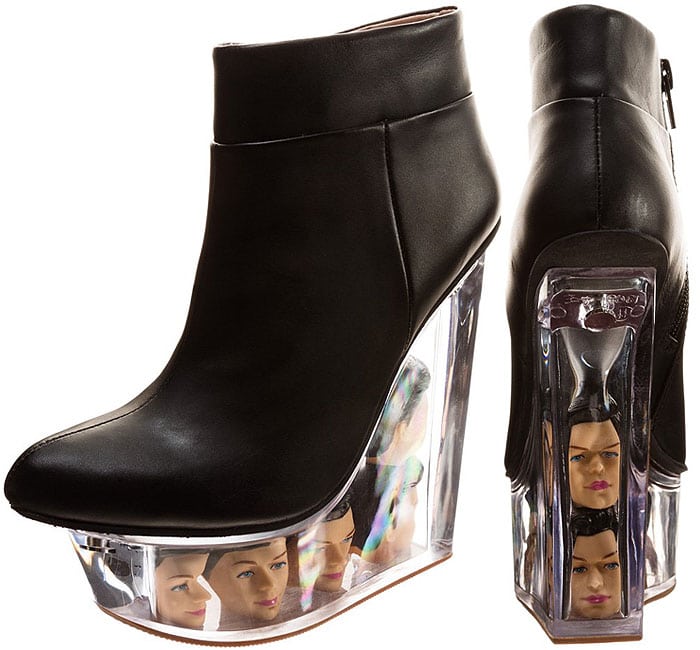 27. Kobi Levi's Wearable Shoe Sculptures
This is of course not the first time that we feature crazy shoes from Kobi Levi, the talented Israeli footwear designer who never ceases to amaze.
We presume this is the first heel in the world to be shaped like a beer bottle?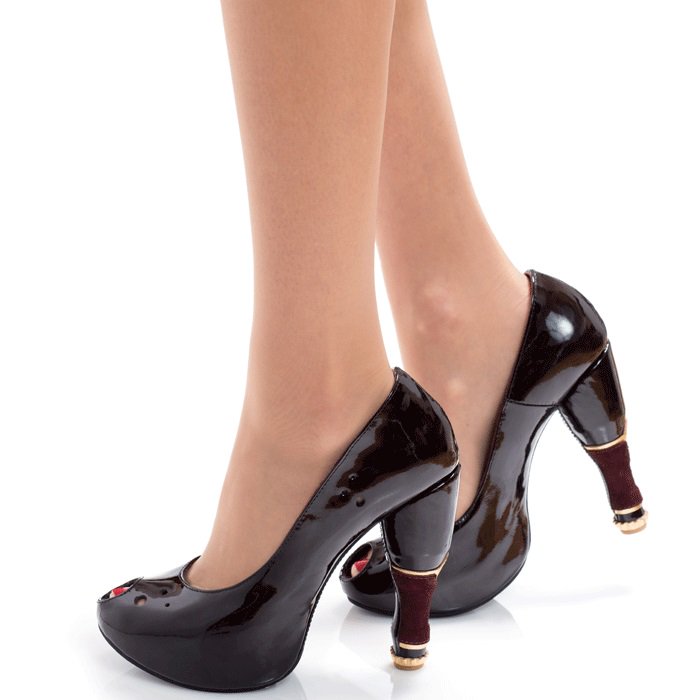 With its bicycle-chair heel, a Union Jack T-strap, and a chain-inspired ankle strap, it's not hard to see that Kobi was inspired by the first UK women's professional bicycle race when designing this shoe.
The "Blow" shoe features a heel shaped as an inflatable sex doll!
Finally, the flamboyant "Rooster" shoe features a dramatic crest and dark colors.
28. Vetements Lighter-Heel Sock Ankle Boots, $1,450
These black knit ankle boots from Vetements are set on a slender stacked heel designed to resemble cigarette lighters printed with imagery from vintage Playboy magazine covers, and the sock-like uppers are finished with a contrasting white jacquard logo just below the ribbed-knit top edge.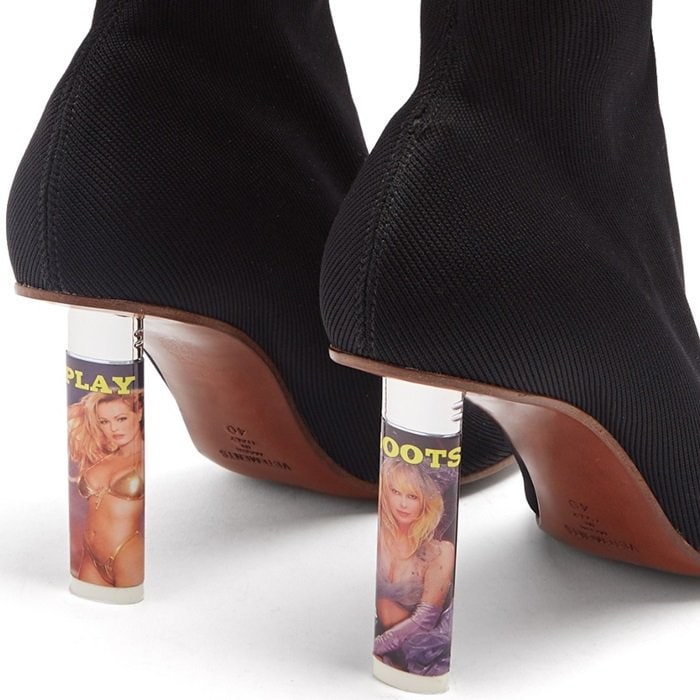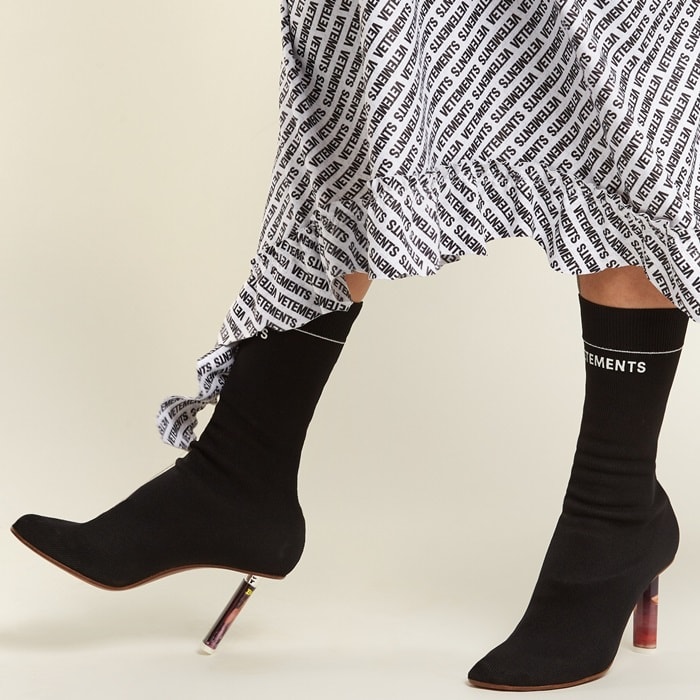 29. Swirling 'J's 'Espiral' Leather Sandals, $670
Made from beige leather, the artful 'Espiral' sandal from Simon Porte Jacquemus sits on slightly different heels that are reminiscent of swirling 'J's.
30. Sawyer Leather Mules With Shimmering Sculptural Heels, $735
Solace London's "Sawyer" mules grounded the label's entire Spring '18 collection, proving just how versatile they are.
Crafted from supple leather, this black version has a sleek, minimalist silhouette and is set on a shimmering sculptural heel.
31. Red Leather Dorateymur Elephant Heel Pumps, $435
32. Rustler Hair Calf Newsprint Boots, $189.95
While we love the newspaper print shoes from SJP by Sarah Jessica Parker, we're not sure what to think of these 'Rustler newsprint boots by Jeffrey Campbell that are inspired by 'fake news'.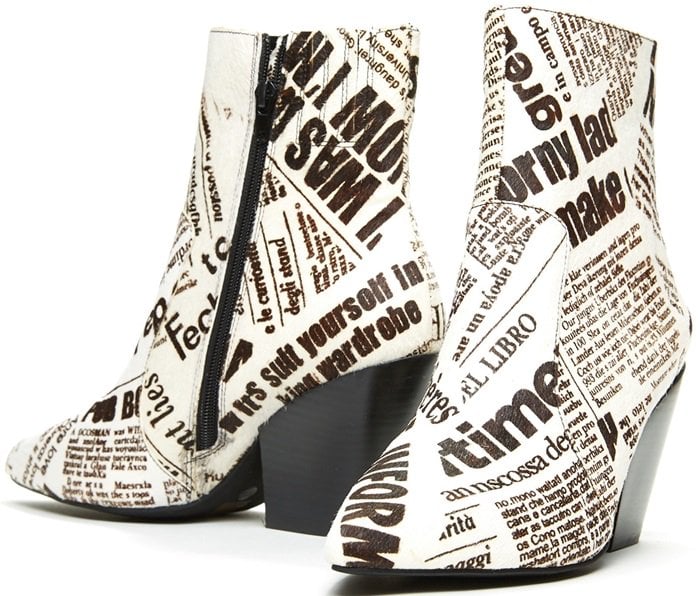 33. Santa's Special Helper Boots, $189 at ModCloth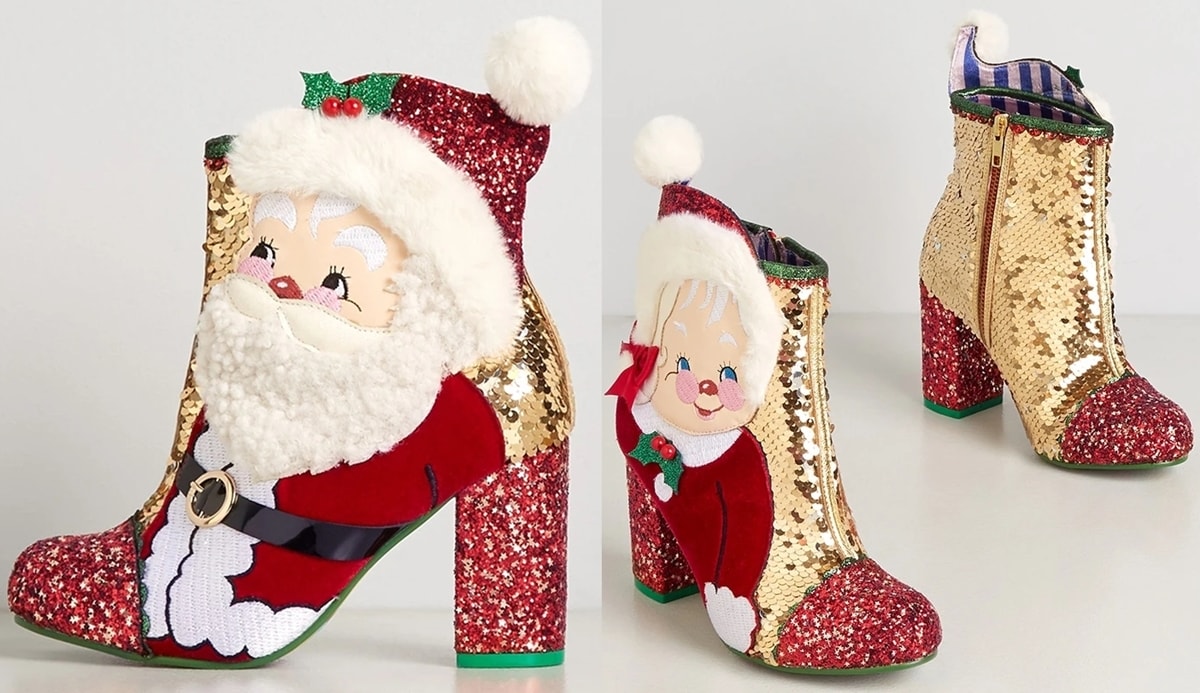 These glittery sparkle boots by Irregular Choice feature intricately detailed Santa and Mrs. Clause appliques at each bootie