If there's anybody who understands suffering for the sake of fashion, it's us high heel-lovers. But, even we were left wondering what some of these celebrities were thinking when they decided to do some ridiculous things in high heels.
Some of these activities are silly, some are stupid and some are downright dangerous. Scroll through for 14 of the craziest things celebrities have done in high heels. Have you ever done any of these?
1. Pregnant Kim Kardashian forced her swollen feet into Givenchy clear-strap heels.
Kim Kardashian kept wearing heels while pregnant with North West. She refused to give them up, even when her feet were seriously swollen to the point that it looked painful.
Sadly, she's not alone. We've documented 20 celebrities who continued to wear high heels despite being heavily pregnant.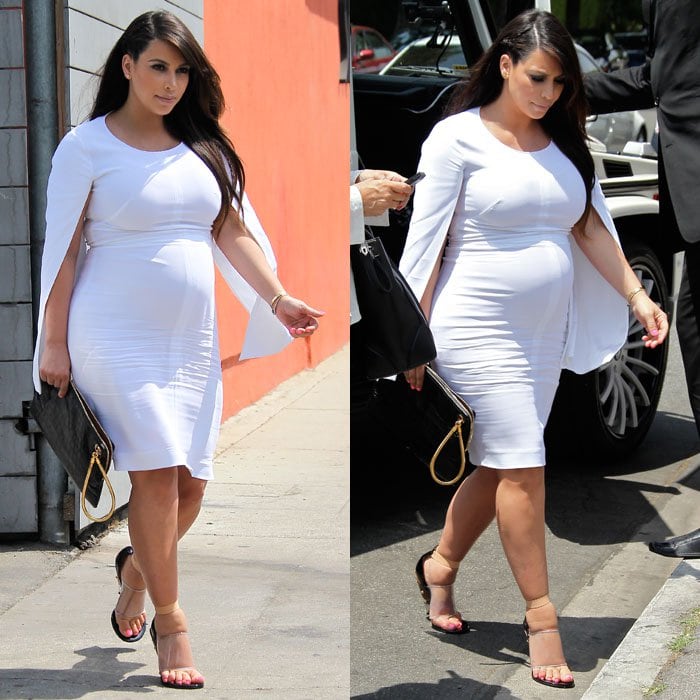 Pregnant Kim Kardashian with her visibly swollen feet stuffed in heels while visiting Naimie's Beauty Center in North Hollywood, California, on May 16, 2013 (Credit: WENN)
2. Lady Gaga flies, travels, and goes through airports in insane platforms.
All those celebrities who travel in stilettos have got nothing on Lady Gaga and her sky-high platforms.
Lady Gaga and her insane platforms arrive at Narita International Airport in Chiba, Japan, on May 16, 2012; Arriving at Narita International Airport again on December 3, 2013; Leaving Narita International Airport on August 12, 2014 (Credit: WENN / Kento Nara / Future Image)
3. Victoria Beckham climbed a ladder in 5-inch pumps to decorate a Christmas tree.
Christmas is supposed to be merry — not dangerous. Victoria Beckham climbed a ladder in 5-inch pumps to place her look-alike Barbie doll on top of a pink Christmas tree.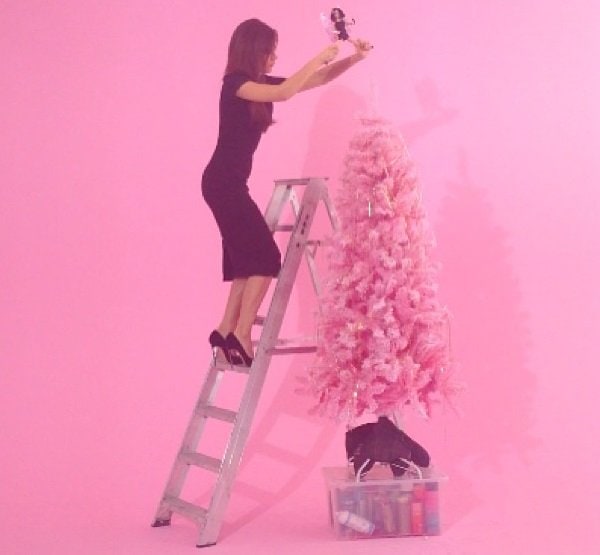 Victoria Beckham's Instagram photo with the caption "Christmas can be dangerous fashion bunnies! #VBXMAS x vb" — posted on December 6, 2013 (Credit: Victoria Beckham's Instagram)
4. Khloe Kardashian went bowling in 5-inch Christian Louboutin 'So Kate' pumps.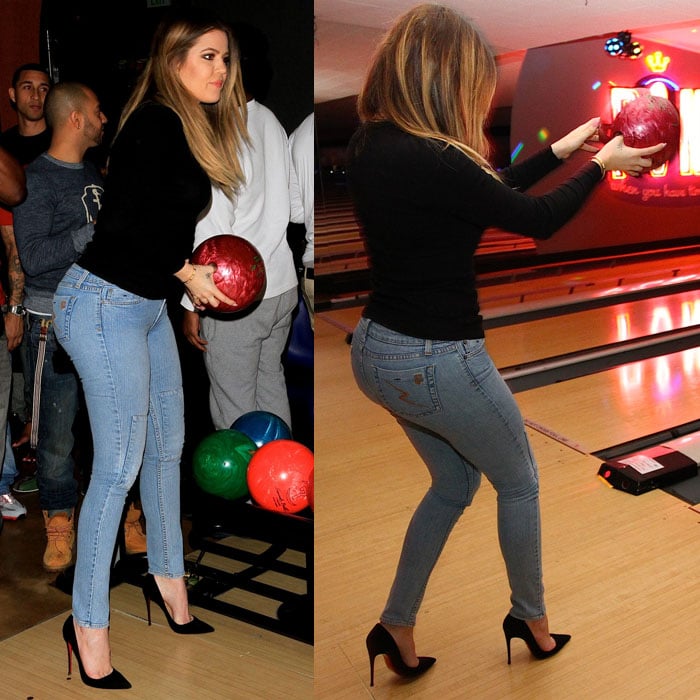 Khloe Kardashian goes bowling in Jet patched skinny jeans and Christian Louboutin So Kate pumps (Credit: Winston Burris / WENN)
To be fair to Khloe, we think she noticed how ridiculous it looked to bowl in heels since she later took off her Louboutins to give her poor feet a break.
Khloe Kardashian in 5-inch Louboutins at the Robin Hood Project Celebrity Bowling held at Pinz Bowling Alley in Studio City, California, on February 15, 2014 (Credit: Winston Burris / WENN)
5. Mariah Carey took the subway dressed in a blue evening gown and 4.25-inch Gianvito Rossi mules.
The most ridiculous thing about this is that the 4.25-inch Gianvito Rossi mules are the shoes that Mariah Carey packed for her subway ride.
Her original shoes were Sergio Rossi's "Puzzle" sandals with heels that were just as high. As if her change of shoes provided any comfort!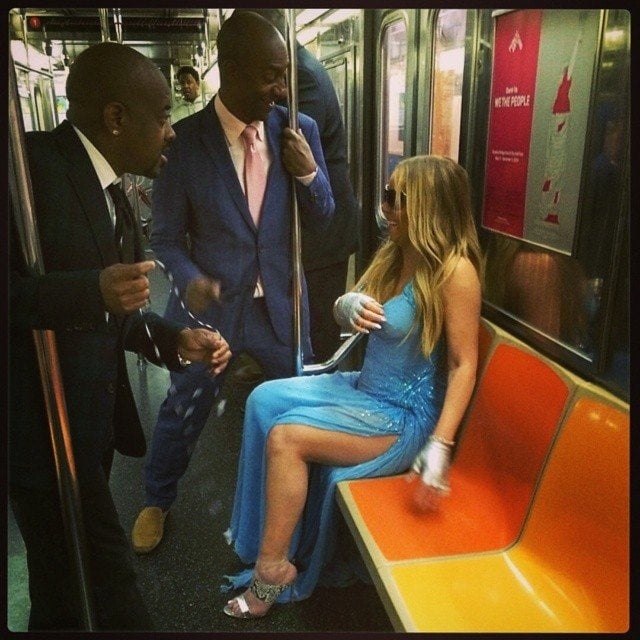 Mariah Carey's Instagram picture of her taking the New York subway dressed in an Atelier Versace blue gown and Gianvito Rossi 'Diane' mules – posted on May 30, 2014 (Credit: Mariah Carey's Instagram)
6. Coco Austin worked out while wearing clear stripper heels.
We don't even know what Coco Austin was trying to prove when she wore stripper heels to do dead squats.
Coco Austin's picture of her working out in clear stripper heels that she captioned with "This is how u do squats in the gym! With Stripper Heels! HaHa – Coco's workout secrets!" and shared on Twitter on December 17, 2009.
7. Courtney Stodden jogged in stripper shoes.
If you thought Coco Austin was bad, wait until you see Courtney Stodden at Daily Mail.
The 21-year-old wife of Doug Hutchison went out for a jog in clear stripper heels! She also inexplicably wore the same inappropriate type of stripper heels to go shopping at a kids' store.
8. Katie Holmes wore heels to the beach — and made daughter Suri wear heels, too.
At least Suri's heels were square. Katie Holmes' own kitten heels on her Givenchy booties kept awkwardly sinking into the sand with her every step.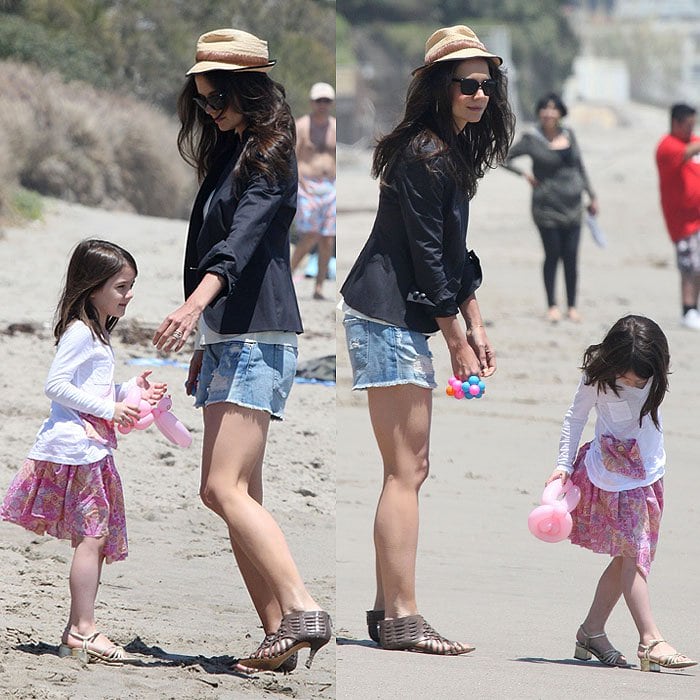 Katie Holmes and daughter Suri Cruise at a Memorial Day beach party in Malibu, California, on May 30, 2011 (Credit: WENN)
9. Victoria Beckham exercised on a treadmill desk in seven-inch Casadei booties.
Victoria Beckham tweeted that every office should have one of these treadmill desks. "Work out and work at the same time!! Genius!! X vb."
Sure, Vicky, but in seven-inch stilettos?
Victoria Beckham trying out a treadmill desk while wearing high-heeled booties in a photo she shared on Twitter on March 12, 2014 (Credit: Victoria Beckham's Instagram)
10. Hilaria Baldwin did a headstand while wearing black platform pumps.
In 2014, Hilaria Baldwin made it her New Year's resolution to post a picture of a yoga pose every day. This headstand in a black cocktail dress and black stiletto pumps was one of them.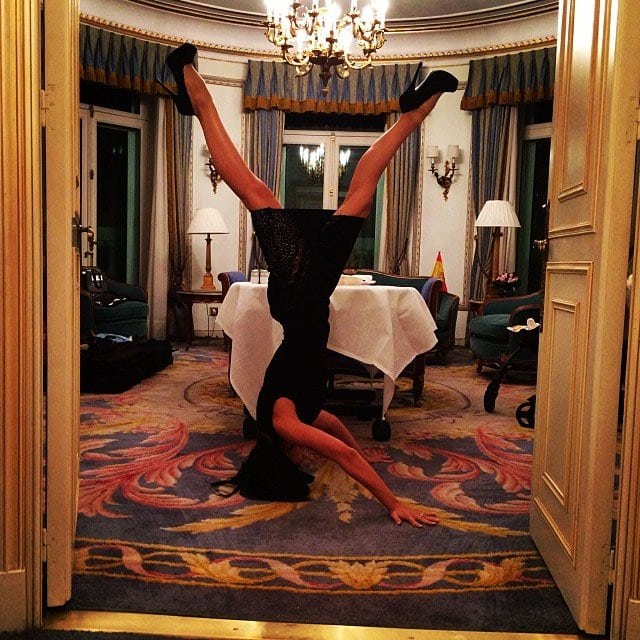 Hilaria Baldwin's Instagram post of her doing a headstand on a hotel room's carpeted floor in Madrid, Spain — posted on February 5, 2014 (Credit: Hilaria Baldwin's Instagram)
11. Bryce Dallas Howard ran around in the "Jurassic World" movie in Stuart Weitzman pumps.
Okay, so this happened in a movie, but Bryce Dallas Howard still had to do all that running in heels in real life.
Bryce Dallas Howard runs away from dinosaurs in high heels (Credit: Universal Pictures)
12. Amanda Holden wore high heels out in the snow.
We understand celebrities have to look good for the paparazzi, but braving the snow in high heels simply isn't worth the risk.
Amanda Holden braves the snow as he walks the red carpet ahead of the "Britain's Got Talent" auditions at the London Palladium on January 20, 2013 (Credit: WENN)
Amanda Holden styled her pumps with a black cutout dress from Stella McCartney and showed off her new brunette bob.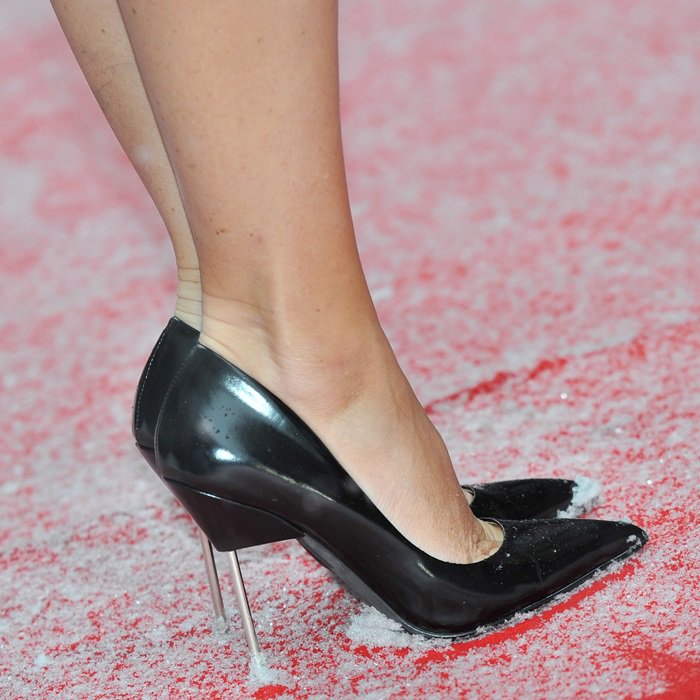 Amanda Holden shows off her hot feet and legs in sexy black pumps in the snow (Credit: WENN)
13. Courtney Stodden rode a bike in cork wedges…
… and promptly fell. At least she was still smiling for the cameras.
Courtney Stodden after falling off her bike while cruising on the beach in Los Angeles, California, on March 18, 2014.
14. Kim Kardashian attended Glastonbury in Giuseppe Zanotti x Kanye West stilettos.
Kim couldn't have picked worse shoes for a muddy outdoor music festival. She tweeted that she had her "wellies in the car," but we know Kanye probably wouldn't have let her trade the shoes he designed for a functional pair of rain boots.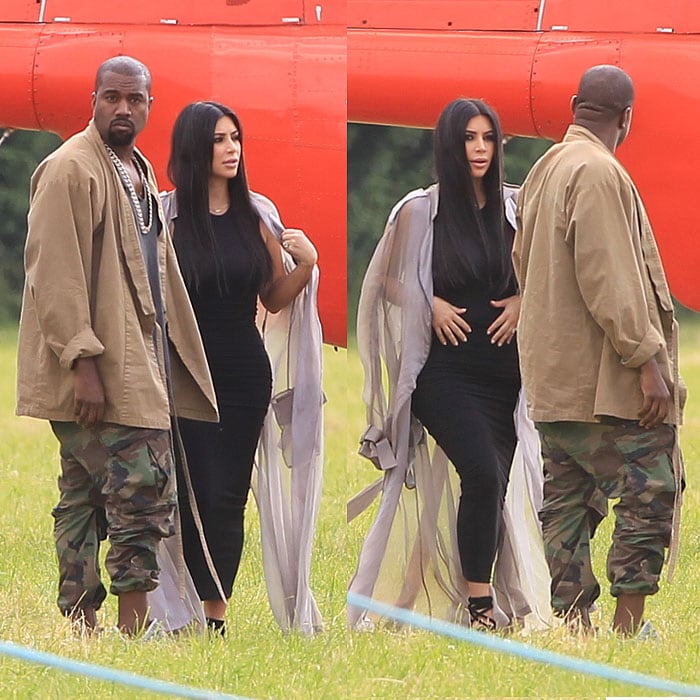 Kanye West and Kim Kardashian arrived on a helicopter at the 2015 Glastonbury Music Festival in Somerset, England, on June 27, 2015 (Credit: WENN)