We recently featured Julianne Moore committing an unforgettable fashion faux pas on the red carpet. And while Julianne's toes hanging off her shoes is an image that's hard to outdo, we just spotted another one that comes pretty close.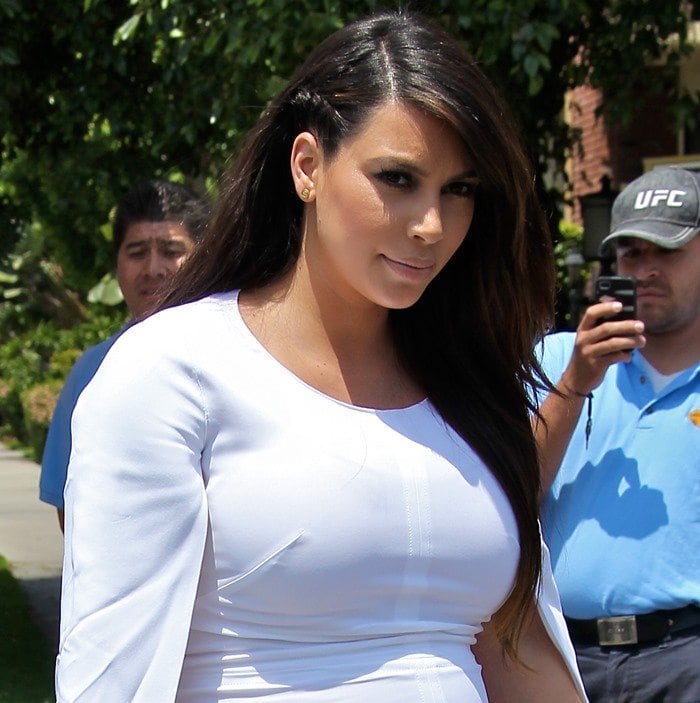 Kim Kardashian in a white midi shift dress from Givenchy
This time, it's a very pregnant Kim Kardashian with swollen feet and ankles that she somehow managed to squeeze into her Givenchy shoes.
Kim Kardashian at Naimie's Beauty Centre in Los Angeles on May 16, 2013
She styled her clear shoes with a white midi shift dress from the same French luxury brand featuring a scoop neck.
Kim Kardashian's miserable ankles and toes
Now, don't get us wrong; we totally understand Kim's weight gain. However, we're pretty sure that if you're as far along in the pregnancy as Kim is, you shouldn't be wearing high heels anymore. In fact, a lot of pregnant women ditch heels for the whole pregnancy.
Pregnant Kim Kardashian torturing her swollen feet
We have also fully realized by now that it just might be utterly impossible for this TV diva to give up high heels, but she could have chosen a pair with a better fit.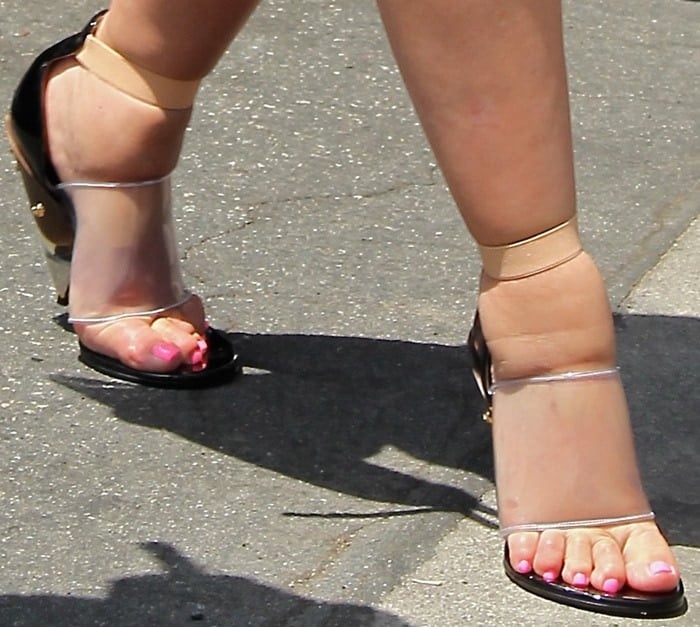 Kim Kardashian's swollen feet and ankles
These Givenchy sandals, although gorgeous in all their glory, are just a size (or two) too small for Kim's pregnant feet and ankles. Hopefully, the girl will get a wake-up call before she gets an injury.
Kim's Givenchy sandals feature a beautiful mix of wood, PVC, and leather.
Givenchy Black and Transparent Albertina Podium Heels, $2,950
Earlier the same month, she was spotted wearing a familiar pair of shoes at Sears, where she and her sisters launched the Kardashian Kollection Spring 2013 clothing line. Even after four years, Kim Kardashian's Givenchy 'Bird Cage' ankle booties look almost brand new.
Kim Kardashian rocking a faux leather black dress
They all looked fabulous, but it was really Kim's booties that caught our attention. They're not new, but we're just glad that she still has them and that she has kept them in good condition.
Kim Kardashian makes an in-store appearance at Sears to launch the Kardashian Kollection Spring 2013 clothing line at Willowbrook Mall on May 4, 2013, in Houston, Texas

Kim Kardashian squeezed her swollen feet into a pair of Givenchy booties

Unfortunately, the shoes are no longer a perfect fit for Kim Kardashian, who has gained weight due to her pregnancy. After the event, the ShoeDazzle founder shared a photo showing her swollen feet.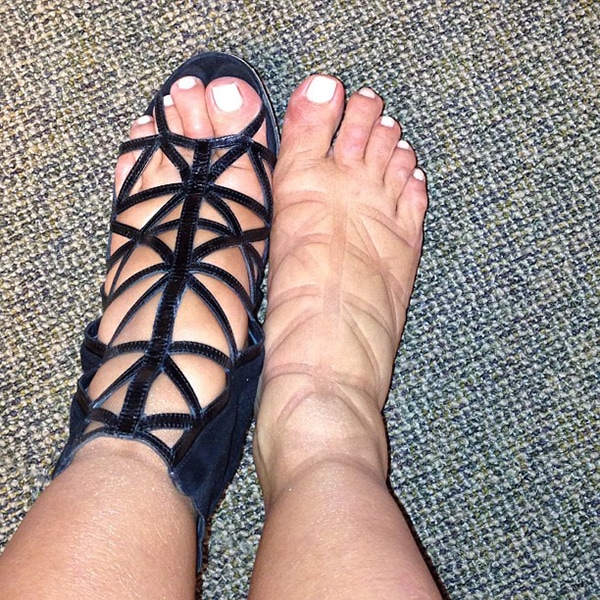 Kim Kardashian's swollen feet

I could only imagine how this hurts! Kim's Givenchy booties were the perfect finish to her faux leather black dress, which is from the Kardashian Kollection.
However, she could have easily picked a more comfortable pair of shoes. Would you continue to wear high heels if pregnant like Kim?
The sexy Givenchy heels have sold out everywhere, but they originally retailed for around $665 at Saks Fifth Avenue.
Givenchy Bird Cage Ankle Booties
Now, here's a question for you to ponder — which is more unbearable to look at? Kim's swollen feet in ill-fitting sandals or Julianne Moore's toe overhang on the red carpet?
Credit: WENN / Arnold Wells / WENN / Kim's Instagram