Givenchy is a French designer brand that's been around since 1952. It was founded in Paris by Hubert de Givenchy, one of the first fashion designers to introduce the concept of separates, creating a line of tops and bottoms that could be mixed and matched to create different looks.
Celebrities such as Audrey Hepburn and Elizabeth Taylor have used Givenchy brand apparel, making them a bonafide premium brand.
Audrey Hepburn in a dress designed by Hubert de Givenchy in the opening of the 1961 romantic comedy film Breakfast at Tiffany's (Credit: Paramount Pictures)
Unfortunately, like any other designer brand, Givenchy has its share of fake imitations, which also goes for its handbag collection.
Counterfeit products are often made with low-quality materials and craftsmanship and may not last as long as an authentic product.
They can also be dangerous, as they may not meet safety standards. Buying counterfeit products can also support criminal activity. Counterfeiters often use illegal labor practices and contribute to environmental damage.
With a few simple tips, you should be able to tell if a Givenchy is "the real deal" or not.
Where To Buy Givenchy Bags
To get yourself an authentic Givenchy handbag. The first option (and the safest one) is to buy a bag from them directly.
They've got stores worldwide, and while not every country has a Givenchy outlet, it's worth stopping by a store if you're traveling to a place with one.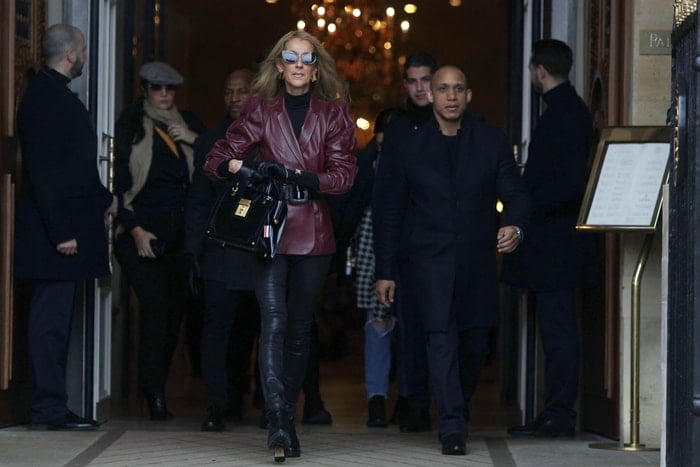 Singer Celine Dion leaving the Givenchy office building located at number 3 Avenue George V in Paris's 8th arrondissement on January 24, 2019, in Paris, France (Credit: WENN)
If you're like many other women, you won't have the luxury of living near a Givenchy outlet. So, instead of buying from them directly, you can get Givenchy bags through online resellers.
Sites like Nordstrom, Farfetch, and Mytheresa sell authentic designer-brand products. You can even get additional deals you won't find in Givenchy outlets, which can help you save a little.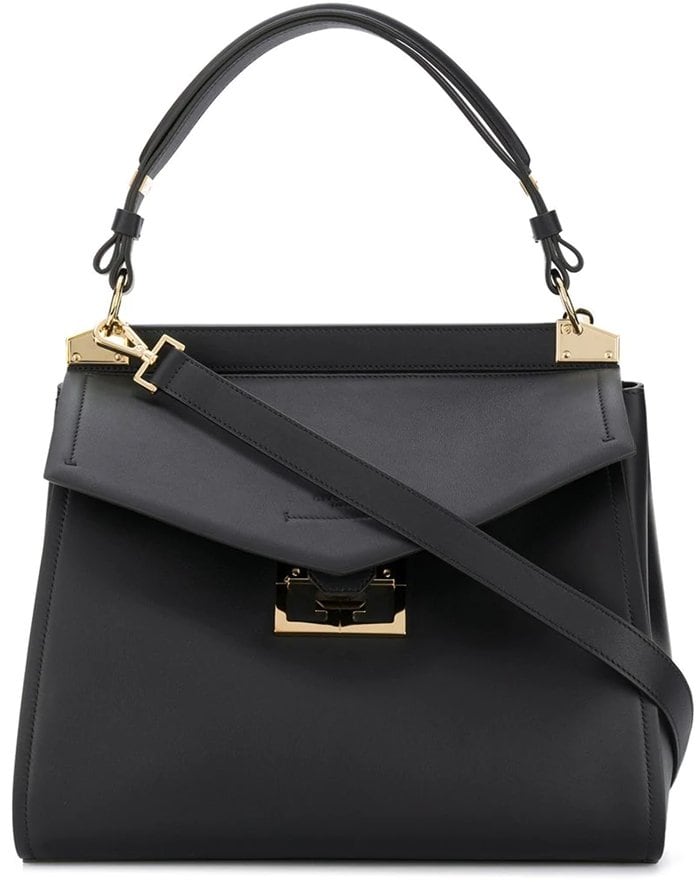 The Mystic bag from Clare Waight Keller is crafted from premium calfskin leather and designed with adjustable straps that can be worn in a multitude of different ways
And, of course, there's always the option to buy from flea markets. You can never be sure of the quality of handbags and designer brands in flea markets, though, as that's where many cheap knockoffs are sold.
You'll need to be able to tell the difference if you plan on shopping in these markets, so read on to find out exactly how.
1. Check the Materials Used
Designer brands share one thing in common – they're consistent with their product line. Givenchy is no exception, and you can expect a certain level of quality with each bag.
The bag should stand upright on its own without collapsing under its own weight. If the bag collapses, it is likely a fake.
Givenchy bags are made with soft, tactile leather of the highest quality
Another indicator of a fake Givenchy bag is the type and quality of leather used. Givenchy leather is known for its softness, durability, and luxurious feel.
It is typically made from calfskin or lambskin, but the brand also uses other types of leather, such as goatskin and ostrich. Givenchy leather is always well-structured and finished to the highest standards.
It's soft, but not too soft to the point where it feels fake. Like most designer leather, Givenchy handbag leather is supple and doesn't look like plastic leather.
2. Inspect the Handles of the Bag
The handles of a Givenchy handbag are a great way to spot inconsistencies in the bag. Givenchy makes them in such a way that it's hard to replicate that easily.
The first thing you should look for is the structure of the handles. Like the bag itself, the structure of the handle should be strong enough for it to stand on its own.
Givenchy's GV3 handbag is named after the company's landmark address on Avenue George V in Paris
Other than the handle itself, pay close attention to the patch that connects the handle to the handbag. For example, Givenchy Antigona's leather patch is round at the bottom, while the patch on top has four corners on both sides.
They're pretty hard to miss, so comparing the bag to a photo of an authentic Givenchy from the internet won't be that difficult.
3. Take A Close Look at The Logo
Givenchy spares no expense when keeping the quality of their handbags, especially for their logos.
The first thing you should be able to notice is the placement of the logo itself – if it isn't centered properly or is in an odd position, that should be a huge red flag.
Be sure to look at the spacing between the letters, too, and compare it with their official logo to see if it matches.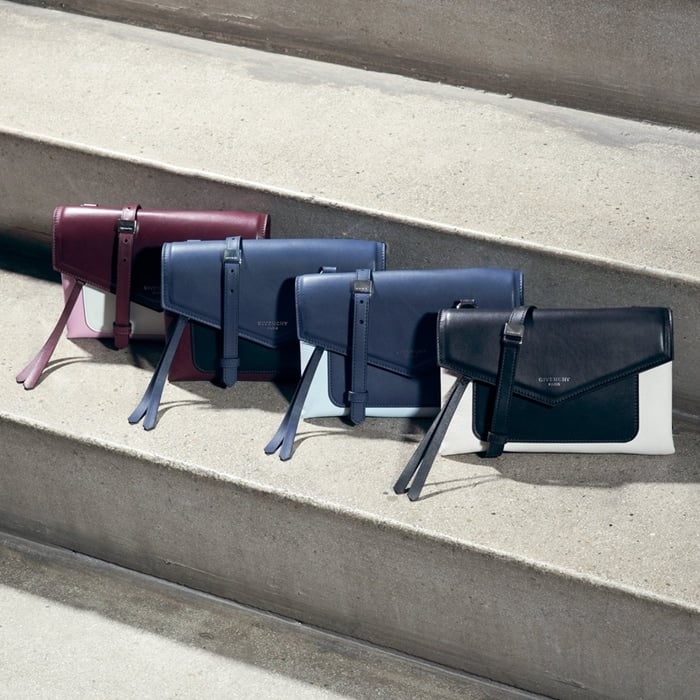 Beautiful Duetto bags from the Givenchy by Riccardo Tisci Fall 2017 Women's pre-collection
Aside from its position, the logo's font is a dead giveaway. Even with proper positioning, a fake Givenchy handbag can be identified if the font isn't the same as the official logo.
The handbag is probably a fake if the letters are too thick or not elongated enough.
4. Pay Attention to the Strap of the Handbag
If you're buying a Givenchy handbag, chances are you're buying the label's iconic Antigona bag, which debuted in Fall-Winter 2010.
The Antigona is a boxy, structured bag with a top handle and flap closure. It is made from high-quality leather and is available in various colors and sizes.
One of the most distinctive features of the Givenchy Antigona bag is its removable strap. The strap is made of top-grain leather and has a matte black finish. It is attached to the bag with a metal ring that has a small dent in it. The hardware of the strap also has a small gap in it.
Pay close attention to details before purchasing a Givenchy handbag
There are also metal buckles on the shoulder strap purely for decorative purposes.
Finally, the "Givenchy" logo should be engraved onto the strap's hardware. If Antigona lacks these characteristics, you're probably looking at a fake Givenchy.
5. Look at the Serial Number of the Handbag
Givenchy is one of those designer brands that prints serial numbers to identify their bags.
This isn't done in all designer brands (as it can easily be imitated), but sometimes imitations don't print the correct serial numbers on their bags, which can be a dead giveaway.
Givenchy handbags consist of a 6-character serial number that follows a specific format.
The first two characters mark where the bag was produced. The third and fourth digits represent the week the bag was made, and the last two represent the year.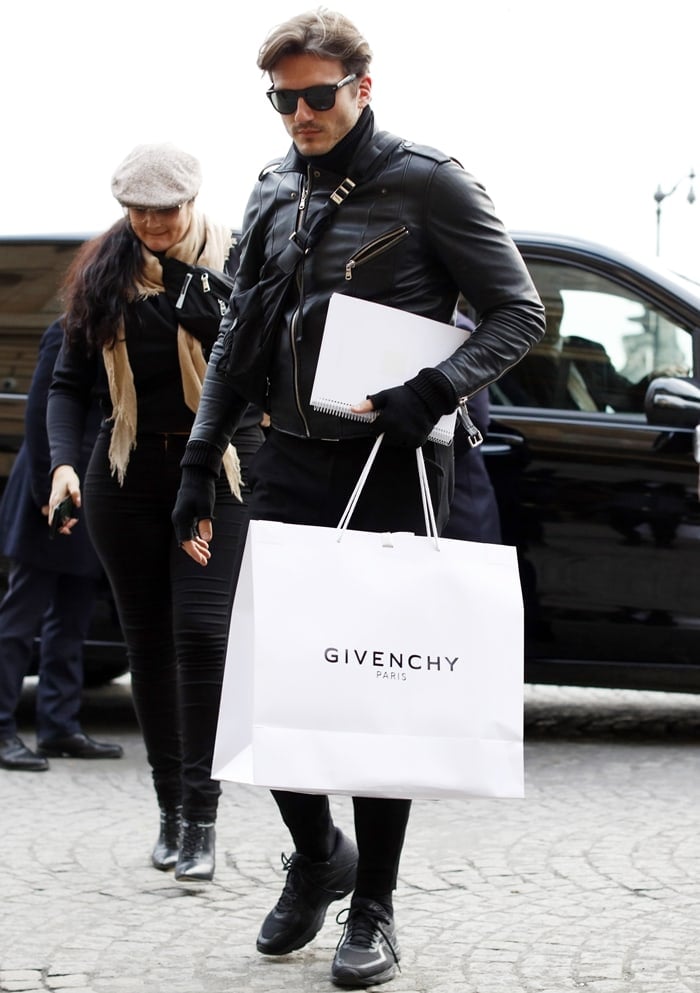 Celine Dion's backup dancer and suspected lover Pepe Muñoz carrying a bag with the official Givenchy logo in Paris (Credit: WENN)
The trick here is to find the serial numbers of the specific bag you plan to buy online. You then compare it to the handbag in the market to see if it matches. If it doesn't, then it's probably a fake.
Contact Givenchy's customer service department and provide them with the serial number of your product. They should be able to verify the authenticity of the serial number and confirm whether the product is genuine.
What is Givenchy?
Givenchy is a French designer brand owned by luxury conglomerate LVMH and has been selling fashion apparel for almost 70 years. They're mainly known for their clothing, but their Antigona handbag is also extremely popular.
How much do Givenchy handbags typically cost?
Givenchy handbags will cost you thousands of dollars on their official online store.
Printed and embroidered racing stripes distinguish this buttery-smooth leather Antigona bag made in Italy with a slouchy shape and removable shoulder strap
Their Mini Antigonas will set you back $1,790, and their premium handbags cost up to $4,450. You can get their Mystic bags for at least $2,490 as well.
Is Givenchy a luxury brand?
Owned by a luxury conglomerate LVMH, which also is the parent company of Louis Vuitton, Christian Dior, Emilio Pucci, Fendi, Kenzo, Marc Jacobs, Nicholas Kirkwood, Rimowa, and many more famous labels, Givenchy is one of the world's leading luxury brands.
Where are Givenchy bags made?
Authentic Givenchy bags, belts, clothing, hats, wallets, jewelry, and shoes are all made in Italy. Some T-shirts are made in Portugal.
The brand has a long-standing relationship with Italian suppliers and craftsmen, and they believe that Italy is the best place to produce their bags due to the high quality of the materials and the craftsmanship.
Are Givenchy bags made in China?
No, Givenchy bags are not made in China. If you see a Givenchy bag with a "Made in China" tag, it is most likely a fake.
In recent years, luxury brands have been moving their manufacturing to China to cut costs. However, Givenchy has resisted this trend and has remained committed to manufacturing its bags in Italy. The company believes that the quality of its bags is worth the higher price tag.