When it comes to luxury bags, ostrich skin and exotic leather are in a league of their own. Some of the most desirable bags in the world have been made with these luxurious materials.
A few even cost more than your average car – and then some. If you're looking for a handbag to purchase as a long-term investment, they are amongst your best choices to get a healthy return on your investment.
Painted to resemble bloodied and skinned people, three models representing PETA converged outside the opening of the "Hermes Leather Forever" exhibition at the Royal Academy of Arts at Burlington Gardens in London on May 8, 2012 (Credit: WENN)
Our guide takes an in-depth look at everything you need to know about ostrich skin and exotic leather handbags – including the controversy surrounding them.
Like any material, there are dozens of different exotic leathers for you to choose from, including ostrich skin.
These leathers each have their own pros and cons, with their rarity impacting the price tag you'll pay for a handbag made in that material.
If you're thinking of taking the plunge with exotic leather, you'll want to draw up a shortlist of options that suit your lifestyle and aesthetic.
Here are six of the most popular exotic leathers:
1. Crocodile Leather
Crocodile leather makes up around 1% of leather production and is made using the skin of any of 23 different crocodile species.
It's amongst the most popular choice for luxury brands, including Hermes, Gucci, and Louis Vuitton.
The attraction of crocodile leather is its limited quantity, as there are a relatively small number of farms and tanning facilities available to produce crocodile leather.
Black Hermès saltwater crocodile leather Birkin bag (L) and Nancy Gonzalez tote bag in signature Caiman crocodile (R)
Not every crocodile leather is considered as valuable as the other. Australian saltwater crocodile is considered the most desirable, while Caiman crocodile leather is a more affordable alternative.
Most of the crocodile leather used in the luxury fashion industry goes through the tanning process in France, Italy, or the USA. The price tag of crocodile leather typically depends on how in-demand it is within the luxury fashion industry, as it goes through cycles of popularity.
You can find crocodile leather with either a matte or shiny finish, depending on your preference. It's worth knowing that you want to avoid placing crocodile leather into water as it can cause spots on the leather.
2. Alligator Leather
Alligator is considered one of the most accessible choices for exotic leather as it is more readily available. The attraction to alligator leather is that it is more durable than traditional leather and has a scaly texture.
Most of this exotic leather comes from the alligator's belly as it is more flexible by nature. You can usually tell where the leather has come from by looking at the scales on your material. Alligator leather is typically dyed and made available in a variety of color options.
Dark grey alligator leather Tro crossbody bag from Oscar de la Renta (top left), alligator leather Devotion shoulder bag from Dolce & Gabbana (top right), and Bottega Veneta continental wallet in genuine soft alligator skin (bottom)
Alligator skin is soft to the touch and considered more delicate and ladylike than other exotic leathers. The hard scales mean that this leather is difficult to stretch out, although it is more pliable. You can cut and fold alligator leather to match virtually any silhouette.
You can tell the difference between alligator and crocodile leather by the dot-sized pores that you can see in the texture of the latter.
3. Ostrich Skin
One of the most unique types of exotic leather is ostrich skin. The bumps of the leather sit evenly across the hide. This exotic leather takes on a scaling pattern similar to lizards when transformed into a handbag or accessory.
Just like alligator leather, ostrich skin has a different texture depending on where it comes from. Most of the exotic ostrich leather that you find on the market comes from an ostrich leg.
Loro Piana crossbody bag in full-quill ostrich leather
Ostrich has a thicker texture than other exotic leathers, with its natural oils keeping the texture soft and supple. Like most leathers, ostrich skin will darken over time as it ages.
4. Python Leather
Python leather is an exotic option that we're starting to hear more about every season. It typically comes from a reticulated python or a Karung snake, known as an 'elephant snake'.
Tom Ford top-handle bag in genuine python snakeskin (L) and Dolce & Gabbana python crossbody bag with leather trim (R)
Both these options have a scale pattern with a slick texture. The Karung snake leather has a finer scale texture while having a shiner finish. Python leather is a popular choice for bags that have a more unusual silhouette.
5. Elephant Leather
If you're considering buying exotic leather, it's worth taking the time to do your research and understand why some are controversial.
One of the most disputed exotic leathers is elephant skin. While it's often thought of as illegal, it's been ruled as legal to sell elephant hide skin by the CITES (the Convention on International Trade in Endangered Species of Wild Fauna and Flora).
6. Stingray
Stingray is an exotic leather that will always look perfect. Its resilience means that it's virtually immune to scratches and scuffs, while also being stain-proof and water-resistant.
Vintage Chanel barrel clutch made from green stingray
The difficulty with stingray is that it can be problematic when trying to cut or sew it into place to create a bag.
Why These Materials Are Considered Exotic
An exotic leather comes from an animal that is not raised for human consumption. We consider cowhide a traditional leather, as it comes from animals raised for food production, while animals like alligators and snakes are not.
When a leather falls into the category of 'exotic', you can expect to experience differences, depending on the exotic leather you choose.
What falls into the category of 'exotic' leather largely depends on the country you're in. Animal rights rules differ between states, with some countries having specific safeguarding regulations preventing the sale of a named exotic leather.
You may find that exotic leather is legal in one country but not your own.
Famous Brands Who Use Ostrich Skin and Exotic Leathers
Almost every luxury fashion house offers exotic leather bags. In particular, they're extremely popular with European fashion houses. Hermes dominates the exotic leather market, in particular with their Birkin and Kelly bags.
Other fashion houses that are known for their use of exotic leathers include Gucci, Saint Laurent, and brands within the LVMH group, including Louis Vuitton.
If you're considering purchasing an exotic leather bag, you can expect to pay a mark-up to buy one from a luxury fashion house. While you'll pay a higher price tag, the bag's value will be higher due to the brand's name and reputation.
Here are a few of the most famous luxury brands that use exotic leathers in their bags:
1. Hermes
The first brand that is synonymous with exotic leather is Hermes. As the King of luxury brands, it's no surprise that Hermes has an extensive collection of exotic leathers for you to choose from.
Crocodile remains one of their most in-demand materials. The Matte Porsus crocodile is the most expensive type of exotic leather available from Hermes.
Other forms of exotic leather that Hermes stocks include lizard and ostrich skin. Both are considered specialty leathers and have been a staple within the brand's catalog for decades.
Hermès lizard buttonhole bag from the 1960s and 1970s (Credit: Vestiaire Collective)
Hermes has announced their plans to build Australia's largest crocodile factory farm to facilitate its handbag productions.
While Hermes is famous for its exotic leather handbags, the material also appears throughout their product range. Their Collier de Chien bracelet is available in several exotic types of leather, including alligator.
Did you know that the rarest bags in the world are considered to be the Himalaya Kelly and Birkin? In 2016, Christie's auction house sold a Himalaya Birkin bag with white gold and diamond hardware for a record-setting $300,168.
Another world record was broken the following year when a white crocodile Hermes Himalaya Birkin encrusted with over 10.23 carats of diamonds sold for £293,000.
2. Louis Vuitton
Although Louis Vuitton is famous for its canvas bags, the luxury fashion house is moving swiftly towards leather for its future collections.
One of their newest bags – the Capucines – is available in several types of exotic leather, including alligator, crocodile, lizard, python, and ostrich.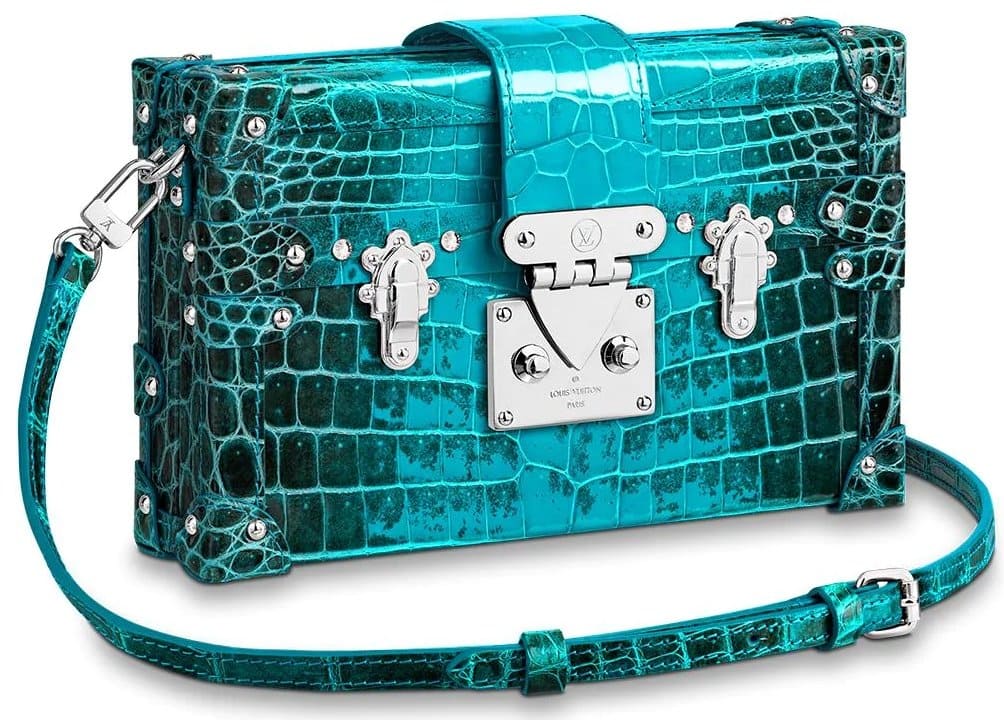 Louis Vuitton's Petite Malle handbag in turquoise-color crocodilian leather retails for $30,000
LVMH – the parent company of Louis Vuitton – announced in 2019 that it plans to source its exotic leather ethically and responsibly. The brand's recent collection releases and growing range of exotic leather bags suggest it's a key part of their future brand strategy.
The benefit of a Louis Vuitton exotic leather bag is that its price point is considerably lower than Hermes while still being a luxury brand with a rich reputation.
3. Gucci
Another European fashion house to look out for is Gucci. The brand offers distinct silhouettes in crocodile and python, including some of Gucci's most iconic pieces.
If you're looking for an entry-level exotic leather bag, Gucci is one of the more affordable brands that offer exotic leathers.
At authorized retailers like Nordstrom and Farefetch, you can expect to pay around $1,500 for a mini bag and up to $34,000 for Gucci's medium Sylvie medium crocodile top handle bag.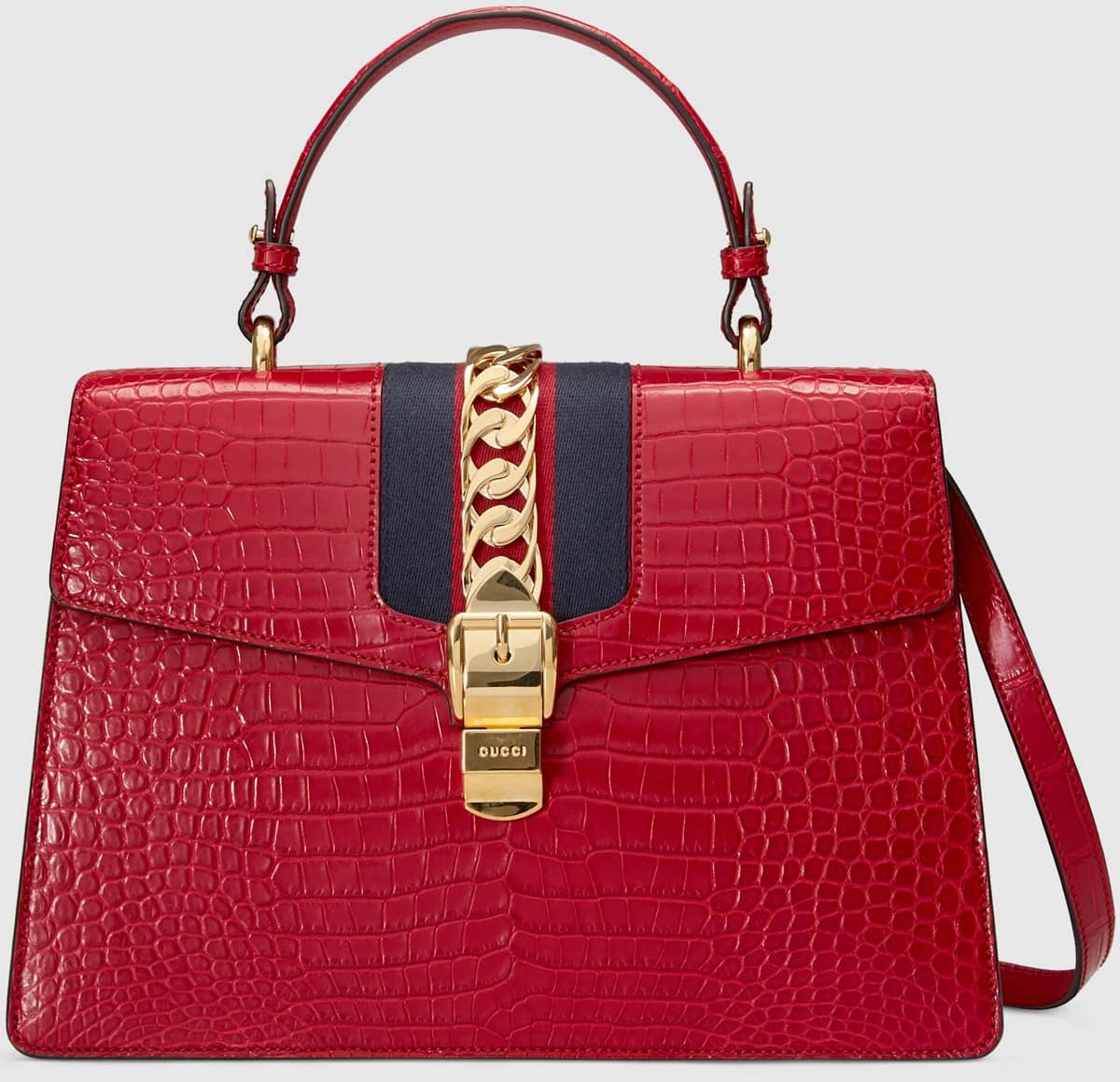 Gucci's Hibiscus red crocodile Sylvie top handle bag decorated with a gold chain and buckle
The different price points available means that any luxury handbag collector can add an exotic leather piece to their collection, without having to pay a Hermes price tag.
Other brands like Jil Sander have offered exotic leather bags in the past but have now chosen to step away from using these materials.
You can still find exotic leather bags on the pre-loved market from brands that have stopped using exotic leather. Choosing to shop through the pre-loved market for an exotic handbag can also save you money.
Why Are Exotic Leather Bags Controversial but Still Popular?
In today's fashion industry, traditional leather is considered controversial. When you add exotic leather to the mix, it's easy to see why it's not a go-to choice for everyone.
Some brands are even choosing to step away from using exotic leathers, including the iconic British brand Mulberry. Chanel is another brand that no longer uses exotic leathers and skin.
Even amongst the controversy, exotic leathers remain amongst the most popular materials for luxury handbags. What attracts people to exotic leather is the texture they give your bag.
A group of female PETA supporters braved the winter weather and bared their skin for a radical vegan protest at the start of London Fashion Week in February 2018 and encouraged passers-by to stand up for animals by leaving fur, leather, shearling, and other animal-derived materials out of their wardrobes (Credit: WENN)
They'll often naturally come in vibrant colors that are difficult to recreate with chemicals or dyes. No two exotic leather bags are the same, making you feel as though you're carrying a one-of-a-kind piece.
The fact that exotic leather bags are rare adds to their desirability. Anything rare or limited edition will naturally gather attention and come with a higher value that appreciates over time.
An exotic leather will always capture your imagination in a way that traditional cowhide leather can't. You not only feel the difference in texture, but you can see it through the scale pattern. If you want a handbag that will make a statement, exotic leathers are your best choice.
Part of the allure of exotic leather is that they are more durable than their traditional counterparts. You'll still want to consider this fact on a case-by-case basis, as not all exotic leathers have the same resilience.
Most people don't choose to use their exotic leather bags daily, but they are certainly an heirloom piece.
If you're debating which exotic leather is suitable for you, it's a good idea to look into the advice provided by CITES, the Convention on International Trade in Endangered Species of Wild Fauna and Flora.
The world's oldest crocodile in captivity, Cassius is a 110-year-old one-tonne saltwater crocodile kept at MarineLand Melanesia in Queensland, Australia, measuring an impressive 17ft 11 inches in length (Credit: WENN)
CITES is an international treaty to protect endangered species, in particular those who are at risk of extinction. Part of their work revolves around regulating the trade of exotic animals and their skin.
Not every country allows for the sale of exotic leathers. Even luxury fashion brands like Gucci and Chanel have found themselves subjected to U. S law enforcement seizures.
Between 2003 and 2013, over 5,600 items made using illegal wildlife products were seized at U.S ports. Most of the fashion items involved were made using reptile skin, accounting for around 84% of all items.
Purchasing an exotic leather handbag is a life goal for most bag collectors. It's like buying a luxury sportscar or acquiring a piece of fine jewelry. You want to take the time to consider which type of exotic leather works for your lifestyle and aesthetic.
Exotic leathers are not for everyone, and they're often cited as being the next material to be targeted after the sea-change in the use of real fur. If you decide to purchase an exotic leather handbag, brands like Hermes and LVMH will always be amongst the most popular and valuable choices.